This article has links to products and services we recommend, which we may make a commission from.
What is Chilean Sea Bass?
Chilean sea bass is one of the most popular fish in the world, known for its refined quality. It is caught in the Southern Ocean deep waters and can be found in the Patagonia region, south of Chile.
Chilean Sea Bass History
Chilean sea bass came into fame only at the end of the 20th century. It is actually known as Patagonian toothfish, an unappealing name.
When an American fisherman renamed it Chilean sea bass, its popularity took off. Now, you are most likely to find it at high-end restaurants and grocery stores.
Chilean Sea Bass Sustainable Options
Due to its mouthwatering rich flavors, Chilean sea bass has been largely overfished and depleted. Additionally, its premium price makes it prone to illegal fishing.
Nowadays, only a few Chilean sea bass catches come from the shores of Chile. Most of the Chilean sea bass comes from the deep water of Antarctica.
Also, Patagonian toothfish is a slow-growing fish and is prone to overfishing. Needless to say, you may want to consider alternatives or a more sustainable way to eat Chilean sea bass.
The Environmental Defense Fund provides sustainable options to look for when buying Chilean sea bass.
One sustainable option we recommend is farm or wild striped bass. This fish is moderately fatty, has a rich flavor and firm flakes.
More affordable and accessible than Chilean sea bass, you'll relish similar mild flavors.
What does Chilean Sea Bass Taste Like?
Chilean sea bass has a white and firm flesh with a taste similar to fresh cod. It is rich in Omega-3 which gives it a luscious and buttery taste.
Striped bass, a more sustainable alternative has a mild delicate flavor. Much of striped bass is farmed making it easily available. Firm and easy to cook with, it's a favorite fish for cooking.
Chilean Sea Bass Price
Chilean sea bass is a premium fish and one of the most expensive fish on the market. Filets of sea bass retail for about $35.00 per pound or higher.
Comparatively, sustainable options such as striped bass retail for about $23.00 per pound.
Discovering Chilean Seafood in Chile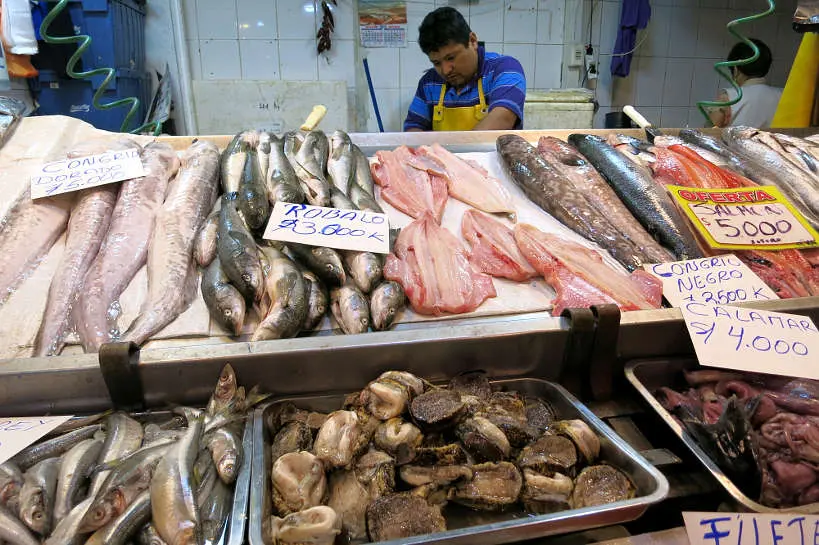 Mercado Central in Santiago is the mecca for fresh local Chilean seafood. While in Chile exploring the local specialties, we couldn't miss this important market.
Santiago's Mercado Central is a historic landmark with a huge abundance of Chilean seafood and fish.
From unique specialties like Chilean abalone (locos), conger eel, sea urchins (erizos) and more, the range of shellfish is incredible.
Wonderful displays of traditional fish like hake (merluza), pomfret (reinata) and bass, were so fresh the fish was practically moving.
Interestingly, we didn't see much Chilean sea bass at the market. The fish is expensive and usually reserved for export.
Instead, robalo fish or striped sea bass was widely available and affordable.
READ MORE: 12 Authentic Chilean Seafood Dishes You Want to Try
Making Pan Seared Sea Bass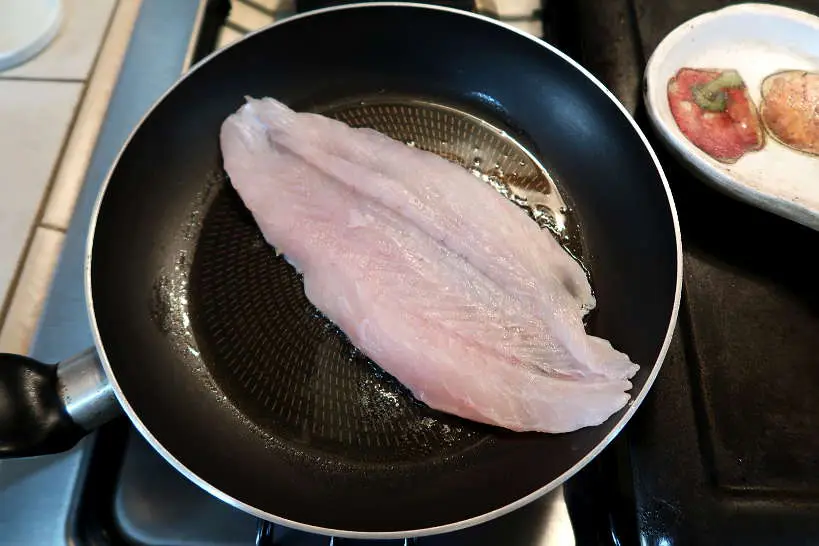 There are many different ways to cook sea bass.
In this recipe, we pan sear the sea bass on a skillet for about 4 to 6 mins. If your fillet has skin, add an extra 2 minutes cooking time on each side.
Depending on the thickness of your fish fillets, you can also bake them in the oven. It is best to use a combination of both techniques.
First, pan sear the bass to give it a golden-brown crust finish. And, if the fish is thicker than one inch (2.5 cm), finish cooking in the oven. Bake it at about 420 °F (215 °C) for about 10 additional minutes per inch of fish.
What Wine Goes with Pan Seared Sea Bass?
As you enjoy your mild and flaky pan-seared sea bass, pair it with a glass of Chilean white wine. Chile, as we discovered, is one of the largest producers of wine in South America.
While known for producing Cabernet Sauvignon wines of exceptional value, Chilean white wines are increasing in popularity.
Chile's Casablanca Valley, near Valparaiso, is home to the country's finest white wines. Try a Chilean Chardonnay or Sauvignon Blanc to accompany your meal. 
Another wine to consider is Carménère, Chile's most important red wine variety.
READ MORE: 3 Maipo Valley Wineries For The Best Santiago Wine Tours
How To Make Pan Seared Sea Bass at Home
Cooking something as simple as a piece of fish and a few garnishes is easy to make at home.
This recipe calls for pan frying the sea bass on a non-stick skillet. And, in only a few minutes you'll have a beautiful and healthy meal to savor.
Pan Seared Sea Bass – Shopping List
2 Chilean sea bass fillets or substitute with 2 striped bass fillets
Oil for the pan such as ghee or avocado oil (Ghee cooks in high temperatures and we love the taste)
Salt
Pepper
Pan Seared Sea Bass with Sauce – Pebre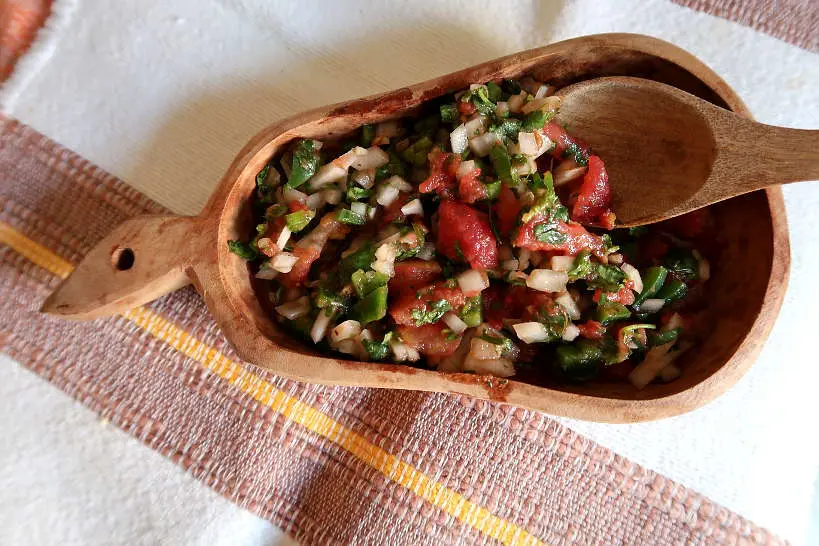 For this seafood dish, we recommend Chilean Pebre Sauce to go along with the fish. It is a Chilean salsa made with cilantro, chopped onions, tomatoes, garlic, jalapeno pepper, and olive oil.
Chilean Pebre only takes 15 minutes to make with ingredients you probably already have at home.
Enjoy your fish with pebre along with a glass of delicious Chilean white wine. Bring the flavors of South America home, starting with Chile.
AUTHENTIC FOOD QUEST RECIPE: How To Make Pebre – A Delicious Chilean Sauce
Pan Seared Sea Bass Cooking Tips
Chilean Sea Bass or Alternative Sustainable Fish
Chilean sea bass can be controversial and expensive. Instead, you can choose more sustainable options such as black sea bass or striped bass. While making this recipe, we went with striped bass which was more easily available.
Remove Fish from Fridge Ahead of Time
Remove the sea bass (or substitute fish) from the fridge and keep at room temperature for about 20 mins before cooking. This allows the fish to cook evenly.
If you are using frozen filets, plan ahead and defrost frozen fish slowly in the refrigerator. More than likely this is an overnight process of about 12 – 18 hours depending on the sizes of the fish fillets.
AUTHENTIC FOOD QUEST RECIPE: For another delicious Chilean seafood recipe, see Paila Marina Recipe: How To Make The Most Popular Chilean Fish Stew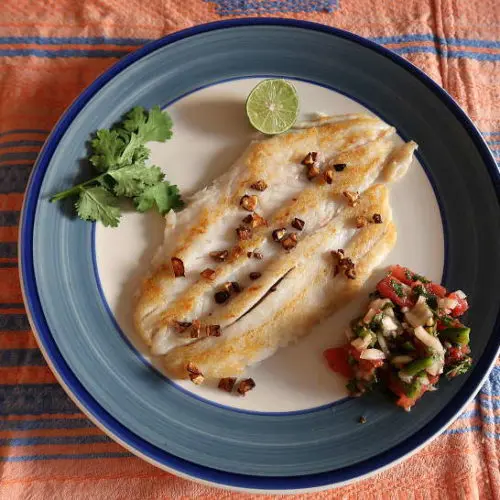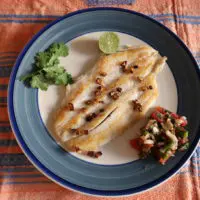 Pan Seared Sea Bass Recipe
Pan seared sea bass with Chilean pebre sauce. In under 30 minutes you'll enjoy a deliciously healthy and sustainable taste of Chile.
Print
Pin
Rate
Instructions
Lightly coat the base of a non-stick frying pan with ghee or avocado oil 

Place the pan over a medium-high heat

Once the pan is hot, place salted fish fillets on the pan

Cook for 4-6 minutes until the fish turns nicely golden brown

Turn the fillets over and cook the other side for 4 – 6 minutes.

The fish is cooked when the flesh turns opaque.
Notes
For a sauce to go with the bass, we recommend the easy to make Chilean Pebre sauce. This sauce takes about 15 minutes to make and is best enjoyed fresh. Pair the sea bass and sauce for a light and tasty dish.
Nutrition
Serving:
1
|
Calories:
873
kcal
|
Protein:
160
g
|
Fat:
21
g
|
Saturated Fat:
5
g
|
Polyunsaturated Fat:
7
g
|
Monounsaturated Fat:
6
g
|
Cholesterol:
720
mg
|
Sodium:
621
mg
|
Potassium:
2304
mg
|
Vitamin A:
810
IU
|
Calcium:
135
mg
|
Iron:
8
mg
Claire is co-founder of Authentic Food Quest and a lover of simple and exquisite cuisine. Since 2015, with her partner, Rosemary, she has been traveling the world as a digital nomad, creating content about local food experiences.
Her advice from visiting 45 countries and more than 240 food cities has been featured in Lonely Planet, Business Insider, Honest Cooking, Food Insider, and Huffington Post. She has also co-authored three books, including one in collaboration with Costa Brava Tourism.
An ex-mechanical engineer, Claire is responsible for SEO, keeping the website running, and the fun food & travel videos on YouTube.
When Claire is not eating, she can be found running or cycling. Find out more about Authentic Food Quest