This article has links to products and services we recommend, which we may make a commission from.
What is Pao de Lo?
Pao de lo is a traditional Portuguese sponge cake that is unbelievably easy to make at home.
The traditional recipe calls for whipping together eggs and sugar, sifting in flour with a pinch of salt, and baking it until slightly golden.
The result is an easy cake that is moist and fluffy and completely versatile. You can eat it as is or top it with whipped cream or fruit jam.
This simple cake can also be used as a base for more elaborate desserts.
What we love the most about this pao de lo recipe is how easy it is to make. This is the kind of recipe you can quickly whip up when unexpected friends are coming over.
RELATED: 12 Of The Most Authentic Portuguese Desserts And Where To Enjoy Them
History of Pao de Lo or Portuguese Sponge Cake
The Pao de lo sponge cake, one of the most famous desserts in Portugal dates back to the 15th – 16th Centuries.
This cake was made by nuns in the center of Portugal and it is said to have been created from a cooking mistake.
During a visit by the King to the convent, the sponge cake was taken out of the oven early. Fortunately, everyone loved the moist cake making it a success and part of the traditional Portuguese cuisine.
Pao de lo was traditionally baked in wood ovens in clay pots. This Portuguese sponge cake was then introduced to other cultures, most notably Japan.
Portuguese sailors introduced pao de lo, then called pao de castela at their entry, the Port of Nagasaki. The Japanese adopted the recipe and called it Kasutera.
Today, Kasutera is loved all over Japan and considered one of the best traditional Japanese desserts.
It is considered a specialty of Nagasaki, where it is made in the traditional style and referred to as Nagasaki Castella.
With this easy pão de ló recipe, you'll enjoy the essence of this historic dessert, with a simpler preparation method.
RELATED: 10 Most Popular Portuguese Dishes You Want To Enjoy
Discovering Pao de Lo in Portugal
While exploring the local food specialities in Lisbon, we took a food tour with a local guide to understand Portugal's rich culinary history.
The food tour with Taste of Lisboa focused on hidden food gems and that's where we discovered the sweet tastes of pão de ló.
As described on the tour, the cake was deliciously moist and pleasantly sweet. We enjoyed the delightful cake with tea and it was the perfect match to end the food tour.
Beyond the food tour, pao de lo is available at bakeries throughout Portugal and also typically made at home.
If traveling to Portugal is not in your immediate future, enjoy this traditional recipe for the most famous Portuguese airy cake.
RELATED: 7 of The Best Lisbon Food Tours You Want To Try – Review
Pao de Lo Recipe – How To Make Portuguese Sponge Cake For Moist and Creamy Results
Making Pão de Ló at home requires a few staple ingredients that you probably already have.
Here are some tips to help you get the fluffiest and most delicious Pao de lo cake.
Since this recipe uses minimal ingredients, the quality and the way they're incorporated makes a huge difference
Use organic or free-range eggs: Eggs are the foundation for this recipe. Their quality and flavor are essential to ensure a delicious Pao de lo that doesn't taste awfully eggy. Also, make sure you take them out of the fridge a couple of hours before preparing the recipe or adding them to warm water for 15 minutes before using. Beating eggs at room temperature results in more voluminous and airy whipped eggs
Type of Sugar: This Portuguese Sponge Cake is made using white granulated sugar. You can also use caster sugar or ultra-fine sugar. You cannot, however, use powdered or confectioner's sugar. The sugar must be dissolved entirely when whipped with the eggs. To test for sugar granules, rub a little bit of the beaten eggs between your index and thumb. You're good if the texture is smooth. If you feel any granules, then keep whipping.
Type of flour: You don't need to use anything fancy, all-purpose flour works just fine.
Pao de Lo Recipe Tips
Portuguese Sponge Cake Recipe Preparation Tips
Following are some additional points to consider when making this typical Pão de Ló recipe.
Use a stand mixer or a hand blender. While the traditional method calls for whisking the eggs by hand, this is time-consuming, tiring and can be avoided. If you have a stand mixer, then whip the eggs and sugar on high for 10 minutes only. Using a hand blender would take you a little longer, about 15 minutes.
Sifting and folding the flour: Sifting the dried ingredients is commonly called for in many cake recipes, but it is a critical step in this recipe. Since this cake depends on whipped eggs for volume, you need to gently fold the flour mixture to prevent knocking the air out. If you are using a stand mixer, switch to the paddle attachment when incorporating the flour. If you add the flour as is, you will end up with lumps that will weigh down the batter in some parts, making the cake uneven. If you try to get rid of the flour lumps by whisking the batter, you will deflate the batter.
Preparing the cake pan: For this recipe, we use a large bundt pan. If you don't have one, you can use a fluted tube pan. Since this cake contains no oil or butter, it will stick to any surface, including non-stick pans and baking paper. For this reason, you should butter your pan generously. It is also best to add parchment paper that extends a couple of inches above the cake pan to avoid the batter from overflowing when baking.
How To Cool Down The Pao de Lo Portuguese Sponge Cake
Don't be alarmed if the cake sinks and shrinks dramatically and forms folds and creases as it cools. This is normal.
Let the cake cool for at least 10 minutes before handling.
Run a spatula around the cake to make sure all sides are loose before flipping it over.
How To Store Portuguese Sponge Cake
Let the cake cool completely, then store it in an airtight container. You can keep it at room temperature for up to 3 days. Be sure to keep the container away from sunlight or direct heat.
To freeze the sponge cake, wrap it tightly in plastic wrap, making sure you squeeze out all the air. Then place it in a container and freeze for up to 3 months. When ready to thaw, put it in the fridge overnight.
AUTHENTIC FOOD QUEST RECIPE: Check out our recipe for the rich and decadent Filipino Sans Rival Cake.
Pao de Lo Recipe – Step by Step Instructions
Prepare Pan and Flour Mixture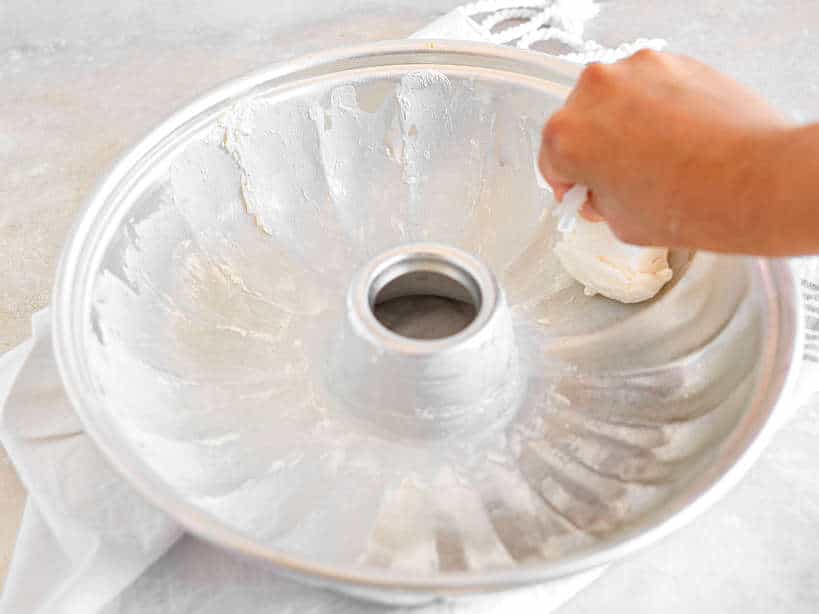 Preheat your oven to 180 C or 360 F. Butter the inside of the bundt pan and place around the upper half of the pan, extending a couple of inches above the pan.
Sift the flour and salt into a bowl. This step is essential to avoid lumps in your batter and to get an even cake.
Beat Egg and Flour Mixtures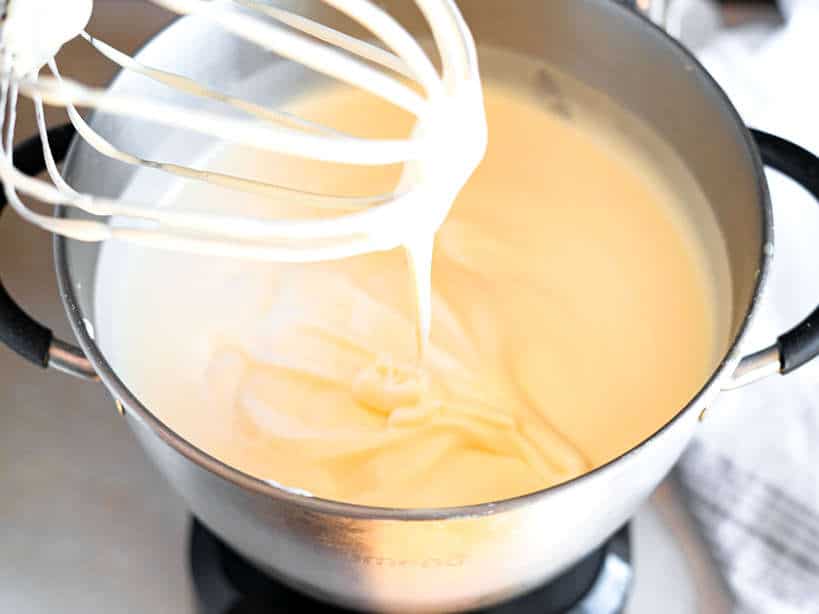 Crack the room temperature eggs into the bowl of a stand mixer. Beat the egg mixture on high for about 5 minutes. Gradually add in the sugar and beat until the mixture is smooth, pale, and has stiff peaks.
Replace the whisk attachment with a paddle attachment and gradually fold in the flour beating on medium high speed. Work fast, and beat for only 3 to 5 minutes. You don't want to overbeat the mixture. Make sure everything is blended together and there are no lumps.
Bake The Sponge Cake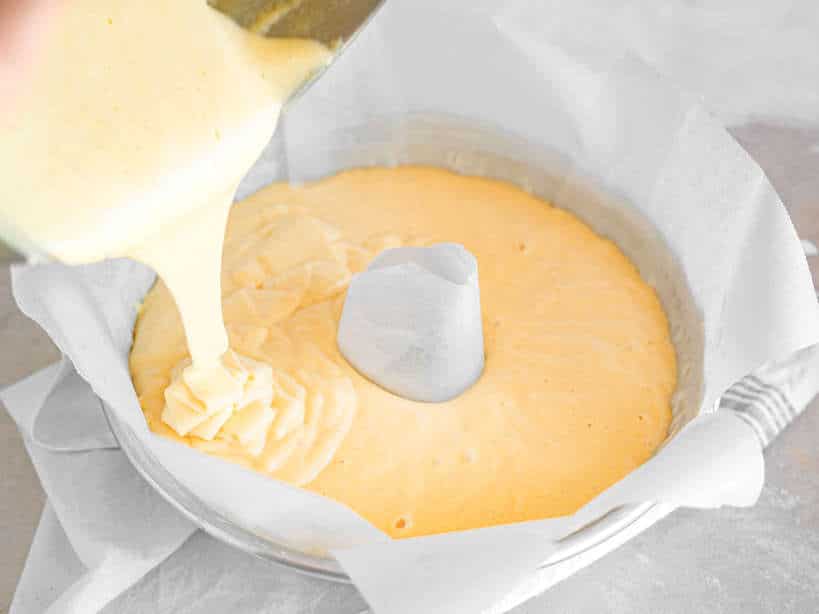 Pour the batter into the prepared pan and bake for about 30-35 minutes. To check if it is done, insert a toothpick and it comes out dry, the sponge cake is done.
Remove the cake from the oven and let it cool for about 10-15 minutes. The cake will deflate a little bit, which is totally fine.
More Related Cooking Products
Curious by nature, Rosemary loves exploring new flavors and connecting with locals. She shares her insights and culinary finds from her travels to inspire people to connect local through food.