This article has links to products and services we recommend, which we may make a commission from.
This easy authentic Portuguese pataniscas de bacalhau recipe makes for a mouthwatering starter or main dish. Light and fried to perfection, they come together by mixing codfish, eggs, flour, onion and parsley. Easy to make and full of flavor, these irresistible codfish fritters bring the tastes of Portugal to your table.

What is Pataniscas de Bacalhau?
Pataniscas de bacalhau, is one of the most famous Portuguese foods with codfish or bacalhau. They are delectable salt cod fish fritters made with shredded cod, onion, parsley, eggs and flour.
Typically deep fried, they can be eaten hot as petiscos which are the Portuguese equivalent of tapas. And, they can also be served as a main dish with a tomato rice and bean dish.
The Portuguese are obsessed with cod fish. It is said that there are more than 1,000 ways of serving it.
Cod is an important traditional food, so much so that it is known as "the faithful friend".
A popular saying says that you could prepare a Portuguese recipe with cod every day of the year, without repeating a single recipe.
Of all the hundreds of recipes using cod, pataniscas de bacalhau is one of the most famous.
AUTHENTIC FOOD QUEST TIP: For delicious and sustainably sourced cod delivered to your home, we recommend Sizzlefish. With a keen focus on delivering pure natural fish, you'll get wild caught North Atlantic codfish individually vacuum packed for this Portuguese cod fish fritters recipe.
Pataniscas de Bacalhau Recipe History
Portugal is one of the world's biggest consumers of cod. It is estimated that 20% of all cod caught in the world is eaten in the country. That's an average of about 35 kilograms per person, per year.
The history of the pataniscas de bacalhau recipe is intricately tied to the history of cod in Portugal.
The first records of Portuguese fishing cod date back to the sixteenth century.
Though large scale consumption really took off in the 19th century since it was easy to preserve and transport into the interior of Portugal.
During the fascist regime of the "Estado Novo" or Portuguese New State from 1920, cod fish fishing reached its peak.
It was at this time during the "Cod Campaign" pushed the idea of "bringing bread from the seas to the country".
As a result, Portugal became one of the world's largest consumers of cod fish with hundreds of recipes invented.
RELATED: 7 Authentic Ways You Want to Eat Bacalhau The Portuguese Way (With Recipes)
Discovering Pataniscas de Bacalhau in Portugal
Taking food tours is a wonderful way to explore the local food specialties. In fact, it is how we discovered Pataniscas de Bacalhau in Portugal.
By the time we took the food tour, we had already been in Lisbon for a few days and had already tasted bacalhau.
However, we didn't know about the delightful salt cod fish fritters until the food tour.
The Lisbon food tour we took focuses on hidden food gems. And it was at one of the stops where we first savored these delightful little bites.
The salt cod fish fritters were fresh, lightly fried and incredibly tasty. We sampled them alongside a tomato rice and bean dish known as arroz de feijaos.
A refreshing glass of Portugal's famous Vinho Verde wine made for a tasty discovery.  
If you are planning on visiting Portugal, we recommend taking a food tour with a local guide to discover the unique local specialties and variations of codfish.
Pataniscas de bacalhau Recipe – How To Make Pataniscas de Bacalhau at Home
To prepare the Pataniscas de Bacalhau you will need a few ingredients. The main ingredient is salt cod. This cod must be desalted for at least 24 to 48 hours hours before preparing the salt cod fish fritters.
Alternatively, you can also use ready to cook cod fish pieces to save time.
The Portuguese have a love affair with olive oil, and pataniscas de bacalhau are usually fried in Portuguese olive oil. However, you can also use a neutral vegetable oil.
If you want to give your cod fritters an extra touch of flavor you can add a little freshly squeezed lime juice.
AUTHENTIC FOOD QUEST TIP: If you want to make another cod dish, try our favorite Bacalhau a Bras recipe
Pataniscas de Bacalhau Recipe Tips
Preparing the Cod
The most important part of this pataniscas de bacalhau recipe is to desalt the cod. For this, you must soak the cod in water for about 24 to 48 hours.
During this time period, you want to change the soaking water every six hours. Be sure to leave the cod in the fridge the entire time in a vacuum sealed container with a lid.
Alternatively, you can use ready to cook cod pieces, which are delivered frozen, and must be thawed out first before cooking.
Once the cod is ready, cook it in boiling water. After it has cooled, shred the cod into flakes. It is
essential to remove the skin and bones from the cod. The Portuguese cod fish fritters cannot contain bones or remains of cartilage.
Be sure to conserve about 1 cup of the cooking water to use for making the bacalhau mix.
What To Serve With Pataniscas de Bacalhau
Pataniscas de bacalhau is just one of the ways of eating dried salted cod fish. In Portugal, they are typically eaten alone as a starter and can be served hot or cold.
As a main dish, pataniscas de bacalhau is eaten with Arroz de Feijão or tomato rice with red beans. This rice dish is very popular, delicious and versatile.
Baked Pataniscas de Bacalhau
In general, pataniscas de bacalhau are fried in abundant olive oil. The excess oil is removed by letting it soak onto paper towels.
If you are concerned about frying the salted cod, you can bake the cod fritters in the oven instead.
In this case, you'll follow the exact recipe prior to the frying steps.
Then, put the small oval shapes of pataniscas on an oiled baking pan. And bake the pataniscas in the oven for 15 to 20 minutes at about 400 °F / 200 °C.
Where to Buy Cod Fish
The secret to this delicious and beloved Portuguese cod fish fritters is the use of exceptionally high quality ingredients. You want to use natural fish that is sustainably sourced.
Sizzlefish provides wild caught North Atlantic cod shipped directly to your home. The company is on a mission to help people eat well and live better while enjoying the health and performance benefits of fish.
With no additives, and a source of healthy omega-3 fatty acids, this is some of the finest wild atlantic cod available.
Pataniscas de Bacalhau Recipe Step by Step Instructions
Prepare The Cod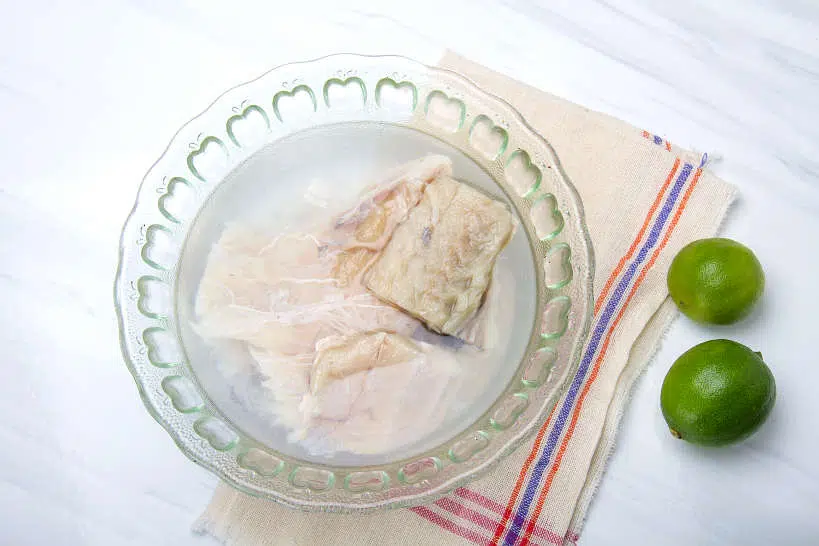 Start by soaking the cod in water for 1 to 2 days, changing the water regularly. Keep the cod in an airtight container in the refrigerator.
When ready, bring the salted cod to a boil for about 30 minutes and add lime juice and seasonings to the water.
Make The Cod Mixture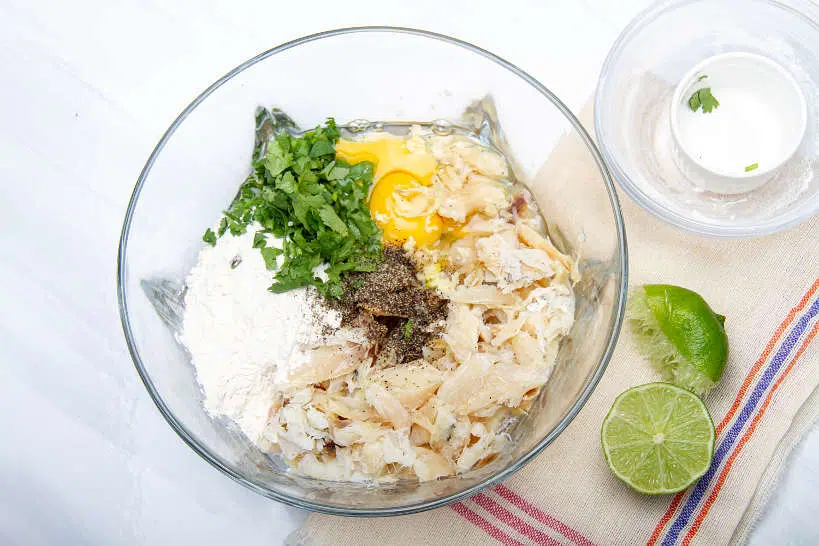 Place all the ingredients in a large mixing bowl. Mix well until everything is blended together. You can add the bacalhau cooking water you set aside to make thinner batter if batter is too thick.
Frying The Cod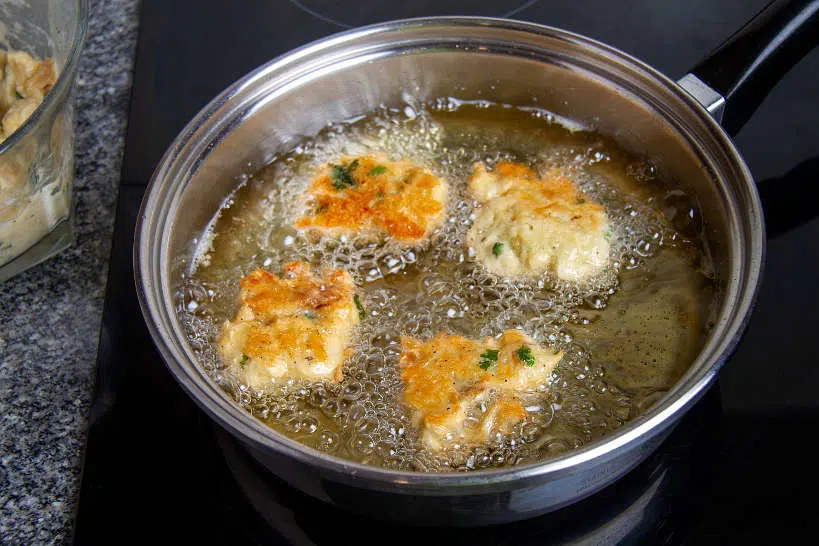 Create pataniscas in oval shapes using a spoon and fry until golden brown in hot olive oil or a vegetable oil of your choice.
Once cooked, let the excess oil drain onto paper towels before serving.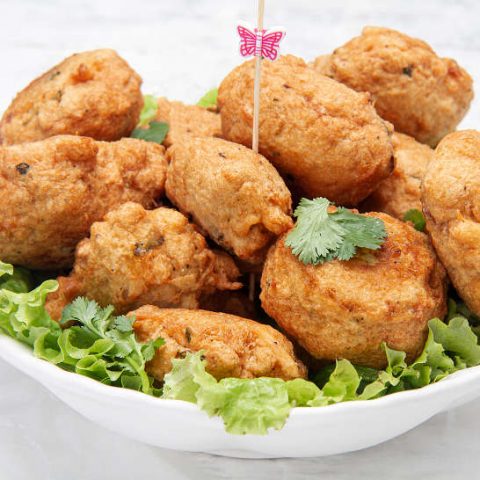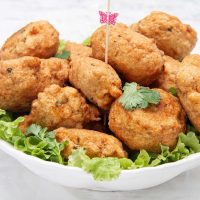 Pataniscas de Bacalhau Recipe
This easy authentic Portuguese pataniscas de bacalhau recipe makes for a mouthwatering starter or main dish. Light and fried to perfection, they come together by mixing codfish, eggs, flour, onion and parsley.  Easy to make and full of flavor, these irresistible codfish fritters  bring the tastes of Portugal to your table.
Print
Pin
Rate
Ingredients
1.1

lbs

salted cod

2

eggs

1 ½

cup

flour

2

cups

Portuguese olive oil

for frying

1

bay leaf

5

grains

Allspices

1

garlic clove

1

tsp

black pepper

freshly ground

2

limes

1

white onion

medium, finely chopped

2

tbsp

parsley

finely chopped

1

cup

cod cooking water

salt to taste
Instructions
If you are using salted cod, start preparing the recipe two days in advance. Start by rinsing the cod with a little running water. Then, place it inside a glass container, with a lid. Fill the container with enough water to cover the cod at least partially. Keep it inside the fridge. Every six hours, remove the cod from the fridge, drain the water, and top up again with more freshwater. This process removes the salt from the cod.

If you are using ready to cook cod pieces, start by thawing them out if they are frozen.

Place a medium pot on the stove, fill it halfway with water. Add cod, the juice of one freshly squeezed lime, 7-spice kernels, and bay leaf. Cook over medium-low heat for about thirty minutes.

When the cod is tender, drain the excess water. Keep aside a cup of the cooking water and let it cool.

Let the cod cool down at room temperature. Once cool, place it on a cutting board and shred it using your hands. Very carefully remove all the cod bones, cartilage, and skin.

Place the cod meat in a mixing bowl. Add the minced garlic clove, black pepper, the flour, the juice of the second lime, eggs, the chopped onion, and the parsley. Add salt and pepper if desired.

Mix all the ingredients together until you have a thick paste consistency. If batter is too thick, add the cod cooking water, a little at a time, until the mixture is smooth.

Pour the two cups of oil into a heavy skillet. Turn on the stove to high heat. Wait until you see small bubbles at the bottom of the pot.

Using a spoon, scoop out a little bit of the cod mixture and create little oval shapes. You can pat them down to create a thicker style flat cake about ¼ inch thick. The pataniscas do not have a defined shape, so you should not worry.

To test if the oil temperature is ready for frying, drop a tiny amount of batter in the oil. If the batter sizzles, it's ready to go.

Place about three or four pataniscas in the pan. After about three minutes, turn the pataniscas so they cook golden brown on both sides.

Remove the cooked cod fritters from the pan and let them rest on a plate covered with absorbent paper towels.

Serve cod fritters hot or you can let it cool first. If you choose, you can also sprinkle squeezed lemon juice over the pataniscas.

Serve with toothpicks as an appetizer or with tomato rice for a main dish.
Notes
Salted cod usually retains a bit of salt even after cleaning with water for 1 to 2 days. Be sure to taste the mixture before adding more salt.
Depending on how you like your batter, you can make a thicker style flat cake or use more water to make thinner batter.
Nutrition
Serving:
1
|
Calories:
442
kcal
|
Carbohydrates:
12
g
|
Protein:
25
g
|
Fat:
33
g
|
Saturated Fat:
5
g
|
Polyunsaturated Fat:
4
g
|
Monounsaturated Fat:
23
g
|
Trans Fat:
0.002
g
|
Cholesterol:
78
mg
|
Sodium:
2516
mg
|
Potassium:
575
mg
|
Fiber:
1
g
|
Sugar:
1
g
|
Vitamin A:
140
IU
|
Vitamin C:
6
mg
|
Calcium:
72
mg
|
Iron:
2
mg
More Related Cooking Products
Rosemary is the editor-in-chief and strategist at Authentic Food Quest.
Traveling slow since 2015 with her partner, Claire, she has explored the cuisine in 45 countries and more than 240+ culinary cities.
Her writing about local food specialties has been featured in Lonely Planet, Business Insider, Honest Cooking, Food Insider, and Huffington Post.
As a food and travel writer, Rosemary has co-authored three books, including one in collaboration with Costa Brava Tourism.
Rosemary is an avid runner when she's not eating and exploring new destinations. She has run ten marathons and counting.
Before Authentic Food Quest, Rosemary held senior-level strategy positions in advertising. 
Find out more about Authentic Food Quest