The history of food in Penang island is inextricably linked to its founding back in 1786. Penang was acquired by the English Captain Francis Light, on behalf the British East India Company.
By the 1800s, Penang was one the busiest trading ports in the region, attracting merchants involved in the trade of tea, spices, porcelain and cloth.
Traders and settlers came from Europe, India, China, the Malay Archipelago, Thailand and Burma and called Penang home. This led to a multi-cultural mix of Chinese, Malay, Indian and Siamese, to name a few.
Penang became a melting pot for hybrid communities, with the most famous being the Baba Nyonya (Chinese and Malay), Jawi Peranakan (Tamil Indian and Malay) and Eurasians (European and Asian).
These different communities settled on the island creating a multi-cultural heritage.
George Town is the capital city of Penang island and is Malaysia's second largest city. The historical core of Georgetown was recognized as a UNESCO World Heritage site in 2008.
Today, the dynamic city of George Town is renowned for its diverse street food. Penang food is a delicious culinary experience where different cultural influences are stirred into its literal "melting pot." Here are 9 reasons why you should feast on Penang Food in Malaysia.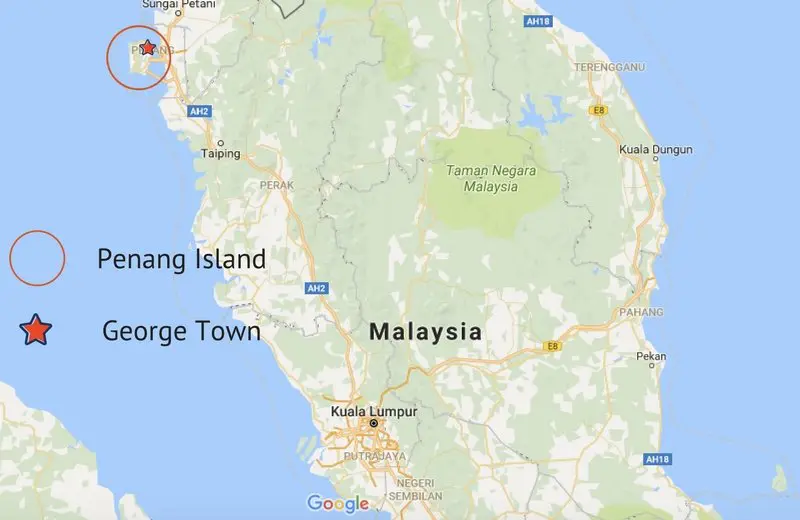 #1- Penang – The Food Capital of Malaysia
Penang is the birthplace of Malaysia street food and has been voted time and again as one of the best in the world. A few of the numerous accolades include; Lonely Planet who ranked Penang as the #1 Best Food Destination in 2014. And in 2016, Huffington Post had bestowed Penang char koay teow as one of the must try dishes in the world.
The food reflects the intermingling of the many cultures that arrived after it was set up as a trading port in 1786. You'll find a mix of traditional Malay, Chinese and Indian dishes, as well as the fusion cuisines such as Baba Nyonya, or Peranakan. The food culture is also influenced by the Acehnese, Burmese, Thais and more.
All of this can be found in food courts, hawker centers and coffee shops (Kopi Tiam) throughout George Town.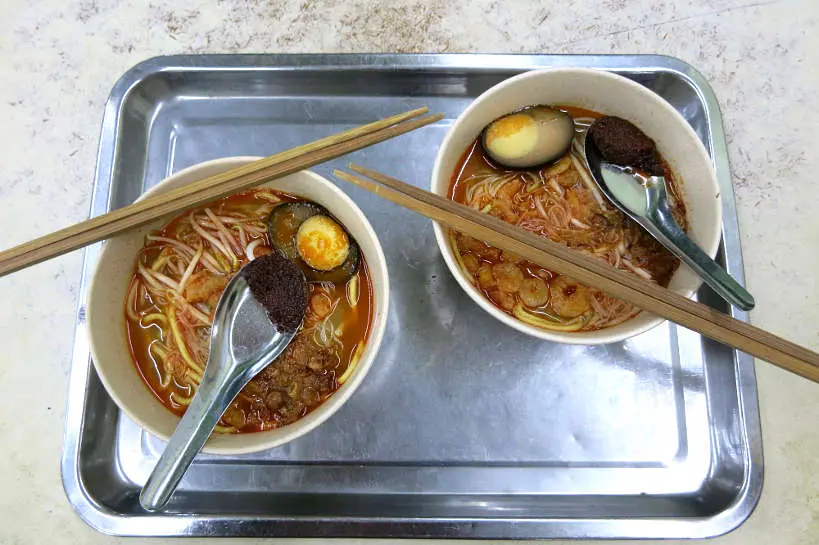 #2- Penang Street Food and Hawker Centers
Penang has a host of hawker centers sprawling around the city. Each hawker center has its own character. From the large and organized Gurney Drive Hawker Center to the open air hawker stalls on Chulia Street. There is a hawker center for every taste.
In our previous article, we discovered Hawker Centers in Malaysia. These Hawker Centers are open-air food complex where many individual food stalls prepare dishes to eat on site.
In Penang, each hawker center becomes a sought out destination for your next meal, a new place to discover.
Penang's hawker centers are cheap, informal and almost universally delicious. Taste the local food and mingle with locals over a meal.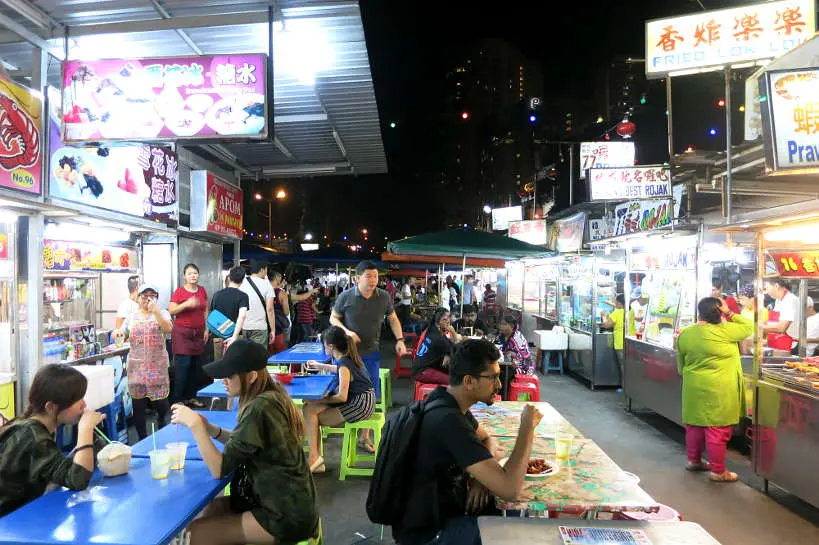 #3- Unique Penang Food & Dishes
Not only you will find all the different Malaysian cuisines, Penang also bring its own touch when it comes to Malaysian specialties.
As soon as we landed in Penang, we were told not to miss Penang Asam Laksa. Laksa comes from the Peranakan cuisine and it is a popular spicy rice noodle soup. The typical Laksa is made with a sweet coconut base curry sauce.
In Penang, Laksa is made with tamarind, which gives this spicy soup a distinct sour taste. It became famous when Anthony Bourdain visited Pasang Air Itam and featured its delicious Asam Laksa. Penang Asam Laksa is ranked #7 on CNN top 50 world's 50 best foods.
Discover unique local dishes and enjoy the Penangite twist on the food specialties.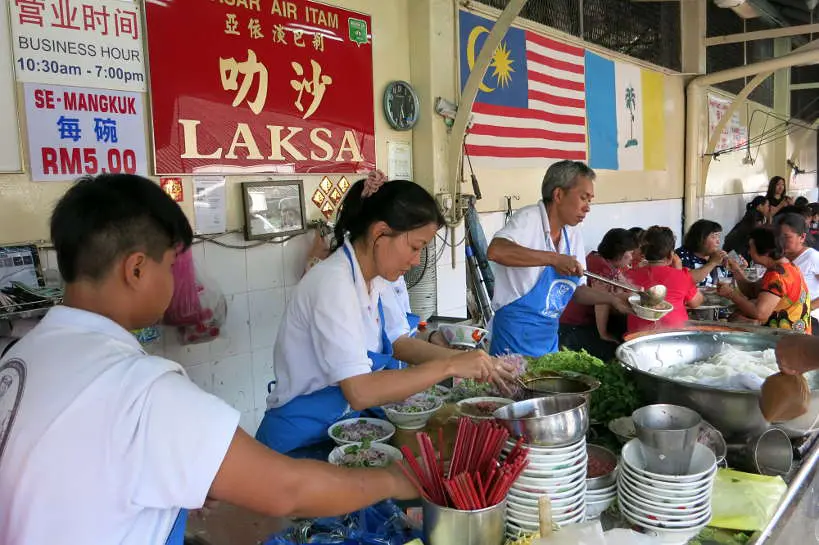 #4- Visit The World's First Food Wonderland – Wonderfood Museum
To feast your senses, visit Penang's first world food museum, called Wonderfood. This museum features creative and interactive food art to celebrate Penang's food heritage.
The museum will give you insights on the local cuisine and walk you through the unique dishes of the region. Giant replicas of the food dishes are exhibited in several galleries in this three floor building. You will get to learn about Malaysian eating habits as well as the history behind the food.
No doubt that this fun museum will leave you hungry and ready to hunt for your next Penang food specialty.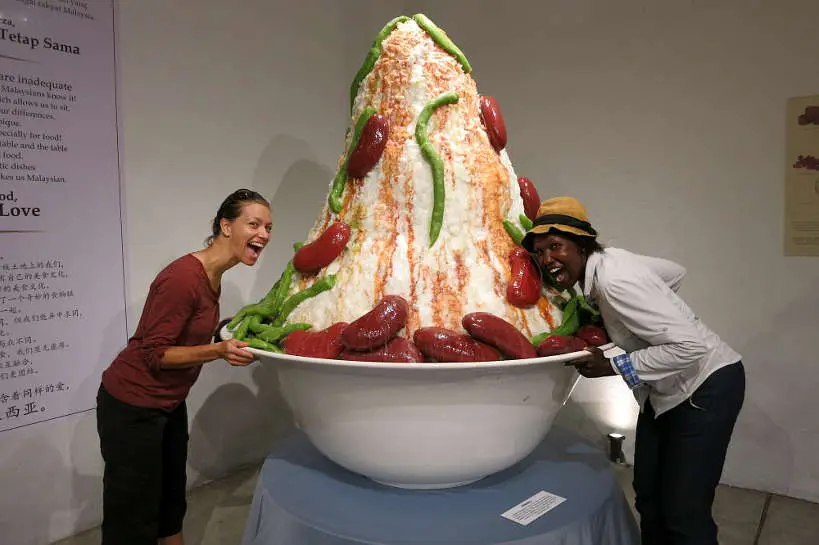 #5- Walkable City for Eating Stops
George Town, Penang, is compact and very walkable. You'll find a myriad of delights along the narrow lanes and alleyways.
Leisurely strolling down the streets, will you to soak in all the details. Amazing murals, street art, along with wrought-iron caricatures are found in surprising corners around the city.
See colonial architecture on Beach Street also known as "Street of Banks" for the sheer number of financial institutions.
The "Street of Harmony" Jalan Masjid Kapitan Keling street, and Armenian Street on the otherside, showcase the assimilation and harmonious co-existence of the many cultures and religions in Penang.
Coffee shops and eateries serving piping hot curries, noodles and an array of mouth watering dishes are found throughout George Town. Take respite from the heat and enjoy a delicious iced treat. Or, break your walking tour up with stops in at any one of the tempting hawker centers serving the local Penang food.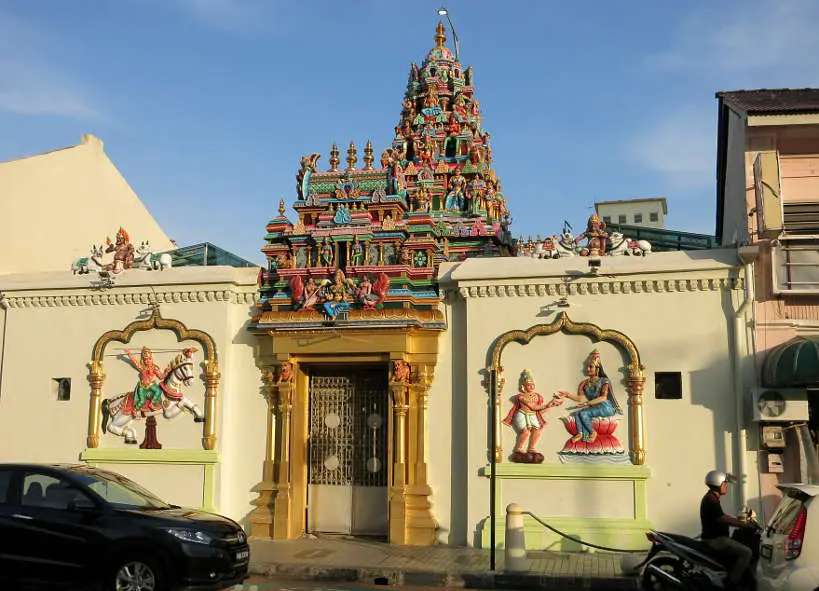 #6- Abundant Vegetarians Options
Penang has a predominantly Chinese population. Over 80% of Malaysian Chinese identifying themselves as Buddhists, and vegetarian diet is part of their habits.
You will find in Penang, a lot of Chinese cuisine restaurants offering exclusively vegetarian menus.
Additionally, over 9% of the population in Penang is of Indian descent. Vegetarianism is a revered tradition in Indian culture. As a result, you will find many Indian vegetarian options offered in restaurants as well.
Penang is definitely a food haven for vegetarians. According to Happy Cow, there are more than 140 restaurants offering vegetarian food or vegetarian-friendly options on their menu.
If you are a vegetarian, in Penang, you will find plenty of options to feast on and satisfy your cravings.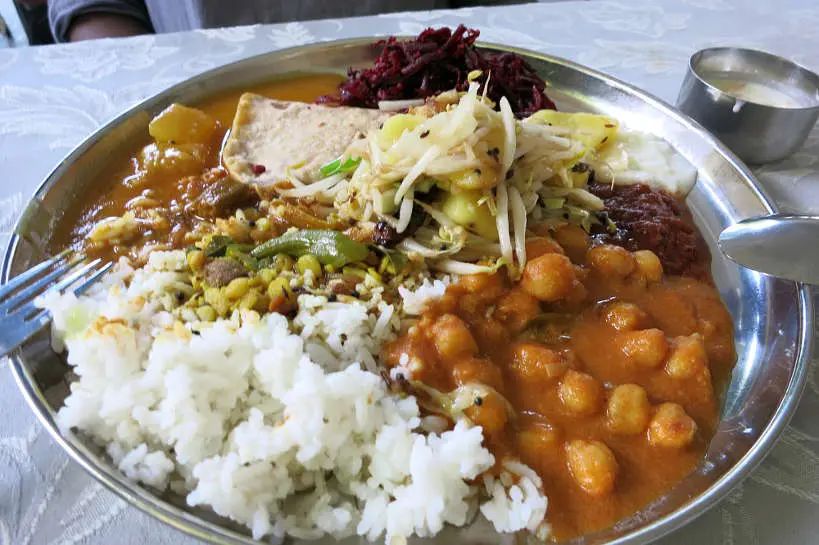 #7- Desserts and Juices Complete the Food Experience
Penang offers food travelers a wide array of local specialties to choose from. If you're a sweet tooth you'll find many famous sweets and iced desserts made with local ingredients. Using coconut milk, palm sugar, red beans, bananas, sweet corn, and grass jelly, you'll find these ingredients in refreshing shaved ice to piping hot pastries.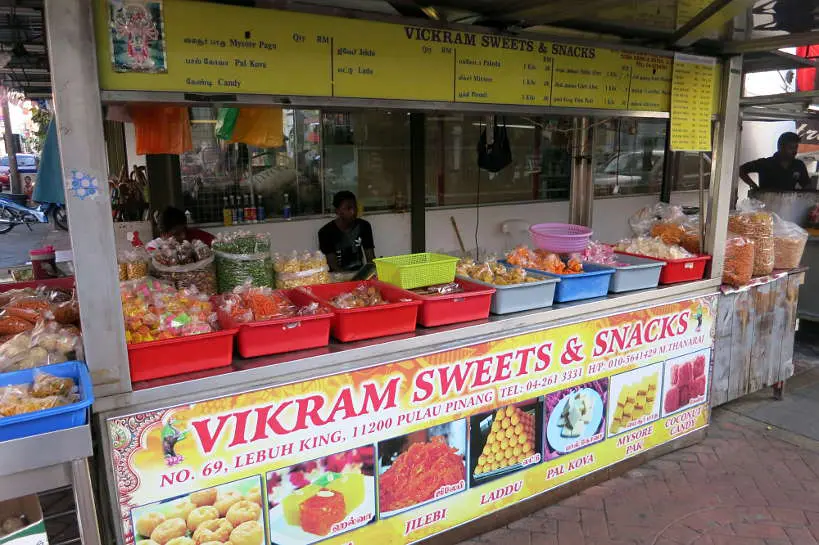 One of the things we particularly enjoyed are the local fruit juices. The juices are unusual like fresh nutmeg juice or Air bandung – rose syrup and evaporated or condensed milk.
The food in Penang is a complete experience. From delicious famous dishes to local desserts and juice, there are many reasons to flock to the food stalls at any time of the day.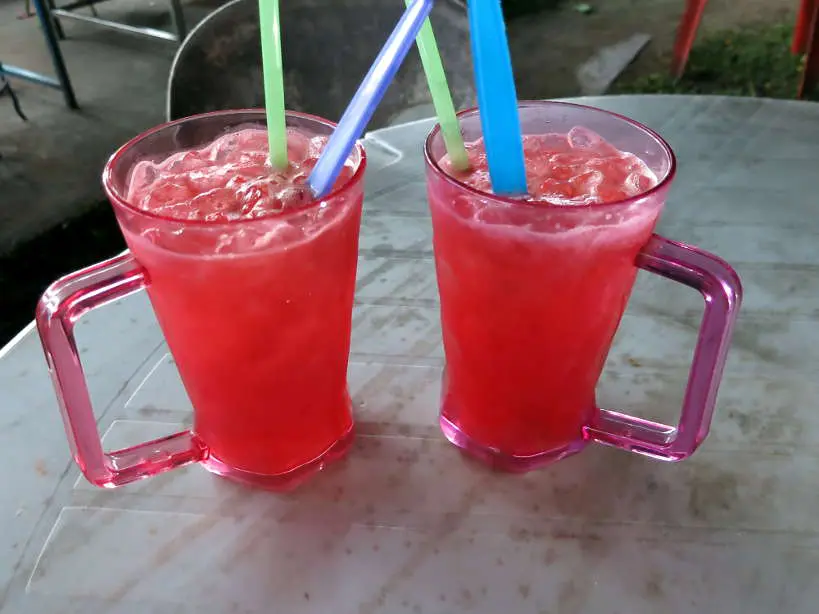 #8 – Penang Food and Its Food Festivals
Penang hosts several food festivals. Some are religious-based, while others celebrate the local food culture.
In April 2017, Penang hosted for the first time the International Food Festival. For 16 days, Penang celebrated its food heritage from street food to fine dining experiences.
If your travels take you to Penang on September 1st and 2nd. Join the Penang Street Food festival that celebrates its widely acclaimed street food.
In addition to these festivals dedicated to food, Penang also celebrates the Nine Emperor Gods Festival an annual Taoist celebration held from the first day to the ninth day of the lunar month. For nine days, devotees observe a vegetarian diet to cleanse their bodies and soul.
During the festival, you can find a variety of vegetarian stalls along the roads around Penang with delicious and creative vegetarian cuisines.
When we arrived in Penang, we stumbled onto the Indian festival, Thaipusam, dedicated to the Hindu deity, Lord Murugan. During this festival, food was given out freely on the streets as the processions were taking place.
You will find the same experience on Deepavali, one of the largest annual festivals celebrated by the Indians. A variety of local dishes are offered on the streets.
Participating in the local festivals in Penang will give you a deeper appreciation for the rich culture and local Penang food.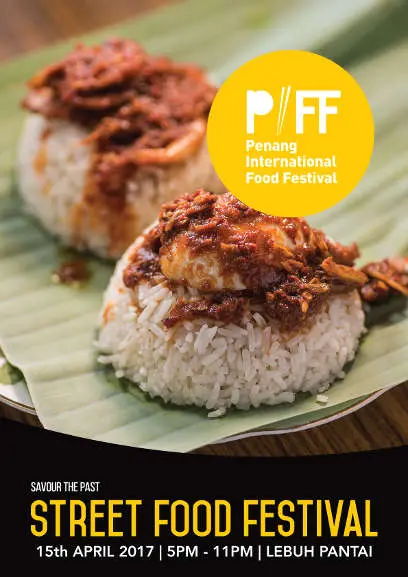 #9- Venture into the Clan Jetties – Penang Floating Villages
Built by Chinese immigrants of the olden days, the Clan Jetties were segregated into distinct communities of Chinese people that arrived in George Town in search of a better future. These homes built on the water were occupied by clan members with the same last name such as Chew, Tan, Lee and others. Today, descendants still occupy the homes which line the jetties.
Local food specialities can be found at Chew Jetty Café, at the entrance of Chew Jetty. You'll find iconic Penang food like Hokkien Mee (noodle dish) and even hidden stalls that operate from private Clan Jetty homes. My Voice Cafe serves famous ramen and is quite popular for its eye-catching giant ramen noodle bowl.
Take in the history of the Clan Jetties while enjoying the delightful variety of Penang food, desserts and juices at this lively old Chinese Waterfront settlement.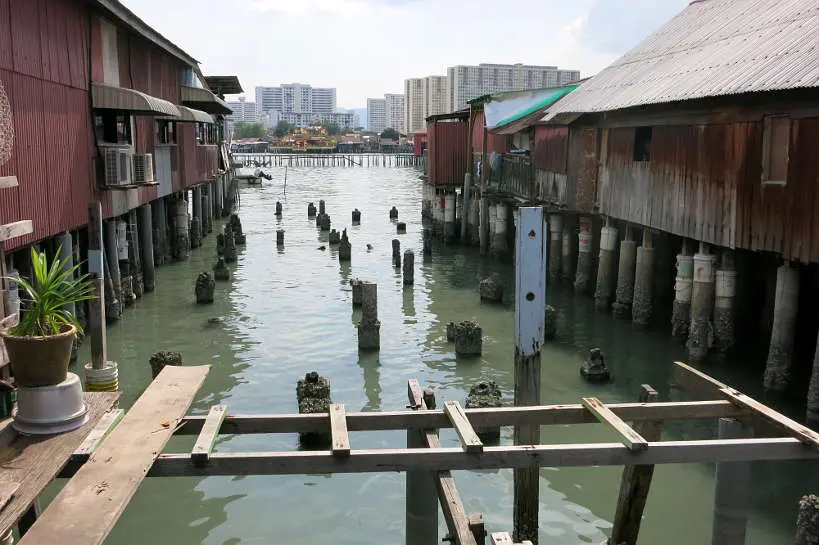 In Summary
George Town, Penang is a city full of history and character and where food is available everywhere and at all times of the day.
Penangites are proud to have their city crowned as the food capital of Malaysia. With their easy going and friendly attitude, they will make sure you taste their favorite dishes and eat at their preferred street stalls.
Penang is a manageable city, easy to walk around and sample the diversity of food and flavors. The richness of the food and the culture associated with the relaxed and laid back feel makes it a prime destination for any food travelers.
We definitely recommend Penang as one of the top cities to enjoy local food specialties in Southeast Asia!
Have you been to Penang before? In the comments below, share with us what city would you recommend to visit for its food?
Savor The Adventure!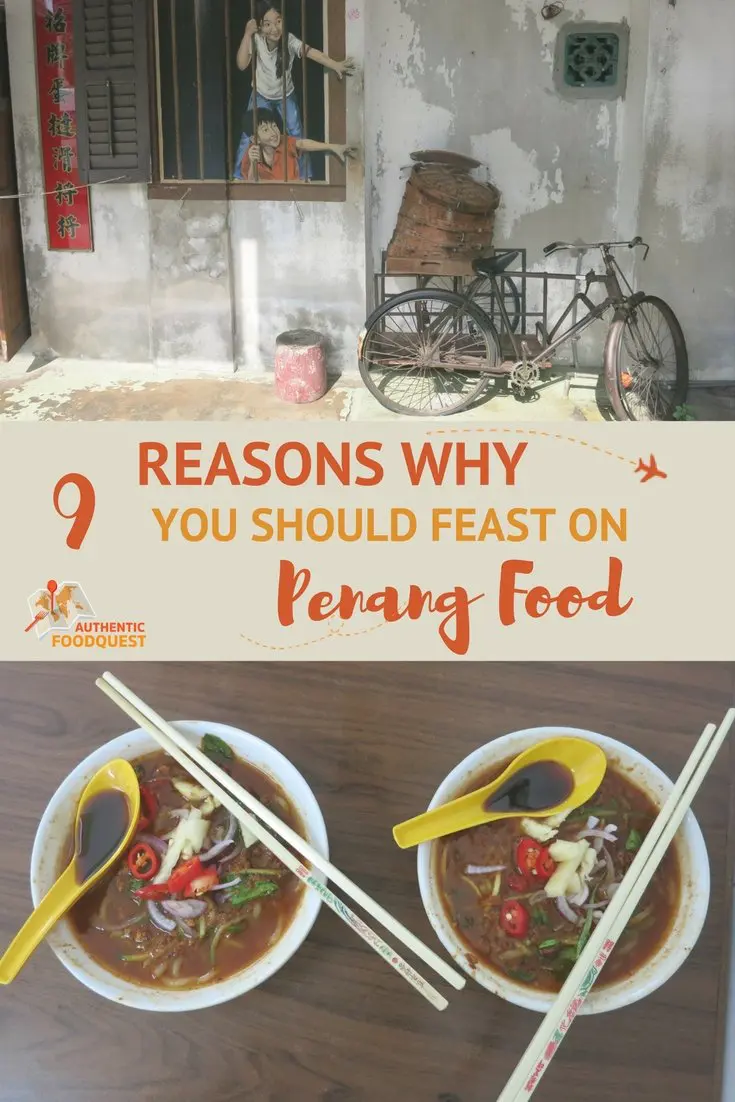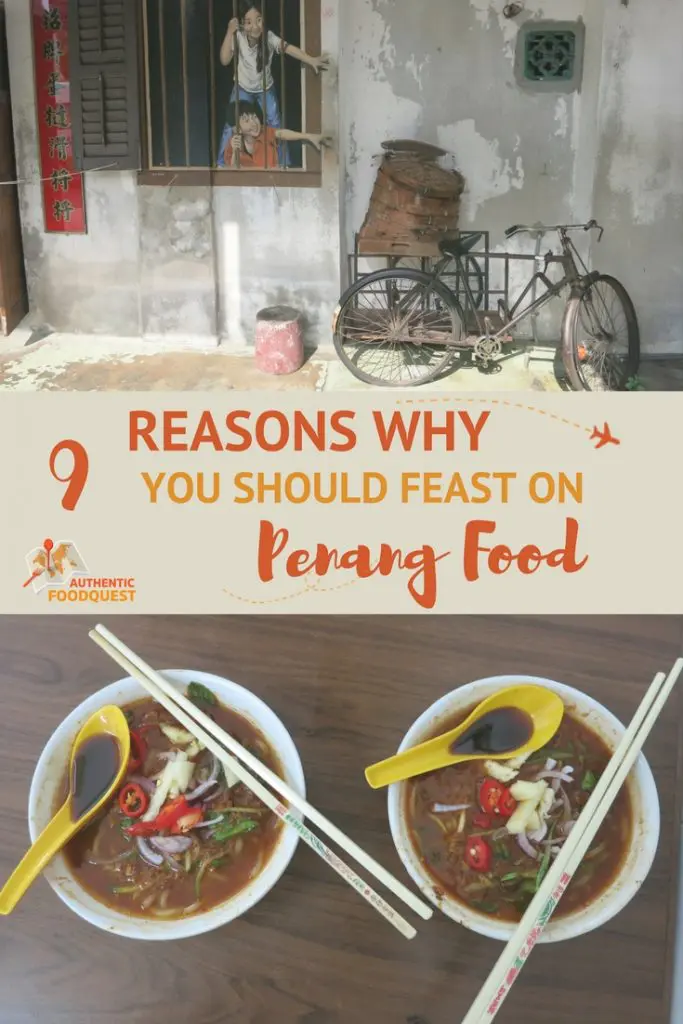 Claire is co-founder of Authentic Food Quest and a lover of simple and exquisite cuisine. Since 2015, with her partner, Rosemary, she has been traveling the world as a digital nomad, creating content about local food experiences.
Her advice from visiting 45 countries and more than 240 food cities has been featured in Lonely Planet, Business Insider, Honest Cooking, Food Insider, and Huffington Post. She has also co-authored three books, including one in collaboration with Costa Brava Tourism.
An ex-mechanical engineer, Claire is responsible for SEO, keeping the website running, and the fun food & travel videos on YouTube.
When Claire is not eating, she can be found running or cycling. Find out more about Authentic Food Quest