Our obsession with Peruvian cuisine continues! This time we explore Peruvian Criollo dishes.
What is Peruvian Criollo food you might ask? And what are the Criollo dishes worth eating in Peru?
The short answer is Peruvian Criollo food is Peruvian "comfort food"or everyday food. It is the food that many Peruvians eat in their homes. Criollo means creole, which commonly refers to people who descended from the Spanish colonial settlers.
When it comes to food, the Peruvian native indians had to integrate different ingredients and cooking techniques into their cuisine. These influences came not only from the Spanish but also from the African slaves, Chinese and Japanese immigrants.
Peruvian Criollo food is found mostly in the coastal and central regions of Peru where the early immigrants first settled.
Ready to indulge in Peruvian home cooking?
Here are the 6 Peruvian Criollo dishes you don't want to miss while in Peru.

1. Causa
A causa is a very unique Peruvian starter made of potatoes. Not just any potatoes, but Peruvian potatoes. Potatoes originated in Peru and there are more than 3000 varieties. Some people say causa comes from the Quechua word "kausay" (sustenance of life).
A signature dish from Peru. there are endless ways to compose and present this dish. The two most typical classics are Causa Limeña which has potato, tuna, avocado and tomato.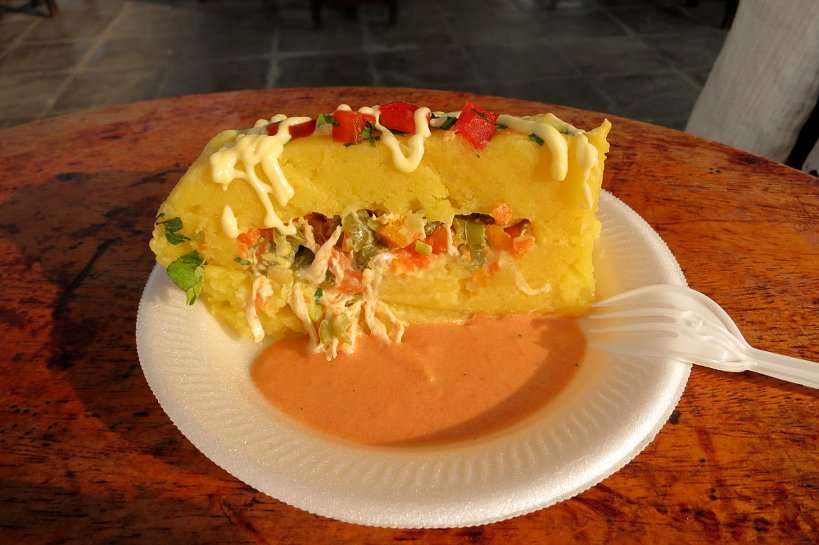 2. Anticuchos
Anticuchos come from the African slaves who were brought to Peru by the Spanish in the16th century. The Spanish gave the African slaves the innards of cows which they considered garbage.
Africans then marinated the meats with spices and smoky chilies from the Andes and created Anticuchos. The most traditional is Anticuchos de Corazon, which are pieces of grilled beef heart. However, you can also get chicken, regular beef or even hot dog anticuchos.
Today, anticuchos are much-loved street food and favorite late-night dish.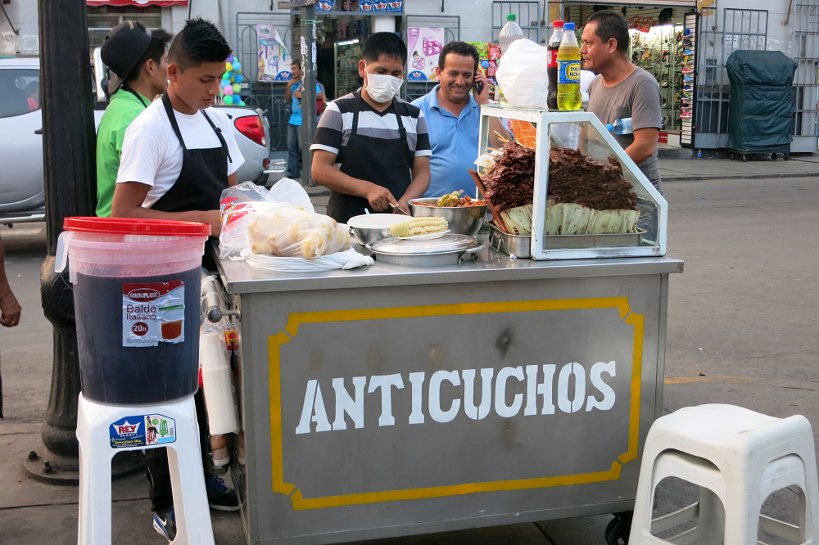 3. Aji de Gallina
Aji de Gallina is one of the most typical native Peruvian dishes. It is a fusion of Spanish and Quechua ingredients.
The dish is a thick cream made up of shredded chicken with yellow chili, bread crumbs, egg, parmesan cheese, pecans, milk, onion, and garlic. It gets its bright yellow color from Aji Amarillo or yellow chili.
Aji Amarillo is one of the most popular spices that is used to add extra flavor to meals.
The Aji de Gallina is typically made with boiled potatoes or rice. Served with succulent chicken, this creamy, mildly spicy sauce dish has a delicious combination of flavors.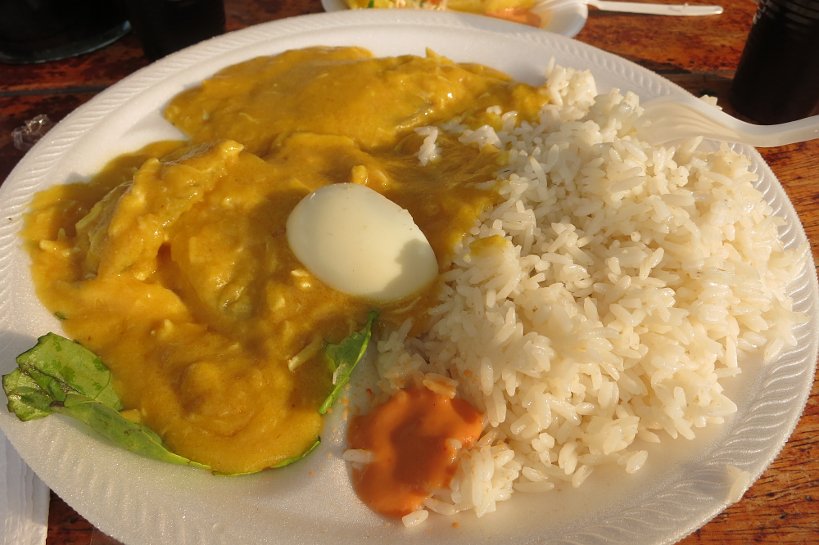 Authentic Food Quest Tip: Learn how to make traditional Criollo dishes in a cooking class in Lima. Visit a local market to first learn about the ingredients and then make some of Peru's national and tasty dishes.
4. Lomo Saltado
Lomo Saltado is one of the most emblematic and traditional Peruvian Criollo dishes. You can find it easily in any restaurants or farmers market. It is a fusion of Chinese and Peruvian food which makes it a typical criollo dish. You can read more about it here in our a previous post: Spotlight On Peruvian Fusion – Chifa Dishes & Lomo Saltado.
Often served as the main meal on the lunch menu, it can easily be shared. It consists of stir-fried strips of beef are stir-fried with potatoes, onions, tomato and ají amarillo then flavored with a little soy sauce, garlic and cilantro. It is very tasty and one of our favorite dishes in Peru.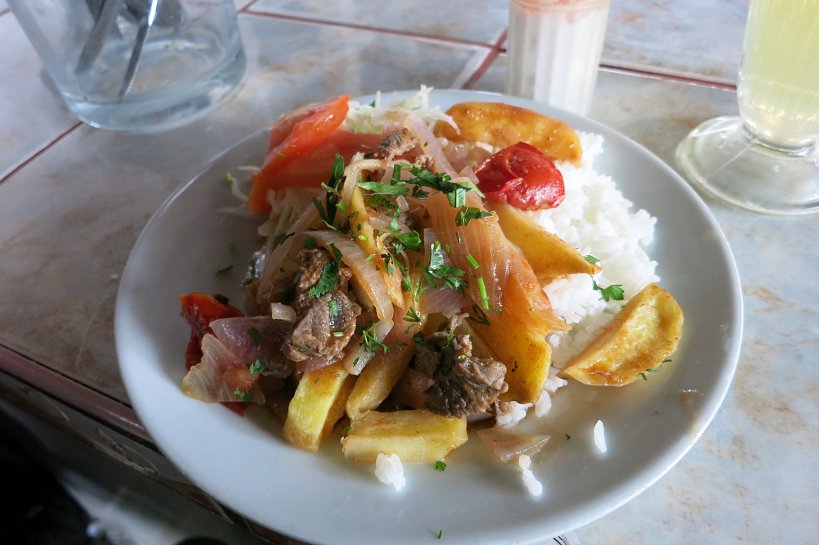 5. Tacu Tacu
Tacu tacu is a typical Peruvian dish whose heritage is from the Afro Peruvian community. It is the Peruvian version of refried beans and rice. It is a way to use-up leftover rice and beans in a simple and savory combination. It is usually served as a patty with a cheap cut of beef steak and fried egg on top.
Though today you can find it with many variations using yellow chili, different types of beans and vegetables like asparagus and leeks.The rice and beans typically needs to be prepared a day before.
We had Tacu tacu at a Cevicheria and it was prepared with seafood. The portion was humongous, definitively enough to be shared for three people. It was a delight!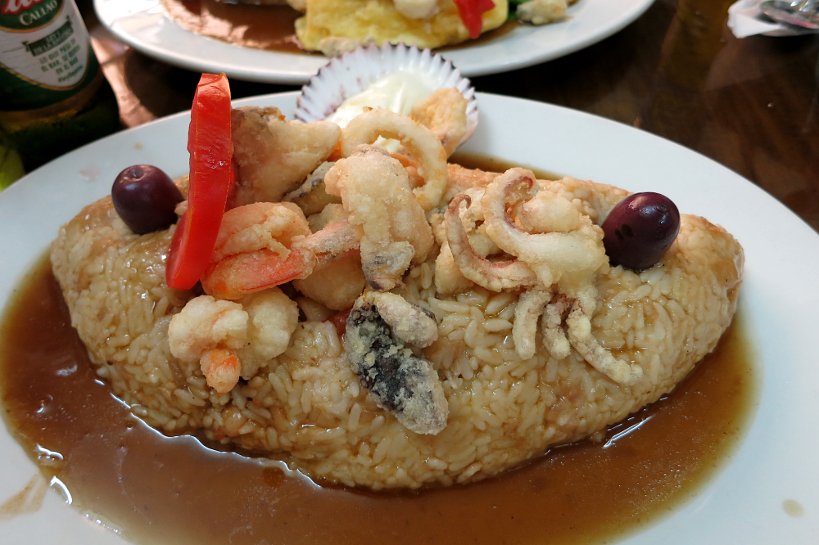 6. Suspiro a la Limeña
Suspiro a la Limeña is a Peruvian Criollo dessert and Lima's most popular. It is creamy dulce de leche topped with a smooth meringue cloud and a touch of cinnamon. The name means "a woman's sigh" given to it by Peruvian poet Jose Galvez. It was first known as the "Royal Delight of Peru."
Super sweet, it is worth indulging in this classic Lima dessert.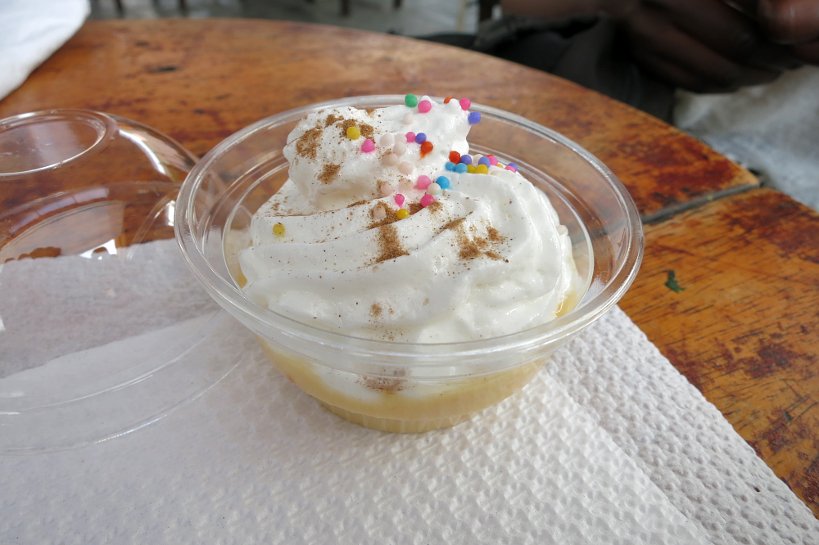 In Summary
When you sit down for a meal in Peru, you are not just eating, but tasting a fascinating mix of foods and cultures. The Peruvian Criollo dishes are a result of the new flavors and ingredients which combine the flavors of Africa, Europe and Asia.
When in Peru, indulge in these 6 must-eat Peruvian Criollo dishes. Be prepared for a culinary and historic journey of the Spanish creole influence in Peru. These dishes are eaten by Peruvians throughout the country, and are in fact, the everyday food.
Have you had any of these Peruvian dishes before? Please let us know in the comments below.
Savor The Adventure!
Looking for More Peruvian Local Food Experiences?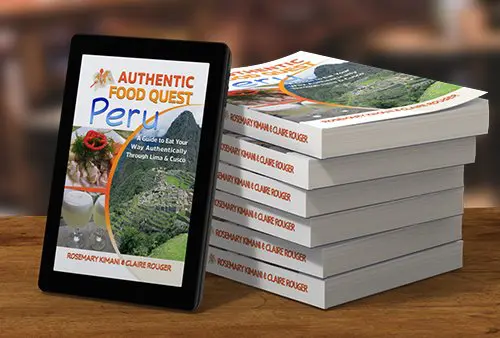 Our book, Authentic Food Quest Peru takes you on a journey through the regional food specialties in Peru. Get an introduction into Peruvian food and the history of how this unique gastronomy came to be.
Discover the authentic foods in Lima and Cusco as well as the top Peruvian foods and drinks that should not be missed. Take this guide with you as you explore Peru's magnificent cuisine.
Available on Amazon and Barnes & Noble.
Love it? Pin it!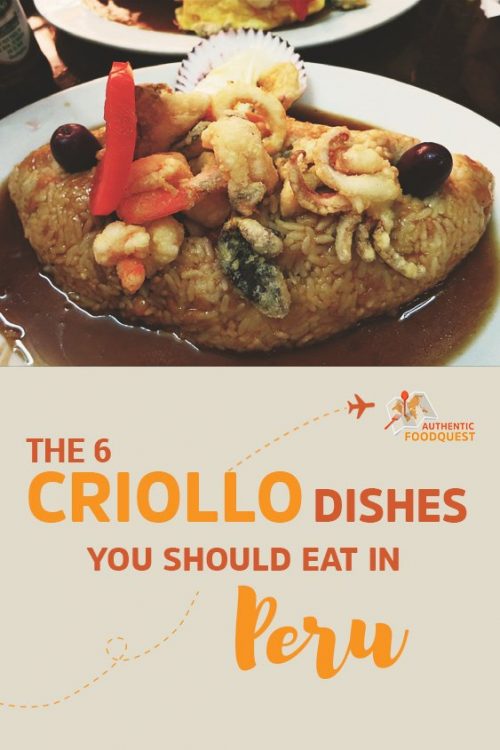 Disclaimer: This page contains affiliate links. That means at no extra charge to you, we earn a small commission when you purchase using these links. Thank you for your support.
Claire is co-founder of Authentic Food Quest and a lover of simple and exquisite cuisine. Since 2015, with her partner, Rosemary, she has been traveling the world as a digital nomad, creating content about local food experiences.
Her advice from visiting 45 countries and more than 240 food cities has been featured in Lonely Planet, Business Insider, Honest Cooking, Food Insider, and Huffington Post. She has also co-authored three books, including one in collaboration with Costa Brava Tourism.
An ex-mechanical engineer, Claire is responsible for SEO, keeping the website running, and the fun food & travel videos on YouTube.
When Claire is not eating, she can be found running or cycling. Find out more about Authentic Food Quest