This article has links to products and services we recommend, which we may make a commission from.
This Polvo a Lagareiro recipe is for a delicious and traditional Portuguese dish. Requiring only a few ingredients, it consists of roasted octopus, potatoes with herbs, onions, garlic, and lots of olive oil. Simple to make and amazingly tender, watch everyone's eyes light up with delight as they savor this Portuguese octopus and potatoes recipe.

What is Polvo a Lagareiro Or Octopus Lagareiro Style?
Polvo à Lagareiro or roasted octopus with potatoes is one of the most loved Portuguese dishes.
While octopus is eaten all over the world, the Portuguese have a particular affection for this tentacled creature.
This affection runs deep, so much so that there is a "Capital of Octopus" in Santa Luzia, a fishing village in eastern Algarve.
The best octopus in Portugal is said to come from this town, and it is also considered the octopus capital of Europe.
Octopus lagareiro style is just one of the ways of cooking octopus. This simple polvo lagareiro recipe calls for boiled smashed potatoes, fried onions, garlic, and olive oil.
And, together with the octopus, baking everything in the oven for about 20 minutes or so.
In Portugal, the "à lagareiro" style of cooking typically refers to the abundant use of Portuguese olive oil in recipes. 
What is Polvo à Lagareiro in English?
Polvo à Lagareiro is the original name of this dish in the Portuguese language.  But within the Anglo-Saxon world, it can be found as Lagareiro Octopus or even Roast Octopus.
History of Polvo a Lagareiro Recipe
While not absolutely certain, the tradition of eating octopus in Portugal is said to have originated from the Galicia region. This is the country's northern region that borders Spain.
In this area, polvo a lagareiro is a typical Christmas dish especially, Christmas eve dinner.
All along the sunny coast of Algave, octopus features prominently on menus. While polvo lagareiro is particularly popular in the warmer summer months, you'll find it all year around.
Cooking this Portuguese octopus and potatoes dish is relatively easy and requires only a few simple ingredients.
Follow the simple instructions for this polvo à lagareiro recipe for a flavorful Portuguese traditional dish.
Pair it with a refreshing Portuguese white wine and savor the full flavors of Portugal.
Discovering Polvo A Lagareiro In Portugal
We savored the exquisite flavors of polvo à lagareiro at every opportunity we had while in exploring local food in Portugal.
One of our most memorable experiences was at a local restaurant in Lisbon. Grelha do Carmo, a hidden gem, is known locally for having the best octopus dishes in the city.
This particular preparation of Portuguese octopus and potatoes was cooked to perfection and it left us wanting more.
The octopus was deliciously tender and moist from loads of olive oil sprinkled on it. It was also slightly grilled, giving the tentacles a slight crunch and contrasting texture.
The potatoes, perfectly roasted were delicious, slightly crispy outside and soft inside. The Portuguese olive oil, flavored with garlic, olive, and fresh herbs rounded out the exceptional experience.
Like the Portuguese, we quickly fell under the spell of polvo a lagareiro. This became one of our favorite Portuguese seafood dishes, along with bacalhau or codfish.
To bring these delightful flavors home, enjoy this simple polvo a lagareiro recipe at home.
READ MORE: 15 Of The Best Restaurants to Eat like a Local in Lisbon
Polvo a Lagareiro Recipe – How To Cook Octopus Lagareiro Style at home
The Polvo a Lagareiro is a recipe with few ingredients. The first step is to prepare and boil the potatoes until tender. Remove them from the water, and lightly smash potatoes with your fists to flatten them a little.
Smashed potatoes and a liberal amounts of Portuguese olive oil are the bed of the octopus.
For the octopus, we recommend using frozen octopus which comes ready to cook. Then fry the onions with plenty of olive oil and crushed garlic.
Finally, place the fried onions on the octopus and bake everything together.
Ingredients
1 large octopus – frozen octopus recommended
Potatoes
Onion
Garlic
Salt and pepper to taste
AUTHENTIC FOOD QUEST RECIPE: For another traditional Portuguese recipe cooked in the a lagareiro style, see our Bacalhau a Lagareiro Recipe: How to Make Portuguese Codfish Lagareiro-Style
Polvo Lagareiro Recipe Tips
How To Cook Octopus Portuguese Style
In Portugal, finding fresh octopus is fairly easy. You can find some at any of the fish stands at local markets, or at the fishmongers in the cities.
Generally, the octopus is boiled in a large pot half filled with water seasoned with bay leaves, parsley or pepper.
To save time and to make the cooking process easier and faster we recommend using frozen octopus.
Frozen octopus is usually cleaned and sold without the eyes, internal organs, and ink sac. This will make the polvo à lagareiro recipe much easier.
Cooking the Potatoes
Polvo lagareiro is typically served with potatoes. These potatoes are first boiled until tender and then roasted together with the octopus in the oven.
When the potatoes are still hot after boiling, they are smashed lightly before going into the oven.
To smash the potatoes, use either the palm of your hands, if the potatoes are not too hot. 
Otherwise, you can use the bottom of a mug or glass to lightly smash the potatoes. This is known as "batatas a murro" which literally means punched potatoes.
Drizzling olive oil and garlic on the potatoes which are open, but not flat helps the flavors infuse throughout.
Portuguese Olive Oil
Olive oil features prominently in Portuguese cuisine and is used abundantly in this polvo à lagareiro recipe.
For the best flavors, you want to use high-quality ingredients including Portuguese olive oil.
We've had the pleasure of using and cooking with Portuguese Esporão olive oil. It is from the Alentejo region and considered among the best in the country.
For the best polvo a lagereiro flavors, consider using premium Portuguese olive oil.
Bake The Octopus and Potatoes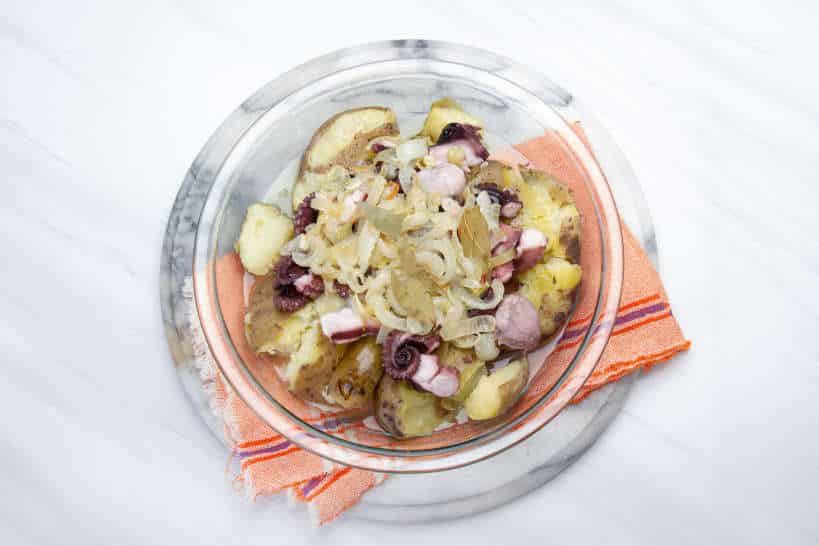 In a baking dish, place punched potatoes on the entire bottom of the dish. Place chopped-up octopus onto the potatoes. Cover with fried onions, and cooked garlic cloves, and season with salt and pepper.
Drizzle Portuguese olive oil liberally over the mixture and bake for about 20 minutes. Serve immediately.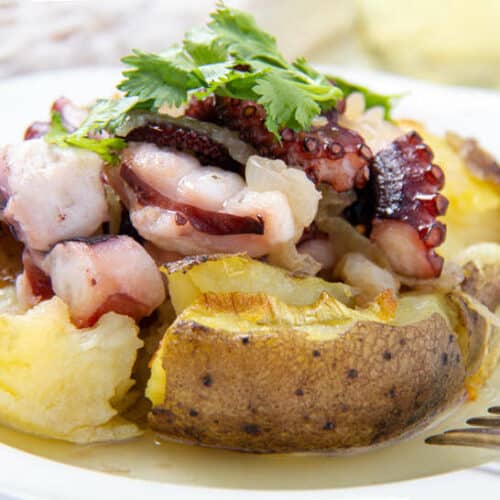 Polvo Lagareiro Recipe
This Polvo a Lagareiro recipe is for a delicious and traditional Portuguese dish. Requiring only a few ingredients, it consists of roasted octopus, potatoes with herbs, onions, garlic, and lots of olive oil. Simple to make and amazingly tender, watch everyone's eyes light up with delight as they savor this Portuguese octopus and potatoes recipe.
Print
Pin
Rate
Ingredients
1.6

lbs

octopus

large frozen

6

potatoes

small unpeeled

1

cup

olive oil

Portuguese extra virgin

1

onion

medium

2

garlic cloves

3

bay leaves

small

4

grains

7-spices

2

tbsp

chopped cilantro or coriander

Salt and pepper to taste
Instructions
Peel one onion, and cut it into fine julienne strips. Peel the garlic cloves and crush them.

Using a vegetable brush, wash octopus well under running water and set aside to let it drain. Frozen octopus comes ready to cook. Simply let it thaw out in the fridge at least 24 hours before cooking.

Clean out the area around the head for fresh octopus with a sharp kitchen knife. And remove excess dirt around the octopus tentacles as well as the ink sac.

In a large pot half filled with water, add bay leaves, 7-spice kernels and black peppercorns.

When the water comes to a boil, hold the octopus by the head and dip the tips of the tentacles into the water, count to three and pull it out, dip it again, and pull it out one more time. Repeat this procedure about five times until the octopus tentacles fully curl. The curled tentacles make for a stunning presentation.

Then, place the octopus fully into the boiling pot and let it cook for about 10 – 15 min until tender.

Remove octopus and rinse it under running water to stop it from cooking further. Set aside and let it rest and cool for a few minutes.

Wash unpeeled potatoes and place them in a medium pot with water seasoned with coarse salt.

Let small potatoes cook for approximately 20 min until tender. Remove and allow potatoes to cool slightly before punching or smashing them lightly.

Pour olive oil into a saucepan over medium-high heat. Add the chopped peeled onion and crushed garlic cloves. Cook the onion for 5 to 10 mins  until the onions turn translucent.

Place the octopus on a cutting board, and cut it into small wheels.

Next, place the potatoes on the board and smash them with a light punch.

Sprinkle olive oil on an oven safe dish around the base. Cover the entire base with the punched potatoes.

Spread the chopped octopus, both large pieces and small, over the potatoes. Cover with the fried onions and garlic mixture. Sprinkle lots more Portuguese olive oil for succulent flavors and textures.

Season with salt and black pepper and you can also add crushed red pepper flakes for a bite of spice. Top the dish with an additional bay leaf.

Preheat the oven to 320°F/ 160°C and cook for about 20 mins.

Remove from the oven and garnish with chopped cilantro.

Serve hot and enjoy with a glass of Portuguese wine
Notes
Octopus tends to shrink when cooked, please keep that in mind when considering the quantities.

It's much easier to work with frozen octopus than fresh octopus as it already cleaned and ready to cook.

Choose octopus with thicker tentacles for more texture.
Nutrition
Serving:
250
g
|
Calories:
889
kcal
|
Carbohydrates:
64
g
|
Protein:
34
g
|
Fat:
56
g
|
Saturated Fat:
8
g
|
Polyunsaturated Fat:
6
g
|
Monounsaturated Fat:
40
g
|
Cholesterol:
87
mg
|
Sodium:
440
mg
|
Potassium:
2035
mg
|
Fiber:
8
g
|
Sugar:
4
g
|
Vitamin A:
300
IU
|
Vitamin C:
75
mg
|
Calcium:
152
mg
|
Iron:
13
mg
More Related Cooking Products
Claire is a culinary explorer who travels the world in search of the best local foods. She is always looking for her next culinary adventure to bring you the best bites while exploring new places.