This article has links to products and services we recommend, which we may make a commission from.
Argentina drinks may not be the first thing that comes to mind when you think about South America's second largest country.
Sensual tango dancing, the vibrant capital of Buenos Aires, beef and Malbec wines are the most common associations.
While traveling through Argentina on our quest for the authentic food specialties, the drinks in Argentina surprised us.
Beyond Malbec wines, the overlooked local drinks are embedded into the local food culture.
From Yerba Mate, aromatic red and white wines, delicious Submarino and more, Argentina drinks are not to be missed.
In this guide, we highlight 9 drinks from Argentina to experience like a local.

Argentina Alcoholic Beverages
1 – Ananá Fizz – Pineapple Cider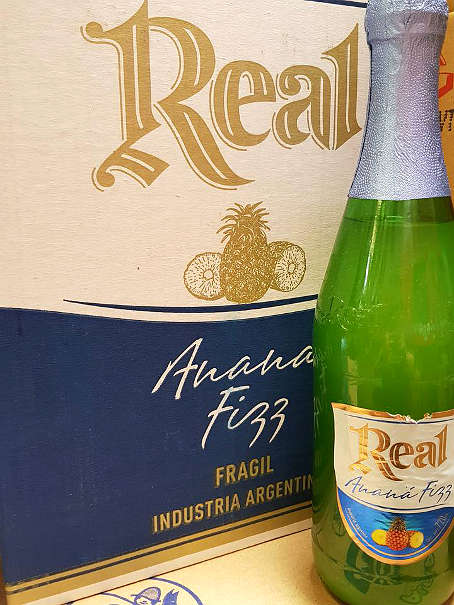 A unique speciality, Anana Fizz is one of the most traditional Argentina drinks for the holiday season.
Considered the traditional Argentinian Christmas drink, it is an alcoholic, cider-like pineapple drink served during the winter.
This pineapple cider can be prepared at home by combining a generous amount of pineapple pulp, lemon juice, sugar, and your favorite sparkling wine.
While often associated with Hawaii, the pineapple fruit is said to have originated in the region where Argentina, Paraguay and Brazil meet.
For this reason, pineapples are heavily consumed in Argentina and also used to produce wine.
In Argentina, you can purchase a pre-made version that comes in a champagne bottle, but the traditionally prepared version is most revered.
A surprising drink, Ananá Fizz, is a signature Argentina drink that is not to be missed.
RELATED: Argentina Food Guide – Top 15 Authentic Food You Must Try
2 – Torrontés – Argentina White Wine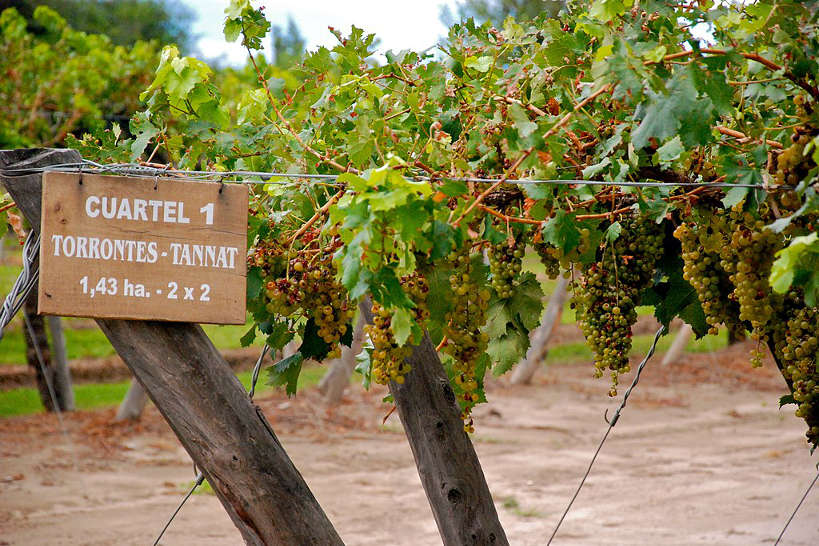 Torrontés is the most popular white wine in Argentina. This grape varietal with fruity notes is produced nowhere else in the world but Argentina.
Aromatic and light, Torrontés is yellowish in color, with golden and green hues. The wine has fruity and floral aromas that range from white peach and grapefruit to tangerine.
Though it smells sweet, this delicious drink has a surprisingly dry style, bright acidity, and a refreshing finish.
Torrontes is Cafayate's emblematic wine and it is grown in the high elevation vineyards of the Cafayate Valley.
And, we discovered Torrontes while visiting Cafayate in northern Argentina. While visiting vineyards, we learned about three kinds of Torrontés in Argentina: Torrontés Riojano, Torrontés Sanjuanino, and Torrontés Mendocino.
These light bodied wines with a distinct flavor and personality come in different varieties. Torrontés Riojano produced from grapes that grow in Salta is one of the most popular.
If you'd like to try this aromatic yet sturdy white wine from Argentina, you can find it at Total Wines.
3 – Malbec and Argentina Red Wine
Malbec, Argentina's most famous red wine accounts for 75% of the world's Malbec. The country has the largest acreage of Malbec in the world, with about 85% of Malbec vineyards in Mendoza.
This grape variety was introduced to Argentina in1852, by Michel Pouget, a French agronomist hired by the Argentine government.
What makes Malbec so popular is how easy it is to drink and how well it goes with or without food.
This Argentina drink is the perfect companion for grilled meats or asados, cheeses, and pasta dishes.
In Mendoza, we had the opportunity to visit a number of artisanal wineries and taste the different expressions of the wine.
The wine has an intense dark color, fruity flavors and a velvety texture. It's an easy to drink wine that we enjoy regularly and especially with meat dishes.
It is so popular in Argentina that it is celebrated every April 17th, which is designated as Malbec World Day.
While Malbec is produced in other regions like California, France, Chile, Australia and others, there is nothing like trying it directly from the source.
RELATED: What is an Asado? An Authentic Experience in the Pampas of Argentina
4 – Argentinian Buenos Aires Beers
While Argentina is known for being the largest producer of Malbec wine, beer is the other most popular beverage to enjoy with friends over an asado or meal.
The national brand is Quilmes, founded in 1888 by a German immigrant. It took its name from a small city in Buenos Aires and grew to become one of the most popular drinks in all of Argentina.
Today, it represents 67% of the beer market in Argentina. Quilmes is a light and refreshing lager with a pale golden color and a crisp and mild hoppy taste.
Beyond the national beers, the craft beer scene is burgeoning across the country. Cerveza artesanal is most associated with Bariloche in the Argentine Patagonia, the main craft beer city.
One of my favorite craft beers was Rupestre, from El Bolson just south of Bariloche. These handcrafted beers are produced with local and natural ingredients.
Water is sourced from the nearby mountains along with locally grown barley, hops and yeast.
Bars and cervecerías across the country are some of the best places to try the national beers and microbrews.
If your travels take you to Buenos Aires, take an Argentine craft beer tour and sample brews from many award-winning craft breweries.
RELATED: Argentina Beer – The Ultimate Guide That Will Make You Thirsty
5 – Fernet and Argentinian Liquors
Dark and syrupy with a slightly medicinal black licorice taste, Fernet Branca (or just "fernet" to locals) originated in Italy, then made its way to Argentina in the late 19th century.
It is a popular liqueur consumed by grandparents and college students alike, and it is a regular fixture at asados.
Fernet and Argentine culture go hand in hand. It is so important to the country that in 2014 it was added to a price-freeze program to protect it from skyrocketing inflation.
We didn't love the taste of Fernet, finding it slightly bitter, with an aggressive taste. However, it is one of the most popular Argentina drinks worth trying.
To make it a little more well balanced, Argentines usually dilute it.
Fernet is traditionally mixed with Coca-Cola in an ice filled glass or large mug. In this case, it is referred to as fernicola or fernet con coca-cola.
Interestingly, Argentines consume more than 75% of all Fernet produced globally, plain or mixed with coke.
AUTHENTIC FOOD QUEST RECIPE: The Best Dulce de Leche in Argentina | Authentic Homemade Recipe
Argentine Non-Alcoholic Beverages
6 – Yerba Mate
Originally called the "Drink of the Gods," yerba mate is said to have helped people survive periods of drought and famine.
Mate (pronounced "'MAH-tay"') is an infusion of dried leaves of the yerba mate (Ilex paraguariensis) herb in hot water, drunk through a screened straw called bombilla.
Resemblant of a raw green tea, the leaves of the yerba mate tree contain over 24 vitamins and minerals, 15 amino acids, abundant antioxidants, and naturally occurring caffeine, leading to many benefits.
Drinking Mate with friends is an important social ritual in Argentina. There is a particular set of social codes to follow when drinking this shared beverage where everybody uses the same gourd and metal straw, and says "gracias" after they have had their fill.
This drink made of herbs is typically consumed hot, but it can also be a cold beverage, called terrere, which is popular in Paraguay.
Traditionally, mate is consumed without sugar. However, you may add sugar, honey or even orange or lemon zest for a sweeter version and more flavor.
Despite its popularity, you will not find mate as a menu item at most establishments. It is more of an everyday social drink, enjoyed amongst friends.
That said, you can ask for it off the menu, and you will find some restaurants and cafés willing to let you sample this tradition.
If you are curious, you can order mate on Amazon and make this Argentina drink at home.
RELATED: Anytime is Mate Time in Uruguay
7 – Cafe con Leche – Coffee with Milk
Literally translated to "coffee with milk", Cafe con Leche is a well-known treat in all Argentine provinces, thanks to its comforting flavor.
Made of half black coffee, half warm milk, this is a great breakfast coffee and a popular option at breakfast in Argentina.
Besides breakfast, the period in the afternoon before dinner called merienda is another popular time to enjoy coffee.
Somewhere between 5 pm and 6 pm in the afternoon, locals eat and drink something, as an appetite suppressant while awaiting dinner.
Popular drinks include beer, coffee or mate. While an Argentine treat could include desserts, pastries like facturas, which resemble croissants and others.
Coffee lovers will love cafe con leche in any region of the country.
READ MORE: Top 7 Authentic Desserts in Argentina
8 – El Submarino
El Submarino means "submarine" and it is the name of a very popular milk-based Argentina drink.
To make it, a thick piece of rich, dark chocolate is sunk into a mug filled with hot milk and then stirred with a spoon until the chocolate dissolves.
This is not your typical hot chocolate, but basically reinvented hot chocolate milk and a unique Argentine drink.
The milk takes on the creamy texture of the chocolate resulting in a perfectly sweet and creamy delicacy.
We tried the submarino drink when exploring the local food in Ushuaia, the southernmost city in the world.
It was cold and we arrived after a snowstorm and the temperatures hovered around 33° °F / 1 °C.
One afternoon during a hike, we stopped at a local restaurant and were looking for something warm to drink.
Recommended by the waiter as a warm drink and also intrigued by the name, we ordered the submarino drink.
We surprise how unbelievably good it was. We don't drink hot chocolate that often, and the submarino drink hit the spot perfectly.
The submarino is one of the most interesting drinks in Argentina and one to be sought out on your travels.
RELATED: Best Argentina Chocolate | Guide to Bariloche Sweet Little Switzerland
9 – Soda Water and Mineral Water
Wherever we travel for food, we love sampling the local bottled waters, both still and sparkling.
The soda water In Argentina surprised us both by its popularity and delivery. At the local restaurants, seltzer water or soda water is served in glass bottles with a plastic mesh around it.
The water which is injected with carbon dioxide gives it a fresh, fizzy taste. To serve yourself, you bring your glass up to the nozzle and then press the lever down.
We love sparkling water and ordered soda water at every possible opportunity. Argentine's have a long history with seltzer water and the unique seltzer siphon bottles.
The bottles are an integral part of local life and the water is sometimes used to mix with red wines, or Fernet.
Beyond soda water, you'll find delicious mineral water from the Andes mountain ranges.
Villavicencio and Eco de los Andes are two of the most popular brands with water sourced from the Andes mountains.

In Summary
Argentinian drinks are as unique and diverse as the food. From wines beyond Malbec to diverse non-alcoholic beverages, the local beverages are worth sampling.
On your Argentina travels, sip on the local drinks as you enjoy the local food specialties. Experience the country like a local with any of these Argentina drinks.
Have you ever had any of the Argentina drinks mentioned above? If so, please let us know which one is your favorite in the comments below.
Savor the Adventure!
Looking for More Argentinian Local Food Experiences?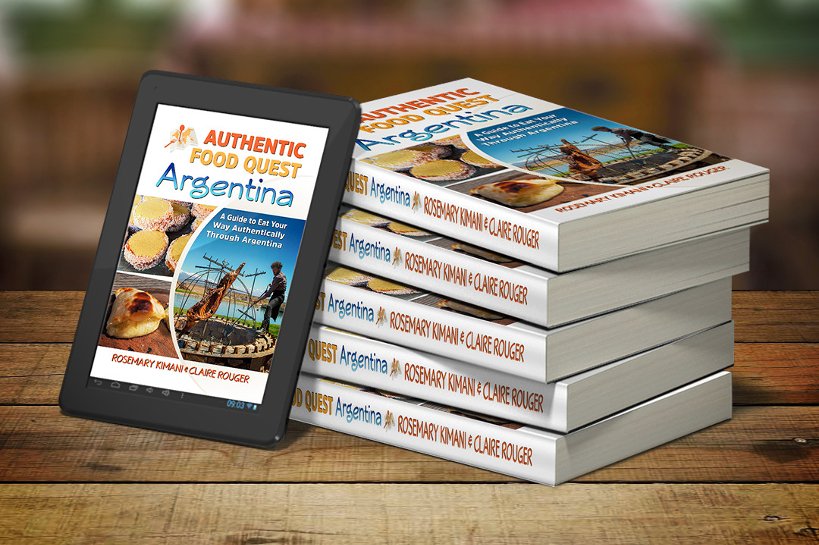 Our book, Authentic Food Quest Argentina takes you on a journey through food in four main regions of Argentina. Buenos Aires, Mendoza & the Wine Regions, the Andean Northwest, and Patagonia & the Lake Region.
In it, you'll find descriptions of the typical dishes, desserts, beverages, street food and unique produce not to miss. Also included is an overview of the farmers markets and local stores, restaurants, wineries and local producers worth visiting.
Throughout the guide, are stories and insights shared by local experts including Argentina's most renowned Chef, Francis Mallmann.
By combining storytelling with local information, this unique guidebook inspires intrepid and armchair travelers to savor their adventures in Argentina.
Available at Amazon
Claire is a culinary explorer who travels the world in search of the best local foods. She is always looking for her next culinary adventure to bring you the best bites while exploring new places.