Is there such a thing as Peruvian fast food? In the US, fast food usually equates to McDonald's, Burger King or generally junk food. In a country with so many food options, you might wonder why would you have Peruvian fast food when in Peru you can get delicious and healthy meal like Ceviche for about USD $5?
Well, the answer is simple: because it taste good, it is healthy (for the most part) and you can find it everywhere! It is called Pollo a la Brasa.  So, what is Pollo a la brasa?
It is a chicken dish that is cooked on a rotisserie. It is also known as "Peruvian style chicken", Charcoal chicken" or "Rotisserie chicken". Nothing fancy so far 🙂 but let's read further to understand why this Peruvian fast food is so popular.

How Pollo A La Brasa Became The Most Popular Peruvian Fast Food
Pollo a la Brasa is one of the most popular and most consumed dish in Peru. This Peruvian fast food was developed in 1950 by Roger Schuler, a swiss resident who was living in Peru. He had a chicken farm near Lima that went bankrupt. To make ends meet and support his family, he started selling whole roasted chickens with the slogan "eat as much chicken over coals as you can for only five soles".
His tasty chickens and inexpensive price became so popular that he needed to cook the chickens faster. He contacted a Swiss friend, Franz Ulrich who owned a metal mechanics shop to develop a device to cook several chicken at once.
The "rotombo" oven or "speido" was invented which is an oven with 6 metal rods that can hold 8 baby chickens. The metal rods spin clockwise and independently at very high temperatures (300-370 degrees F). This method can hold 40 to 50 chickens at once cooking them uniformly while keeping the juices and flavors intact.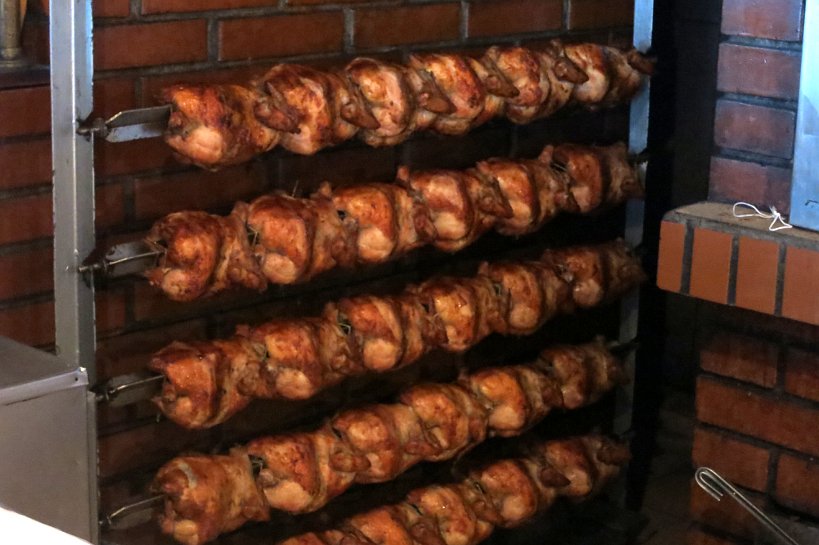 With such success, Roger and Franz opened the original Pollo a la Brasa restaurant, La Granja Azul in Lima in the 1950's. Seeing their success, many other pollerias started opening all over the city. Today, La Granja Azul remains popular and you cannot miss a Polleria as they are on every corner.
Why A Simple Roasted Chicken Became And Remains So Popular
The secret of the success of Pollo a la Brasa resides in its cooking method and marinades. Each polleria as its own secret marinade recipe. Besides a great marinade, the key to great Pollo a la Brasa is the actual cooking method.  This involves a rotisserie over wood coals to give the chicken a sublime smoky flavor. The original recipe from La Granja Azul calls for the chicken seasoned with salt and cooked over carob tree firewood for the best flavors.
The Peru National Institute of Culture declared in 2004 Pollo a Brasa a "National Culinary Speciality." And as Peru knows how to celebrate its gastronomy, Pollo a la Brasa has its own National Holiday on the third Sunday of July.
Where To Have Pollo A La Brasa
You generally don't have to walk far in any Peruvian city find a pollería. There are smaller family-run restaurants as well as major chains. The main Pollo a la brasa chains are: Pardos Chicken, Las Canastas, Roky's , Norky's and Caravana.
Norky's and Roky's are known to be the most successful chains. While Pardos chicken and Las Canastas are slightly more high-end. There is of course La Granja Azul the original, which remains an attractive and popular place.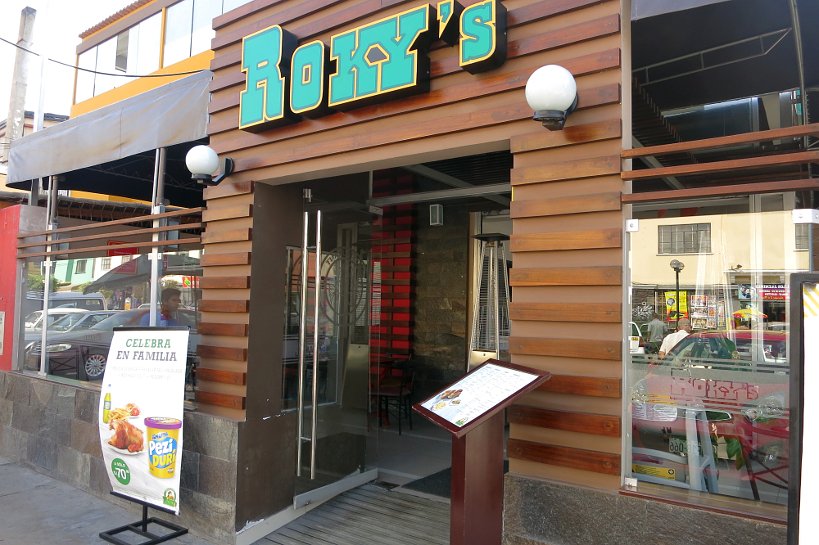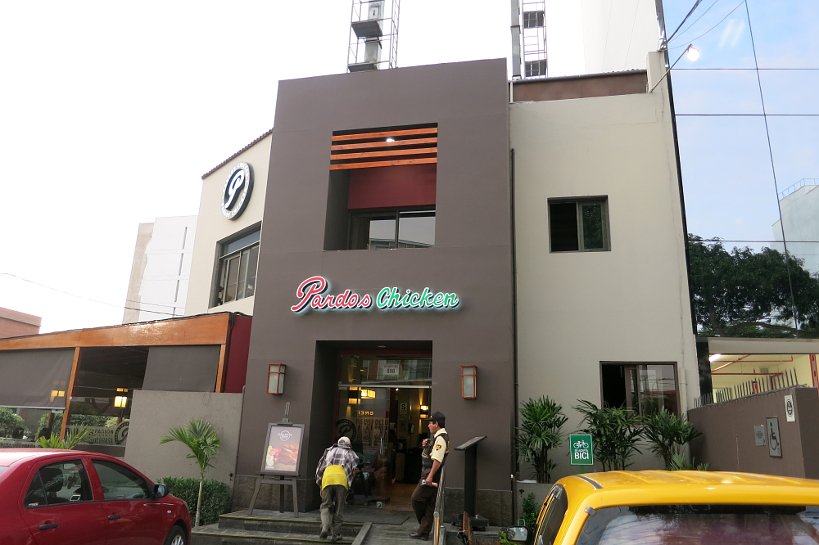 Our Pollo a la Brasa Experience at Las Canastas
To try Pollo a la Brasa, we asked our gastronomy critic friend, Cecilia Morote and her friend Mae to take us to a restaurant of their choice, where we could have the most authentic and typical Pollo a la Brasa. It was a choice between Pardos Chicken and Las Canasta. They chose to take us to Las Canastas, which they said "had bigger chickens" than Pardos.
Walking into Las Canastas is not like walking into a typical fast food joint. The particular restaurant we went to in the Miraflores barrio (neighborhood) was a large restaurant with seating for about 60-100 people.
Once we got seated we looked over the surprisingly short menu.The chicken options were 1/4 of a chicken for about USD $5, 1/2 of a chicken for about USD $9 and about USD $14 for a whole chicken. We ordered one full chicken to be split 4 ways ("cuarto" one fourth), with the typical sides of papas fritas (potatoes) and salads.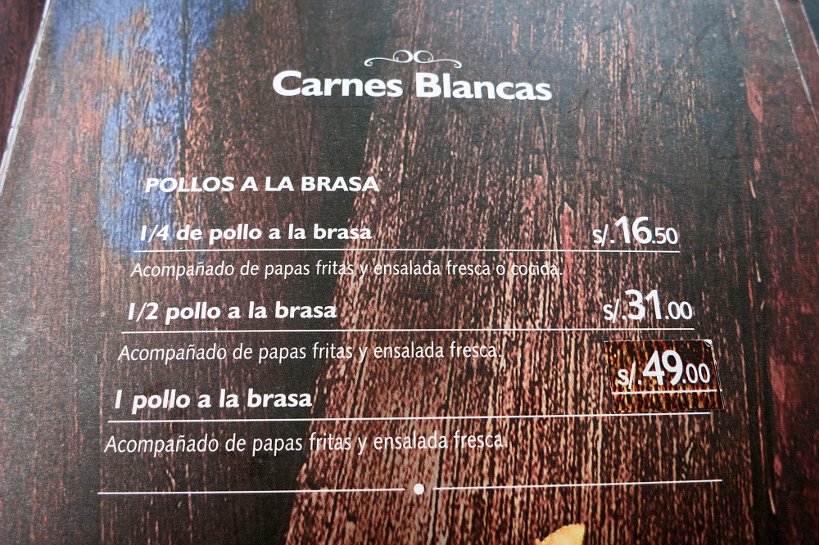 Pollo a la Brasa is so beloved in Peru and it is one of the most popular Peruvian fast food enjoyed by all. Going to a polleria is a very popular activity with many families getting together on weekends to connect over Pollo a la Brasa.
Part of the appeal is that the restaurants are not fancy and eating the chicken with your hands is encouraged. In a typical Peruvian fashion, we started out the meal with Pisco Sours while waiting for our chicken.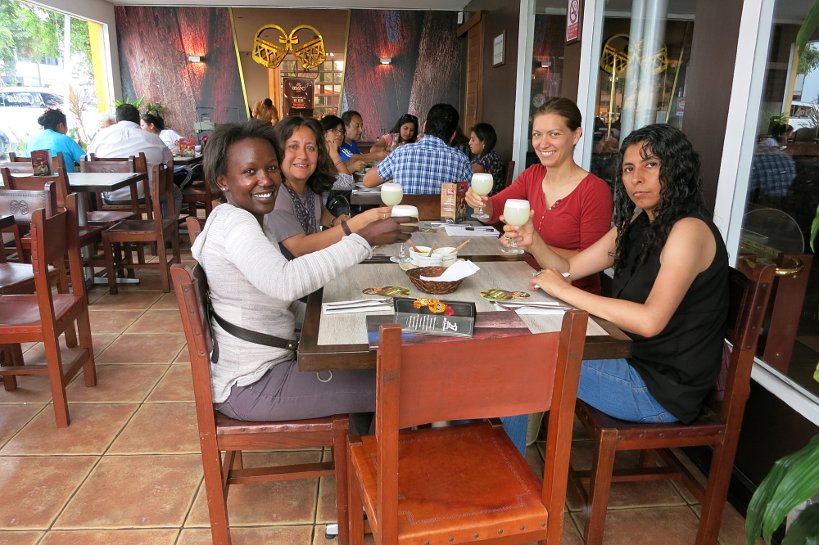 The Famous Pollo a la Brasa
Eating pollo a la brasa is not like eating any good ol' chicken. There is a protocol that is followed and 'must-haves' around this Peruvian fast food. To drink, you start out with the Pisco Sour as we did. While eating the meal, one can choose to drink either Inca Kola or Chicha Morada (purple corn beverage). You can read about these drinks in our recent post 10 Unique Peruvian drinks to help you have a more local experience.
To start, you get a simple fresh salad. The one we had was made up of iceberg lettuce, tomatoes, cucumber with a creamy dressing.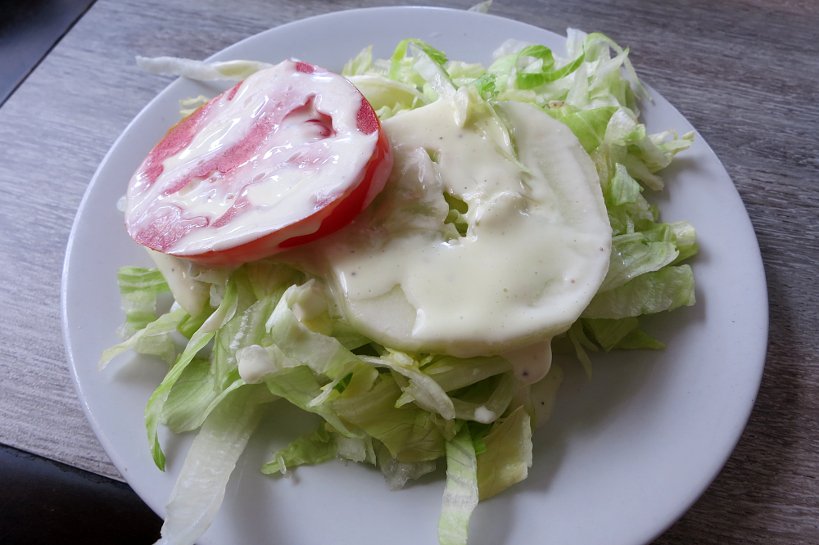 To accompany the meal, three different traditional sauces were proposed. Huacatay (black mint), Aji Amarillo (spicy yellow) sauce and homemade mayonnaise.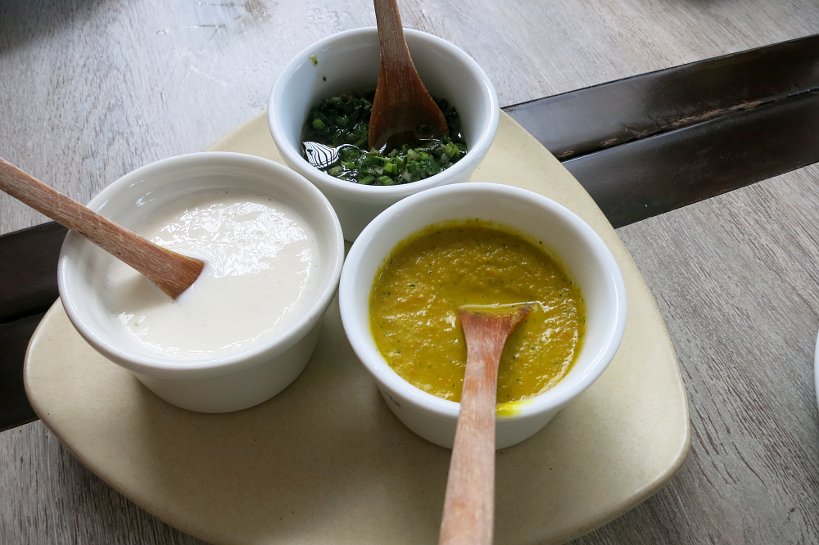 The gorgeous chicken arrived on our plates with two different types of potatoes. Las Canastas proposed papas fritas (french fries) or papas andinas (native potatoes). We chose to order two serving of each and share.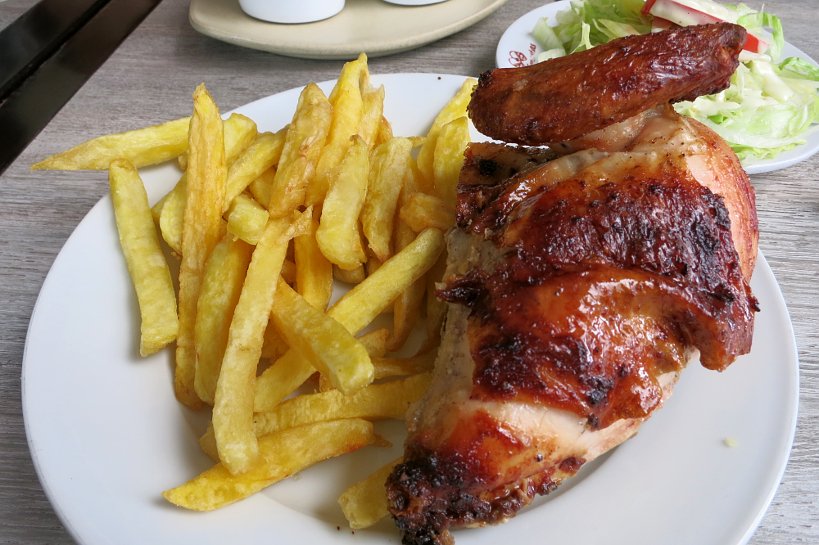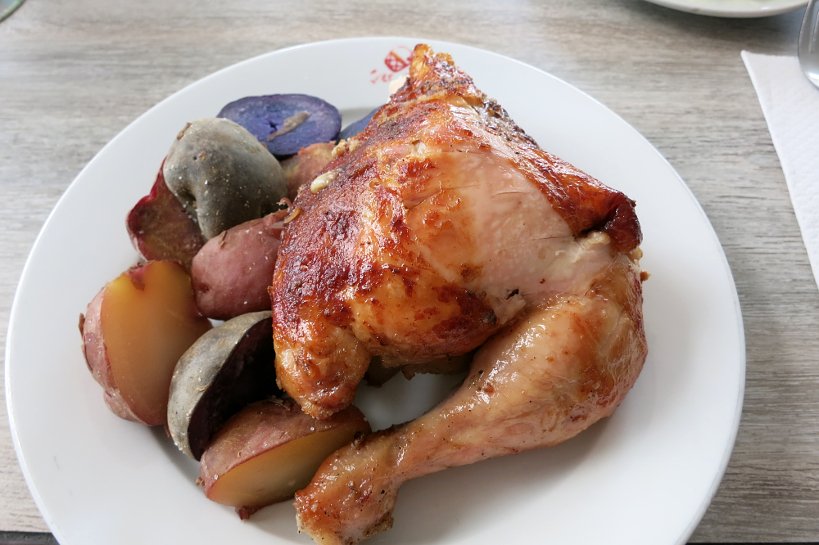 We would have to say that this is one of the most delicious chicken we have ever eaten. The herbs and spices coated the skin and it made it beautifully crisp as well. The chicken was rich with flavor and as juicy as you can imagine.
Rosemary had the chicken breast (pecho) which can sometimes be dry. She was delighted to find the breast savory and well spiced. I had the chicken leg (pierna) which was fragrant and so succulent that the chicken meat was practically falling off the bone. With the high quality of taste and flavors, you could tell that the chickens were raised humanely in low stress environments.

In Summary
Pollo a la Brasa is not just "chicken" in Peru. It is Peruvian fast food that is now accessible and eaten by all. Originally, Pollo a la Brasa was for the Peruvians of high socioeconomic status. It wasn't until sometime in the 1970s that the consumption came to include Peruvians of middle and lower socioeconomic status.
If your travels take you to Peru, be sure to eat Pollo a Brasa. By doing so, you will not only enjoy the delicious chicken but also participating in a piece of Peruvian culture that was once reserved for the privileged few.
We were really surprised at how tender and flavorful the chicken was and wish we had eaten more of it. We did learn that the success and popularity of Pollo a la Brasa is now beyond Peru's borders. Now in addition to other countries in South America, you can enjoy this Peruvian fast food in the U.S. and Asia as well.
Location mentioned:
Las Canastas, Av. Angamos Oeste 599, Miraflores, Lima.
Don't forget to sign up for our monthly newsletter here and get your free ebook on The 5 Best Ways to Find Authentic Food While Traveling.
Savor The Adventure!
Claire is co-founder of Authentic Food Quest and a lover of simple and exquisite cuisine. Since 2015, with her partner, Rosemary, she has been traveling the world as a digital nomad, creating content about local food experiences.
Her advice from visiting 45 countries and more than 240 food cities has been featured in Lonely Planet, Business Insider, Honest Cooking, Food Insider, and Huffington Post. She has also co-authored three books, including one in collaboration with Costa Brava Tourism.
An ex-mechanical engineer, Claire is responsible for SEO, keeping the website running, and the fun food & travel videos on YouTube.
When Claire is not eating, she can be found running or cycling. Find out more about Authentic Food Quest