Writing about Thai food without mentioning the Thai desserts would be missing out on the vast array of sweets, that are part of Thai cuisine.
Thai desserts reflect Thai cuisine in the way certain ingredients are used notably rice, coconut, and fruits. Thai desserts are known as Khanom in Thai or sweet snacks. We believe that eating Khanom is a great way to end a meal and smoothen the palate after eating spicy Thai dishes.
This article has been updated for a total of 15 popular Thai desserts. We have also included additional resources to help you find and enjoy their unique tantalizing tastes and flavors.
Let's indulge in the delightful and popular Thai desserts.
Article updated on February 5th 2019, with additional desserts and resources.

#1 – Sticky Rice: The Most Popular Thai Dessert You Cannot Leave Thailand Without Eating
Sticky rice is a very particular staple of Thai cuisine. It is grown mainly in Southeast Asia from a specific variety of rice (with opaque grains) that once cooked, stick!
Making sticky rice is not easy and it is very time consuming. There is an art to making the rice sticky enough so the grains stay together. And not too sticky so when eating with your hands it doesn't stick to you!
Many traditional Thai desserts are made using sticky rice. Here are the three most popular sticky rice based desserts.
Thai Mango Sticky Rice – Khao Niao Mamuang
Mangoes are native to Southeast Asia and Thailand is the third producer of mangoes worldwide. Mango sticky rice is available everywhere at different price points.
Typically, the vendor slices the mango and prepares this Thai dessert in front of you, before handing over the styrofoam container with this delicious dessert.
Mango sticky rice is made with fresh mangoes cut into slices and placed on top of a bed of sticky rice. A sweet coconut milk is then poured over the mango and sticky rice. The dessert is topped off with a sprinkle of fried mung beans.
It is of our favorite Thai dessert and we always look forward to enjoying it in Thailand!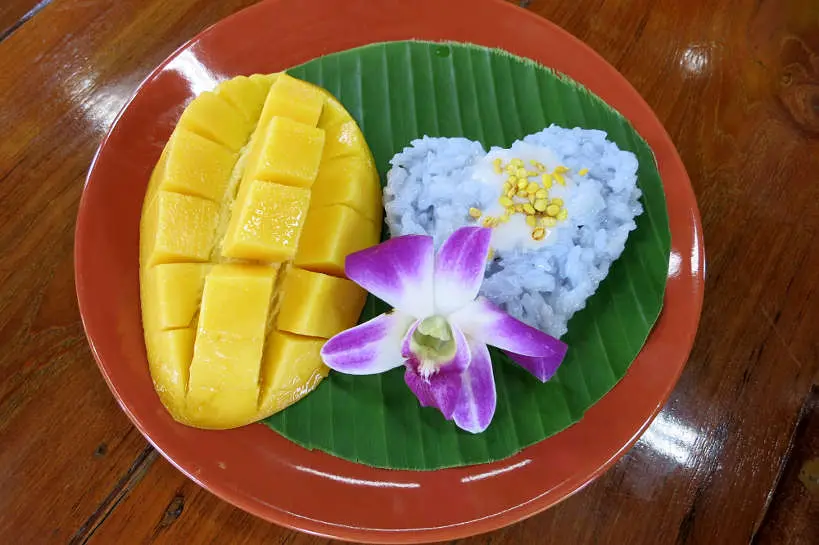 Where To Have It
Your best bet to find mango sticky rice is at the local market. You will also find it at restaurants, though outrageously priced.
The typical price for mango sticky rice at the market is about 40 baht ($1.14 USD), whereas at restaurants, it can run you anywhere from 120 baht ($3.42 USD) to 180 baht ($5.13 USD).
Durian Sticky Rice – Khao Niao Toorien
This is another version of the previous Thailand dessert. This time the famous Durian fruit replaces the mango. Durian is often called the "King of Fruits" in Southeast Asia. It is also a popular filling in Vietnamese desserts.
There are more than 300 varieties of durian fruits in Thailand! Though only a few are edible. The durian fruit is very distinctive with its large size, thorned skin, and more or less pungent odor.
Durian sticky rice is prepared the same way as the mango sticky rice. Though most of the time the fruit has been sliced ahead of time.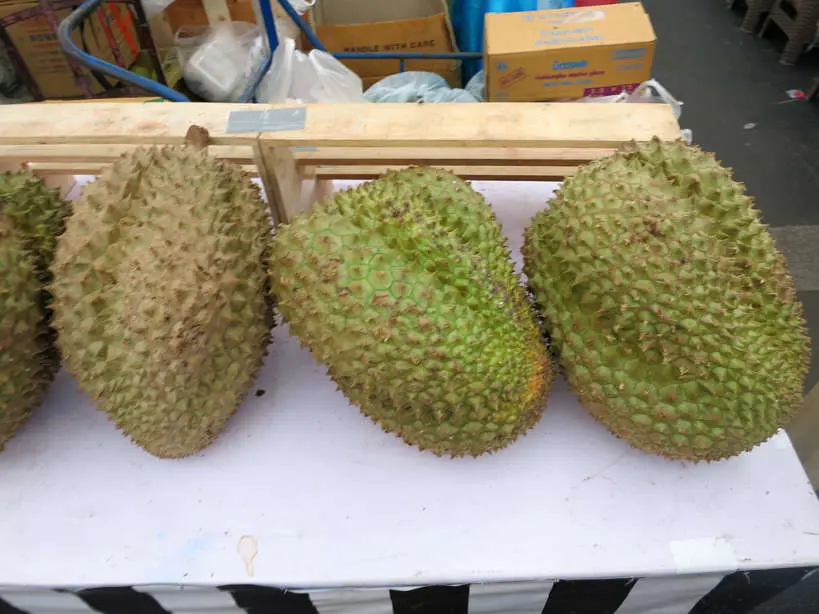 Where To Have It
It is harder to find durian sticky rice as compared to the mango sticky rice version. Your best bet will be to ask a vendor with mango sticky rice, if they can make you one with durian. We had it a local street vendor and it was priced the same as the Thai mango sticky rice.
Bamboo Sticky Rice – Khao Lam
This is another famous Thai dessert not to miss while in Thailand. This time the sticky rice is roasted in Bamboo sticks over charcoal. You will find different kinds. Some with black beans, sesame or different types of sticky rice, like black sticky rice.
Interestingly, in Cambodia, bamboo sticky rice, is a popular Cambodian street food. While it is prepared in the same way in Thailand, the rice used in Cambodia is a special fragrant rice from specific provinces of the country.
The rice takes the flavor of the bamboo giving it a unique taste. Ultimately, the experience of eating a bamboo sticky rice is what makes this dessert so appealing!
The best way to eat it is to crack the bamboo open from the top, and then pull down strips of bamboo slowly. Once you have peeled down a few strips around, you can them grab a piece of sticky rice and eat with your hands.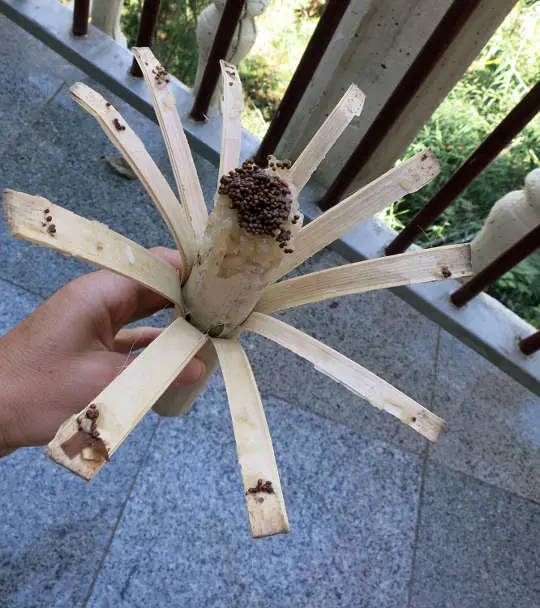 Where To Have It
It is not easy to find this unique Thai sweet. The best places to find it is at street fairs or certain markets. We had it at Warorot market in Chiang Mai, near the sweets section.
The costs range between 50 baht ($0.143 USD) to 80 baht ($2.28 USD) depending on the size you choose.
If you are in Chiang Mai and would like to learn how to make mango sticky rice, and get bamboo sticky rice from the market, consider a Chiang Mai coaroking class with Aroy Aroy
#2 – Thai Sticky Rice Cake- Kao Tom Mud
This delicious Thai dessert is made of sticky rice with coconut milk and a filling inside.
There is a saying that Kao Tom Mud symbolizes a couple's life since they usually pair two Kao Tom Mud together tied with a bamboo strip.
We had it with black beans, tamarind and banana. You can also find it with taro as well. Wrapped in a banana leaf, it is deliciously sweet and slightly chewy. You can easily eat it in just two or three bites!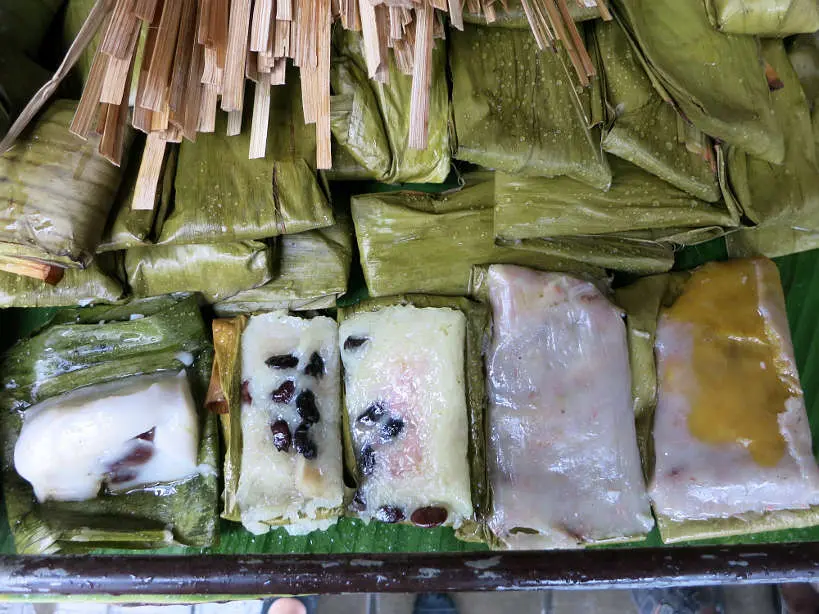 Where To Have It
This popular Thai dessert is most likely found at the markets. It is also sold at street carts on sidewalks next to savory street foods.
The cost for this sweet treat is about 5 baht ($0.14USD).
#3 – Filled Coconut Cream – Khanom Sod Sai
These small triangular banana leaf wrappings will grab your attention as you peruse the street food vendors in Thailand. When we asked what was inside, we were quite surprised to hear "coconut".
The street vendor seeing the curiosity on our faces offered to open one up and let us taste it.
The inside is filled with a creamy filling and a brown colored center with tamarind flavor.
The consistency of this Thailand dessert is similar to jelly on the outside while the tamarind filling is slightly chewier. Easy to eat as a snack, it is not too sweet and the tamarind flavor balances out the coconut.
Where To Have It
The most popular place to find this traditional sweet is at the local markets or street carts. This Thailand dessert is homemade and every vendor has their own way of making it. Try the different kinds you will find. Our favorite was the one filled with tamarind.
The price is similar to the Kao Tom Mud, at about 5 baht ($0.14USD).
#4 – Thai Ice Cream – I-Tim
Ice cream in Thailand is a popular treat to cool off from the heat and humidity.
Thai ice cream also called I-tim in Thai, is typically made without the use of dairy products. The flavors are quite unique and include durian, jackfruit, taro root and even corn.
The two most popular types of ice cream are coconut ice cream and Thai popsicles.
Coconut Ice Cream – Itim Kati
Coconuts are used in many Thai dishes and it is no surprise to see them used in desserts. The ice cream is unique in that it is made completely with coconut milk.
The Thais, like most people in the Asia, do not easily digest lactose (sugar that occurs naturally in milk). Without the lactose, coconut ice cream can be enjoyed without the side effects of dairy.
The texture is not creamy like milk based ice cream and not as icy as sorbet. It is a refreshing blend between the two. Cool off with this delicious Thai sweet for the mere cost of 20 baht ($0.57USD) to 30 baht ($0.86USD).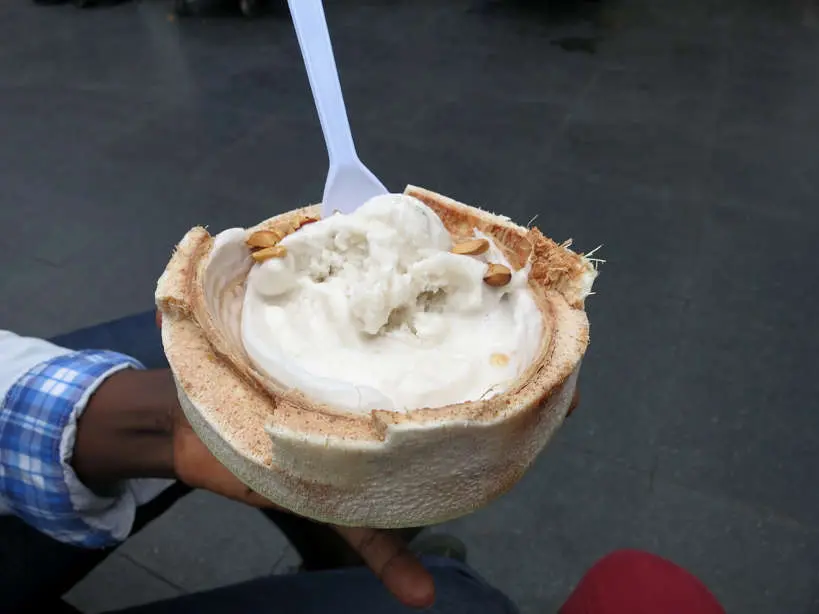 Thai Popsicles
In a huge circular stainless steel pot, you will see a vendor sitting on a little chair, shaking the pot back and forth. In the pot are several tubes that are fitted onto the pot each filled with different flavored icy popsicles.
The flavors range from soda's like cola, grape, lemon to fruity flavors like mixed fruit, orange or strawberry. While intensely sweet, it is worth sampling these treats for about 5 baht ($0.14USD).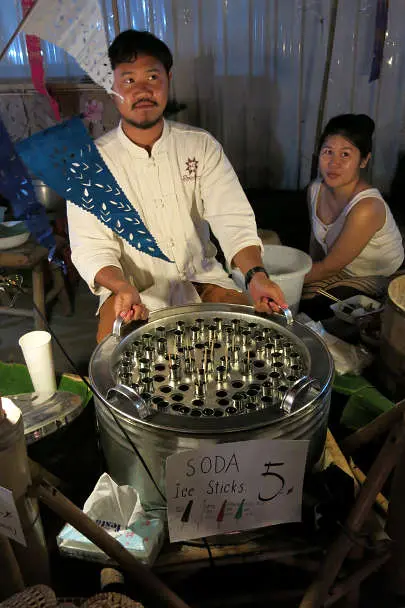 Where To Have Thai Ice Cream and Popsicles
In the hot temperatures, you will not have a problem finding ice cream vendors. They will find you. Cruising down the streets on bicycles and motorbikes, you will hear vendors with bells or music ringing to get your attention.
At local markets or popular events, popsicle vendors will place themselves and their large pots on the main alleys, ensuring that you do not miss them. In either case, indulge in the lactose free Thai ice creams or popsicles.
#5 – Thai Crispy Pancakes – Khanom Buang
These crispy pancakes will grab your attention as much as they grabbed ours when we saw them for the first time. They are a traditional Thai sweet street food that are meticulously prepared.
The base or the crispy pancake is made of rice flour and mung bean flour. Coconut cream is topped on the small pancakes before fillings are placed on it. You will find two types of toppings, sweet and savory.
The sweet fillings has shredded coconut and golden threads (egg yolk strips). The salty filling contains shredded coconut, chopped spring onions and shredded shrimp.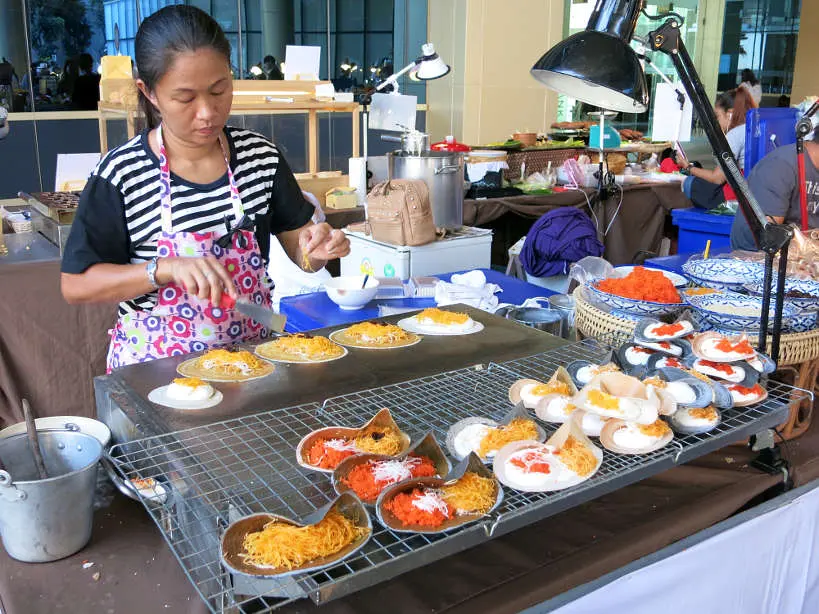 Where to have it
We enjoyed these snacks with a preference for the sweet ones over the salty ones. You will find vendors selling them at popular street corners. The costs will set you back about 25 baht ($0.71USD) to 30 baht ($0.86USD) for a set of 5 small crispy pancakes.
#6 – Thai Roti -Thailand Dessert with Indian Influence
Thai roti is the Thai version of the roti, an Indian flatbread made of wholemeal flour traditionally served savory. The Indian roti has been adapted in many Southeast Asian countries. In Thailand, the roti is said to have originated from the Southern part of the country. The Muslim community adapted the Malaysian roti to Thai tastes and preferences.
Often sold by Muslim vendors, you will see long lines of people waiting to place their orders. The most popular is the Thai banana roti also called Roti Gluay.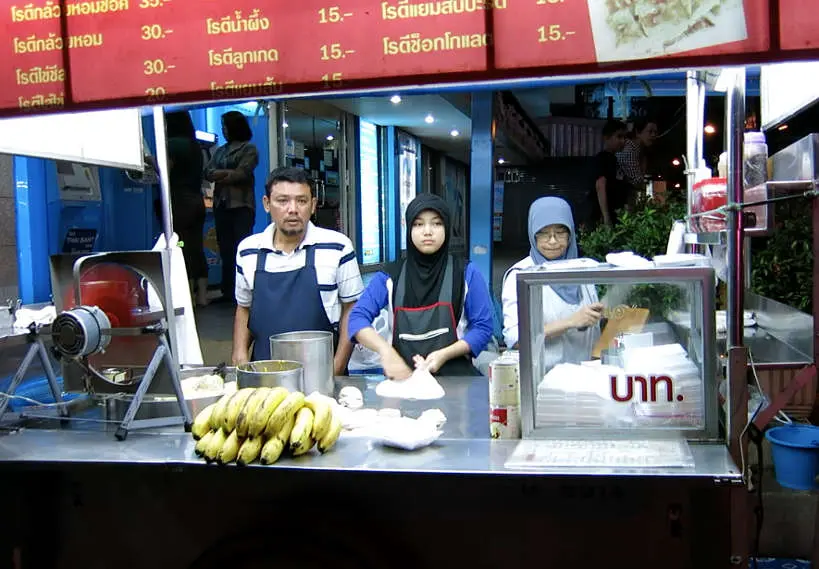 The Thai roti is fried dough cooked in a large wok with lots of butter or margarine. Depending on your order, different sweet stuffings are added. The most common are banana and sugar topped with sweetened condensed coconut milk.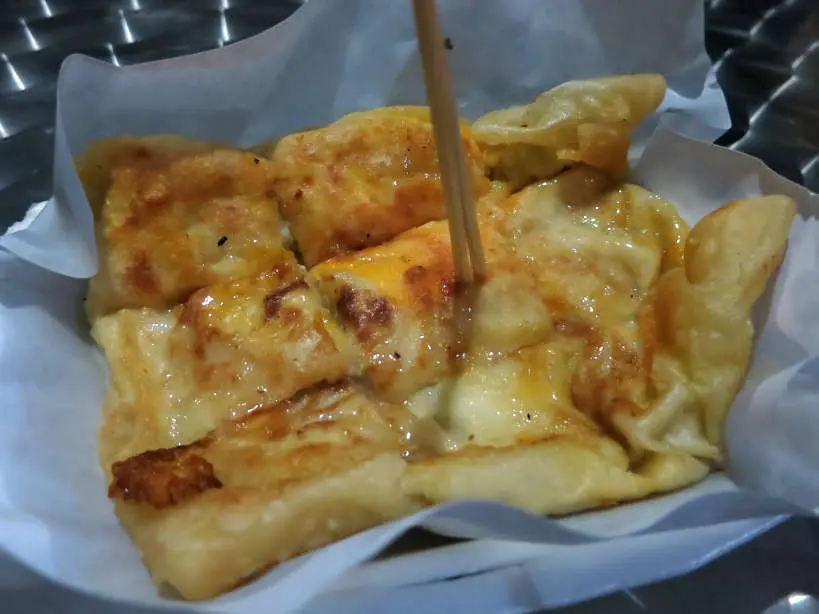 Where To Have It
Thai roti is hugely popular and is sold on street carts in popular street food locations throughout Thailand.
We enjoyed Thai Roti both in Bangkok and Chiang Mai. Our favorite place was on Huay Kaew Road and Canal Road in Chiang Mai, across the 7-Eleven.
In Bangkok, you can easily find Thai Roti vendors on the famous backpacker road named Khao San Road.
Depending on your choice of filling, the price for a roti varies between 15 baht to 35 baht ($0.42USD to $1USD). This is a perfect way to finish off your spicy meal with a touch of sweet.
#7 – Thai Sweet Rolled Sesame Pancakes – Tuang Muan Sot
We first saw these tiny rolled up pancakes when visiting Wang Lang Market, one of the 7 Bangkok markets that will make you salivate.
We were struck by the bright colors and unusual flavors. Typical flavors tend to be young coconut, taro, pandan or corn. We could not taste the individual flavors, except for the coconut flavor. Don't miss out on these soft pancakes with crunchy sesame seeds.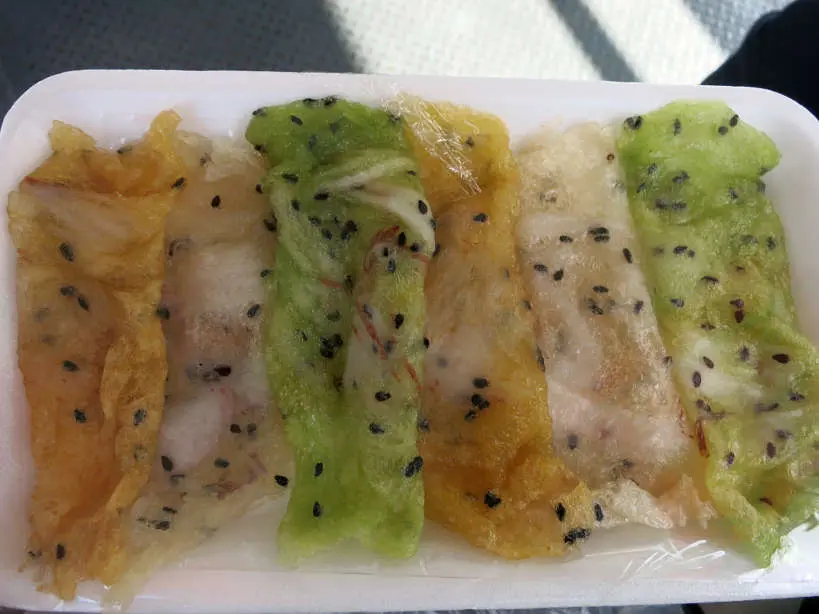 Where To Have It
You will find these delicious Thai sweets sold at markets and street stalls. They come in various colors and are sold in packages of 6 for approximately 25 baht ($0.71USD).
#8: Black Sesame Dumplings in Ginger Soup – Bua Loy Nam King
This sweet treat is traditionally Chinese, and it is quite unlike the coconut heavy desserts in Thailand. Instead, this dessert is made of round dumplings made of rice flour and stuffed with a black sesame paste in the inside.
They are served swimming in a warm spicy ginger soup.The dumplings are soft and chewy and the ginger soup has a nice spicy bite to it.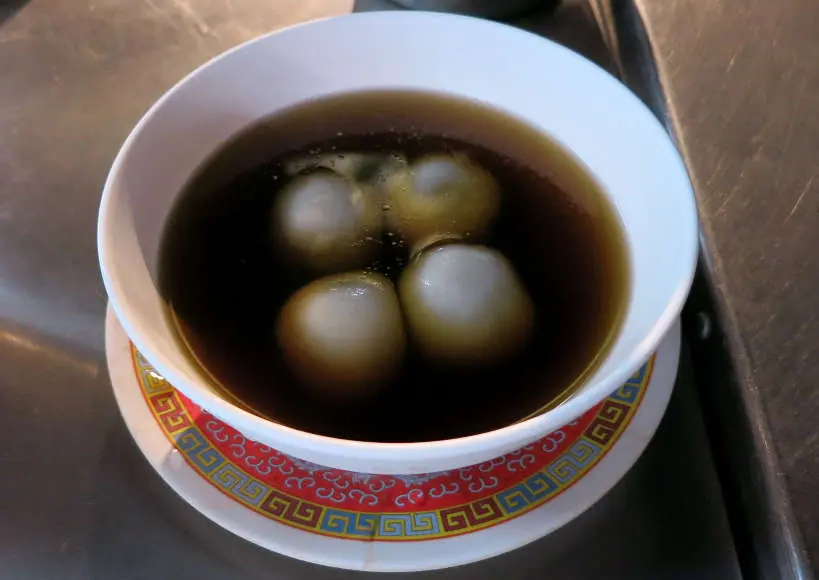 Where To Have It
This is one of the popular desserts in Bangkok's Chinatown, we discovered when taking a food tour in Bangkok at night. While the combination of flavors and textures is unusual, don't hesitate to give it try on your travels.
#9 – Thai Pumpkin and Custard Dessert – Sang Kaya Fug Tong
When you think of pumpkins, dessert is probably not the first thing that comes to mind. The first time we saw slices of pumpkins stuffed with a creamy filling, we were immediately intrigued.
This very popular and unique Thailand dessert is a slice of pumpkin filled with custard. The pumpkin is cleaned and cooked ahead of time and all seeds are removed. It is then stuffed with creamy coconut custard and cut into slices for sale.
While it is unusual to look up, it is actually really tasty, particularly because it is not too sweet.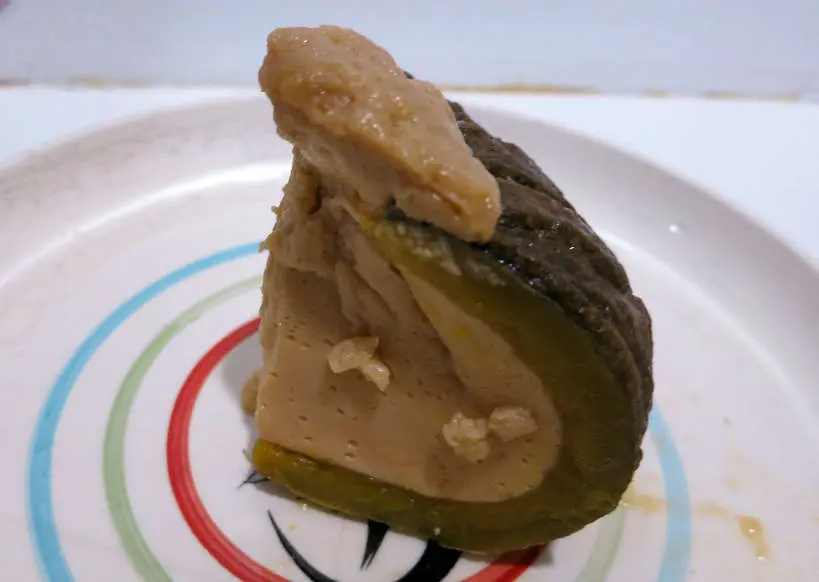 Where To Have It
You will find this dessert at local markets or at street stalls. Take a bite of this unusual dessert in Thailand. The approximate cost per slice is between 10 baht ($0.28USD) and 15 baht ($0.43USD).
#10 – Round Egg Yolk Drop – Tong Yord
Traditionally, desserts in Thailand are not made using eggs. This one Thailand dessert is a delicious exception.
Made with egg yolk, sugar, rice flour, and jasmine water, these little balls are a special treat for events and festivities. While quite tasty, be warned as they are overwhelmingly sweet.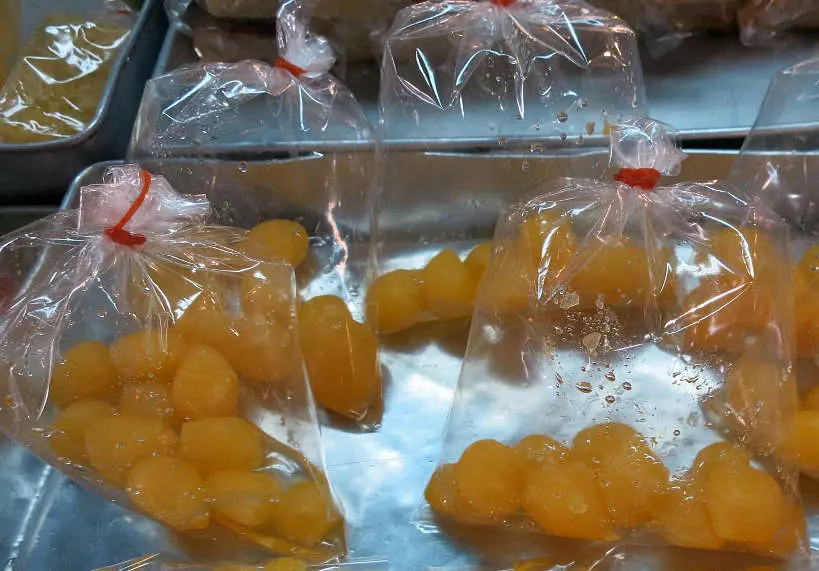 Where To Have It
You will find this treat in the sweets section of local markets throughout Thailand. Our favorite place for this Thai treat is Boonsap bakery in Bangkok, which is famous for their traditional desserts. We discovered this little gem while on a food tour in Bang Rak, one of Bangkok's districts for having some of the best food.
These little balls are sold in packages of 10 or 20 balls. The prices range from 7 baht to 10 baht ($0.20USD to $0.29USD) for smaller packages to 15 baht to 20 baht for larger packages ($0.43USD to $0.57USD).
#11 – Green Mango with Sweet Chili Spices – Mamuang Nam Pla Wan
Thailand is home to a great variety of exotic fruits due to its tropical climate and fertile plains. As a results, you can taste many different types of delicious fruits.
One unique fruit is mango and specifically green mango. As a dessert, it is simply cut into slices and topped with chili and powdered sugar.
We highlight it here for its unique taste. A little bit bitter and not too sweet. Combined with the chili, it has a very nice bite, one that is quite unusual for a dessert.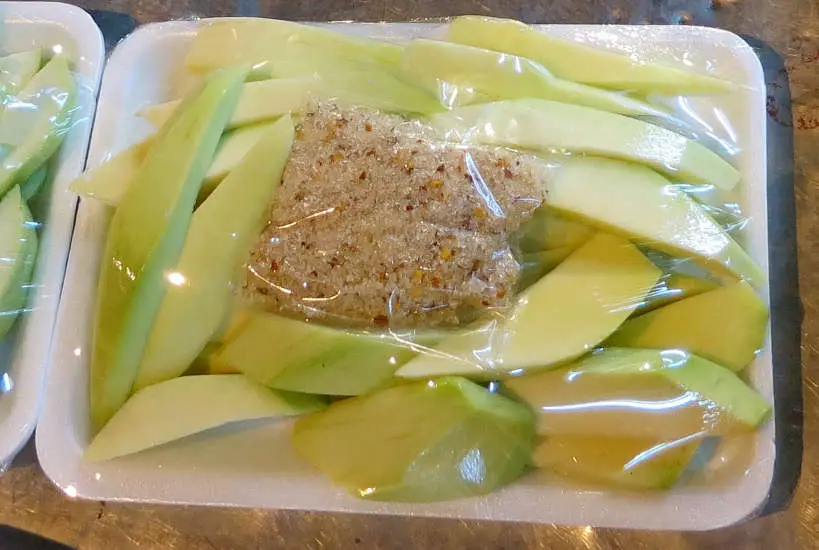 Where To Have It
You will find the green mango dessert, already sliced and packaged at fruit stands in the markets or street carts. The average price is about 25 baht ($0.71USD).
#12- Mung Bean Cake – Khanom Mo Kaeng
Mung Bean Cakes are a popular baked custard Thai dessert. They come in many different versions. Some versions, have very little starch, others are more eggy, delicate and flan-like, while others are firmer and starchier in texture, like brownies.
Regardless of how you have them, you will enjoy the custard flavors and delicate texture. We enjoyed them best when they are simply browned on the top, rather than topped with shallots.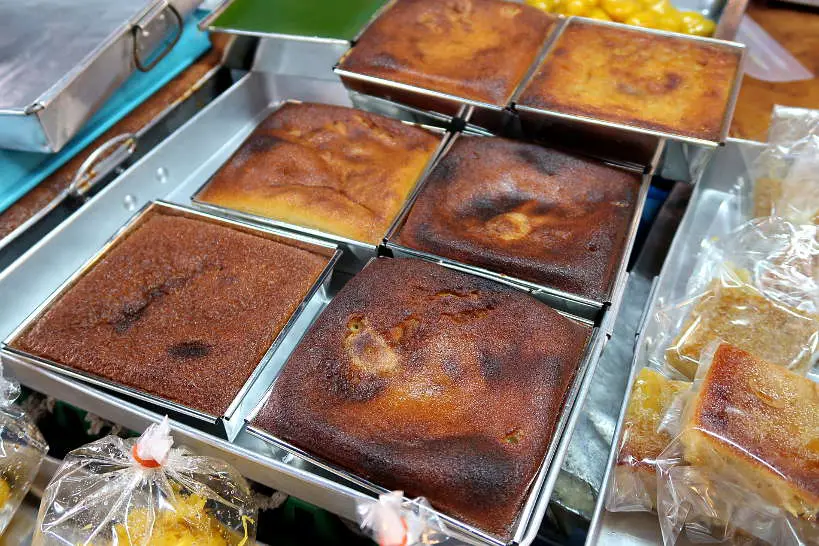 Where To Have It
Mung Bean Cakes are sold by street vendors who typically have large selections of khanom or Thailand desserts.
We found the best Mung Bean Cakes, freshly made, at Ton Payom Market in Chiang Mai. This market is a small local market located across from the Chiang Mai Art Center on the Southside corner.
The lady that makes them has a stall inside the market, where she sells fresh mango sticky rice and many other Thailand desserts. A slice of Mung Bean Cake cost only 10 baht (about $0.32USD).
#13- Grilled Coconut Cakes – Khanom Ba Bin
These Thai-style coconut pancakes are a favorite street food. They are cooked on a hot griddle and served warm. These pancakes are made with rice flour and flavored with coconut and palm sugar. They are light and moist, with an airy texture. Bite-sized and delicious, it's easy to eat several at a time.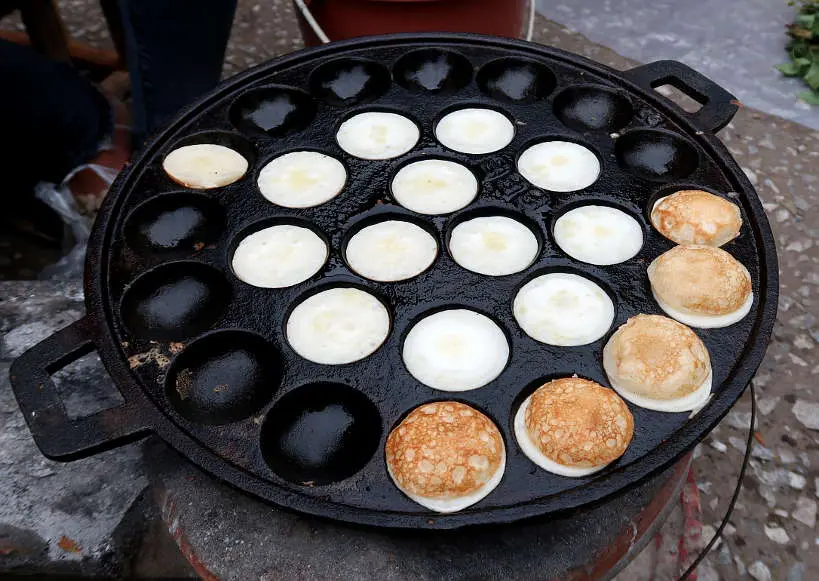 Where To Have It
Khanom ba bin have their roots in special occasions and ceremonies, although you'll find them everywhere today. These desserts are most popular in the regions of the country where coconuts are grown in abundance.
In Ayutthaya, the formal royal capital, located just north of Bangkok, we had them while visiting a local Thai-Chinese market called San Chao Thong Market. We stopped at a stall where a lady had been making them for over 50 years. This particular vendor makes her coconut cakes "purple" using a local plant for natural coloring.
Read more about these unique purple coconut pancakes in the article: What to do on your Ayutthaya day trip: Amazing giant shrimp
Outside of Ayutthaya, you'll find similar desserts called kà-nǒm-krók, or coconut griddle cakes. These little cakes are cooked into little dishes and they come with a variety of toppings. You'll find these at local markets or street stalls. In the morning or evening hours, don't be surprised if you find yourself tempted by the sweet smell of the coconut pancakes cooking.
Expect to pay about 10 baht ($0.20USD to $0.29USD) for six delightful pancake bites.
#14- Roti Sai Mai – Unusual Candy Floss Crepes Thai Dessert
Roti Sai Mai are typically associated with the ancient kingdom of Ayutthaya. They are small thin, colorful pan-fried pancakes flavored with pandan, strawberry or banana flavors. You stuff each roti or crepe with Thai-style candy floss or cotton candy which comes in a variety of colors. Served warm, the candy floss melt in your mouth.
We had a lot of fun making these candy floss crepes. The colors are playful and the taste is sweet. Don't miss these Thai desserts while visiting Ayutthaya Historical Park.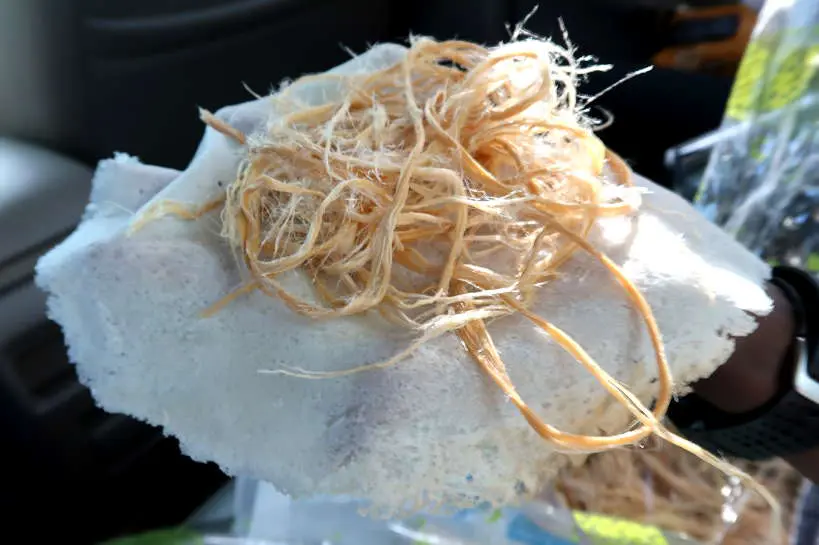 Where To Have It
Roti Sai Mai is sold by street vendors typically Thai-Muslim, in and around Ayutthaya. The crepes are made in front of you. You can get a handful to go in a plastic bag with the palm sugar for about 30 baht (about $0.96 USD).
#15 – Juices & Shakes – Refreshing Liquid Thai Desserts
Almost anywhere you will go to in Thailand, you will find many stalls selling fresh fruit juices and shakes. As one of the hottest countries in the world, you will need to keep hydrated.
If you prefer to drink your dessert, you will find a wonderful variety of juices and shakes to choose from. Many of the juices are freshly squeezed. The shakes also contain fresh juice, but be sure to ask for "no added sugar" or "very little sugar."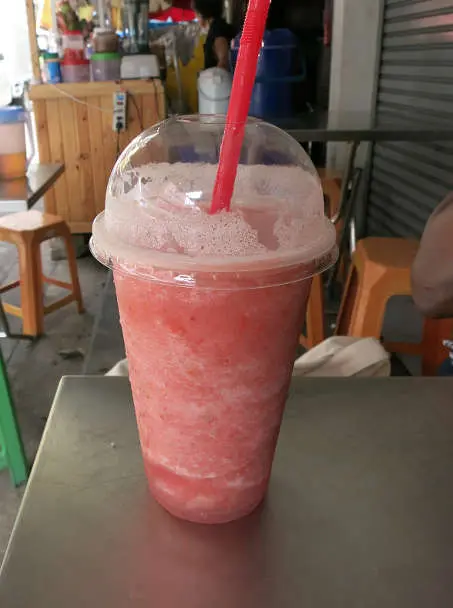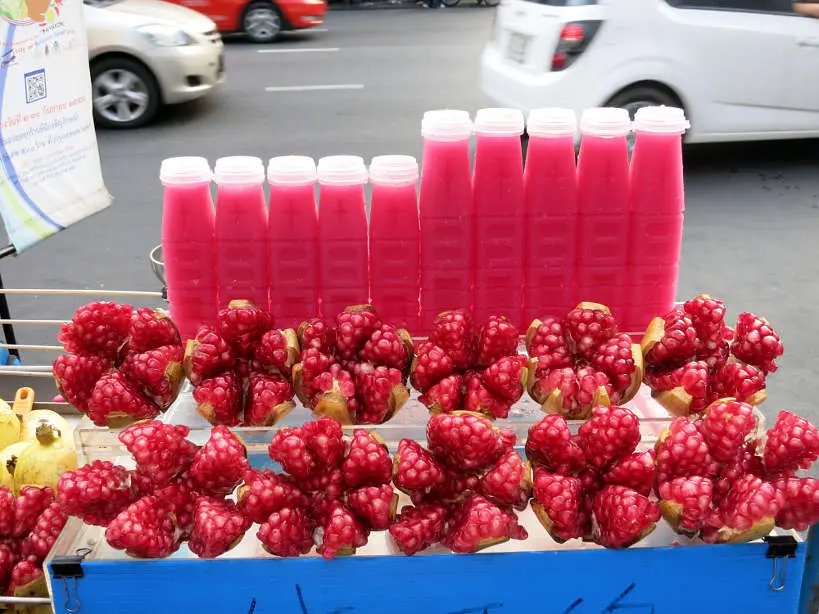 Where To Have It
You will find vendors at markets or street corners making juices and shakes. Some of the juices are already bottled, while others can be made fresh for you. The shakes are always made to order and sometimes fresh fruits or frozen fruits are used.
You will find interesting flavors including mango, orange, lime as well as exotic flavors like passion fruit, guava and pomegranate. For about 20 baht ($0.587USD) to 40 baht ($1.14USD) you can get a fresh bottle of juice or shake on the go.

In Summary
Thai desserts are an integral part of Thai cuisine. Naming all of them would fill a dictionary, and tasting all of them will take us several months and many additional pounds.
Through this concise Thai dessert list, we have introduced you to the 15 most popular kinds. These Thai sweets also incorporate the main ingredients found in most Thai desserts: rice, coconut, and fruits.
The short video below takes you behind the scenes to see the making of some of these popular Thai desserts.
We'd love to hear from you. Have you had any of these Thai desserts before? Which Thai dessert is your favorite? If not which Thai sweets would you like to try? Leave a comment below.
Planning on visiting Bangkok?
Download Food Trails Bangkok
The self-guided food trail to navigate the local food scene.
For only $3.99, get the local insights on what and where to eat.
Click the image to download
your Food Trails Bangkok =>
Love it? Pin it!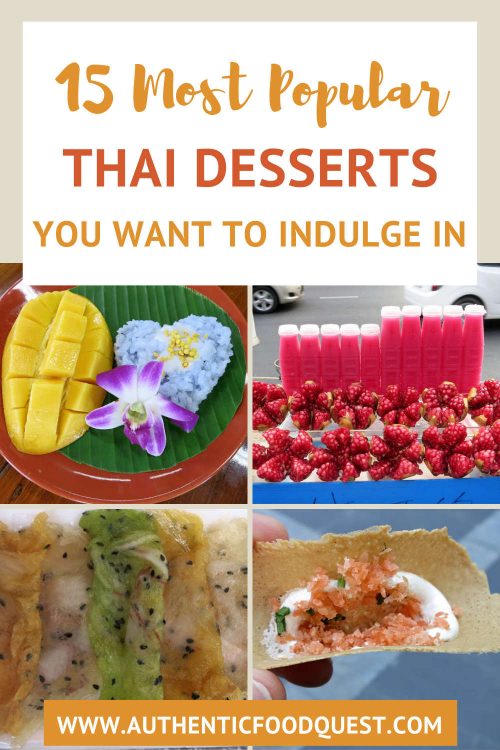 Rosemary, ex-marketing and advertising strategist, is a digital nomad and content creator at Authentic Food Quest. Since 2015, with her partner, Claire, they travel the world in search of the best local food experiences. Their mission is to help you enjoy the best local specialties on your travels or via recipes in your home kitchen. Favorite country for food: Peru. Favorite local dish: Bacalhau. Favorite way to keep fit: Running. Rosemary is the chief content writer and strategist on Authentic Food Quest. She is also co-author of Authentic Food Quest Argentina and Authentic Food Quest Peru, available on Amazon.