As you read this title, you are probably thinking:
What in the world is Peruvian Maca?
Why would anyone decide to go on a Peruvian Maca diet?
We first heard about Maca when we arrived in Peru and were staying with a local family through Airbnb. One morning over breakfast, Doris, our host casually mentioned Maca as a beverage that many Peruvians usually drink in the morning.
As we are on a quest to discover and understand the local specialties, our ears immediately perked up. She pulled out of the cupboard a brownish powder and introduced us to this Peruvian superfood.
What is Peruvian Maca
Maca is a plant that grows in central Peru in the high plateaus of the Andes mountains. It has been cultivated as a root vegetable in Peru for over 2600 years. Growing at about 10,000 feet above sea level, it is the highest altitude crop in the world. Maca is a relative of the radish and its root is used to make the medicine.
Peruvian Maca is said to have played a central part of the Incan diet. As the Incans were building Machu Picchu, they relied on Maca for moving the heavy blocks to construct Machu Picchu. The legendary strength of the Inca warriors has also been attributed to eating copious amounts of maca before going into battle.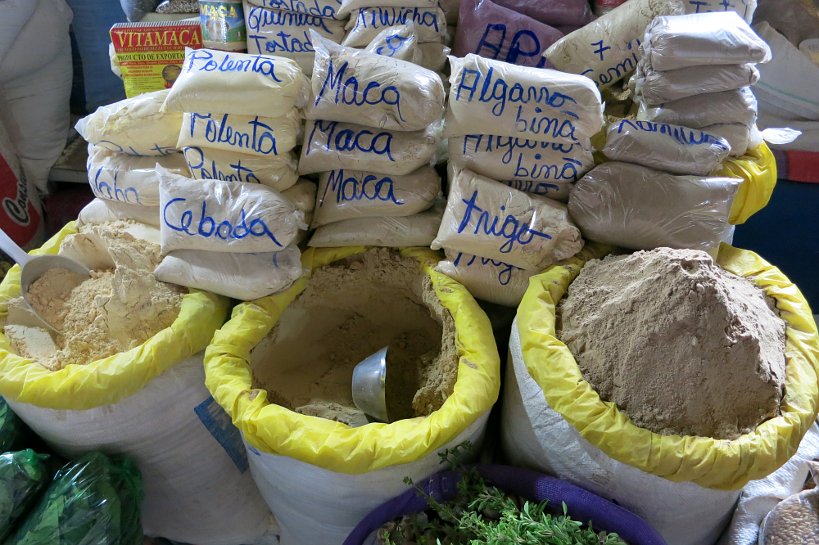 The Amazing Benefits of Peruvian Maca
As we tried to understand what makes Maca special, we run up against some conflicting information. There is what the local Peruvians told us and what you find online.
We quickly discovered that there were 3 types of Maca. A Black Maca for men. A Yellow Maca for women and a Red Maca which is more expensive and difficult to find.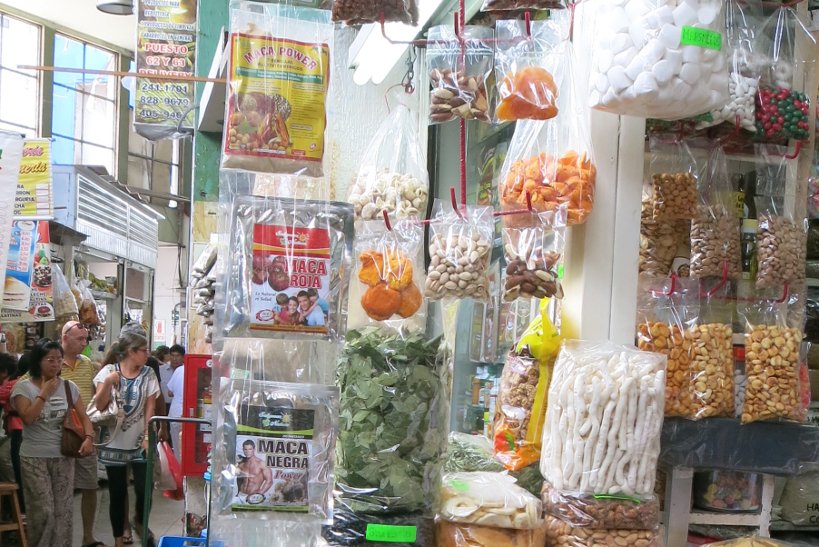 Local Peruvian women told us they experienced many benefits with Maca. Some of the ones that were frequently mentioned were: feeling more energetic, clearer skin, stopping hair loss, helping with hormonal imbalance (menstrual irregularities and menopause), strengthening the immune system and fighting osteoporosis.
An internet search on maca (web doctor) goes on to say that Maca is used for: "tired blood" (anemia); chronic fatigue syndrome, and enhancing energy, stamina, athletic performance, memory, and fertility.
Women use maca for female hormone imbalance, menstrual problems, and symptoms of menopause. Maca is also used for weak bones (osteoporosis), depression, stomach cancer, leukemia, HIV/AIDS, tuberculosis, erectile dysfunction, to arouse sexual desire, and to boost the immune system.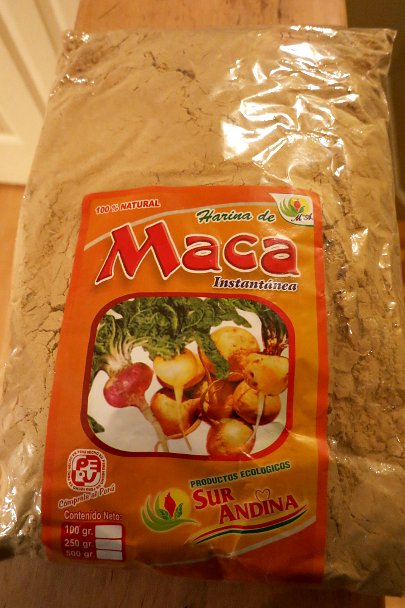 Our First Experience With Peruvian Maca
Intrigued by Maca, we sought it out at the Mercado San Pedro in Cusco. We visited a stall at the market and to chance to try this superfood.
As we talked to the lady, we learned that Peruvian Maca is available in either pill or powder formats. She told us that some people like to add Maca powder to their morning coffee or tea, but she prefers it natural, with just hot water. We decided to take her recommendation and try it "pure" and not masked"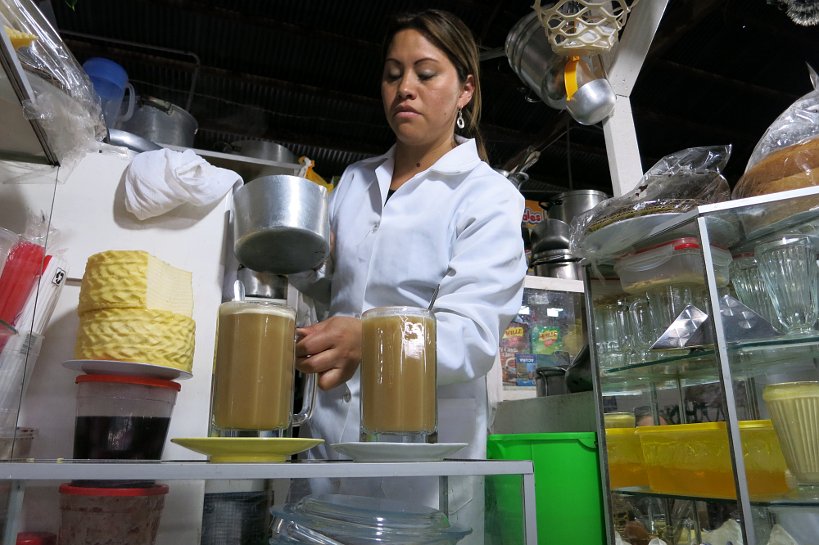 How Maca Works
Maca root is an adaptogen and according to Wikipedia, this means that it promotes homeostasis and stabilization of the body.
For example, if one person is high in a specific hormone (such as oestrogen), Maca will assist that person's body to lower the amount of oestrogen in their blood. However, if another person is low in the same hormone, it will assist that person's body to increase the amount of it in their blood.
Maca is said to stimulate the hypothalamus and pituitary glands which regulate the other glands in the body, and can bring balance to the adrenal, thyroid, pancreas, ovarian, and testicular glands.
A 30-Day Peruvian Maca Diet
After hearing and reading about the benefits of Maca, I was captivated. After liking the taste, I decided to experiment and put myself on a Peruvian Maca diet. The diet was simple and consisted of of drinking Maca everyday for 30 days to see how my body responded.
To get ready for this diet, I bought 1 kilo of Maca (Yellow Maca, which is for women) at the Surquillo farmers market in Lima.The plan I came up with was to drink Maca everyday between 3pm – 6pm.
Even though Peruvians drink Maca in the morning, I could not give up my morning coffee. Given that Maca is said to be energizing, I thought drinking it in the late afternoon when I sometimes need "a pick me up" would be a great way to test the benefits. I did not change my diet or eating habits and I continued to exercise on a regular basis.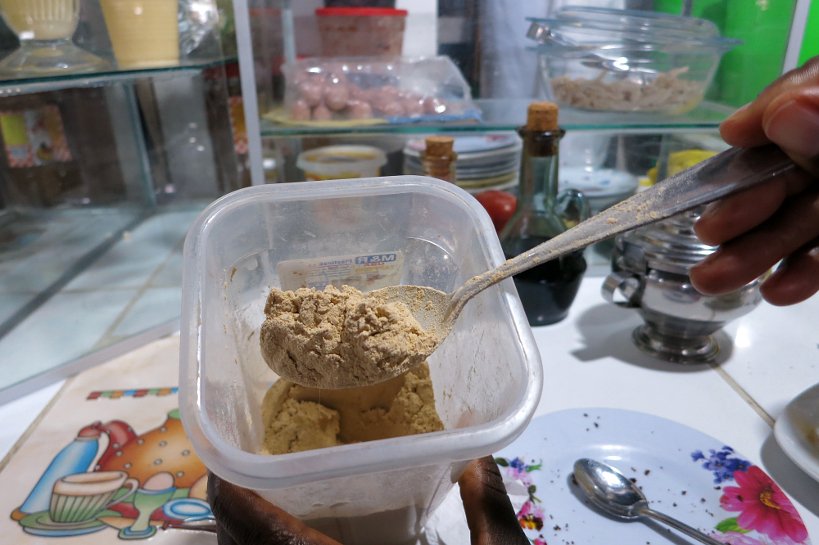 Notable Improvements From the Peruvian Maca
I started the Peruvian Maca diet on January 5th, 2016 and drank Maca every single day. In the 30 day period, I learned to really enjoy the taste of Maca. I started to look forward to drinking it and found it a nice alternative to drinking water or eating a snack.
The major changes I experienced were:
Increased energy

: Just after 2 or 3 days of drinking Maca, I felt much more energetic and peppy. The afternoon fatigue I would sometimes get, practically disappeared. The boost in energy was more than just physical. I felt mentally alert and focused as well. I noticed this after about 5 – 7 days

Less menstrual pain

: Even though I don't have a horrible period in terms of pain or any issues, I felt much more even. I noticed that I didn't have any mood swings, no cramping, no anxiety. While on my period, I felt and performed as if I was not on my menstrual cycle.

Clearer skin

: About 15 days or so into the experiment, I surprised myself when looking at the mirror when washing my face. My skin felt smoother clearer and with no break outs or spots. I was pleasantly surprised to see the difference especially because I never changed my facial or grooming habits.

Stronger hair and nails:

It took me almost the full 30 days on the experiment to realize that I had to clip my finger and toe nails a couple times. Before the Maca diet, I would cut my nails every 4-6 weeks. While taking Maca, that frequency increased and my nails were harder and stronger. Like my nails, my hair was also stronger and had less breakage.
With one kilo of Peruvian Maca, there is still plenty left over. I have continued to drink Maca daily and reap the benefits of improved overall health. I'm happy to have discovered this Inca superfood. I have not experienced any notable downsides and like the idea of incorporating a natural supplement into my diet.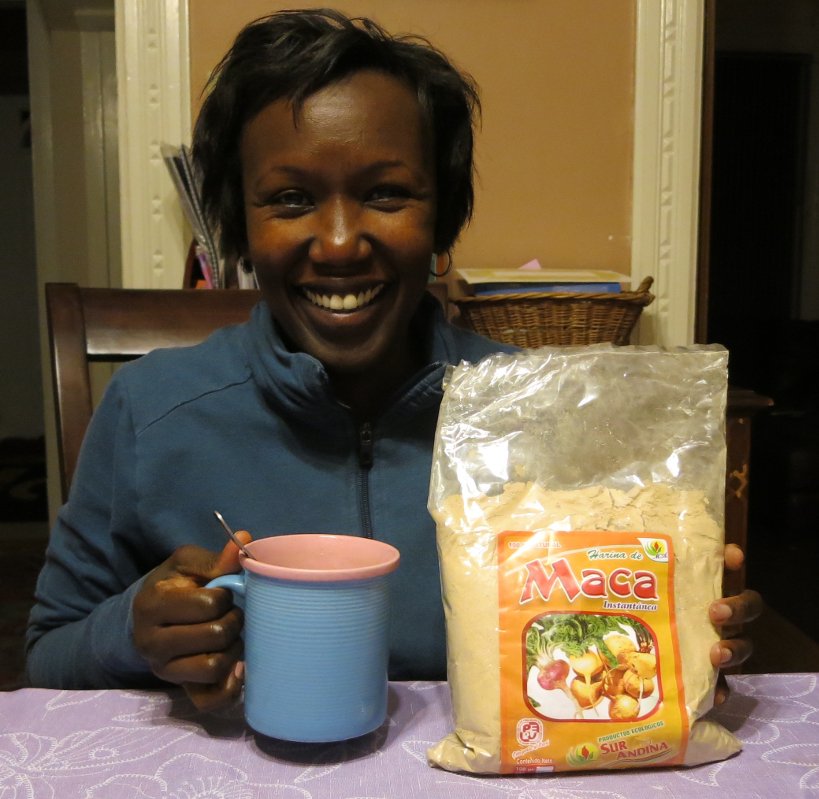 Where to Find Peruvian Maca
If you are interested in trying Maca for yourself, you can find it on Amazon and also see how other consumers rate the different brands. You can also read more about Maca's illustrious history and benefits here at Ancient Peruvian Superfood or The History Behind The Ancient Powerful Maca. I prefer to drink Maca plain and in hot water, though it is good in smoothies, salads, drinks, cooked foods, and juices.
What do you think about taking natural supplements you discover on your travels? Have you ever tried Maca? Share your comments below.
Disclosure: Please keep in mind this information is based on my personal experience. It should not be construed as medical advice or instruction. Please consult your physician or a qualified health professional on any matters regarding your health and well being.
Savor The Adventure!
Looking for More Peruvian Local Food Experiences?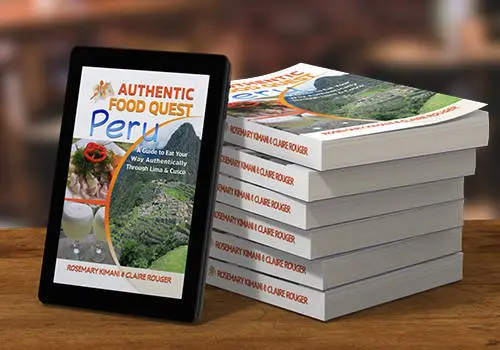 Our book, Authentic Food Quest Peru takes you on a journey through the regional food specialties in Peru. Get an introduction into Peruvian food and the history of how this unique gastronomy came to be.
Discover the authentic foods in Lima and Cusco as well as the top Peruvian foods and drinks that should not be missed. Take this guide with you as you explore Peru's magnificent cuisine.
Available on Amazon and Barnes & Noble.
Love it? Pin It.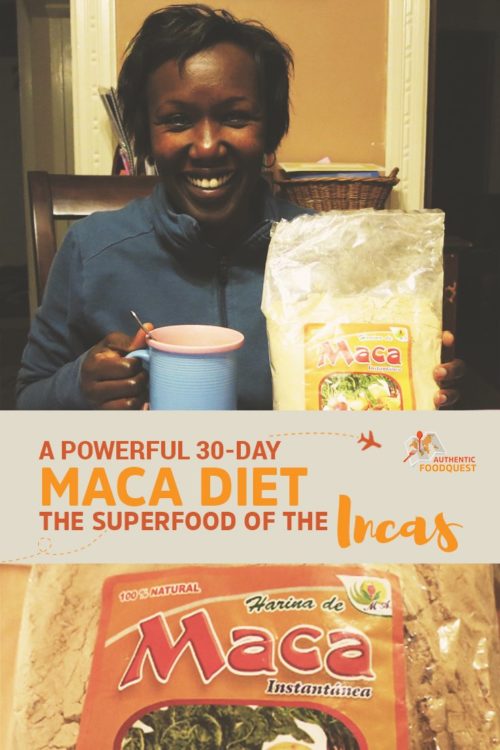 Rosemary is the editor-in-chief and strategist at Authentic Food Quest.
Traveling slow since 2015 with her partner, Claire, she has explored the cuisine in 45 countries and more than 240+ culinary cities.
Her writing about local food specialties has been featured in Lonely Planet, Business Insider, Honest Cooking, Food Insider, and Huffington Post.
As a food and travel writer, Rosemary has co-authored three books, including one in collaboration with Costa Brava Tourism.
Rosemary is an avid runner when she's not eating and exploring new destinations. She has run ten marathons and counting.
Before Authentic Food Quest, Rosemary held senior-level strategy positions in advertising. 
Find out more about Authentic Food Quest