One of the most significant and important grains we experienced on our authentic food quest in South America was quinoa or quinua in Spanish. Even though we were already familiar with it and would eat it on a regular basis, we were surprised to discover different types of varieties and unusual quinoa products.
The history of quinoa is in South America and in particular the Andes region which includes Argentina, Bolivia, Chile, Columbia, Ecuador and Peru.
This grain was first grown in Bolivia, but today Peru is the largest producer. These two countries produce about 95% of all commercially grown quinoa.
Known as the "Golden Grain of The Andes", quinua was the daily diet of Inca civilizations more than 5,000 years ago. Today, it is a popular health food or "superfood" and is highly regarded for its high protein content and delicious flavors.
Quinoa does not contain gluten, therefore making it an ideal option for people diagnosed with celiac disease.
Read on for 5 of the most unusual quinoa products to enjoy in South America.

Varieties of Quinoa
In the Province of Jujuy, which is in the North West of Argentina, we visited a farmers market in a small village called Tilcara. Being only about 200 kilometers away from the Bolivia border, we were struck by the diversity of quinoa varieties.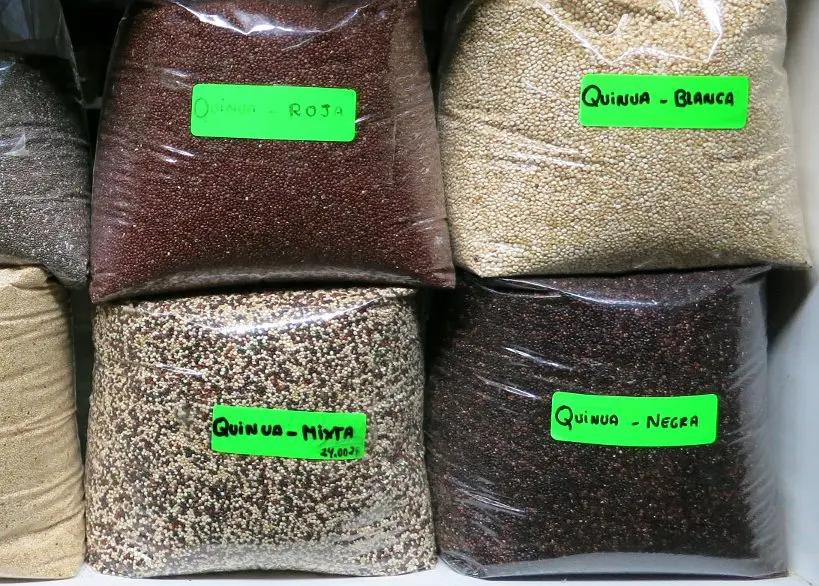 One of the varieties we learned about is the Real variety. Quinua Real only grows in Bolivia in extreme weather and high altitudes.
These conditions produce bigger grains with increased nutritional value. We were so surprised to learn that 'quinoa is not all the same' and that there are nutritional differences in the various varieties.
1. Quinoa Salad
If you've never had a quinoa salad, this is one of the most refreshing salads you can have. We discovered this salad in the Northwest of Argentina in a town called Humahuaca. This town is in the Quebrada de Humahuaca, which is a UNESCO Heritage Gorge known for it's beautiful and stunning landscape.
We had this dish at a traditional restaurant called Aisito Restaurante. The ensalada de quinua was simply prepared and delightful. Made with quinua, tomatoes, corn, and Andean cheese, this was a healthy and easy to make dish.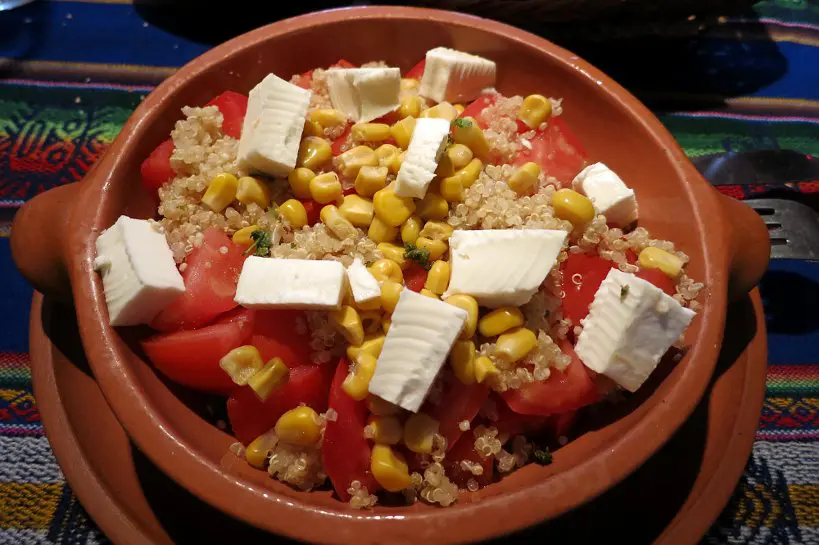 2. Quinoa Empanada
One of the specialities of Argentina are the empanadas. Our quest took us on a journey where we discovered Argentina through its emblematic empanadas. In Tilcara we found that the local empanada specialty was the empanada de quinua.
We tasted these empanadas at La Pena de Carlitos a restaurant known for its home made cooking and live folkloric music.
We were pleasantly surprised with the taste of the empanada de quinua. We found this empanada crunchy and with a subtle, hearty flavor. Delicious and absolutely worth trying out.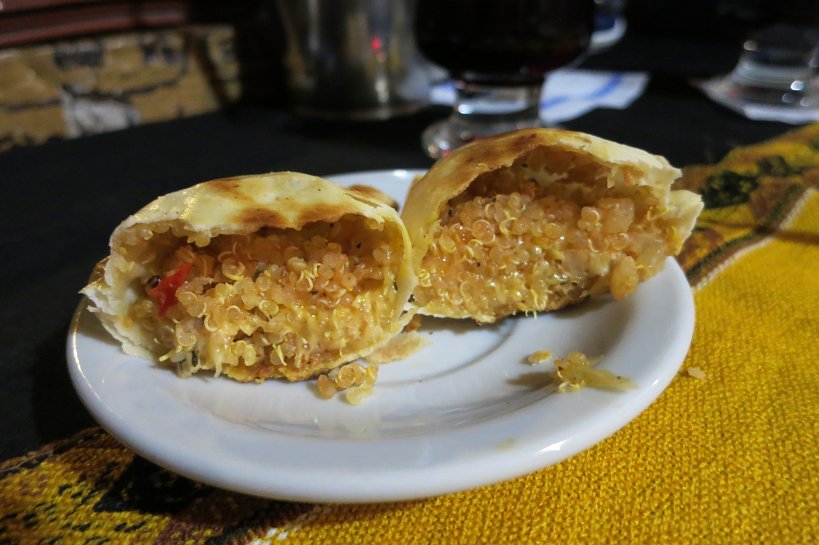 3. Quinoa Soup
Given that quinoa is widely cultivated across the region, you can find it prepared in different ways. You can try Quinoa soup or sopa de quinua at Khuska which is an excellent traditional and local restaurant.
Khuska chef, Ines, is very specific about the type of quinoa she uses in her soup. She prefers to use the quinoa de la Quebrada versus the one from Bolivia. She told us that the seed variety from the Quebrada is much firmer than the one from Bolivia which she uses in dishes like risotto.
The sopa de quinua is very tasty and hearty with sweet flavors from the vegetables. An healthy treat!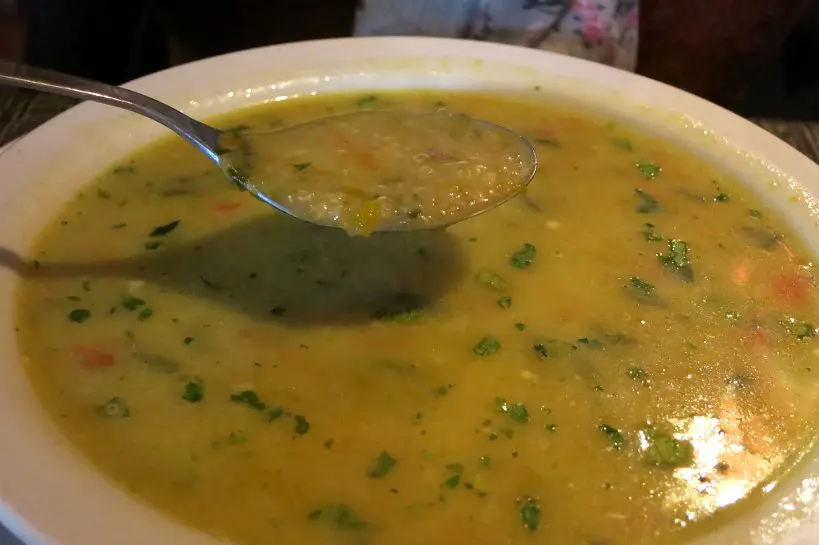 4. Quinoa Beer
In Peru, you will find quinua everywhere. At the farmers market, grocery stores, bakeries, and prepared in dishes at restaurants. Surprisingly, quinoa is not only used in dishes but also as a beverage.
Cusqueña a popular beer originally from Cusco introduced a Quinua Special Edition of Cusqueña beer. Co-created with Gaston Acurio, Peruvian top chef, it is a blend of pearl quinoa, malted barley, corn, hints of orange and peach, hops, and natural pure water.
I enjoyed drinking Cusqueña beer and could not wait to try the Quinua Special Edition. I found the taste, slightly fruity and not too hoppy. The actual taste of quinoa was difficult to detect as it was hidden behind the barley and hoppy flavors. Nonetheless, it is easy to drink and worth trying.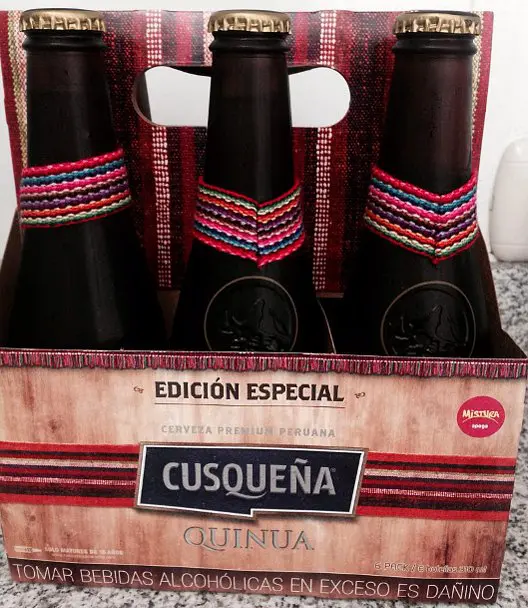 5. Quinoa Bread
Bread is commonly eaten at breakfast and used to make sandwiches in Peru. The most common type is white bread though you can also find wheat bread.
Surprisingly, at one of the local bakeries in Lince, a neighborhood in Lima, we found pan de quinua. We bought a few loaves to take back home to have for breakfast. We found the bread light and airy. The taste is mild and grainy, somewhat in between white and wheat bread. A nice change from the typical bread.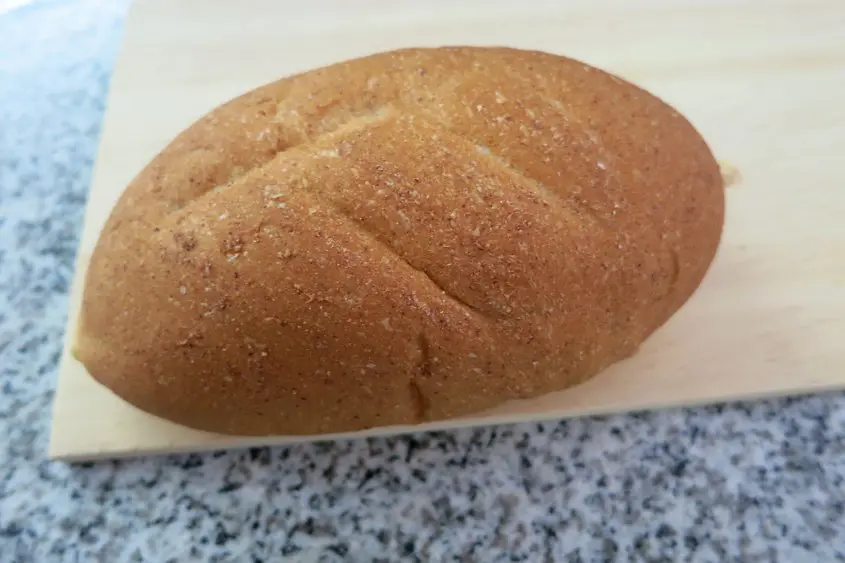 Summary
Quinoa is an amazing ancient superfood that is now being rediscovered worldwide. This nutritious plant that is loaded with protein, fiber, and minerals has been viewed as playing an important role in eradicating hunger and malnutrition. The United Nations dubbed 2013 the "International Year of Quinoa."
While quinoa is gaining in popularity in North America and Europe, we were surprised to see just how ingrained it is in the food culture, particularly around the Andes region.
In addition to the unusual quinoa products we have highlighted here, we also saw the quinoa used as the main ingredient in snack bars, alfajores (Argentina cookies), picarones (donut type Peruvian dessert), milk, pasta, and much more.
On your next trip to South America, try quinoa, this super grain in an unusual form.
Have you had quinoa before? In the comments below, tell us how it was served or prepared?
Locations Mentioned
Aisito Restaurante, Buenos Aires 435, Humahuaca, Argentina.
Khuska, Padilla S/N, Tilcara, Argentina.
La Pena de Carlitos, Rivadavia 4624, Tilcara, Argentina.
Savor The Adventure!
Disclosure: please note that some of the links might be affiliate links. If you click through and make a purchase, we may receive a small commission (at no additional cost to you). Thank you in advance for your support!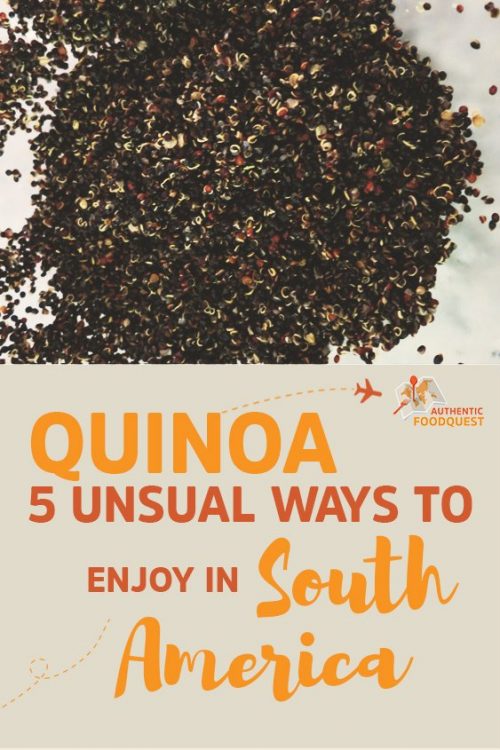 Claire is co-founder of Authentic Food Quest and a lover of simple and exquisite cuisine. Since 2015, with her partner, Rosemary, she has been traveling the world as a digital nomad, creating content about local food experiences.
Her advice from visiting 45 countries and more than 240 food cities has been featured in Lonely Planet, Business Insider, Honest Cooking, Food Insider, and Huffington Post. She has also co-authored three books, including one in collaboration with Costa Brava Tourism.
An ex-mechanical engineer, Claire is responsible for SEO, keeping the website running, and the fun food & travel videos on YouTube.
When Claire is not eating, she can be found running or cycling. Find out more about Authentic Food Quest