Luang Prabang, the former capital of Laos is at the confluence of the Mekong and Nam Khan rivers. Regarded as the country's culinary capital, Luang Prabang was once known throughout Laos for its exceptional food.
The main reason? The royal family, who had the best chefs, lived there.
While in Luang Prabang, we were on a quest to understand Lao food and Royal Lao cuisine. At the Rosewood in Luang Prabang, we had the opportunity to dine on Royal Lao cuisine with Sebastien Rubis, Culinary Director, and the only chef in Laos to be appointed by the UN as an ambassador for Laotian cuisine.
Join us as we dive into Royal Laos Cuisine at the Rosewood Luang Prabang.

Rosewood Luang Prabang: Best Hotel in Luang Prabang In Nature
Opened in 2018, the Rosewood Luang Prabang is a unique resort that celebrates French-Laotian heritage, history and culture. It is located about a 10 minutes drive from the old city of Luang Prabang, a UNESCO World Heritage Site.
Picked up by the hotel car, we found ourselves 10 minutes later, in an idyllic setting with a waterfall, streams and a lush sprawling forest with 23 luxury villas.
At the forefront of Rosewood Luang Prabang is their unique culinary identity which focuses on Laotian flavors and seasonally sourced farm-to-table ingredients.
Led by Culinary Director, Sebastien Rubis, Rosewood Luang Prabang dives deep into the rich Laotian food culture and in particular Royal Laotian cuisine.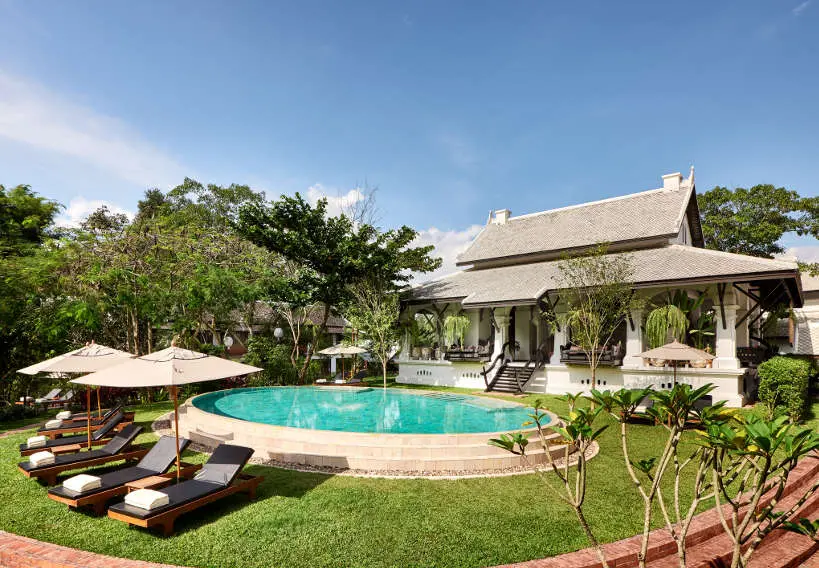 Rosewood Luang Prabang –  5 Star Hotel Luxury in Nature
Welcomed warmly by Sebastien Rubis, we first took a quick tour of the resort before settling in for dinner.
Each villa at the resort, Sebastien told us "is unique and inspired by explorers and personalities of the region."  Walking to the villas was a bit of trek. We made our way to the villas perched above the property by walking on wooden suspension bridges, underneath banana, palm and tamarind trees and alongside fragrant flowers.
It felt calm and peaceful as we walked up and down steps, relishing the silence and the flutter of birds and the streams tickling below.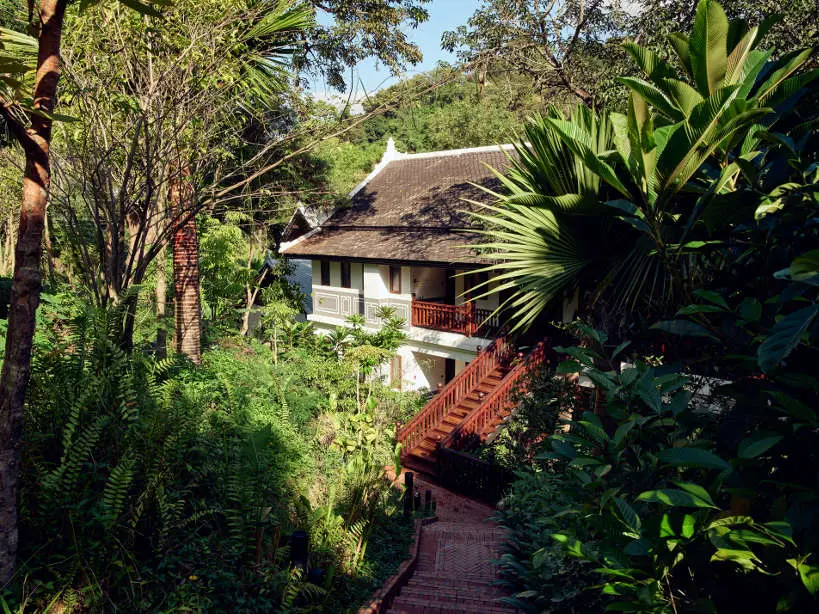 One of the rooms we got to see had a botanical theme honoring Ernest Marc Louis de Gonzague Doudart de Lagrée, a 19th-century French-Mekong expedition leader. Other rooms celebrate the hill-tribes from the region featuring their unique traditional patterns, clothing, and handicrafts.
No matter the theme of the guest house, each villa is luxurious, tastefully decorated and with breathtaking views across the valley.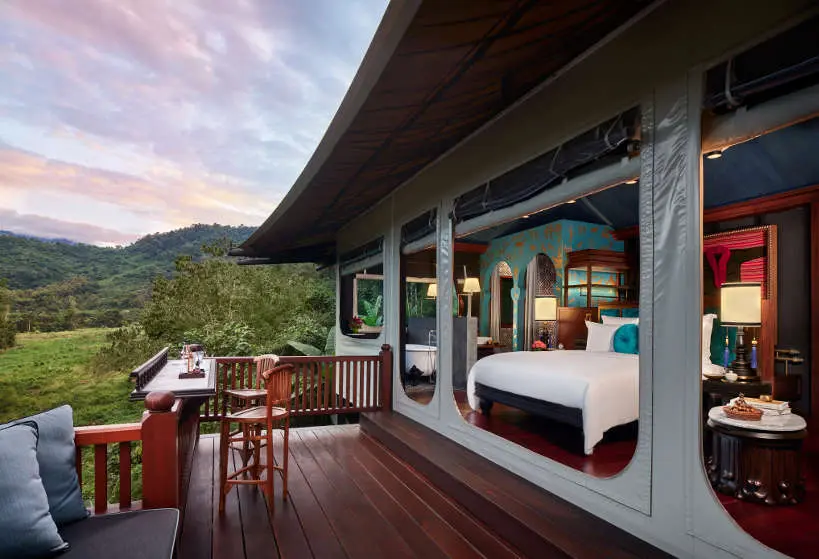 The Great House: Best Restaurant in Luang Prabang for Royal Laos Cuisine
Sitting down with Sebastien Rubis, Culinary Director at the Rosewood Luang Prabang was the highlight of our experience. We didn't know anything about Royal Laos cuisine and we were thrilled at the opportunity to discover this local and important culinary heritage.
The menu at the Great House restaurant embraces the local culture and emphasizes locally sourced and seasonal foods. Rubis works with local farmers and uses available ingredients while employing traditional cooking methods to bring out the freshness of the local produce.
In recognition for his efforts, Sebastien Rubis has been awarded the prestigious title of ASIA Geographical Indication (GI) Ambassador for Laos, a United Nations (FAO) and French Development Agency (AFD) project. This award focuses on protecting food cultures in the region and reviving the ancestral and forgotten recipes.
In his role as ambassador for Laotian cuisine, he has had the privilege of serving many dignitaries from around the world, including President Obama and other heads of states.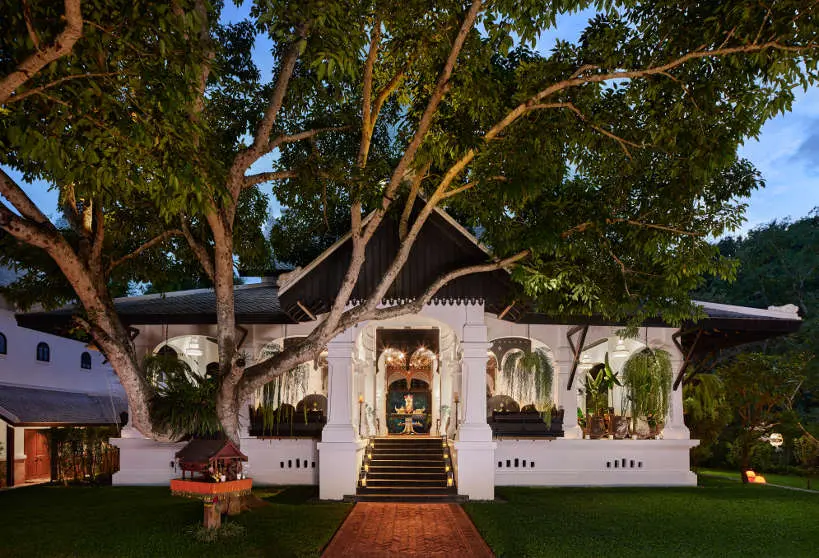 Royal Laos Cuisine in the Ancient Kingdom of Laos
To set the context for royal cuisine, it's important to remember that Luang Prabang was the royal capital of the Kingdom of Laos for many centuries. Even after the administrative seat was moved in Vientiane in 1545, Luang Prabang retained its regal spirit partly from its spectacular temples, rich Buddhist life, French architecture, and extensive natural beauty.
Royal Laos cuisine, Sebastien told us is based "largely off recipes by Phia Sing, the royal chef to the Kings of Laos at the Royal Palace in Luang Prabang, in the first half of the 20th Century."
Unfortunately, he added "there are no comprehensive written records of royal cuisine. There are only two records, and you can only find one. I found them both."
When we pressed further to understand Royal Lao cuisine, Sebastien described it as "reaching more gastronomic levels, but it is still terroir cooking." "When you see a Michelin restaurant in France", Sebastien added, "in the beginning, they offered a small portion of terroir cuisine on a plate." This is similar to Royal Laos cuisine, "it is more refined, more elegant, but it is still raw."
Reflecting on Sebastien's definition of Royal Laos cuisine, and what we had discussed in a Luang Prabang cooking class two days before, the difference between Laos food and Royal Laos cuisine seemed subtle.
The differences seemed to lie in the ingredients and cooking methods, but both originate from the same base.
"Are you ready to taste traditional Lao dishes and Royal Lao cuisine?", Sebastien asked.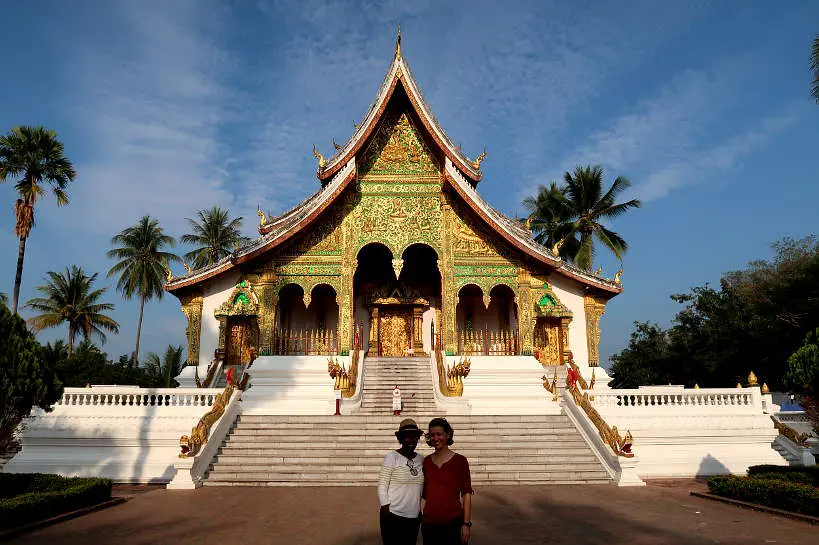 Royal Laos Cuisine – 8 Lao Dishes and 1 Lao Dessert 
Luang Prabang Salads & Soups
For over three hours, we dined with Sebastien, in the open airy Great House restaurant with huge chandeliers and elephant motifs. 
Traditionally, Sebastien told us, "in a Lao meal, everything would be served all at once."  At the Rosewood, Sebastien has trained his staff to bring out the meals sequentially.
For the Royal Laos cuisine tasting, we started with the milder flavors and worked our way to the stronger more adventurous flavors.
We started out with sticky rice which in Laos is eaten with every meal and is considered the national staple of Laos. In addition, we also had two salads and soups to sample.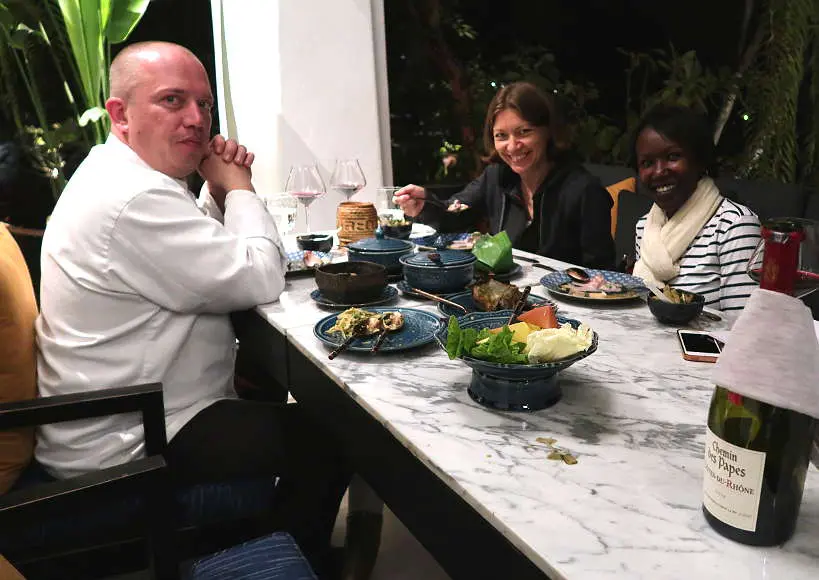 Sup Phak – Foraged Green Leaf Salad 
The sup phak was on the most interesting salads we had. "You'll find an abundance of fresh herbs and wild greens in Luang Prabang cooking." "This salad," Sebastien told us is based on foraging greens." "Laotians would never go hungry in the forest", he added, "there are plenty of edible greens and they know how to identify the good ones."
Based on relationships developed with local farmers, the Rosewood Luang Prabang gets the freshest produce available on a daily basis, including wild and edible greens.
We found the flavors of this salad unusual. Made with foraged green leaves, wild zucchini, a little bit of lemongrass, garlic, shallots, and a tangy sauce, it took some getting used. With each bite, we developed an appreciation for the savory and hearty flavors.
We also got to sample a bright young bamboo salad (Sup Noor Mai) and a young bamboo soup (Keang Noor Mai). The delightful soup, made from the same base as the bamboo salad was accentuated with mushrooms, wild zucchini, lemongrass, shallots and more.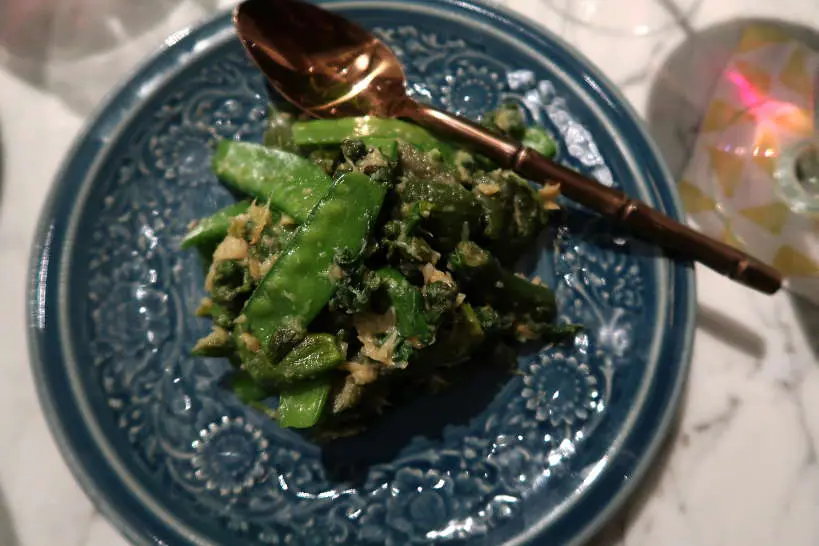 Luang Prabang Love for Rice & Fish 
Nem Thadeua – Lao Crispy Coconut Curry Rice Salad
One of our favorite dishes was Nem Thadeua, a crispy coconut curry rice salad. This dish, Sebastien told us, took him more than 10 years to discover the recipe.
At Lao homes, where this dish is eaten, is exactly how Sebastien discovered it. While visiting a Laotian friend, he noticed his mother making the fried rice salad and got her to teach him how to make it and share the recipe.
To make this dish, Sebastien explained, "you start with steamed rice, take fresh coconut milk, mix it with the rice, add seasonings, a little bit curry, make the rice into a ball, flatten it and then fry it. When it is coated with the oil, you take it off, let it cool and then sprinkle fresh herbs, peanuts, and more."
Full of flavor, we could have eaten several helpings of nem thadeua. We loved the crunchy textures of the fried rice and wonderful flavors from all the seasonings.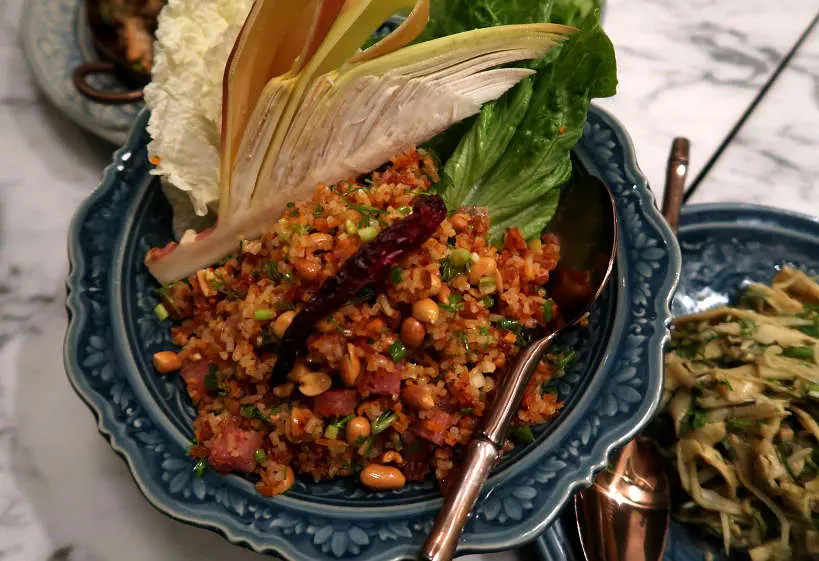 Goi Paa – Mince Fish Salad 
The two fish dishes we tried were sourced from local waters and were incredibly fresh. The Goi Paa mince fish salad was delicate and full of flavor.
Cut into thin slices and pan seared with shallots and fresh herbs, we enjoyed the light taste and textures. The fish salad can be eaten either wrapped in lettuce leaves or together with sticky rice.
The other fish dish we tried was a wild river fish stuffed with pork, known as Khanab Paa. This dish Sebastien told is," is what the Kings of Laos would have eaten."
It is a wild river fish, stuffed with pork, lemongrass, shallots, fresh herbs, wrapped in a banana leaf and grilled on a barbecue. It was a little cold by the time to we got to it, though we enjoyed the wonderful combination of the fish and pork.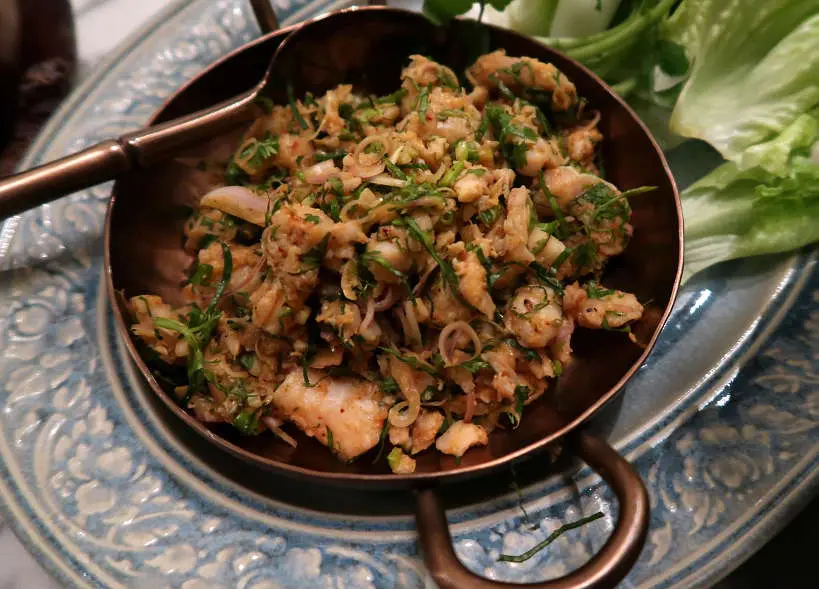 Savory Pork, Chicken and Buffalo
Or Lam – Braised Buffalo Stew – Luang Prabang's Signature Dish 
Or Lam (also spelled Oor Lam or Ô-Lam) is one of the most traditional dishes of Luang Prabang and favored by royalty.  It is a soupy stew, with vegetables, a variety of meats and thickened with puréed eggplants.
The original royal recipe, Sebastien told us, "called for the use of deer." At the Rosewood Luang Prabang, the recipe has been modified and uses buffalo instead.
According to Sebastien, what makes Or Lam special is the cooking technique. You start by boiling eggplants and making a broth. You separate the eggplants and add lots of dill, fresh vegetables, and herbs. You then add buffalo in this case and peppered wood (sakkhan root) which is not edible but imparts the unique flavors.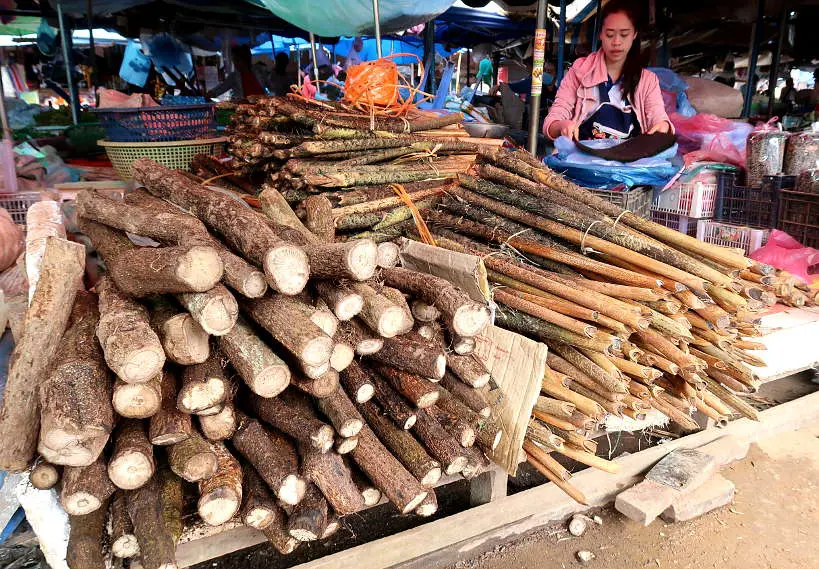 Complex and mildly spicy, we were fascinated by the multiple layers to the flavors and textures of this stew. The pepperwood enhances the stew with flavors similar to black pepper. Together with the braised buffalo, mushrooms and vegetables, we willingly surrendered to the mildly peppery stew.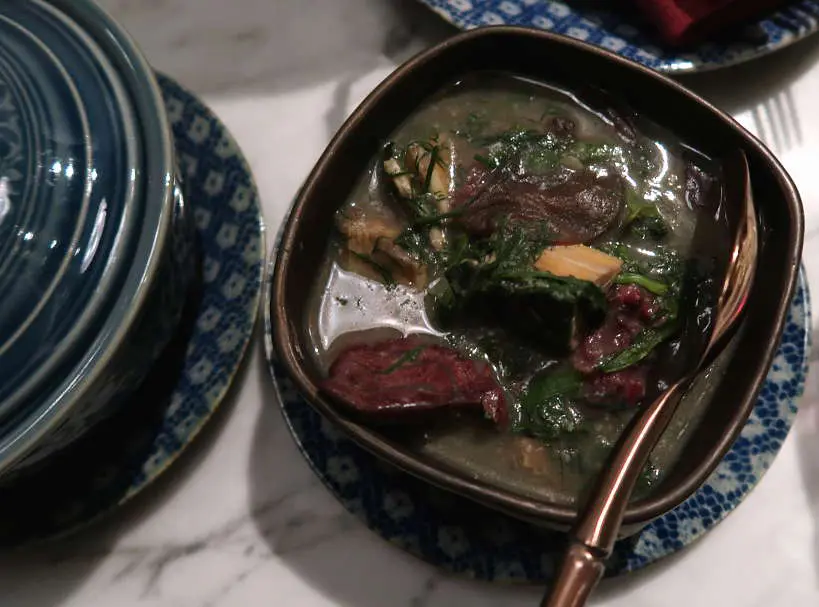 Phaneang Kai – Chicken Coconut Curry 
Among the savory flavors, this chicken coconut curry dish surprised us. When you think of chicken curry dishes, you may think of Indian or Thai curries which have a powerful and distinct curry taste.
Sebastien talked passionately about this dish and in particular the Laos flavors which distinguish it from other familiar curries. The "taste of the curry is very soft", Sebastien noted, and "it comes at the very end."
As we dove into the dish, we did indeed notice a sequence to the tastes. Starting out with the fresh chicken flavors, followed by the taste of fresh herbs and coconut and finally the curry flavors at the very end.
We were surprised how soft and smooth the flavors and we really enjoyed the sharp contrast to other curry dishes.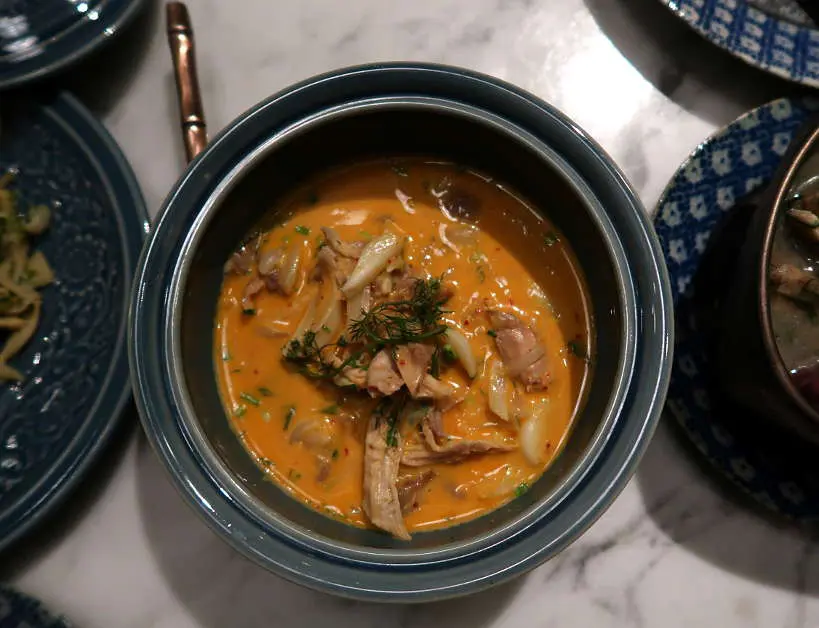 Lon Som – Pork Curry Stew
Sebastien christened this dish "the one for adventurous eaters" and recommended that we eat it last. The flavors he said, "are strong, and if you don't like it, you will not appreciate the subtleties of the other dishes."
Open to all flavors, especially of the local and authentic dishes, we eagerly tasted this stew with pink hues. The main ingredients are pork curry are pork, coconut, fermented fish eggs, eggplants, shallots, and fresh herbs.
While the fermented fish eggs gave the curry pungent flavors, we both described the dish as excellent. This was Claire's favorite dish and it reminded her of a French dish with a similar type of sauce.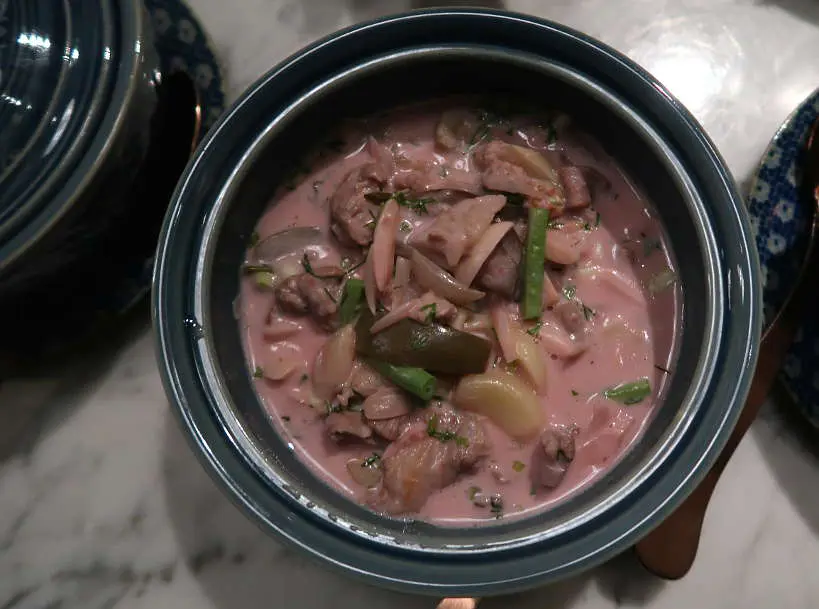 Lao Desserts 
Unlike neighboring Thailand, Laos does not have an ingrained dessert culture. According to Sebastien and also echoed in our Luang Prabang cooking class, you will not find many uniquely Laos specialty desserts. One of the most popular desserts you'll find in Laos is mango sticky rice, which comes from Thailand.
Sebastien described the desserts in Laos similar to the ones you find in Cambodia. In a cooking class in Phnom Penh, we learned to make a delicious banana dessert called Chek Ktis, similar to what we had at Rosewood Luang Prabang.
Nam Vanh Mak Gluey – Laotian Favorite Cassava, Coconut, Banana Dessert 
Cassava, Sebastien told us was a "favorite nighttime snack of the King of Laos". The King apparently enjoyed grilled cassava at night. At Rosewood Luang Prabang, Sebastien has taken this royal ingredient and combined it with Laotian bananas to create a delightful dessert sweetened with coconut.
What makes this dessert so special is the use of Laotian bananas. According to Sebastien, these bananas are incredibly sweet and they add the right amount of flavor to the cassava. Roughly translated to "sweet water", this pudding-like dessert was the perfect finish to our exploration and discovery of Royal Laotian cuisine.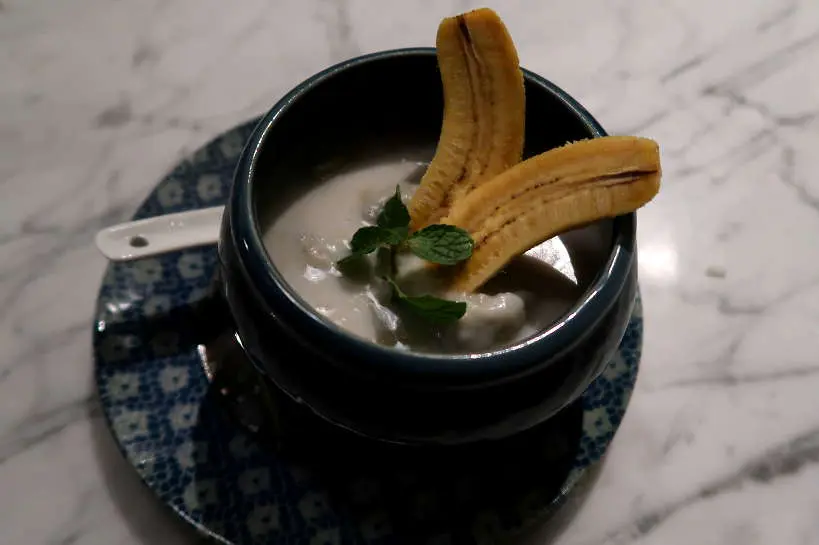 Watch the Royal Laos Cuisine Video

In Summary
A trip to Luang Prabang is more than visiting a UNESCO World Heritage site with vibrant colors and Buddhist temples. It is a tasty voyage into the heart of the culinary capital of Laos.
Even though Laos food may not have the same international recognition as neighboring China, Thailand, and Vietnam, it is worth discovering its unique ingredients and flavors.
Dining at the Great House Restaurant at Rosewood Luang Prabang is an experience and a place to discover the subtleties of Royal Laos cuisine. With a carefully curated menu, you take a journey through Laos, past, and present, as you savor the wide array of local flavors.
What is impressed us most about Sebastien is his passion and commitment to preserving and showcasing traditional Laos recipes. Not altering them in a fusion style, but celebrating the rich heritage of Royal Laos cuisine. A very personable and entertaining storyteller, we felt honored to share a table with a culinary master who has served many of the world's leaders.
On your trip to Luang Prabang, don't miss the unexplored nuances of Lao food and Royal Laos cuisine.
Savor The Adventure!
We thank Rosewood Luang Prabang and Sebastien Rubis for the wonderful introduction to Royal Laos Cuisine.  All views and opinions expressed are our own. Full bellies and happy taste buds too.
Book Your Stay at The Rosewood – Best Hotel in Luang Prabang
For a 5 -star luxury experience in Luang Prabang, book your stay at the Rosewood Luang Prabang. Enjoy a close connection to nature in the hilltop tents, all equipped with modern conveniences and breathtaking views. Explore Laos' gastronomic culture and indulge in the amazing flavors found throughout the country.
Click here to book your unique dining experience at the Great House restaurant
Click here to book your stay at Rosewood Luang Prabang
Laos Culinary Resources
One of the popular Laotian chefs, Sebastien introduced us to is James Syhabout, a Michelin starred chef now living in the U.S.
Check out his first cookbook introduced by Anthony Bourdain, Hawker Fare, which is in part a memoir of his journey to the U.S. as a refugee and the dishes that are most important to him.
If your travels take you to San Francisco, stop into Commis, his two-star Michelin restaurant or Hawker Fare which specializes in Laotian / Isaan food.
Love it? Pin it!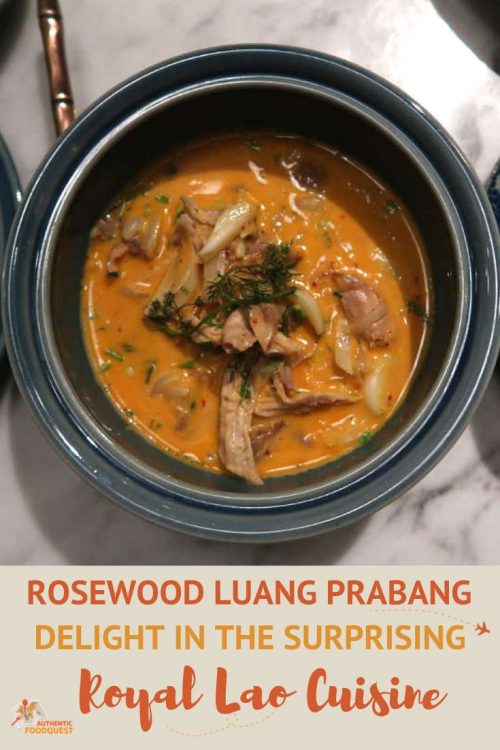 Rosemary is the editor-in-chief and strategist at Authentic Food Quest.
Traveling slow since 2015 with her partner, Claire, she has explored the cuisine in 45 countries and more than 240+ culinary cities.
Her writing about local food specialties has been featured in Lonely Planet, Business Insider, Honest Cooking, Food Insider, and Huffington Post.
As a food and travel writer, Rosemary has co-authored three books, including one in collaboration with Costa Brava Tourism.
Rosemary is an avid runner when she's not eating and exploring new destinations. She has run ten marathons and counting.
Before Authentic Food Quest, Rosemary held senior-level strategy positions in advertising. 
Find out more about Authentic Food Quest