Roma Norte is one of the most trendy neighborhoods in Mexico City. It is known for its European and Bohemian feel, amazing restaurants, coffee shops, bars and parks.
When we first arrived in Mexico City on our quest for authentic food, exploring Roma Norte was high on our list. 
To help us navigate this neighborhood also called Colonia Roma, we teamed up with Secret Food Tours Mexico City.
After all, food is one of the best ways to learn about a new culture. And there is no better experience than to take a food tour with a local guide.
Furthermore, the Secret Food Tours Mexico City promised a local experience in Roma Norte with a variety of authentic Mexican stops.
Join us on a Colonia Roma food tour and explore the history, culture, and flavors of this vibrant neighborhood.

Colonia Roma Food Tour
To lead us through the Colonia Roma neighborhood, Eduardo, was our guide. 
A local from Mexico, he took great pride in showing us his city and one of his favorite neighborhoods.
With a focus on the best local cuisine, Secret Food Tours offers unique local tours around the world. 
We could not have been more excited to partner with them and explore Roma Norte, the area we were staying in.
Further, each Secret Food Tour always has a surprise stop and we were eager to discover what it would be on this Colonia Roma food tour.
For about 4 hours, we walked around Roma Norte, sampling a variety of tasty local bites. 
Interspersed between the food stops, we made stops at key monuments with cultural and historical significance.
Our small intimate group of three was perfect for a personalized experience.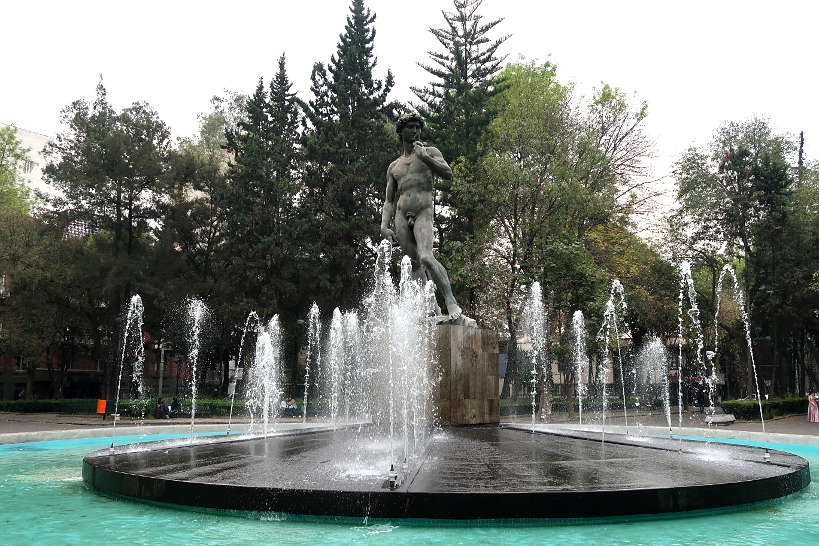 AUTHENTIC FOOD QUEST TIP: Make the most out of your stay and explore Roma Norte on a Colonia Roma Food Tour. Let an expert local guide take you to the best local eats as you discover the neighborhood and local culture.
Starting out with Aztec Guacamole Starter 
Over guacamole at our first top, we learned about Roma's recent fame. The neighborhood, Eduardo told us, was popularized in the 2018 Netflix academy award-winning film named "Roma." 
Director Alfonso Cuarón tells the story of Roma, set against domestic, social and political turmoil in Mexico in the 1970s.
Not familiar with the movie, we enjoyed Euardo's perspective on it and gained an even deeper appreciation of the neighborhood.
While we relished the tasty guacamole, we learned that guacamole has a long history from Aztecs. 
Derived from Nahuatl, an Aztec language spoken in central Mexico, "guaca" means avocado and "mole" translates to sauce. 
To go along with the guacamole were lightly fried tostaditas or toasted tortillas for scooping. 
As huge guacamole fans, this was the perfect start to the secret food tour in Mexico City.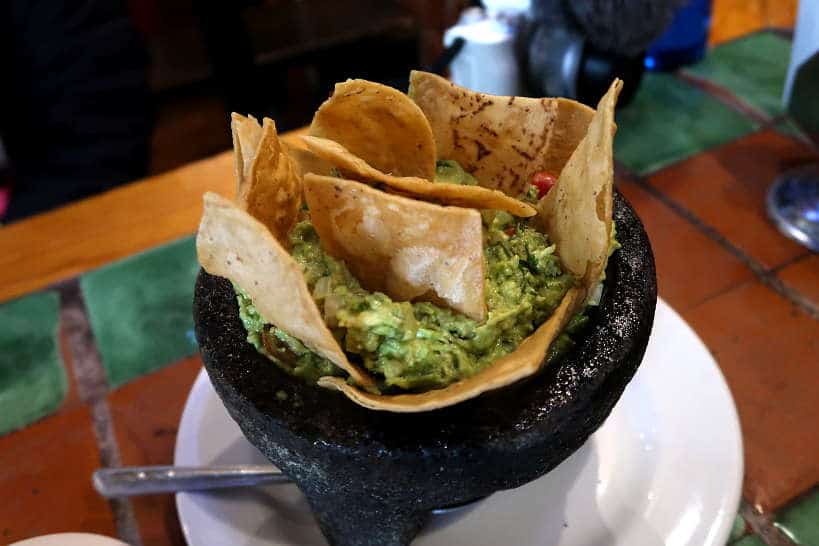 Authentic Food Quest Tip: If you love guacamole, you will love this recipe. From the comfort of your home, use this simple authentic Mexican guacamole recipe for a taste of Mexico.
Mayan Food from The Yucatan Peninsula
After a delightful start, we walked around the neighborhood to our next stop. Along the way, we stopped to admire European and eclectic architecture.
Colonia Roma was founded in 1903 by Walter Orrin, of the famous Orrin Circus. 
At the time, Mexico City's wealthy and European aristocracy lived along the wide, tree-lined boulevards and European-inspired architecture.
Nestled among the gorgeous and gated homes was Cochinita Pibil, our next stop for Mayan food.
This is "the best Cochinita Pibil in Roma" Eduardo declared as we got seated. The dish is from the Yucatan Peninsula, the cradle of Mayan civilization.
Curious, we couldn't wait to discover and taste it. Cochinita Pibil is a fusion of Spanish and Mayan flavors. 
Cochinita is a suckling pig made with native achiote seeds believed by the Mayans to be sacred. 
The delectable pork is wrapped in banana leaves and slow-cooked over hot stones buried underground. Pibl refers to buried, the traditional cooking process.
There are many different ways of eating Cochinita Pibil. We had it as a panucho. This is an open faced tortilla made with a thick corn dough topped with beans and shredded pork.
We loved the juicy marinated pig with extra flavors from red onions and habanero peppers. 
To drink, we had horchata, a traditional Mexican drink. While the most popular horchata is made with rice, the one we had was made with oatmeal instead. 
The not overly sweet horchata was refreshing and the perfect balance to the spicy flavors.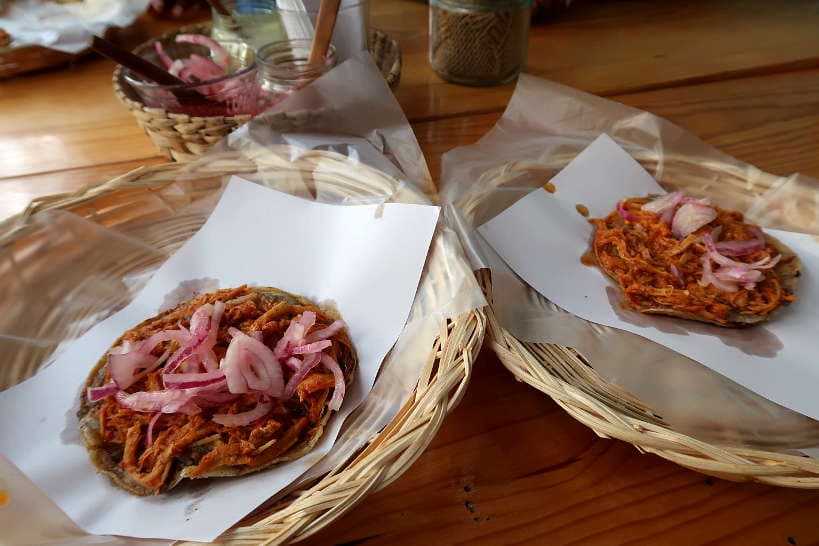 Puebla and Mexico City Food
After Yucatan cuisine, we walked around Roma on our way to the border of the adjoining La Condesa neighborhood.
At a popular Mexican restaurant, we stopped in to try two traditional specialties. Homemade mole from the state of Puebla and Tacos al Pastor from Mexico City.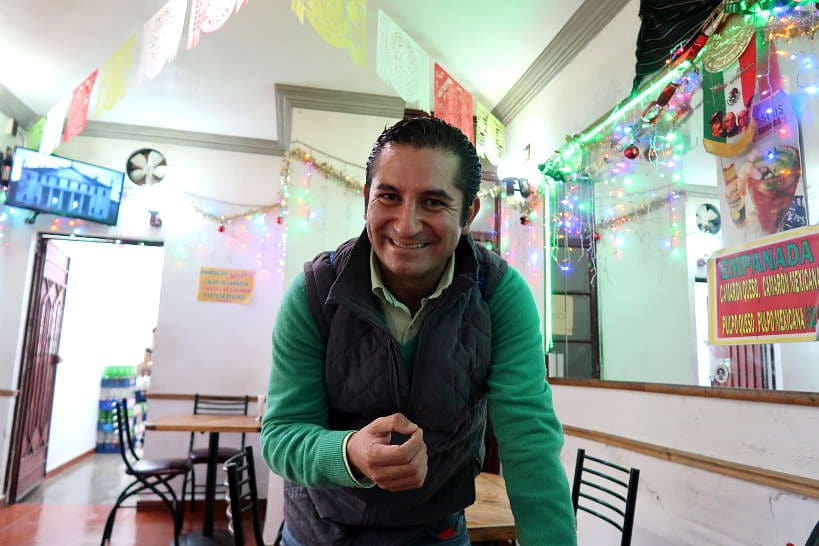 Enchiladas with Mole Sauce
Mole sauce is said to have originated in Oaxaca and also in the state of Puebla. While the preparation styles are similar, the ingredients differ based on what is found in each region.
As soon as we sat down we were presented with a heaping plate of enchiladas de Mole. This particular version was the typical grandmother style from Puebla.
A delightful thick sauce of chocolate mixed with spices and nuts was spread of three chicken enchiladas. Additionally, sour cream with fresh cheese and onions completed the dish.
"Wow", was the first word that came out of our mouths at first bite. We had tried mole before at a local restaurant in Guadalajara and it was nothing like what we had on this stop. 
The nutty flavors and freshly shredded chicken were absolutely incredible.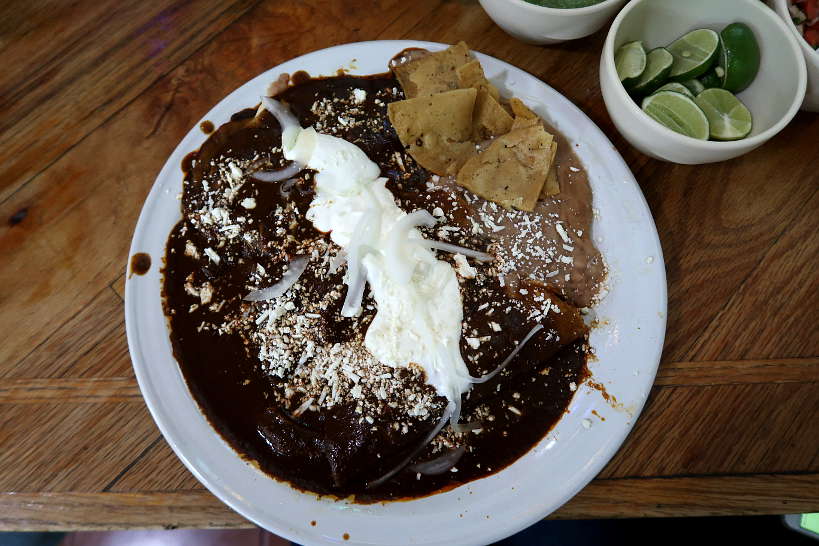 Tacos al Pastor
After the rich mole, we made room for tacos al pastor. These tacos which define Mexico City are eaten at lunch or dinner. 
But also enjoy their highest popularity after hours when partygoers are heading back home. 
These tacos are believed to have come from Puebla and Mexico City which have high populations of immigrants from the Middle East.
Tacos al pastor were served on a warm tortilla. Their size is not much bigger than the palm of your hand. On it were thin slices of pork marinated in a tasty sauce with achiote (annatto seeds) which gives it a red-orange color. 
Mixed in with the meat was a slice of pineapple. Chopped onions and cilantro topped the tacos  which were served with lime and wonderful red and green salsas.
We enjoyed these delightful little bites. The contrast of flavors between the tender pork and juicy pineapple was remarkable. Quite flavorful, it's easy to eat several of these tacos in one seating.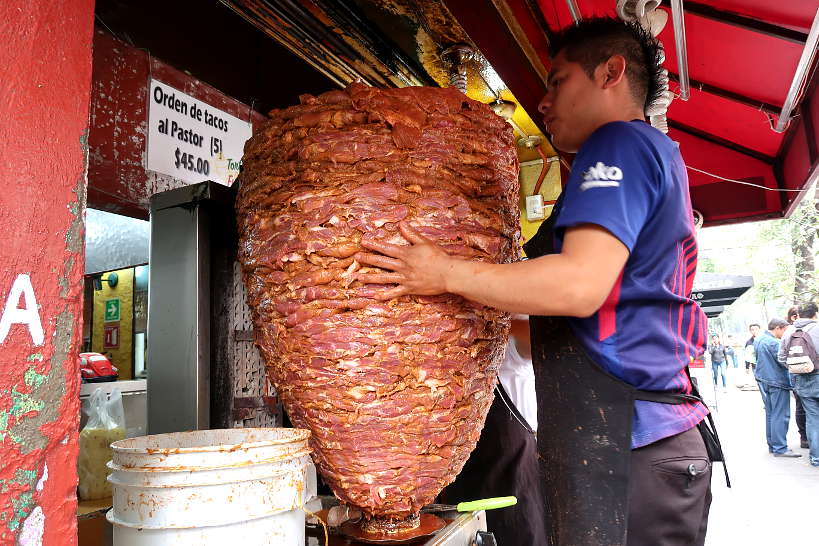 Mexico City Walking Tour of Colonia Roma
Colonia Roma Architecture
Having satisfied our appetites, we walked around Colonia Roma as Eduardo told us about the history of the neighborhood.
We were quite surprised to see many buildings with European architectural styles. This is when we learned about the former Mexico President, Porfirio Díaz, who admired European design.  
During his 34 year presidency, the city's architecture and modernization efforts were greatly influenced by France and Europe in general.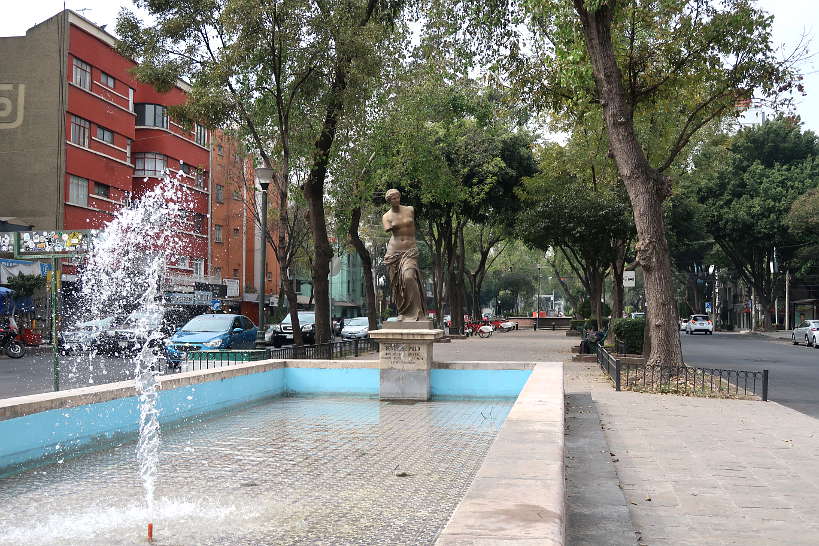 Mexico City Street Art 
The Roma neighborhood is filled with vibrant street art. One of the most impactful was a piece of Frida Kahlo holding a dog named Frida. 
This mural is dedicated to the rescue efforts after a 7.1 magnitude earthquake struck central Mexico on September 19, 2017.
The labrador, the hero of the piece, managed to locate 52 people of whom 12 were still alive.  
Unfortunately and much to Eduardo's disdain, the image of the Frida, the dog, was covered up with a new mural.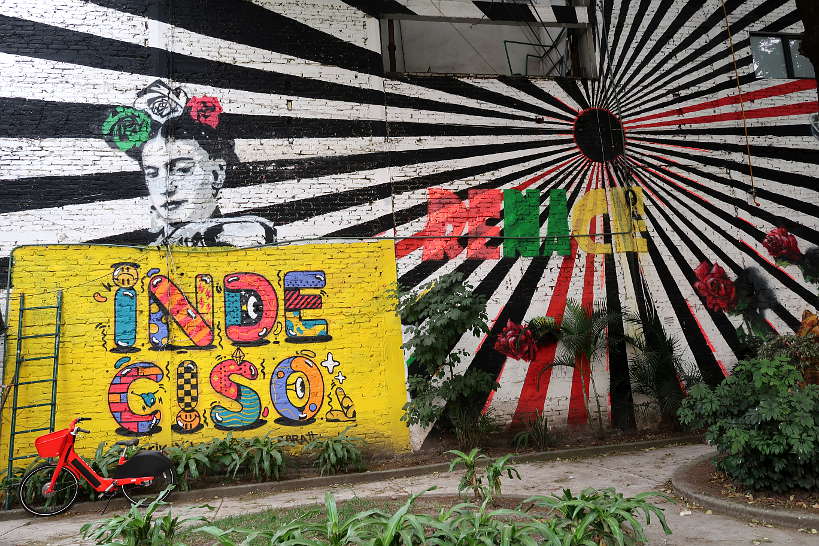 Tortilleria Stop  – Fresh Tacos in 23 Seconds
Corn tortillas are a staple of Mexico. And, our next stop on the secret food tours Mexico city was to an authentic "Tortilleria" to see how they are made.
As we approached the Tortilleria, we were surprised to see a long line with locals waiting to buy their freshly made tacos. 
Each neighborhood, we learned from Eduardo, has its own Tortilleria, and the one in Roma serves both locals and restaurants.
The process of making tortillas was fascinating to watch. The corn dough is placed on the top of a machine and a special device presses it to give it the round shape. 
From there, the tortilla goes into an oven-like system which cooks one side. After that, onto a conveyor belt and into another oven-like system to cook the other side. 
Twenty three seconds later you have a fresh tortilla in your hands.
The tortillas were hot and Eduardo suggested adding only a little bit of salt, rolling it and eating it as a snack. 
This was our first taste of freshly made tacos and surprisingly made for a great snack.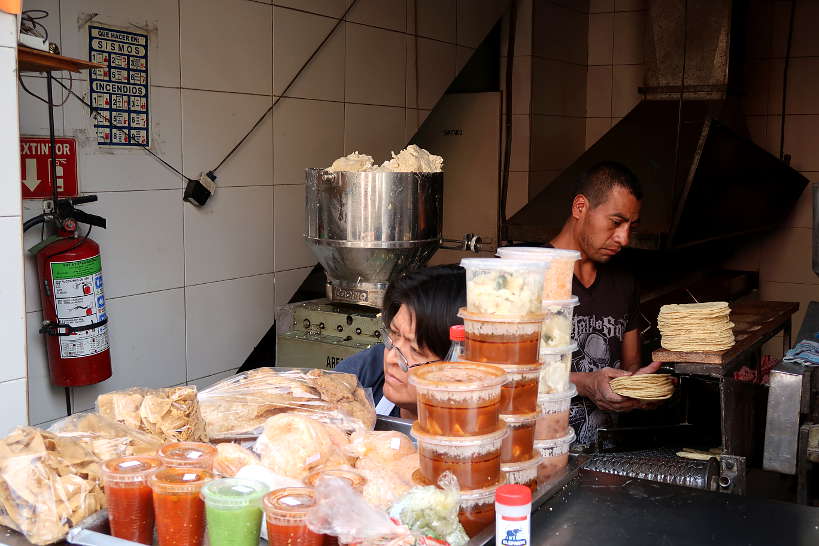 Octopus Tacos at Chico Julio
Our fifth stop on the Colonia Roma food tour was for seafood, an important part of Mexico's cuisine. 
Chico Julio, popular in the neighborhood is known for having delicious octopus tacos. 
On a tortilla, we each got a generous portion of octopus in a spicy marinade along with a slice of pineapple.
At the bar was a large assortment of freshly made salads and salsas to go along with the massive octopus tacos.
The octopus taco was firm, though the sauce was overpowering. When dressed up with sides like pico de gallo, cucumber with yogurt, a spicy carrot, and cabbage salad, it was quite a mouthful.  
Earlier, Eduardo judiciously advised us to split the octopus into two separate tacos. With that advice, we savored the flavors longer.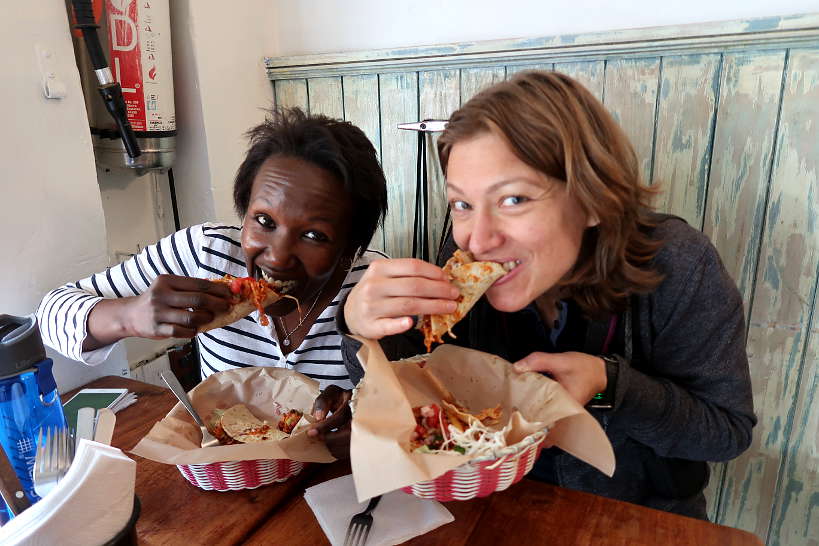 Excellent Savory and Sweet Mexican Tamales
Even though we were already satisfied from all the previous stops, we were excited to try Mexican tamales.
We had previously enjoyed Peruvian tamales on our quest for authentic food in South America and eager to have them again in the Americas.
Tamales are usually wrapped in corn leaves before being steamed or cooked. The dough is made from nixtamalized corn (hominy) and lard or vegetable shortening.
At the local eatery, we tried two different kinds. One savory tamale and one sweet tamale. To go with the tamales, we each had a traditional Tequila shot, made from Agave plant from Jalisco, Mexico.
The savory tamale was steamed in a green sauce of green tomato and chicken. This one was wrapped in a banana leaf, which we learned Oaxaca-style.
The second tamale was lightly sweet made with corn and cooked in a corn husk. Known as tamal elote, it tasted as though it was made with sugar, but there was none.
We were blown away by the flavors of the tamales. The corn was refined and it tasted like very fine couscous. Extremely light, each bite melted in the mouth.
For not being fans of corn in general, the tamal elote was our biggest surprise. We loved the fluffy textures and the naturally sweet taste. This was one of our favorite dishes on the secret food tours Mexico city.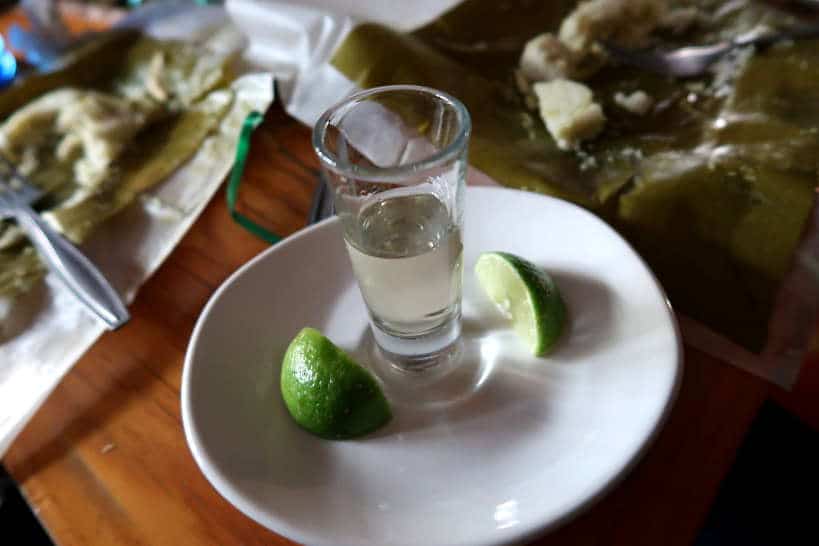 Secret Stop at the Oldest Candy Store in Roma
Our secret stop on Secret Food Tours Mexico city was also our last stop. Already quite full from the multiple food stops, we were curious to discover one more local specialty.
At an 85-year-old iconic candy store in Colonia Roma, we walked in for a traditional Mexican classic.
Eduardo surprised us with an unforgettable Mexican classic known as the "Buñuelo." Just as we were walking out, Eduardo stopped to pick up an extra treat from his childhood. 
At the nearby Plaza Río de Janeiro, we stopped to share the desserts. The buñuelo is a fried crunchy dough with caramelized syrup of brown sugar and a touch of cinnamon.  We found it light, despite being fried and not overly sweet.
The unique dessert from Eduardo's childhood was bunrachito's, commonly called "little drunk men." 
"This is how kids in Mexico come in contact with alcohol for the first time", he tells us. The small multi-colored candies had some rum inside. The texture was similar to a sugary paste, with a slight hint of rum.
The sweet finish was a delightful end to the secret food tours Mexico city.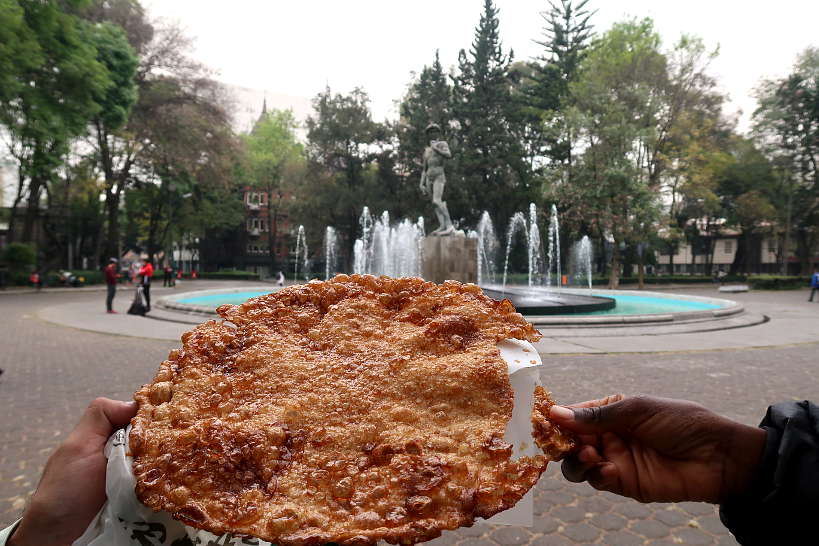 In Summary
After this Colonia Roma food tour with Eduardo, we gained a much greater appreciation for local Mexican cuisine.
Secret food tours Mexico city is an immersive experience into Mexican food culture in one of Mexico city's trendiest neighborhoods.
Covering a variety of traditional dishes from all over the country, you will savor the fusion of flavors that contribute to the rich gastronomy. 
Furthermore, with stories and insights from a local guide will leave with a deeper understanding of Mexico city and the food culture.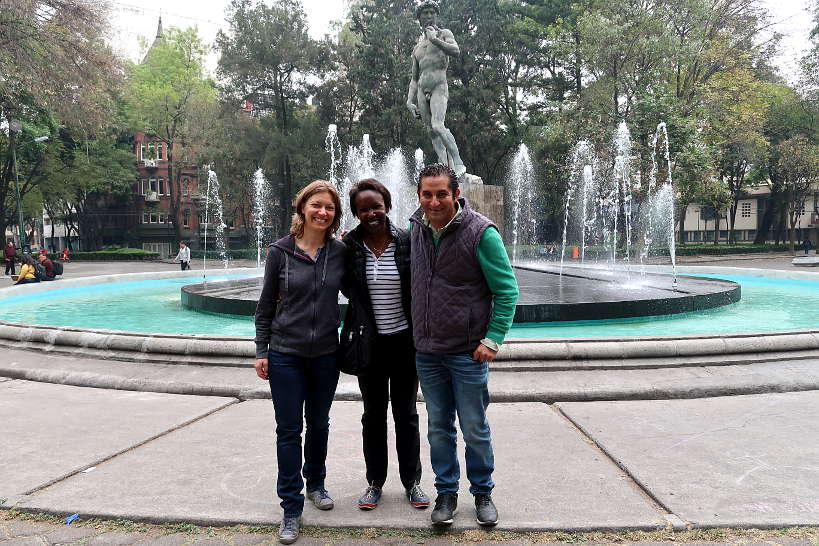 Best Hotels in Colonia Roma Mexico City 
Finding the best place to stay in Mexico City, the largest city in North America, can be quite daunting
Roma, one of the safest and coolest neighborhoods in Mexico City offers accommodations at every price point. 
To help you get the most out of your trip, we recommend the following hotels in Roma Mexico city for food lovers.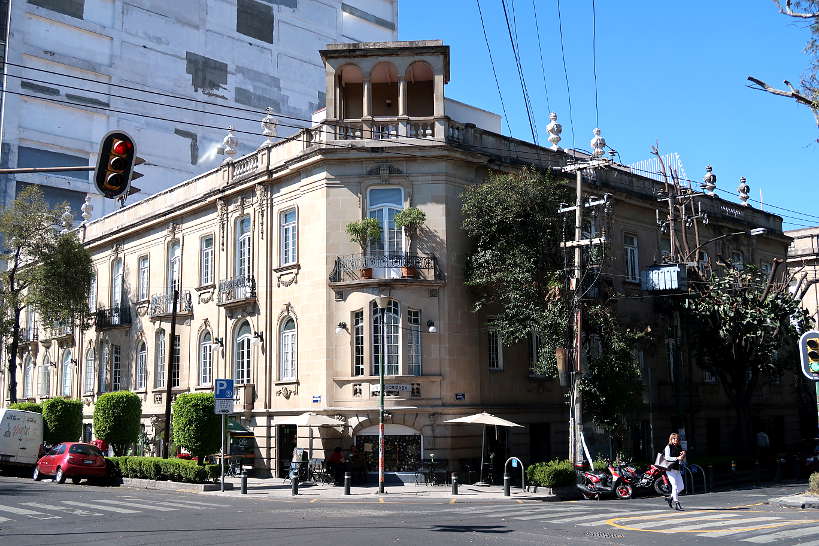 Love it? Pin it!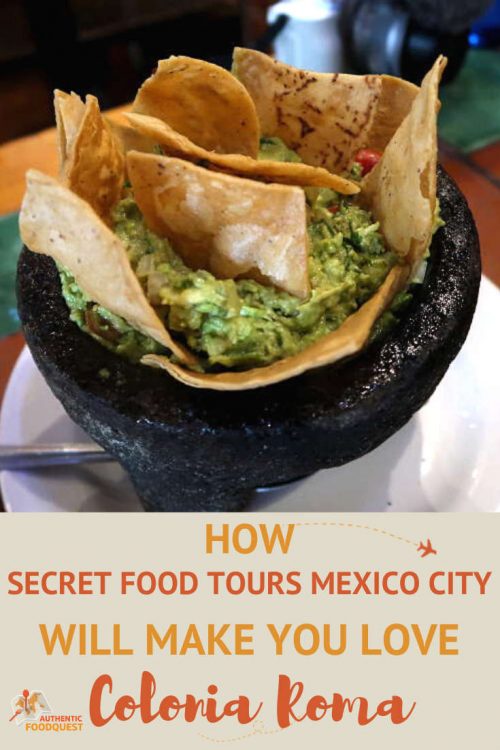 Disclosure: Special thanks to Secret Food Tours for having us on this Colonia Roma Food Tour. All views and opinions expressed are our own. Full bellies and happy taste buds too.
Disclaimer: This page contains affiliate links. That means at no extra charge to you, we earn a small commission when you purchase using these links. Thank you for your support.
Curious by nature, Rosemary loves exploring new flavors and connecting with locals. She shares her insights and culinary finds from her travels to inspire people to connect local through food.