Manila was our first city on our quest to authentic food in Southeast Asia. As soon as we landed we were struck by its contrasts. You will find luxurious neighborhoods with glittering towers just a few blocks away from urban slums.
This contrast is also prevalent in its food. We discovered balut, the local specialty on the streets and got a feel for the local food in the Philippines. And, we also had the opportunity to experience a luxurious dining and stay at Shangri-La at the Fort while attending the TBEX Asia 2016 conference.
Ever wonder what a luxurious dine and stay looks like in a top Asian hotel?
Read on to indulge in exquisite Filipino service and international food at the Shangri-La at the Fort restaurants.

Shangri-La at the Fort Restaurants in BGC
Shangri-La at the Fort is located in one of the most trendy and luxurious neighborhoods of Manila called BCG. BCG which stands for Bonifacio Global City is the new financial district of Manila. You will find many trendy restaurants, high-end retail stores and malls.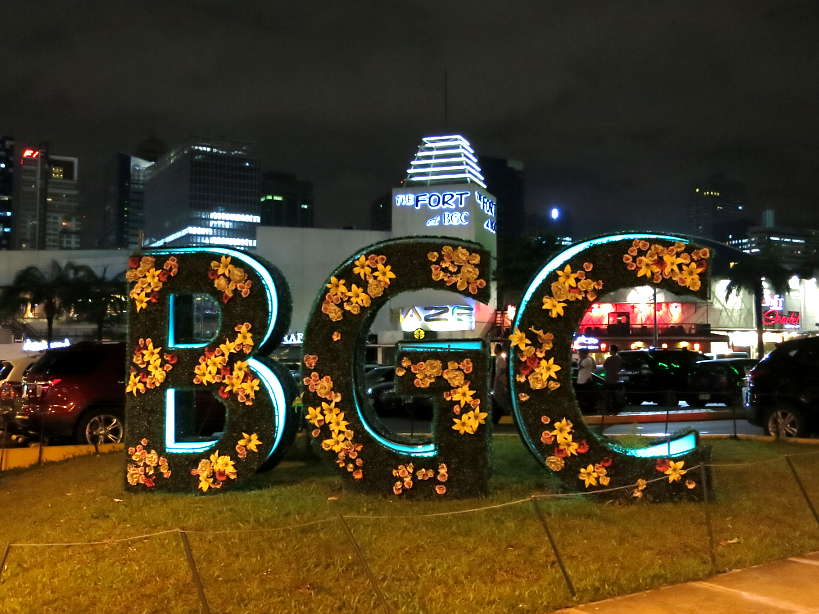 The Shangri-La at the Fort had been opened 8 months prior to our stay in October 2016. At the time of our visit, the luxurious hotel had four operating restaurants and was about open its fifth restaurants.
The range of restaurants varies from more casual settings to gourmet fine dining experiences.
One the first floor is the High Street Cafe, which offers all dining buffet style breakfast, lunch or dinner from nine different stations.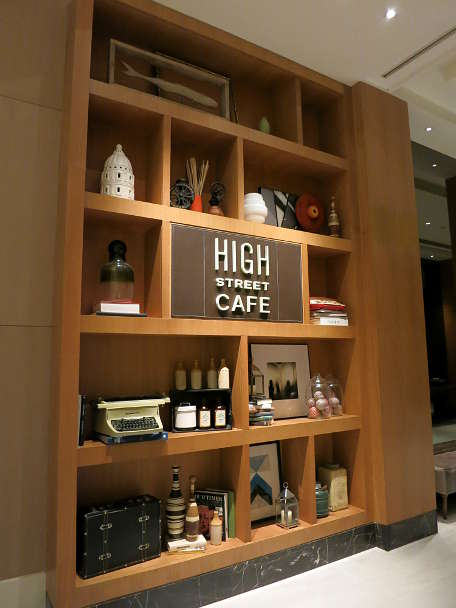 On the fourth floor, next to the impressive Kerry Sports fitness center and the swimming pool, is the Upper Deck. Here you will find snacks, quick fixes for lunch and dinner and a variety of beverages.
If you are craving for a good steak, stop on the third floor at the Raging Bull Chop House for premium quality meat in an upbeat U.S. style steakhouse.
Next to Raging Bull, experience Canton Road for prime Asian dining with a mix of traditional and modern Chinese cuisine.
Read More: Kerry Sports – The Best Fitness Center for your Stay in Manila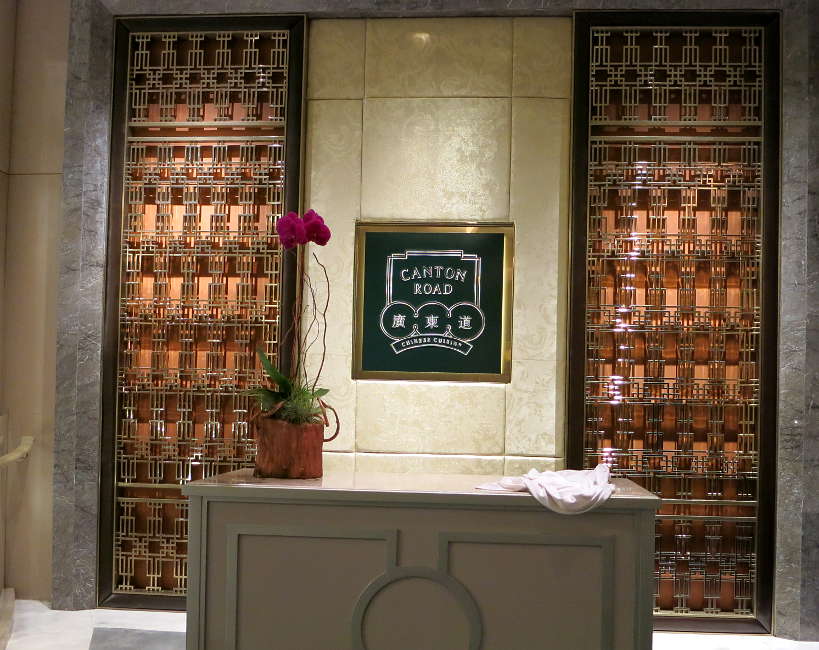 And finally, Samba, the latest addition to the Shangri-La at The Fort restaurants options. Located on the 8th floor, with outdoor and indoor seating, the restaurant offers stunning view of the BCG district. Not opened at the time of our visit, Samba now offers a cuisine influenced by the flavors of Latin America and the Philippines.
So let's take you through the local and international flavors at the Shangri-La at the Fort restaurants.
Start Your Day at High Street Cafe
The High Street Cafe is the Shangri-La's all day dining restaurant and the best place to start with your day.
The breakfast selection is extensive with several options to choose from. For a Western style breakfast, have can your eggs freshly prepared any way you like. Find an assortment of croissants and bread and finally top your bread with fresh honey directly from honeycombs.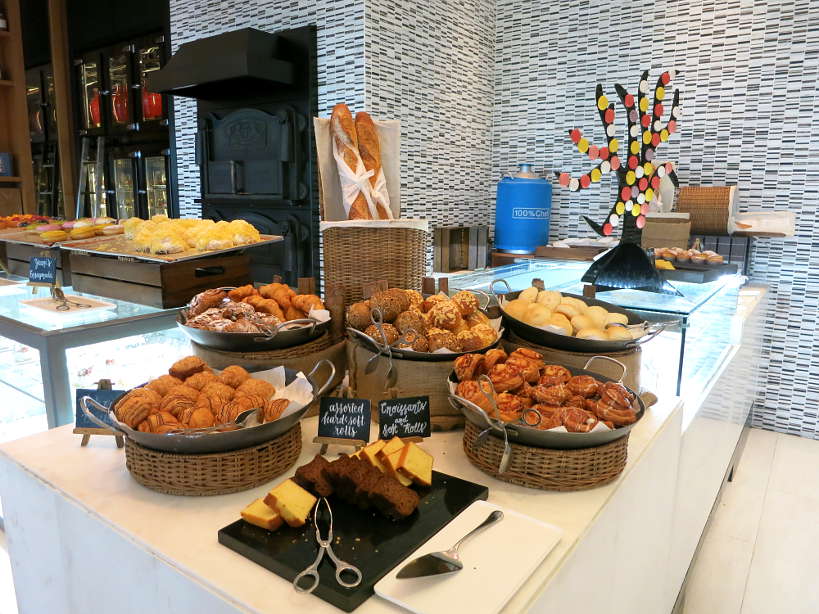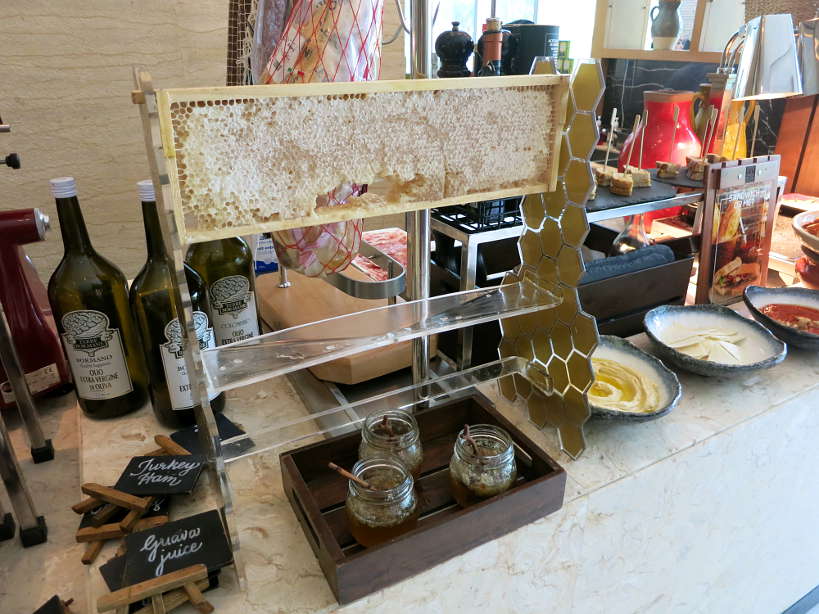 The international breakfast selection is just as tempting. From Asian dim sum, noodle dishes to traditional Filipino sausages and pastries, you have a wide selection of international flavors to choose from.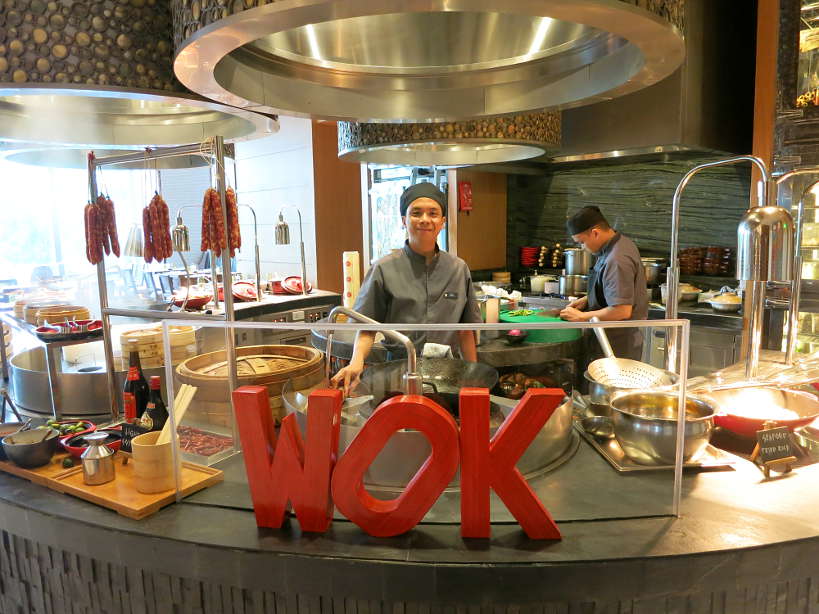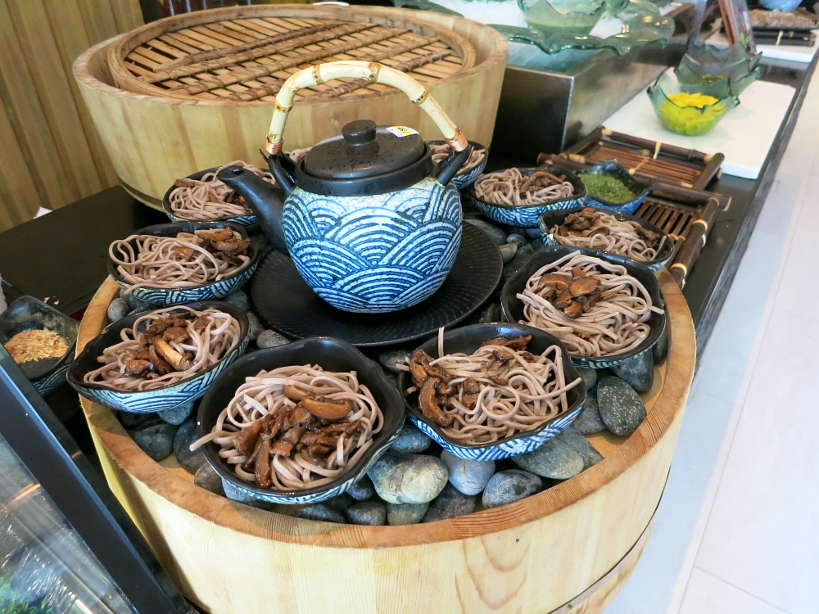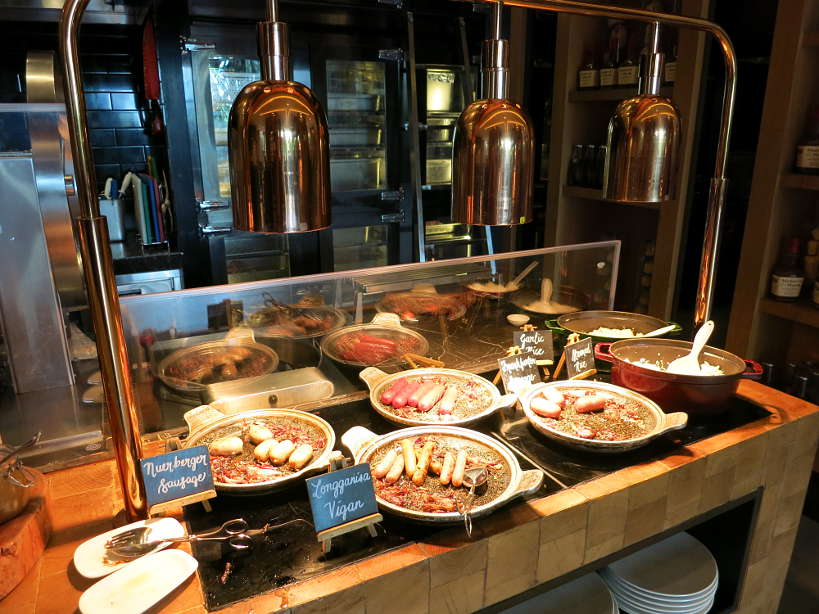 At the nine different food stations or neighborhoods, breakfast is an international affair at the High Street Cafe.
Lunch at Upper Deck While Relaxing by the Pool
The Upper Deck restaurant is located on the swimming pool level, which is part of Kerry Sports, the largest fitness center in Manila.
This breezy outdoor dining area is great to grab a post-workout meal or have lunch before dipping into the half-olympic, 25 meter outdoor lap pool.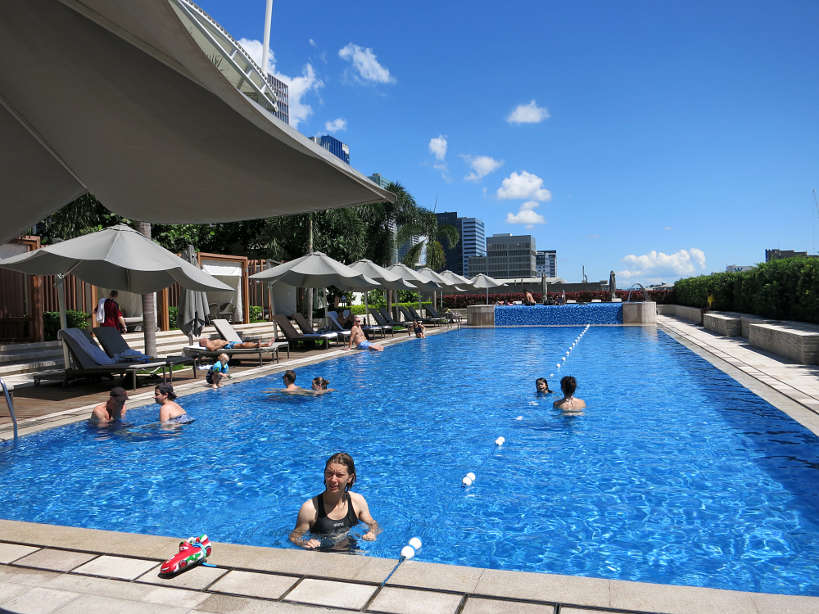 On the menu are healthy salads and gluten-free options as well as more decadent delights like burgers, hotdogs and potato wedges. Just like the food options, the beverage selection ranges from healthy juices to cocktails, wines and beers.
Seeking something tasty yet on the healthier side, we started out with seasonal fresh fruit and pure mango juice.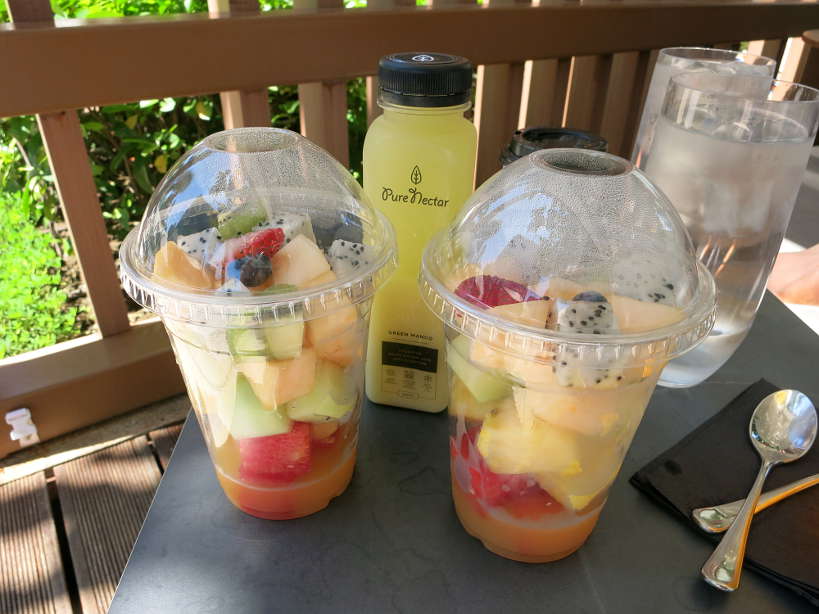 Lunch consisted of a flat bread and fish tortillas.
Light and fresh, the flatbread was topped with cherry tomatoes, cheese, pancetta, olives, oregano and arugula.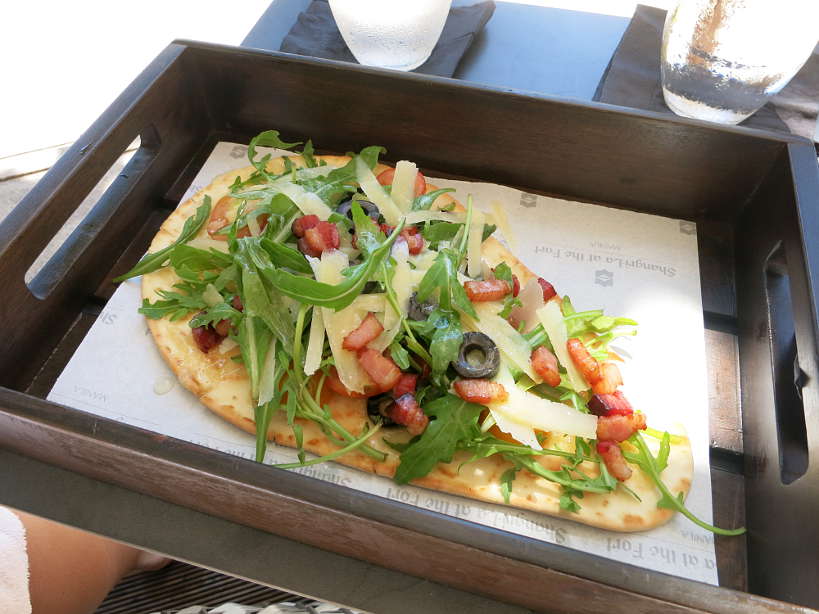 The fish tortillas were served in a soft tortilla with cabbage salad and a tomato coriander salsa. This came with potatoes wedges and a dollop of ketchup.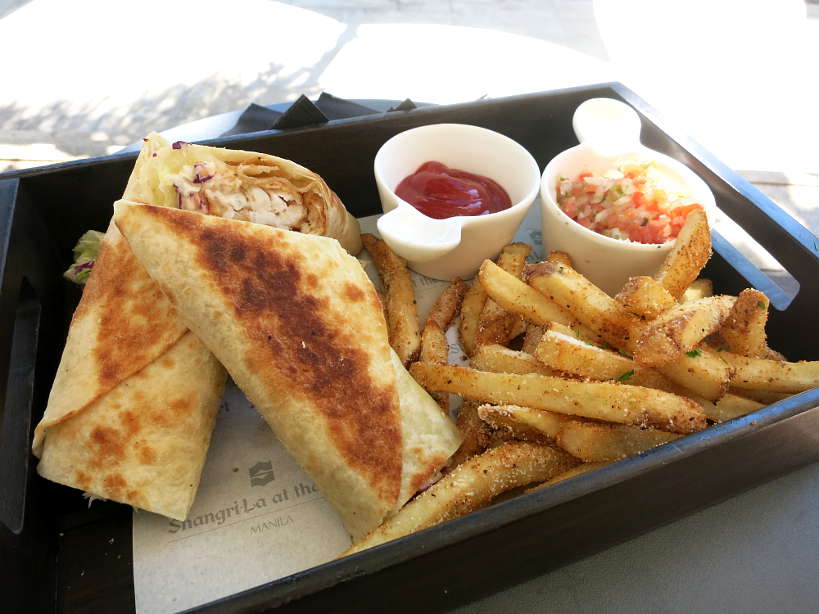 Exceptional & Friendly Service
Both were incredibly delicious, though we preferred the flatbread. The best part about the Upper Deck experience, is the poolside eating experience. The open space with the umbrellas and private cabanas, makes it the perfect place to spend an afternoon.
One highlight of the Upper Deck experience was the exceptional service. To keep cool from the Manila heat, the staff regularly brought water and gave out plates of freshly cut pineapple slices for free, to everyone in the pool area. An exceptional outdoor venue with phenomenal service.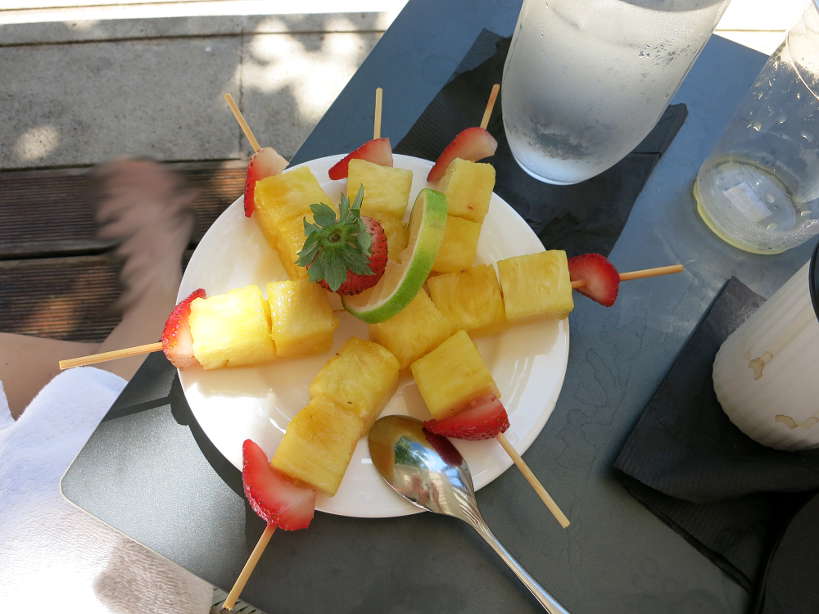 Prime Steak at the Raging Bull Chop House & Bar
For high quality beef sourced from sustainable farms, the Raging Bull more than delivers. You can choose from a wide selection of different cuts of grain and grass-fed dry-aged beef.
To start your meal, you want to try one of the unique cocktails from the French born Head Mixologist. While we are not huge cocktail drinkers, we were tempted by the fancy names like Take Madame To A Bubble Bath and the El Toro Loco cocktails.
Cocktails & Salad
Take Madame To A Bubble Bath is a sprizty gin based drink with fresh thyme, grapefruit and bubbles. And, the El Toro Loco is a 1800 silver tequila drink with fresh cucumbers, Agave nectar and lime juice. These are the kind of cocktails that can turn non-cocktail drinkers like us into fans.
The beetroot salad with goat cheese and honey glazed salad, was pretty to look at and a light start prior before digging into the steaks.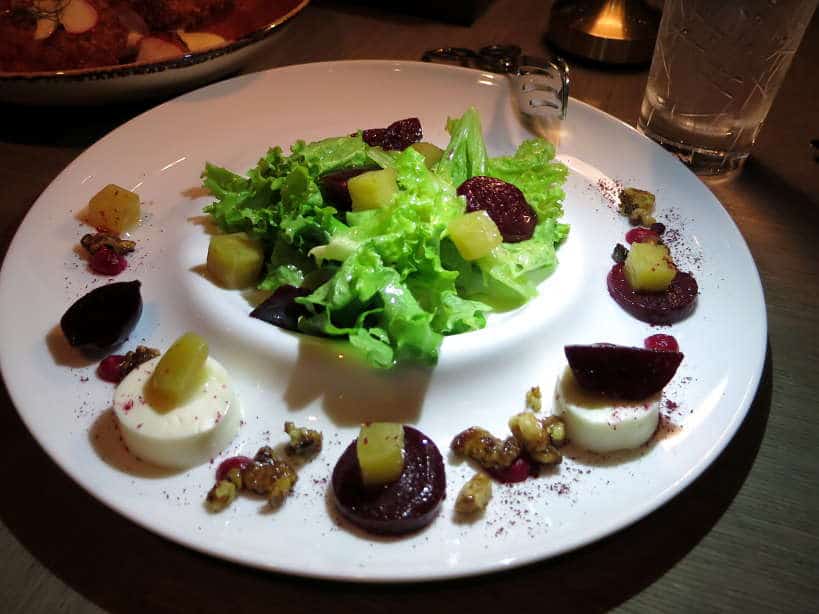 Signature Steaks
At the Raging Bull, no details get overlooked. This was the first time ever we had a server present a variety of steak knives to choose from. Having eaten at several steakhouses around the world including in Argentina, the beef capital of the world, we've never have had to choose our own steak knife.
After the server entertained us with stories about the different knives, we went with the Napoleon Bonaparte knives, paying tribute to our French heritage.
Served on wooden cutting boards were three large slabs of different cuts of beef. Surrounding the steaks were different salts and sauces to enhance the flavors.
We had a Cape Grim pasture fed Tenderloin, an 1824 grain fed Rib Eye and a David Blackmore Wagyu 9+ grade grass-fed Victoria striploin. This was accompanied with a side dish of Duck fat wedges with fontina cheese and prosciutto.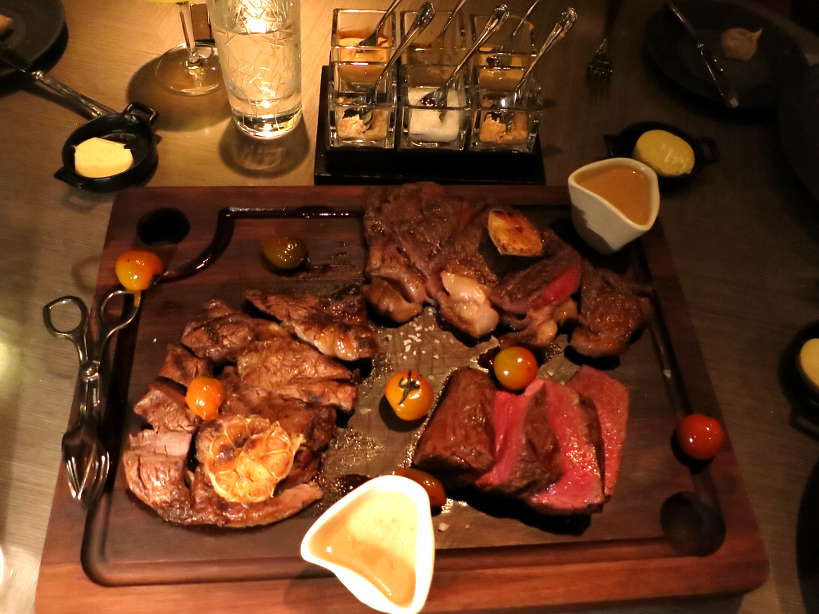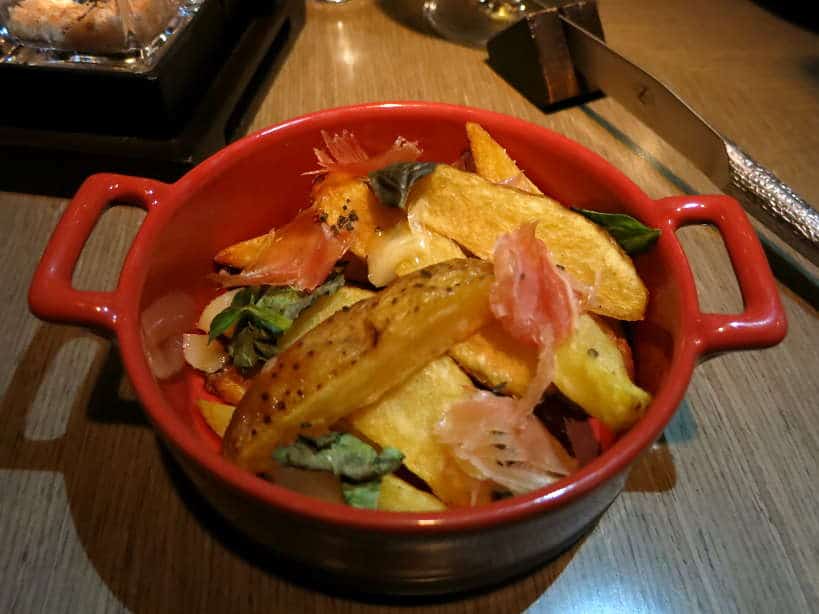 The steaks were amazing. Naturally tender and flavorful, they were all prepared to perfection. We particularly liked the tenderloin and the striploin, which were aged for tenderness and melted in the mouth. The rib eye, while tender was on the fatty side.
Desserts
To end the meal, we closed with one of the signature desserts, Pistachio Creme Brulee.
This enjoyable creamy dessert combines pistachio creme with a mint infused strawberry salad. When you break through the caramelized crispy top the mint strawberry salad cuts the sweetness making it a really nice treat. This dessert is on the heavy side, so plan on leaving a little room or sharing this exquisite delight.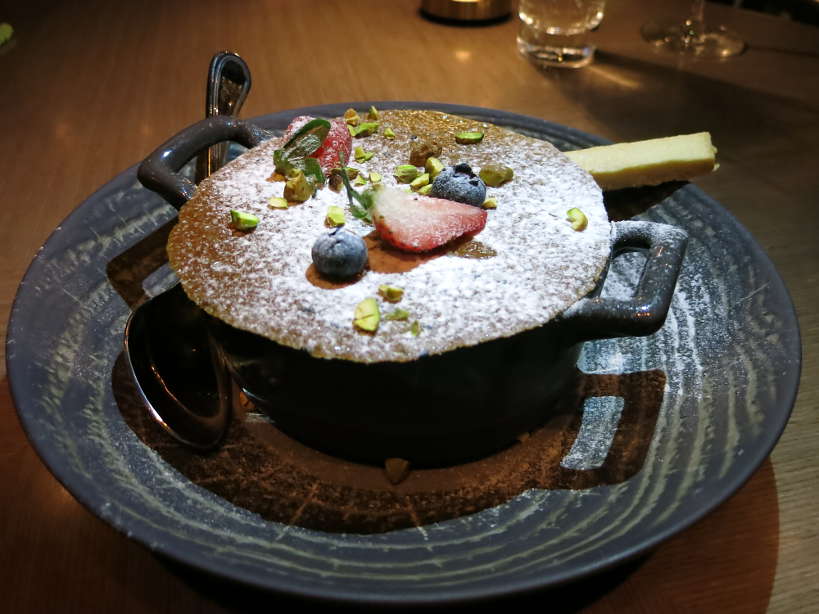 Sweet Treats – a Personal Touch in Your Luxurious Room
Not only will you have plenty to delights from the Shangri-La at The Fort restaurants, you will also find personal treats waiting for you in your room.
We stayed in a spacious Deluxe Room where we were welcomed with delicious dried coconut and pineapple fruits.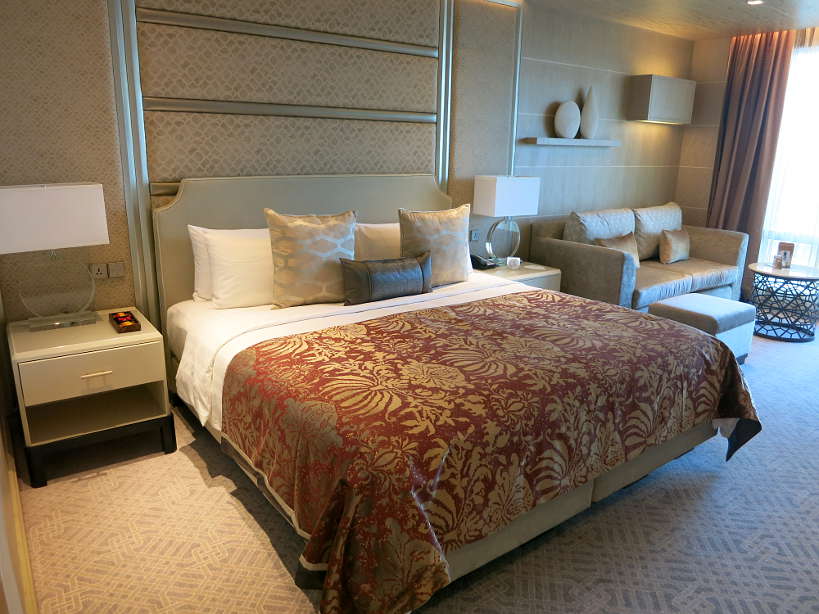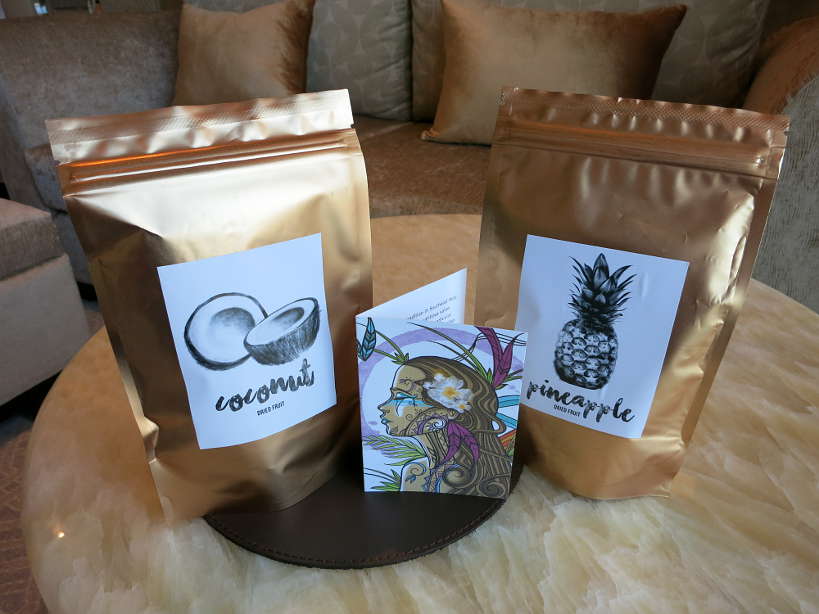 To satisfy any chocolate cravings, you'll find a plate of chocolate sweets that will transport you to chocolate heaven.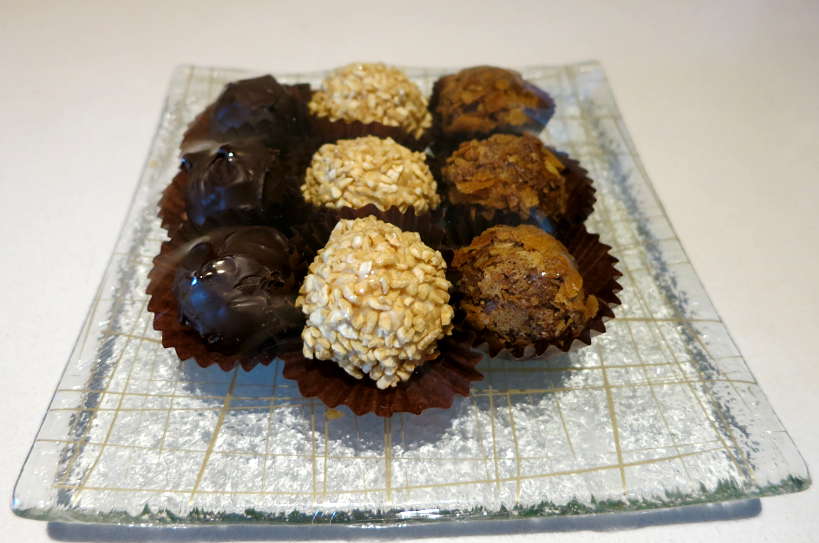 Here is a look into our Deluxe room taken in 360 degree video. Use your mouse to scroll around and get a taste of the luxury that awaits you.

In Summary
At stay at the Shangri-La at the Fort is an oasis in the bustling city of Manila. Experience a new level of luxury and enjoy exceptional dining experiences at the Shangri-La at the Fort restaurants.
When staying at the Shangri-La at the Fort, you will discover a wide array of international cuisines. From gourmet Asian dining to vibrant Latin cuisine, the dining options are bountiful.
Coupled with amazing Filipino service and attention, you are certain to relax and enjoy your time at Shangri-La at the Fort.
To book your stay and reserve your table at one of the Shangri-La at the Fort restaurants, call or book directly on their website or through our partner website at Booking.com.
Have you had an amazing gourmet dining experiences at a hotel? Tell us in the comments below, what made your experience exceptional.
Savor The Adventure!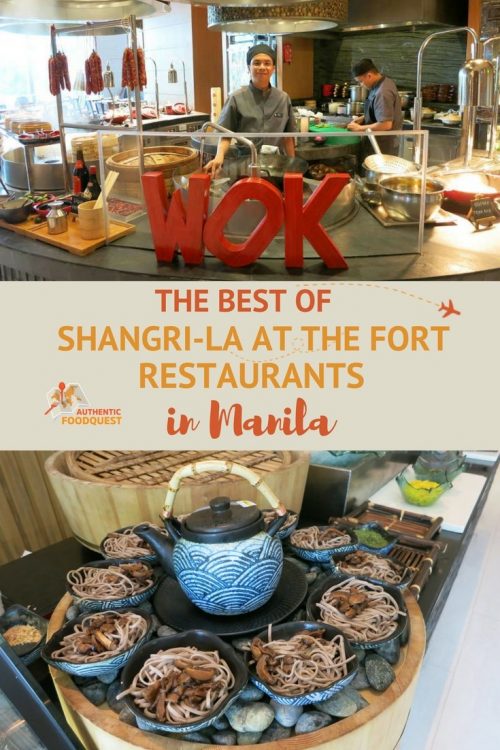 Disclosure: Our stay was provided by Shangri-La at The Fort, Manila Philippines in order to bring you this story. As always, all thoughts, and opinions are entirely our own, full stomachs and happy bellies too! This article contains affiliate links. When you book on Booking.com, we earn a small commission at no additional cost to you. It just helps us keep things eating our way around the world at Authentic Food Quest!
Claire, ex-engineer, is a digital nomad and content creator at Authentic Food Quest. Since 2015, with her partner, Rosemary, they travel the world in search of the best local food experiences. Their mission is to help you enjoy the best local specialties on your travels or via recipes in your home kitchen. Favorite country for food: Vietnam. Favorite local dish: Hainanese Chicken Rice.  Favorite way to keep fit: Cycling. Claire is responsible for the website and the fun food & travel videos on Youtube. She is also co-author of Authentic Food Quest Argentina and Authentic Food Quest Peru, available on Amazon.