This article has links to products and services we recommend, which we may make a commission from. It is sponsored by Snake River Farms. However, all views and opinions expressed are our own. Full bellies and happy taste buds too.
We've known about meat subscription services for a long time and have always been curious about them. We've never had the chance to try one until recently when we partnered with Snake River Farms.
For those unfamiliar, Snake River Farms delivers high-quality beef directly to your home. And, not just any beef, but wagyu beef, considered by many as some of the best beef in the world.
Rather disappointed by the meat options at nearby grocery stores. And, looking for the sustainably raised flavorful meats delivered to our doorstep, Snake River Farms was the perfect choice.
Here, we share our Snake River Farms reviews. We outline the experience of receiving the Snake River Farms meats, the experience with American wagyu steaks, and answer the ultimate question, is it worth it?

AUTHENTIC FOOD QUEST TIP: Snake River Farms Promo Code. Snake River Farms is offering a special discount to new customers. You can try Snake River Farms wagyu meats with a special 10% OFF discount. Simply use code AFQ10 at checkout and save on wagyu beef orders with Snake River Farms.
Who Is Snake River Farms
Snake River Farms, founded in 1968 is a family owned business based in Idaho. Over the years, as the company grew, they purchased Double R Ranch based in Washington.
The meat from the Snake River Farms comes from grass fed animals, hormone-free, sustainably raised cattle and pigs.
Unlike other meat delivery services, Snake River Farms specializes in high quality American Wagyu beef and Kurobuta Pork.
These meats from heritage breeds offer a wide range of flavors. Just like heirloom vegetables which are especially flavorful, the meat and pork products from Snake River Farms are particularly flavorsome.
Premium American Wagyu beef includes cuts like American wagyu steak, filet mignon, ribeye, tenderloin and more.
The Kurobuta pork products, which come from 100% Berkshire pigs, are intensely flavorful and succulent meats. You can get pork chops, ribs, bacon and more.
AUTHENTIC FOOD QUEST TIP: One of the most popular items sold by Snake River Farms are their American wagyu gourmet hot dogs. These gourmet hot dogs made with 100% American wagyu beef elevate ordinary dogs into delicious experiences. Like all meats from Snake River Farms, the hot dogs are 100% natural with no hormones or additives added. Find out more here.
Snake River Farm American Wagyu Beef – One of The Best Meats in The World
You are most likely familiar with Japanese wagyu beef, but did you know you can get similar quality with American wagyu beef?
Wagyu beef is considered by many as one of the most luxurious steaks. The meat is deliciously fatty, flavorsome and synonymous with luxury.
Wagyu is Japanese for cow. But not just any cow, it refers to a specific breed of cow with special genetic qualities.
This particular Japanese breed has a genetic predisposition to create marbling of fat inside of muscle tissue resulting in a more flavorsome experience.
American wagyu beef on the other hand is a result of imported Japanese wagyu cows crossbred with American Angus cattle.
Snake River Farm, was in fact, the first company to import a Japanese bull with lineage to the famous wagyu cattle from the Kobe region.
As a result, Snake River Farms established America's first and finest wagyu breeding program.
It's no wonder that today, Snake River Farms is considered the "Pioneers of American Wagyu."
Kurobuta Pork From Berkshire Pigs
Like the American wagyu meats, Snake River Farms Kurobuta Pork is gourmet pork from Berkshire pigs.
These pigs are a heritage breed prized for their intense marbling and superior tastes. Berkshire pork or Kurobuta, which means black pig in Japanese, is sought after by top chefs at Michelin Starred restaurants.
The flavors of Kurobuta pork are said to be distinctively juicy and extremely moist and tender. The tastes are unlike traditional pork meat found at grocery stores.
Even though we haven't tried Kurobuta pork from Snake River Farm, we know that it is raised in natural and humane conditions.
If you want to savor the highest quality Berkshire pork chops, ribs, pork tenderloin and more, order a few cuts and taste the difference.
How Snake River Farm Works
Snake River Farms is a monthly subscription service. When you sign up you will get wagyu beef delivered to your home.
Simply choose the types of quality meats you and everything is shipped frozen with dry ice in an insulated box.
Snake River Farms offers three options to choose from. All the boxes are shipped free to arrive the first Thursday of each month.
Beef – An assortment of American wagyu beef cuts like filet mignon, New York Strip, ribeyes or flat iron steaks.
Beef & Pork – This is a combination box that includes both wagyu or American kobe beef and flavorful Kurobuta pork cuts.
Dry Aged Beef – This option contains the most exclusive dry-aged meats. The best Wagyu beef cuts and USDA Prime subprimal cuts, carefully aged to superior perfection.
Our Honest Review of Snake River Farms
We got more than we expected from Snake River Farms meat. Even before tasting the meat, we knew it would be of high quality given their free-range and grass fed approach.
What we didn't expect were the melt-in-the-mouth incredibly juicy and tender cuts of beef.
Wagyu beef is known for being richly marbled and this comes through in Snake River Farms beef.
The meat is extremely tender and mouth-wateringly flavorsome. When you sit down to eat wagyu beef, it's not just a meal, but an experience.
The ordinary is elevated to special occasion.
What We Received
We received a variety of American wagyu steaks and roasts. From filet mignon steaks, wagyu ground beef, top sirloin, tenderloin roasts, and steakhouse beef petite tenders.
Some cuts of beef were familiar while others were new, giving us a chance to try new high-quality meat cuts.
Packaging & Delivery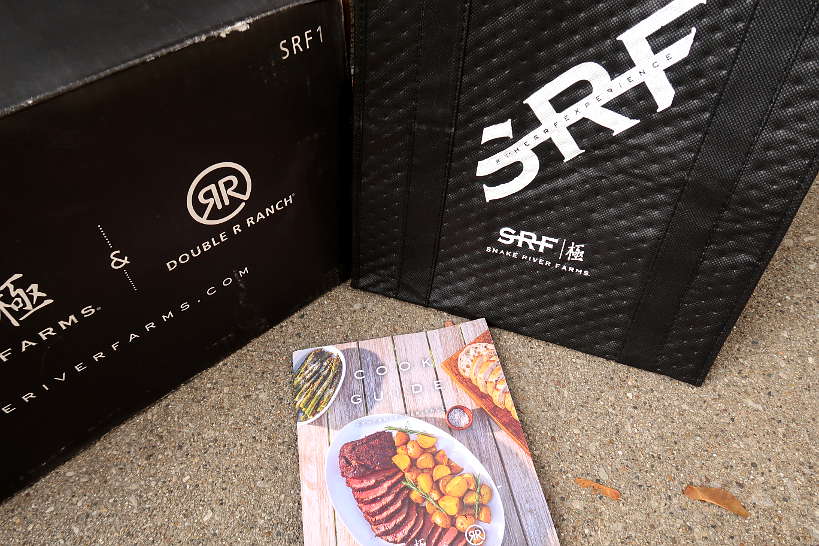 The Snake River Farm meats were delivered in a sleek black insulated box. All the meat was completely frozen and kept cold with dry ice.
All the pieces are individually wrapped making it easy to just pop them in the freezer and defrost the ones needed.
We were quite impressed with a black reusable thermal bag that came in our box. This will come in handy for keeping food cold while shopping.
Also included in the package was a "Cook Guide" with recipes and tips on how to best cook the great steaks and cuts of meat.
Our box arrived within 2-days of being packed. The frozen meat was rock solid and which means it could stay fresh if not picked up immediately.
Most interestingly, the insulated foam inside the box that protects the meat is biodegradable. It actually dissolves in water, adding a nice sustainable touch to the packaging.
Quality
Every time we buy meat at our local grocery stores, we're always a little apprehensive. It's never quite clear how the animals are raised or what they are fed.
With Snake River Farms, the quality is controlled from start to finish. The animals are raised on their farms with access to fresh food and water while grazing freely.
And, the result is flavorful and tender meat, a true ranch-to-table experience.
On the whole, we've been very pleased with the quality of the meats. All the cuts we've had have been juicy and flavorful.
One of the most memorable and delicious cuts has been the American Wagyu New York strip steak.
Tender, buttery with a melt-in-your-mouth experience in each bite. The experience is orgasmic.
If you love good burgers, then you have to try ones made with 100% American wagyu beef. We simply created hamburger patties using the ground wagyu beef and enjoyed delightful burgers at home.
One of the things we like best about Snake River Farms meat is that the meats don't shrink in size when cooked.
The amount remains intact allowing you to enjoy great meat full of incredible flavors.
Convenience
It really can't get any easier than ordering meat online and having it delivered fresh to your doorstep.
With free shipping, it saves you the hassle of having to shop around at your local grocery store for beef and pork.
Your meat is delivered in only 2-days or even overnight shipping for the subscription to dry-aged meats.
This saves you time allowing you to plan delicious family meals, easily.
Price – How Much Does Snake River Farms Cost?
For the quality of meat you get with Snake River Farm, you can expect to pay more than grocery store prices.
However, when compared to meat that is grass-fed, natural, and hormone-free, Snake River Farms is comparable.
One thing to keep in mind is that the beef from Snake River Farm is American wagyu, some of the best available. While the Kurobuta pork is from Berkshire heritage pigs and the pork is of superior quality.
Subscription pricing for the beef only and beef and pork options is $225 for a small box or $325 for a large box.
If you choose the dry-aged meats option, it comes in one size, a large box, for $399.
Keep in mind shipping is free for all subscription boxes. For all the boxes you can choose to receive a box of meat every month or once every three months, offering you more flexibility.
You also have flexibility with the duration and can try Snake River Farms for 3 months, 6 months or 12 months.
To try the amazing flavors of wagyu beef and Kurobuta pork, get 10% OFF when you use the code AFQ10 at checkout.
Where To Buy Snake River Farms
Some Snake River Farms meats like ground beef, hot dogs and some cuts of wagyu beef are sold in select grocery stores around the country.
Unless you conveniently live or frequent one of these stores, ordering online is easiest. On the Snake River Farms website, you have access to a wide variety of prime beef and exceptional pork products.
Snake River Farms Pros and Cons
Pros
There are many reasons that we love Snake River Farm meats.
Superior quality of meat products – The finest meat products from natural and humanely raised cows and pigs.
Best tasting unparalleled beef – The American wagyu beef is some of the best juiciest and extremely tender meat we've ever tasted. The flavors are incredible and nothing close to grocery store bought meat.
Flexible subscription schedule – Snake River Farms website is rather easy to navigate. You can quickly manage your meat delivery schedule and frequency.
Convenient delivery – No grocery store trips required. Snake River Farm delivers directly to your doorstep.
Free shipping.
Cons
Points to keep in mind when considering Snake River Farms meats.
Relatively higher price point – While Snake River Farms meat is priced higher than conventional meats, the quality is unsurpassed. It is worth it to have natural and hormone free meat products.
Limited to only wagyu beef and pork – Snake River Farms specializes only in two meat products, wagyu beef and pork. Those looking for options with chicken or seafood may find the selection limiting.
No substitutions or additions to subscriptions – Unfortunately, you don't have flexibility to substitute or add favorite cuts of meat or pork to the subscription boxes.
Frozen meat – As expected with any meat delivery, Snake River Farms ships only frozen meat. You'll want to plan your menu and cooking process. Since the meat is not "ready to cook", you have to build in time for the meat to defrost before using.
Final Verdict – Is Snake River Farms Worth It?
After savoring different cuts of American wagyu beef, we are very pleased with the quality and flavors. The texture and juiciness will excite your palate. Big on flavors, this is meat you can feel good about eating.
If you are considering trying Snake River Farms, you'll not go wrong. You can get 10% OFF your order with code AFQ10 at checkout. If you want to try the products out first, you can always start by ordering a few individual cuts first.
We hope this Snake River Farms review helps you make an informed decision. We're pretty sure you'll fall in love with it as we did. However, we do look forward to hearing what you think.
Curious by nature, Rosemary loves exploring new flavors and connecting with locals. She shares her insights and culinary finds from her travels to inspire people to connect local through food.