Southeast Asia is known for its hot and humid climate. And, as you enjoy spicy food and local dishes at open air restaurants, you will want to quench your thirst with a cold and refreshing Southeast Asian beer.
On our quest for authentic food in Southeast Asia, we were surprised to learn that the growth rate of beer consumption in Southeast Asia is one of the highest in the world. The climate conditions and growing young middle-class population have contributed to the exponential growth.
In Southeast Asia, you will find big brands like Heineken, Carlsberg, Hoegaarden, and sometimes even Budweiser or Corona.
But, if you've already made it all the way to Southeast Asia, don't fall back on familiar Western beers. Instead, soak up the local beer culture and taste the diversity of beers in the region. Embrace the experience and local flavors.
On your travels to Southeast Asia, here are a couple of helpful tips to help you delight in Southeast Asian beers.

1- Most of Southeast Asian Beer Brands Are Owned by Large Corporations
Throughout our Southeast travels, one thing we observed is that Southeast Asian beer brands are owned by large corporations.
Today, many Southeast Asian countries produce their own beers. Interestingly, the first modern breweries were introduced by Europeans during the colonial period in the 1800s.
Nowadays, these large corporations like San Miguel Brewery in the Philippines dominate their local markets while foreign breweries like Heineken are increasing their presence.
2- The Southeast Asian Craft Beer Scene Is Limited but Brewing
Although the beer market is owned by the large corporations, Southeast Asian craft beers have started popping up.
When we were in Saigon, we discovered local craft beers at the International Food Festival where a few craft beer companies were exhibiting. Here, I sampled beers from Pasteur Brewing Company and Furbrew Craft Beer.
Saigon is also host to the craft beer festival in December.
Vietnamese craft beers are using interesting local flavors like lemongrass and jasmine which are really surprising. Needless to say that the craft beer scene is expanding and evolving.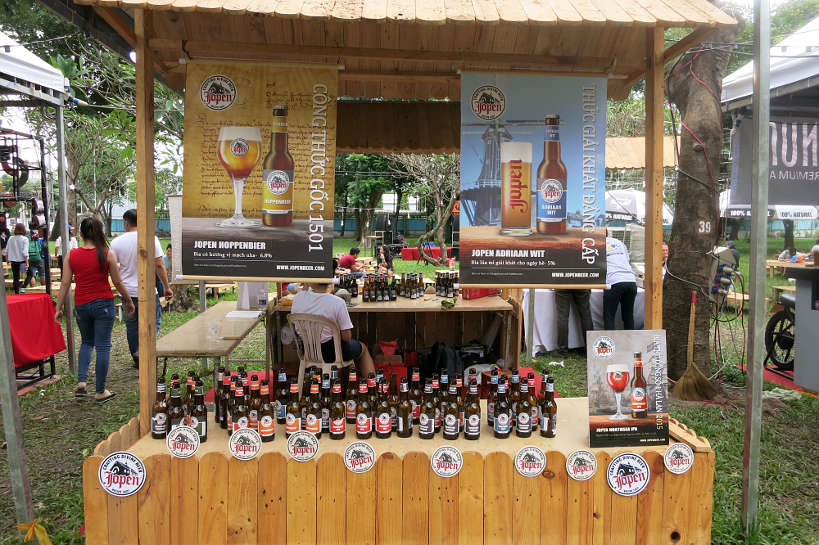 The Philippines is also a country with a growing craft beer scene. While in Manila, our local Filipino friends introduced us to Brew Kettle one of the newer craft beers in the market.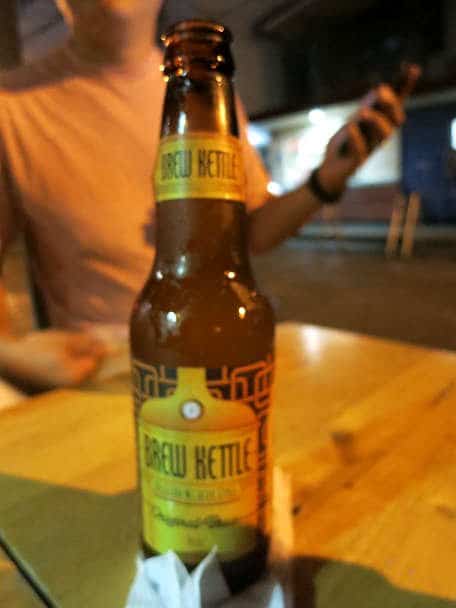 In Thailand, the Thailand Liquor Act, which protects large corporations has made it difficult for smaller breweries to thrive.
However, the craft beer scene continues to grow and we had the chance to try one popular spot in Bangkok called Changwon Express.
For more about local brews on tap in Bangkok, check out this article – craft beer bars in Bangkok.
3- Southeast Asian Beers Are Easy to Drink
One thing that I found consistent across the different countries in Southeast Asia is the similarity in the taste of the beers. Most of the beers I had were mild and easy to drink. The vast majority of beers are Pale Lagers or Lagers with a light golden body.
In general, Southeast Asian beer flavors are mild and the alcohol content is about 5% and not much more. This makes for an easy and refreshing drink in the hot and humid weather.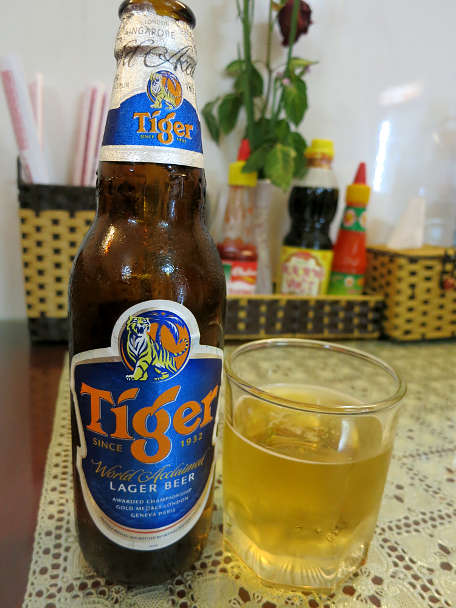 5- Laws and Religion Influence Beer Culture in Southeast Asia
The drinking laws across Southeast Asia vary by country and they influence the local drinking culture.
In Thailand for example, you can only buy or be served alcohol between the hours of 11:00 a.m. to 2:00 p.m. and 5:00 p.m. to midnight.
The country's majority religion also influences the beer culture. In Catholic Philippines and Buddhist Cambodia, Vietnam, and Laos, drinking beer is generally permissible.
By contrast, in Malaysia, all Malaysian Muslims are forbidden from drinking alcohol according to Sharia Law. While in Indonesia, some Muslim politicians are calling for a total ban on alcohol.
Brunei, another Muslim-majority country, is completely dry.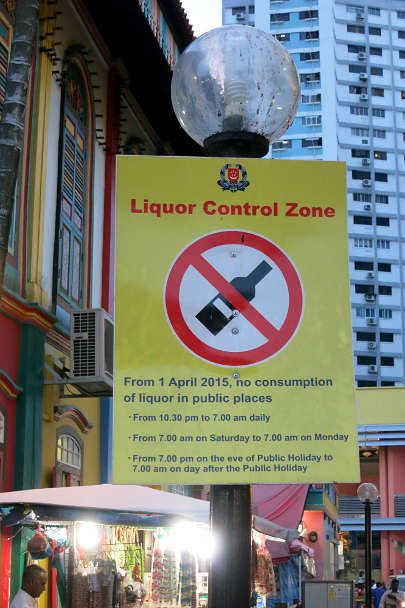 6 – Most Beer Drinking Take Place Outside of Meals
In Southeast Asia, one thing we noticed is that drinking beer among the locals is best appreciated outside of mealtimes. Only on a few occasions did we see locals ordering beers. In most cases, locals would eat their meals accompanied by water or tea and drink beer elsewhere.
Vietnam, for example, has a strong culture of drinking beer after work and before meals at cafes or bars.
In Singapore, you will see groups of older men chatting while enjoying buckets of Tiger after their meals at hawker centers.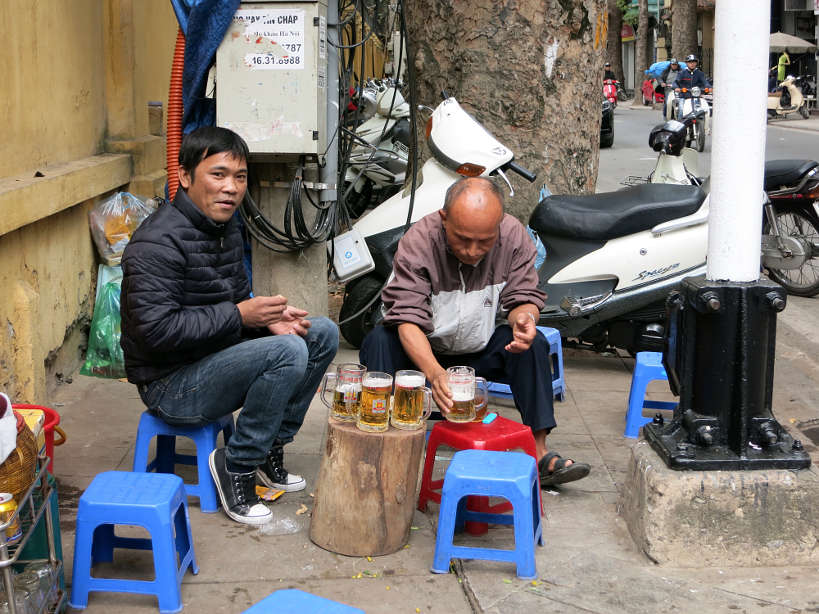 7 – Beer Comes Served with Ice Cubes
Don't be surprised if you are handed a glass filled with ice cubes to drink your Southeast Asian beer.
This is a common trend in countries where the weather is so hot that beer doesn't stay cold for long. To remedy this issue, most bars and restaurants tend to offer beer with ice cubes.
As a beer connoisseur, you might feel embarrassed by drinking your beer with ice. Though after a few hot nights where the beer gets mild and not so tasty, you will find the refreshing ice cubes, tolerable.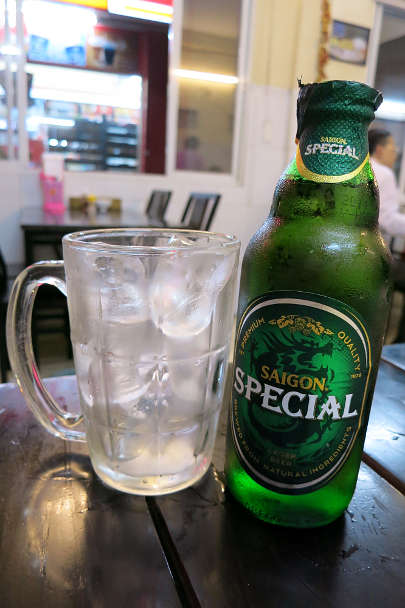 The Beer Drinking Culture by Country
In each of the countries we visited on our quest, we observed subtle differences about the beer and the beer culture. Read below for what you can expect on your travels to the different countries in Southeast Asia.
Vietnam and the Vietnamese Beer Scene
Vietnam is the third-largest consumer of beer in Southeast Asia after China and Japan. That might explain why we noticed that Vietnam has the most beer choices among countries in the region.
In northern Vietnam, Habeco the Hanoi brewery dominates the market. The two popular brands you will find are Bia Hanoi a lager and Hanoi Beer a pale lager with slightly higher alcohol content.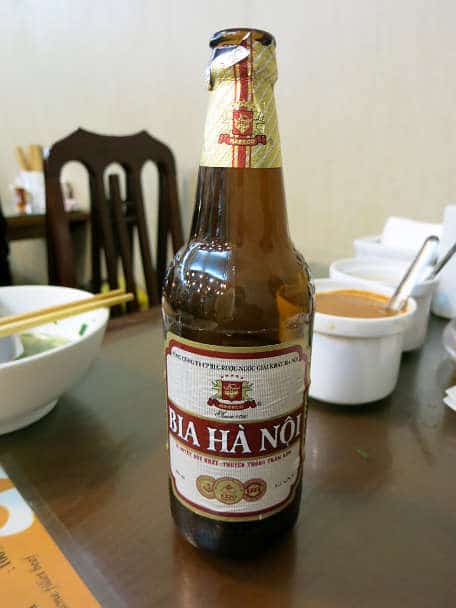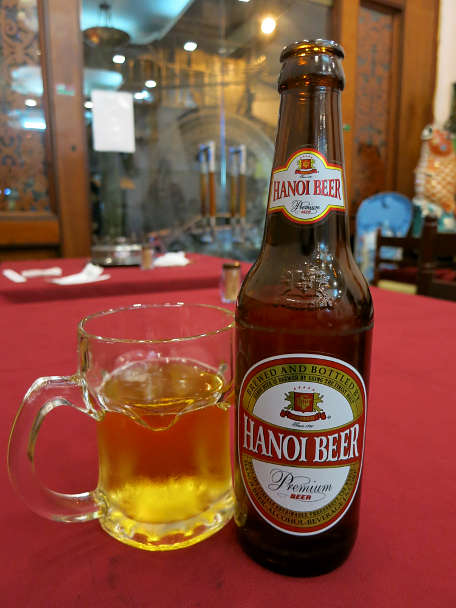 One thing to do in northern Vietnam is to try the local Bia Hoi. It is a draft beer served in Bia Hoi cafes with roasted peanuts. These cafes are very famous in Hanoi where Vietnamese workers enjoy a few beers after their workday.
The beer itself is very low in alcohol content – less than 4% and very light in taste. It is also very cheap about 5,000 to 9,000 VND which is less than $0.50 USD.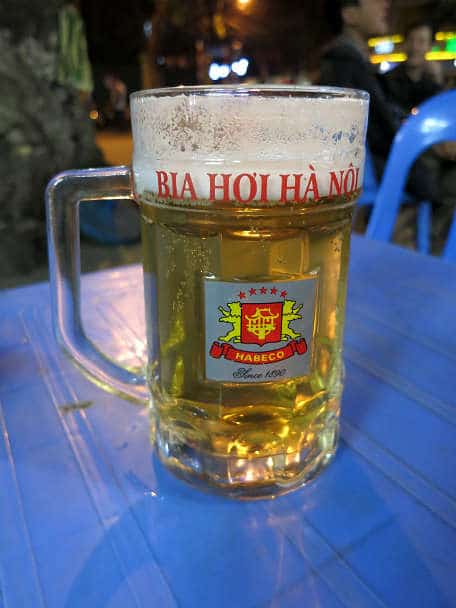 In central Vietnam, you will find Huda beer produced by Hue Brewery. It is not the most popular beer though you can find it in some restaurants. The popular Vietnamese beer for the region is La Rue, produced by the Satra Group.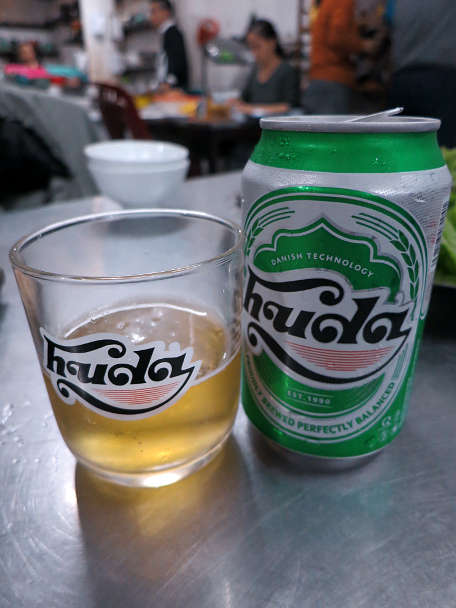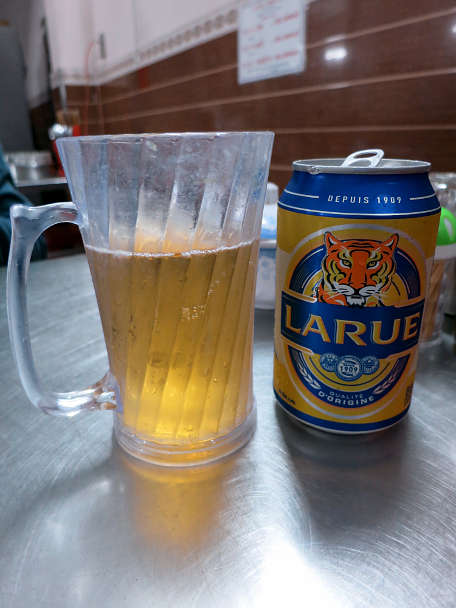 Then in Southern Vietnam, the market is dominated by Saigon beers produced by Sabeco, the Saigon brewery. You will find Saigon Export, Saigon Special, and Bia Saigon.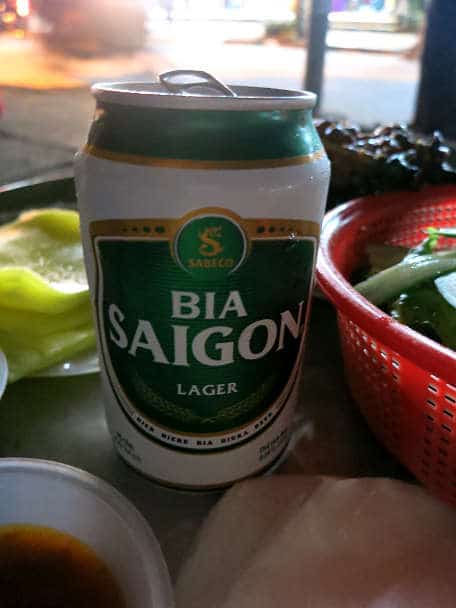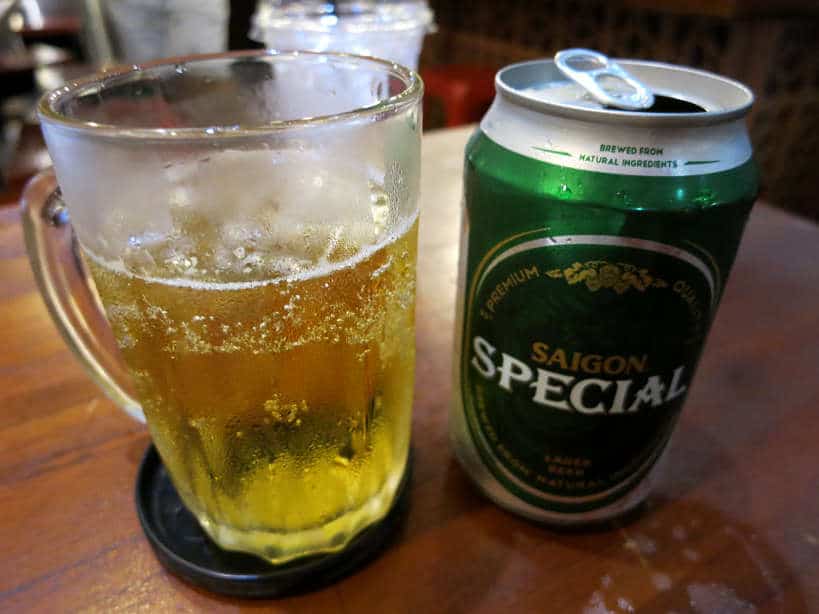 Honestly, I didn't find much difference between all the Vietnamese beers. They are all mostly mild in flavor, low in alcohol content and easy to drink on hot days. The cost of beer ranges between 12,000 VND and 20,000 VND about $0.50 USD to $1.00 USD.
As I mentioned previously, the craft beer scene is booming and it is worth checking a few of the locally brewed beers.
In Saigon, you will find Pasteur Street Brewing Company on 144 Pasteur street. There you can try interesting flavors like Jasmine IPA or Jackfruit Wheat Ale beer.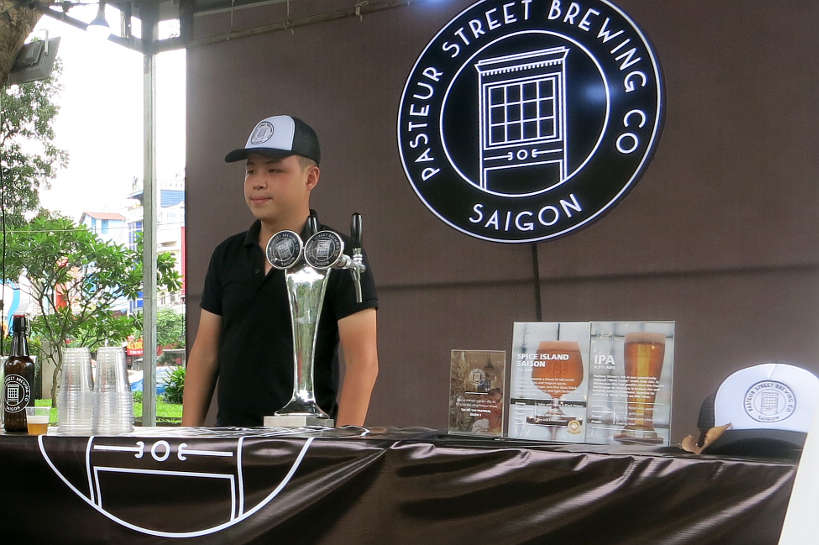 The Philippines and the Filipino Beer Scene
I found the beers in the Philippines having the most distinctive taste in the Southeast Asian beer landscape.
The Filipino beer of choice is the San Miguel. San Miguel Brewery is the largest beer producer in the Philippines.
The most popular of their beers is the San Miguel Pale Pilsen which is a pale lager. I found it to have a distinct hoppy taste. The alcohol content is 5%.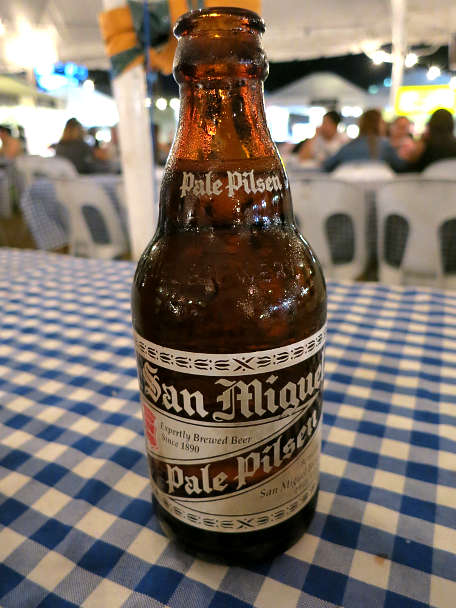 Then, you will also find San Miguel Light, San Miguel Super Dry, San Miguel Strong Ice, San Miguel Premium, and San Miguel Premium. I had a few of those and found them quite mild and easy to drink.
San Miguel brewery also produces Red Horse Beer which is known for its stronger taste with 8% of alcohol content. But I personally didn't like the taste and preferred to stick with the San Miguel branded beers.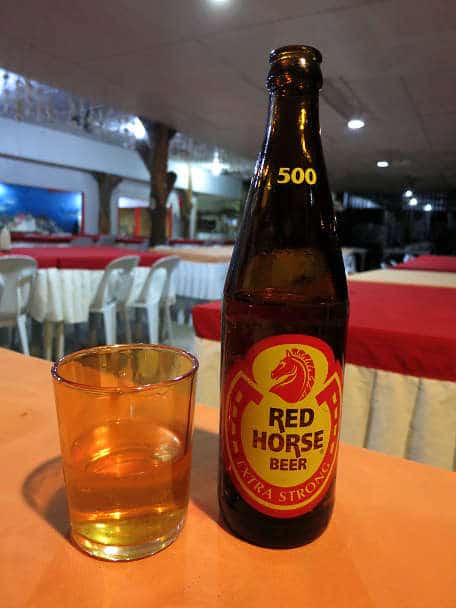 Cambodia and Cambodia Beer Scene
Cambodia has three major breweries. Angkor beer is the most popular beer brand and it is produced by Cambrew brewery. It is a light lager which is easy to drink. Surprisingly, some of the beer bottles have a unique top which can be pulled open like a can of beer.
Another popular beer brand is Cambodia beer, which is produced by Khmer Brewery in Phnom Penh.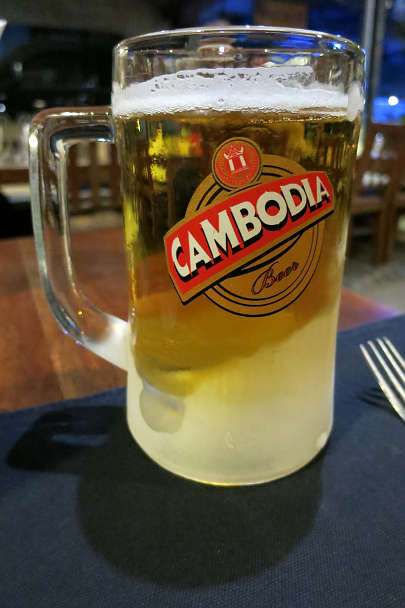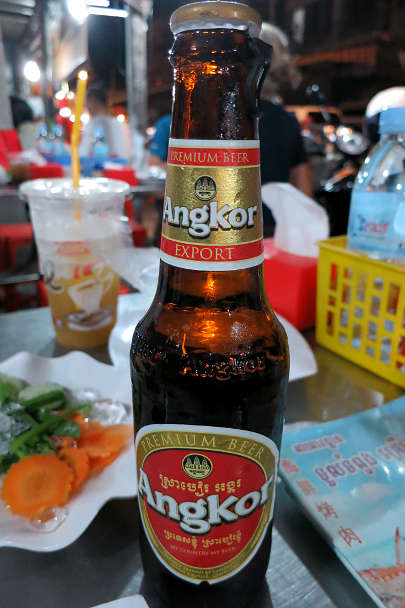 There is also a craft beer brewery called Kingdom Breweries, which is the only premium craft beer brewery in Phnom Penh. You can actually go to the brewery site on the north of Phnom Penh and enjoy a brewery tour with beer samples offered.
Beers in Cambodia will set you back to about $1USD to $1.50 USD per bottle.
Thailand and the Thai Beer Scene
In Thailand, the choice of beers is limited and two companies dominate the market. Boon Rawd Brewery the market leader, which produces Singha and Leo Beers. While its main competitor, Thai Beverage, which makes Chang beer.
I had a preference for the Singha or the Chang beers which I found to be very similar in taste and color. The Leo beer is considered a cheap beer and I found its taste "cheap" as well!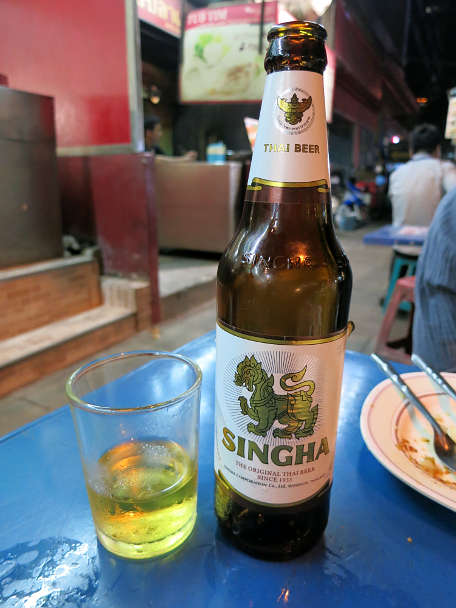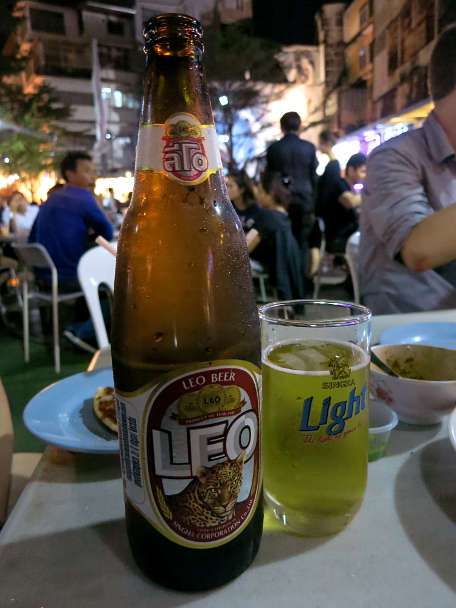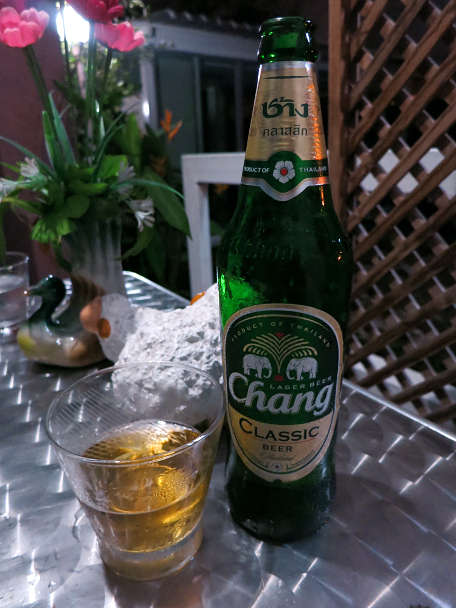 Beyond the large corporations, the Liquor Act in Thailand has considerably restrained competition including the growth of craft beers. With constraints such as needing producing more than 1 million liters a year and needing to have capital of 10 million Baht, it is virtually impossible to start a small brewery in Thailand.
Most of the craft beer brands work around the legislation by manufacturing their beer outside Thailand and importing it back to the country.
Beers in Thailand cost between 70 baht to 100 baht, which is about $2.00USD to $2.50 USD per bottle of 660ml. Leo and Chang are usually cheaper than Singha beer. A craft beer will run around 180 baht, which is about $5.20 USD.
Malaysia and Local Beer Scene
There are no local beers produced in Malaysia mostly due to the Muslim ban on alcoholic drinks. Heineken has a brewery in Kuala Lumpur where they produce Heineken, Guinness and Tiger beers.
Beers in Malaysia are slightly more expensive than in the rest of ASEAN countries except for Singapore. A small size beer will cost you between $1.80 USD to $4.00 USD.
As a result, in Malaysia, we recommend skipping the beers and enjoying the delicious local fruit juices and other interesting non-alcoholic beverages that are offered with the meals.
Singapore and The Local Beer Scene
The main beer produced in Singapore is Tiger beer. Launched in 1932, it is actually the first locally brewed beer in Singapore.
The beer is a Pale Lager with 5% alcohol content. I found the flavor mild and it is best enjoyed cold (or with ice cubes) similar to other Southeast Asian beer.
It is now owned by Heineken Asia Pacific, who also makes Heineken beer.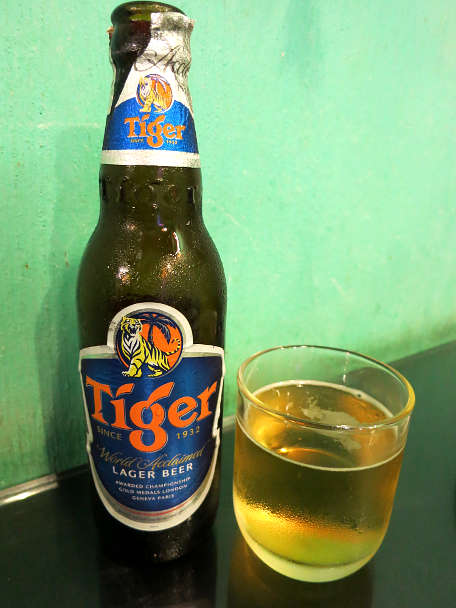 Tiger brewery also makes Tiger Crystal beer, which I saw only in Vietnam. It is much lighter than Tiger and doesn't have much taste. If you are in Singapore, I recommend sticking to Tiger beer.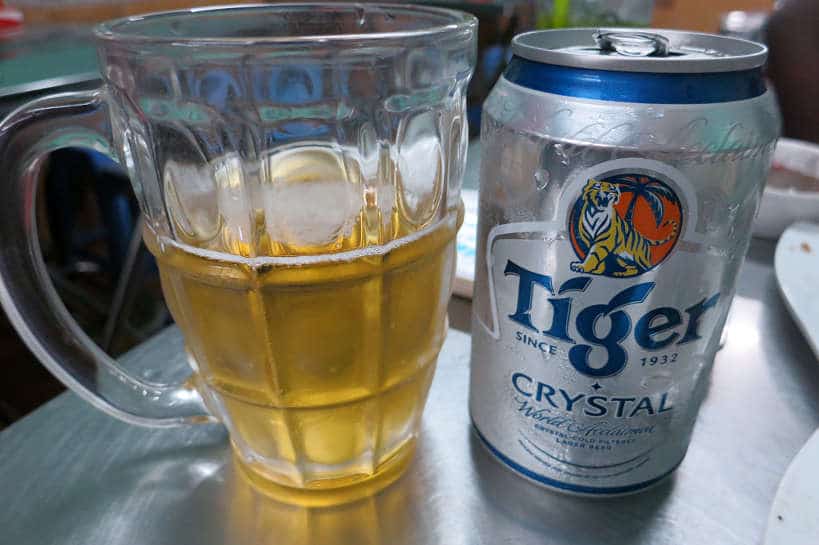 There is also a craft beer scene in Singapore though I didn't get the chance to explore it. Craft beers have been growing since the 2000s, though they remain a very small portion of the beer market in Singapore.
It is worth mentioning that Singapore holds Beerfest Asia every Summer. It is a 4-day event that brings together more than 500 beer varieties with concerts and more. A worthy event to go to if you are in Singapore in August.
The Beer Scene in Laos, Indonesia, Myanmar, and Brunei
While we did not visit these countries on our first trip to Southeast Asia we wanted to make a brief mention of the beers as they part of ASEAN countries.
Here is a quick overview of the beer scene in these countries.
The Beer Scene in Laos
**Update. We visited Laos on another trip to Southeast Asia and explored the local food in Luang Prabang. Like other Southeast Asia countries, beer is widely consumed.
Beer Lao is the national beer and it is very popular and widely available. It is a lager with about 5% of alcohol content. It is also exported to international markets as well.
I tried several versions including, White, Gold, and Amber, and enjoyed the unique tastes, with jasmine rice and malt.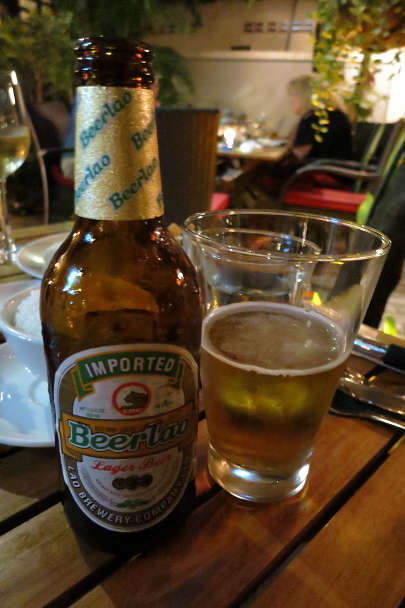 The Beer Scene in Myanmar and Indonesia
In Myanmar, Myanmar beer and Dagon beer respectively, are the two most popular beers. Although Myanmar has one of the lowest beer consumption rates in Asia, things are changing and new beer companies are entering the market. Something to watch in the next few years.
In Indonesia, the most popular beer is Bintang beer produced by Heineken Pacific Brewery. Being a Muslim-majority country, the regulations on alcohol are getting stricter and as a result, the beer market is declining
While in Brunei, there is a complete ban on alcohol so you will not find any local beers.

In Summary
Overall, drinking Southeast Asian beer is an experience. The beers may not be the most exciting beers you've ever tasted, but they are definitively worth trying. I highly recommend drinking them to cool off and refresh on the hot and humid days.
Get into the local beer culture while in Southeast Asia. Connect with the locals and skip the familiar beer brands. Take advantage of the revolution that is brewing in the craft beer scene. Try something new and check out the different microbrews on your travels in the region. That by itself is worth experiencing!
Have you had a Southeast Asian beer before? What is your favorite beer and where did you have it?
Savor the Adventure!
Love it? Pin it!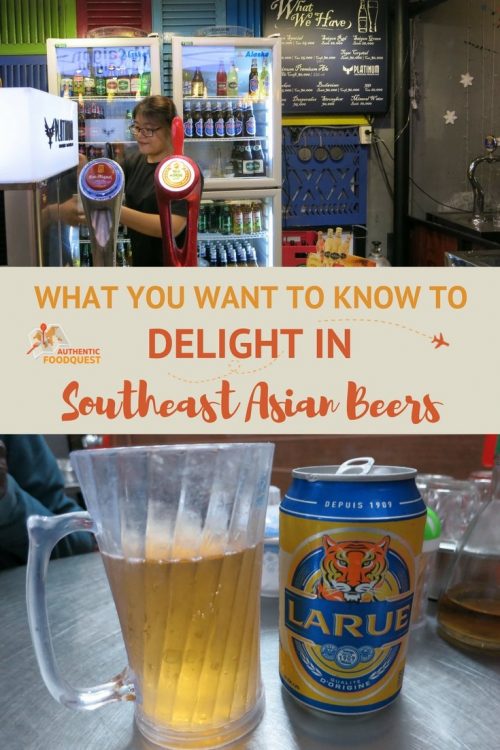 Claire is co-founder of Authentic Food Quest and a lover of simple and exquisite cuisine. Since 2015, with her partner, Rosemary, she has been traveling the world as a digital nomad, creating content about local food experiences.
Her advice from visiting 45 countries and more than 240 food cities has been featured in Lonely Planet, Business Insider, Honest Cooking, Food Insider, and Huffington Post. She has also co-authored three books, including one in collaboration with Costa Brava Tourism.
An ex-mechanical engineer, Claire is responsible for SEO, keeping the website running, and the fun food & travel videos on YouTube.
When Claire is not eating, she can be found running or cycling. Find out more about Authentic Food Quest