This article has links to products and services we recommend, which we may make a commission from.
A symphony of tangy flavors from the sea, this alluring spaghetti al nero di seppia recipe is simple to make and irresistible to taste. This elegant yet rustic dish combines spaghetti with the captivating taste of fresh squid, squid ink, garlic, white wine and parsley. A delicacy for an intimate meal or dinner party.

What is Pasta al Nero di Seppia?
The spaghetti al nero di seppia is an impressive pasta dish marked by a dark black color from squid ink.
It is a simple recipe made with chopped up squid, onion, garlic and white wine. It gets its intense dark color from squid ink which is used in the sauce to completely coat the pasta.
The word "al nero di seppia" refers to the dark liquid released by cephalopods, which includes octopuses, cuttlefish and squid.
The black ink is released to protect themselves by making it difficult for the predators to see them.
This ink is not toxic and cuttlefish ink or il nero di seppia is used as a coloring in many pasta, rice and seafood dishes.
Be warned, the pasta is completely black. While the dark color may turn off some people, everyone changes their mind once they taste the goodness and depth of sea flavors.
AUTHENTIC FOOD QUEST RECIPE: If you are looking for another famous Sicilian pasta dish, you'll enjoy this simple Pasta alla Norma recipe.
Origin of Spaghetti Al Nero Di Seppia Recipe or Squid Ink Spaghetti Recipe
Pasta dishes made with fish and shellfish are typical of Southern Italy due to the surrounding seas.
Seafood, "fruit of the sea" or in Italian, frutti di mare are used reverently in the cuisine.
The tradition of using "pasta al nero" or pasta cooked with black cuttlefish ink is widespread throughout Sicily.
It is said to have been born from fishermen and their families not wanting to throw any part of the cuttlefish away.
Besides Sicily, pasta with cuttlefish ink is also popular in the northern region of Veneto using cuttlefish from the Venice lagoons.
Discovering Spaghetti Al Nero Di Seppia in Sicily
The name intrigued us when we first saw spaghetti al nero di seppia on restaurant menus.
Before this, we had tried risotto dishes made with black squid ink. First in Montenegro and then around the Balkans where it is a local specialty.
Trying it in Italy, in the very popular pasta al nero di seppia alla siciliana dish was an experience.
We had it first at a local restaurant near the fish market in Catania. And, then had it several times after that in different cities across the island.
We loved the tangy sea flavors of the black spaghetti dish. Each time we had it though we noticed subtle differences in the taste and presentation.
Some dishes had squid plus additional fish and seafood, while others did not. And the amount of parsley and pepper flakes used changed the flavors slightly.
Regardless, it is a very flavorful dish especially for seafood lovers. And, it goes particularly well with a glass of Sicilian white wine.
This simple spaghetti al nero di seppia recipe will bring the tastes of the Mediterranean sea to your table.
READ MORE: 20 Of The Best Restaurants in Catania Sicily for Pasta, Pizza and More
Spaghetti Al Nero Di Seppia Recipe – How To Make Black Pasta at Home
To make your pasta nero di seppia recipe like a Sicilian is easy and requires just a few simple tips. Start with the freshest squid you can find.
While working with the black ink, be sure to protect your clothes by wearing an apron. If your fingers get stained, don't worry as the ink will wash off with water.
Use regular spaghetti or any long pasta like linguine, angel hair, fettuccine, etc. Be sure not to overcook the spaghetti, the pasta must be al dente.
Ingredients
Fresh Squid
Onion
Garlic
Dry white wine
Fresh parsley
Salt to taste
Spaghetti Nero Recipe Tips
Where to Buy Squid Ink
In Sicily, spaghetti nero or black spaghetti is typically made using fresh ink from squid with their sacs. These are easily available from the local fishmonger or fish market.
In the US, finding fresh uncleaned squid with their ink sacs is not easy. Generally, squid is sold already cleaned up with the ink sacs removed.
For this spaghetti al nero di seppia recipe, you can buy little sachets of ink squid separately online.
This will make it easier to make this black pasta recipe at home. You can also use any leftover sachets to make squid ink risotto or even Spanish paella.
How to Remove Squid Ink From Squids
Removing squid ink from squids is surprisingly easy. It can get messy so you want to wear kitchen gloves and an apron to protect your clothes.
The squid ink sac is in an elongated, silver-colored bag in the innards not far from the head. There are also secondary ink deposits behind the eyes.
Locate the sacks and use your fingers or a knife to carefully pull it off the squid.
Place the ink sacks in a non porous glass or metal bowl. Add three or four tablespoons of water and crush or puncture the sacks until the ink comes out.
How Long Can You Keep Squid Ink
If you have bought several squids and do not need to use all the ink at once, you can extract it and keep it for other recipes.
Start by removing the ink sacks as indicated in the previous section. To avoid the ink drying out when it is fresh, place the liquid in a small plastic bottle immediately.
Place the liquid ink in the freezer without a lid. Once the squid ink has frozen, put the lid on it. You can preserve the ink like this for up to three months.
If you are cooking with the sachets and not using them immediately, store them in the freezer. When you are ready to use the sachets, remove from the freezer and let them defrost at room temperature.
How To Remove Squid Ink From Clothes
Squid ink stains are not permanent but it can make a mess on your clothes. If you get a few ink spots on you when making this squid ink spaghetti recipe, have no fear.
While the stain is still fresh, apply some soap dish and rub together under cold water. If the stain seems stubborn, sprinkle in some hydrogen peroxide and let it sit.
Another alternative is to use OxiClean, a versatile stain remover.
Spaghetti Al Nero Step by Step Instructions
Clean Squid and Cut Into Pieces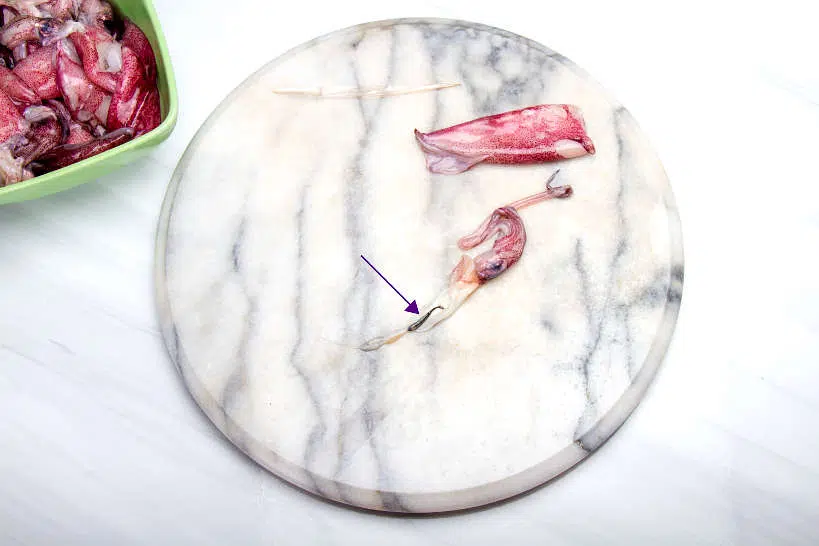 Clean the squid very well and carefully remove the head. Remove and discard the shell in the body of the squid. Remove the small ink sac near the top of the head and scrape off the skin covering the squid. Rinse the squid again, pat dry and cut into rings.
More Related Cooking Products
Claire is a culinary explorer who travels the world in search of the best local foods. She is always looking for her next culinary adventure to bring you the best bites while exploring new places.