Paris, the City of Lights never disappoints. Whether it is your first visit or you have been there several times before, there is always something new to discover.
In a city with thousands of restaurants, it can be intimidating to find affordable restaurants in Paris that serve authentic French food.
Given that you have made it all the way to Paris, why not try local French cuisine that you may not have at home. To get you started, we've put together a list of 5 affordable restaurants that serve delicious authentic food in Paris.
Be sure to check out these restaurants the next time you are in Paris.

1 – Near the Eiffel Tower – Go to Le P'tit Troquet
If you are going to see the Eiffel Tower, you are in the 7th arrondissement (or neighborhood). After walking around and admiring the elegant monument built by Gustave Eiffel in 1889 for the World's Fair, food will probably be on your mind.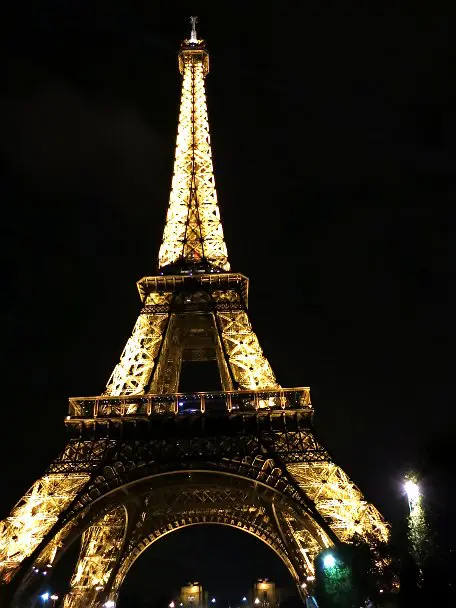 Le P'tit Troquet Restaurant
Head over to Le P'tit Troquet for delicious traditional French food. Tucked away on a little shopping street, this charming, bistro awaits.
Recommended by a local Parisian friend for offering delicious traditional food, we made our way over to the restaurant. We walked in without a reservation and were greeted with a smile, and surprisingly, seated right away.
We opted for one "menu" consisting of entrée + plat + dessert. We supplemented that with one more appetizer (entrée) and one main dish (plat).
We began our meal with foie-gras, one of the most popular French delicacies.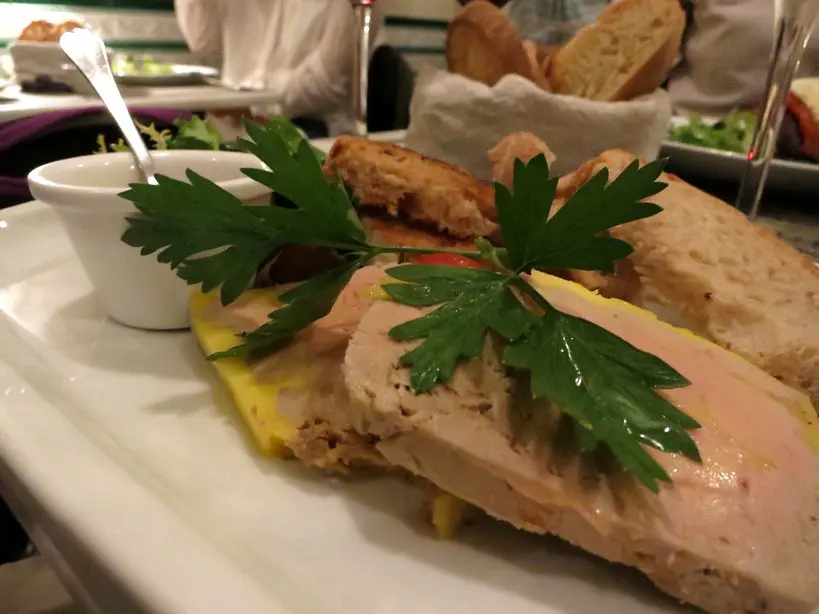 This was followed by Boeuf Bourguignon, another French specialty from the Bourgogne or Burgundy Region. This savory beef stew is a classic and a popular French traditional dish.
This stew is prepared with beef braised in red wine, traditionally red Burgundy, and beef broth. It is typically flavored with garlic, onions and a variety of spices. Pearl onions and mushrooms are generally added towards the end of cooking. Hearty and filling. Perfect for a cool day or evening.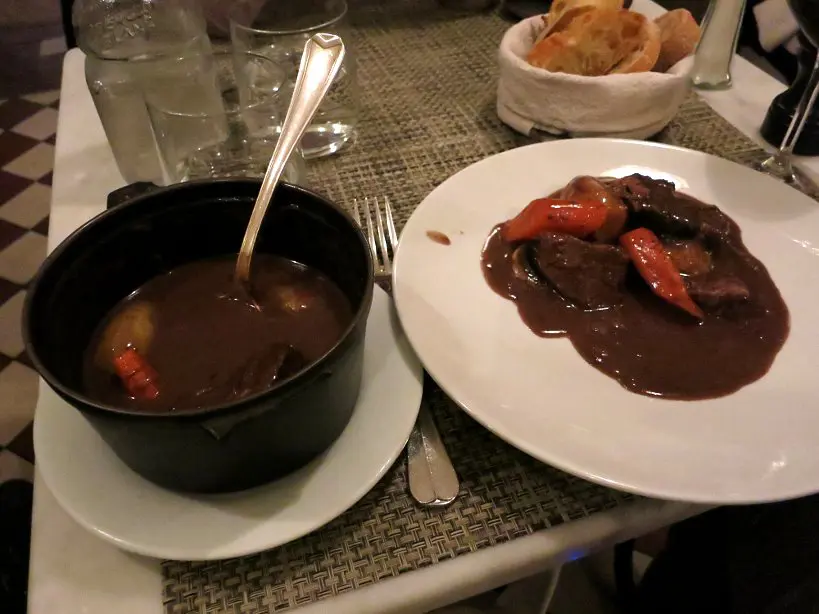 The dessert special that evening was apricot soup and almond milk ice-cream. Already stuffed from the appetizers and main dishes, we split this scrumptious treat.
The food is delicious, the service is attentive and the prices reasonable. The perfect combination for authentic and affordable restaurants in Paris.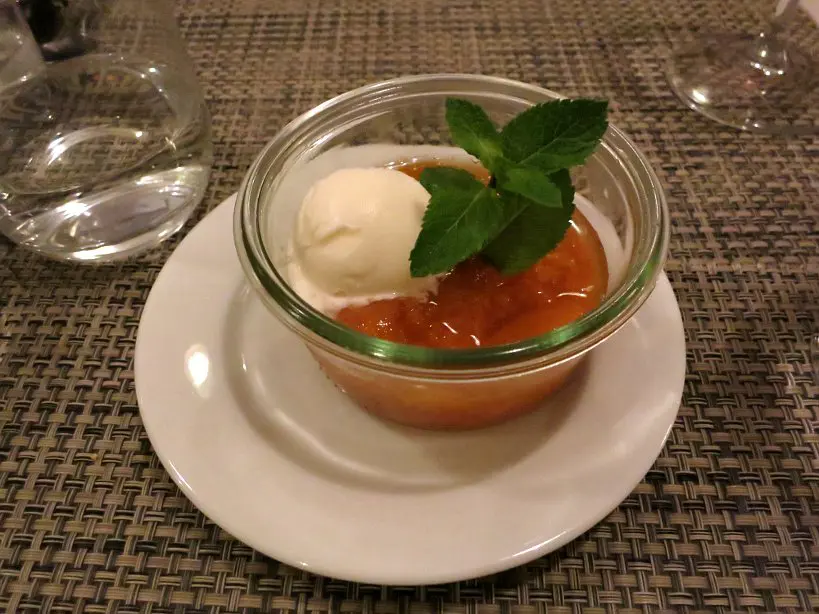 Where
28 rue de l'Exposition  
75007 Paris
Price of Menus
Lunch menu (Entrée + Plat + Dessert) 25€
Dinner (Entrée + Plat + Dessert) 35 €
Pro Tips
This restaurant attracts local and tourist alike. It can get busy early on and items from the menu of the day can quickly disappear. Plan to go early if you want to eat the specials of the day.

2 – In The Latin Quarter – Check out La Bastide d'Opio
The Latin Quarter or Left Bank has been traditionally known as the artistic and cultural part of  Paris. Café de Flore, Les Deux Magots and the cafes and bars of Saint-Germain-des-Prés are some of the main reasons visitors flock to this area.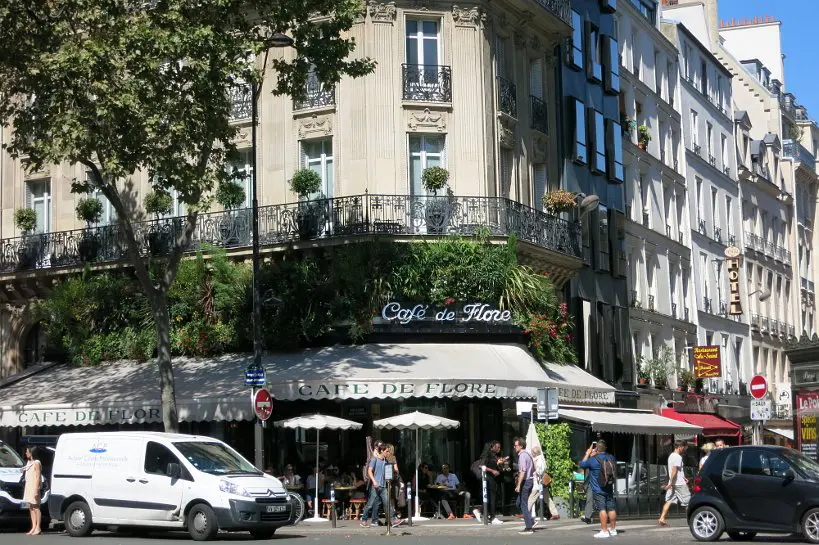 Given the popularity of the area, finding a good traditional Parisian restaurant can be tricky. The way we found this gem was through researching Google reviews of the restaurants in French.
One tip to keep in mind when looking for authentic restaurants on your travels is to research the reviews in the local language. Even if you may not speak French, use the Google Translate functionality for translation help.
La Bastide d'Opio Restaurant
Walk down the narrow, cobblestone streets and make your way over to a small side street close to Saint-Sulpice. La Bastide d'Opio offers a taste of "Provence" or cuisine from the South made with seasonal products.
This small and charming restaurant has only about 10 tables. When presented with the menu, choose the "menu of the day" or "menu du jour."
You will immediately be seduced by typical dishes from the South like "crumble d'agneau au citron vert et tomates confites, poêlée de courgettes" and "marmite de poissons à la coriandre et au citron confit."
The "crumble d'agneau au citron vert et tomates confites, poêlée de courgettes" is delicious and surprisingly not too heavy. Layers of fresh zucchini, with tomatoes and spices, topped with fresh cuts of lamb and served in a cast iron pot. A delightful taste of "Provence".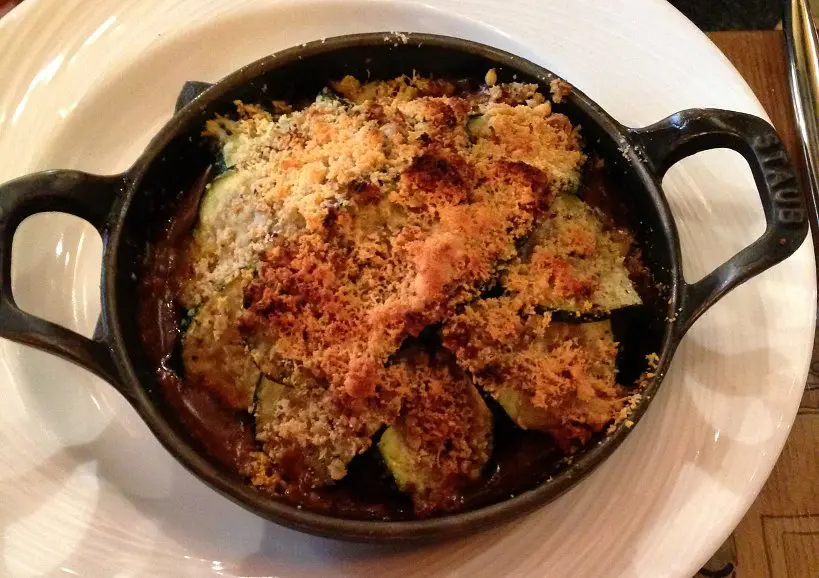 If you are looking at something from the sea, get the "special of the day". You will be rewarded with the "Marmite de poissons à la coriandre et au citron confit." This delicate seafood soup is filled with slices of fish and fresh seafood in a broth with lemon, coriander and spices from the South of France. Truly exceptional!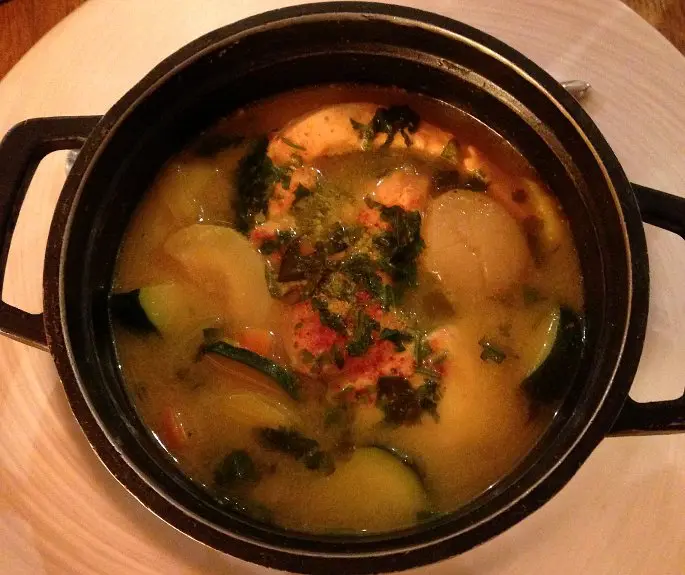 Where
9 rue Guisarde
75006 Paris
Price of Menus
Lunch menu (Entrée + Plat + Dessert) 24.20 €
Dinner (Entrée + Plat + Dessert) 28.50 €
Pro Tips
Go for lunch and enjoy a fantastic meal while shopping and walking around the area. Make a reservation ahead of time!

3 – Explore Foodie Haven on Rue Mouffetard, and Le Vin Qui Danse
A visit to the Latin Quarter would not be complete without strolling through rue Mouffetard a foodie haven. The market takes place every day on rue Mouffetard, though keep in mind that it is most lively on the weekends. For the best experience, go in the mornings when all the vendors and shops are opened. Take a quick tour in 360 of rue Mouffetard on a typical Thursday afternoon.
On rue Mouffetard, you will find any fresh products and fine food to be expected in Paris. Cheeses from Fromagerie Androuet, one the oldest cheese maker in Paris, chocolate from Mococha a chocolate collector, wines from La Fontaine aux vins a unique local shop and much more!
Prepare for a tempting experience!.
Le Vin Qui Danse Restaurant: one of the most authentic affordable restaurants in Paris
While rue Mouffetard is a must-visit in Paris for food lovers, it can be difficult finding an affordable restaurant away from the crowds and the touristy areas.
If you are up for walking, after looking around rue Mouffetard, head over for lunch to Le Vin Qui Danse. This restaurant located on rue Brocca, proposes fresh and seasonal products on the menu. As their name suggest, they also offer a large selection of wine by the glass from unique and small wineries alike.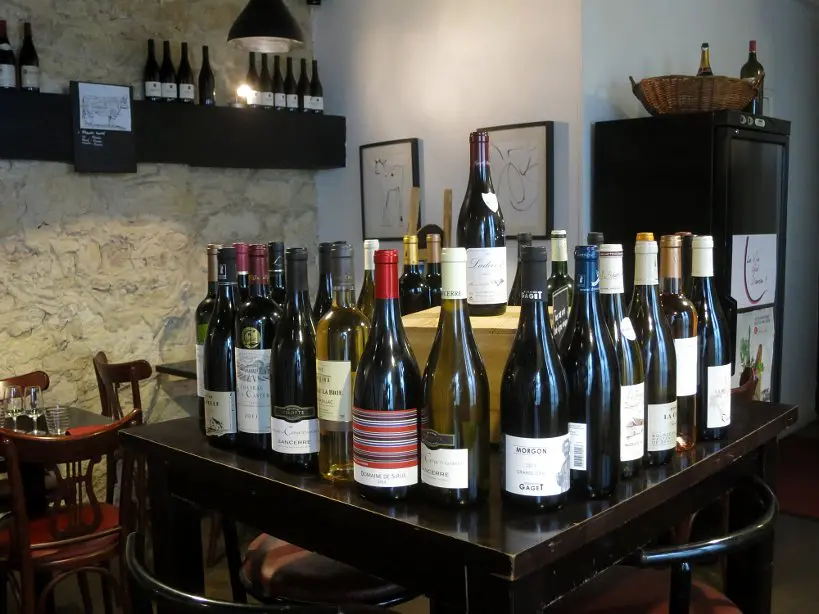 On top of that, their menu is very affordable and the cuisine is delicious. We indulged in the short menu of the day, a sign of homemade cuisine that we always recommend.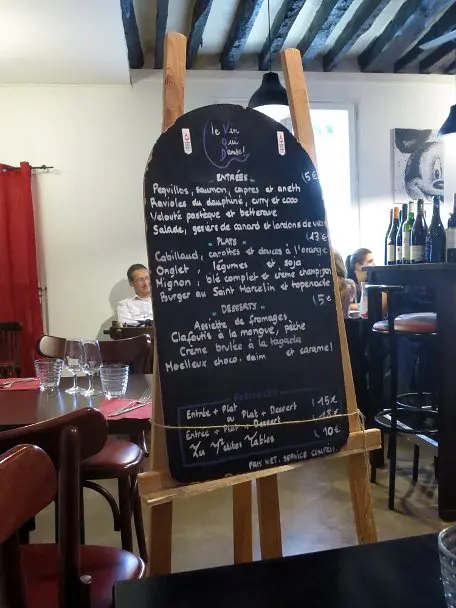 We took the option "entrée + plat " for 15 Euros per person. We had a delicious "onglet légumes et soja" which was a finely cut steak slices, cooked rare at their core and served with vegetables. This is a version of the french steak bavette revisited with a Japanese flair. Scrumptious!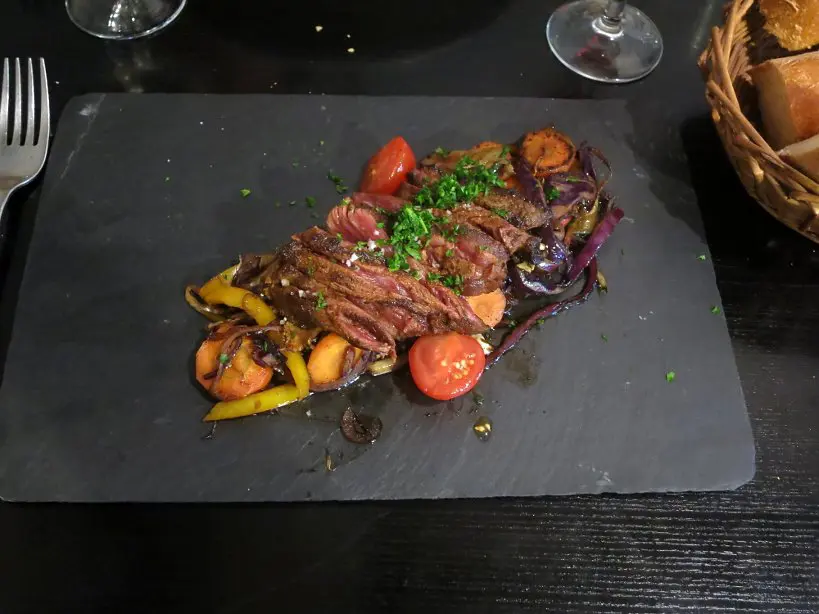 The staff is very friendly and the environment very convivial for a leisurely lunch sipping a couple of glasses of wine. A great place to slow down and indulge in local food pleasures.
Where
69 rue Broca
75013 Paris
Price of Menus
Lunch menu (Entrée + Plat + Dessert) 18 €
Dinner menu (Entrée + Plat + Dessert) 25 €
Pro Tips
Ask for recommendations when it comes to wine and do order it by the glass so you can try different wines to pair with your dishes.

4 – Not far from Parc Monceau? Walk a little further to Le Bistro du Passage
Known as one of the most attractive parks in Paris, Parc Monceau is a hidden enclave for those seeking peace and quiet from the hectic pace.
Across the park is the 17th arrondissement, a non-touristy neighborhoods made up of office buildings and residential apartments. For a taste of traditional French food in a "real" Parisian neighborhood, make your way over to Le Bistro du Passage.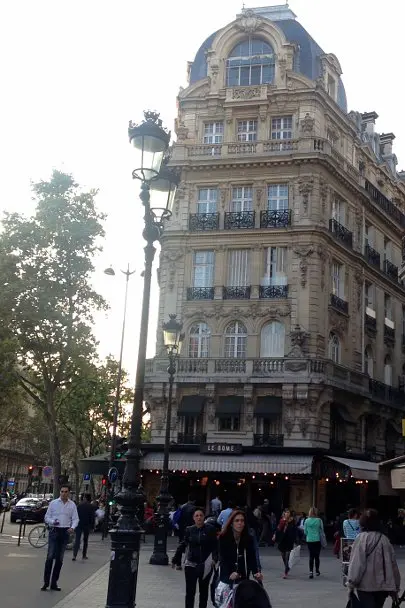 Le Bistro du Passage Restaurant
Tucked away on a pedestrian-only side road (passage), the colorful bistro will welcome you. We discovered this little restaurant from some stealth online research as well as Claire's familiarity with the neighborhood.
The restaurant is filled with locals and the atmosphere is friendly. The best part is the traditional French dishes at reasonable prices.
For the main meal, we went with the beloved French classic – Steak Tartare. This dish doesn't require cooking, just a a lot of fine chopping. Made with raw steak, finely chopped shallots, cornichons, capers and a little Worcestershire sauce, Tabasco, and seasoned with salt and black pepper. This dish is typically served with a side of french fries and a green salad.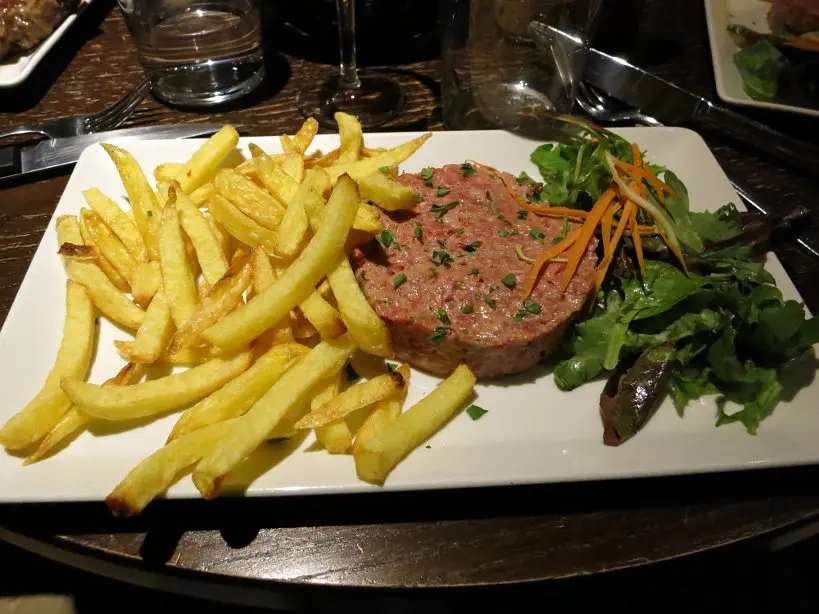 Your meal will not be complete without dessert. Le Bistro du Passage makes a delicious 'brioche perdue', a twist on the classic French pain perdu (french toast) dessert.
This delightful "brioche perdue" was accompanied with a scoop of vanilla ice-cream. Sublime!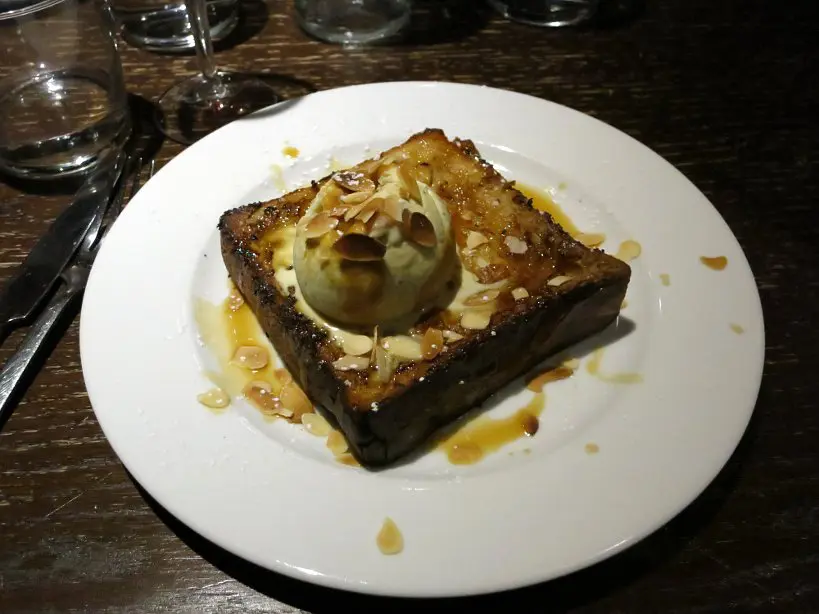 Where
14 Passage Geffroy-Didelot
75017 Paris
Price of Meals
A la carte menu prices: ~21 € (Entrée + Plat) to ~38 € (Entrée + Plat + Dessert)
Pro Tips
Great place to plan for a party or eat with a group. The restaurant has a private room to accommodate large groups.

5 – For Entertainment and Vegetarian Cuisine, Visit Le Cinq Lorette in the 9th
While the 9th is famous for Opéra Garnier and shopping at the iconic department stores of Galeries Lafayate and Printemps, it is also popular for theater.
Moulin Rouge and the well-known music halls of Folies Bergère and Casino de Paris are some of the reasons why the 9th is a popular entertainment destination.
If you find yourself in the area looking for tasty vegetarian, vegan and organic delights, head over to Le Cinq Lorette. This restaurant opened in January 2016 and is very popular amongst the locals.
When we made a brief stop in Paris, en route to Southeast Asia, we were surprised when our non-vegetarian family members suggested having lunch there.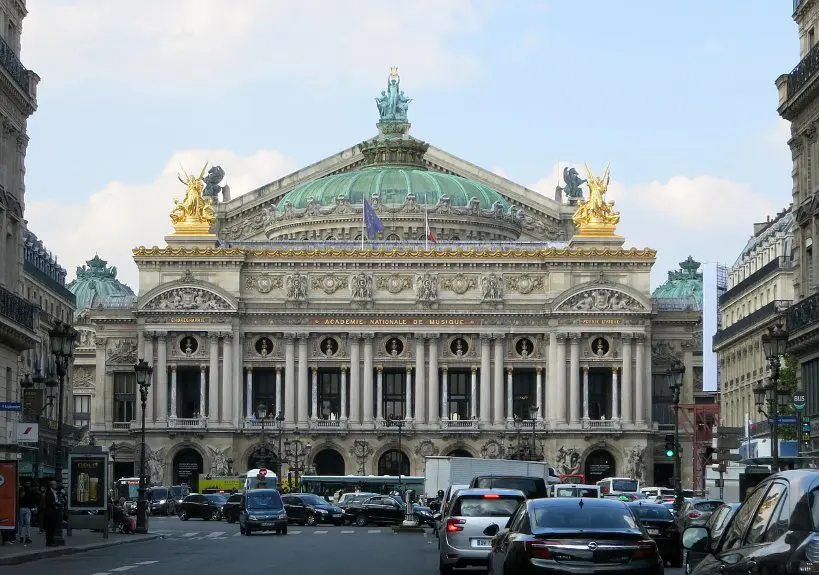 Le Cinq Lorette Restaurant
The restaurant is beautiful, not just in decor, but also the presentation of the food. The choices are not overwhelming and go way beyond salads and crudités.  
Two of our favorites were the " La Céréale" for the main meal and fruit salad for dessert.
The "La Céréale" is an interesting galette made of quinoa and mixed vegetables. The galette is drizzled with a delicious sauce made of dill. Roasted vegetables, a green salad and a hummus-like sauce. Totally fresh and seasonal, the ample serving size will delight any appetite.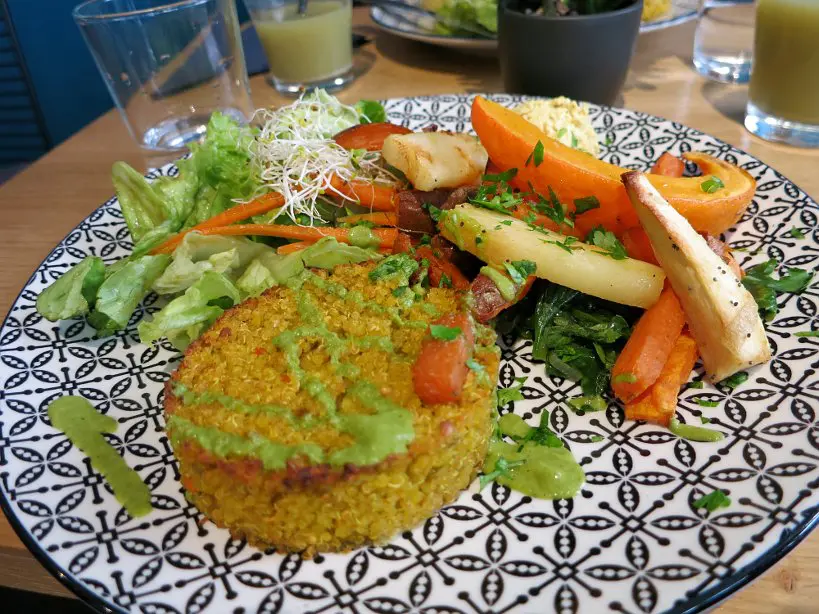 In keeping with the healthy theme, the mix of seasonal fruits stood out on the menu. Tempted by the fresh figs, pomegranate, strawberries, melon and more, you enjoy the natural goodness of this dessert.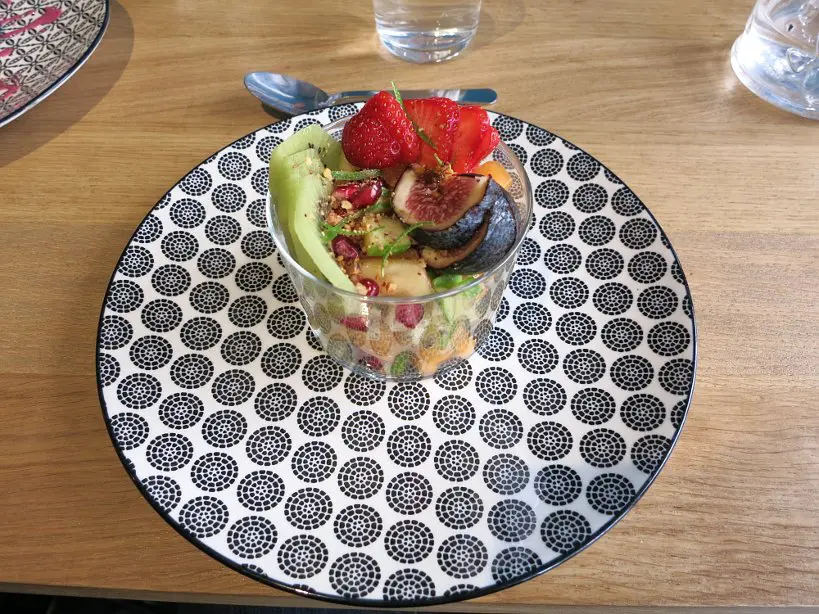 Where
5 rue Notre Dame de Lorette
75009 Paris
Price of Menu
Lunch Menu only (Entrée + Plat or Plat + Dessert) 21€
Pro Tips
Your best bet would be to go at lunchtime. Arrive early as it can get busy. For a sweet treat after your lunch, see our guide to the best Chocolate Tours in Paris to Take.

In Summary
Enjoying good food on one's travels is one of the simple joys of the travel experience. In major cities like Paris with thousands of options, it is possible to find authentic and affordable restaurants.
Take the time to do some research and don't forget to look at the local reviews.
With new restaurants opening up all the time, asking "locals" for recommendations will help you narrow down your choices. For more tips on how to find authentic and affordable restaurants, see our previous article How to avoid tourist trap food when traveling in a tourist town.
The next time your travels take you to France, enjoy the sites without skipping on affordable restaurants in Paris.
Map of the authentic and affordable restaurants in Paris
Which authentic and affordable restaurants in Paris would you recommend? Please let us know in the comments below.
Savor The Adventure!
Book a Tour
Discover more culinary delights in Paris when you book any of the tours listed below!
Love it? Pin it!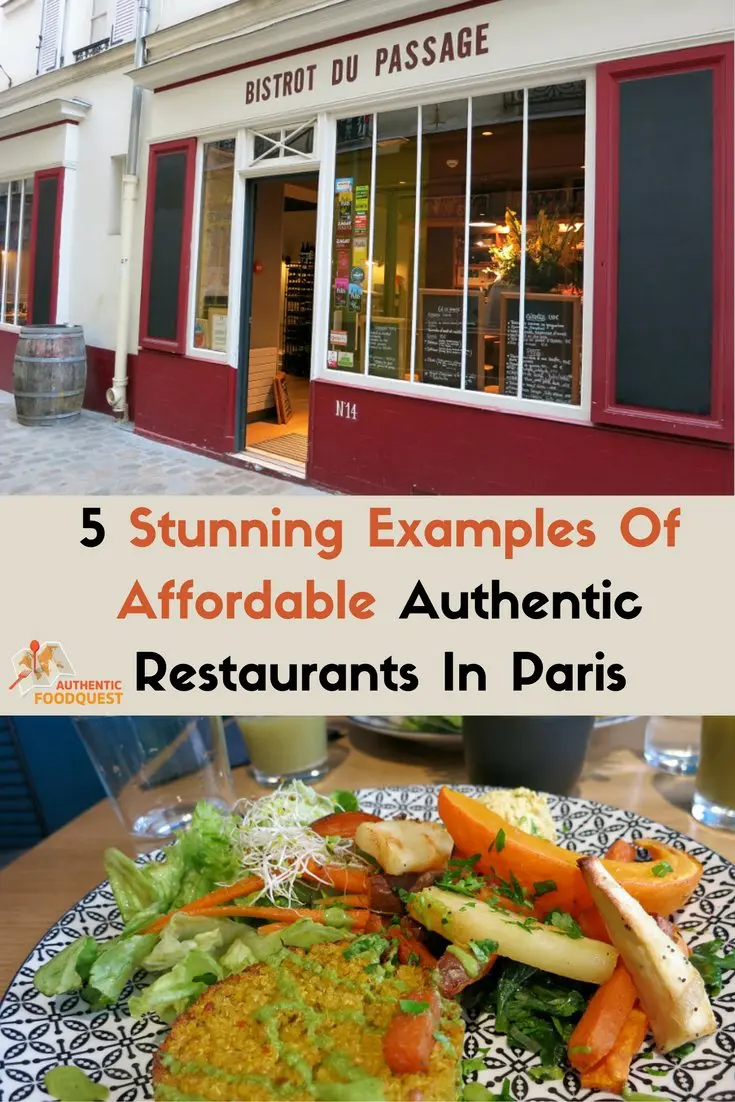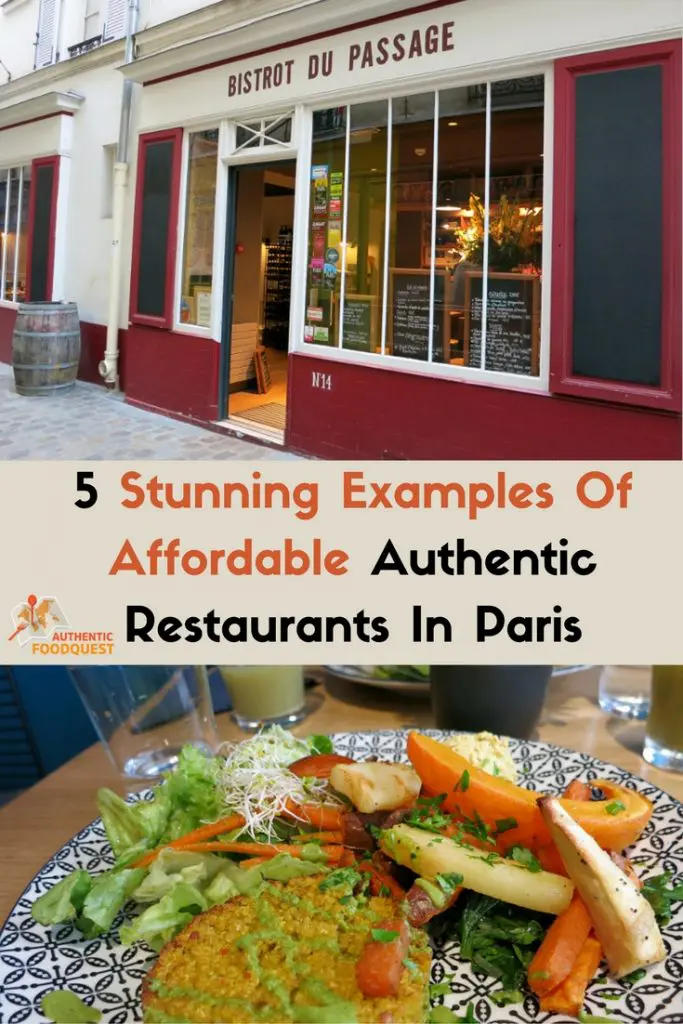 Rosemary is the editor-in-chief and strategist at Authentic Food Quest.
Traveling slow since 2015 with her partner, Claire, she has explored the cuisine in 45 countries and more than 240+ culinary cities.
Her writing about local food specialties has been featured in Lonely Planet, Business Insider, Honest Cooking, Food Insider, and Huffington Post.
As a food and travel writer, Rosemary has co-authored three books, including one in collaboration with Costa Brava Tourism.
Rosemary is an avid runner when she's not eating and exploring new destinations. She has run ten marathons and counting.
Before Authentic Food Quest, Rosemary held senior-level strategy positions in advertising. 
Find out more about Authentic Food Quest