On our authentic food quest through Southeast Asia, we were eager to discover the food in Vietnam as everyone we spoke on our food quest had only one word: "wait until you get to Vietnam!"
To be honest, back home, we are huge fans of Vietnamese cuisine. And to say the least, Vietnam didn't disappoint us.
For one month, we traveled through Vietnam. Starting in Hanoi, the capital in the North all the way to Ho Chi Minh City, the economic powerhouse in the South.
From the May 2016 visit by President Obama, there was a significant growth of tourism in Vietnam and we felt a sense of renewal in the country.
All of this contrasted with the attachment and fascination to the past with Ho Chi Minh statues and references to "Uncle Ho" throughout the country.
Another distinctive characteristic of Vietnam is the sheer number of motorcycles and their overwhelming presence everywhere!
When it comes to the food in Vietnam, the Vietnamese are proud of their cuisine and they make sure that you get to taste the best of it.
So let's dive into our surprising facts on the food in Vietnam and what to expect on your trip to Vietnam.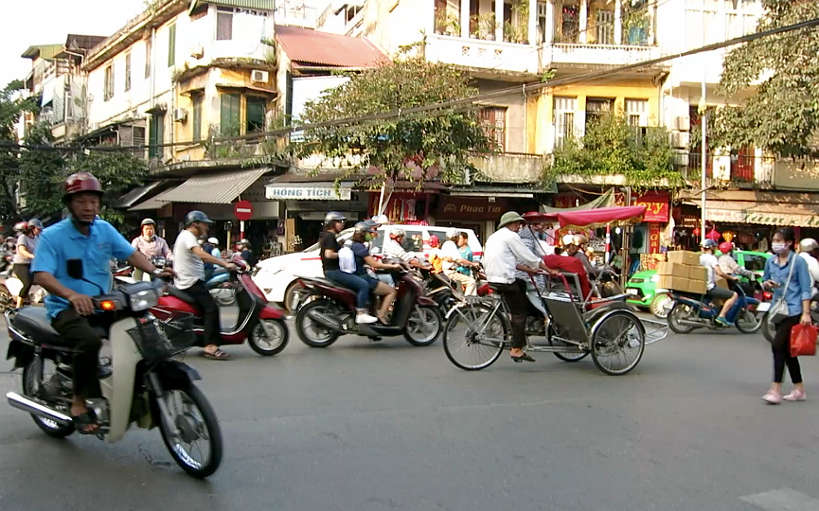 #1- Food in Vietnam – Regional Differences
The cuisine in Vietnam is influenced by the geography of the country. While the majority of the country is hilly and mountainous, there is a long coast along the South China Sea, that provides fish and other seafood that are staples in Vietnamese cuisine.
The two main symbols of Vietnamese cuisine are rice and a very specific fish sauce to Vietnam called nuoc mam.
Food in Vietnam varies and is divided into three distinct regions, the North, Central, and the South. Our culinary journey took us to each of the regions to explore the distinctive flavors.
In the north, we visited Hanoi. In the central region, we spent time in DaNang, Hoi An and Huế. And finally, Ho Chi Minh City (commonly known as Saigon) in the south.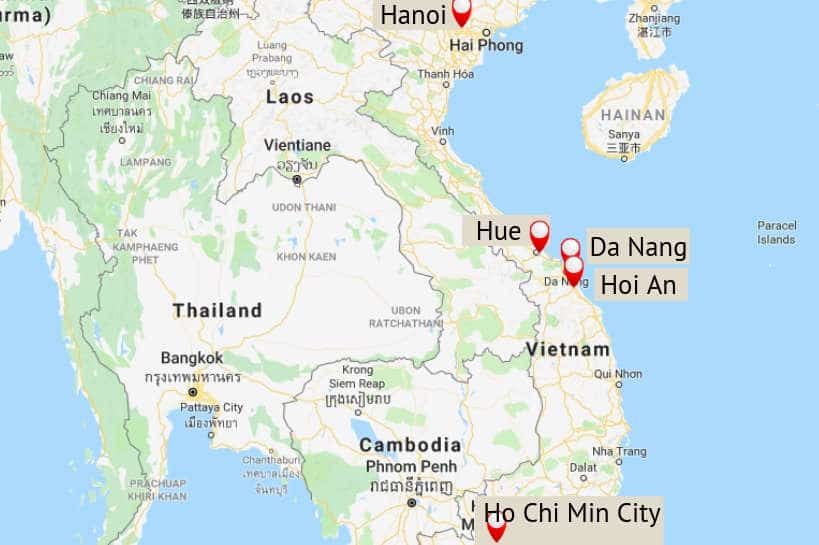 As we traversed through the country, we noted regional differences. The north is mountainous and cooler and soups play a large role in the cuisine. The famous Vietnamese pho soup is an example of a northern dish.
The cuisine in the central region is distinct and made up of several small dishes. Huế was once the Imperial Capital of the country and many delicate and creative dishes dedicated to the Kings were invented here.
This was our favorite region for the local food in Vietnam.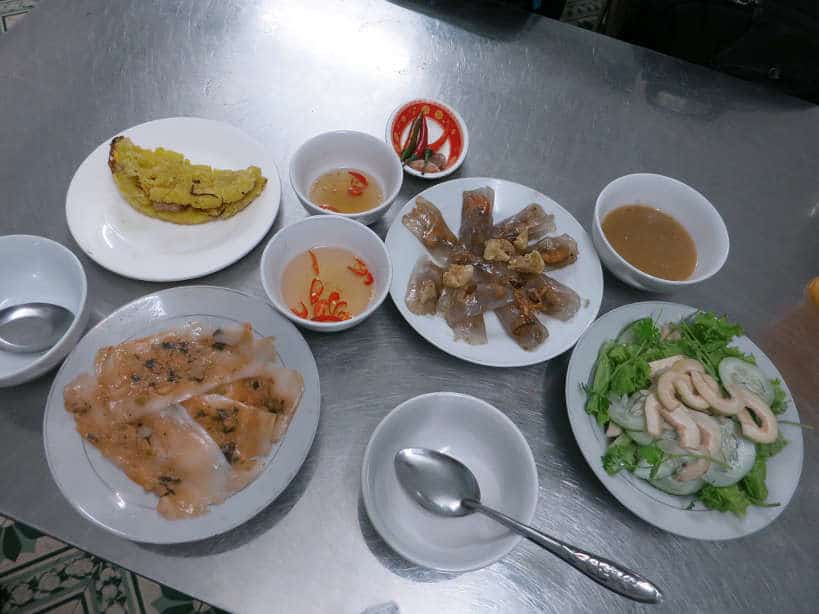 The cuisine in the southern region is influenced by Thai cuisine and is spicier than food from the rest of the country. Coconut based curries served with noodles and rice as well as a wide range of tropical fruits and vegetables are abundant.
#2 – Lots of Fresh Herbs for Flavor in the Food in Vietnam
One observation you will make immediately is how fresh and flavorful the food is.
The Vietnamese use mounds of herbs in their dishes, which make for very fresh and delicious meals. As soon as we arrived in Vietnam from Bangkok, Thailand, we could immediately taste the difference in the food. The herbs used are diverse and plentiful and accompany practically all meals.
Raw herbs are served in a huge bowl and they are chopped, tossed, rolled and wrapped into dishes. From soups, rice, sandwiches, rolls and noodles, the fresh and simple herbs bring forth the delicious flavors of the foods.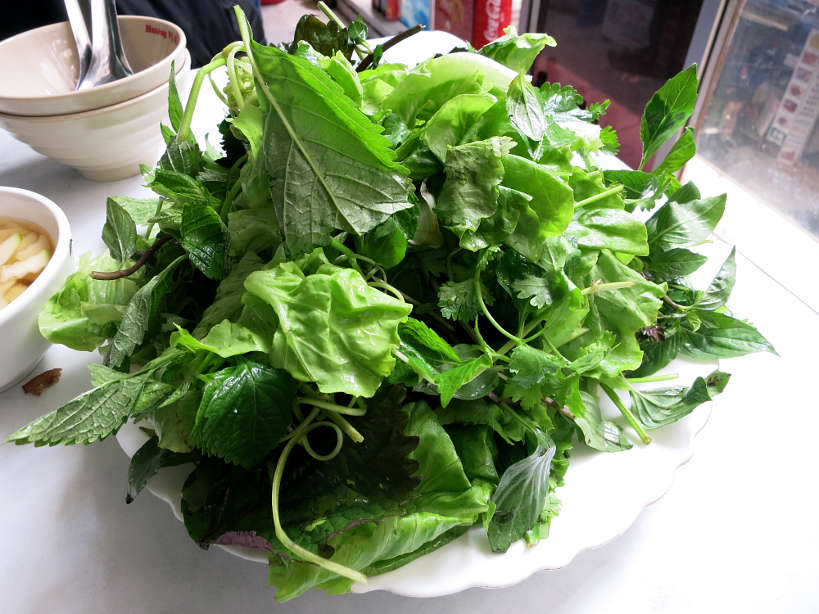 #3 – Be Prepared to Eat Low to the Ground
The typical restaurant culture in Vietnam is not what you might typically expect coming from the U.S. or Europe. Yes, you will find restaurants with waiters, normal sized chairs, and air conditioned places, but this is not where you want to eat.
The cheapest and the most delicious places to eat are on the city sidewalks in a casual environment. Look for the small plastic stools and join the crowd of locals slurping down delicious bowls of soup.
In Vietnam, people eat very close to the floor, about 30 inches from the ground. And, if you look closer, you will even see local women sitting on even smaller stools, about half the size (about 15 inches) when washing dishes.
If you are afraid of getting sick, check our article on How To Eat Safely On The Street for more tips and practical advice.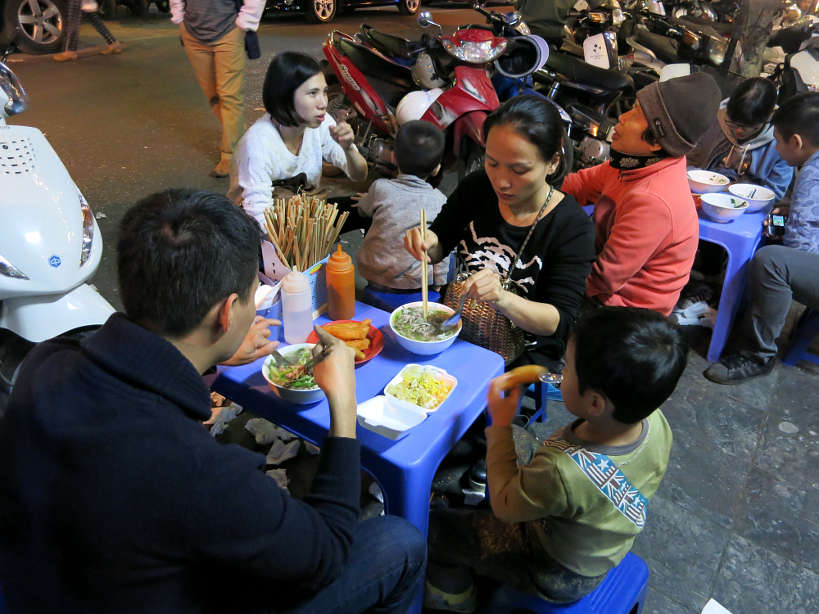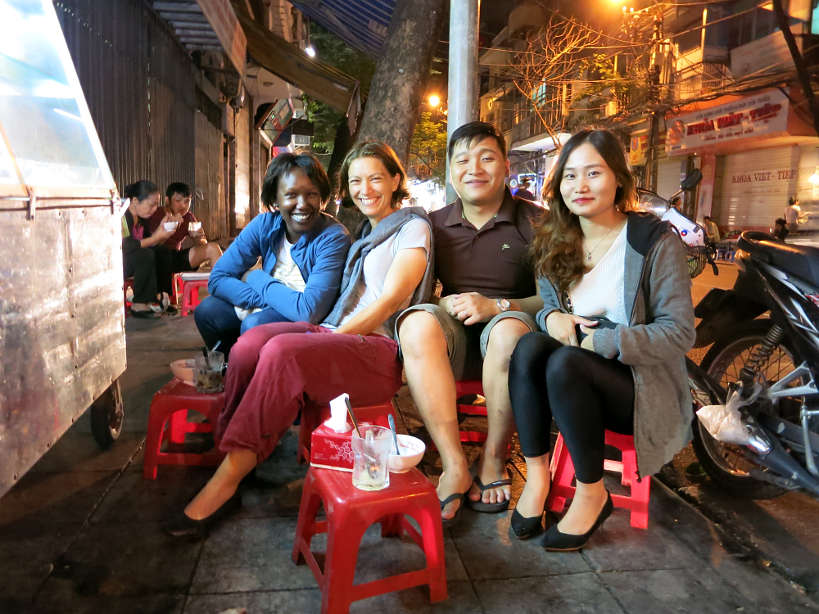 #4- Dedicated Restaurants – One Specialty Meal
When locals want to eat a particular dish, they usually go to a specific street vendor, that specializes in that dish. In Hanoi's Old Quarter, for example, there are particular streets that are named after specialties or crafts. For instance Hang Mam – street of fish sauces and Hang Thiec – street of tinsmiths and tin shops.
Often times, the best way to tackle the food in a city is to think of it as a progressive buffet. For dinner, for example, start with the vendor who specializes in spring rolls.
Then move to the lady who grills nem lui (pork on lemongrass sticks) on the sidewalk.
Then enjoy the best pho soup in town or traditional Vietnamese bánh mì sandwich and finally end your day with chè or Vietnamese traditional desserts from the renowned vendors in town.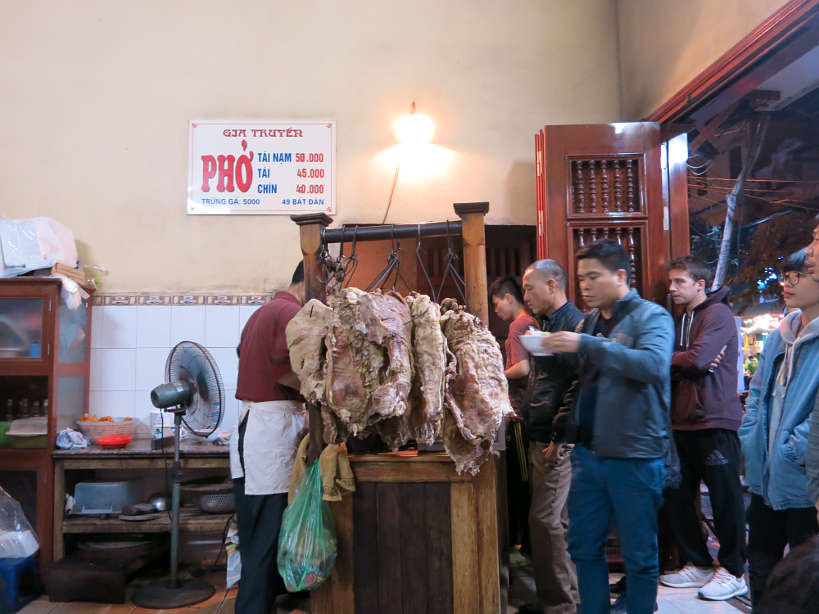 #5- Don't Miss Chè or Vietnamese Soup Desserts
There is no doubt that the food in Vietnam will surprise and you will want to taste the many dishes and specialties available.
In the same way, you will not want to miss the Chè. Chè are the most popular Vietnamese desserts. In Vietnam, it refers to any traditional sweet beverage, dessert soup or pudding. You will find many different kinds of chè, served either hot or cold.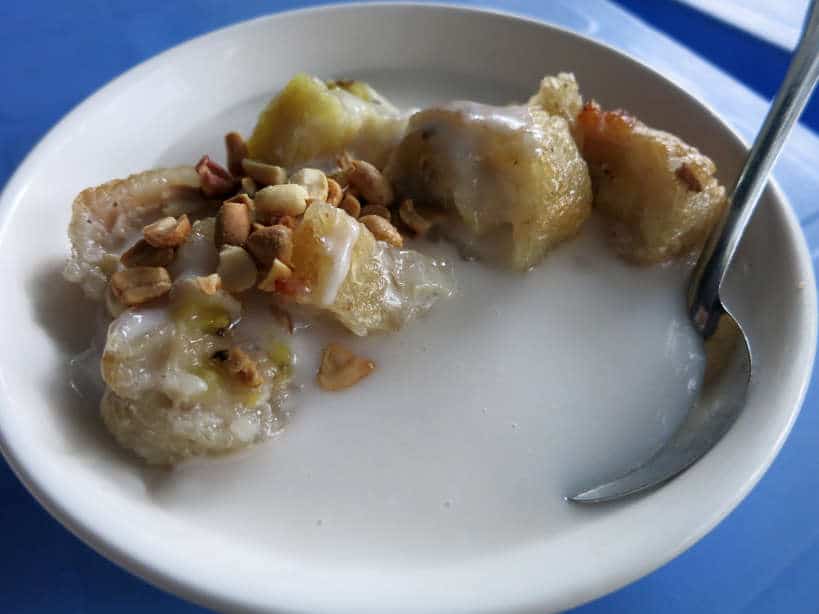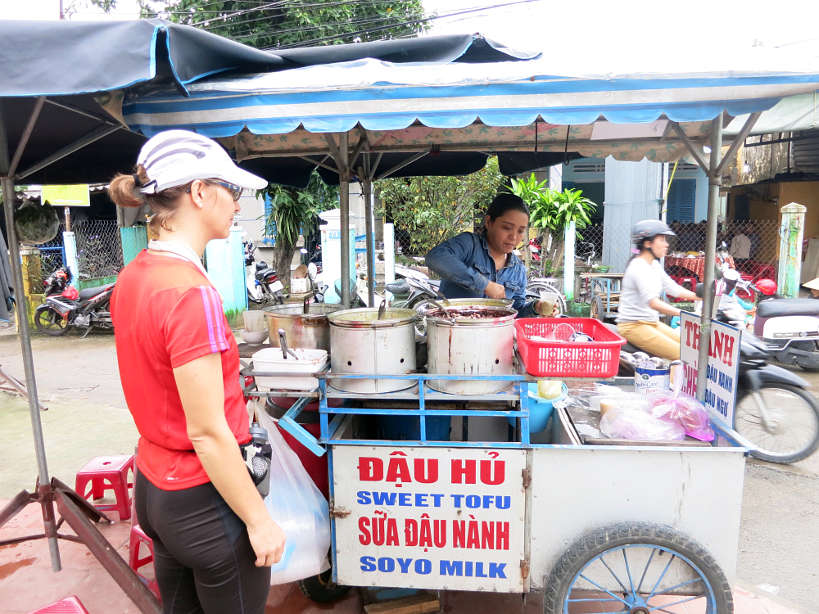 #6 – Tra Da, Beer and Coffee: the Drinks of Vietnam
When eating in Vietnam don't expect to find an extensive list of drinks to choose from. The Vietnamese don't really have the habit of drinking while they eat. They usually drink before or after a meal. Arguably, many Vietnamese dishes are soup based or come with a side soup making it easier to skip the drinks while eating.
Tra Da In Lieu of Water
However, if you find yourself thirsty at a restaurant, the most common drink you will find is called Tra Da. Tra Da is a very mild, yellow-colored iced tea and that doesn't have much taste. It is available in a big pitcher on every table and is a replacement for tap water.
As we wrote about in the article drinking water safely in Southeast Asia use caution when using the cups and make sure they are clean. Make a habit to use the straws available when using the cups on the table.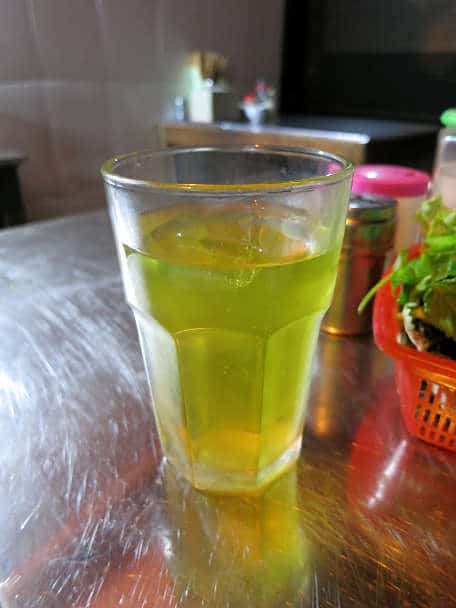 Vietnamese Beer or Bia
Beer is widely popular in Vietnam and very affordable. The price of a beer can be as low as 12,000 VND or $0.50 USD.
The brands of beer you will find vary by region. You will find "Bia Hanoi" in the north, and a variety of "Beer Saigon" in the south. In the central region, "Beer La Rue" is the most common beer.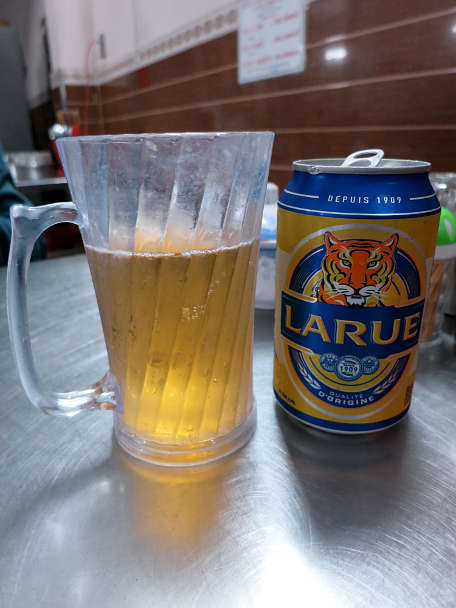 One experience not to miss while in Vietnam is to pay a visit to the Bia Hoi "restaurants". Here you can enjoy freshly made draft beer served in cold glasses with roasted peanuts for a very low price (less than $1USD). The beer itself is really light in alcohol and it is most enjoyed for its coolness.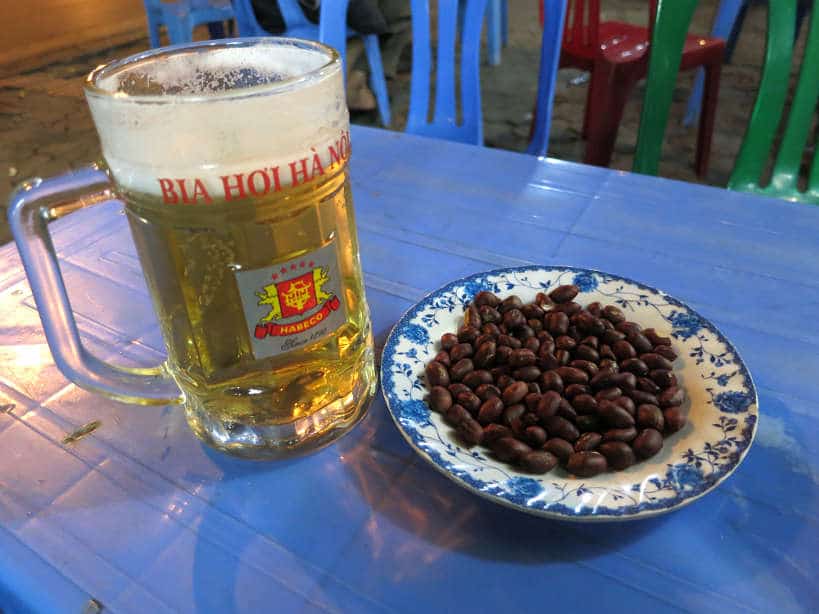 But more importantly, you will connect and "fit in" with the local as you see Vietnamese workers getting together after work to enjoy a glass (or more) of beers.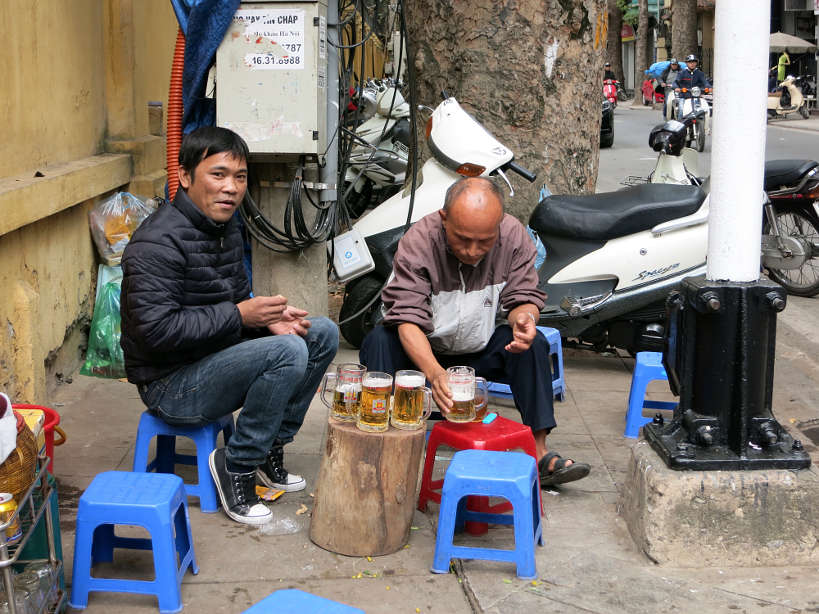 Coffee or Caphe
Vietnam is the world's second largest producer of coffee and the local brew is usually served with sweetened condensed milk and referred to as Caphe.
You will find different kinds of coffee that are served both hot and iced ranging from very strong, black or with condensed milk (called ca phe sua) in the South.
The most famous coffee in the north of Vietnam is Egg Coffee (ca phe trung). This is a dark coffee topped with egg yolk whipped with condensed milk into an airy froth.
Ca phe trung is to be enjoyed as a dessert. It is quite rich and tastes similar to tiramisu. One of the best Hanoi food you want to experience!
While in Vietnam, be sure to explore the rich coffee culture.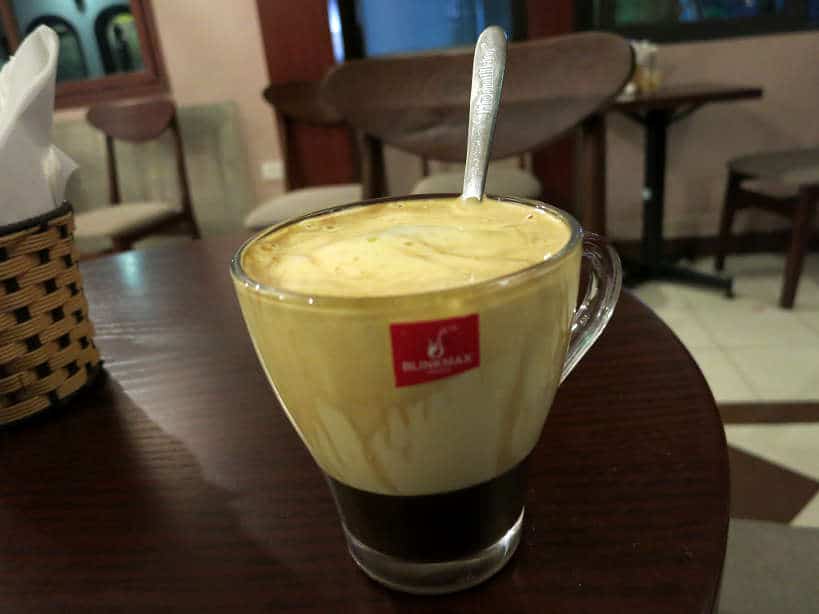 #7 – The Vietnamese Will Help You Eat Your Meal
The Vietnamese take a lot of pride in the preparation and presentation of their food. As noted earlier, many of the dishes are eaten with fresh herbs and accompanied with sauces. Often times, there is an order to the way the meals are eaten. The herbs are rolled together in a particular manner, with particular sauces that go with this type of food and not that one.
Da Nang in central Vietnam is one of the best places to eat the traditional local Vietnamese pancake, called Bánh Xèo. The first time we ordered this speciality, the server brought over rice paper, an overflowing bowl of fresh herbs, a thick sauce in a tiny dish, and sizzling pancakes cut up into slices.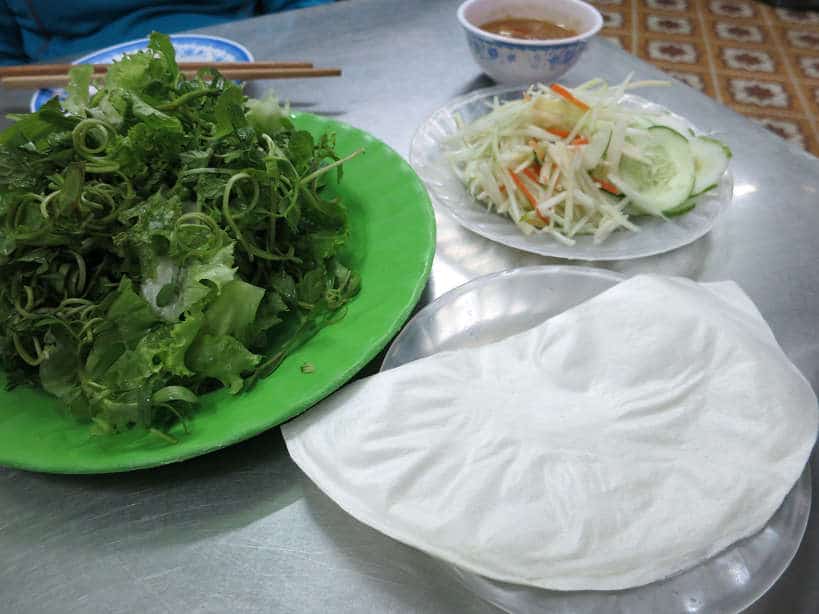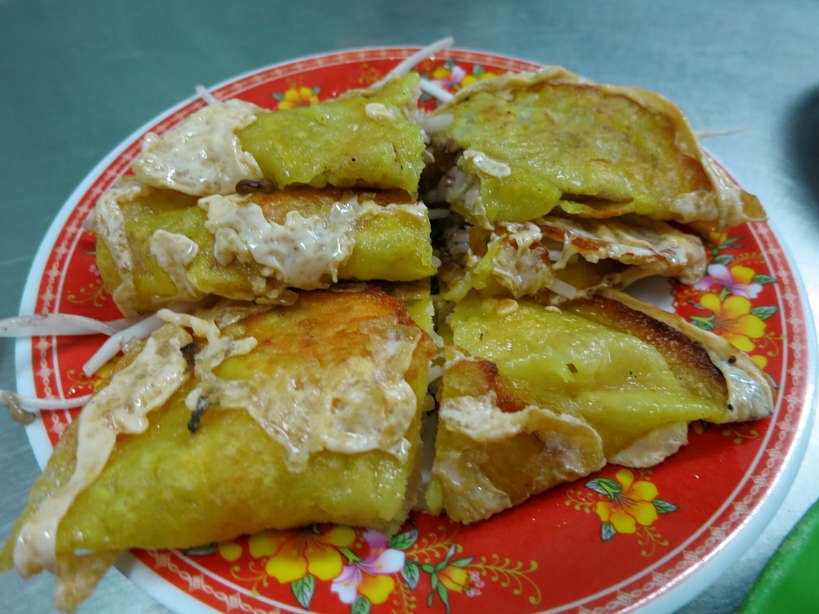 Everything arrived at the same time and we looked at each other not quite sure how to begin. Usually, we take our cue on how to eat unusual dishes from the diners sitting on tables close by.
Unfortunately, this time we were the only ones eating. A little unsure, Rosemary gingerly picked up a piece of rice paper and began stuffing everything in it. The cook from across the restaurant saw the chaos we were creating and quickly came over to show us the proper way to eat bánh xèo.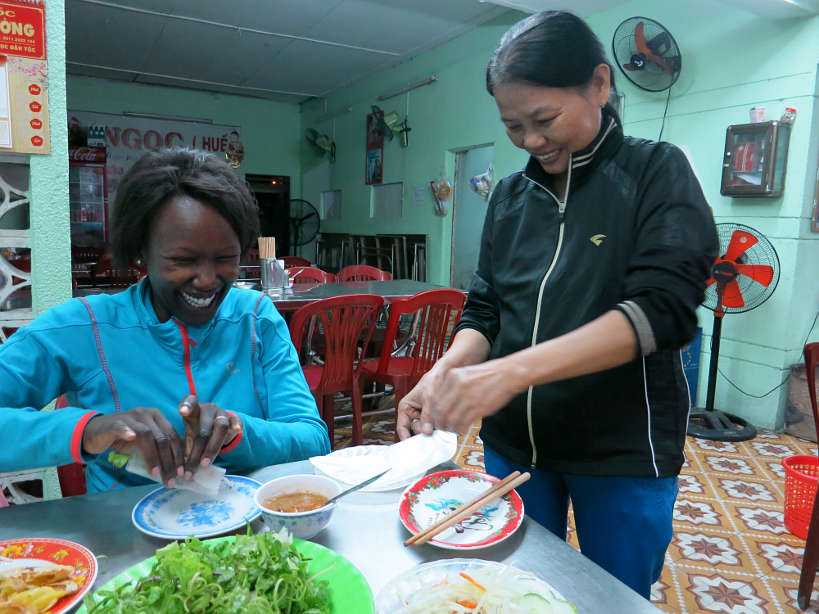 As we continued to discover other local specialties around the country, the cook or server would always come over to show us the best way to eat the dishes. Well intentioned, their main focus was to make sure you combine the right flavors together for a delicious experience.
When ordering the local specialties in Vietnam, don't be afraid to ask the best way to enjoy the dishes. Be open when the staff comes to your table to help you enjoy the full flavors and textures of each meal.
#8 – Food Trash Thrown Directly On The Floor
Don't be surprised when you see trash on the floor in local Vietnamese restaurants. The garbage on the floor is not necessarily an indication of a dirty restaurant, but behavior that is customary at local eateries.
You will see little blue or red plastic garbage bins underneath each table for throwing garbage including inedible ends of fresh herbs. What is striking is that the garbage does not always make it into the plastic bin. You will see white napkins littering the floor.
One thing to mention is that in Vietnam, the napkins are not the traditional napkins you might expect. They are actually pieces of paper that have been cut up into square non-absorbent napkins.
There is often only one plastic bin located at one end of the table, and it is meant to be shared by everyone sitting on a long table. Rather than ask people sharing the table to pass the bin around, locals would simply drop the food trash on the floor until someone comes along to clean it up later.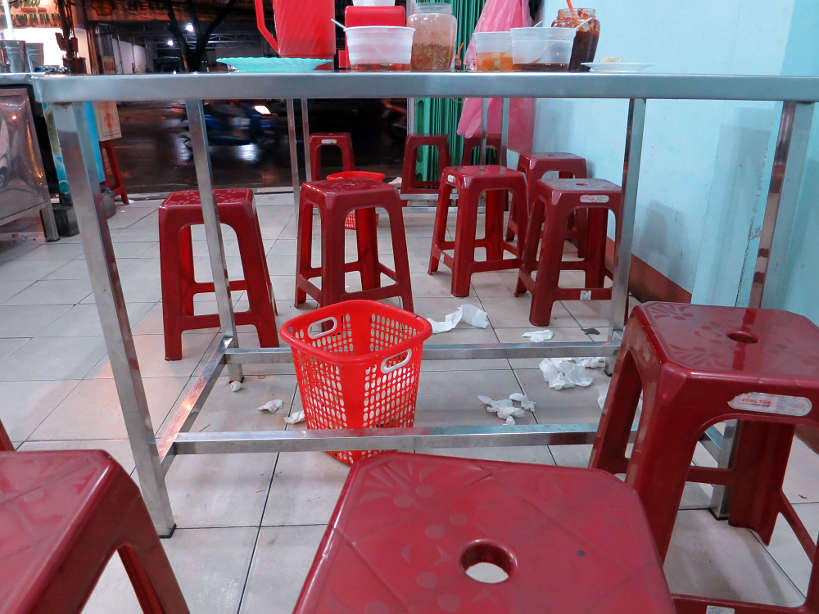 When seated low to the ground, this can make for a pretty disagreeable eating environment. All things considered, learn to ignore the trash on the ground and focus your attention on the delicious food in Vietnam.
#9 – Eat For Thousands and Live like a Millionaire in Vietnam
The Vietnamese currency is called the Vietnamese Dong (VND) and it is the second least valued currency in the world.
The typical meal at a family restaurant is between $1.10 and $2.50 per person, which means you will end up carrying a lot of Dongs for just one meal.
At the time of writing, $1 USD is equivalent to 22,800 VND. So, for a meal, you can expect to spend between 25,000 VND and 55,000 VND at most casual restaurants. Fortunately, the Dong comes in bills of 10,000 VND and 50,000 VND, which makes it easier to carry so much money around.
Be prepared to spend about 100,000 VND per day on food. You will find that in about one week, you can easily spend over one million Vietnamese Dong on food and drinks alone which equates to only about $44 USD!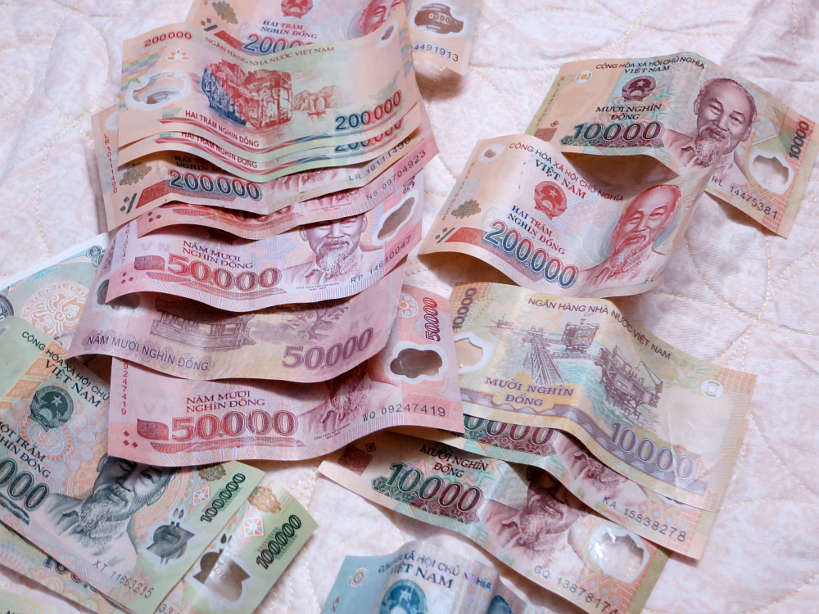 #10 – Helpful Phrases To Navigate the Food in Vietnam
The Vietnamese language compared to the neighboring countries uses the latin alphabet making it easier to read and memorize. Therefore, navigating the food is slightly more accessible or at least less intimidating.
Although English isn't widely spoken in Vietnam, we didn't find it much of an issue in making ourselves understood. Here are a few culinary words in Vietnamese, to help you order your next dish. And of course, your vocabulary will expand as you taste and discover new dishes!
Bánh refers to bread or cake and is used in many prepared foods in Vietnam. You will also find it used for many desserts and in the specialty Bánh Mi, the famous Vietnamese sandwich.
Com refers to cook Rice while Ga refers to chicken. One of the common dishes you will find is Com Ga or chicken rice.
Bún typically refers to noodle soup. Bò means beef which you will find in beef noodle soup like Bún Bò Huế a specialty from Central Vietnam.
The ones you cannot miss and that are mentioned previously are: trà for tea; chè for desserts and bia for beer.
And here are a few more words to help you on your trip to Vietnam:
Hello – Xin Chào
Goodbye – Tạm Biệt
Thank you – Cam On
Delicious- Ngon
While we don't intend to provide an exhaustive list of Vietnamese words, these will get you started and familiar with the language. The pronunciation is different from what you read and it takes a bit of practice and listening to the locals to get it right. We strongly encourage you to give it a try!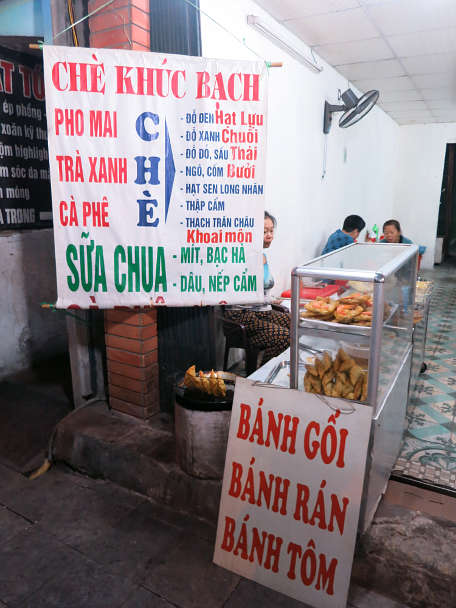 In Summary
As you travel through Vietnam, be prepared to travel through time. With an immensely rich culture, Vietnam fascinates with its communist history, the devastation marked by the Vietnam War, and the renewed economic center in Ho Chi Minh, with marked French influence.
The food in Vietnam is as fascinating and vibrant as its culture, with incredible flavors and tastes. Prepare yourself for a delightful culinary tour from the North to the South of Vietnam. Each region has unique local dishes and specialties that will compete for your attention and affection.
Vietnam has definitely conquered our palate and taste buds. Read more about the local specialties that make the food in Vietnam so tantalizing.
Have you had food in Vietnam before? In the comments below, share with us what surprised you the most about Vietnamese cuisine!
Savor The Adventure!
Love it? Pin it!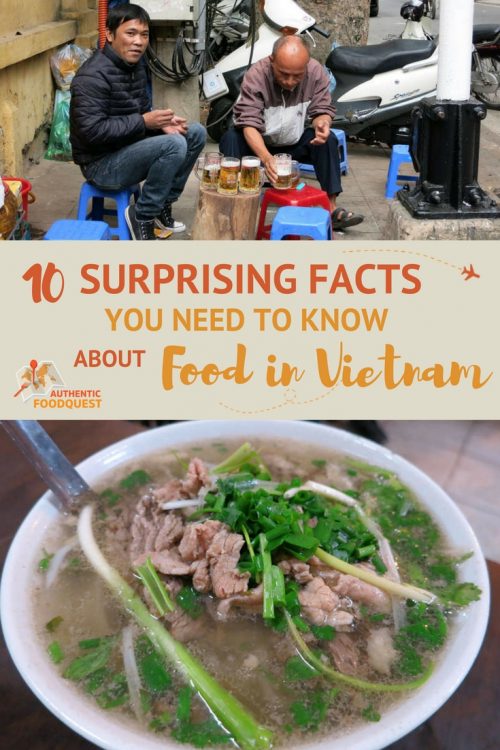 Disclosure: please note that some of the links might be affiliate links. If you click through and make a purchase, we may receive a small commission (at no additional cost to you). Thank you in advance for your support!
Claire is co-founder of Authentic Food Quest and a lover of simple and exquisite cuisine. Since 2015, with her partner, Rosemary, she has been traveling the world as a digital nomad, creating content about local food experiences.
Her advice from visiting 45 countries and more than 240 food cities has been featured in Lonely Planet, Business Insider, Honest Cooking, Food Insider, and Huffington Post. She has also co-authored three books, including one in collaboration with Costa Brava Tourism.
An ex-mechanical engineer, Claire is responsible for SEO, keeping the website running, and the fun food & travel videos on YouTube.
When Claire is not eating, she can be found running or cycling. Find out more about Authentic Food Quest