"Here's a tip for you Xavier told us in a cooking class in Spain. "The right way to crack an egg is to hit two eggs together and then pour the yolk and egg into a bowl."
Learning tips like these is one of the many reasons we take a cooking class on our travels.
Taking a cooking class is one of our favorite activities on our trips. Each time we visit a new country, we take a cooking class to learn more about the local specialties.
In these cooking classes, we learn about the local ingredients, emblematic dishes as well as pick up new cooking skills.
If you haven't taken a cooking class on your travels, you want to consider taking one.
Here are 10 fabulous reasons to take a cooking class on your next trip.

What to Consider When You Take A Cooking Class on Your Travels
Cooking Class Structure
While all cooking classes will teach you about the local food, the experiences offered vary greatly.
Some cooking classes take place in a cooking school and everything is methodical and structured.
Other cooking classes are in small cooking studios or even in the instructor's home. In these smaller settings, the structure is much more fluid.
Depending on the experience you want, you may be more comfortable with something more or less structured.
Cooking Class with Optional Market Visits
Some cooking classes will offer a market visit before the class to pick up and learn about the local ingredients.
In these cases, the cooking classes take more time because they include an extra hour or so for the market visit.
Cooking classes that do not offer market visits will have the ingredients chopped up and ready for the cooking experience.
Not surprisingly, these classes are shorter than the ones that include a market visit.
In some cases, you might not see the raw ingredients in their natural state.
If you have the possibility, we recommend to take cooking classes with market visits.
We love visiting the markets, meeting the vendors and then learning to cook the local ingredients.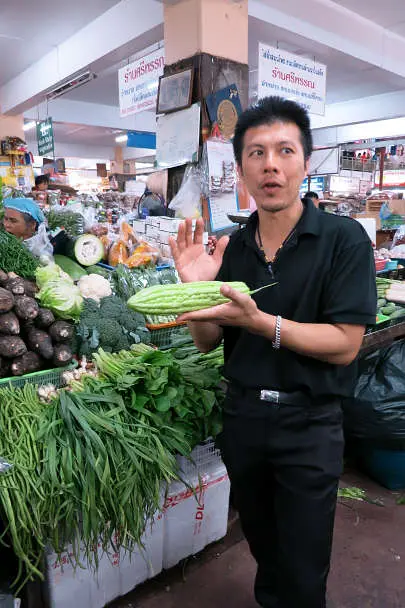 Why You Should Take A Cooking Class on Your Travels
There are many great reasons for taking a cooking class while traveling. Here are some of the main reasons why we believe taking a cooking class should be part of your travel adventures.
1 – Learn Tips to Improve Your Cooking Skills
In our cooking class in Hoi An, Vietnam, Claire got the best tips on how to use a knife and chop safely.
Chef Danny, a master with knives patiently taught Claire how to work with a large knife.
The trick is in correctly gripping the knife at the top and bottom and making small precision cuts.
In cooking classes, you learn simple techniques that can make cooking at home so much easier.
Our cooking class in Hoi An has made Claire much more confident when chopping vegetables.
If you want to have more confidence and fun in your kitchen at home, take a cooking class and you'll be surprised at what new skills you'll pick up.
READ MORE: about our Hoi An Cooking Class in Vietnam
2 – Immerse Yourself in the Local Culture
Peru, the "Gastronomy Capital of South America" is one of the most fascinating countries we've visited for food.
After exploring the authentic dishes of the country, we wrote our second book Authentic Food Quest Peru.
Immersing ourselves in the local culture through cooking remains a highlight of the trip.
Criollo dishes are the everyday foods locals in Peru eat at home. These are the comfort foods visitors to Peru should experience.
With a Peruvian chef in a cooking class, you get to make classic dishes like Causa, Ají de Gallina, Lomo Saltado and more.
Even more than the cooking, you'll learn the stories about the dishes and the delightful fusion of flavors from Peru's immigrant history.
Taking a cooking class on your travels is an immersive way to experience the local culture.
READ MORE: about the 6 Criollo Dishes You Should Eat in Peru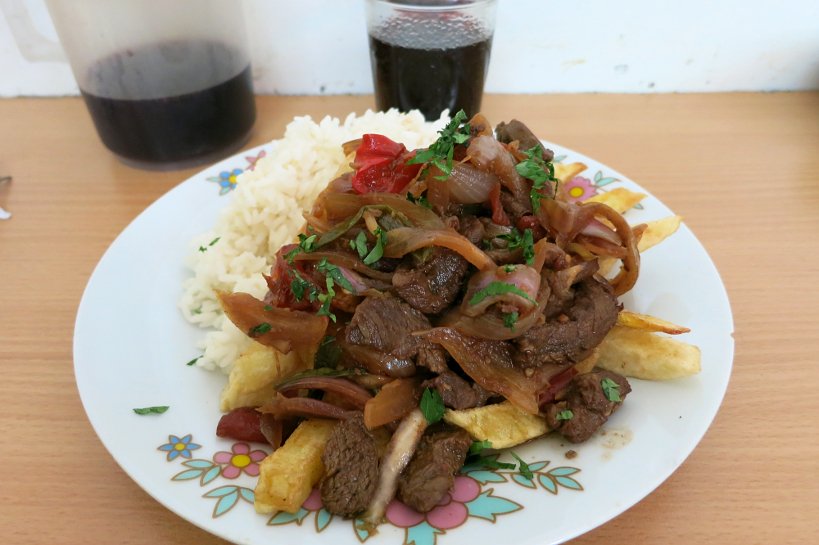 4 – Connect With Other Food Travelers
One of the exciting aspects of travel is meeting other travelers. When you take a cooking class, the people you'll meet are open and friendly.
With a shared passion for cooking, the conversation flows naturally around food and local food related activities.
We've met fascinating travelers in Laos and Cambodia and some we are still in touch with.
While taking a cooking class in Ho Chi Minh City, Vietnam, we met Sheila, a passionate foodie from India.
Sheila had not planned on taking a cooking class in Vietnam, but after her schedule opened up, she joined our class at the last minute.
Listening to Sheila was interesting because she gave us a new perspective about the food in India.
As we were learning how to make Cơm Tấm, a popular Vietnamese dish made from broken rice, Sheila talked about the similarities with Indian cuisine.
The discussions with Sheila and the other travelers as we enjoyed our meal was stimulating.
While we haven't been to India yet, we appreciated the local insights into the similarities between the two cuisines.
You never know who you'll meet in a cooking class, but you can be assured of interesting conversations centered around food
READ MORE: about our Vietnamese cooking class in Ho Chi Minh City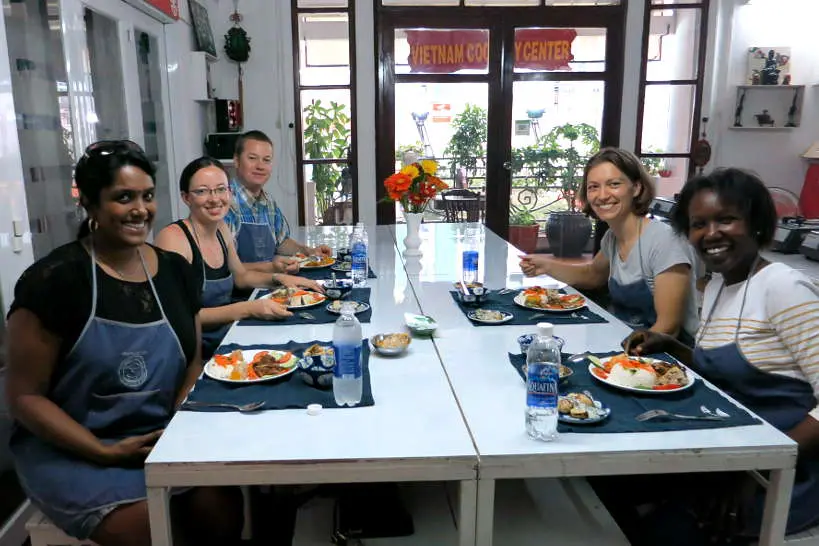 5 – Connect With Locals and Get the Inside Scoop
Taking a cooking class is a great way to meet locals and get to know their culinary traditions at home.
Some of the best experiences we've had with our cooking instructors have been around the table, eating and building connections.
Passionate about food and cooking, the instructors are a wealth of information. You can pick their brains about their favorite local markets, restaurants and food stores.
Based on recommendations from cooking classes in Chiang Mai and Spain, we enjoyed delightful meals at local restaurants.
In a cooking class in Paris, we connected with our instructors in a personal manner. We learned about their daily activities and favorite things to do.
Connecting with local cooking instructors is a wonderful way to get honest answers to local food questions you may have.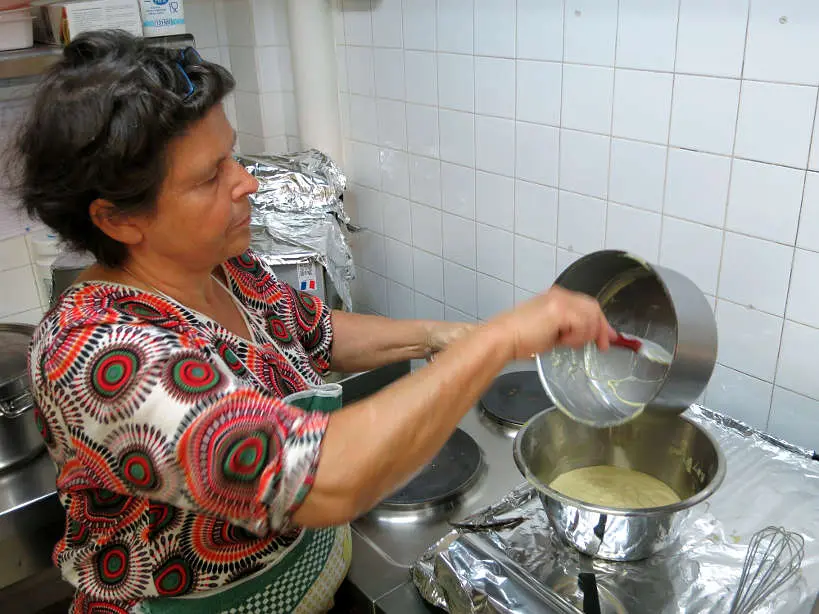 10 – Relieve Your Travel Memories at Home
When we got back from exploring the local food in Argentina, we started making chimichurri, a condiment that accompanies meat dishes.
Also, from Argentina, faina, a gluten-free flatbread made from chickpeas became part of our regular staple.
From Vietnam, we discovered wide uses of Nước mắm, Vietnamese fermented fish sauce and started using it regularly at home.
Since our trip to Bulgaria, we now cook regularly with a local spice called tsubritsa or Summer Savory, similar to thyme.
Taking cooking classes is a great way to discover local recipes, new ingredients and then recreate them at home.
Every time we cook a meal with ingredients from our travels, we relieve our cooking class experiences and taste the country again.
Taking a cooking class may inspire you to learn more. In addition to the recipes you learned, you might even want to buy a cookbook or take another class back home.
Your travel experience doesn't have to end when you get home. Sign up for a local cooking class at home and keep broadening your knowledge of the food in a particular country or region.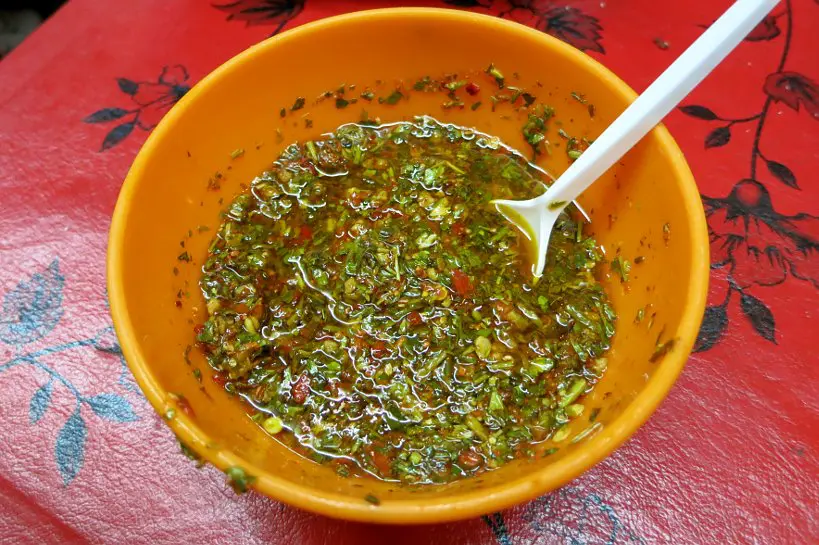 AUTHENTIC FOOD QUEST TIP: If you are looking for simple, delicious, and easy to make travel-inspired recipes check out the RECIPES section on the website. Find recipes from Argentina, Chile, Portugal, Vietnam, and many more. Recreate these recipes at home and taste your travels again.
See more cooking classes in your local area or on the Cookly platform.
Have you taken a cooking class on your travels? Tell us in the comments below the favorite thing you learned to make?
Savor The Adventure!
Love it? Pin it!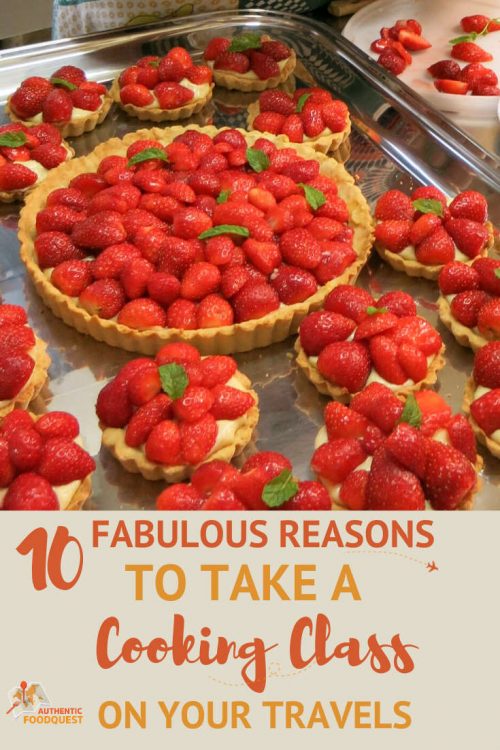 Disclaimer: This page contains affiliate links. That means at no extra charge to you, we earn a small commission when you purchase using these links. Thank you for your support.
Rosemary is the editor-in-chief and strategist at Authentic Food Quest.
Traveling slow since 2015 with her partner, Claire, she has explored the cuisine in 45 countries and more than 240+ culinary cities.
Her writing about local food specialties has been featured in Lonely Planet, Business Insider, Honest Cooking, Food Insider, and Huffington Post.
As a food and travel writer, Rosemary has co-authored three books, including one in collaboration with Costa Brava Tourism.
Rosemary is an avid runner when she's not eating and exploring new destinations. She has run ten marathons and counting.
Before Authentic Food Quest, Rosemary held senior-level strategy positions in advertising. 
Find out more about Authentic Food Quest