Porto is a quaint old city built on the hillsides, overlooking the Douro river in northern Portugal. Its charming historical center is a UNESCO World Heritage Site worth visiting.
One of the best ways to explore Porto is to walk its narrow, windy streets and discover its hidden staircases. Full of cultural insights, Porto has much to offer when it comes to historical sites.
Pair a Porto walking tour with local specialties, including an olive oil tasting, and you get a delicious introduction to Portugal's second city.

Stunning Azulejos at São Bento Train Station
To navigate us through Porto, Christiane, a local guide with Eco Trilha Tours, met us at the main train station to start our Porto walking tour.
The São Bento Train station is one of the most beautiful train stations in the world. This station is famous for its floor-to-ceiling azulejo tile work that tell the story of Portugal's history and royalty, and progress of transportation.
These intricately designed blue and white tiles were placed over an 11-year period (1905-1916) by the artist, Jorge Colaço. One of the benefits of being with a local guide was getting a deeper understanding of the scenes in the tile work and the historical context.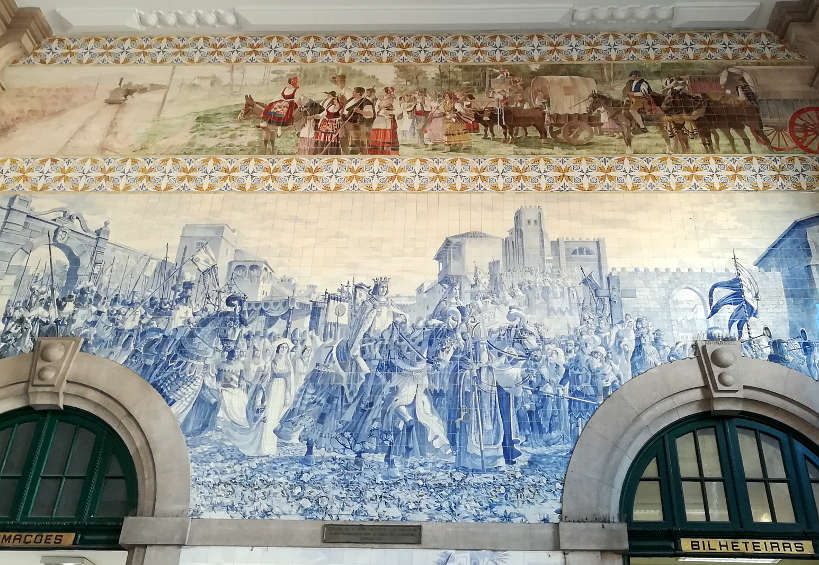 As you walk around Porto, you'll notice other buildings and most notably churches with exquisite azulejo tiles. On Santa Catarina street, one of the busiest streets in Porto, is the must-visit, Capela das Almas also called Saint Catherine's Chapel.
The exterior walls are almost completely covered with blue and white ceramic tiles depicting scenes of the life of Saint Francis of Assisi and Saint Catherine, the patrons of the chapel.
Stroll around the city leisurely and let yourself be amazed by this beautiful art.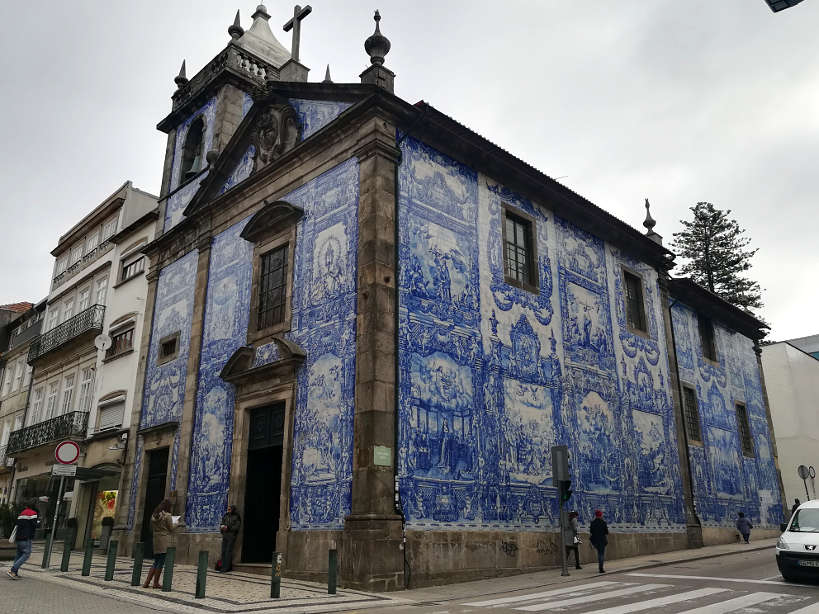 Taste Portugal at Casa Portuguesa do Pastel de Bacalhau
As we made our way through the narrow roads while admiring the historic architecture, we made a quick stop at Casa Portuguesa do Pastel de Bacalhau.
The Portuguese are obsessed with bacalhau or codfish and this particular new restaurant concept has put a new twist on the traditional Pasteis de Bacalhau or salted cod cakes.
We learned from Christiane, our guide, that the chef has combined the traditional codfish cakes with the oldest and most recognized Portuguese cheese, Serra da Estrela Cheese to create one delicious Pastel de Bacalhau.
We went back later after the Porto walking tour and enjoyed the delightful treat served with a glass of white Port wine.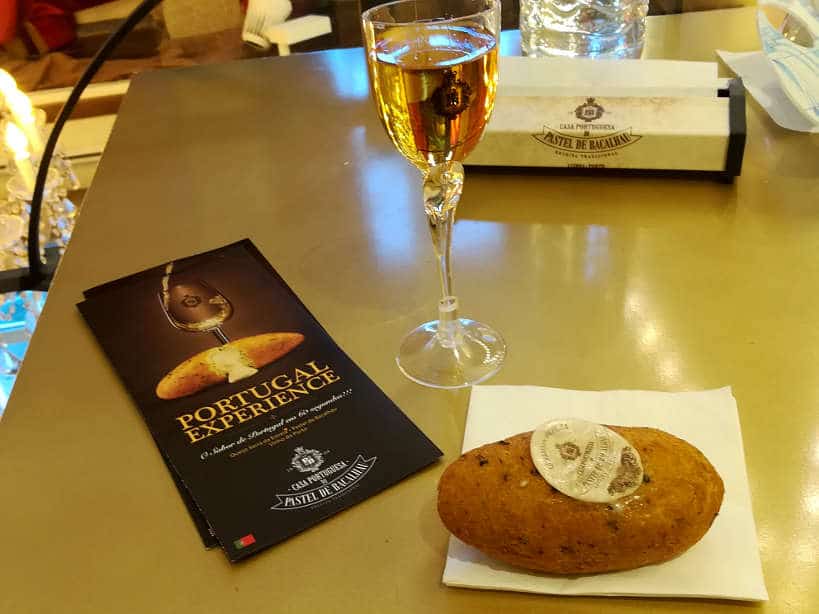 Highlights of the Porto Walking Tour
Impressive Torre dos Clérigos
One of the main symbols of Porto we visited was the famous Igreja dos Clérigos or Church of Clérigos. This baroque masterpiece dating from the mid-18th century was designed by Italian architect, Nicolau Nasoni.
As Christiane shared, the original plans called for 2 towers, but due to lack of funds, only one tower was constructed. While we didn't go up the 76 meter high tower, there is an inner staircase that takes you to the top where you have some of the most beautiful panoramic views of the city.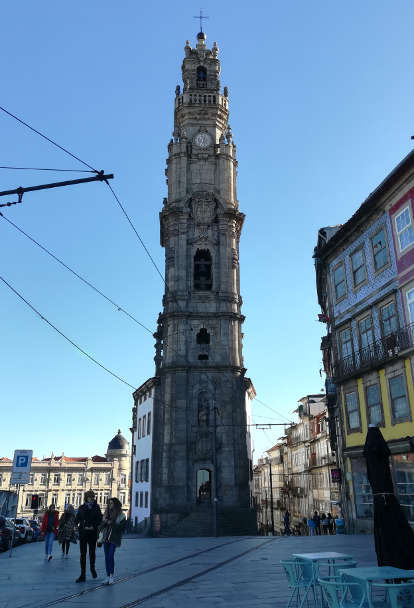 The Bookstore that Inspired Harry Potter
Just about a five minute walk from the center of Porto is Livraria Lello, which has often been featured as one of the most beautiful bookstores in the world.
Rumor has it that J.K. Rowling's inspiration to write Harry Potter has begun in Porto and in this library. Apparently, J.K. Rowling lived in Porto working as an English teacher and used to write and drink coffee on the second floor of Lello's bookstore.
There are great similarities to the Lello's bookstore staircase and the one described in Hogwarts. It is also believed that the Hogwarts' costume were inspired traditional black suit and black coat costumes worn by Portuguese students.
The bookstore draws long lines of tourists and charges a small entrance fee. We enjoyed walking around the bookstore and admiring this beautiful and historic piece of Porto.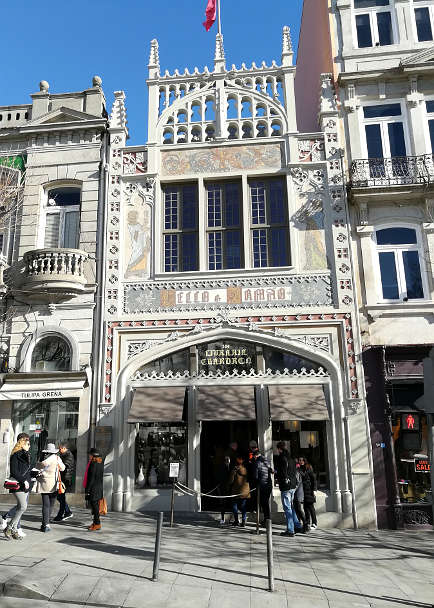 Porto Olive Oil Tasting at  Mercearia das Flores
A Ceremonial Olive Oil Tasting
One of our favorite stops on the Porto walking tour was at Mercearia das Flores, a local grocery store specializing on Portuguese products from small producers.
The highlight was the olive oil tasting from three different regions of Portugal. Portuguese olive oil is among the best in the world, with the vast majority coming from the Alentejo region in the south.
This olive oil tasting was quite fascinating. You place the cup of olive oil in your hands to warm it to body temperature. You take a deep breathe and smell the aromas before taking a small sip. It was a very ceremonial experience.
The taste of each Portuguese olive oil was unique. The oils were from the north of Portugal, the Douro and Trás-os-Montes regions and well as the award winning Galache olive oil. Each had a distinct flavor from spicy, bitter to smooth.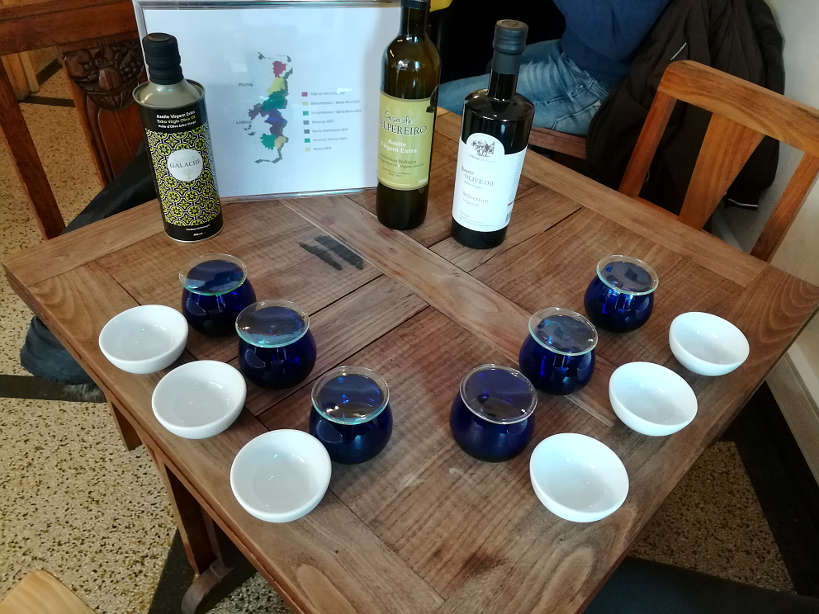 Delicious Portuguese Regional Specialties
Along with the olive oils, we sampled three different types of Portuguese cheese. There was a goat cheese, sheep cheese and a mix of both. This was accompanied by different cuts of presunto (ham) including chorizo.
To complete the experience, a refreshing Portuguese Vinho Verde white wine made was served.
All the products were exceptional. You could really taste the quality and rich flavors in every bite.
The knowledgeable staff from the store took time out to share a bit about the local producers of the olive oils, cheese, wine, and ham. There was a sense of pride and desire to help us make the most of the experience and flavors. The cheese, presunto, and wine were excellent and we could have spent all day happily sampling all the local delicacies.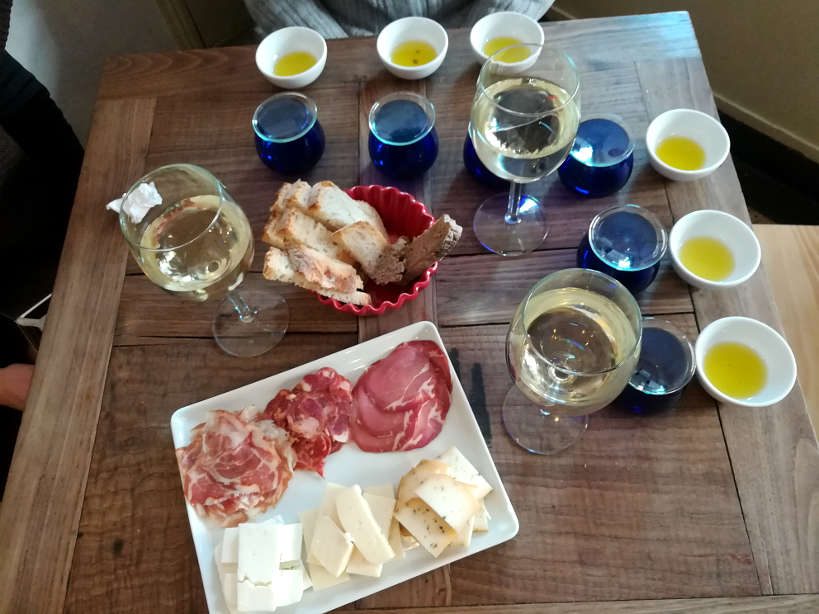 Architectural Wonders of the Porto Walking Tour
Breathtaking Panoramic Views of Porto
One of the most beautiful views of the city is from the Dom Luís I Bridge above the Douro River. This double deck metal arch bridge links Porto to Vila Nova de Gaia where the famous Port wines are aged.
The upper deck is open to only to pedestrians and the metro tram. From there, you can leisurely walk and admire the Douro river, Vila Nova de Gaia and Porto from above.
Underneath, you can see the Ribeira, Porto's River Bank, with its charming cafe and restaurants.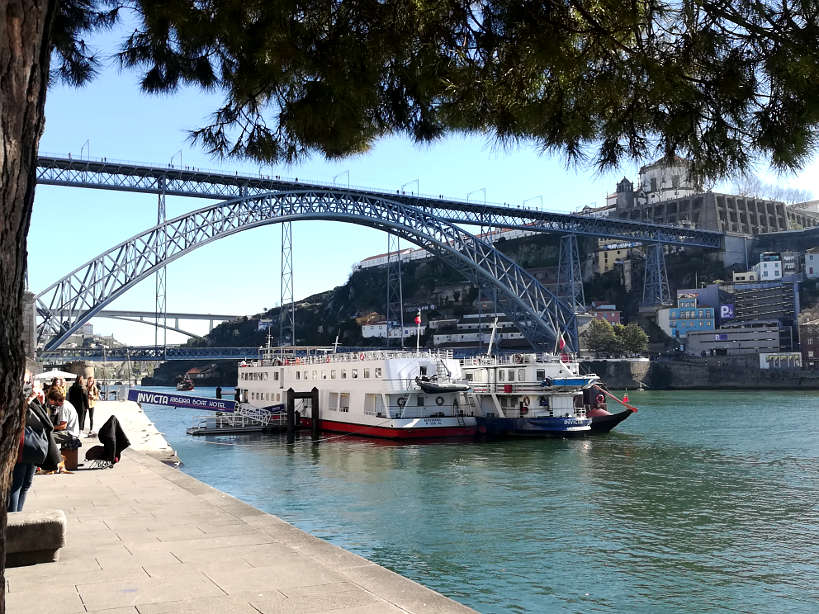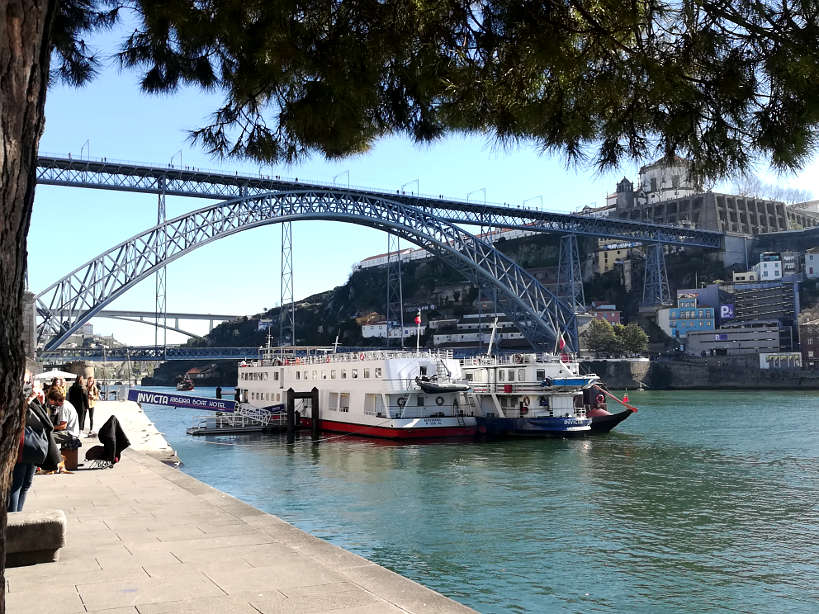 Majestic Porto Cathedral
On our way to the Ribeira, we stopped by the impressive Cathedral,  Sé do Porto, to admire the magnificent silver altarpieces. Originally built in the 12th century, this remains one of Porto's most important religious buildings.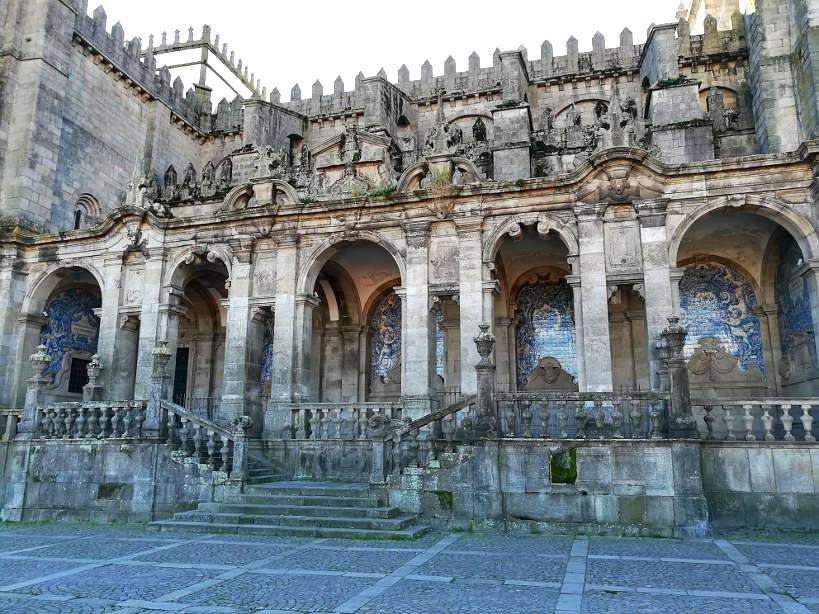 With the insights from our local guide, we learned that the church was preserved by the locals who covered up the silver to protect it from the French invasion of Portugal.
The Cathedral sits on a square which offers impressive views over the city, Douro River and the wine cellars on the waterfront. You don't want to miss this stop on your Porto walking tour.
From there you can leisurely walk down to the Ribeira through the narrow streets and stairways.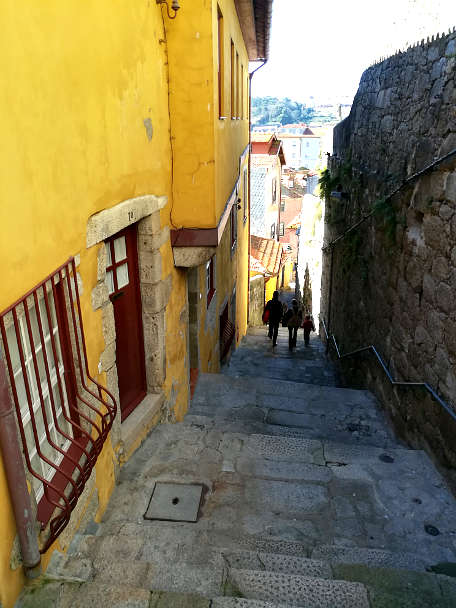 Unusual Historical Site
Before heading to our final tasting, we made a detour to visit the first McDonald's in Porto.
You might wonder why in the world we would you stop at such an iconic American fast food joint?
Well, the location of this McDonald's is unlike any other. This McDonald's opened in a space that once belonged to an iconic Portuguese coffee shop in the 1930s. Known as McDonald's Imperial, it was allowed to take on this historical location only if it agreed to maintain the unique Art deco design and architecture.
As a result, it makes for a unique McDonalds with the Art Deco facade and a majestic interior. Although very impressive, we were disappointed that a fast food restaurant has inherited such a beautiful space.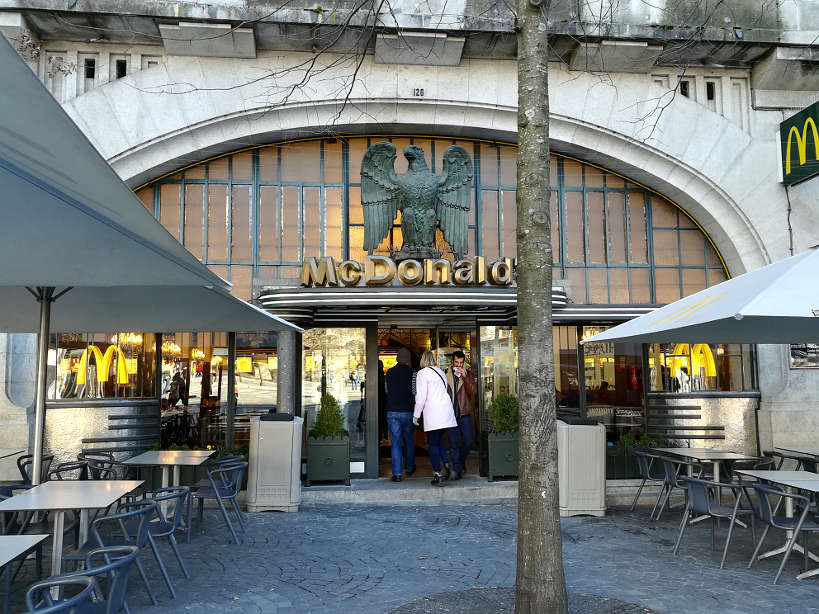 Sweet Treats at Confeitaria do Bolhão
As we finished our Porto walking tour, Christiane recommended visiting Confeitaria do Bolhão, one of the oldest and most popular pastry shops in Porto. Unfortunately, on the day of the tour, it was closed.  We went back a couple days later to sample some of the local sweet specialties.
Confeitaria do Bolhão is a traditional bakery and pastry shop opened since 1896. Located across the Bolhão Market in downtown Porto, it's always been a popular breakfast stop for locals on their way to the market.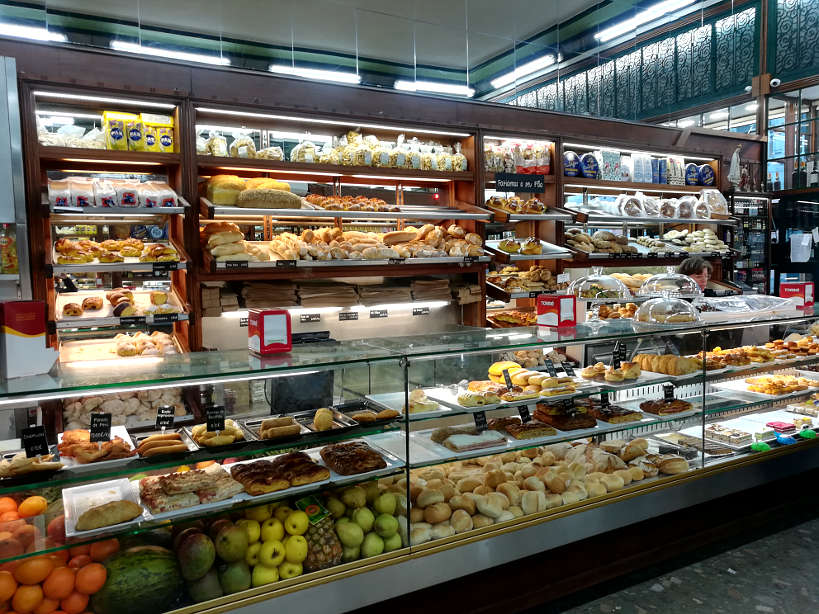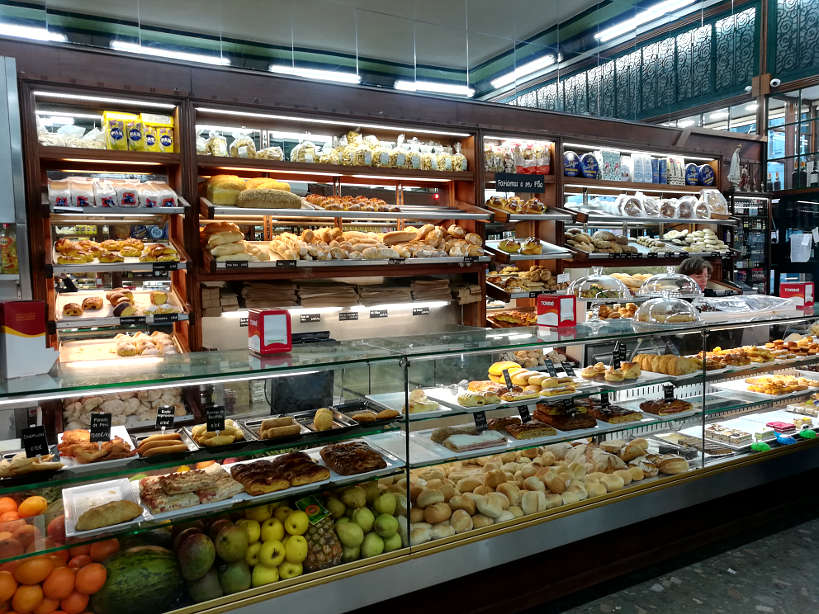 The pastry shop was closed for 10 years at the end of the 20th century before being revived by Portuguese immigrants. Since then, it has become even more popular with locals and tourist alike.
You will find many delicious sweets and savory bites. One of their specialties is the Tigelinhas do Bolhão. This pastry is a custard tart made with eggs and almonds. It is quite sweet, with a soft filling and crunchy crust. This stop should not be missed on a Porto walking.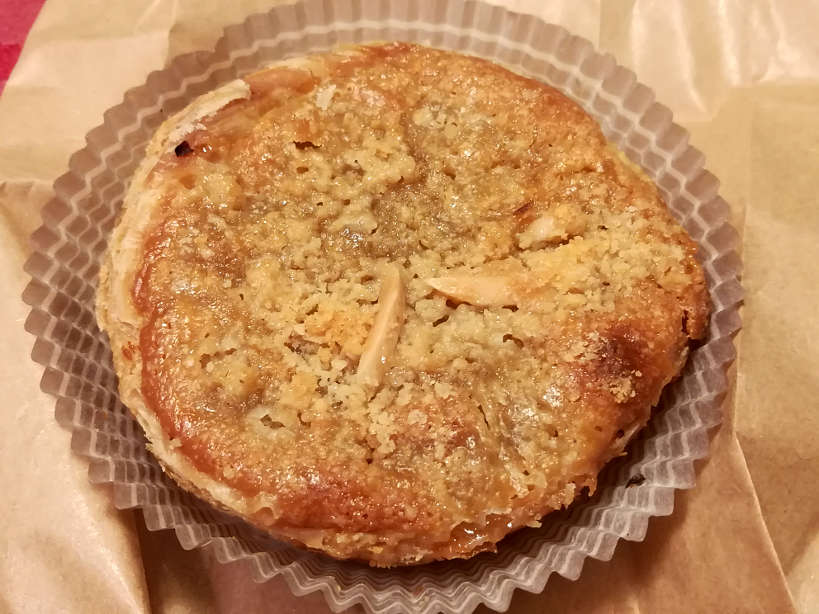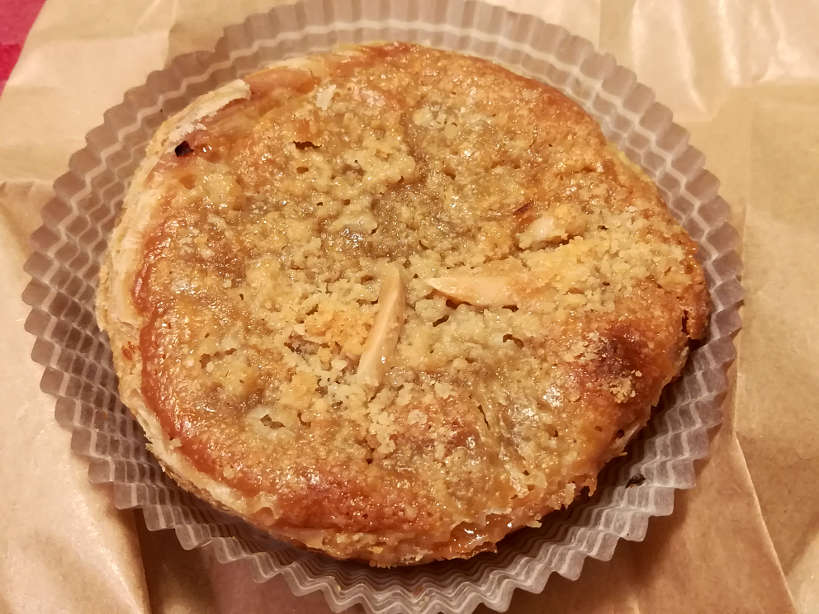 In Summary
It is no surprise that Porto was selected European best destination to visit in 2017.
Porto is not only a picturesque city, it is also a medieval center with a wealth of cultural sites.
Best enjoyed by foot, you can easily walk up and down its narrow streets and quaint stairways. The River Bank offers many charming and relaxing cafes and restaurants terrasse to rest and delight on local wines and foods.
Although Porto is very easy to navigate on your own, you will learn unique insights with a local guide. In addition, you'll have the opportunity to taste delightful Portugues specialties including olive oil, cheese and wine along the way.
Additional Information for your Porto Walking Tour and Olive Oil Tasting
Tour: Book your Porto Walking Tour and Olive Oil Tasting directly on Eco Trilha Tours website
Duration: Approximately 4 hours. Bring comfortable walking shoes.
Customized food tour led by a knowledgeable Portuguese resident.
Where to Stay in Porto
To easily walk around and discover Porto city, you want to stay in a convenient location.
Feels Like Home Santa Catarina Prime Suites is a wonderful B&B conveniently located in downtown Porto, steps away from the main sites. The rooms and suites are in a traditional Porto building, which was recently fully refurbished and features modern comforts.
A wonderful breakfast is included in a gorgeous setting, as well as an afternoon tea/coffee.
Enjoy a "real" feel of home in central Porto!
Find out What kind of food traveler are you? Take our quiz and get your food traveler profile in minutes!
Savor The Adventure!
Special thanks to Eco Trilha Viagens for having us on this Walking Porto Tour. All views and opinions expressed are our own. Full bellies and happy taste buds too!
Love it? Pin it!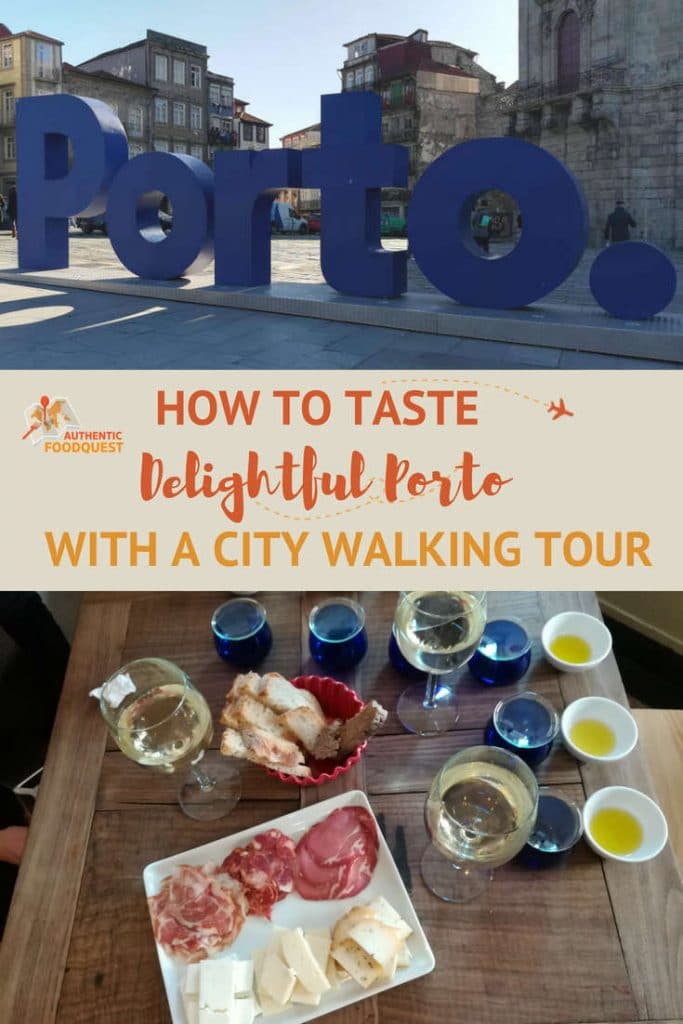 Claire is a culinary explorer and the engineer brain behind Authentic Food Quest. Together with her partner, Rosemary, they created Authentic Food Quest to inspire people to travel deeper through authentic food. Through food, they believe, people can have more meaningful connections on their travels. Take the quiz and find out your Food Traveler Profile.