This article has links to products and services we recommend, which we may make a commission from.
What is Teh Tarik?
Teh Tarik is a simple yet flavourful milk tea that is very popular in Malaysia. Found at coffee shops or Kopi tiam and Indian Muslim Mamak eateries, teh tarik is consumed throughout the day. from breakfast to dinner.
Interestingly, teh tarik is also the official drink for football fans in Malaysia. It is as popular as beer is to US or European fans.
Teh Tarik translates to "pulled tea" where Teh means tea and Tarik means pulled. Its name comes from its pulling preparation which is an art and act of showmanship.
The tea is poured from one pitcher to another as high as possible, without ever spilling a drop.
This pulling process is what makes teh tarik very frothy and light. It also improves its flavor and mixes the tea with condensed milk thoroughly.
Deeply embedded into Malaysian local culture, teh tarik is recognized by the government as an important part of Malaysia Food Heritage.
Outside of Malaysia, teh tarik is also popular in Singapore and around the world.
History of Teh Tarik
Teh Tarik was brought to the Malay Peninsula by Indian Muslim immigrants.
Prior to World War II, they used to drink and serve chai because chai tea leaves were common and cheap. It was prepared with black tea and full cream milk.
However, after the war, chai tea leaves became expensive forcing the immigrants to innovate.
Using the discarded tea leaves after the best tea was sold to the British, immigrants used the remains.
Tea powder derived from the broken tea leaves made a strong bitter tea. So bitter was this concoction, that in order to balance it out, condensed milk was added.
The condensed milk reduced the bitter taste giving birth to this much-beloved pulled tea. A popular street beverage, teh tarik became an important part of the local food culture.
This pulled tea is known as the national drink of Malaysia.
Making teh tarik is a sport with competitions held for the most creative way of "pulling" the tea. Pulling is an important part of teh tarik to mix the tea effectively and produce a thick and foamy top.
Another interesting way in which teh tarik rose to popularity is through a video game called Coffee Talk.
Coffee Talk is a visual novel and its gameplay follows a barista in a coffee shop who listens to the concerns of its patrons.
The game features many real-life beverages from different parts of the world, one of which is teh tarik from Malaysia.
The players make Teh Tarik and learn more about the beverage as they play Coffee Talk.
RELATED: 10 Unusual Malaysian Drinks To Experience Like a Local
Discovering Teh Tarik in Penang, Malaysia
We were pleasantly surprised when tasting Teh Tarik for the first time during our visit in Penang, Malaysia.
Penang, considered the food capital of Malaysia, offers diverse and mouth watering local foods.
And, unique local drinks are part of the culinary highlights.
While exploring the diverse drinks, we were captivated by the foamy, creamy and delightful taste of teh tarik.
Drinking this Malyasian pulled tea by itself or accompanying Roti Canai, an indian flatbread, was always enjoyable.
And, we're excited to share this teh tarik recipe for a taste of our favorite Malaysian tea.
Teh Tarik in Malaysia is more than just a cup of tea with condensed milk. It is a revered Malaysian drink that is deeply embedded into the local food culture.
READ MORE: The Best of Penang Food: Our 9 Most Beloved Authentic Dishes
Teh Tarik Recipe Tips
Which Tea to Use To Make Teh Tarik?
Loose Leaf Tea
For the best teh tarik experience, choose loose leaf tea which is usually the highest quality tea. Loose leaf tea is made of whole unbroken tea leaves which have the most flavor and yield the best tasting tea.
Tea sachets and tea bags can also work if looking for convenience or are short on time. However, the flavors may not be as intense.
Ceylon Black Tea
Authentic teh tarik tea is made with strong black tea and we recommend Ceylon loose tea. Ceylon tea from the mountains of Sri Lanka is strong and bold bringing out the flavors in this teh tarik recipe.
If you're not able to get hold of loose tea leaves, you can use Lipton black tea sachets and steep them.
Substitute Teh Tarik Sachet
If you want to make this Malaysian tea fast and not follow this teh tarik recipe, you can order it from Amazon.
Teh Tarik sachets are available for ease and comfort of making teh tarik at home. You simply steep the teh tarik sachets in hot water and enjoy the milk tea with little effort.
How Much Caffeine in Teh Tarik
Tea contains caffeine though generally less when compared to coffee. The amount of caffeine in both tea and coffee vary based on the processing and brewing methods used.
Ceylon tea which is tea from the Sri Lanka highlands is available in several varieties, like green, white and black.
This teh tarik recipe calls for the use of Ceylon black tea. Ceylon tea, like other teas, contains a small amount of caffeine. It is also rich in antioxidants and has several trace minerals.
Additionally, Ceylon tea has health benefits like weight loss, blood sugar control, and heart health.
What is The Difference Between Teh Tarik and Milk Tea
Milk tea is simply tea with the addition of milk. It can be a simple splash of milk in a hot cup of tea or a creative recipe involving other ingredients.
There are no set guidelines for the amount of milk to use in milk tea. A lot depends on personal taste and type of tea brewed.
Milk tea is popular around the world and commonly consumed in India, England, Sri Lanka, Southeast Asia, and more.
Teh Tarik is typically made using condensed milk. This makes the tea richer and creamier. Also, the act of "pulling" the tea is uniquely Malaysian and rooted in the culture.
Beyond being a simple tea with milk, teh tarik is also growing in popularity among gamers and millennials around the world.
Can I Drink Teh Tarik Hot or Cold?
When we were in Penang, Malaysia, we observed Teh Tarik typically served hot in a glass cup.
However, there are some variations of teh tarik where it is served cold. If you want your teh tarik cold, you can have Teh Ais where it is served with ice cubes in a glass.
Another popular variation is teh tarik blended with honey. This is known as Teh Tarik Madu. And, if you have it iced, it is known as Teh Tarik Madu Kaw or honey ice tea.
Teh Tarik Recipe – Step by Step Instructions
Steep The Tea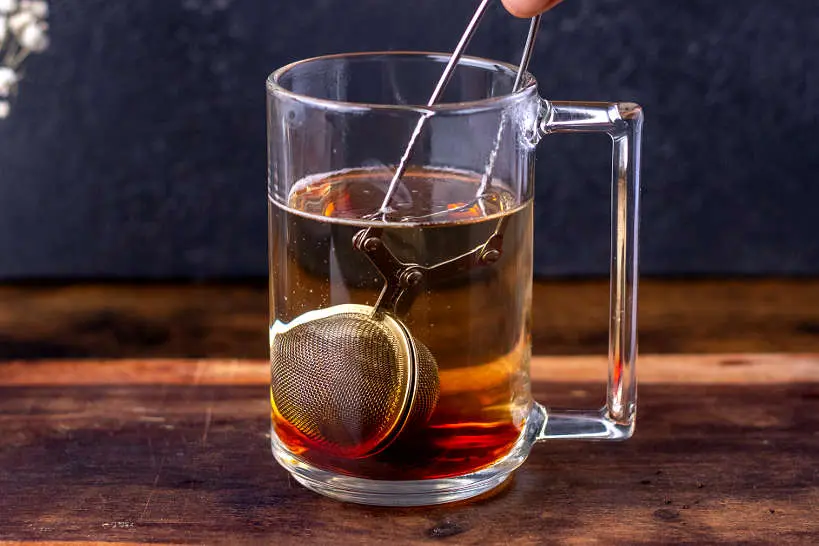 There are different ways in which you can steep the tea leaves. For this teh tarik recipe, we use a tea infuser. However, feel free to use what is convenient for you.
Tea Infuser: Add tea leaves to an infuser and place it in a cup. Add boiling water over it and let it steep for 3 minutes.
Saucepan and Tea Strainer: Add tea leaves in a tea pot or saucepan with boiling water, let it steep for 3 minutes and strain in a cup.
Tea Tumbler: Drop loose tea leaves in your tea tumbler along with hot water. Close the lid and let it steep for at least 3 minutes.
Tea Sachets: Drop a tea bag in a cup of hot water and let it steep for 3 -5 minutes. We recommend Lipton black tea bags.
Add Sweetened Condensed Milk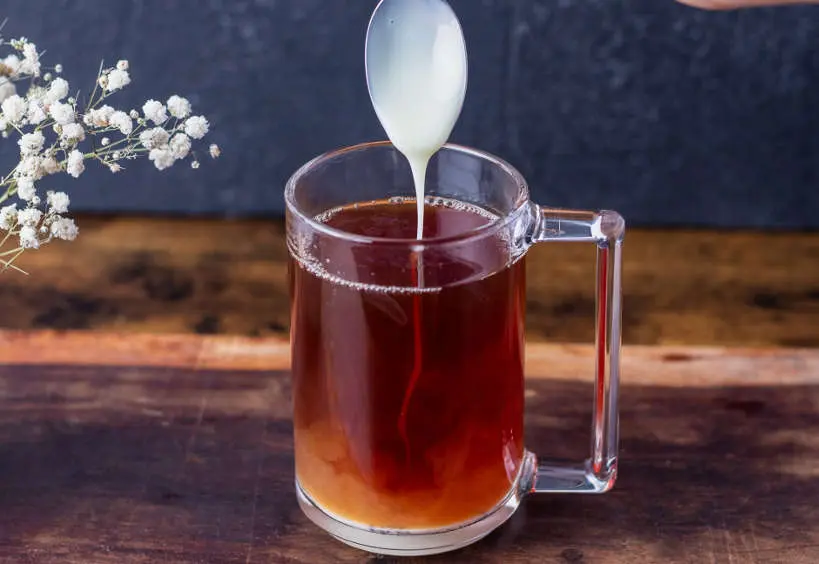 Add the sweetened condensed milk to the tea and water mixture.
Condensed milk not only gives Teh Tarik a rich aroma but also sweetens it.
The more condensed milk you add, the more light, sweet and milky the tea becomes.
If you prefer your teh tarik recipe to be kurang manis which is "less sugar" in Malay, then we recommend using very little condensed milk.
Pulling The Tea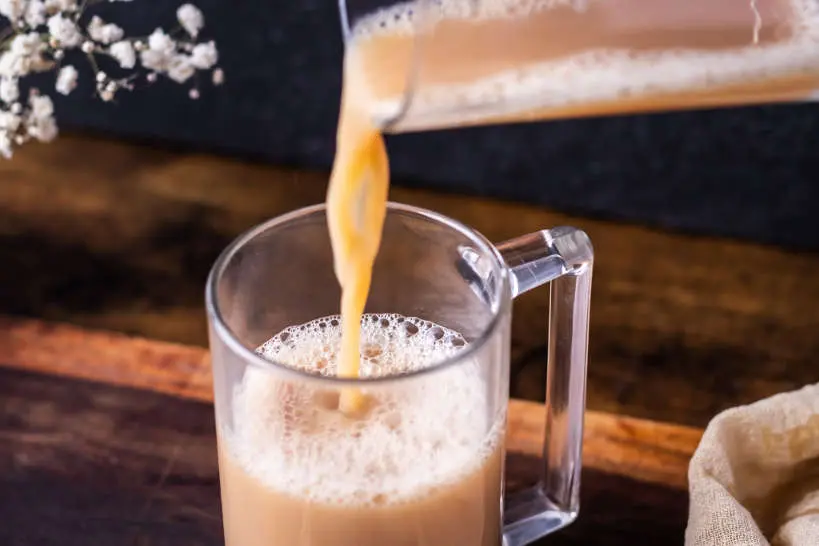 Pulling is what makes Teh Tarik unique and special. To pull or tarik the tea means pouring the tea from one pitcher to another from a height which should be carefully increased with each pull.
This is done to combine the tea evenly with the condensed milk and make it frothier. Have fun doing this as it does require practice and time.
Be sure not to "over pull" the tea as it may get cold quickly.
In Malaysia, this pulling practice is widely regarded as an act of showmanship at the Mamaks, or food stalls. So much so that competitions are held to find the most stylistic and thrilling way to pull Teh Tarik.
If you want to know how to make the authentic Malaysian Teh Tarik, practicing the pulling method is the way to go.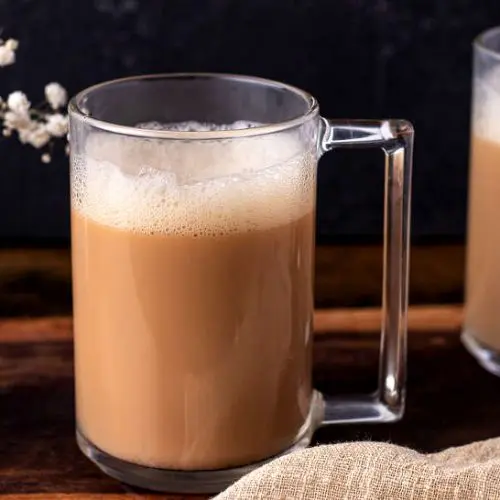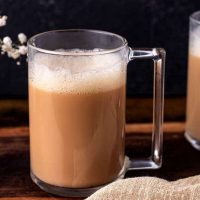 Teh Tarik Recipe
This teh tarik recipe is for a delicious, frothy, milky tea from Malaysia. Simple to make using just four ingredients, you can sip on Malaysia's national tea in 10 minutes or less.
Print
Pin
Rate
Instructions
First, steep the black tea in boiling water for around 3 minutes. Then, transfer the tea into a mug.

Add room temperature sweetened condensed milk. Mix well with a small spoon.

Pour the tea from one mug to another for the pulling of the tea. Do this about 3-4 times, each time cautiously increasing the height of the second cup.

Add a pinch of salt and serve hot.
Notes
To make Teh Tarik stronger, steep tea for longer and add only 1 tsp of condensed milk.
If you like your tea a little sweeter, add more condensed milk.
Don't pull the tea more than 4-5 times as it might get cold.
Nutrition
Serving:
1
|
Calories:
32
kcal
|
Carbohydrates:
5
g
|
Protein:
1
g
|
Fat:
1
g
|
Saturated Fat:
1
g
|
Polyunsaturated Fat:
0.03
g
|
Monounsaturated Fat:
0.2
g
|
Cholesterol:
3
mg
|
Sodium:
13
mg
|
Potassium:
42
mg
|
Sugar:
5
g
|
Vitamin A:
26
IU
|
Vitamin C:
0.3
mg
|
Calcium:
28
mg
|
Iron:
0.02
mg
More Related Cooking Products
Rosemary is the editor-in-chief and strategist at Authentic Food Quest.
Traveling slow since 2015 with her partner, Claire, she has explored the cuisine in 45 countries and more than 240+ culinary cities.
Her writing about local food specialties has been featured in Lonely Planet, Business Insider, Honest Cooking, Food Insider, and Huffington Post.
As a food and travel writer, Rosemary has co-authored three books, including one in collaboration with Costa Brava Tourism.
Rosemary is an avid runner when she's not eating and exploring new destinations. She has run ten marathons and counting.
Before Authentic Food Quest, Rosemary held senior-level strategy positions in advertising. 
Find out more about Authentic Food Quest