Valparaiso by the Pacific Ocean is a culinary destination not to miss in Chile. Valparaiso seafood is known throughout for the abundance of local treasures from the ocean.
In addition to being Chile's second-largest city, Valparaíso's historic zone is also a Unesco World Heritage Site. 
The city with its unique architecture is built on 45 steep hills overlooking the Pacific Ocean. 
While there is a lot to see and explore, Valparaiso seafood takes center stage
Join us on a tour of this eclectic and delicious city. Find out where to have the best seafood in Valparaiso as you explore this charming city.
Article last updated – April, 24th 2020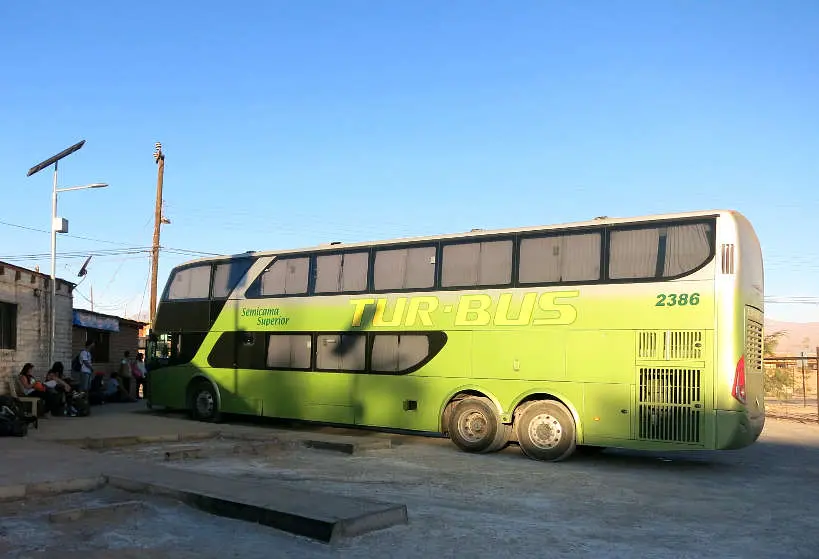 Our quest to discover authentic Chilean food specialties had us in Santiago for about 2 weeks. While this was not enough time to go as deep as we would have liked to, we did get a good grasp of the local food scene. 
Most notably the seafood market (Mercado Central) in Santiago was fantastic. Discovering exotic fruits at La Vega market was a sweet treat. And, finally learning about endemic Chilean cuisine with top chef, Rodolfo Guzman, of Boragó restaurant was an exceptional experience.
Valparaiso is only 1.5 hours north of Santiago, and accessible either by car or bus. Unfortunately, there are no trains and Valparaiso does not have an airport to fly into.
There are many bus companies, but the major ones are Tur Bus and Pullman Bus. 
There is not a huge difference in comfort or price, simply choose the one with the most convenient hours.
Buses for Santiago to Valparaiso are available from 6:00 am – 10:30 pm every day. They depart for Valparaiso about every 15 minutes and the fare is about 5000 CLP pesos or approximately $6 USD.
Authentic Food Quest Tip: Book a day trip from Santiago to Valparaiso, including a stop at Viña del Mar, for lunch at the beach. In Valparaiso tour the amazing houses on the hills and take the famous elevators. See the main sights and enjoy lunch in the delightful town of Viña del Mar. This is a full-day tour with transportation provided. Your air-conditioned van will leave from Santiago and take you back to your hotel at the end of the day. Please note, Valparaiso is a hilly city, wear comfortable shoes.
Unique Things to Do Santiago before Heading to Valparaiso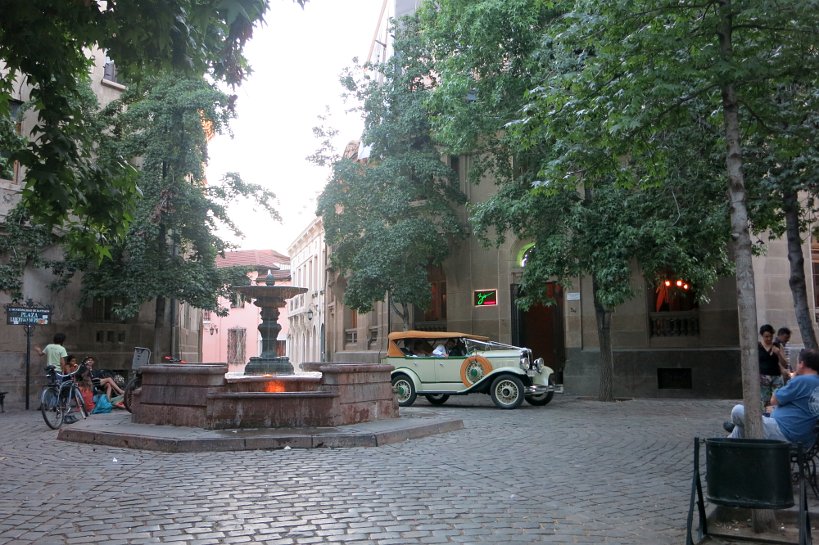 Santiago, the heart of Chile has a lot to offer. Like any urban city, it is full of attractions, culture, and events. 
We enjoyed ourselves much more than we expected and could easily have spent a couple of months there. If you are planning a trip to Santiago, be flexible. You may end up adding a few extra days or weeks.
In addition to the food, we got a chance to explore the city. We loved the green spaces in the city like the main park, Parque Forestal. Santa Lucia, a small hill in the center of the city is worth visiting for incredible views. 
One of our favorite activities was running up and down Cerro San Cristóbal, the second-highest point in the city on the weekends when the streets are closed to cars. 
Santiago has many "barrios" or neighborhoods each with a unique identity. Get lost in the bohemian barrios like; Brasil, Bellavista, Concha y Toro, Lastarria, Patronato, Recoleta, and more. 
AUTHENTIC FOOD QUEST TIP: In Valparaiso consider taking a cooking class and learn to make Chilean dishes including ceviche, Pisco Sour and more. Learn about the local culture as you make delicious Chilean foods.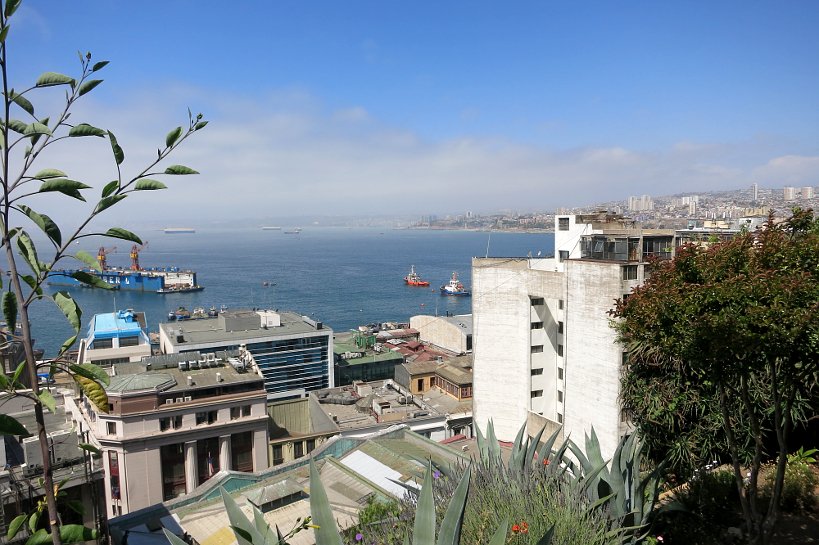 Valparaiso is the principal port of Chile and used to be a major stopover for boats before the opening of the Panama Canal in 1914. 
Today, the city attracts artists, poets, dreamers, and offers unique architecture with its funicular railways, colorful buildings, and panoramic views. 
The funicular railways link the steep hills with the Plan de Valparaiso, the flat part of the city. These railways are also known as elevators and have been operating since the end of the 19th century. 
For a modest fare of CLP 100 pesos (approx. USD 0.14 cts), take the elevator. Enjoy spectacular views of the city, without breaking a sweat.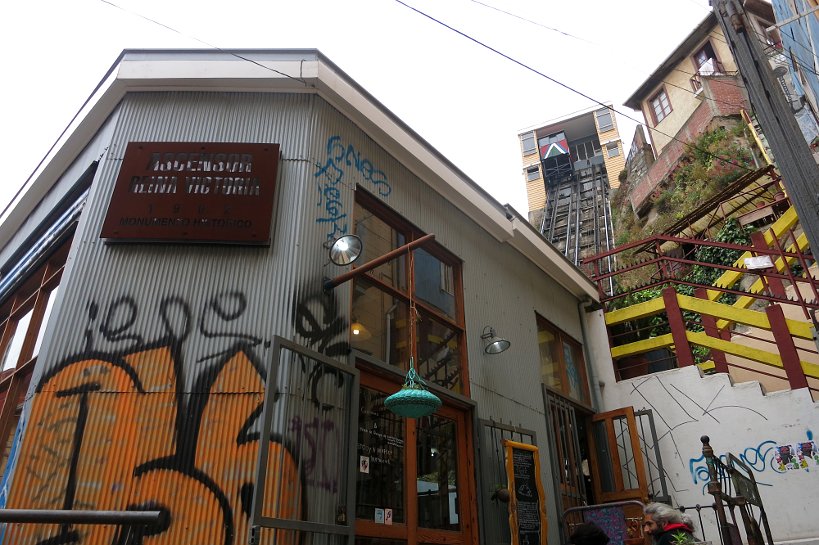 Things to Do in Valparaiso – Visit Pablo Neruda's Home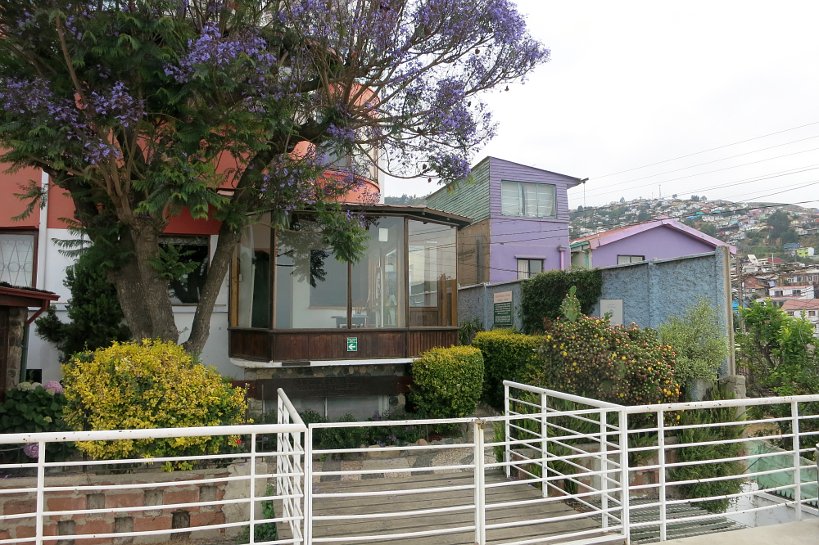 To help us better understand the local culture, we stayed with a porteño (local name given to those from the port). Through Airbnb, we booked our stay with Manuel, a musician.  He has lived in Cerro Alegre, one of the most famous hills of Valparaiso, for over 35 years.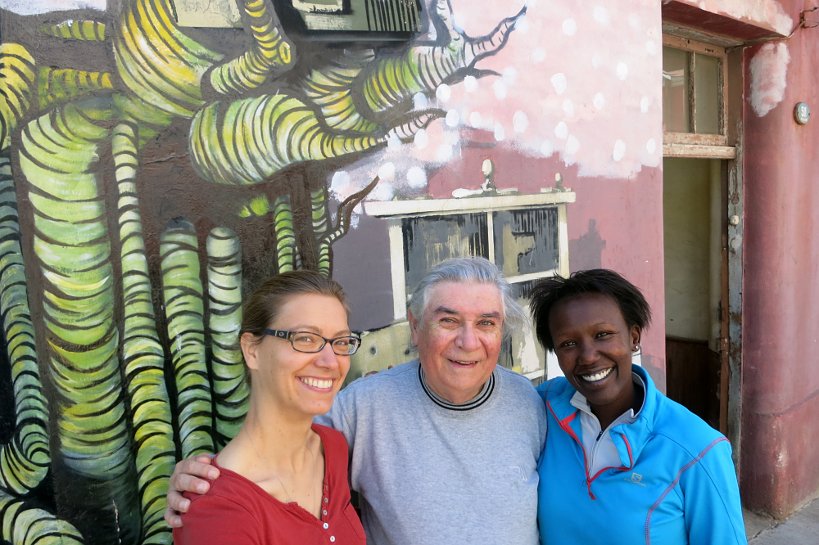 On his recommendation, we visited the old home of the famous Chilean poet, Pablo Neruda. It is located in La Sebastiana and worth visiting on your trip.
Pablo Neruda had a strong interest in food. He wrote odes to the simple ingredients that make Chilean food special, like bread, corn, seafood, potatoes, tomatoes, and onions.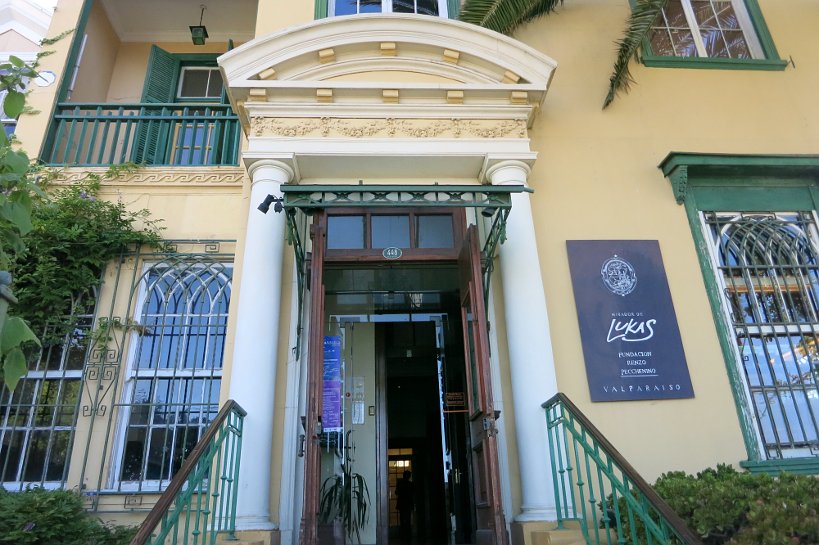 One of the best things about staying with locals discovering little known facts or points of interest. 
For instance, it was Manuel who also encouraged us to visit Lukas Museum. This museum pays tribute to the works of local cartoonist Renzo Pecchenino who portrayed porteños in a humoristic way. 
 We particularly enjoyed how Lukas reflected Chilean society with great humor. 
The museum is located in Cerro Conceptión and is a nice break off the beaten path on your Valparaiso visit.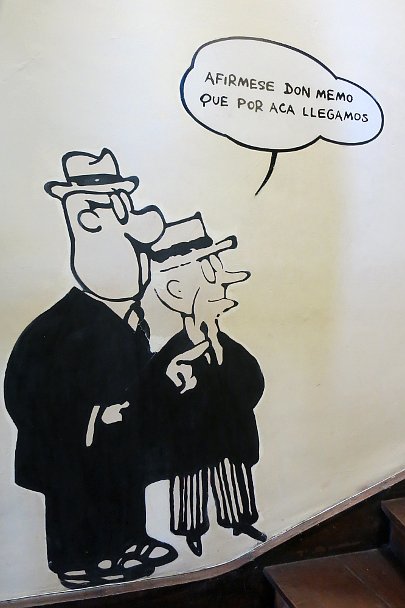 Street Art and the Colors of Valparaiso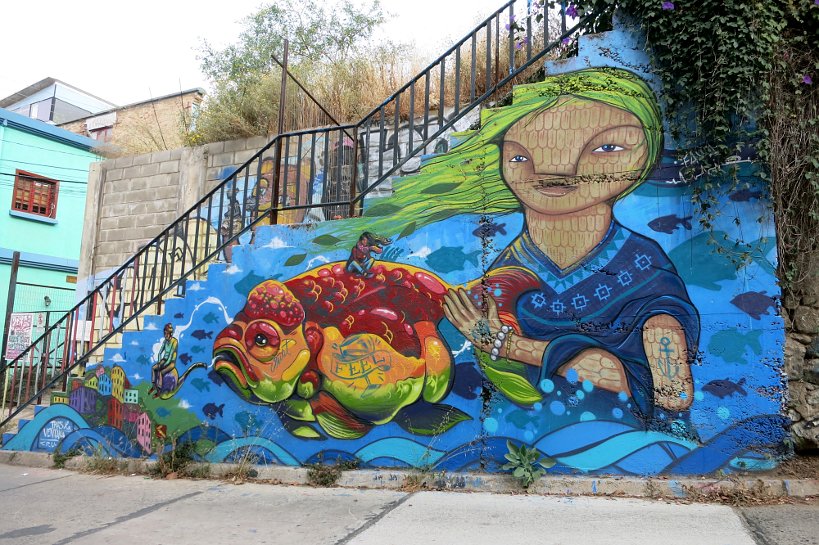 Valparaiso is vibrant and colorful with street art. Walking around the city, you can't help but notice all the unique shapes and designs on buildings.
The level of creativity is quite outstanding and the colors draw you in.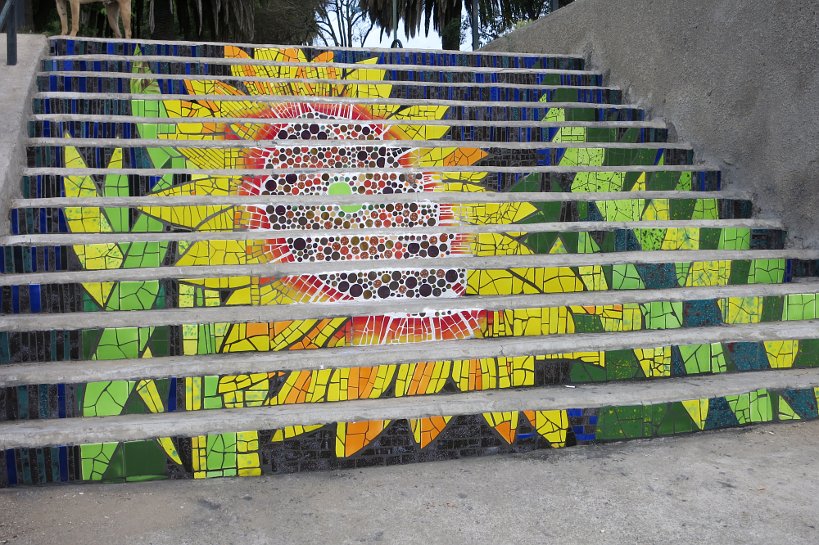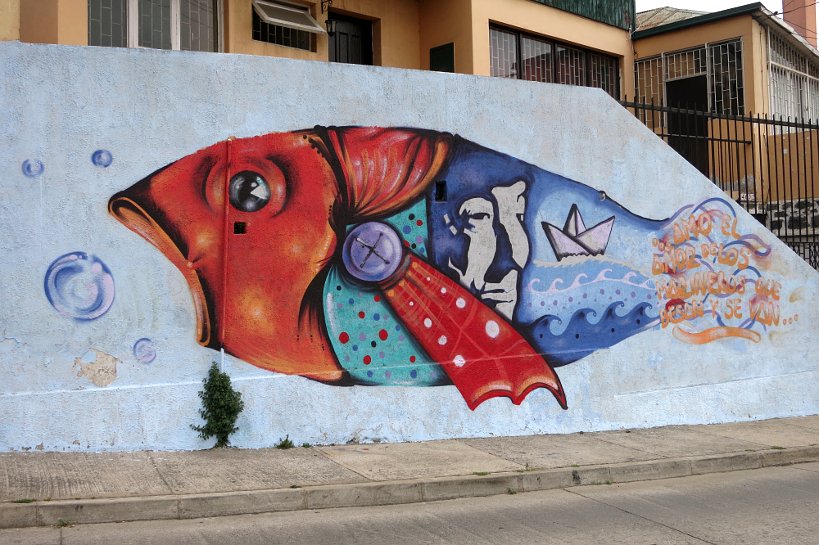 AUTHENTIC FOOD QUEST TIP: Go deeper and immerse yourself in the city and culture of Valparaiso with a local guide. Take a walking tour and discover the treasures and colors of Valparaiso. This tour is personalized and takes you to the places only locals know best.
Valparaiso Seafood At Mercado Cardonal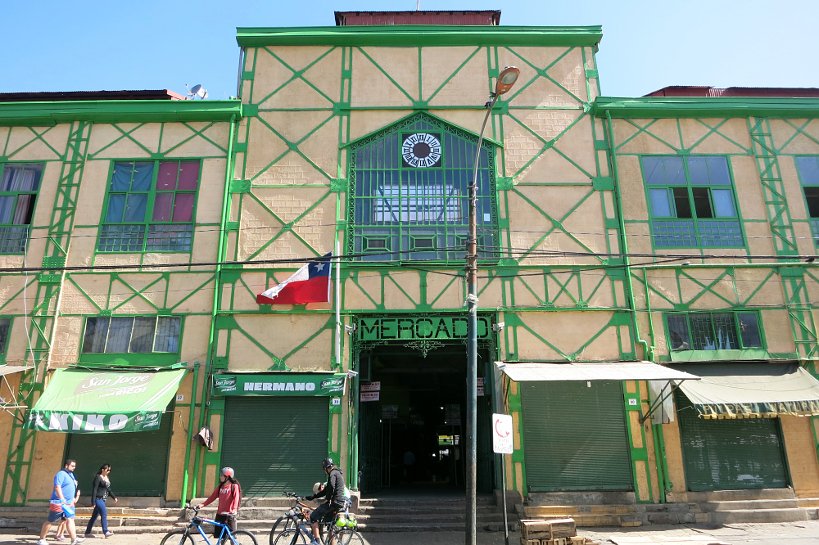 This popular market in Valparaiso is one of the most important farmers' markets in the region. 
Mercado Cardonal is over 100 years old and divided into two main areas. The lower level is where you'll find fruits, vegetables, cheese, meat and poultry, nuts, and more. 
On the second level are about 20 different restaurants specializing in Valparaiso seafood, typical Chilean dishes, breakfast, coffee, and desserts.
We asked Manuel about trying Valparaiso seafood specialties and he suggested this market and a few restaurants on the hill.
Seeking an authentic experience, we focused on the farmers market. Local transportations is accessible and we took the local bus to the market, riding on Avenida de Brasil. 
After buying our fruits and vegetables, we went up to the restaurant area on the second floor.
Be aware that once you get upstairs, you will be targeted by one of the many waitresses looking for customers. 
After joking with one of them, we decided to try her restaurant, La Granja Marisqueira, which also had many locals eating there.
La Granja Marisqueira For Chilean Seafood in Valparaiso at Mercado Cardonal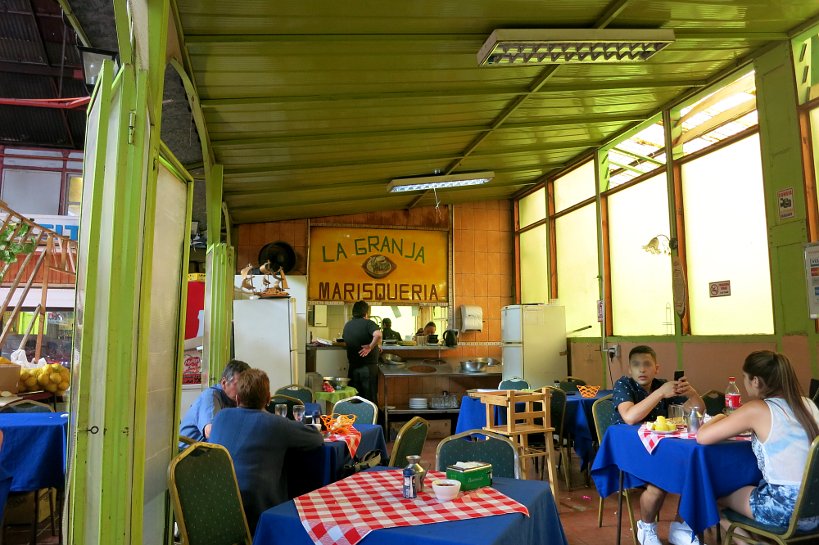 At  La Granja Marisqueira, we shared the Menu del Dia (menu of the day) which is always our choice for the freshest options. 
On the menu was a lightly breaded merluza (Hake) fish served with rice and salad. Additionally, to complete the seafood in Valparaiso experience, we also ordered seafood empanada or "empanada de marisco."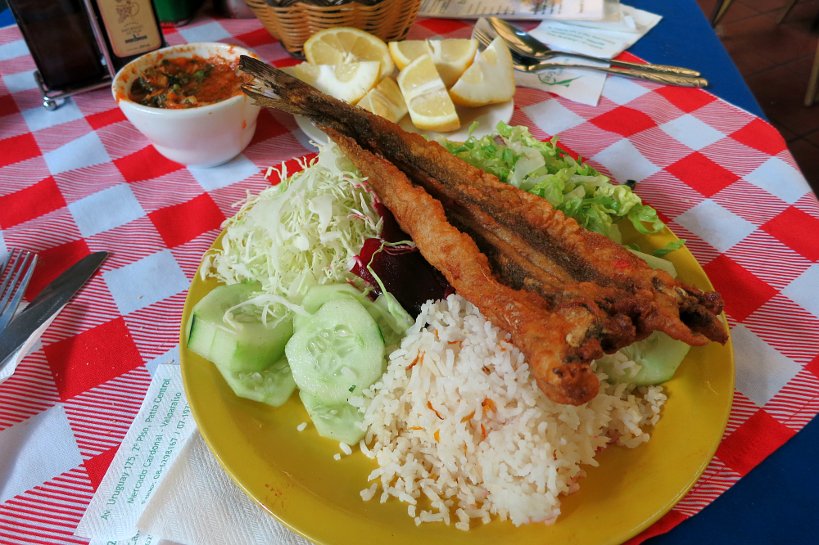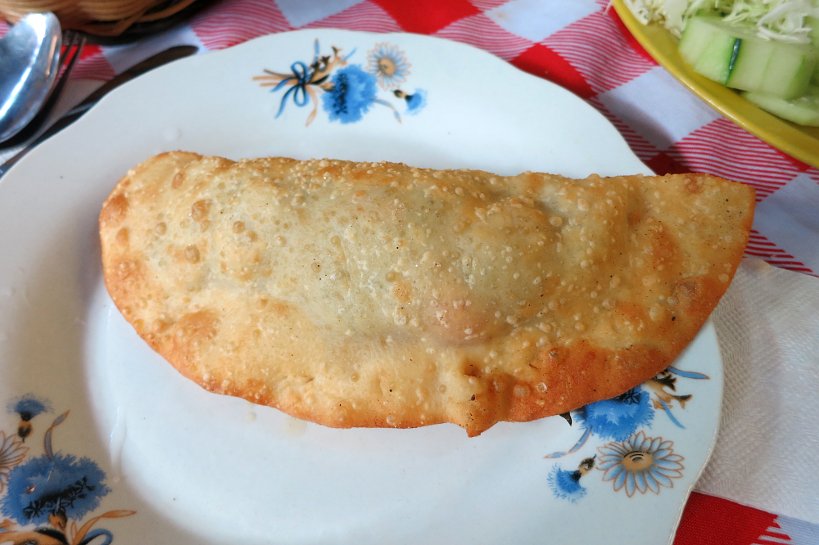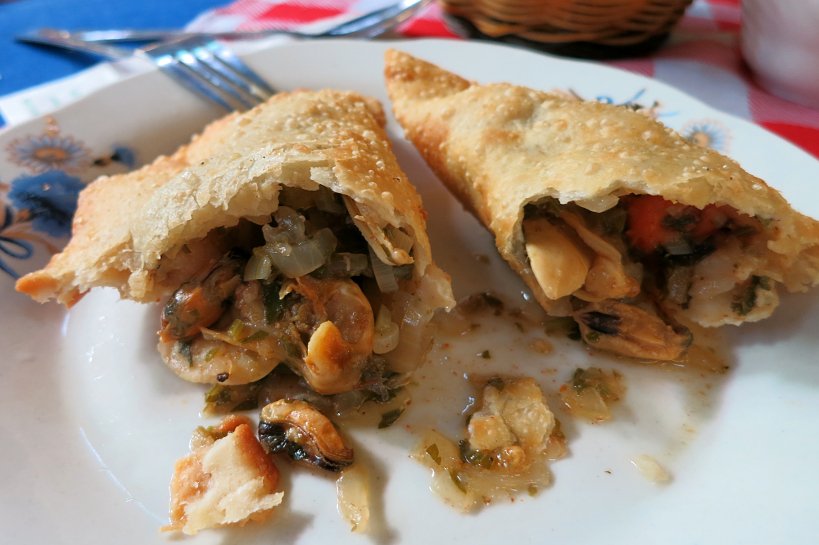 The food was prepared in a very simple manner. The merluza was lightly fried with salt and pepper. The empanada was fried though not overly greasy.
Everything was very tasty and fresh. Rosemary enjoyed the fish more than I did. While the merluza was flavorful, I found the texture a little too soft for my liking. 
The seafood empanada was filled with mussels and a white fish. This was an unusual and wonderful combination of flavors.
If you are looking for a simple and enjoyable Valparaiso seafood, head to the second floor at Mercado Cardonal.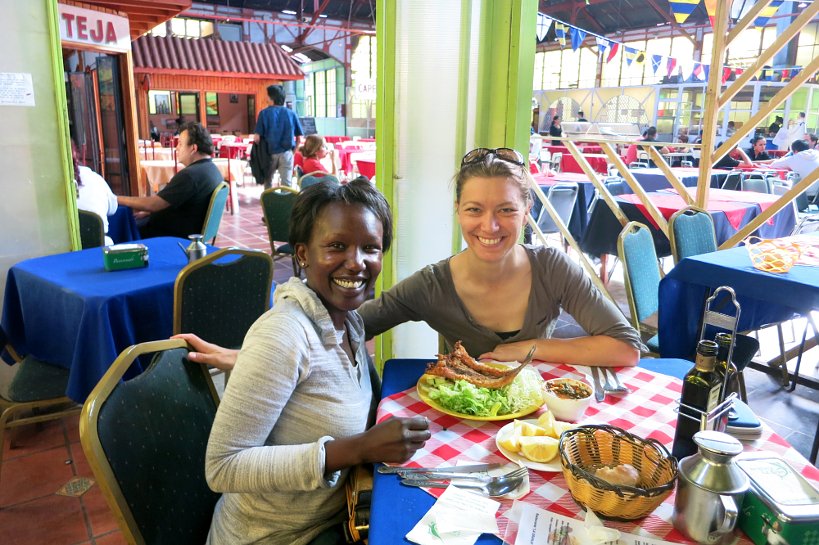 Exploring Seafood in Valparaiso at Caleta Portales Fishermen Village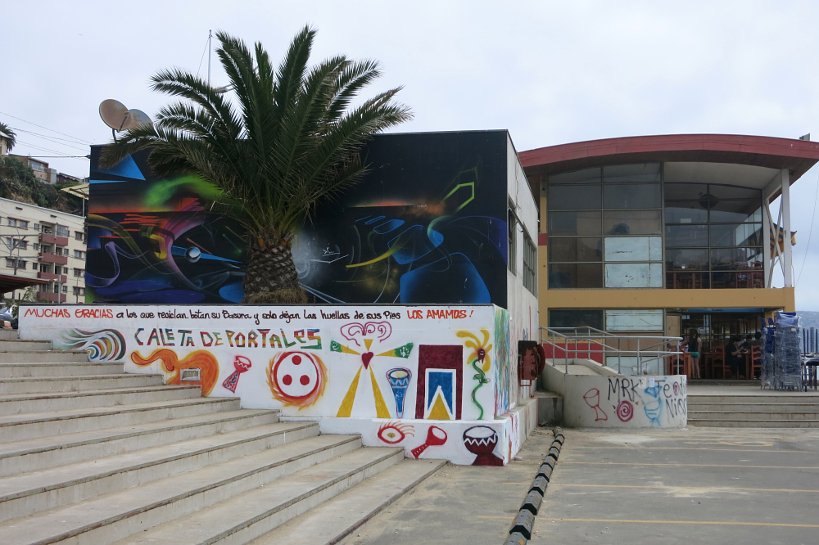 To further explore Valparaiso seafood, we went to the recommended Caleta Portales. 
Caleta Portales is a "fishermen village" or fishing cove located in the port of Valparaíso.
Artisanal fishing takes place with Caleta Portales fishermen focused on traditional hake and conger.
More recently, Caleta Portales has become popular with tourists and now has many Valparaiso seafood restaurants.
To get there, we took the local bus and made it just in time to see the local fresh fish and seafood from the morning catch. 
On display were the local specialties; reinata (pomfret) , merluza (hake), Salmon, jaiba (crab), macha (clams) and ostiones (scallops).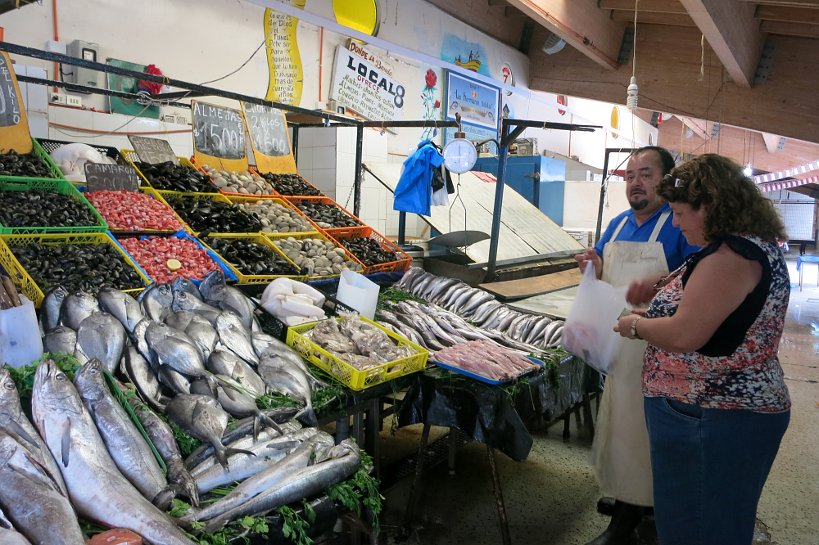 Caleta Portales Valparaiso Restaurants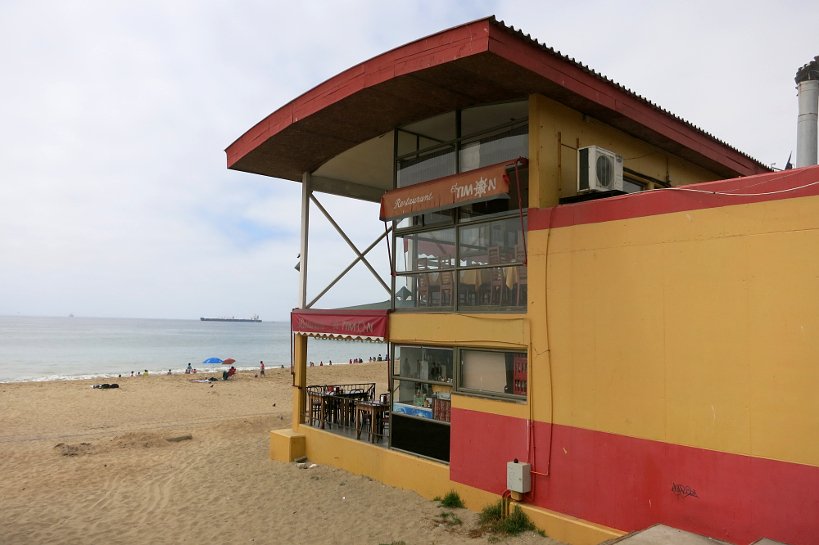 After our tour of the market, we checked out the different restaurants along Caleta Portales beach. 
Expect to find waiters inviting you in and using tricks to get you into their restaurant. Be prepared to deal with this off-putting behavior.
After surveying the options, we stopped at El Timon where the waiter was calmest. As we discussed the menu and specials, he convinced us by throwing in pisco sour and ceviche to start.
Seafood in Valparaiso at El Timon Restaurant in Caleta Portales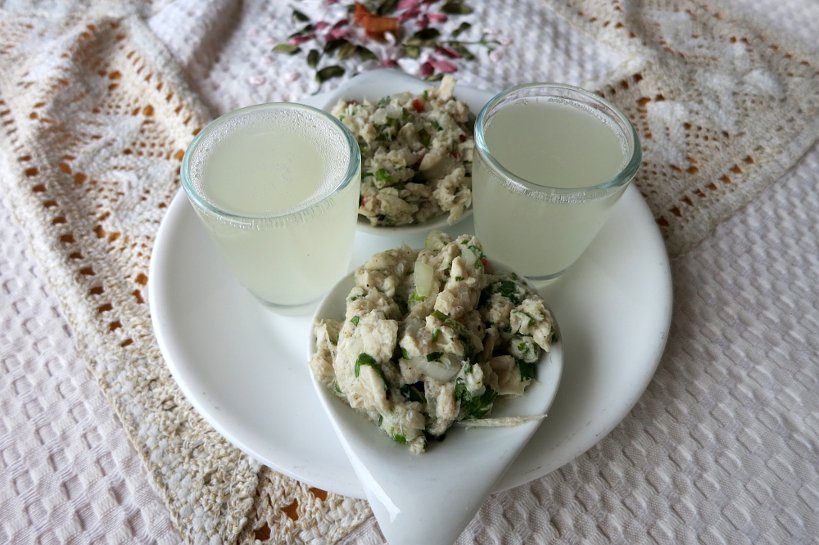 After choosing a table with a view of the beach, we ordered two specialties. 
One was grilled reinata which came with a side of french fries. We also ordered empanada de macha con queso or empanada with clam fish and cheese. And, finally, one Chilean salad to share.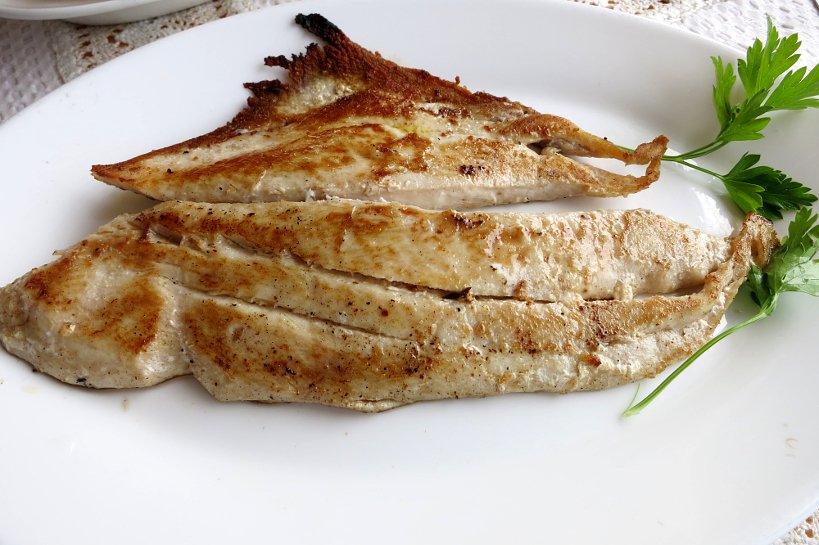 The seafood was very fresh and excellent. The reinata flesh was firm and had a steak-like texture which we both enjoyed.  
While the empanada was tasty the clam fish or macha was not very flavorful. This might explain the need for cheese.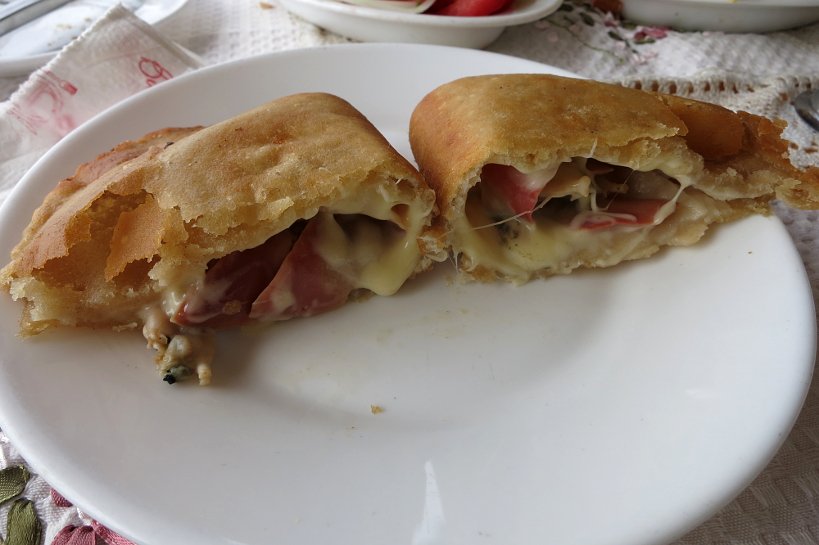 After a satisfying lunch, we walked back along the oceanfront promenade. Much to our surprise, we stumbled onto a group of sea lions sunbathing on a concrete pylon in the sea.
While admiring them, we were reminded of San Francisco where the sea lions can be seen at Pier 39.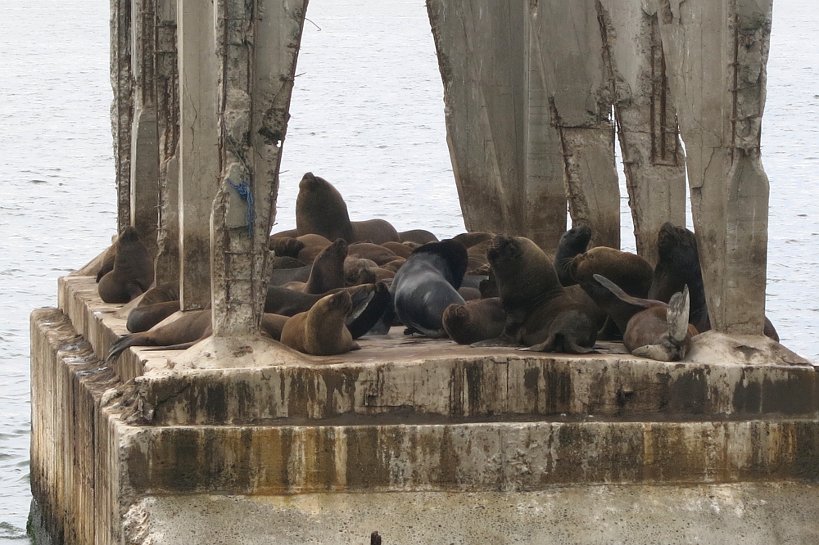 Best Seafood Restaurants in Valparaiso
Valparaiso is a tourist town attracting both local and international visitors. As a port town and due to proximity to the Pacific Ocean, seafood in Valparaiso is the main attraction.
As such, many restaurants cater to tourists with higher prices and in some cases frozen and not fresh fish.
We recommend going to local markets to see the freshly caught fish and to also enjoy seafood at affordable prices.
While we personally never visited any of these Valparaiso restaurants, they come highly recommended by locals.
This is a local and casual bar/restaurant and hostel. Go for the laid back atmosphere and friendly staff.
This adorable little restaurant serves local Chilean food and wine. The portions are generous and the seafood outstanding. It is also vegetarian and vegan friendly.
This is an upscale seafood restaurant in the  Bella Vista neighborhood, a few blocks away from La Sebastiana. Enjoy refined locally sourced fish, produce, and wines. This is a great spot for a nice dinner with a creative twist on Chilean specialties.

In Summary
Visiting Valparaiso should be on your list of things to do in Chile. It is a funky city with unique architecture and colors. 
However, don't expect a beautiful seafront, it is still very industrial and some areas are dirty and not well maintained. 
Take the time to get lost in the hills, enjoy the street art, and experience the elevators and stairs. After all, this is what makes Valparaiso unique.
While you can have great seafood in Valparaiso, be cautious about where you choose to have it. Depending on the time of year, some of the seafood or fish might not be fresh. 
The best places to see Valparaiso seafood is at the farmer's market. You'll get a chance to see the fresh seasonal fish and then know what to order.
Furthermore, be sure to taste the popular and common seafood in Valparaiso.
Try the merluza (hake), reinata (pomfret), congrio (cusk-eel), sardigna (sardines) or macha (shellfish) and you will not be disappointed.
To sum up, this article, what better than an ode from Pablo Neruda about the congrio eel (Oda al Caldillo de Congrio):
Savor The Adventure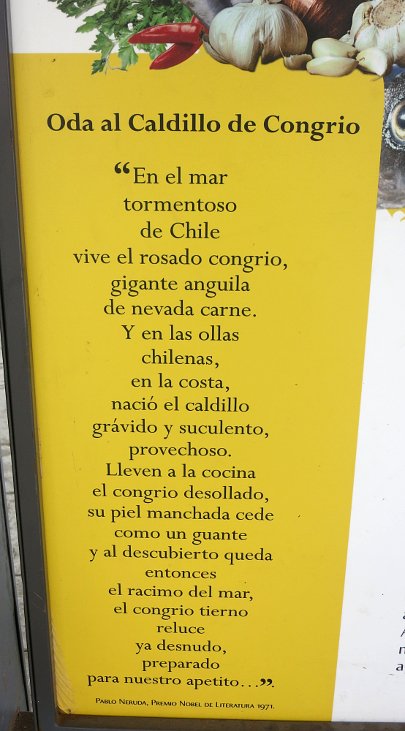 Ode to Conger Chowder – Translated by Margaret Sayers Peden (Extraits of the first and last stanzas. See here for the full poem)
"In the storm-tossed Chilean sea lives the rosy conger, giant eel of snowy flesh.
And in Chilean stewpots, along the coast, was born the chowder thick, and succulent, a boon to man. You bring the Conger, skinned, to the kitchen (its mottled skin slips off like a glove, leaving the grape of the sea exposed to the world), naked, the tender eel glistens, prepared to serve our appetites…"
Love it? Pin it!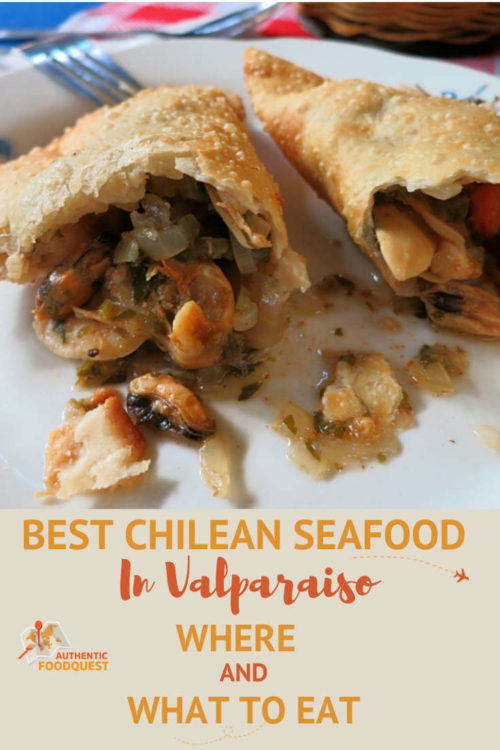 Disclaimer: This page contains affiliate links. That means at no extra charge to you, we earn a small commission when you purchase using these links. Please note we only link to products and services that we personally use or trust. Thank you for your support.
Claire is co-founder of Authentic Food Quest and a lover of simple and exquisite cuisine. Since 2015, with her partner, Rosemary, she has been traveling the world as a digital nomad, creating content about local food experiences.
Her advice from visiting 45 countries and more than 240 food cities has been featured in Lonely Planet, Business Insider, Honest Cooking, Food Insider, and Huffington Post. She has also co-authored three books, including one in collaboration with Costa Brava Tourism.
An ex-mechanical engineer, Claire is responsible for SEO, keeping the website running, and the fun food & travel videos on YouTube.
When Claire is not eating, she can be found running or cycling. Find out more about Authentic Food Quest