This article has links to products and services we recommend, which we may make a commission from.
Argentine desserts or postres and sweets or dulces, are everywhere you look in Argentina.
Argentinians have a love affair with these delicious but calorie laden delights.
Bakeries or panaderias, ice-cream stores or Heladerias and the famous alfajores tempt you at every corner.
We cannot talk about authentic food in Argentina without talking about the Argentinian desserts the country has to offer.
Every meal is a reason to have something sweet. And in Argentina, you'll have plenty to choose from.
To guide your sweet choices, here are the top 7 authentic Argentina desserts you should experience.

1- Dulce de Leche Desserts
You cannot miss dulce de leche or "sweet milk" when you come to Argentina. It is everywhere and used in all types of Argentine desserts and sweets.
It is made of sweetened milk that is heated and becomes caramelized to create this nice sweet caramel milk paste.
Dulce de leche is eaten practically at every meal, including breakfast where it is spread on bread or toast.
You will easily find dulce de leche at all supermarkets in Argentina. The best kinds are homemade or artisanal brands which have a less artificial taste than the industrial ones.
RELATED: The Best Dulce de Leche Argentina | Authentic Homemade Recipe
Chocotorta: One of the Most Popular Argentinian Desserts
Dulce de leche is also used in one Chocotorta, one of the easiest Argentina desserts to make.
This chocolate Argentina cake is not usually found on the dessert menus at restaurants. Argentinians eat it on a regular basis at home for family gatherings or birthday celebrations.
In Argentina, we actually had this dessert at a birthday party in Buenos Aires.
It is a chocolate cake made of chocolate cookies dipped in coffee and layered with dulce de leche and creamed cheese.
The best part is that you don't even have to bake it. A chocoholics dream come true.
AUTHENTIC FOOD QUEST RECIPE: Authentic Chocotorta Recipe: Easy to Make Argentina Birthday Cake
2- Alfajores The Ultimate Argentinian Cookies
Alfajores are one of the most prevalent sweet specialties in Argentina. An alfajores is a type of cookie that is made of two sweet cornstarch biscuits joined together with dulce de leche.
You will find alfajores coated with dark or white chocolate, or simply covered with coconut or sugar powder.
Alfajores can be eaten for breakfast or for dessert at lunch or dinner. They are also eaten as snacks to accompany the tea, coffee, or mate, a traditional drink of Argentina.
You will find alfajores sold in cafes, bakeries or panaderias or in individual packets at specialty stores like Havana.
Havana offers some of the best in Argentina with many different flavors at the store. You can find them online to satisfy your craving for Argentinian desserts.
Although they are rich and sweet, they are not overwhelmingly sugary. It is incredibly easy to fall into the temptation of eating one every single day. Be warned.
3- Rogel A traditional Argentinian Cake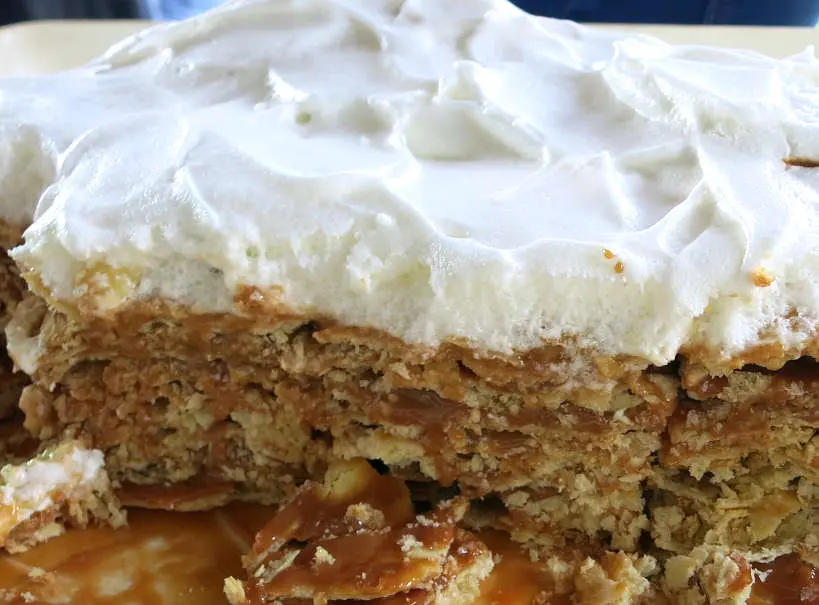 We discovered this amazing Argentine dessert on our first trip to the Pampas for an asado, a traditional Argentinian bbq.
Everyone at the asado was eagerly waiting for aunt Sandra's homemade Rogel cake.
Rogel is a unique cake made of several layers of light pastry separated by dulce de leche and topped with meringue.
The layers of pastry are thin and make for a nice soft cake. The gooey meringue adds a new level of sweetness that can make it a little too sweet.
Nonetheless, the combination of textures mixed with dulce de leche is a sure winner.
Rogel is not very easy to find but is worth hunting down. It is an Argentinian dessert mostly eaten at home or made for events.
Look for it at cafes or panaderias and don't give up your search for it. It is delicious and you will thank us later.
READ MORE: An Asado in the Pampas of Argentina
4- Dulce de Membrillo Quince Paste For Dessert
This Argentinian dessert is made from membrillo or quince in English.
The fruit looks like a bumpy pear, and it is not sweet in its raw state. Argentina actually ranks among the world's top producers of quince.
The most popular culinary use for quince in Argentina is dulce de membrillo. It is a paste that is not too sweet and can be eaten as is as a snack or to end a meal.
It is also a popular filling for pastries such as the pastelitos de membrillo.
Dulce de membrillo or quince paste is sold in a paste format for tarts like torta de membrillo, or cakes called budin de membrillo.
Vigilante Quince Paste Paired with Cheese
Dulce de membrillo makes a delightful pairing with cheese for another unique Argentinian dessert called Vigilante.
This is another authentic dessert from Argentina that is not commonly served at restaurants.
Most Argentinian eat it at home. It is a very simple two-part dessert which consists of two slices of paste and cheese.
You can easily recreate this Argentine dessert at home
The sweet paste part can be either dulce de membrillo or dulce de batata which is sweet potato paste.
The second part is a slice of queso or cheese that is similar to a Gouda.
While Vigilante is popular paired dulce de membrillo, we recommend trying the one with the dulce de batata as well.
It is not intensely sweet and doesn't taste like a potato. Instead, it literally melts in your mouth.
5- Flan Casero Or Flan Mixto Homemade Argentinian Flan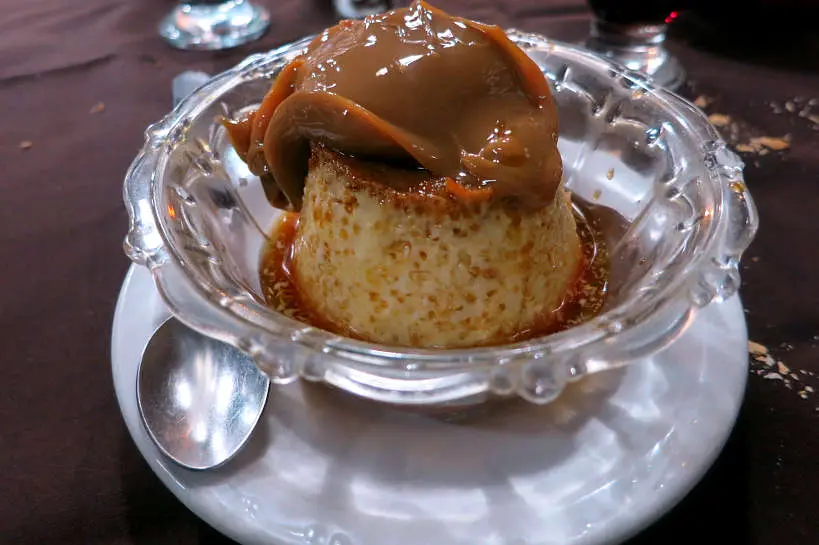 Flan is one of the most popular desserts in Argentina. In Buenos Aires, in particular, it is easily found on every restaurant menus.
This classic dessert found across Latin America takes a special twist in Argentina with the addition of dulce de leche.
In restaurants, you can have it by itself or with a spoonful of dulce de leche and whipped cream.
We had our flan at a bodega or casual restaurant in Buenos Aires. Already satisfied after our meal, could not miss flan with a touch of dulce de leche for a full Argentine experience.
Flan Mixto or homemade flan is a caramel custard made with eggs, whole eggs, vanilla extract, and sugar.
Nice and smooth, the flan gets a sweetness boost from the touch of dulce de leche.
We highly recommend the whipped cream combination to soften the sweetness of this Argentine dessert.
6- Helados Creamy Argentinian Ice-Cream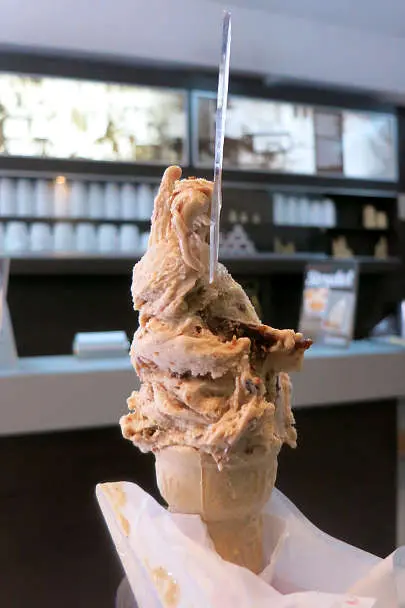 Helados stands for ice-cream in Spanish, and Argentinians have mastered the art of making ice-cream.
Argentinian ice cream is made with whole milk and is very creamy and thick. The quality is excellent with the use of natural products and little artificial flavors or preservatives.
The abundance of Heladerias or ice cream parlors in Argentina speaks to the popularity of helados.
When you order, you will be surprised to learn that you can buy it by the kilo. You can get your cones or cups, but the 1 or 2-kilo tubs are very popular with Argentinian families.
Brought to Argentina by Italian immigrants, Argentina's have perfected the recipe which is similar to gelato.
We talk more about the Italian imprint on Argentinian cuisine in our article about the Italian influence in Argentina.
Arguably, many have said that Argentinian ice cream is better than in Italy.
In Buenos Aires, you'll find artisanal stores and well-known chains serving the very best helados.
There are many choices when it comes to flavors. We recommend trying the most typical ones from the region such as dulce de leche or flavors using mate.
Popular chains that you will find in Argentina are Freddo, Persicco, or Un Altra Volta which all offer very good ice-cream.
Freddo also has a few stores in the US, mostly in Miami and Charleston. They are worth seeking out if you are craving Argentinian ice cream.
We tried Freddo in Miami and found the experience quite similar to Freddo in Argentina.
Argentinian ice cream or helados are not be missed. Be sure to indulge in the very popular dulce de leche flavor.
RELATED: Best Argentina Chocolate | Guide to Bariloche Sweet Little Switzerland
7- Facturas Argentina Pastries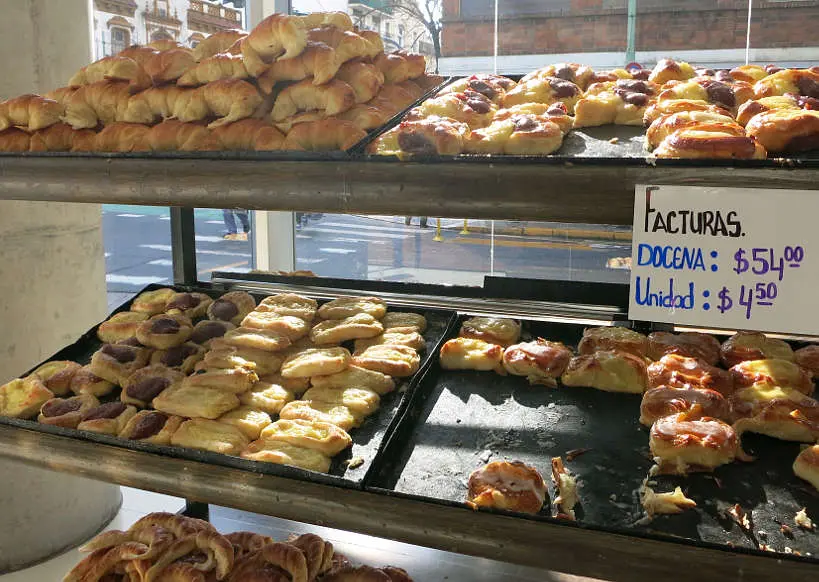 Facturas are the name given for pastries that can be found at the many bakeries or panaderias around the country.
Facturas are little pastries that are often sold individually or by the dozen. It's worth getting a dozen to sample the different types plus it is more economical. It also makes for a great excuse to buy by the dozen.
Facturas are most typically eaten for breakfast or for merienda, the mid-afternoon break.
These little pastries are covered with sugar and are usually filled with dulce de leche, custard or crema pastelera, or dulce de membrillo.
Facturas are also available plain and without any filling. There are so many kinds that it is quite a challenge to try them all.
Medialunas – Argentinian Croissant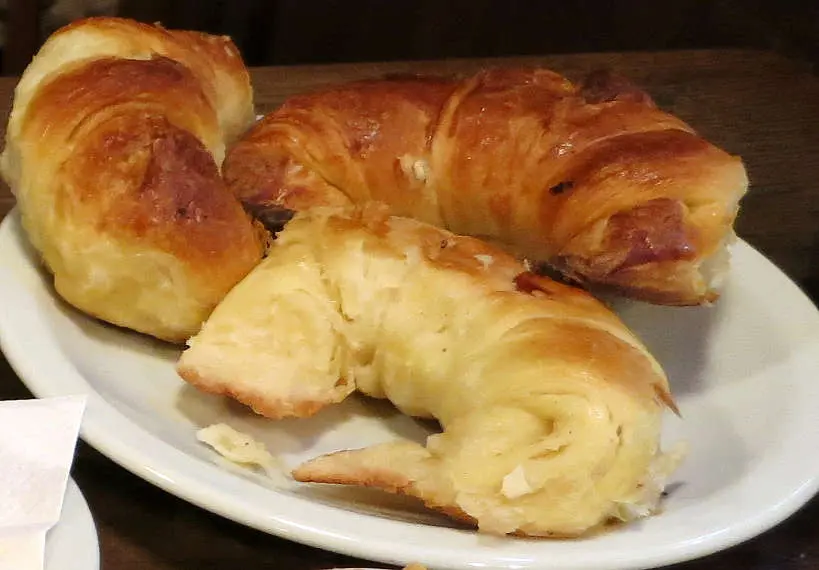 The most iconic Argentinian facturas are medialunas.
Medialunas are popular pastries that have the traditional crescent or half-moon shape of French croissants.
Compared to French croissants, they are a tad sweeter and are slightly more doughy.
Medialunas are sold at bakeries along with the other facturas or pastries, often by the dozen.
You can also find medialunas at coffee places for breakfast or for the merienda, Argentina tea time.
At the merienda time, medialunas are usually served with cafe de leche or coffee with milk.
READ MORE: about the merienda and medialunas Argentinian culture in our article 10 surprising discoveries about Buenos Aires.
Looking for Argentina Desserts Recipes
Chocotorta is one of the easiest Argentine desserts to make. We brought back this recipe from Argentina in our article Authentic Chocotorta Recipe: Easy to Make Argentina Birthday Cake.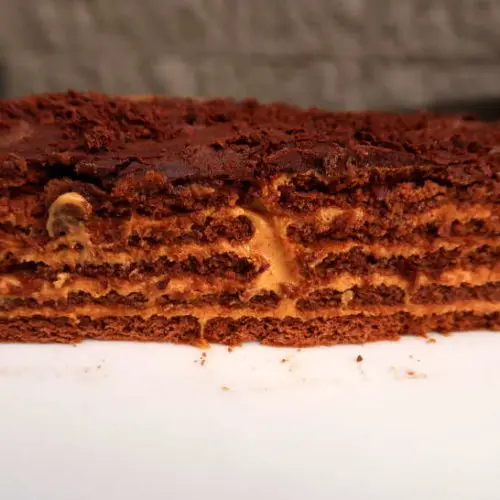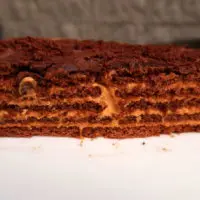 Argentina Chocotorta Recipe
This classic chocotorta Argentina cake is unbelievably easy to make.  A no-bake, dulce de leche layered cake, this dessert is a guaranteed success.
Print
Pin
Rate
Ingredients
7

oz

Dulce de Leche

5.3

oz

Cream Cheese

remove from fridge and allow it to soften

2

tbsp

Creme fraiche or sour cream

optional

8

oz

Chocolate Cookies

depending on the size of your dish

1

cup

coffee

freshly brewed

1

oz

Valrhona dark chocolate

for garnishing

Parchment paper

optional
Instructions
In a large bowl, using a hand mixer, combine the dulce de leche and cream cheese and beat until fluffy. Add creme fraiche or sour cream and continue mixing. It should be a light caramel color with no lumps. Taste to achieve the ratio you like. Reserve

Brew a cup of black coffee and pour it in a shallow dish. This is for dipping the chocolate cookies to make them moist. Make sure not to dip them for too long or they will get soggy and crumble.

Line your dessert baking dish with parchment and begin building the Argentina cake.

Submerge each chocolate cookie one by one in the coffee and line them across the parchment paper in the dessert baking dish. You may need to break up a couple of cookies to get the right geometrical shape to cover the entire surface.

Pour some of the dulce de leche mixture and spread evenly with a spatula. Arrange another layer of coffee-soaked cookies. And then, add another layer of the dulce de leche mixture.

Continue adding layers of chocolate cookies dipped in coffee followed by more dulce de leche mixture.

You should have at least four layers of cookies ending with a layer of dulce de leche.

For garnishing, melt a few squares of high-quality dark chocolate and pour on top of the last layer of dulce de leche.

After having made the recipe for the first time, we would now recommend delicately melting the chocolate. Instead of melting the chocolate over a stovetop, we recommend using the bain marie method for a smooth finish.

Once you have spread it out evenly, grate a few dark chocolate squares and sprinkle over the Argentina cake.

Cover with a plastic wrap and refrigerate for at least four hours. The longer the Argentina cake sits in the refrigerator, the better it gets.
Notes
You can substitute the coffee for milk especially if serving children. 
For an adult-only version, some recipes call for mixing Kahlúa with the coffee
To allow the flavors to settle, it's important to refrigerate for at least 4 hours or even overnight.
Nutrition
Serving:
1
|
Calories:
213
kcal
|
Carbohydrates:
24
g
|
Protein:
3
g
|
Fat:
13
g
|
Saturated Fat:
6
g
|
Polyunsaturated Fat:
2
g
|
Monounsaturated Fat:
4
g
|
Cholesterol:
21
mg
|
Sodium:
225
mg
|
Potassium:
103
mg
|
Fiber:
1
g
|
Sugar:
13
g
|
Vitamin A:
274
IU
|
Vitamin C:
0.03
mg
|
Calcium:
31
mg
|
Iron:
1
mg
Dulce de Leche Cookbook
For more Argentinian desserts recipes check out this Dulce de Leche cookbook. You will learn how to make artisanal dulce de leche at home.
Looking to Eat Argentina Desserts
To indulge in ready to eat desserts from Argentina, check out these delicious Argentine products.

In Summary
Argentina has many more sweets or dulces, and desserts or postres than are highlighted in this article.
Every time we met new people in Argentina, we found out about new Argentine desserts.
While this is not a comprehensive list of all the desserts in Argentina, we hope that it satisfies your craving for delicious Argentinian desserts.
Let us know in the comments below what your favorite Argentinian desserts are.
Savor the Adventure!
Looking For More Food Experiences in Argentina?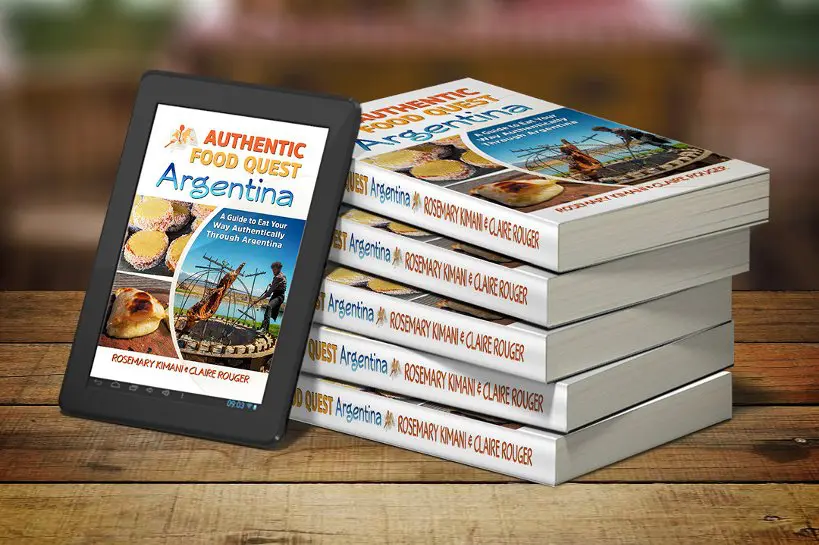 Our book Authentic Food Quest Argentina takes you on a culinary tour through four main regions of the country – Buenos Aires, Mendoza & the Wine Regions, the Andean Northwest, and Patagonia & the Lake Region.

In the book, you'll discover over 50 iconic dishes and drinks and what makes them so special to Argentina.
Stories and insights shared by local experts including Argentina's most renowned Chef, Francis Mallmann, bring the local food experiences to life.
Use this guide to find the best authentic restaurants and avoid the tourist traps. Learn how to order your beef the Argentine way and what street foods to eat like a local.
Use this as a guide to savor your adventures in Argentina
Get The Book on Amazon
Love Argentinian Desserts? Pin it!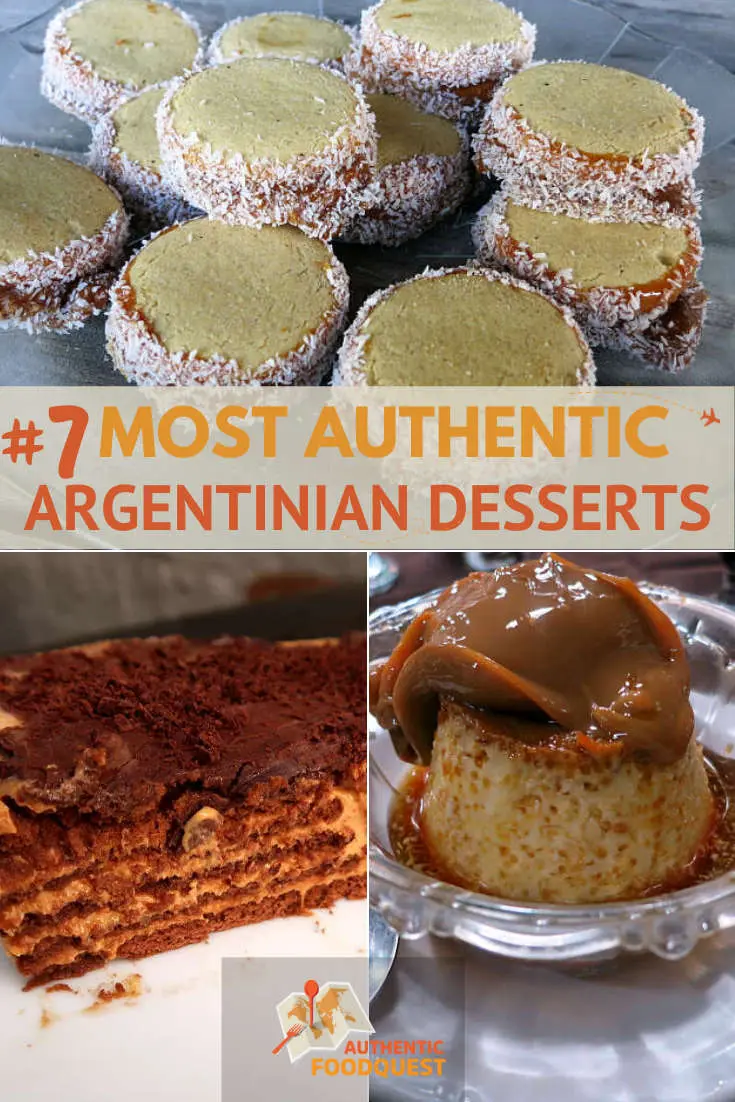 Claire is co-founder of Authentic Food Quest and a lover of simple and exquisite cuisine. Since 2015, with her partner, Rosemary, she has been traveling the world as a digital nomad, creating content about local food experiences.
Her advice from visiting 45 countries and more than 240 food cities has been featured in Lonely Planet, Business Insider, Honest Cooking, Food Insider, and Huffington Post. She has also co-authored three books, including one in collaboration with Costa Brava Tourism.
An ex-mechanical engineer, Claire is responsible for SEO, keeping the website running, and the fun food & travel videos on YouTube.
When Claire is not eating, she can be found running or cycling. Find out more about Authentic Food Quest