In a land with more cows than people (yes, 1 person for every 4 cows), Uruguay has more than beef to offer culinary travelers. Even as South America's smallest country, the cuisine is diverse and has been influenced by the traditions of the indigenous people and European immigrants. It is not unusual to find Italian restaurants selling pizza and pasta as well as the beef the country has become famous for.
Our quest to discover the authentic food of Uruguay took us to Montevideo, the capital. Here, we spent time visiting the local markets and food stores, connecting with local Uruguayans and discovering the Montevideo local food specialties.
Montevideo is only a 2 to 3 hours ferry ride away from Buenos Aires. If your travels to South America take you close to Uruguay, be sure to stop in and discover the Montevideo local food scene.
Check out these authentic food experiences in Montevideo. We share 5 in this article and the next article will have the second half.
Let's go discover what Montevideo has to offer foodie travelers.

1. Share a Mate and Visit Museo del Gaucho
Mate (pronounced MAH-tay, not the synonym for friend) is a very popular traditional beverage in Uruguay, Argentina, Brazil and Paraguay. In Uruguay, it is considered the national drink and a "Drink from the Gods".
In Montevideo, you will see Uruguayans walking around clutching onto a thermos flask and slurping from leather mate cups. What they are drinking is Mate, which is made from the infusion of yerba (dried mate plant) and hot water. "Yerba" is basically dried leaves and twigs from the tree species llex paraguayensis.
Mate is like coffee in that it has caffeine, it's like tea because it is steeped in hot water, but that's where the similarities end. Unlike coffee and tea, mate is consumed in social situations and the same gourd and bombilla (metal straw) are used and passed around from one person to the next.
There are many benefits to this drink. It is highly nutritious and contains Vitamin A. It is also a diuretic and used as a stimulant to reduce fatigue and suppress appetite. It is also said to help boost one's metabolic rate and has a host of powerful antioxidants that boost immunity and protect against colds and flu. You can read more about our experience with Mate in Uruguay in our article: Any Time Is Mate Time In Uruguay.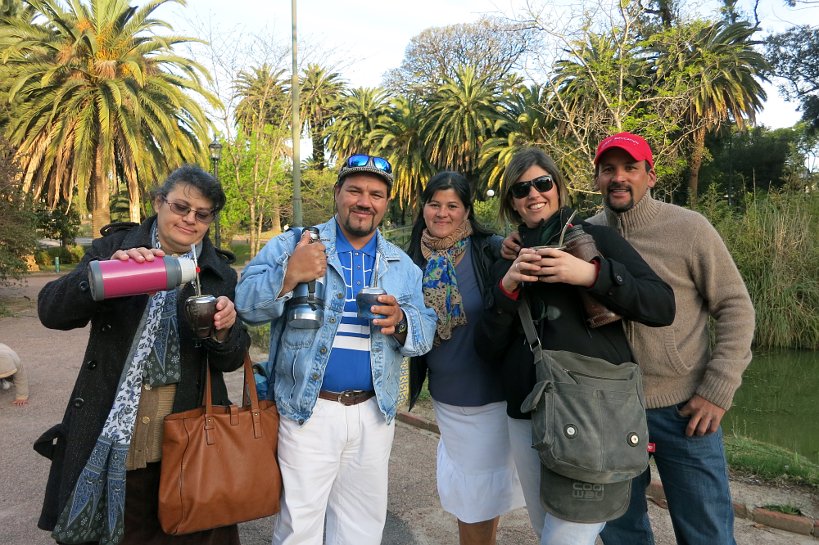 Head out to the Museo del Gaucho for an in-depth exposition about mate. After you've toured the beautiful palatial building, pick one of the nearby restaurants and order yourself this special drink from the Gods.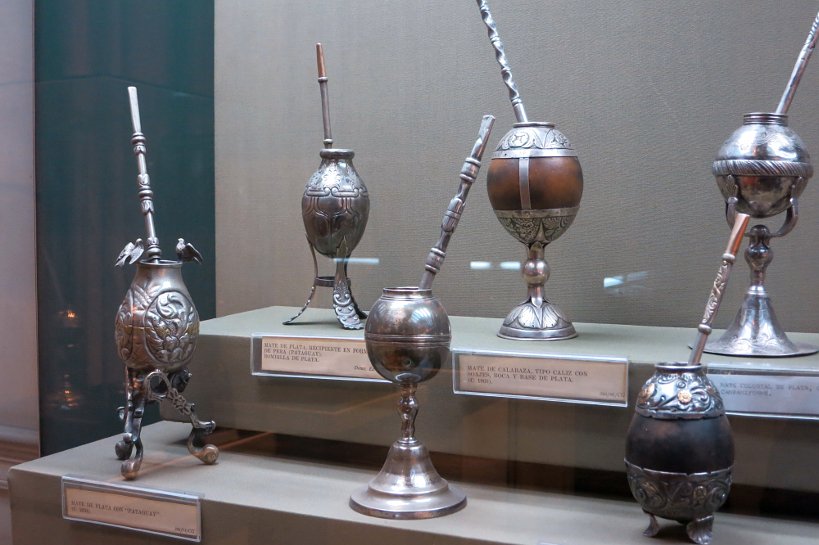 Where: Museo del Gaucho, 18 de Julio 998, Centro barrio (neighborhood), Montevideo, Uruguay.
When: Monday to Friday 10am to 4pm.
What to see: The History of Mate.
2. Try Morcilla Dulce At Mercado del Puerto – A Parrilla Experience
You may already be familiar with blood sausages or morcilla. In Uruguay, morcilla dulce is a local specialty that you don't want to miss out.
They are sweet blood sausages made with sugar, raisins, and ground nutmeg. Be surprised at how sweet these sausages really are. The caramelized sugar on the sausages combined with the raisins and nutmeg makes them taste like a dessert. Have your first "sausage dessert" experience here.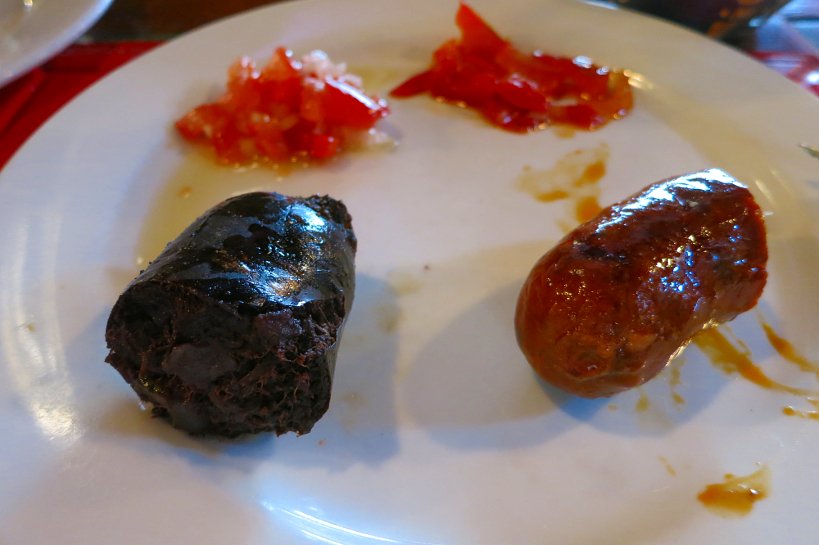 One of the best places to experience morcilla dulce is at Mercado del Puerto in the Ciudad Vieja (Old City). Market only by name, this Montevideo former old port market building (built in 1868) has an impressive iron structure.
This market is now made up of a pavilion of restaurants dedicated to selling meat. These parrillas all share the common elements of open fires with varied cuts of meats and sausages cooking tenderly to perfection.
Although it is a bit touristy, with restaurant staff fighting for your attention while presenting their English menu, it is worth a visit. Look around and seat yourself at a counter that appeals to your taste buds. Enjoy watching the asador maneuver the parrilla while enjoying your morcilla dulce with a glass of wine.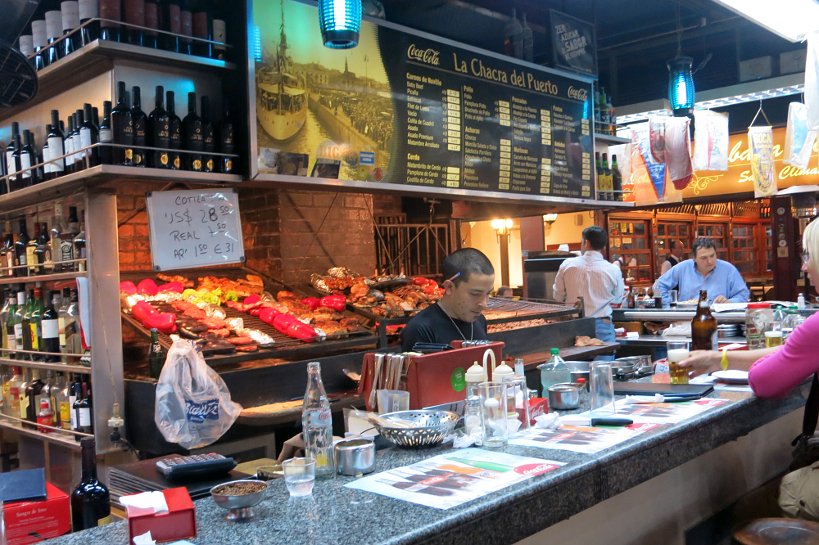 Where: Mercado del Puerto, Rambla 25 de Agosto de 1825 228, Montevideo, Uruguay.
When: Monday to Sunday from 12pm to 5pm. Weekends are usually more lively.
What to order: Morcilla Dulce.
3. Enjoy Tartas from Confiteria Saratoga and Watch The Sunset on La Rambla
Tartas are delicious savory pies similar to quiche. They are a puff pastry filled with different ingredients from ham and cheese, to different kinds of vegetables. One of the most typical tartas in Uruguay is the Pascualina. This tarta is stuffed with spinach and hard boiled eggs. It is typically eaten cold and during Easter, when meat consumption is restricted.
Confiteria Saratoga is one of the best deli-bakeries in Montevideo. They have fresh bread and pastries baked daily as well as prepared meals. Order one of the many tartas and ask for it caliente (hot). If you like spinach, get yourself tempted by the Pascualina.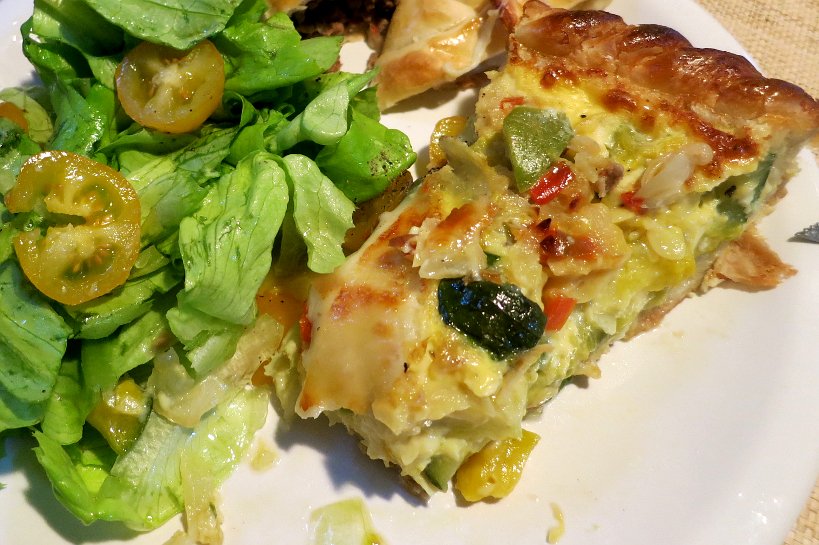 Confiteria Saratoga is located in Pocitos an upscale neighborhood, about ten minutes from the centre of Montevideo. From the Confiteria, walk to La Rambla, the main avenue on the waterfront. Stroll on La Rambla and enjoy your tarta while watching the sunset on the Rio de la Plata.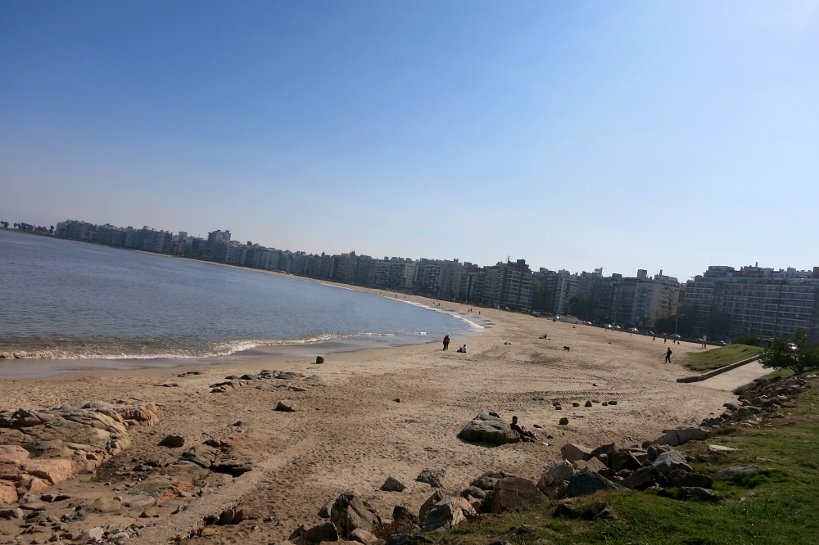 Where: Confiteria Saratoga, Manuel Vincente Pagola 3291, Montevideo, Uruguay.
When: Monday to Saturday from 8am to 9pm.
What to order: Tartas or Pascualina
4. Drink Tannat, The National Wine of Uruguay at Bodega Bouza
Tannat is the signature grape of Uruguay, and your trip to Montevideo would not be complete without tasting this local and famous grape. Bodega Bouza in Punta Carretas is about 30mins from the center of Montevideo and the best place to experience this wine.
This family owned boutique winery offers tours of the bodega, wine tasting and a restaurant. They even give you a tour of the private classic car collection of Mr. Bouza, which features more than 30 antique cars and motorcycles. For more, see our previous post Bodega Bouza: A Unique Experience in Uruguay.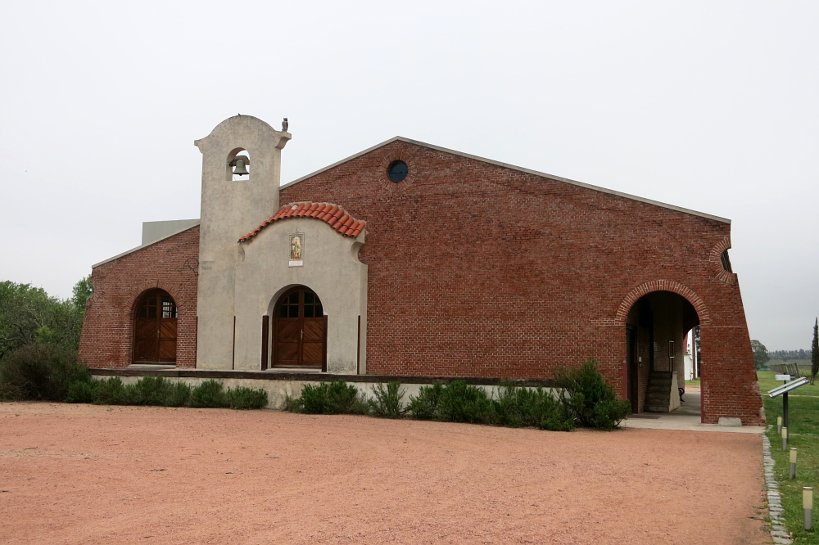 The Tannat grape growing process at Bodega Bouza is very selective. The grapes are grown without using pesticides. Unused grapes are used to fertilize and nourish the soil. The vines are spread about 2 meters apart to allow the grapes to get the maximum sunlight. This enhances the flavors of the wine and ability to obtain great quality wine.
If you have never tried Tannat wine before, be prepared to enjoy some of the best wine you will ever have. The experience at Bodega Bouza is outstanding. The tour is led by knowledgeable guides, the wines are fantastic and the food at the restaurant is incredibly delicious.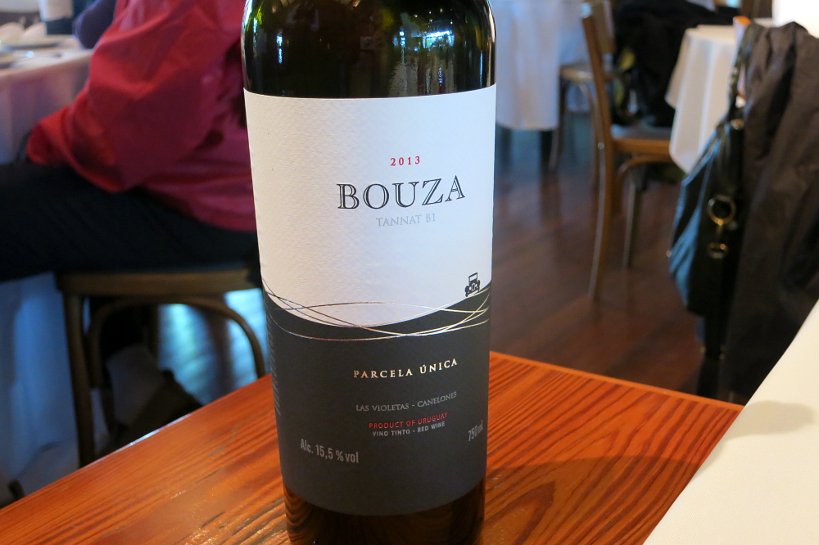 Where: Bodega Bouza, Camino La Redencion 7658, Montevideo, Uruguay.
When: Guided tours: Monday to Friday at 11am, 1pm and 4pm.
What to order: Wine tasting with Tannat wines.
5. Make a Stop For Lehmeyun, Montevideo Local Food from Armenia
The Armenian community in Uruguay is one of the oldest in South America. Most live in the capital, Montevideo. Many of the Armenians are third or even fourth-generation descendants of the first wave of immigrants coming from the Ottoman Empire. They brought the Armenian cuisine to Uruguay and in particular, Lehmeyun.
Lehmeyun is a round, thin piece of dough topped with minced meat (most commonly beef or lamb), minced vegetables, herbs including onions, tomatoes and parsley. It is then baked and served warm.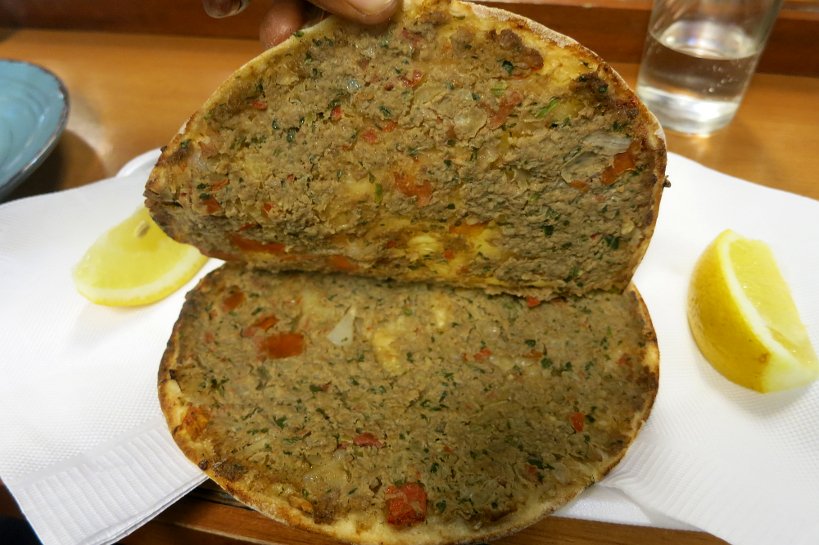 One of the best place to have it in Montevideo is Erevan, a popular Armenian restaurant. Conveniently located five blocks from Playa Pocitos, the most famous beach of Montevideo, it is a great place to have lunch. Join the local crowd and appreciate the Uruguayan immigration culture through its food.
Where: Erevan Cocina Armenia, Ellauri 1308, Montevideo, Uruguay.
When: Monday to Sunday from 12pm to 4pm and from 7pm to 12am.
What to order: Lehmeyun.

In Summary
In Montevideo, you will find varied cuisines and food options. While it may not have the international acclaim of its neighboring countries, the food is no less delicious. Experience Montevideo local food scene at its best by participating in any of the highlighted activities. Follow in the foot steps of this DIY authentic food tour. Discover how the capital of this small country will surprise and delight you with their local food, wine and mate.
We broke down this article in two parts so that you could take your time to enjoy theses experiences. In part 2, you will discover the next 5 of the top 10 Montevideo authentic food experiences.
Have you tried any of these Montevideo local food specialities before? Tell us which ones in the comments below.
Don't forget to sign up for our monthly newsletter here and get your free ebook on The 5 Best Ways to Find Authentic Food While Traveling.
Savor The Adventure!
Claire is co-founder of Authentic Food Quest and a lover of simple and exquisite cuisine. Since 2015, with her partner, Rosemary, she has been traveling the world as a digital nomad, creating content about local food experiences.
Her advice from visiting 45 countries and more than 240 food cities has been featured in Lonely Planet, Business Insider, Honest Cooking, Food Insider, and Huffington Post. She has also co-authored three books, including one in collaboration with Costa Brava Tourism.
An ex-mechanical engineer, Claire is responsible for SEO, keeping the website running, and the fun food & travel videos on YouTube.
When Claire is not eating, she can be found running or cycling. Find out more about Authentic Food Quest