When you hear the words, Delhi belly, Montezuma's revenge, or travelers diarrhea, what comes to mind?
For us, the mere mention of these words sends shivers down our spines. As culinary explorers, whose job is to explore the local and authentic dishes in each destination we visit, we can't afford to get sick on the road.
Traveler's diarrhea, contrary to what many might say, is avoidable. As such, we take all the necessary precautions we can to avoid spending our time holed up near a toilet.
In this article, we share tips and resources on how to prevent traveler's diarrhea and keep you eating local, safely.

What is Traveler's Diarrhea?
Traveler's diarrhea is caused by consuming food or water infected with bacteria. These bacteria  attack the intestines releasing diarrhea causing toxins into the GI tract and bloodstream.
For up to several days, you may suffer from a fever, abdominal cramps, nausea, bloating, vomiting and profuse diarrhea, often leading to dehydration.
Whenever you are visiting a place with sanitary practices different from yours at home, you have an increased risk of developing traveler's diarrhea.
In developing countries where health and safety standards are not as high, pay special attention to the local food and water.
Keep Eating Local On Your Travels
When it comes to tasting the local culture, eating local is the best way to go. On our travels, we eat with locals at farmers markets, on the streets, at buffets and hawker centers.
Although we have been safe for the most part, eating at a local market in Cusco, Peru, with questionable water, gave us stomach problems for a few days.
Despite that experience, we do not avoid the local food experiences. In fact, we embrace them. We always look forward to eating street food in Thailand or Vietnam. Eating at the local markets in Chile or Peru, or going buffet-style in Malaysia.
What keeps us confident is taking the right precautions to prevent traveler's diarrhea.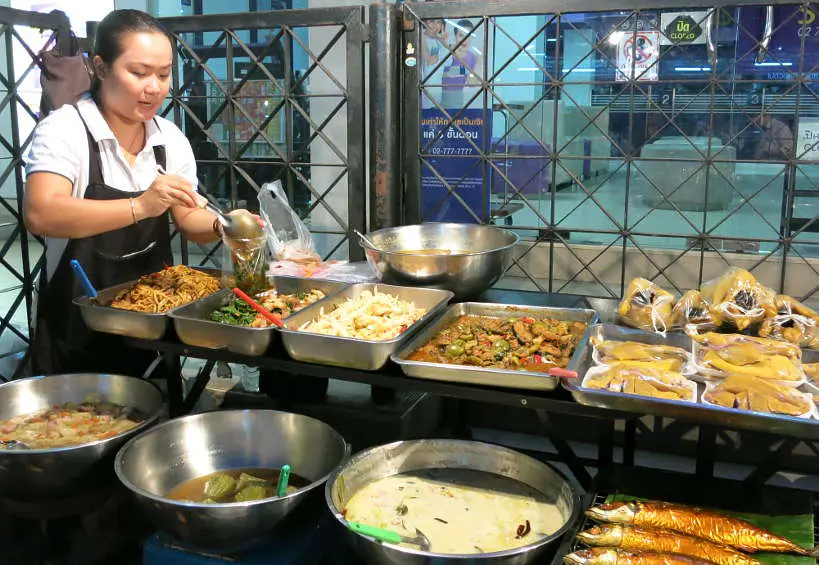 Preventing Travelers Diarrhea on Your Food Travels
The easiest way to prevent traveler's diarrhea is to keep your hands clean and practice good hygiene especially around food.
Before eating and whenever possible, we wash our hands with soap and water to reduce germs.
If soap and water are not available, we use our hand sanitizer that we always carry with us.
As food travelers, we always travel with our own cutlery. We carry a simple spork (spoon/fork combo) that easily fits into a small bag. If we are not comfortable with the eating utensils provided, we use our own, and focus on enjoying the flavors.
To avoid the risk of contamination in food, we avoid all fresh salads and fruits that are cut open. Bacteria can spread easily in these conditions and we want to take precaution to prevent the risk of traveler's diarrhea even before it begins.
Clean, safe, drinking water is a luxury in many parts of world. When traveling in Southeast Asia, we were really concerned about water safety in Thailand, Vietnam, Cambodia and the Philippines.
To do our part in protecting the environment and reducing the use of plastic, we avoid buying plastic bottles of water. Instead, we use a water filtration bottle that allows you to easily make  clean and purified drinking water.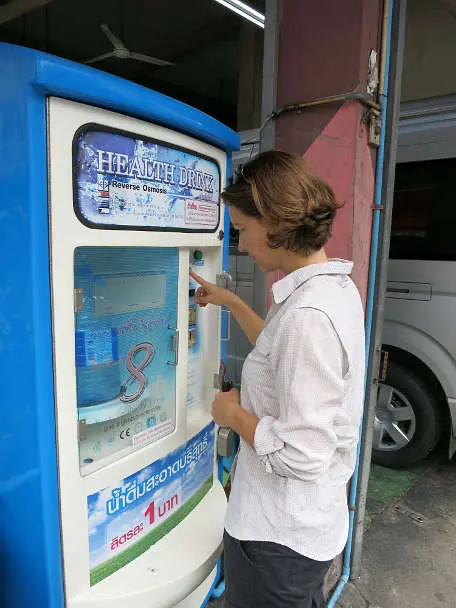 Introducing Travelan – Your Solution to Prevent Traveler's Diarrhea
Recently, we learned about Travelan from a fellow traveler. Once we learned that this over-the counter-medication can actually prevent diarrhea before it starts, we were intrigued.
As food travelers, we are always eager to learn about new resources that can keep us eating safely on the road.
There are many reasons to use Travelan, and we share them below. If you don't want to ruin your vacation and enjoy the local food specialities, you'll want to pack Travelan too.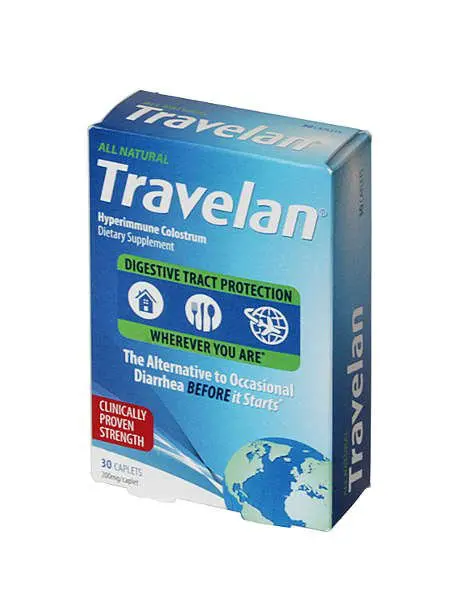 What We like About Travelan
Travelan: A Natural Supplement
The first thing that caught our attention about Travelan, is that it is a natural supplement. When it comes to health and self-care, we always look for alternatives to medication.
Travelan doesn't contain any coloring or flavoring. It is made from naturally-occurring ingredients in the form of cow colostrum. Cow colostrum contains proteins known as antibodies that fight bacteria and infection.
Stops Diarrhea Before it Starts
When you are affected by diarrhea, it can completely ruin your travels. Travelan is a preventative medication and it stops diarrhea before it starts.
The antibodies present in Travelan targets and neutralizes the diarrhea-causing bacteria preventing you from getting sick.
Taking Travelan is the best alternative to preventing diarrhea and getting sick all together.
Over the Counter Traveler's Diarrhea Medicine
To get Travelan, you don't need a prescription. You can get it in pharmacies over the counter in Australia.
If you buy it online on the Australian Travelan website, Travelan is shipped to your location, globally.
In the U.S., Travelan can be purchased on Amazon or at a Passport Health location.
One pack costs around $30 and covers you for 10 full days of travel. Needless to say, it is cheap insurance for your food travels.
Taking Travelan is the best alternative to preventing diarrhea and getting sick all together.
Research Studies by the Us Department of Defense
You might wonder how effective Travelan is. Clinical studies show 90% protection against E.coli, one of the most common causes of traveler's diarrhea.
Recent research conducted by the US Department of Defense also shows that Travelan was cross-reactive to all 180 different strains of bacteria tested.
With U.S. personnel deployed all across the globe, it is a testimony to the efficacy of Travelan.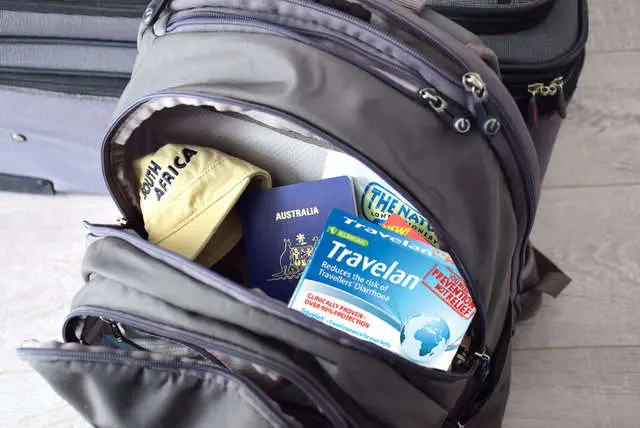 Easy to Take, Pack And Travel With
Travelan comes in a small packet that contains 30 caplets. It is designed to be taken before each meal with filtered or bottled water.
You can also take one each time you plan to eat something or somewhere that might be suspect for contamination.
It's easy to pack it in your carry-on luggage or have it on the go in your day backpack or purse.

In Summary
The best part of travel is eating the local food. As food travelers we encourage you to savor the local specialties at markets or at street food stalls.
However, you don't want to take any chances of falling sick on your travels. To avoid traveler's diarrhea we recommend taking a preventative approach.
In addition to using Travelan, wash your hands regularly, drink filtered water, avoid salads and uncooked foods. That way, you'll create memorable travel experiences – worry free!
What are your tips to prevent traveler's diarrhea? Please tell us in the comments below.
Savor The Adventure!
Love it? Pin it!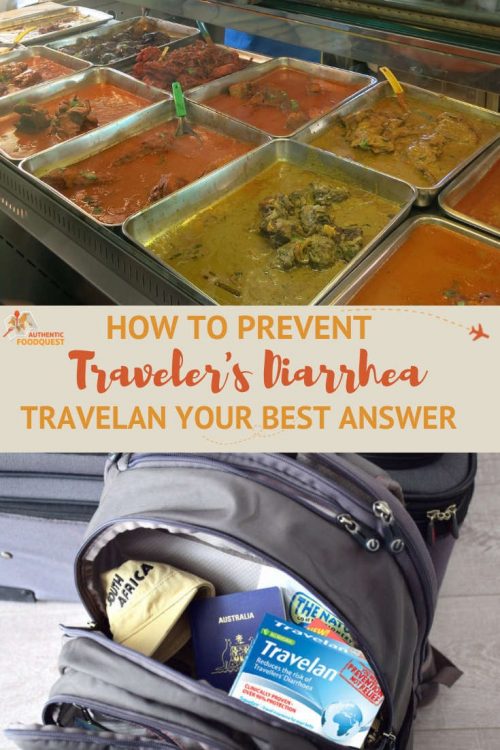 Disclaimer: This page contains affiliate links. That means at no extra charge to you, we earn a small commission when you purchase using these links. Thank you for your support.
Claire is co-founder of Authentic Food Quest and a lover of simple and exquisite cuisine. Since 2015, with her partner, Rosemary, she has been traveling the world as a digital nomad, creating content about local food experiences.
Her advice from visiting 45 countries and more than 240 food cities has been featured in Lonely Planet, Business Insider, Honest Cooking, Food Insider, and Huffington Post. She has also co-authored three books, including one in collaboration with Costa Brava Tourism.
An ex-mechanical engineer, Claire is responsible for SEO, keeping the website running, and the fun food & travel videos on YouTube.
When Claire is not eating, she can be found running or cycling. Find out more about Authentic Food Quest