You might think that Argentina is all about Malbec wine. Let's get real, the craft beer craze is taking over the country. It is true that you are more likely to find Quilmes, the emblematic Argentina beer. Today, you will notice several micro-brews and craft beers burgeoning across the country.
On our quest for authentic food in Argentina, we could not help but notice the popularity of Argentina beer. If your travels take you to Argentina, be sure to sample the many beers, national, regional and artisanal, the country has to offer.
Let's take a tour of the Argentina beer landscape!

Quilmes – The National Argentina Beer
Quilmes brewery was founded in 1888 by a German immigrant, Otto Bemberg. It took its name from Quilmes, a small city in the province of Buenos Aires known for having high quality water.
The beer grew to become the most popular beer in Buenos Aires and then in all of Argentina. Today, it is like a national symbol and it represents 67% of the Argentina beer market.
You will find this beer everywhere, and if you have never tried it, give it a go. Personally, I found this lager beer to be very light with a bland taste.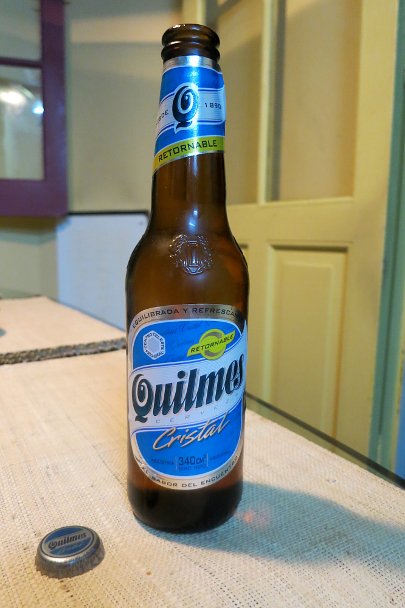 Quilmes Regional Varieties
As you leave Buenos Aires and travel through the different regions of Argentina, you will find different beers that are also made by Quilmes. They do not have the Quilmes label on them, and instead they go by their regional names.
In Mendoza, you will find the Andes beer that is made by Quilmes. Like the Quilmes it is a light lager.
In the north of Argentina, in the provinces of Salta and Jujuy Norte is the local beer that is produced by Quilmes. It tastes almost identical to Quilmes.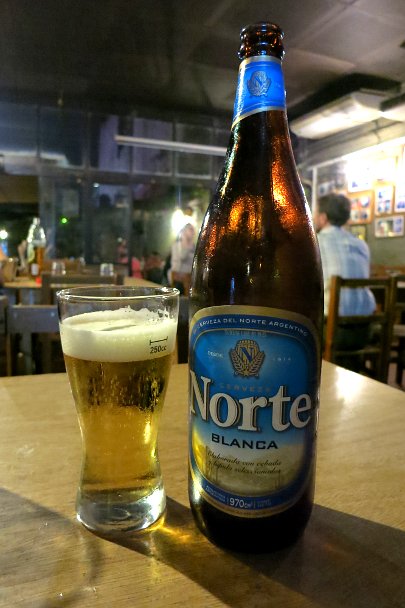 In Patagonia, in the South of Argentina, you will find Patagonia beer, named after the famous wild region. It is the craft beer version from Quilmes. It is a premium beer and one that is made right. You will find Patagonia beer offered in three different styles: Wheat, Amber and Stout.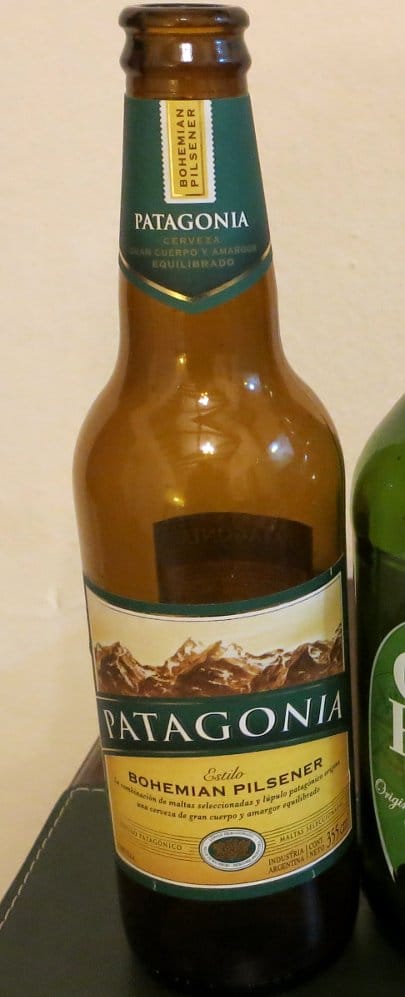 The Number 2 Beer Player in Argentina
CCU Argentina, is the second beer producer in Argentina after Quilmes. They make Imperial beer which is very popular and predominant in Buenos aires. It is a premium Lager.
Easy to drink with light flavors, Imperial beers are definitively a step above Quilmes. Imperial also comes as a: Weissbier, Red Lager, Strong Ale and Stout.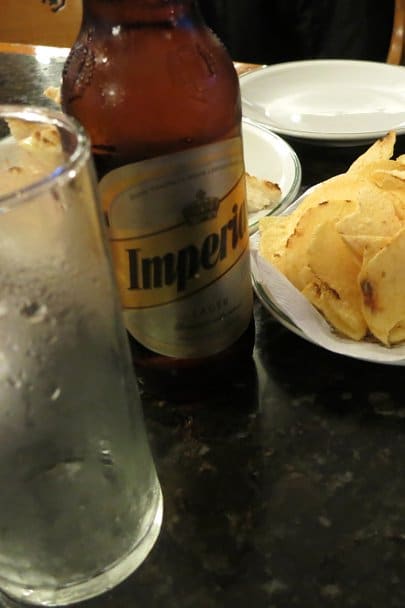 The most popular beer from CCU Argentina is Schneider. This Pale Lager was born in 1912 in Santa Fe, a city in the Northeast of Argentina. Santa Fe is located at the junction of the Parana and Salado rivers, which provide great water for the production of this regional beer.
The beer is named after the brewmaster Otto Schneider a German immigrant who created the brewery with locals from Santa Fe. It comes in three styles: Pale Ale, Red Ale, and Stout.
In Salta province of Argentina, you will find Salta beer. The brewery was founded in 1958 in Salta, and is today owned by CCU Argentina. Salta beer comes in two primary styles: Lager and Stout. One of my favorites, this beer is a great drink to pair with empanadas Salteñas.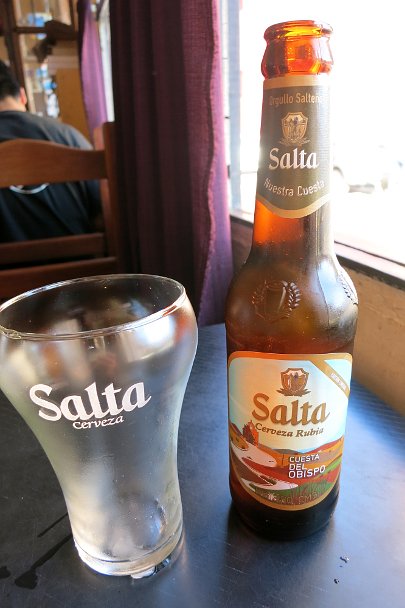 3 Craft Beers Making It Big in Argentina
#1 Antares is the leader of craft beers in Argentina. They started the first Argentinian microbrewery in 1994 in Mar del Plata, a city on the Atlantic coast.
The first Antares brewpub opened with three beer varieties. Given their unique and original concept, they rapidly grew in popularity.
Today, there are more than 30 Antares pubs across Argentina. They now offer more than 15 varieties of beer. They have also started distributing their beers in bars and restaurants in different cities across the country.
Despite their rapid growth, they still produce their beers using traditional methods to preserve the quality of the beer. For more information about their locations, check their website: https://www.cervezaantares.com/locales/
#2 Cape Horn and Beagle are two craft beer names are leading the market in Ushuaia.
Ushuaia is a port town located on the shores of the Beagle Channel and a popular gateway city to the Antarctic Continent (South Pole). You can read more here about the local foods we discovered in this southernmost city in the world.
The two breweries were originally two separate local breweries. Now the beers are brewed locally by Cerveceria Beagle in Ushuaia. The brewery uses the traditional German beer making process, using water from the glacier, malt, hops and yeast without the use of preservatives or chemicals.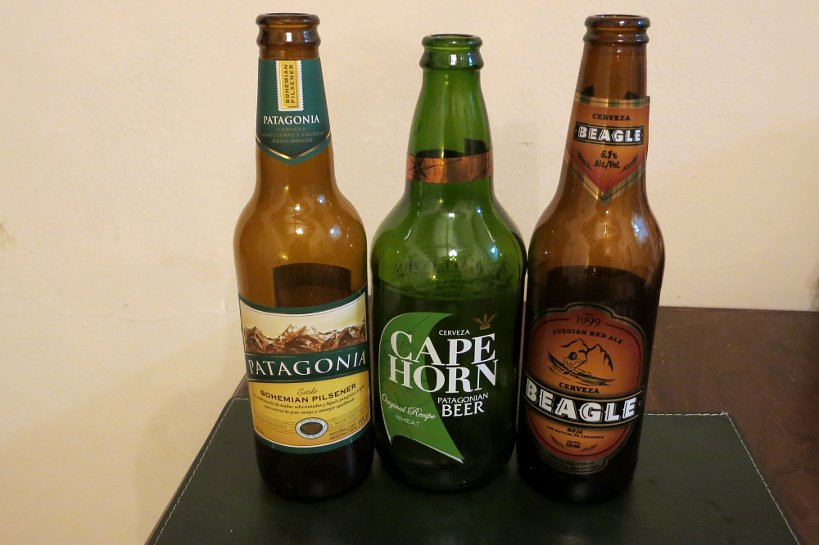 #3 Berlina Brewery in Bariloche is one of the most successful craft beers in the region.
Bariloche located on the Southwest side of Argentina is a beautiful city, on the foothills of the Andes, close to the Chile border.
The town was founded by Swiss and German immigrants and has a long tradition of craft beer brewing. Today, there are about 15 micro-breweries, producing and selling beer at local pubs called cervecerias. For more information about the different micro-breweries of Bariloche, check this local website: Bariloche Beer.
Berlina Brewery in Bariloche is a must visit brewery. They are open for brewery visits and beer sampling. They make more than 20 types of beer as well as a cider. They are located at the end of Colonia Suiza, a village with Swiss roots, 20 kilometers from Bariloche. Not only Berlina is making a name for itself in Argentina, it is also exporting its beers internationally.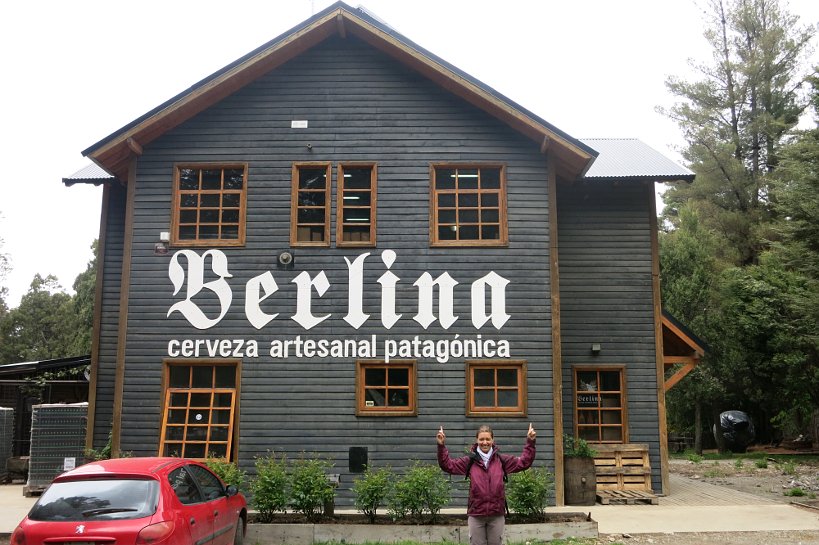 Flourishing Local Micro-Brews
El Bolson
With the craft beer market burgeoning, you will find other regions in Argentina where local breweries are making an impact.
El Bolson located 120 kilometers south of Bariloche has a growing craft beer scene with eight major micro-breweries.
Rupestre is one of the main micro-brews with three different beer varieties: Golden Ale, Red Ale, and Stout beers.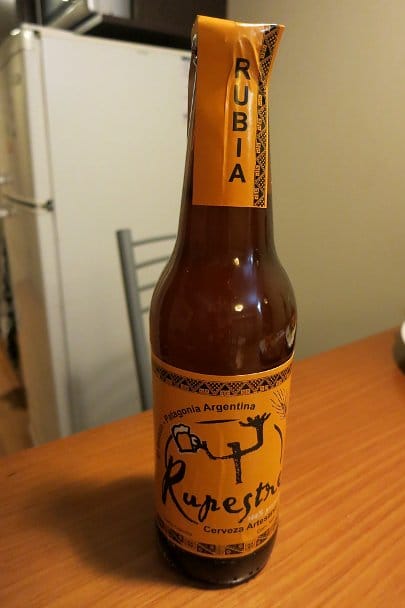 Córdoba
Córdoba the second largest city after Buenos Aires, located in the center of the country has a growing micro-brews scene. It is home to Oktoberfest Argentina where you can sample local micro-brews, Argentina craft beers as well as international beers. Needless to say, Córdoba should definitely be taken into consideration when planning a beer trip to Argentina.
Buenos Aires
The craft beer craze has definitively taken over Buenos Aires, the capital of Argentina. Today, you can find several micro-breweries and Brewpubs in the city. You will also find beer tours and beer tastings offered. Check Buenos Aires Craft Beer Walk to get yourself oriented.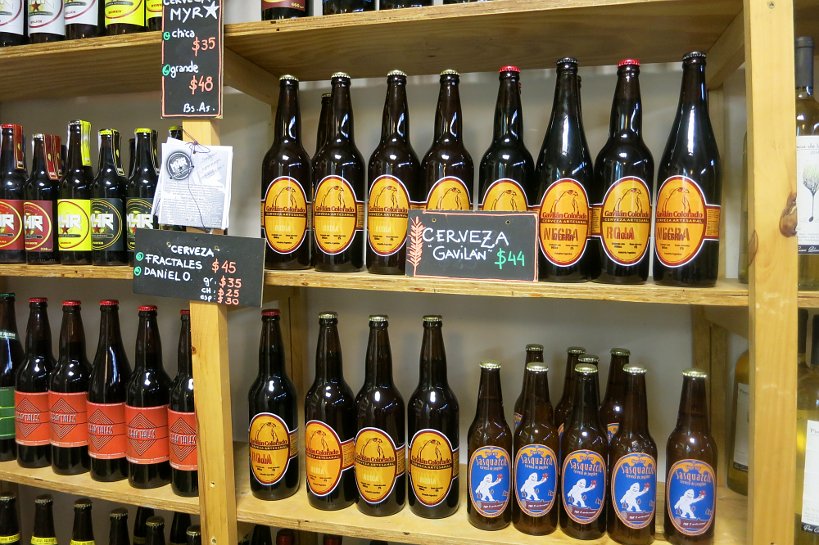 How to Order Your Argentina Beer
When ordering a beer in Argentina, be aware that the beer comes in large bottles from 500ml up to 1 liter. These servings are meant for sharing. You can find smaller bottle for one serving called a porrón. Draft beer is called a chopp or a liso in Santa Fe province.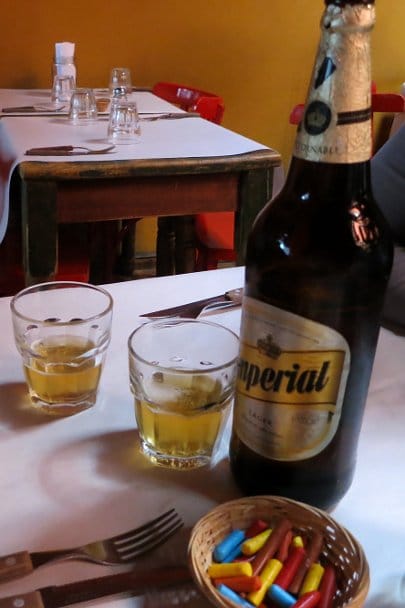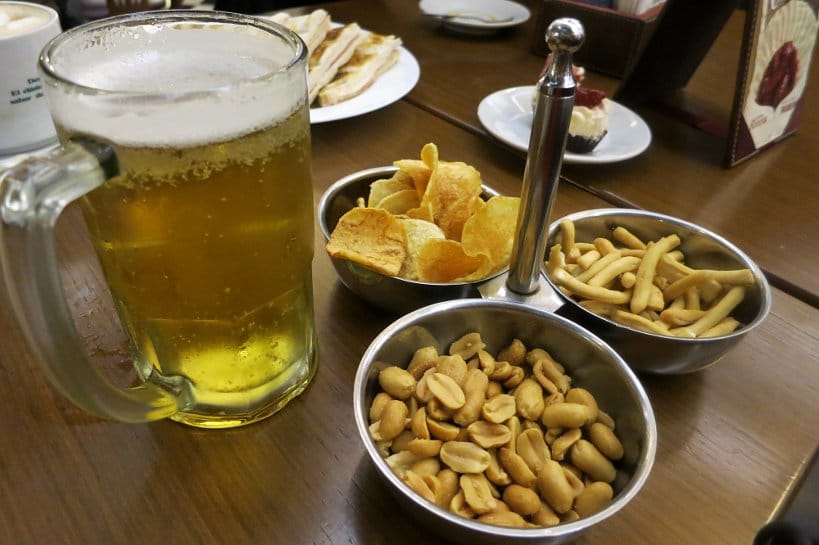 Draft beers are mainly served in three types: Cerveza Rubia, Colorada, and Negra. They correspond to a Pale Lager, Red Ale and Stout. Dedicated bars or Brewpub are called cervecerías.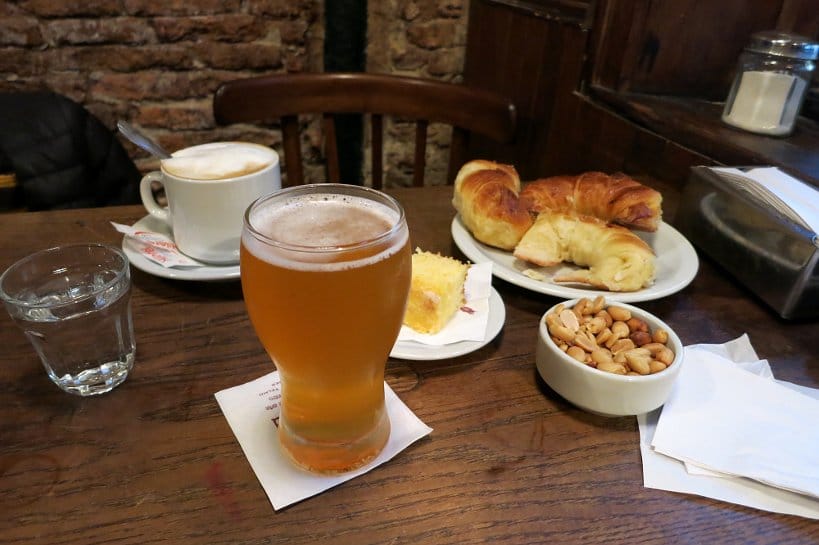 Where To Taste It All – Beer Festivals in Argentina
If all this talk of beer has you salivating for more, check out these beer festivals in Argentina.
Fiesta de la Cerveza Artesanal
The Bariloche region is the main producer of craft beers. La Fiesta de La Cerveza Artesanal is a national outdoor artisanal beer festival that takes place every December. This event celebrates Bariloche artisanal and craft beers.
This is the largest craft beer event in Patagonia. With more than 50 craft brewers styles, 16 breweries are presented. There is also an important gastronomic fair during the festival, with music and rock bands playing all week.
To learn more about this event check their website: Beer Art.
Fiesta de la Picada y La Cerveza Artesanal
Buenos Aires also has its own beer festival. It is called Fiesta de la picada y la cerveza artesanal (Picada and beer Festival). This festival takes place in October in Uribelarrea a city located at about 90 kilometers from Buenos Aires.
For two days, artisanal beer of Argentina and over 40 craft breweries from across the country are celebrated. There is a musical show as well as stands with cheese and cured meats from the region called picada. This is a great way to celebrate Argentina beer with traditional local food.
Fiesta Nacional de la Cerveza – Oktoberfest Argentina
The National Beer Festival – Oktoberfest Argentina takes place every year in Villa General Belgrano. This is a small village located 100 kilometers Southwest of Córdoba.This village was founded in the 1930s by two Germans, who brought with them the tradition of the German Oktoberfest.
Today, the festival takes place over ten days in the Parque Cervecero (Beer Park) built especially for the occasion. The main beer brands, both national and international participate in this festival.
For more information check the festival website: Oktoberfest Argentina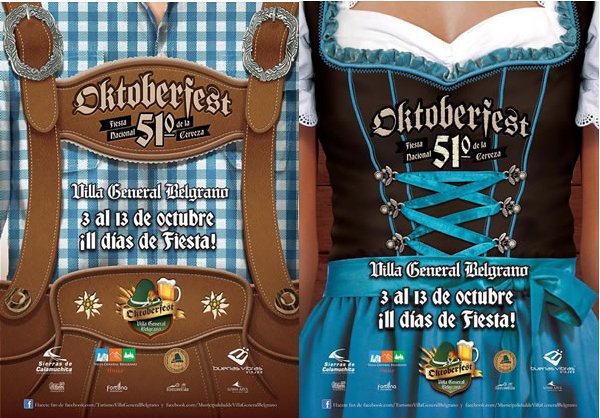 In Summary
Argentina, while most famous for its wine, also has an interesting and growing Argentina beer scene. Quilmes is an Argentine cultural symbol and a beer you should try once on your travels through the country. Beyond the national and regional beers, you will find many craft breweries that are leading the beer revolution in Argentina.
Wherever your travels take you in Argentina, go for the authentic Argentina beer experience. Share a one-liter bottle with newly found friends and take the time to sip the local craft beers.
Have you ever tasted Argentina beer? Tell us your favorite brand in the comments below!
Savor The Adventure!
Claire, ex-engineer, is a digital nomad and content creator at Authentic Food Quest. Since 2015, with her partner, Rosemary, they travel the world in search of the best local food experiences. Their mission is to help you enjoy the best local specialties on your travels or via recipes in your home kitchen. Favorite country for food: Vietnam. Favorite local dish: Hainanese Chicken Rice.  Favorite way to keep fit: Cycling. Claire is responsible for the website and the fun food & travel videos on Youtube. She is also co-author of Authentic Food Quest Argentina and Authentic Food Quest Peru, available on Amazon.