Peru's food culture is undoubtedly what most know about the country. Peruvian drinks, while not as well known, also deserve the culinary spotlight.
Beyond the Pisco Sour, there is a range of alcoholic and non-alcoholic beverages that are delightfully fascinating.
Peruvian drinks reflect local customs, history, and unique ingredients. From beverages consumed during the ancient Inca Empire to craft beers, savor the symbols of Peruvian culture.
Use this spotlight of 10 unique Peruvian drinks to guide your drink choices as you savor local Peruvian culture.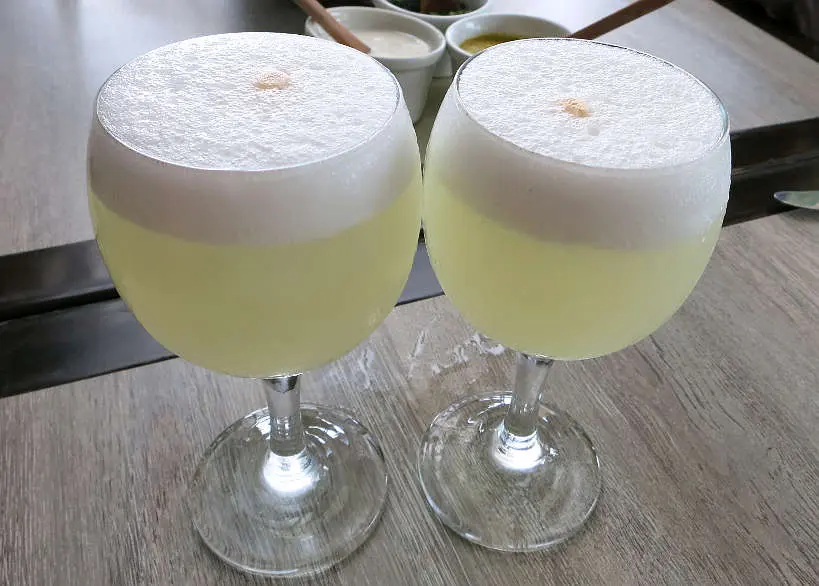 The Pisco Sour is considered the national drink of Peru and it even has its own National Holiday. National Pisco Sour Day is celebrated on the first Saturday in February.
Pisco Sour is made of Peruvian Pisco as the base liquor with lime juice, syrup, ice, egg white, and Angostura bitters.
The Pisco Sour is a refreshing and tasty Peruvian drink. It can be deceptively strong through the citrus flavors make it very easy to drink. This is one of the drinks of Peru you absolutely cannot miss.
2. Chilcano – A Pisco Cocktail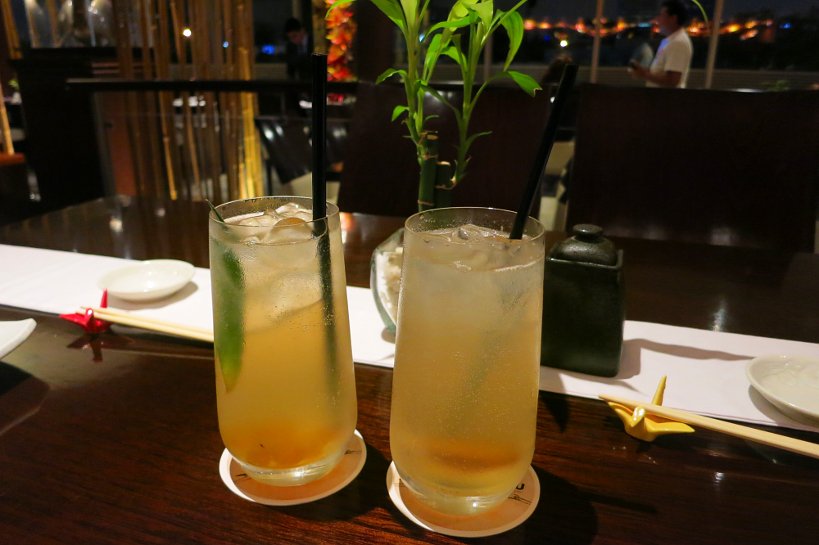 The first time we heard about the popular Chilcano drink was from our friend, gastronomy critic Cecilia Portella Morote.
We happened to be in Lima in January when the Chilcano Festival was taking place. The Chilcano Festival also known as Semana del Chilcano, takes place in mid-January for 11 consecutive days throughout Peru.
Like the Pisco Sour, the Chilcano also uses Pisco as the base liquor, but it is not as strong.
The classic Chilcano is made of Pisco brand with lime juice, ginger ale, ice, and Angostura bitters.
Other variations are made with the juices of exotic fruit from the Amazon Jungle, like maracuya or lucuma. While the Chilcano may not be as popular as the Pisco Sour, it is a refreshing alternative and slightly lighter.
If you happen to catch the Chilcano festival, you will be able to enjoy (in moderation) the many 2 for 1 Chilcano specials.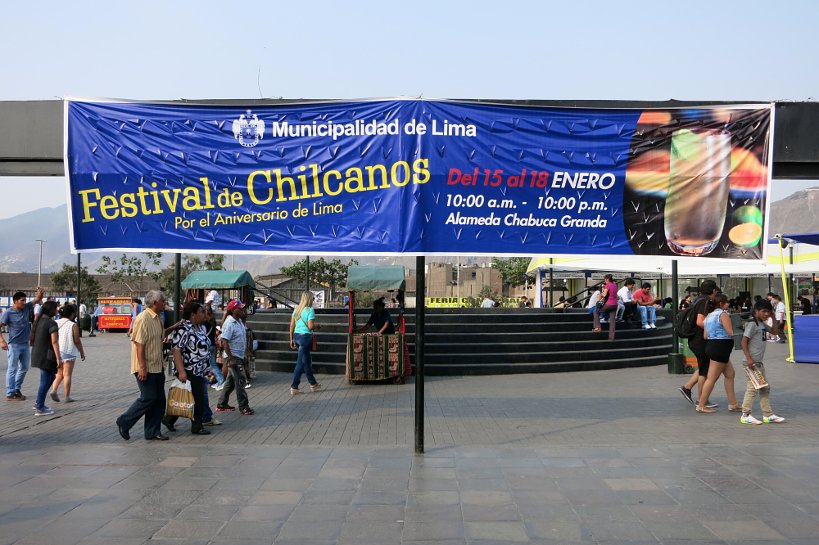 3. Chicha Morada – Purple Corn Drink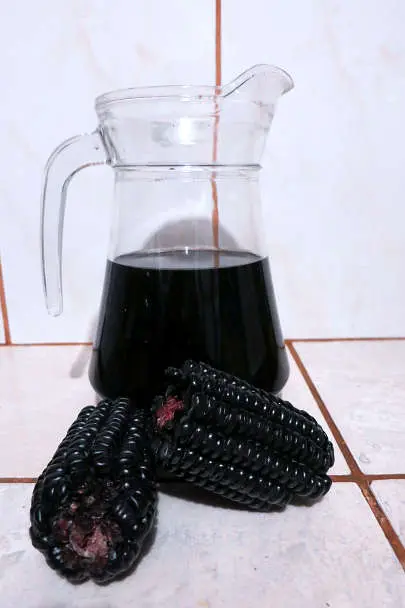 Chicha Morada is another unique Peruvian drink made from purple corn. Purple corn or Maiz Morada, in Spanish, is one of the unique corn varieties native to Peru.
This corn variety has a long history and is said to date back prior to the creation of the Inca Empire.
Besides the unique color, Purple corn has many health benefits such as fighting diabetes, obesity, cancer, and more.
This Peruvian drink is non-alcoholic and is made by boiling purple corn with pineapple skin, cinnamon, cloves, and sugar.
This was one of our favorite local Peruvian drinks. We always enjoyed having it with our meals. Sweet and deliciously refreshing, the hint of cinnamon adds a bright spark to the tongue.
With its intriguing deep purple color, we could not resist all the goodness contained up in this unique Peruvian drink.
4. Chicha de Jora – Fermented Corn Beer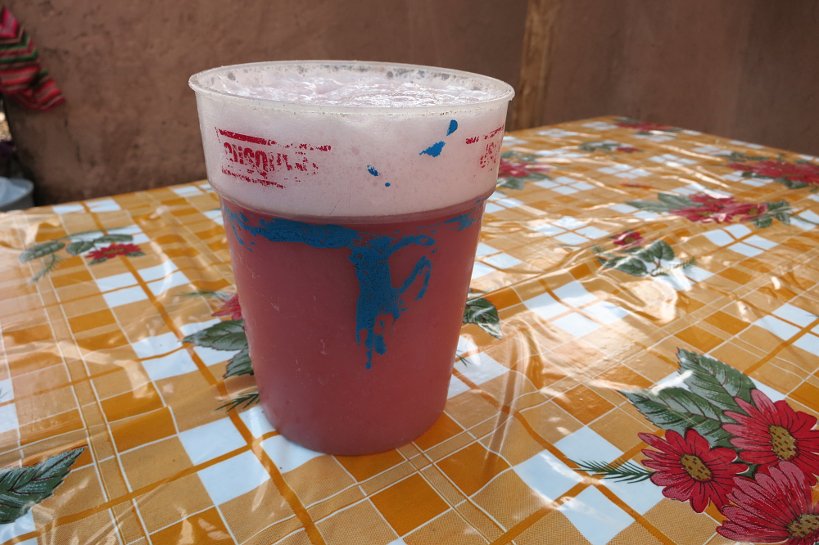 Chicha de Jora is a traditional and famous drink from the Andes. It was consumed during the Inca Empire times especially at religious or ritualistic festivals.
This Peruvian drink is a type of beer made from Jora corn, a type of yellow corn from the Andes. The process to make Chicha de Jora is similar to the production of regular beer.
We discovered Chicha de Jora while visiting the Chinchero market, a small Andean village in the Sacred Valley. While having lunch, we were invited to have a Chicha de Jora to accompany our meal.
It was served a large glass that we could barely hold with one hand. On the top was a thick layer of foam, like beer foam.
Traditionally, the first portion of the drink is spilled on the ground as an offering to Earth Mother. Earth Mother is known as Pachamama in the Quechua language and the saying is "Pachamama, santa tierra."
This chicha de jora corn beer is quite an interesting experience. The taste starts out slightly sweet and finishes with a strong sour taste similar to a bitter apple cider.
We could barely finish drinking it. While not our favorite Peruvian drink, it is a traditional specialty you should not miss on your Peru travels.
AUTHENTIC FOOD QUEST TIP: One of the best ways to experience Peru's local food specialties is with a local. We recommend taking a Peruvian Food tour through the local markets in Lima. With a local guide, spend 4 hours visiting 3 local markets learning and tasting local dishes and Peruvian drinks.
5. Chicha de Frutilla – Blend of Peruvian Corn Beer & Strawberries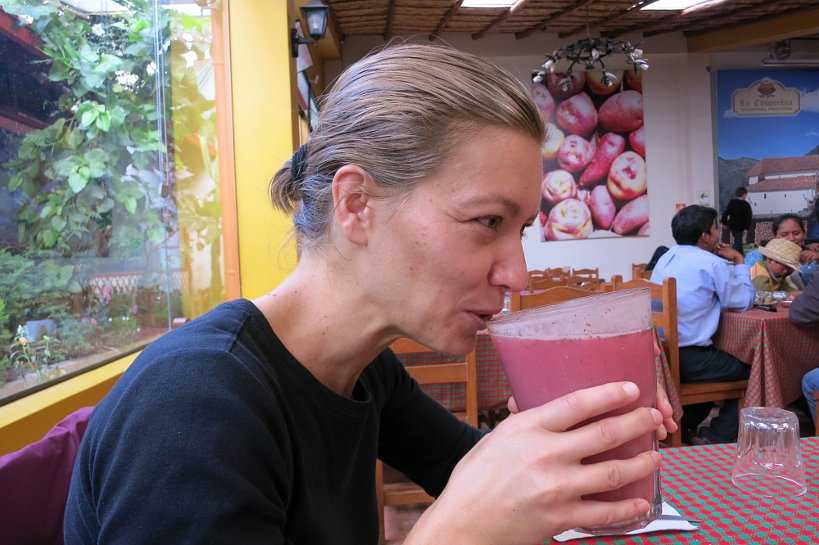 Chicha de frutilla, also known as Frutillada is a sweeter version of the Chicha de Jora. This Peruvian drink is made with strawberries (frutilla) and sugar blended into the Chicha de Jora.
The color is an unexpected pink and it tastes much sweeter than the Chicha de Jora. The strawberries cover the bitter taste which makes it more palatable than the corn beer.
We first had Frutillada in Cusco, at a traditional Picanteria, which are local restaurants serving, meat and traditional foods.
Similar to the market experience, the chicha de frutilla was served an enormous glass that requires both hands to hold.
Even though it took an effort to finish the glass, it was the perfect accompaniment for chiriuchu, a Cusco local specialty.
6. Inca Kola – Peru's Golden Cola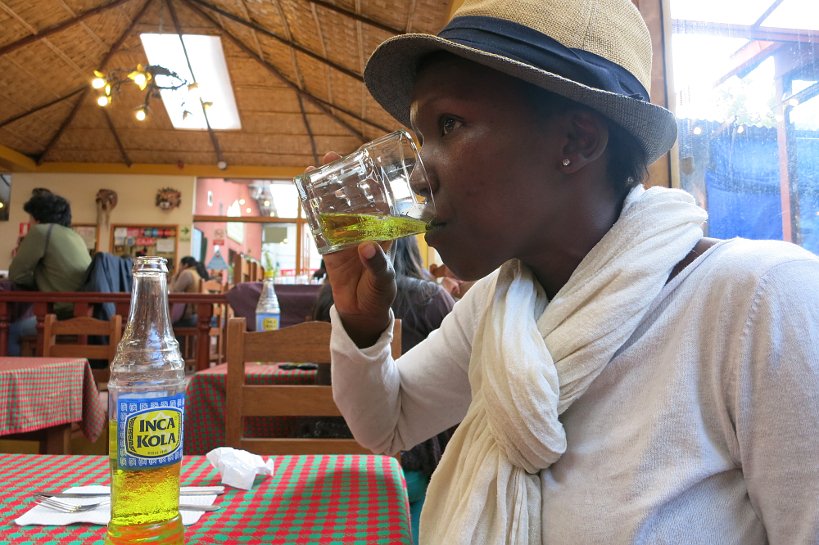 In countries like the U.S., it's either Coca Cola or Pepsi. In Peru, there's only one soft drink of choice – Inca Kola.
Inca Kola is a yellow fluorescent colored soda that is super sweet and tastes like bubblegum.
The origins of Inca Kola go back to 1910 where a young English couple José Robinson Lindley and his wife Martha opened a small shop in Lima, where they sold homemade carbonated beverages.
In 1935 Lima was celebrating 400 years since its founding and the Lindleys decided to produce a unique drink to commemorate the event and their new homeland. Marketed as the "Pride of Peru" you'll see this drink everywhere.
Extremely popular throughout the country, this is the preferred drink to complement Peruvian cuisine.
Today, the Inca Kola Trademark is owned by Coca-Cola. You can find Inca Kola at Peruvian restaurants in the U.S. or at international sections of grocery stores.
You can also order Inca Kola from Amazon and have it delivered to your home.
7. Mate de Coca – Coca Tea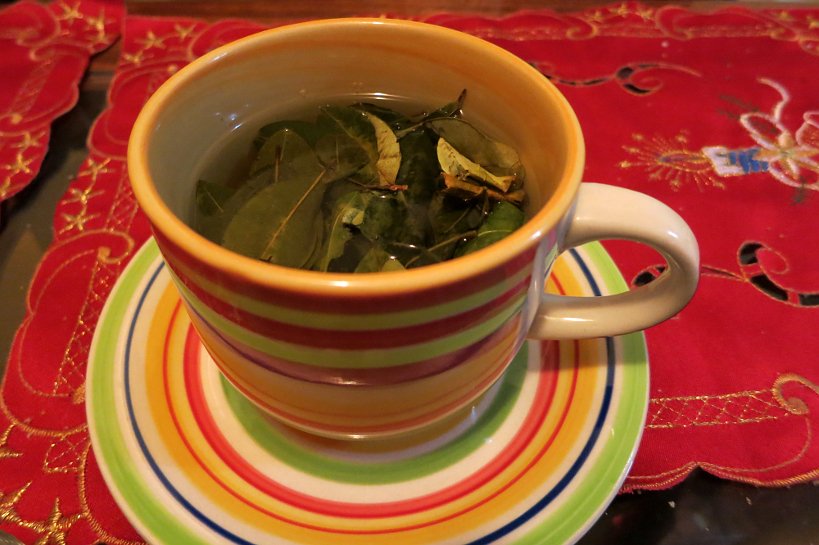 Famous in the Andes region, this unique Peruvian drink is actually coca tea. It is an herbal tea made from the leaves of a coca plant.
Mate de Coca is very popular and used to treat altitude sickness. We first had Mate de Coca in Cusco to help us adapt to the high altitude which is 3,400 meters (11,200 feet) above sea level.
This tea is however controversial. According to Science, the leaves from the coca plant contain alkaloids, which when extracted chemically are the source for cocaine base.
Though the amount in the coca alkaloids in the leaves is small, one cup of coca tea can cause a positive result on a drug test for cocaine. Needless to say, coca tea is illegal in the U.S. though legal in Columbia, Peru, Bolivia, Argentina, Ecuador, and Chile.
Controversy aside, we both enjoyed this unique Peruvian drink. We found it easy to drink with a taste similar to green tea.
Mate de Coca kept us acclimatized to the altitude as well as warm during the cool evenings.
8. Emoliente – Traditional Mixed Herbs Drink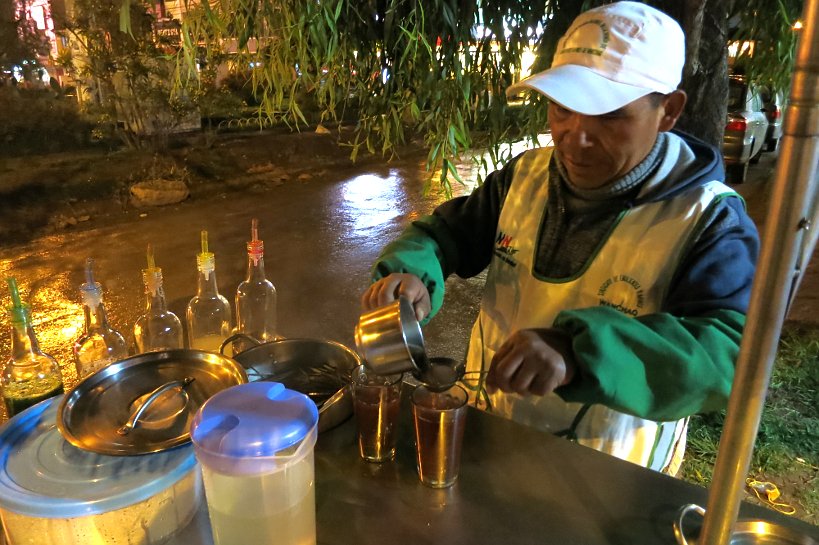 Emoliente is one of the most unique Peruvian drinks we discovered by chance. We were in Cusco and I was not feeling very well. Our Airbnb host told us about a natural healing drink called Emoliente sold at street corners by vendors.
We had seen these carts appear every evening and had been curious about them. Emoliente is an herbal tea that is very popular in the cold season.
It is prepared with a base of herbs that usually includes barley, dried horsetail, flaxseed, plantain leaf, and alfalfa sprouts.
We approached one vendor curious and intrigued. The first thing that caught our attention were two large covered bowls on the flat surface. The mystery was heightened by several intriguing pharmaceutical-like bottles on the side of the cart.
The vendor told us that the 5 or 6 bottles on the sides were liquids with healing properties made from natural plants from the Andes mountains.
The Healing Properties of Emoliente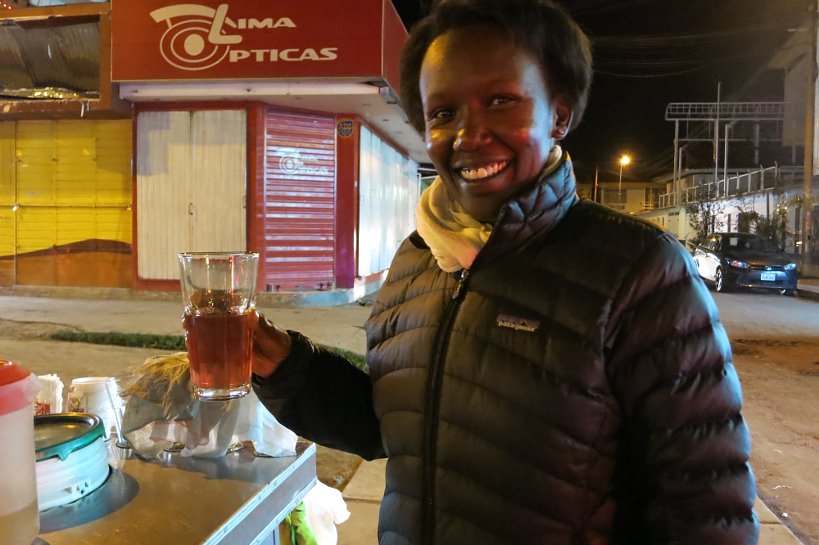 Given my upset stomach symptoms, the vendor customized a drink for me. From the large bowls in the center of the cup, he scooped out emoliente and poured it in a glass.
To the glass, he added about 3 shots of natural liquids. These were from the side of the cart and said to help with stomach flu and indigestion.
The first sip was a little bizarre. The drink was slimy, yet fruity. It tasted like there was a coating in the liquid. It was not disgusting just unlike anything we have ever tasted before. Imagine drinking a hot, fruity, slimy, and semi-sparkly beverage.
Nonetheless, the drink went down quite easily and I felt better taking something natural over prescription drugs.
With its healing properties, I felt much better the next day. I had a hot emoliente drink, though it can also be served cold.
If you are curious, you can order Emoliente from Amazon and try it at home.
9. Cusquena Beer & Other Peruvian Beers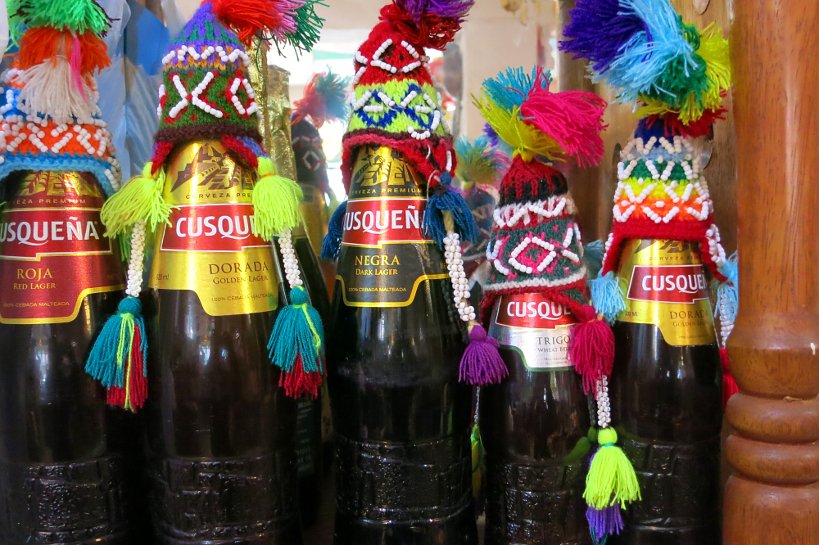 Although Pisco Sour is the most well-known Peruvian drink, Peruvian beers are also popular.
Peru has three major beer brands Pilsen Callao, Cristal, and Cusqueña. Pilsen Callao and Cristal are both lagers with little flavor in Claire's opinion (yes, I am not a beer drinker).
Cusquena Beer makes several varieties of beers. You'll find Golden Lager, Red Lager, Wheat beer, and Dark Lager. There is a beer for every taste.
The Cusquena beer was by far Claire's favorite. She enjoyed the range of flavors and smooth tastes.
Other regional beers that are not widely available are the Arequipeña from Arequipa and Pilsen Trujillo from Trujillo.
Craft or artisanal beers, known as "cerveza artesanal" are also available. Local brewers are experimenting with unique flavors like quinoa beer which blend history and modernity.
10. Peruvian Fresh Juices and "Jugo Especial"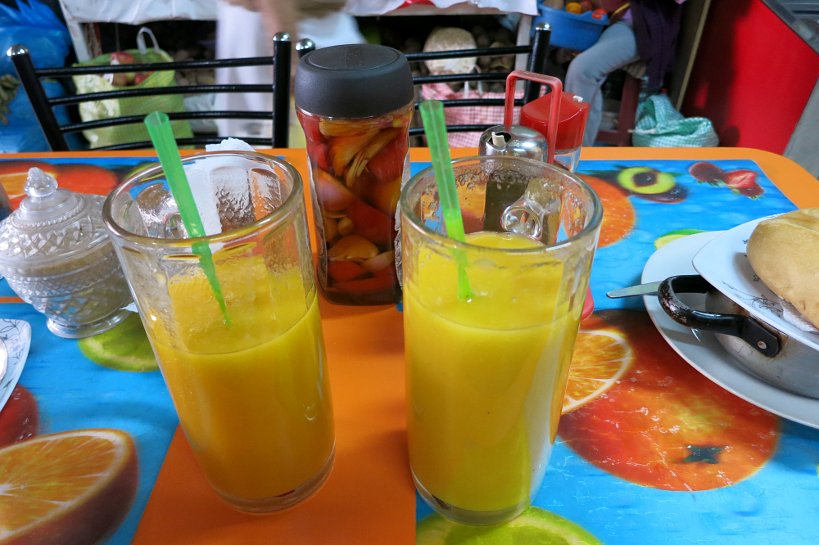 Peru is home to several kinds of unique and amazing fruits. As a fruit paradise, one of the best ways to enjoy the flavors is in fresh juices and smoothies.
You will find fresh juice stands everywhere and most restaurants and cafes also offer fresh juices on their menus.
The choices of fruits are endless and include bananas, papayas, pineapples, guavas, maracuya (passion fruit) and, many more. The juices are often sweetened with raw honey, algarrobina (carob extract) and, fruit nectars.
The fresh fruits, bright colors, and fragrances are intoxicating making you appreciate Earth's goodness.
Be sure to savor these juices while in Peru.
Jugo Especial – Special Juice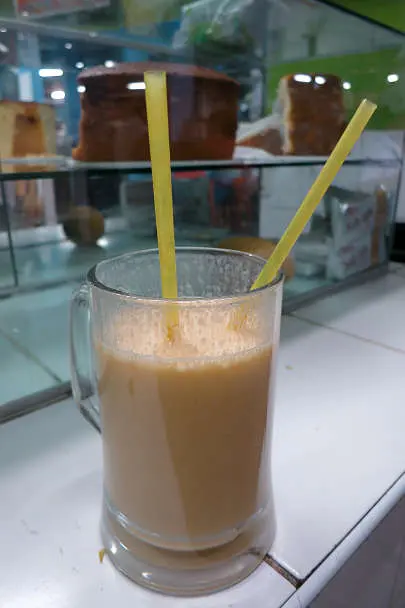 A hidden specialty and unique Peruvian drink is the "Jugo Especial." This is a special juice that is a meal in itself.
It is a mix of a little bit of everything including Cusquena beer (optional) and an egg. We decided to skip the beer and egg option, and still enjoyed this deliciously thick juice.
More than a juice, it is a meal, big enough to share.

In Summary
A journey through Peru must take into consideration unique Peruvian drinks that enhance the flavors of the traditional dishes.
To get the most enjoyment out of the Peruvian dishes, savor the drinks that are rich in history and flavor.
Inca Kola, for example, is the Peruvian drink of choice to accompany many local dishes like Ceviche or Lomo Saltado. Chicha Morada and the Peruvian Pisco Sour are Peruvian drinks not to be missed.
By highlighting these unique Peruvian drinks, our goal is to ensure you have a richer, fuller, and more tasty culinary adventure in Peru.
Have you had any of these Peruvian drinks before? Please let us know in the comments below.
Savor The Adventure!
Looking for More Local Peruvian Food Experiences?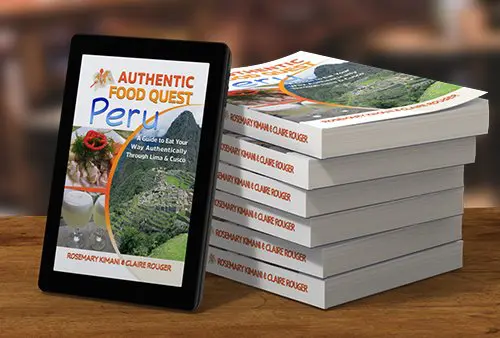 Our book, Authentic Food Quest Peru takes you on a journey through the regional food specialties in Peru. Get an introduction to Peruvian food and the history of how this unique gastronomy came to be.
Discover the authentic foods in Lima and Cusco as well as the top Peruvian drinks and dishes that should not be missed. Take this guide with you as you explore Peru's magnificent cuisine.
Available on Amazon and Barnes & Noble.
Love Peruvian Drinks? Pin it!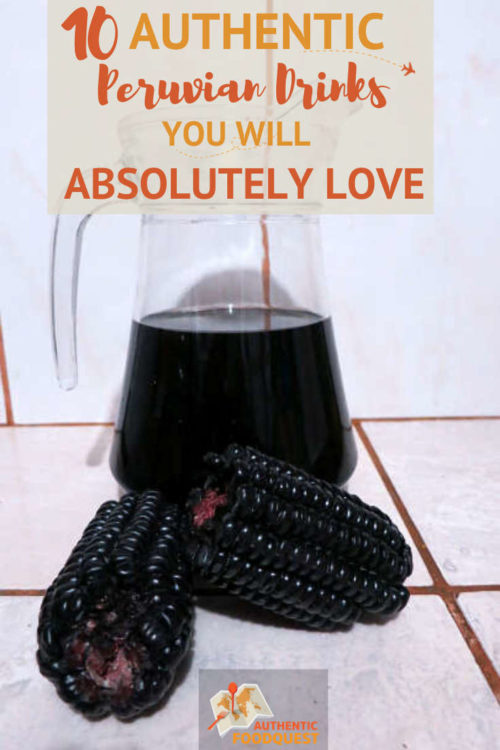 Disclaimer: This page contains affiliate links. That means at no extra charge to you, we earn a small commission when you purchase using these links.
Rosemary, ex-marketing and advertising strategist, is a digital nomad and content creator at Authentic Food Quest. Since 2015, with her partner, Claire, they travel the world in search of the best local food experiences. Their mission is to help you enjoy the best local specialties on your travels or via recipes in your home kitchen. Favorite country for food: Peru. Favorite local dish: Bacalhau. Favorite way to keep fit: Running. Rosemary is the chief content writer and strategist on Authentic Food Quest. She is also co-author of Authentic Food Quest Argentina and Authentic Food Quest Peru, available on Amazon.