This article has links to products and services we recommend, which we may make a commission from.
Tasting snacks from around the world is a delicious way to travel and see the world. Even though travel may be restricted, it doesn't mean the spirit of exploration has died.
Lovers of food, adventure, and travel can enjoy global snacks from the comfort of home.
Universal Yums offers monthly subscription snack boxes from different countries around the world.
We ordered a snack box to try it out and here's our Universal Yums review.

What is Universal Yums?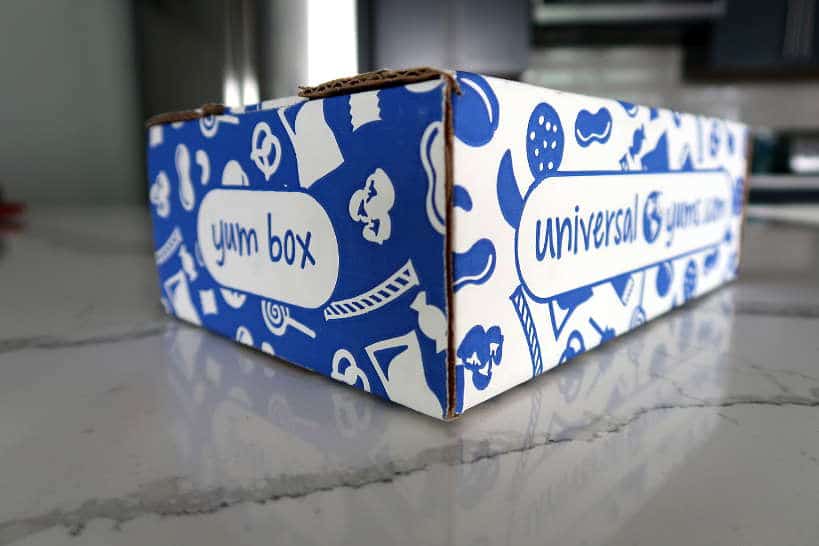 Imagine being transported around the world, simply by opening a package that lands on your doorstep every month.
That's exactly how Universal Yums works. The company, founded in 2014, is on a mission to bring the best snacks from different countries straight to your door.
Universal Yums is a monthly subscription box packed with tasty treats from around the globe. Every snack box comes with a guidebook that includes recipes, trivia, cultural facts, games. and much more.
Each snack box highlights a specific country. The snacks are sweet and savory with a mix of flavors and textures.
Without having to travel, the best part is learning and enjoying local snacks from a particular country, every month.
Authentic Food Quest Tip: If you want to get started, use the Universal Yums coupon on your yearly subscription. Get one month FREE on any of the snack box sizes and enjoy tasty snacks from around the world.
Universal Yums Review – How Does it Work?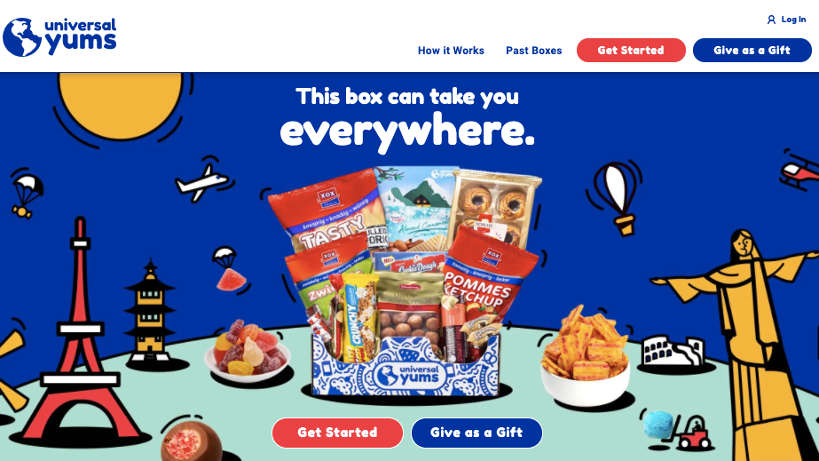 The signup process on the Universal Yums website is clear and straightforward.
All you have to do is select the snack box and size of your choice, create an account, and pay.
The process is easy and only takes a few minutes. Currently, Universal Yums offers shipping to the U.S., Canada, Australia, the U.K., and Israel.
Starting Your Adventure With Universal Yums Boxes
When you get started with Universal Yums snack boxes, you get to choose the country for your first box.
After that, you'll get a surprise box from a different country each month. Universal Yums offers snack boxes in three different sizes to choose from.
Yum Box – The Smallest Snack Box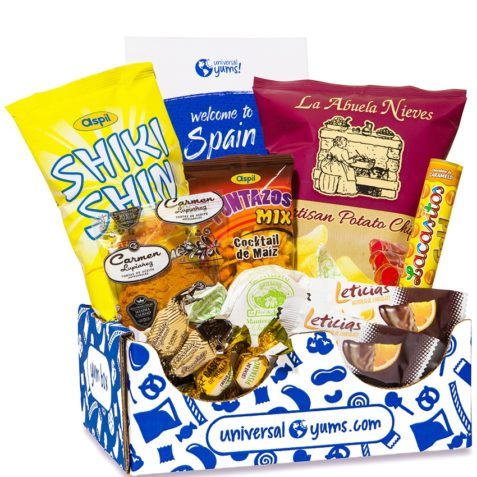 Yum Box
from:
Universal Yums LLC
The Yum Box is the basic snack box that has 5 to 7 hand-picked local snacks.
Pricing starts at $15 per box on an annual basis or $17.00 month-to-month.
Free shipping for the Yum Box is offered within the United States.
Yum Yum Box – Medium Size Snack Box

Yum Yum Box
from:
Universal Yums LLC
The Yum Yum Box or medium snack box contains about a dozen snacks or so.
With the number of snacks, this size is perfect for three to four people. Pricing starts at $26 with the annual plan or $29 on a month-to-month basis.
Like the Yum Box, free shipping for the Yum Yum Box is offered within the USA.
Super Yum Box – The Biggest Yum Box

Super Yum Box
from:
Universal Yums LLC
The Super Yum Box or large snack box has more than 20 local and unique snacks.
This size is perfect for a family or trivia night with friends. Pricing starts at $41 on an annual basis or $45.00 month to month.
Shipping for the Super Yum Box is free within the United States.
Check Out Our Universal Yums Unboxing Review Video
Make sure to subscribe on Youtube for our latest videos
Universal Yums Review – The United Kingdom Snack Box
What attracted us to Universal Yums was their unique focus on local snacks from around the world.
Beyond the snacks, they also provide a deep cultural immersion with information about the place, the snacks and even recipes.
When you order your snack subscription box, you'll not miss the blue and white illustrated snack in the mail.
When we received our Yum Box we were immediately surprised by the dense weight.
Be sure to watch the video for our detailed reactions to the U.K. Yum box.
Universal Yums Snacks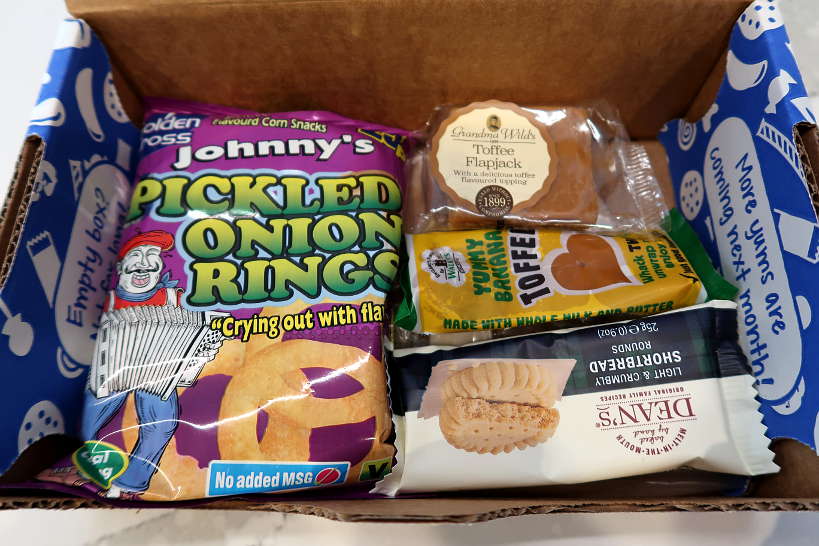 We couldn't wait to open our first box. Everything was packed tightly with a "Welcome to the United Kingdom Card" sitting right on top.
Feeling like Christmas in June, we struggled to resist the urge to immediately rip open everything in the box.
The selection of snacks was a well-balanced combination between sweet and savory. The flavors were fun and unusual.
The lamb and mint potato chips were unexpected, followed closely by banana flavored toffee.
And our favorite was the Dean's Shortbread cookies which were light, crumbly, and irresistible.
Universal Yums – UK Booklet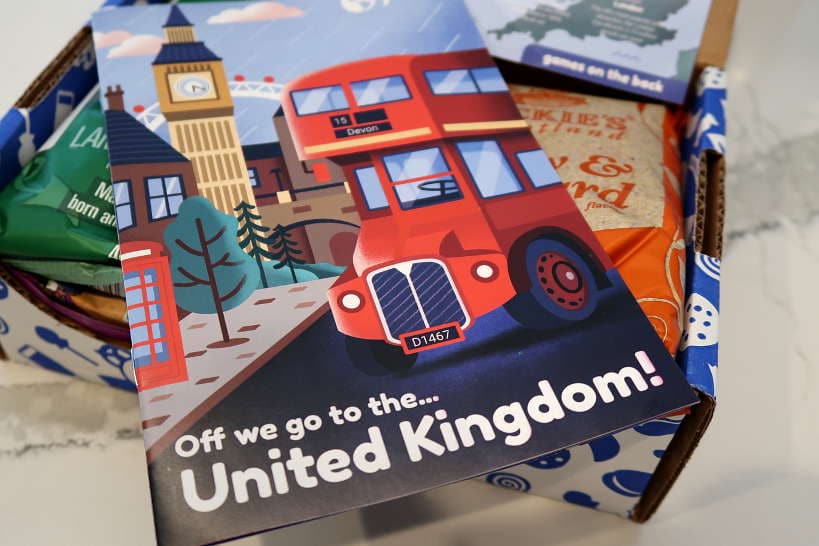 Going even deeper into the country, the immersion booklet was quite informative.
The first two pages have interesting tidbits about the four countries that make up the United Kingdom.
There was also a classic recipe for Cottage Pie, which we look forward to making.
The Trivia Challenge in the middle of the booklet was fun to test our knowledge of the United Kingdom.
Questions like "what is the national animal of Scotland" or a word that Shakespeare invented" had us scratching our heads.
The descriptions about the snacks were fun and we loved the inclusion of a bite from every country.
Another one of our favorite sections in the booklet was a list of iconic songs to listen to while opening the Universal Yums Box.
Music by top UK artists like the Spice Girls, Adele, Ed Sheeran, Elton John, and more, are accessible online through Universal Yums.
The final page drops a clue to the next destination and future destinations.
Universal Yums Review – Spain Box 2021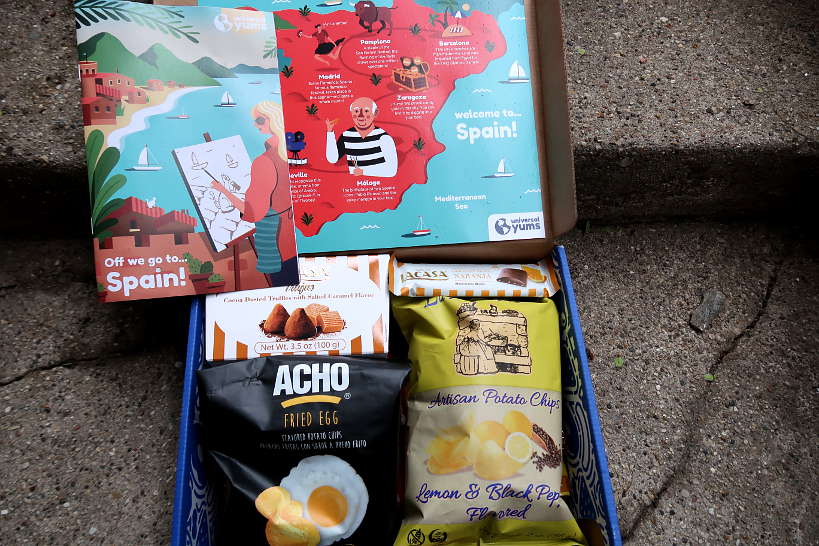 Having enjoyed the Universal Yums UK snack box, we couldn't wait to try it again.
In 2021, we received the Spain snack box and had a lot of fun exploring the Spanish snacks and culture.
You may watch the Universal Yum Spain review on YouTube.
Verdict – Universal Yums Review – Our Impressions
Universal Yum snack boxes are a fun and tasty way to travel the world from the comfort of home.
So far, we've enjoyed the experiences and always look forward to the mystery country in each box.
If you are considering getting started with Universal Yums, see below for more.
Universal Yum Review – Pros
Original Snacks: The diversity of snacks was quite impressive. There is a nice mix of sweet and savory bites and unusual flavors. The snacks are also difficult to find in the US making the experience special and memorable. Even in the smaller Yum snack boxes, we really appreciated the full-size snacks in each box. The flavors and textures are a treat for the taste buds.
Cultural Immersion Booklet: The booklet in each snack box is surprisingly detailed and rich with fun facts, games and recipes. The stories behind the snacks are fascinating and the nutritional information is also helpful. You not only enjoy the tasty snacks but also learn about the history of the country featured.
Easy and Simple Ordering: The ordering and shipping process on the Universal Yums website is simple and pain-free. The website is easy to navigate and placing your order is clear and straightforward. We went with the month to month option and it was easy to order and cancel the snack subscription box.
Order individual Snacks from the Yum Shop: We love the new and improved Yum Shop. If you're a fan of a snack from a particular country, you can buy it directly from the Universal Yum shop. You can also shop for best selling items and get extra discounts on featured snacks. The snacks in the shop change regularly, making it a great place to check for unique snacks.
Free and Fast Shipping: Shipping for all the boxes is free in the USA. We were quite impressed with the fast shipping and delivery of the snack boxes. If you are shipping internationally you will pay a small shipping fee and you can see the pricing on the Universal Yums website. In either case, you will be able to track your snack box shipment online.
Responsive Customer Service Support: We ordered our Universal Yums snack box using the month-to-month option. In this case, we found the customer service team to be very helpful in placing the order. And, importantly, in canceling the order as well.
Universal Yum Review – Cons
Snacks Do Not Accommodate Food Allergies Or Dietary Restrictions: The snacks provided in each of the boxes are not tailored for food allergies or dietary restrictions.
International Shipping Costs: As mentioned earlier, Universal Yums only offers free shipping within the USA. For international shipments, plan to pay a small shipping fee.
Inconsistent Customer Service: While we had a positive customer service experience, some people have had negative experiences. Many of the reviews are about delayed shipping or not receiving their boxes.
UK & Spain Boxes: While we enjoyed the snacks in each of the boxes, we were surprised there were no chocolates in the UK box. With the popularity of Cadbury's chocolate around the world, we were slightly disappointed. While the focus is on snacks, it would be nice to have something to go with the recipe also included. It could be a spice or seasoning.
Is Universal Yums Worth It?
If you're the kind of person that's always open to trying something new, you'll love the monthly surprise in a box.
The Universal Yum Box does a great job of bringing the adventure of travel to your doorstep.
Even though we didn't know what to expect with our United Kingdom box, we were pleasantly surprised.
If you have children or are looking for a fun activity to entertain guests, take a surprising tasty adventure with Universal Yums.
The signup process is easy and involves just a few clicks. The snack subscription plan is flexible and keep in mind, there is free shipping within the United States.
For holiday or birthday gift ideas, consider gifting friends or family with any one of Universal Yums subscription boxes.
Universal Yums Review – Frequently Asked Questions
Does Universal Yums Accommodate Food Allergies?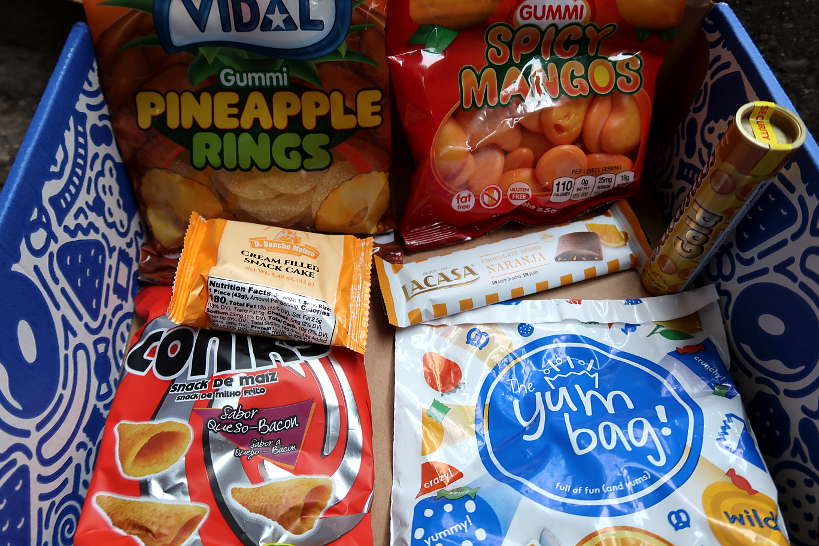 As noted on their website, Universal Yums, cannot accommodate food sensitivities or special dietary requirements.
However, the booklet in each of the box sizes contains ingredients lists and nutritional information for each snack.
You may use that to determine if and how much of the snacks you can eat.
Is Universal Yums Safe?
The Universal Yums website clearly states the direct relationship they have with the companies that make the products.
They have full transparency into the ingredients and the way the products are manufactured.
All snack items were neatly packaged and well sealed in the Universal Yums snack boxes we received.
Everything we ate was fresh, tasty, and full of flavors. Safely was the least of our concerns.
Can I Give Universal Yums Box as a Gift?
One thing we appreciate is Universal Yums flexible subscription plan. If you want to give the gift of tasty travel adventures to your friends and family, gift subscription options are available.
Simply choose the time frame from 1, 3, 6 or 12 month gift periods. The first box comes with a gift note for your personalized message.
This is a perfect surprise gift for foodies who love to travel but can't at the moment.
Universal Yums Shipping Time
Universal Yum boxes ship automatically on the 15th of every month. Depending on what day of the week the 15th falls, shipping within in the USA will take about a week or five business days.
Once we signed up, we got an email telling us when the first snack box had shipped and it arrived a few days later.
How Can I Cancel My Universal Yums Subscription
Canceling your Universal Yums snack subscription is easy, and is done right on the website. You simply log into your account, click on "Manage Subscriptions" and click "Cancel".
This makes it easy to give Universal Yums a try, without having to jump through hoops to cancel.
Universal Yums Coupon
Universal Yum offers a FREE month when you subscribe for a year.
No coupons necessary and the offer applies to all three different sizes of the snack boxes offered.
Simply use this link to subscribe and get started.
Universal Yums Snacks Box – September 2022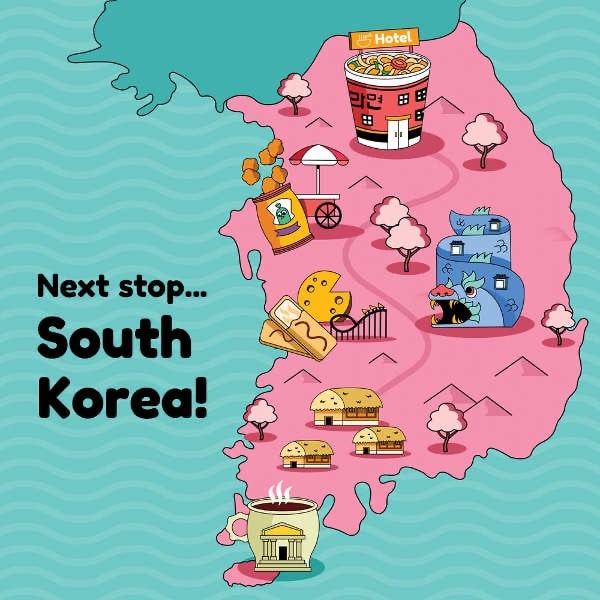 Head east with the September 2022 Universal Yums South Korea Box.
Explore traditional and gourmet tastes, including Kpop music and culture from one of the most fascinating East Asia countries.
Filled with new and unusual snacks, this South Korean box is bound to be an exciting culinary and cultural excursion.
Expect to find unusual spicy chicken flavors, seaweed, Ramen, tteokbokki chips, surprising sweet flavors and more.
Like other Universal Yum boxes, this South Korea Universal Yums Snacks Box features treats from all over the country, along with a helpful booklet.
As you indulge in the delicious and surprising snacks, you'll enjoy learning about the country through recipes, trivia, and activities to enjoy with friends and family.
This culinary journey through South Korea is bound to be a delicious educational activity.
This is one of the most popular Universal Snacks boxes. Check here for availability and treat yourself or give a gift of delicious snacks from around the world.
Universal Yums Review – Pin it!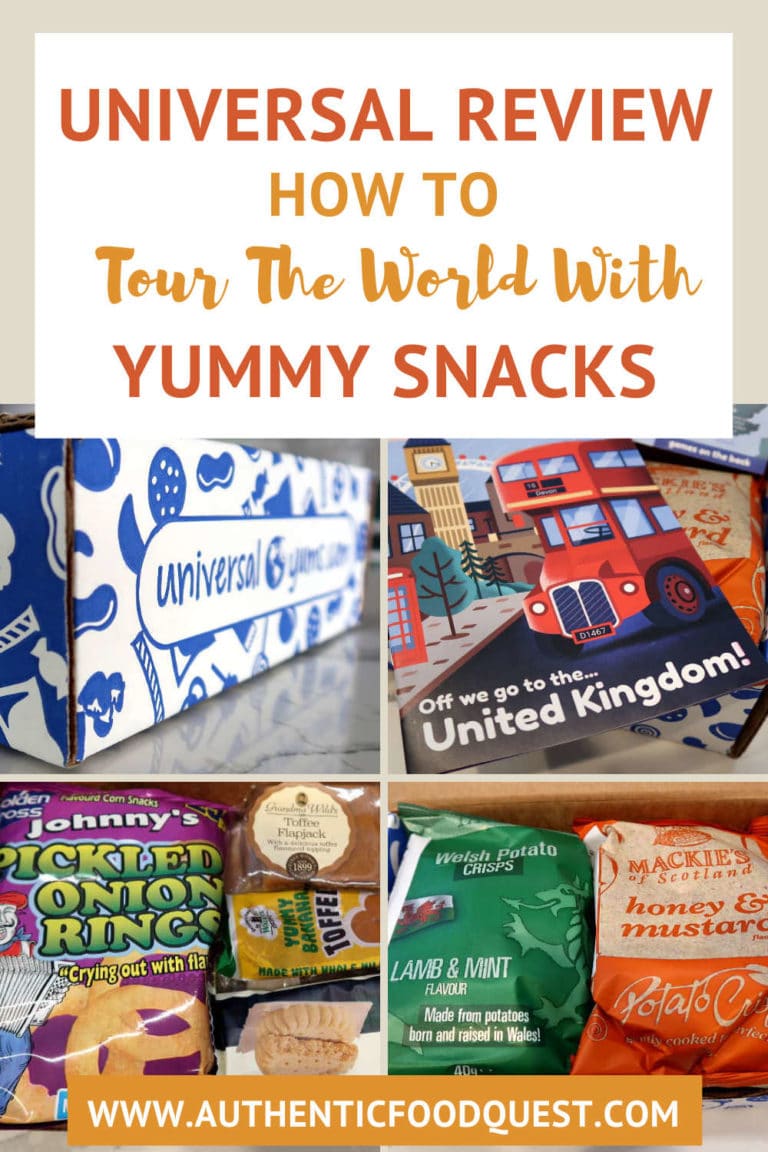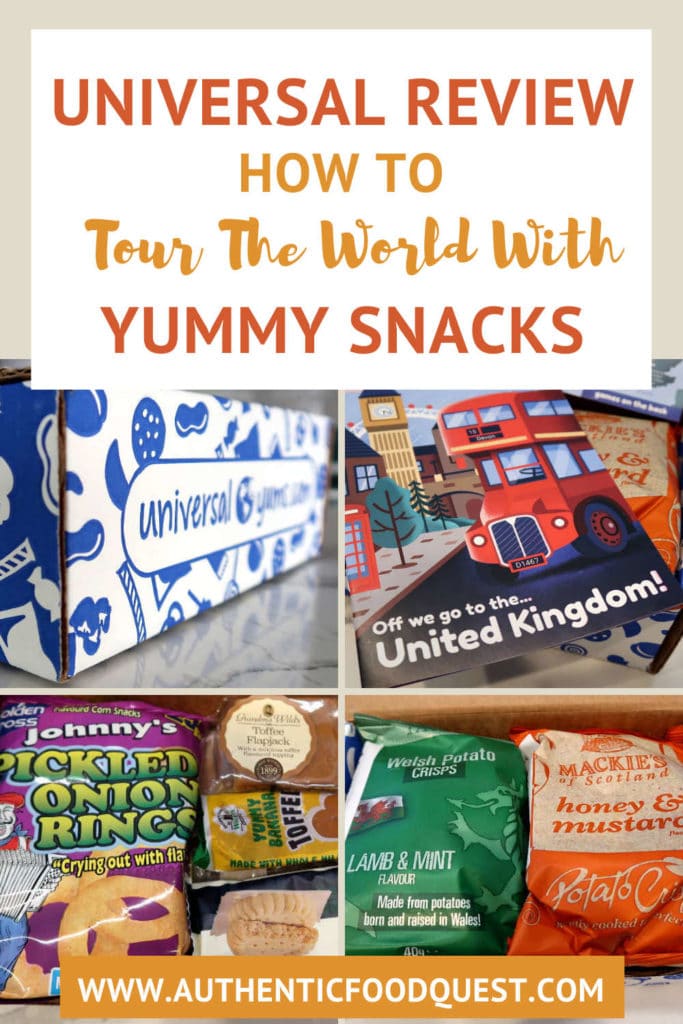 Curious by nature, Rosemary loves exploring new flavors and connecting with locals. She shares her insights and culinary finds from her travels to inspire people to connect local through food.