Taking a Mexico City street food tour is an exciting way to immerse yourself into Mexico's flavors and cultural nuances.
On a street food tour with Urban Adventures Mexico City, we soaked in the culture at three local markets. 
Markets are the lifeblood of Mexico City and a fantastic way to get a feel for the country's identity.
Striking murals, witchcraft, Voodoo dolls and a fascinating array of fresh produce and exotic fruits awaited.
Along the way, we sampled unique Mexican street foods, local fruits and traditional Mexican drinks.
This Mexico City street food and market tours delivered on Urban Adventures promise to spend your best day ever!

Street Food Tour Mexico City with Urban Adventures
At 8:30 am on a Saturday morning, we met our Urban Adventures Mexico City guides in the city's historic center. 
We were excited for our five hour street food tour through Mexico City's markets.
Several people joined us and our large group was split into two. This is to keep with Mexico City Urban Adventure's commitment of offering small group tours. 
Our group consisted of a couple from Florida, a family from San Francisco, a solo traveler from Australia and the both of us. Eva, who lives on the south side of Mexico City, was our guide.
Authentic Food Quest Tip: For a fun day in Mexico City, consider booking a Mexico city street food tour. This market and street food tour is a food adventure to some of the most vibrant places in the city.
Zócalo – An Introduction to the Heart of Mexico
In one of the world's largest squares, Eva began the tour with a brief history of Mexico. 
The Zocalo or Plaza de la Constitución is located in the heart of the historic center, a UNESCO World Cultural Heritage site.
Of particular interest was the impressive Palacio de Gobierno building, the actual residence of the current President. 
The imposing Metropolitan Cathedral, the largest in Latin America, we learned, was built on top of the Aztec Templo Mayor.
On our way to our first stop, we stopped by the nearby Plaza Santo Domingo. Eva directed our attention to the visible tilt on some of the buildings, notably the Church of Santo Domingo. 
We didn't realize that Mexico City, built on an island in the middle of an ancient lake, is slowly sinking. 
As a result, the city's architectural treasures remain in a delicate state.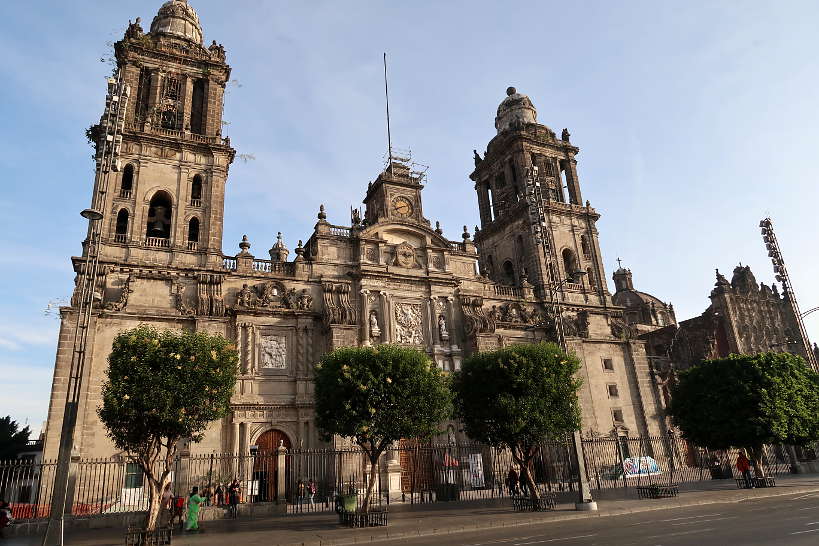 First Market Stop: Abelardo L. Rodriguez Market 
Diego Rivera Murals
Our first stop for traditional Mexican breakfast was at the northeast corner of the historic center. Abelardo L. Rodriguez market is an old convent, now transformed into a market. 
This lesser visited market features enormous murals by students supervised by Diego Rivera, Mexico's most famous male artist.
As Eva walked us through the market, we were struck by the imagery that reflected Mexico in the 1930s. 
The striking murals covered themes of politics and food, such as working conditions, exploitation, corporate greed and more. 
Standing around discussing the pieces, we noted sadly how these themes are still present in society today.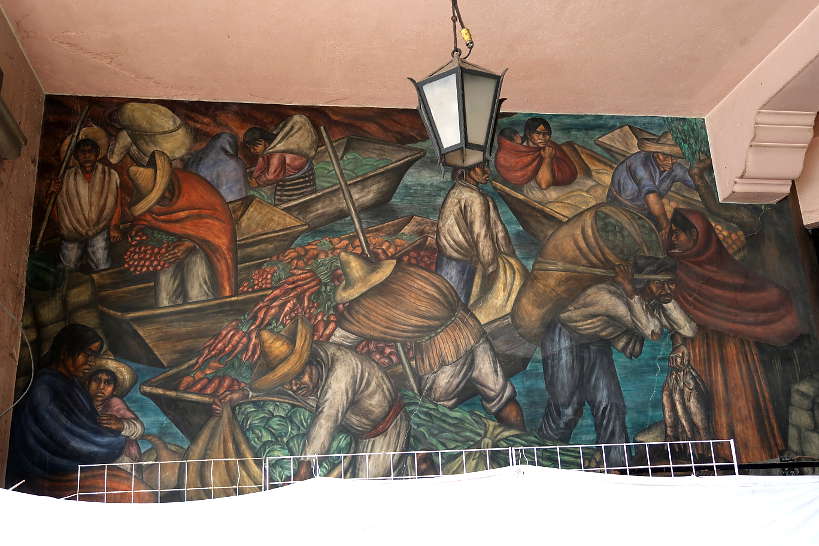 Traditional Mexican Breakfast – Tamales & Atole
Colors, smells and sounds beckoned us as we meandered our way through the market. 
Everywhere we looked were stalls selling food or vendors with brightly colored vegetables, chicken or meat.
When we finally got to the back of the market, Eva pointed to a small stall with people queuing in front. 
"This is the best place at this market for a traditional Mexican breakfast", she told us. And, as we watched the line continue to grow, we concurred.
We tried five different kinds of tamales, from sweet to savory and even a vegetarian option. 
They were filled with chicken and chili, chicken and mole, vegetables and cheese and a sweet corn tamale.
In addition, we had atole, a thick and warm corn drink that is traditionally paired with tamales. Both were very tasty. 
It was interesting to learn that these traditional dishes are pre-Hispanic foods that date back thousands of years to Mesoamerica.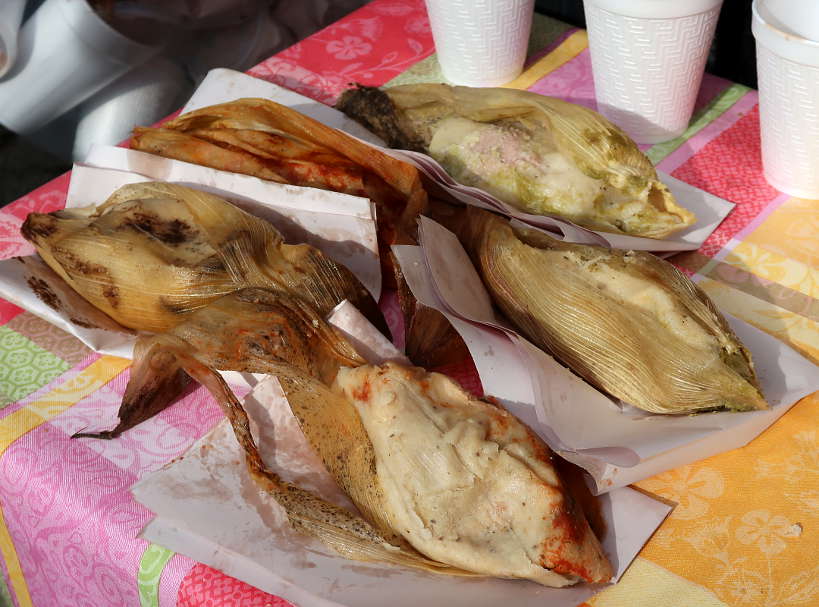 A Mexico City Urban Adventure on a Local Bus
One of the things we loved about our street food Mexico tour with Urban Adventures was how connected it was to daily life.
Like locals, we took public transportation to Mercado de Sonora, our next destination. Our fearless guide, Eva, hailed down a local bus on a busy street and ushered us into the bus.
Fortunately, the bus was not crowded and there were seats available. Once the fare was paid, we all held on tight for the quick ride to our next stop.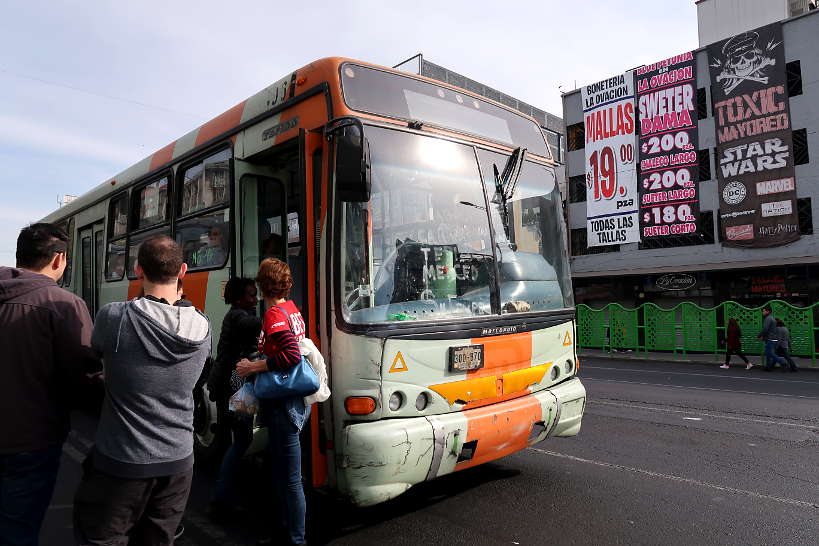 Second Market Stop: Fascinating Mercado de Sonora – Witchcraft Market
This market is one of the most unusual markets we've ever visited. As Eva guided us through the maze of little alleys and rooms, we couldn't help staring at all the bizarre displays.
Everywhere we looked were outrageous displays including lights swirling like a discotheque. From brightly colored gigantic stuffed animals, to stalls with all unimaginable types of costumes.
In the witchcraft section, aisles filled with witches, skulls, ingredients for magical rituals dominated.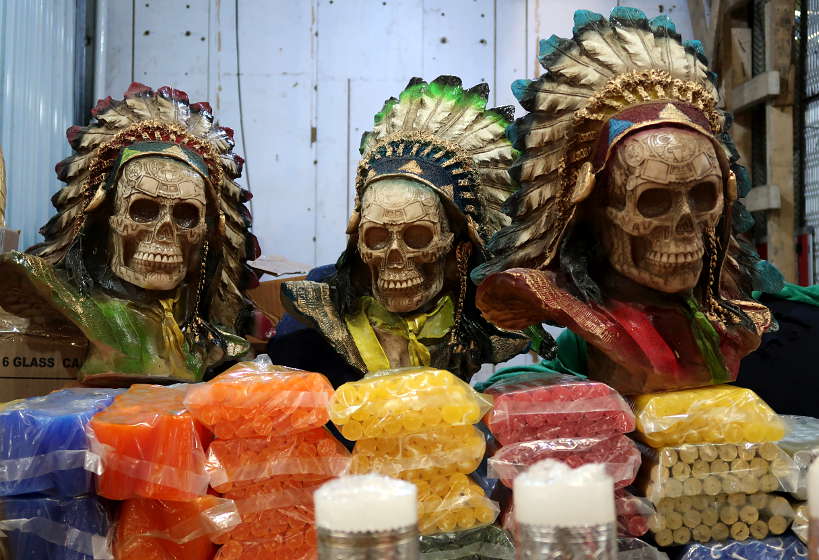 Lady of Guadalupe
Following Eva through the labyrinth of stalls, we made our next stop at a shrine dedicated to Lady of Guadalupe, Mexico's patron saint.
This eccentric section was a mix of religion with a blend of superstition from African, Mayan and Aztec ancestry. 
Lady of Guadalupe, we learned is a powerful symbol of Mexican identity and is celebrated each year on December 12th.  
Eva shared fascinating stories about how people from all walks of life pray to her for miracles. Moreover, she was viewed as a champion of the underdogs and a symbol of empowerment by many Mexicans.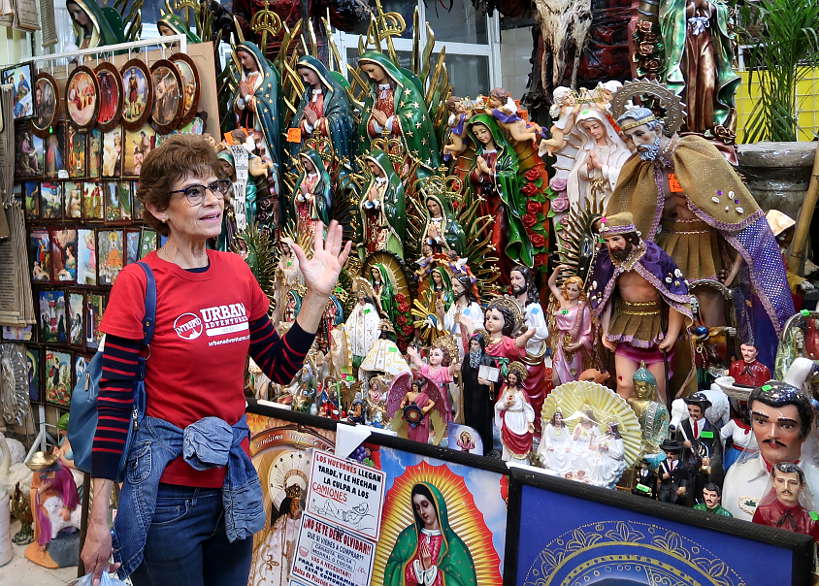 Potions, Tonics or Powders
Just around the corner was an aisle stacked to the ceiling with potions, powders, and herbs that claim to have solutions to all problems, no matter the gravity.
As Eva told us, "people come here for three reasons; to be lucky in love, for good health and to get an abundance of money." The brightly colored bottles and packages promised solutions to any problems.
On our way to get something to eat, Eva shared an incredible story. Apparently, a lady on one of her tours, had a conversation with someone at the market and a few months later got a job promotion.
If you want to know your future, there's only one place in Mexico City. Sonora market is dedicated to magic.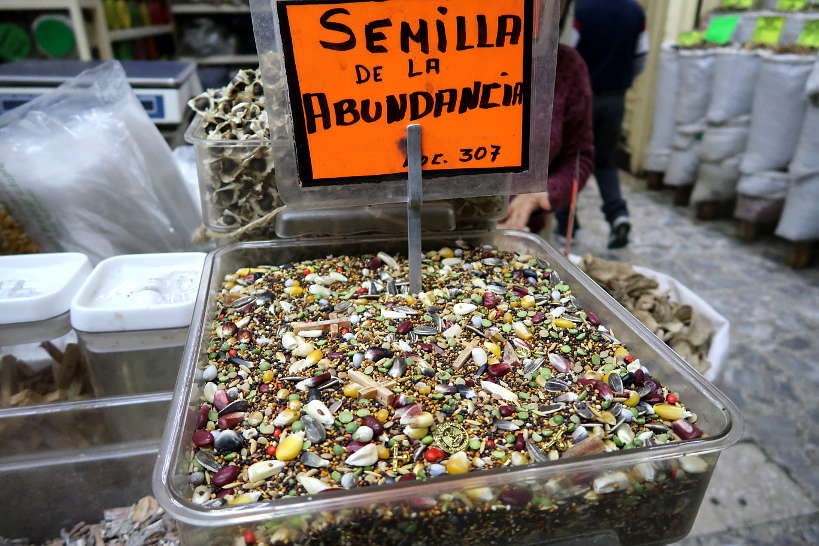 Tlacoyos Outside Mercado de Sonora
Ready for another tasty bite of Mexican food, we made our way through the market to the street food vendors outside.
Eva led us to a busy food stall where a group of women were preparing Tlacoyo, a specialty from central Mexico. 
Tlacoyos are thick corn dough tortillas with an oval or rhomboid shape. These particular ones were made using blue corn masa and stuffed with cotija, a crumbly Mexican cheese.
We watched in fascination as the ladies cooked on a large round pan, called comal.  For toppings, I chose nopales or slices of cactus, whereas Claire went with chorizo and potatoes.
Both were quite flavorful, though the additional cheese added after cooking made the napoles tlacoyos a little heavy.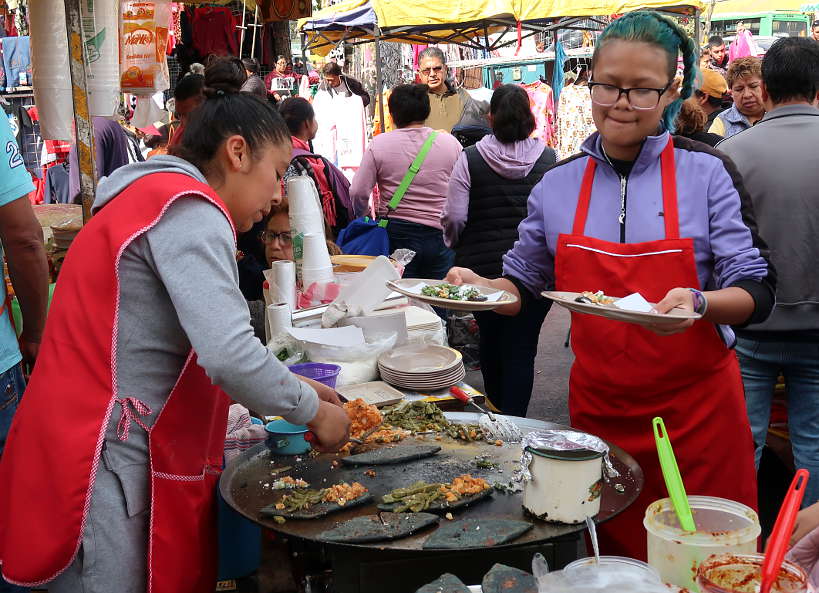 Authentic Food Quest Tip: To avoid any surprises on your travels, don't forget to get travel insurance. We use and recommend Allianz Travel Insurance for its affordability and maximum coverage. Allianz Travel Insurance offers several plans to choose from. When you click on "get a quote" you can check the different plans and what is covered under each one. Compare rates and prices and choose the best one for you.
Riding The Metro on Mexico City Markets Tour
The Mexico City urban adventures continued to our next stop, Mercado de Jamaica. This time we took the metro for a slice of daily life in the capital.
While we had taken the metro before, this was our first time at these particular stations. As we had previously observed, the metro stations are spacious and very clean. 
The lines are numbered and color coordinated for ease. 
Fortunately, it was outside rush hour making the short trip very comfortable. One peculiarity we noticed were the reserved cars for women and children. 
These tend to be at the front of the train and as we learned, were implemented in 2000 for safety reasons.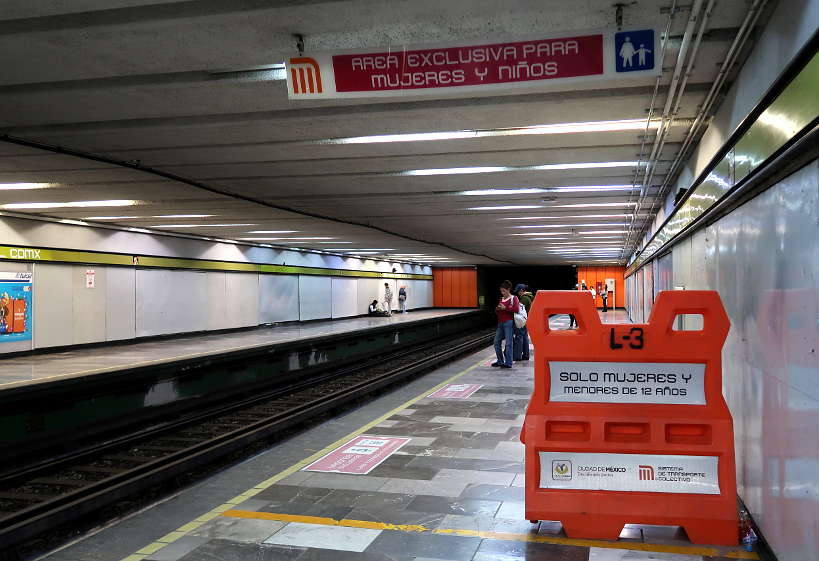 Third Market Stop: Mercado de Jamaica – Mexico's Colorful Flower Market
Our last market stop on this Mexico City street food tour was an immersive experience into Mercado de Jamaica.
Aside from being a traditional market, Mercado de Jamaica is the city's largest flower market. 
As soon as we walked in, we were immediately drawn to the colorful flower stalls  with vibrant arrangements.
There were enormous arrangements of flowers for all types of occasions from funerals to baptisms. 
Designs of chrysanthemums, Gerbera daisies, lilies and sunflowers shaped like hearts or crosses, were a sight to admire.
During our visit, gorgeous displays of roses filled the aisles.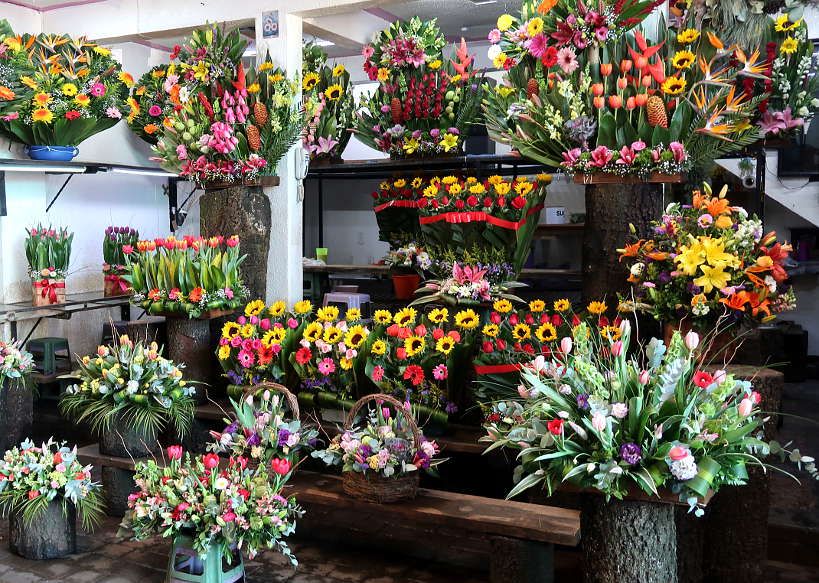 Tantalizing Mole Display
Wandering through the market, we stopped to watch a cactus vendor clean the spines and prepare them to be sold for salads, soups or tacos. 
Having just enjoyed them in the tlacoyos, it was fascinating to see the preparation phase.
One of the most striking stalls was a stop at a mole vendor. In front of us were visually stunning mounds of mole organized in heaps like Italian gelato.
After Eva described the different flavors, we were each given a sample whatever caught our eyes, raw. 
The flavors ranged from light to strong, including a few special flavors. We tried traditional flavors like mole verde, mole rojo and really enjoyed sesame mole and the daily special flavor.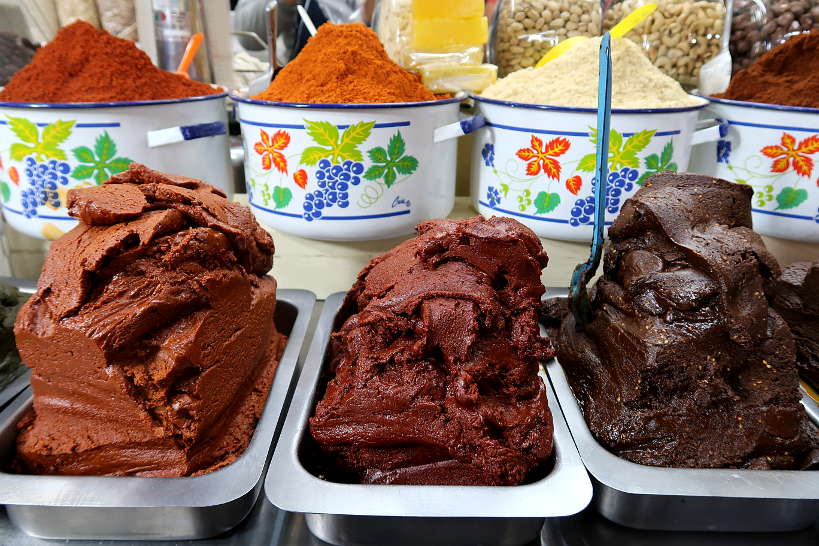 Barbacoa Tacos
Through the exuberant colors and lively atmosphere, we made our way to the next food stop. At this popular stand we had barbacoa tacos made with lamb. 
To drink, we were served tepache, a traditional drink made of lightly fermented pineapple juice.
Barbacoa is one of Mexico's quintessential dishes. It can be prepared with either goat or lamb and it is slow cooked wrapped in agave or banana leaves. 
At this stand, which Eva dubbed as the best in the market, we enjoyed the tender lamb textures. With an additional touch of salsa, the juicy flavors came to life. 
This was our first time having tepache, a drink we learned is widely available in the country. 
We were surprised to learn that the drink is not actually made with the fruit of the pineapple. Instead, it is made with the fermented peel or pineapple rind.
Tepache is a slightly carbonated drink with a mild fermented taste. We found it a tad too sweet but refreshing nonetheless.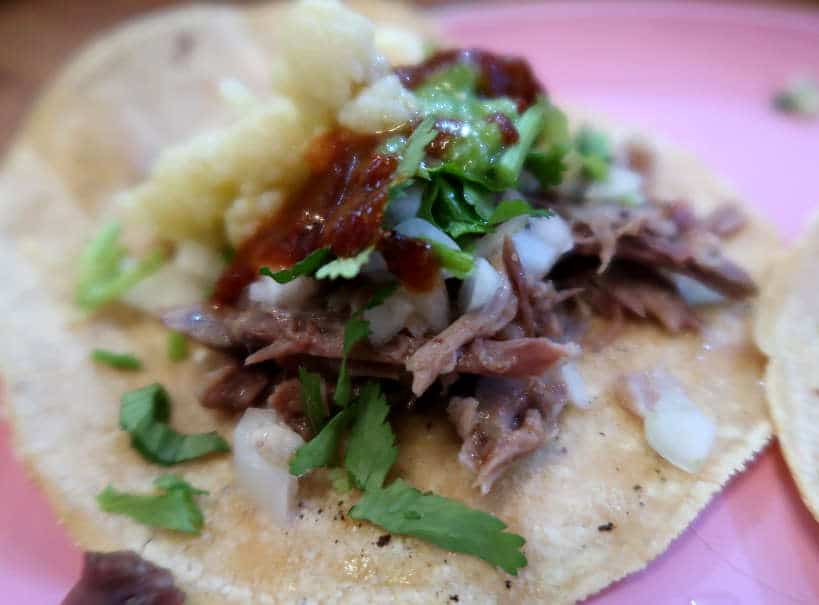 Mexican Fruits
Nestled amongst the stalls was a fruit vendor where we stopped to try traditional Mexican fruits.  We appreciated this stop to taste and discover new local tropical fruits.
Mamey, an oval shaped fruit with a brown skin, was the first fruit we tasted. The flesh on the inside was soft and bright orange in color. 
We had tried Mamey fruit in Peru before and were thrilled to enjoy the mild flavors once again.
Our favorite fruit was the chicozapote, another exotic tropical fruit. About the size of an apple, they are brownish in color and ready to eat when soft. 
We liked it so much that we bought some to eat later.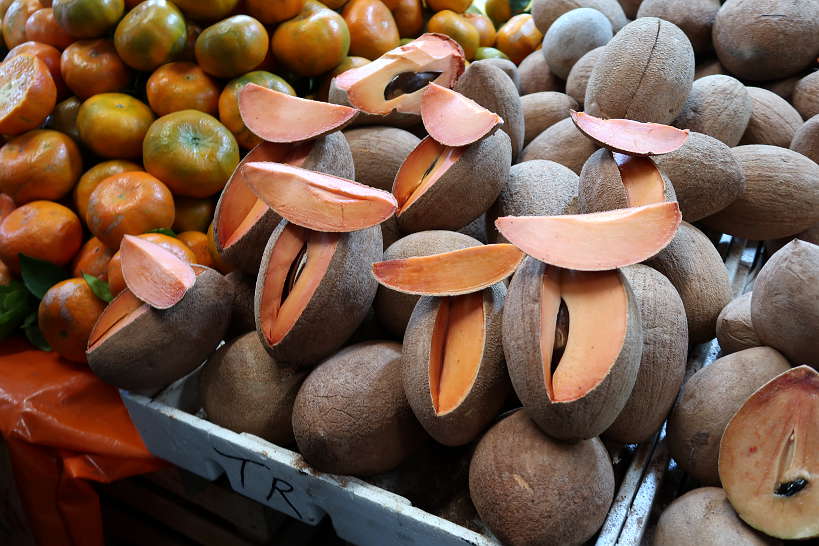 Chili Flavored Grasshoppers 
One of the most anticipated stops on the Mexico City street food tour was for grasshoppers. 
Once we got to the stall to try grasshoppers, some people in our group looked fearful.
Before digging in, Eva's told us about the history of eating grasshoppers in Mexico.
Grasshoppers or chapulines, we learned, are an emblematic part of Oaxaca's cuisine. They have been eaten in the region for centuries. 
Prior to the arrival of the Spaniards, Oaxaca's indigenous people got their protein by consuming insects like grasshoppers. 
With the cultural context provided, eating the grasshoppers didn't seem so daunting. We each took one and found them crunchy and salty. 
Even though we didn't mind the taste, we were not inclined to have more.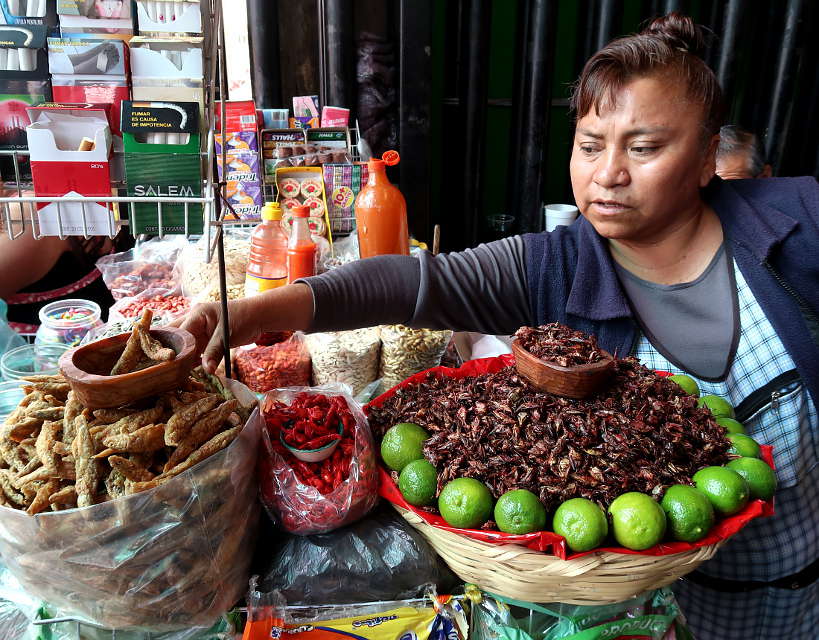 Mexican Snack To End Our Mexico City Street Food Tour
Our last stop on the tour was for another favorite Mexican snack. Esquites also known as vasito de elotes are a juicy mix of cooked corn kernels mixed with chiles.
We tried two different kinds, one with chili and one without. We preferred the spicy one which was cooked with butter, onions, and local peppers. 
Quite tasty and easy to eat, it's understandable why esquites are such a popular savory snack.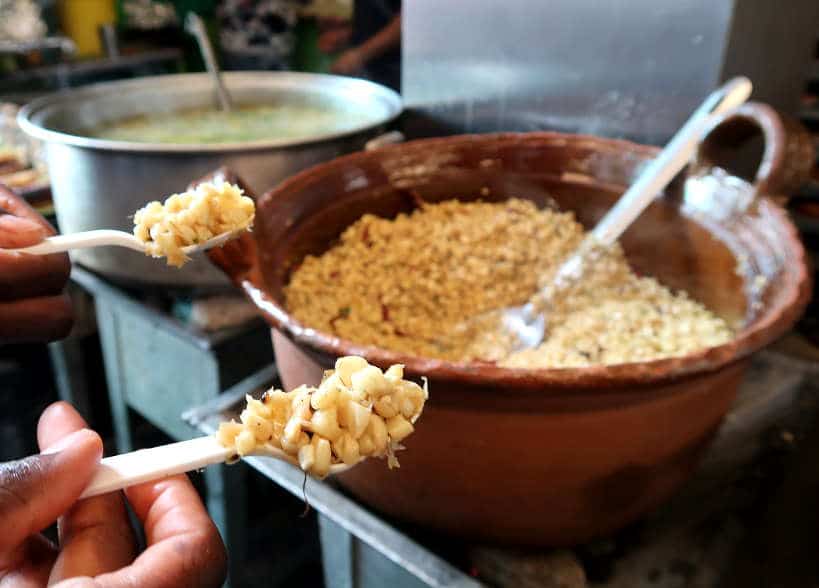 In Summary
This Mexico City street food tour takes you deep into the belly of local life in the capital. The experience is immersive and after five hours you leave with a good grasp of the local culture.
We enjoyed the tour of the different markets, some we would never have visited or known about.
While the markets are not dangerous, we appreciated having a local guide with us. We learned about the local history, cultural context, and tastes of unique Mexican street food.
Navigating the city using local transportation as well as trying fruits and raw ingredients like mole enhanced the experience.
If you are willing to step out of your comfort zone and learn as much as you can about local life in Mexico, consider taking a Mexico City street food tour.
With the context and translations provided by a local guide, you'll learn so much about the country, the city, and yourself.
Tips: Wear comfortable walking shoes, closed shoes preferably, as some markets are slippery. Carry cash to purchase fruits, sweets or anything you may want. Have an open mind and be prepared to try unique local foods like grasshoppers and more.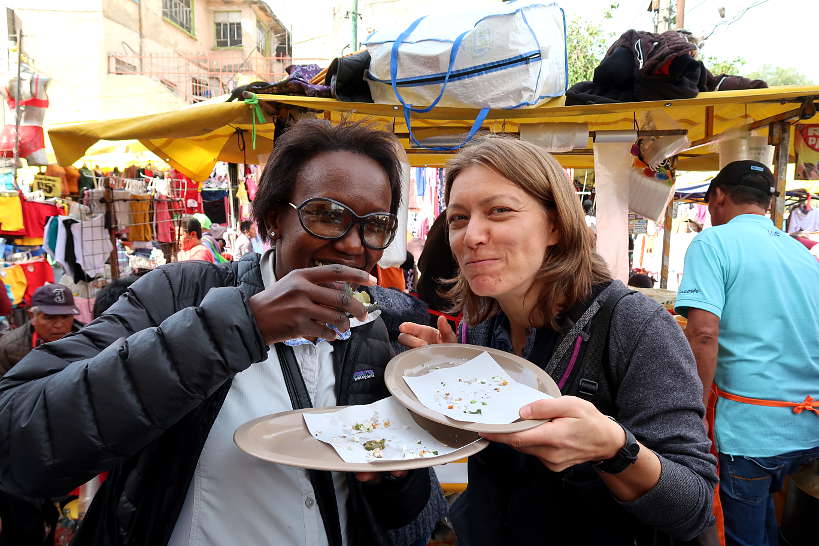 How To Book Your Mexico City Street Food Tour
The Mexico City street food tour with Urban Adventures takes you to three bustling local markets allowing you to soak in daily life in the capital.
With a local guide, you'll make several stops to sample unique Mexican street foods, local fruits along with traditional Mexican drinks.
On your Mexico travels, take a street food tour of Mexico City and leave with a deeper understanding of Mexican customs and traditions.
Click to book your Mexico City Street Food Tour[/vc_column_text]
If you are interested in visiting the Teotihuacan Pyramids, consider taking a morning tour. This tour takes you to the UNESCO World Heritage Pyramids, with an archaeologist and ends with a Tequila tasting.
On this three-hour tour,  you'll discover the pyramids in the "place where gods were created."
After that, you will visit a local Teotihuacan family for a tasting of traditional cactus-based drinks like Tequila and Pulque. 
After a tasty traditional Mexican lunch, you will return back to Mexico City.
Click to book this popular Teotihuacan Pyramids Tour
Love it? Pin it!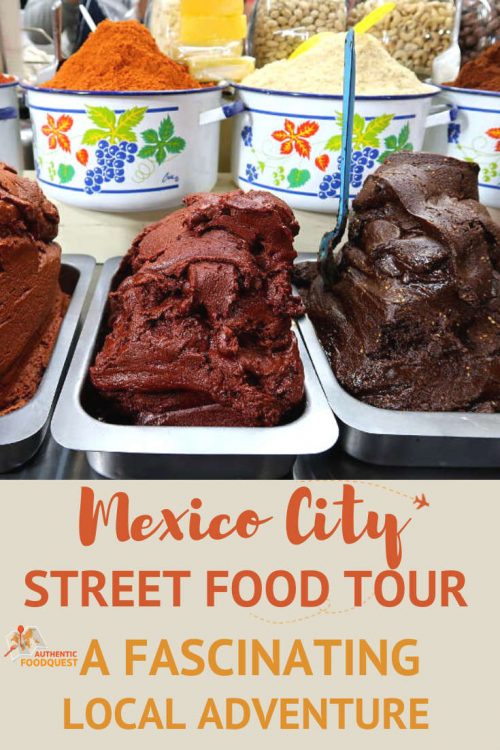 Special thanks to Urban Adventures Mexico City for having us on this Mexico City street food tour. All views and opinions expressed are our own. Full bellies and happy taste buds too!
Disclaimer: This page contains affiliate links. That means at no extra charge to you, we earn a small commission when you purchase using these links. Thank you for your support.
Curious by nature, Rosemary loves exploring new flavors and connecting with locals. She shares her insights and culinary finds from her travels to inspire people to connect local through food.