This article has links to products and services we recommend, which we may make a commission from.
Vietnamese pizza, a popular street food is made with rice paper topped with all forms of goodness – pork, shrimp, and egg. Extremely simple to make, this fun no-oven required savory and sweet Vietnamese pizza will become a new favorite.

What is Vietnamese Pizza or Bánh Tráng Nướng
This unique Vietnamese pizza is one of the newest and most popular street food sensations, especially amongst Vietnamese students. It is a simple pizza made with rice paper instead of dough and grilled on charcoal.
The toppings are varied and depend on the region of the country and the tastes of each person. Banh Trang Nuong can be topped with pate, quail eggs, dried pork or beef, shallots and more.
Some versions also include cheese or shredded chicken. The Vietnamese pizza is finished with a drizzle of mayonnaise and sriracha sauce for wonderful sweet and spicy flavors.
The key to an exceptional Vietnamese pizza is the grilled rice paper or banh trang.
Banh Trang rice paper is gluten-free and made from just rice, paper and salt. When grilled, the rice paper becomes crispy and the texture and savory flavors are simply delicious.
History of Vietnamese Pizza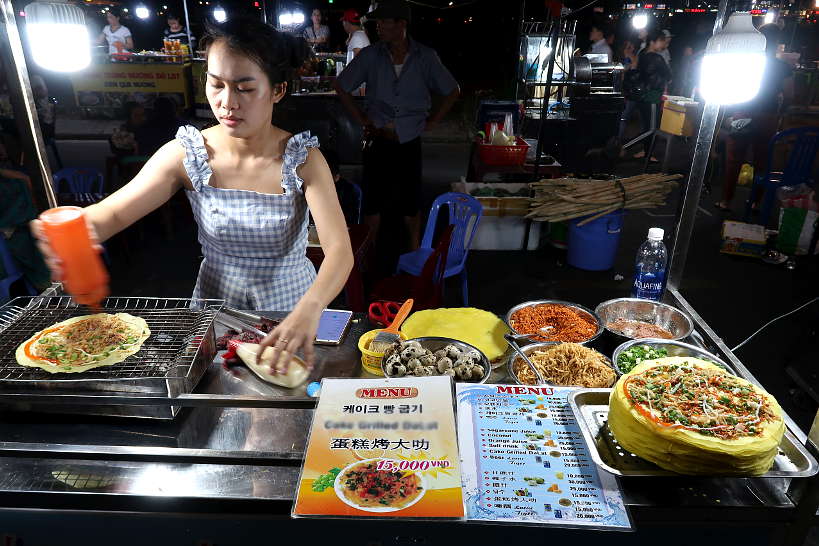 Banh trang nuong is said to have originated from Dalat, a hill town founded by the French. This Vietnamese pizza is known as banh trang nuong (bánh tráng nướng) in Ho Chi Minh City and in most of the country.
We first had this Vietnamese pizza in Da Nang, where it was referred to as Dalat Cake. In Hue, this Vietnamese pizza goes by Banh Trang Trung.
Regardless of its name, this Vietnamese pizza reflects traditional Vietnamese cooking with its contrasts in textures and color.
A traditional Vietnamese pizza typically consists of quail eggs, dried pork, dried shrimp, and scallions. It is topped with chili sauce and mayonnaise.
The crunchy textures come from the grilled rice paper and combination of ingredients. The sweet and savory flavors from the pork, shrimp, quail eggs, sauces and vegetables.
Everything together is delightful and the bright colors are a feast for the eyes.
READ MORE: A Guide To The Best Hue Food and Authentic Restaurants
Discovering Vietnamese Pizza or Bánh Tráng Nướng in Vietnam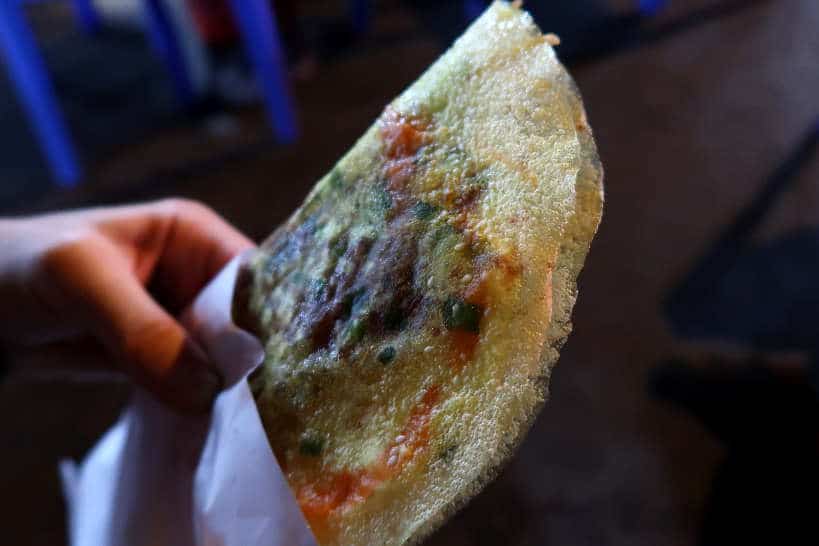 The Danang Night Market was the first place we discovered this legendary Vietnamese pizza. While walking around the market, we were struck by a long line of young adults waiting to buy the rice paper pizza.
Curious and intrigued, we patiently waited in line to discover and taste the unique looking Vietamese pizza.
Hot from the burning coals, the vendor folded our pizza in half allowing us to easily eat it on the go. Crunchy and tasty was our immediate reaction to this pizza in Vietnam.
Our Banh Trang Nuong had quail eggs, different cuts of dried pork and topped with delightful sauces.
For a simple rice paper pizza we were quite impressed. Our Banh Trang Nuong was unexpectedly tasty.
Flavorful and at the same time not too heavy, it's no wonder this Vietnamese pizza is a favorite local dish.
Vietnamese Pizza Recipe – How To Make it at Home
Making a Vietnamese pizza at home is simple and a lot of fun. You can make it for a quick snack or a light lunch or dinner.
While you can top your rice paper pizza with your favorite ingredients, we recommend using traditional Vietnamese ingredients.
Vietnamese Pizza Ingredients
Rice Paper (Banh Trang) – 21 to 31cm using 28cm for this recipe
Quail eggs or chicken eggs
Pork floss (dried pork)
Fried shallots
Scallions
Garlic
Mayonnaise
Vietnamese Pizza Recipe Tips
Quail Eggs for Pizza Vietnam
Have you ever had quail eggs before? We don't eat them often and were excited to use them in this Vietnamese pizza recipe.
Quail eggs are packed with nutrition and with more Vitamin B2 and iron as compared to chicken eggs.
Unlike western cultures, quail eggs in Asia are considered as just another source of protein. Their eggs are often the cheapest and found in snacks or inexpensive lunches or dinners.
Quail eggs taste similar to chicken eggs and they have slightly more yolk than white. They are delicious and we used the leftover eggs to make fabulous scrambled eggs the next morning.
Don't hesitate to make your Vietnamese pizza with quail eggs.
Pork Floss
Pork floss, known as rousong in Chinese and ruoc in Vietnamese is a popular topping used in a variety of Asian dishes. It is often added to Bahn Mi sandwiches, tofu dishes and even baked goods.
Pork floss is sweet and savory and crunchy and soft at the same time. It is dried pork meat, cooked with soy sauce and sugar and then shredded into a fine texture.
Sometimes called meat wool, pork floss is typically not eaten by itself, but rather added to dishes. It provides sweet and savory flavors and is indispensable in this Vietnamese pizza recipe.
Grilling or Cooking on a Cast Iron Skillet
This pizza in Vietnam is traditionally cooked over hot charcoal. To replicate the experience, we cooked our Vietamese pizza using a gas grill. You can also make this Vietnamese pizza using a cast iron skillet.
Vietnamese rice paper is available in different sizes. To make sure your pizza will fit, measure your skillet and buy the appropriate size of rice paper for your pan. Cook your Vietnamese pizza on medium heat.
When you make this recipe, take a pic and Tag @authenticfoodquest on Instagram (Or hashtag #authenticfoodquest ). We'd love to see what you cook up. Don't forget to give a Star Rating on the recipe and let us know your comments.
More Vietnamese Cooking Products
Love Vietnamese Pizza? Pin it!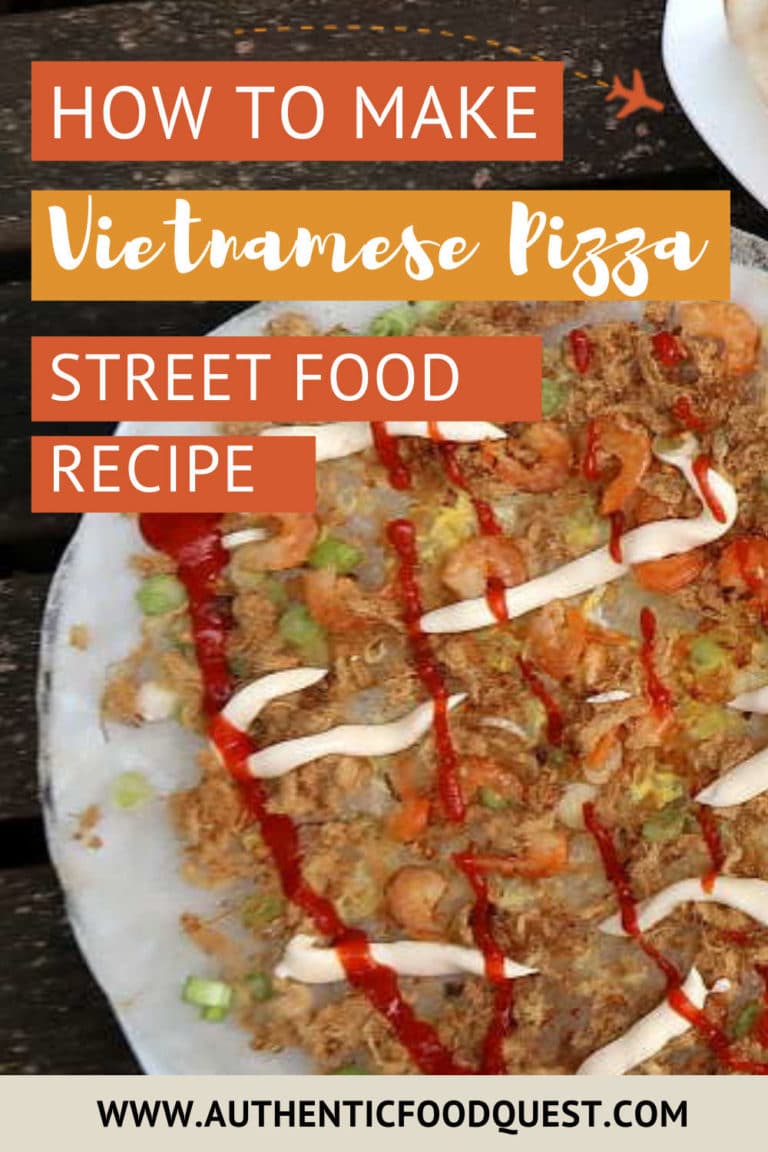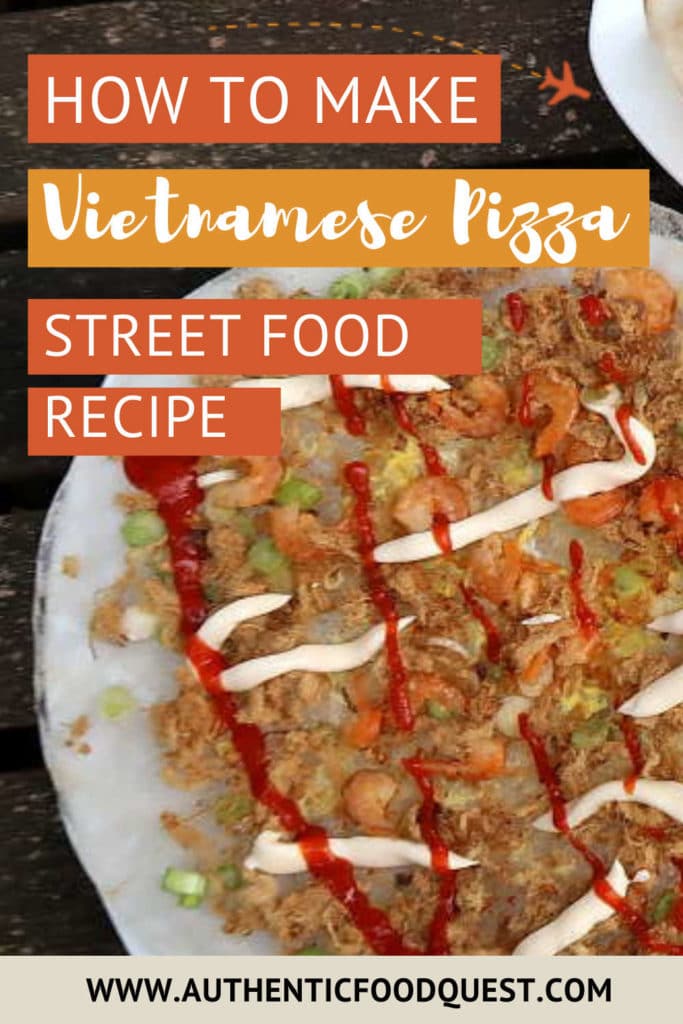 Curious by nature, Rosemary loves exploring new flavors and connecting with locals. She shares her insights and culinary finds from her travels to inspire people to connect local through food.