Porto, Portugal and Port wines are inextricably linked. Port, a fortified wine is made from wines grown in the Douro Valley in the North of Portugal.
While in Portugal, exploring the local and authentic dishes, we could not miss Port wines. Our quest took us from Lisbon to Porto (Oporto in English), Portugal's second largest city, to explore this famous wine.
For context, we are novice port drinkers. Besides red ruby port, which we occasionally had growing up, we didn't know much more.
While in Porto, we took port wine tours, visited wineries, sampled port at wine tastings, all aimed at uncovering the magic of this world famous drink.
Join us for a fascinating discovery of port and port tasting in Porto, Portugal.

Learning About Port Wines at the Port Wine Institute
Dedicated to the important role of Port wine in the city and beyond, the Douro and Porto Wine Institute (Instituto dos Vinhos do Douro e Porto) is a great place to start your exploration.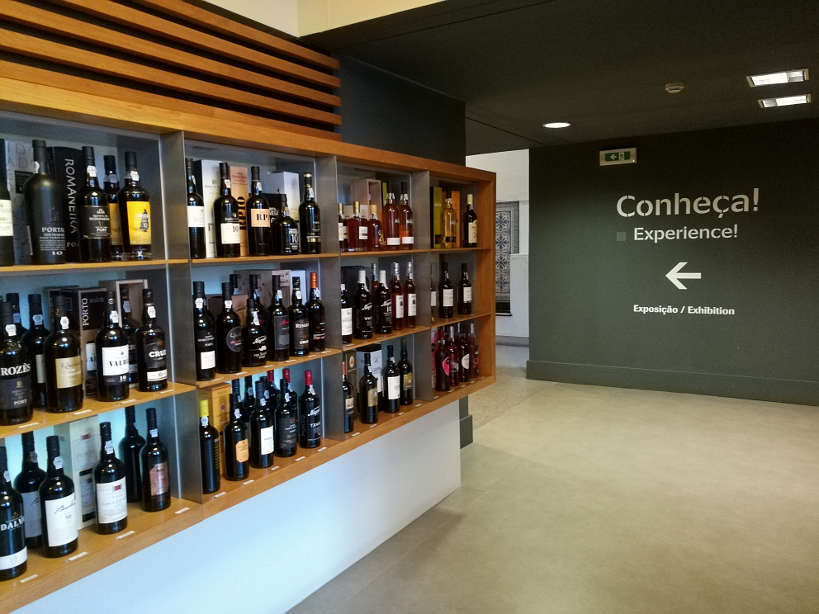 The institute features a small museum with a detailed exhibition about how Port wines are made. Starting with the grapes used to the different varieties and colors of port wines, this is wonderful introduction to Port wines.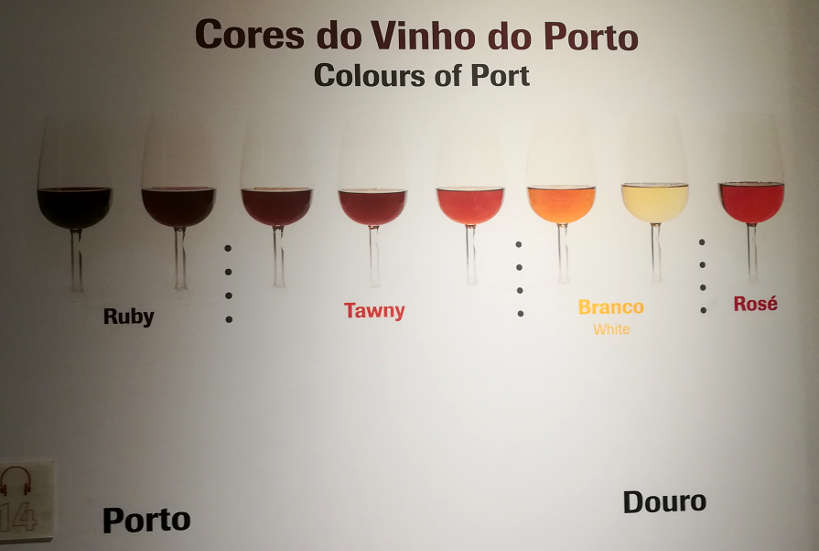 The Different Port Wines
There is a lot to Port wines, and we are certainly not experts. Here is a brief primer of the four main categories and subcategories of Port wines.
Ruby Ports, are named for their distinct ruby color. These are young, approachable wines with fresh, fruit-filled aromas. Within this category, you have Ruby Reserve, Late Bottle Vintage or LBV and Vintage Port.
Tawny Ports, are typically a blend of older vintage wines. These ports spend more time in oak barrels and the colors range from ruby red to more ruby-orange or  "brick red," as they mature. In this group, you'll find 10, 20, 30 or 40 Year Tawny Ports. One delicious Tawny we enjoyed was the Colheita. This is a Tawny from a single vintage.
White Ports, are made from white grapes and come in made in very dry to semi-sweet styles. The wine is typically fruity and often used to make the popular Port Tonic, which is "Port and Tonic" on the rocks.
Rosé Port, is one of the lightest Port wines and like White Port, it is a younger Port. It made from red grapes which undergo a light maceration to keep the color, tannins, and flavors. It can also be used in cocktails.
For an in-depth guide to Port, get the book Port Wines, Rich, Rare & Red: A Guide to Port by Ben Hawkins.
Porto Tasting at the Port Wine Institute
No visit would be complete without a wine tasting of port wines. As such, the institute offers tastings of different varieties of port wines.
For a small fee of €1.50 euros, in unique port wine glasses, you can sample high-quality Ruby, Tawny's, Reserve and Vintage ports wines. This is actually where we tasted some of our best Port wines.
If you're lucky enough to go there on a Thursday evening, the institute's port maker will whip you up a port cocktail.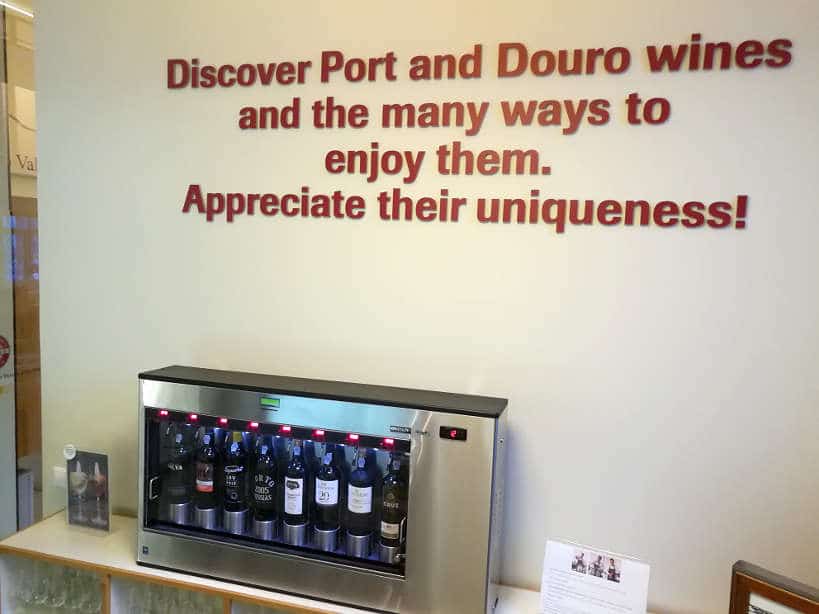 A Little More About Port Wines and How Is It Made
Port is wine, made exclusively in Portugal's Douro Valley and is heavily regulated by the Port Wine Institute. The grapes used are native to Portugal and include  red grapes such as Touriga Nacional, Touriga Francesa, Tinta Roriz, and Tinto Cão.
Like any red wine, Port starts out the same. The grapes are crushed and fermented. Then the yeast converts the grapes' natural sugar into alcohol. With port, however, aguardente (sometimes referred to as "brandy") is added to the red wine. This stops the fermentation process and increases the alcohol content to about 20%.
For more about Port, check out this fascinating article, the 10 minute guide to Port, which goes into more detail about this famous fortified wine.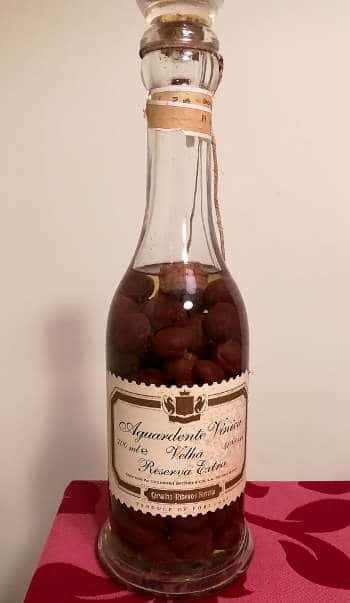 Visiting the Port Lodges in Vila Nova de Gaia
Vila Nova de Gaia situated across the Douro River from Porto is the home of the historic Port lodges and wine producers. You'll find more than 60 port wine lodges.
Despite its name, Port wines are not housed in Porto but in Vila Nova de Gaia, commonly referred to "Gaia" by locals.
The reason the port wines are found in Gaia is due to an interesting twist between religion and politics. Story has it that in the 13th century, the church was the only institution to benefit from taxes on trade in Porto. The King then gave authorization to Port Wines makers to escape this tax by moving across the Douro River to Vila Nova de Gaia instead. This was much to the dismay of the church.
Vila Nova de Gaia is also an ideal location for aging port wines. The climate on the north bank of the river is milder, providing better conditions to store the port in the cellars.
From Porto, walk across the magnificent Dom Luis I iron bridge on the upper deck reserved for pedestrian and tramways. You will enjoy the amazing views of the Douro river, Gaia, and Porto.
Here are a few wine lodges to consider for a Port cellar visit and wine tastings.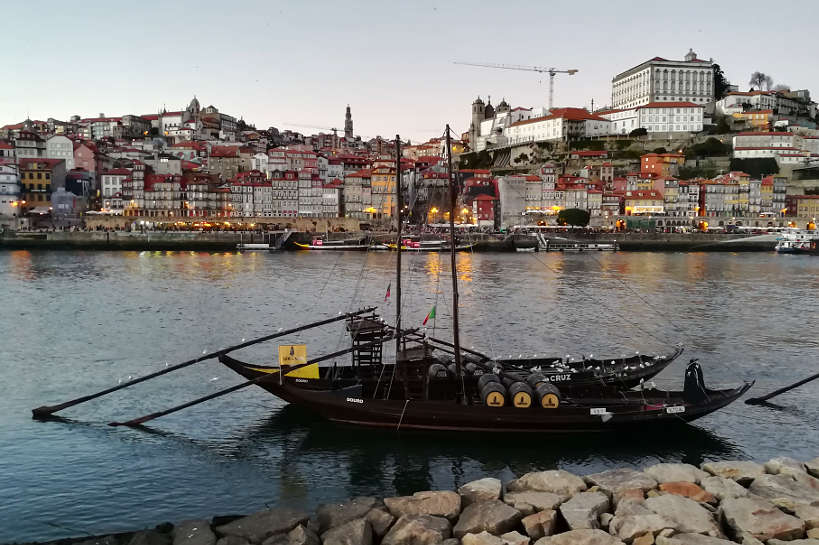 The Oldest Port House –  Real Companhia Velha
Real Companhia Velha is the oldest wine company in Portugal. It was founded by the King and the Prime Minister, Marques de Pombal, back in 1756. It is located further away from the river and tourist attractions in Gaia and offers intimate tours and wine tasting experiences.
When we visited, we were the only ones on the tour. The visit began with a brief video introducing the company and the Douro Valley region, where port wines grapes are grown.
Our knowledgeable guide walked us to the cellars where their Port wines are aged in large and medium barrels.
Grapes come from the Douro Valley where the company owns several wine estates or "Quintas" (in Portuguese).
In the cellars you'll find a large portrait of the King and the Prime Minister as a reminder of their heritage. The cellars are now family-owned by Portuguese proprietors.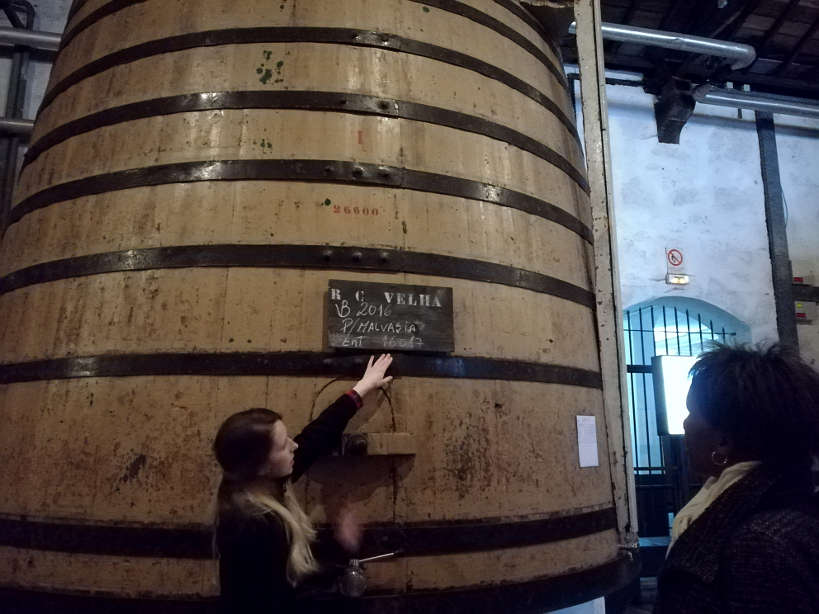 Real Companhia Velha Port Tasting
The visit ended with the tastings of a Lagrima Porto and a Tawny Porto.
The Lagrima is known to be the sweetest of the white porto wines. Its name, "Lagrima" means tears, referring to the tear shape it forms while being poured into a glass. The consistency is slightly thick and the taste really sweet. It's a great wine to have chilled as an aperitif or as a dessert wine.
The Tawny Porto is aged for four years in oak barrels. While strong, it has dried fruit and nutty flavors. This Tawny Porto is most commonly drunk as a digestive or over a dessert at room temperature.
This was our first visit to a port cellar and it made for a friendly and approachable introduction to port wines cellars and the production process.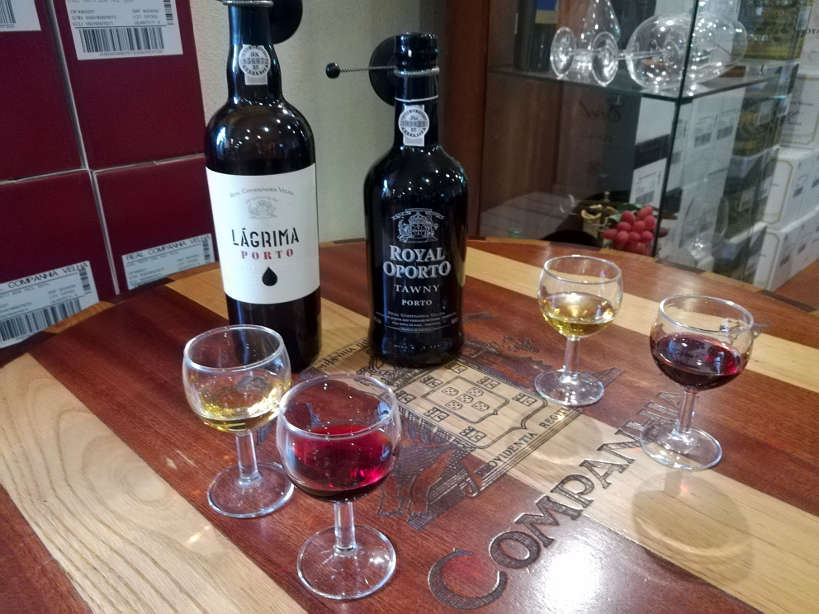 The Most Accessible Port House on the Douro River  – Cálem
Cálem, located right across the Douro river is a popular destination for visitors. Cálem offers well organized tours for a maximum of 40 people, in different languages. Don't expect an intimate tour experience here.
However, Cálem has a small and interactive museum that details the Port wine making process. It is worth spending time here before the tour starts.
On the tour, the guide walked the group through the wine cellars and using video and audio support, recreated the wine making experience. This was very well done and worked even for a large group. The final stop was the vast tasting room near the cellars.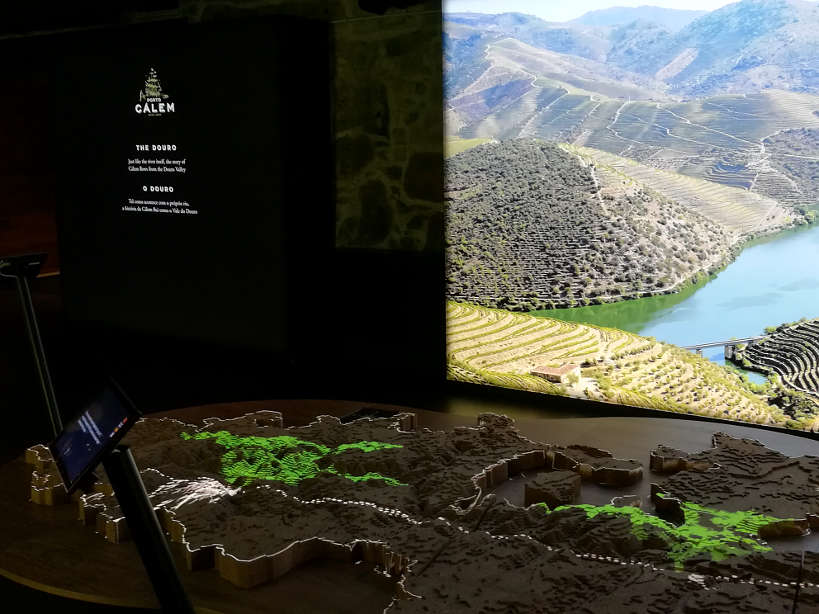 Cálem Port Tasting
In the large tasting room, glasses and bottles were laid out on a large table to accommodate our group of about 25 people. We tasted two different Cálem Ports. A Fine White Porto and a Tawny Porto Special Reserve.
The Fine White Porto was smooth and sweet though not as sweet as the Lagrima Port. This is the kind of wine that goes well with fruit-based desserts.
The Tawny Porto, on the other hand, was strong and tasted closer to a cognac with a much higher level of sweetness.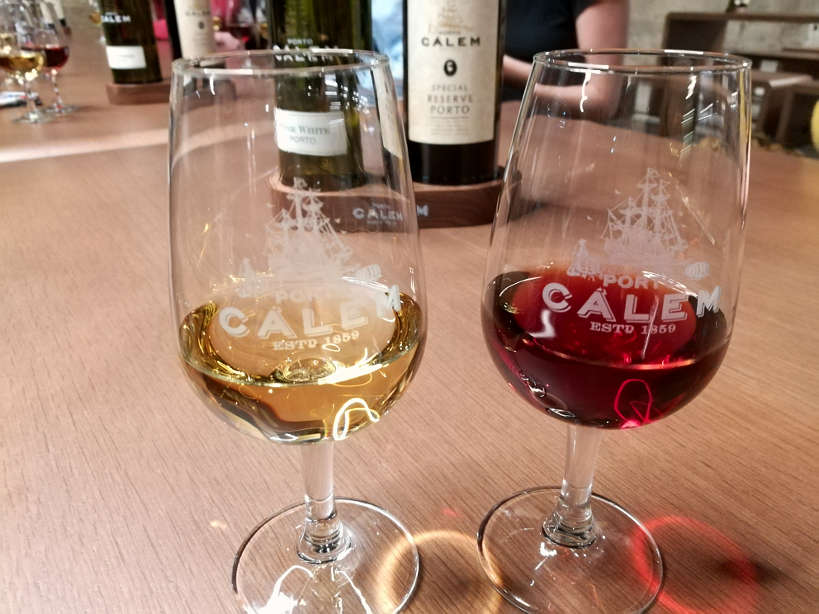 Espaco Porto Cruz  for an Interactive Port Experience
The Port Cruz Space in Gaia is a multimedia center that offers different ways to experience Port wines and the region. Through a combination of art and interactive presentations, this is a great place to introduce visitors to the wines and region.
In the tasting area on the first floor, you can sample different Port wines and pair them with cheese or charcuterie. The second floor has a fantastic 360 virtual reality tour of the Douro Valley and as well as a variety of audiovisual resources. There is also an art exhibition space as well as a tasting room.
The Porto Cruz Space also has a restaurant that is only open for lunch in the Summer months. On the rooftop deck, you can enjoy amazing views of Porto and the Douro River while having lunch or enjoying drinks and snacks in the afternoon.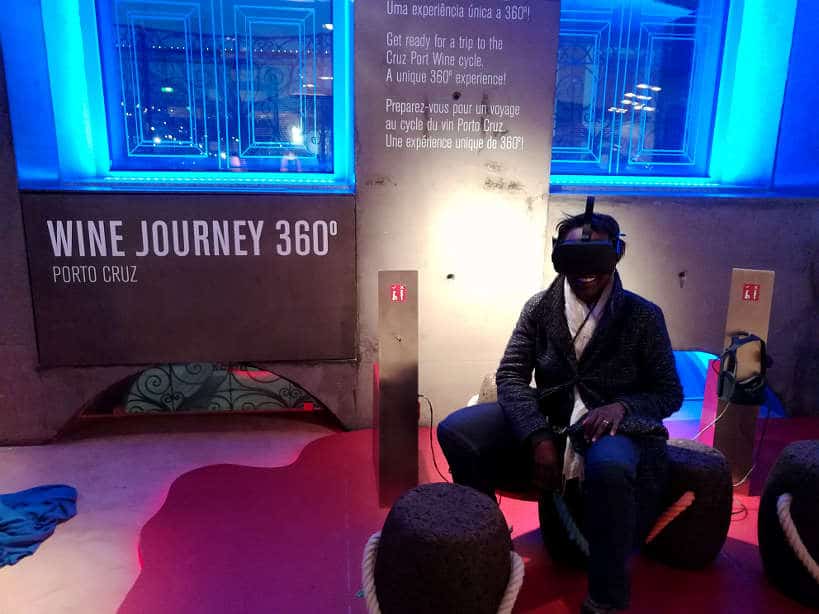 Porto Cruz Port Tasting
After visiting the second floor, we made our way back down to taste a Porto Rosé and a Porto Tawny. The Rosé was round, sweet and fruity, making it an easy wine to drink. The Porto Tawny was full bodied, with notes of berry and plum fruits. It is said to be best served slightly chilled and with rich desserts.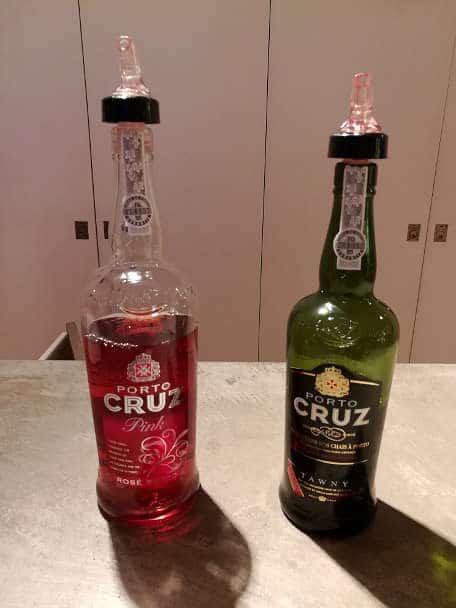 Douro Valley – Where the Grapes Come From
After exploring the wine cellars and tasting rooms in Gaia and Porto, we went further north to the Douro Valley, to see the vineyards that produce this famous Port wine.
A Unesco World Heritage Site, Douro Valley, is the first demarcated and regulated wine region in the world. In addition to Port wines, this spectacular region also produces excellent DOC Douro Valley wines.
The Douro river, which translates in Portuguese as "of gold", was used traditionally to transport port wine produced from Douro Valley to the cellars in Porto. Even though the river is not used for transporting wines today, taking a river cruise is a magnificent way to experience the valley.
There are many offers for cruises in Porto. You can easily find a good last minute deal to cruise and explore the quaint towns in the Douro Valley region.
While in the valley, we visited two port wineries to learn more about the making of this fortified wine.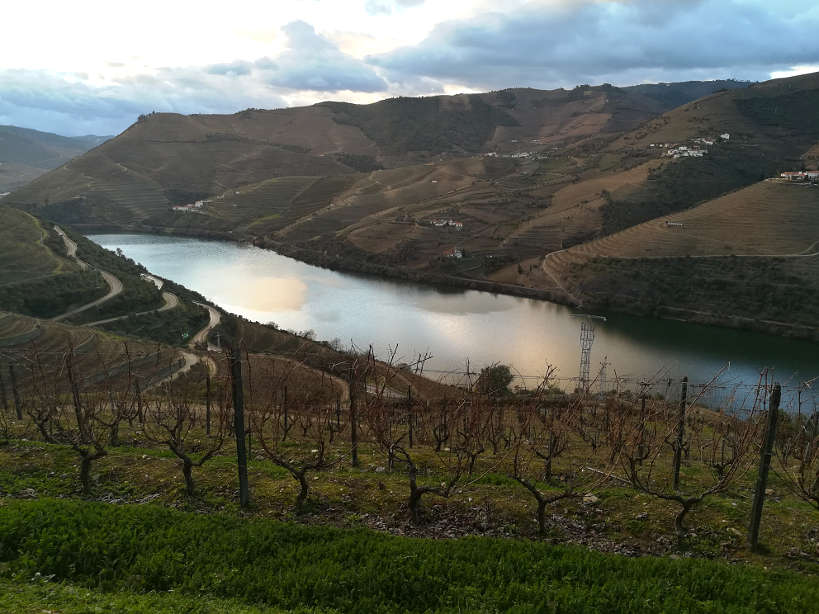 Breathtaking Views at Quinta do Seixo  – Sandeman
Our first stop was at Sandeman's Quinta do Seixo vineyard. While Sanderman does have a cellar in Gaia, it is currently closed for renovations.
George Sandeman, a young Scott, founded the company in 1790. This ancient property is spread out over 99 hectares of vineyard.  
A pioneer, Sandeman is the first wine company to mark its name on a cask with a hot iron rod. It is also one of the first wine companies to label and advertise its wines.
Today, Sandeman is recognized for the quality of their wines and the distinctive image of the "Sandeman Don".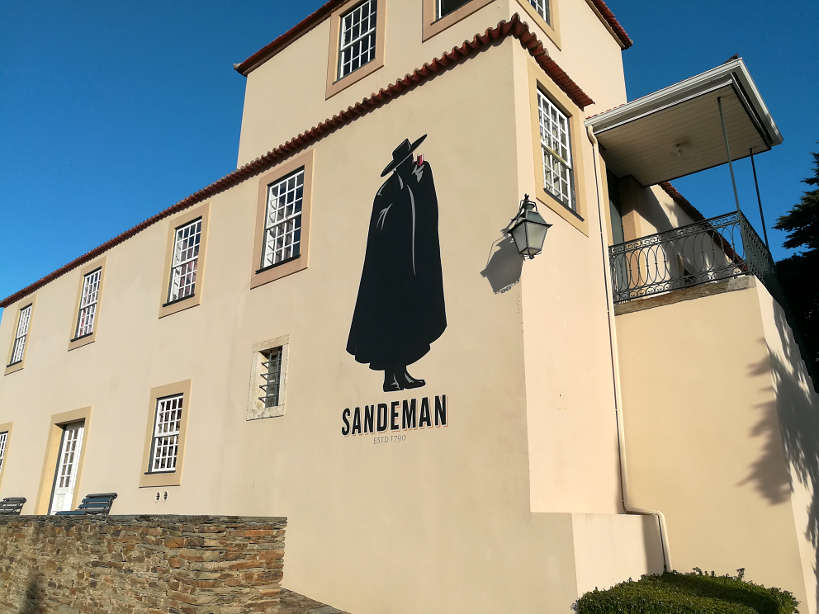 Our tour guide, dressed as the "Sandeman Don" took us around the cellars.
You can see the production process that was used centuries ago and the new machinery that is used today.
Their Port wines are aged in Gaia, where the climate is better suited for aging the wines.
The final stop was the tasting room with magnificent views overlooking the Douro Valley.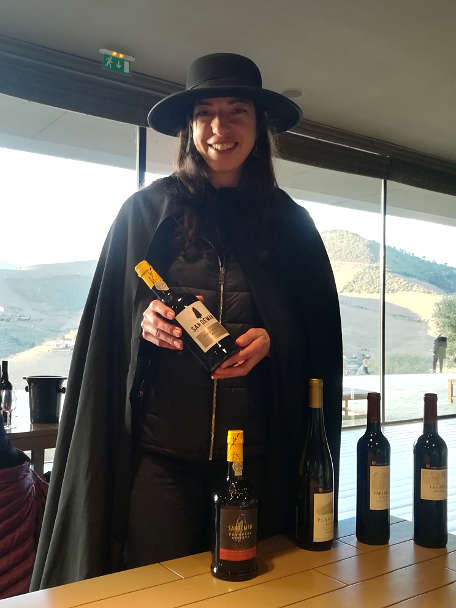 Sandeman – Quinta do Seixo Port Tasting
The tasting included two different Port wines. A White Port wine usually drunk as an aperitif and a Ruby Port, which is typically consumed as a digestif.
We started out with a medium dry white port – Fine White Port, aged for 3 years in oak barrels. Sweet and delicious, the flavors are tropical with hints of citrus.
White Port is commonly used in the Porto Tonic cocktail, which is particularly refreshing in the hot Summer months. Porto Tonic is made by mixing half white port, half tonic water, two cubes of ice and a slice of lemon.
For the Ruby Port wine, we tasted a Founders Reserve, aged for five years in oak barrels. With red fruit aromas and chocolate notes, this digestif port wine pairs well with chocolates, red fruits desserts, and cheese.
This was a fascinating tour of one of the most recognizable Port brands in the world. The overall experience and particularly the tasting room makes this a vineyard worth visiting. We finished our visit leisurely sipping the port wines while admiring the magnificent views of the Douro Valley.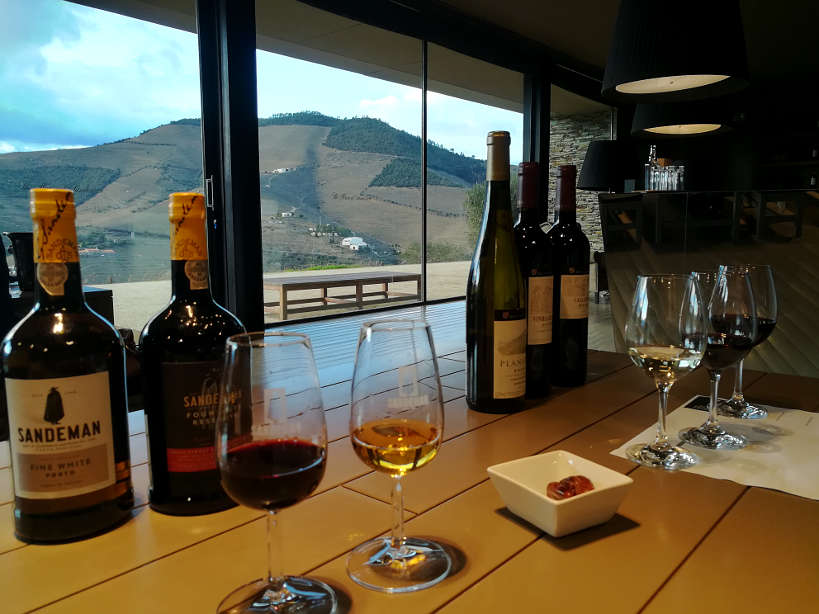 Boutique Organic Winery – Quinta do Tedo
Located where the Douro and Tedo rivers meet, Quinta do Tedo is a small boutique winery. The property dates back to the 18th century.
It is now co-owned by a Frenchman (of the Bouchard family winemaker in Burgundy), his American wife and a Portuguese winemaker.
This vineyard is fascinating for a number of reasons. First, it is an organic vineyard for both port and red wines. The vineyard started growing organic grapes in 2007. 2011 was their first completely organic harvest.
The vineyard also features a small agrotourism B&B where you can stay and explore the region.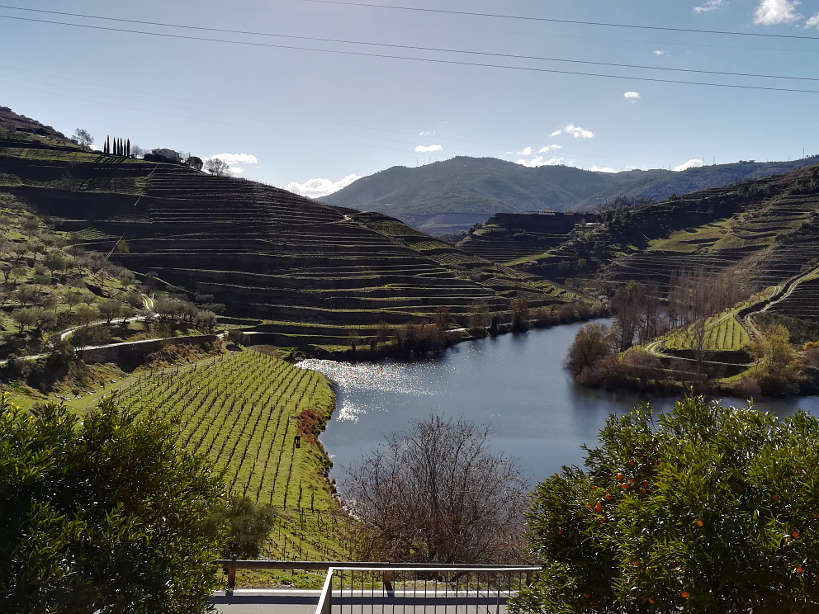 This small 14-hectare winery produces 26 different grape varieties and still uses many traditional winemaking processes.
The grapes are harvested by hand, and after destemming, they are crushed by foot. The stomping of grapes process is done by 4 to 6 workers and takes place at night, to control the temperatures in large stone tanks called lagares.
In the oldest part of the winery, we saw the large barrels used for port wines, as well as the wine label bottling process which takes place by hand.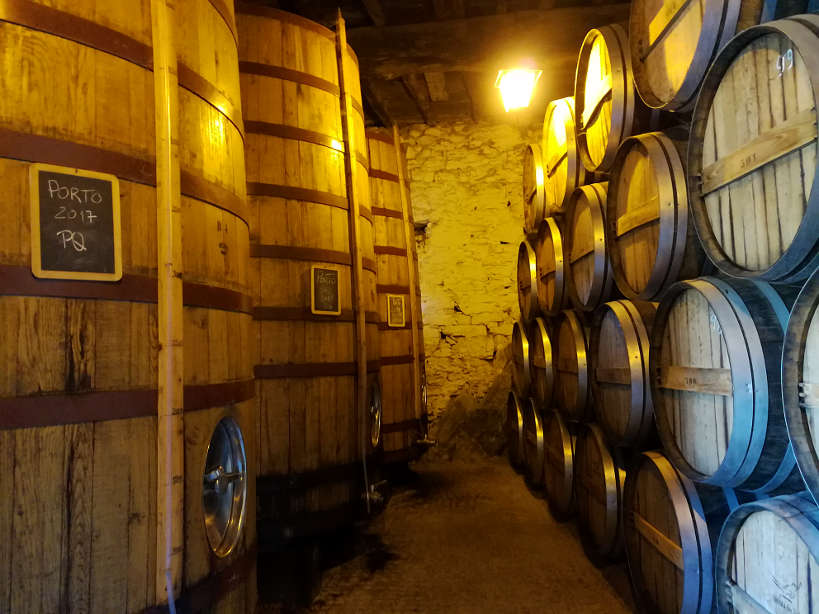 Quinta do Tedo Port Tasting
For the first time, we got a chance to taste organic port wines. The tasting included three port wines. We started out with a Rosé port, which is the lightest of the port wines. This was Rosemary's favorite. We learned that Rosé port wines are typically drunk chilled and can also be used in sangria or for Porto Tonic cocktail with cinnamon or mint leaves.
The next tasting was an 8-year-old Tawny Porto. Much more complex with fig, peach flavors and caramel notes towards the end. We both enjoyed this Port wine.
The final tasting was a 2011 Quinta do Tedo LBV. It was delicious, slightly fruity with fresh acidity, making it perfectly balanced. This was Claire's favorite of the three port wines.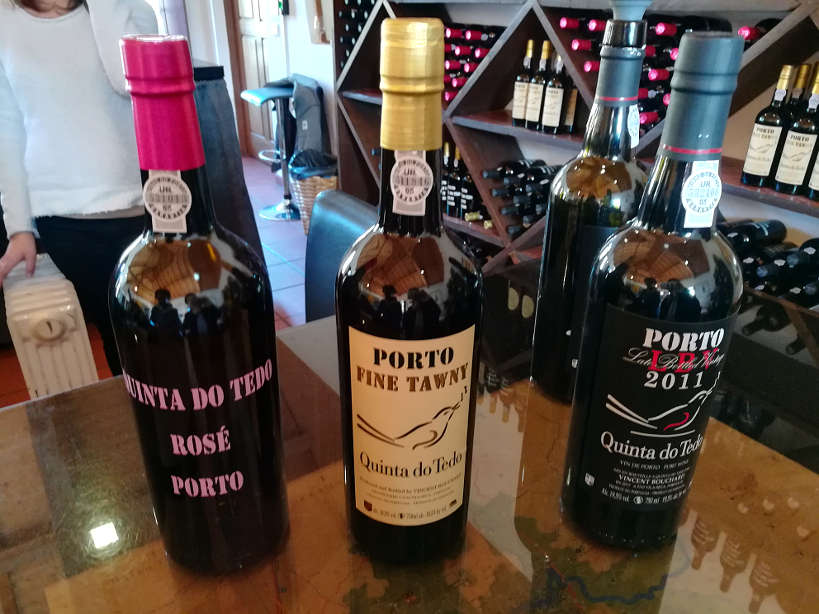 In Summary
Learning about Port wines was a completely novel experience. We arrived in Porto as complete Port wine beginners and left with a greater regard for this fortified wine.
Through the port tasting, we had a chance to discover the different types of ports offered in the region. It was amazing to see the differences in colors and the nuances in taste.
Our favorite discoveries were Rosé and White Ports. We also gained a deeper appreciation for aged port wines such as the LBV or 10 year Tawny, which offer more balance and complex aromas.
Port wines offer many endless learning opportunities. We just barely scratched the surface.
Regardless of how much you know about port wines, a visit to Porto and the Douro Valley should not be missed.
Have you had Port wine before? Do you like it? Leave your comments below.
Find out What kind of food traveler are you? Take our quiz and get your food traveler profile in minutes!
Savor The Adventure!
Locations Mentioned
Instituto dos Vinhos do Douro e Porto
Address: Rua de Ferreira Borges 27, Porto.
Hours: Monday to Friday from 9:00 am to 6:00 pm
Address: Rua Azevedo Magalhãe 314, Vila Nova de Gaia.
Tours: Offered by appointment only and in multiple languages. 
Address: Av. de Diogo Leite 344, Vila Nova de Gaia.
Tours: Book in advance. Tour and Fado show available in the evenings at 6:00 pm. 
Address: Largo Miguel Bombarda 23, Vila Nova de Gaia.
Tours: Great place for learning about Port wines, through videos, interactive tables and a tasting room. Enjoy the views of Porto from their amazing terrace.
Address: Tabuaço, Douro Valley.
Tours: Book your tour in advance and be prepared to relish the astonishing views of the Douro Valley.
Address: Folgosa, Douro Valley.
Tours: Great tour and amazing opportunity to taste organic Port wines.
Where to Stay in Porto, Portugal
Porto is a walkable city with several lodging options. From five star hotels to independent boutique hotels, whatever your preference you will find the perfect accommodations for your trip. Click below and choose from the hundreds of options available.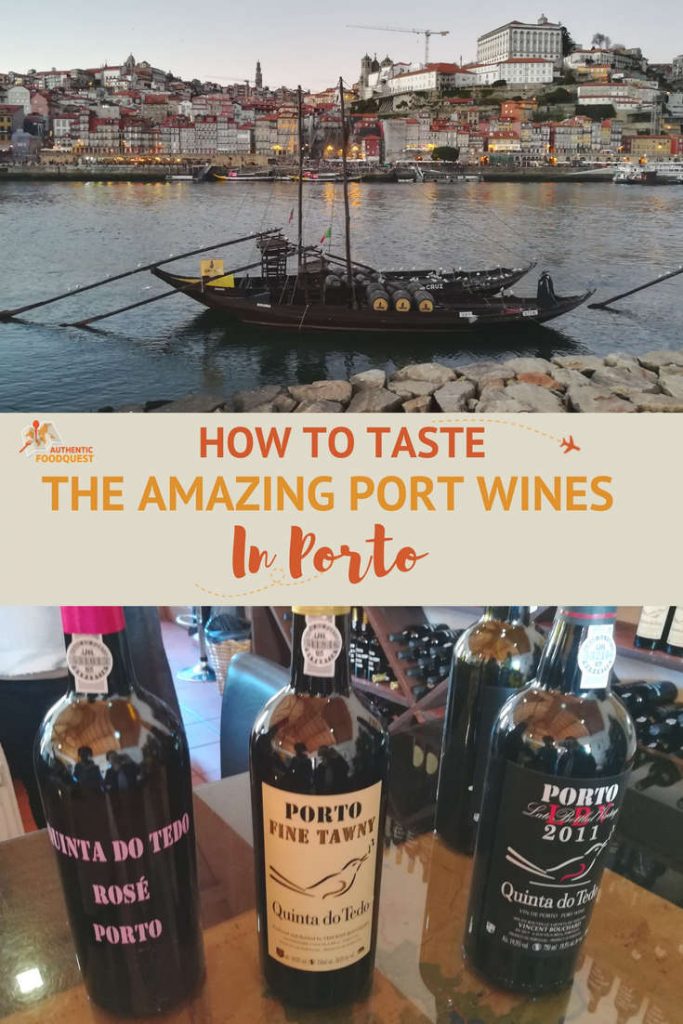 Rosemary is a writer and culinary explorer. Together with her partner, Claire, they created Authentic Food Quest to inspire people to travel deeper through authentic food. Through food, they believe, people can have more meaningful connections on their travels. Prior to creating Authentic Food Quest, Rosemary worked as a director of strategy in advertising for over 15 years.   Take the quiz and find out your Food Traveler Profile.