What images do you visualize when you hear the word desert? 
Arid landscape? Sand dunes? Cloudless sky with scorching sun? 
Far from the images of luscious vineyards, juicy grapes and even less so, flamboyant red and white wines.
Yet, in the deserts of Nevada, three Las Vegas wineries are defying the odds. 
With the pioneer spirit that characterizes those from the Wild West, they've established ground in the barren Southern Nevada desert.
With the help of Nevada grape growers, these pioneers are now producing Nevada grown wines that will surprise you.
Join us on a fascinating journey to wine tasting in Las Vegas and meeting the people behind Las Vegas wineries.

How Three Las Vegas Wineries Are Defying the Odds in The Desert
First and foremost, passion, entrepreneurship and a pioneer spirit embodied the gracious people we met at the Las Vegas wineries. 
At each of our visits, their passion and enthusiasm for their work transpired as our curiosity and respect grew. 
Now in all practicality, to be called a Nevada winery, 25% of the grapes have to come from the Nevada state after the first 1,000 wine cases sold.
And how do you grow grapes in the desert, you might ask yourself?  
Although the harsh desert conditions are challenging for grape growing, the sunshine and low humidity are favorable for viticulture. 
By selecting specific varieties and using new techniques, grapes have been growing successfully since the 1990's. 
Aquifers, higher elevation and cold air from the regional mountains help to develop the grapes.
At first, only two Las Vegas wineries existed in Southern Nevada. Both are located in Pahrump, a city about one hour west of Las Vegas. 
Pahrump Valley Winery, the most awarded winery in Nevada and Sanders Family Winery, the pioneer of winemaking in Nevada.
Historically, the laws of the Silver State have been restrictive for winemaking due to liquor distributor lobbying. 
Until recently, wineries in counties with more than 100,000 people was illegal. Since the end of 2015, the law has changed.
This gave the opportunity for Vegas Valley Winery to open its door in December 2017, as the first Las Vegas Winery.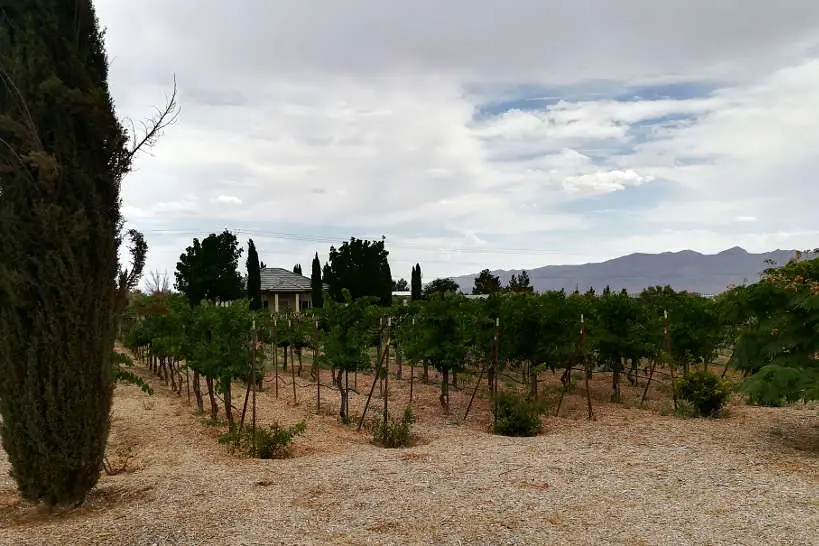 #1- Pahrump Valley Winery: The  Most Awarded Winery in Nevada
Pahrump Valley Winery opened in 1990 with the first grapes planted shortly thereafter. 
Regrettably, wild horses from the nearby Mt Charleston area destroyed the vines completely. The vines had to be replanted again, this time with a fence all around.
Current owners, Bill and Gretchen Loken first discovered the winery in 2002. By 2003, they had acquired the winery, including the on site restaurant called Symphony Restaurant.
Today, Pahrump winery is one of the most awarded wineries with over 430 National Wine Awards since 2004.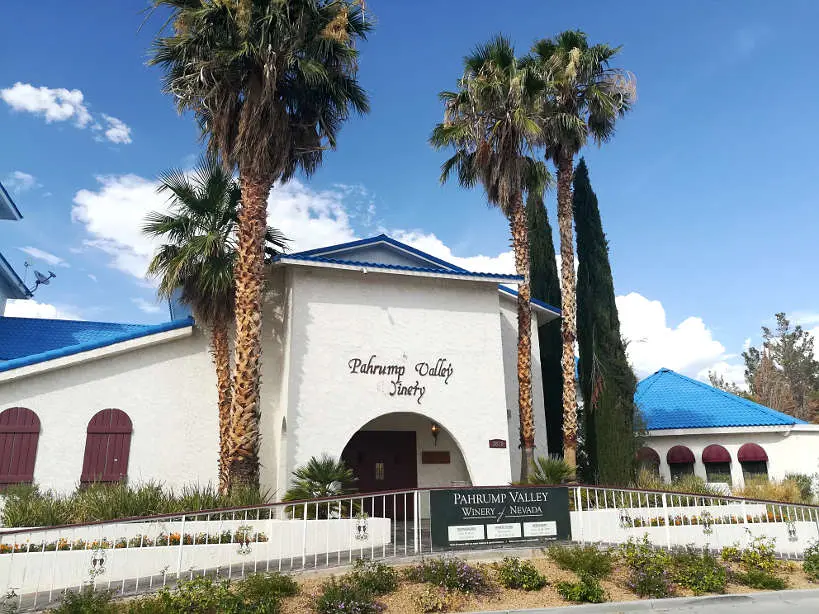 A Day Trip From Las Vegas
Located about one hour west of the Las Vegas Strip, we were eager to visit this winery in the Southern Nevada desert. 
We had read the positive reviews, but we were still skeptical about the quality of wines growing in the desert.
Pahrump Valley Winery offers free tours and tastings daily. We got there just in time for the 3:30 pm tour, the last tour of the day.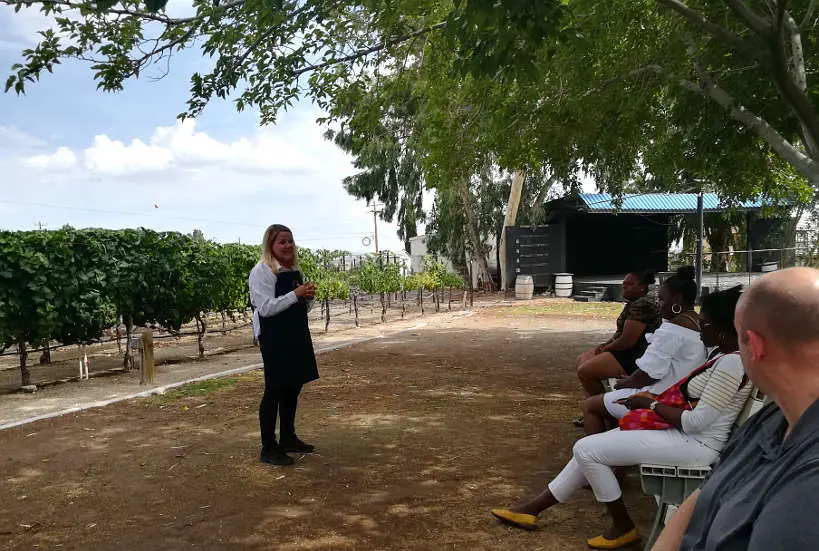 Authentic Food Quest Tip: If you don't want to drive to the winery, you can book a tour to Pahrump Winery. This private group tour for three people will drive you safely to the winery for you to enjoy the tour and tasting.
The Grapes at Pahrump Valley Winery
In the early years, we learned that the wines were made using California grapes. 
They were brought in by trucks to Pahrump Valley Winery and then crushed and made into premium wines. 
In 2005, the Loken's harvested their first grapes. Three years later they sold Nevada's first ever commercial red wine.
This 2005 Nevada Ridge Red Zinfandel went on to win Gold at the Pacific Rim International Wine Competition. 
Prior to that, wines made from Nevada grapes were white. Since then, Pahrump Valley Nevada wines have gone on to win 100 National Wine Awards and counting.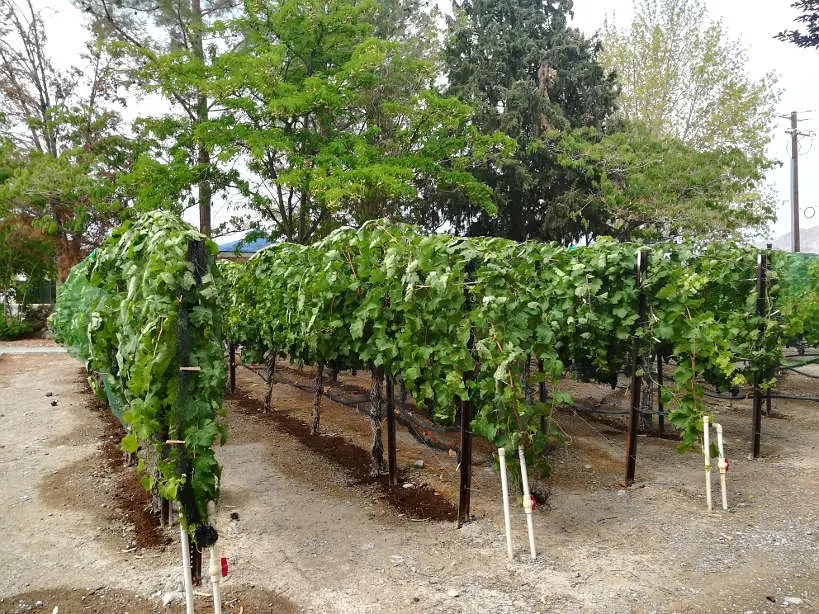 Pahrump Valley Wines
Currently, about 30 percent of their Pahrump Valley Wines come from Nevada grapes. The rest are from California grape growers in Lodi, Suisun Valley, Mendocino County among others.
The winery produces about 10,000 cases a year and continues to grow year after year. More than 100,000 bottles are sold each year. The winery's goal is to produce a minimum of 80 percent Nevada-grown wine within the next 10 years.
You will find several Pahrump Valley wines under three different labels. The Pahrump Valley Wines which can be described as fun, fruity and friendly.
Charleston Peak wines, which pays tribute to their location, west of Mount Charleston. The wines under this label are carefully curated white and red wine classics.
And finally, the Nevada Ridge Wines, which is a limited production of Nevada grown, produced and bottled wines. These are the wines that are making history.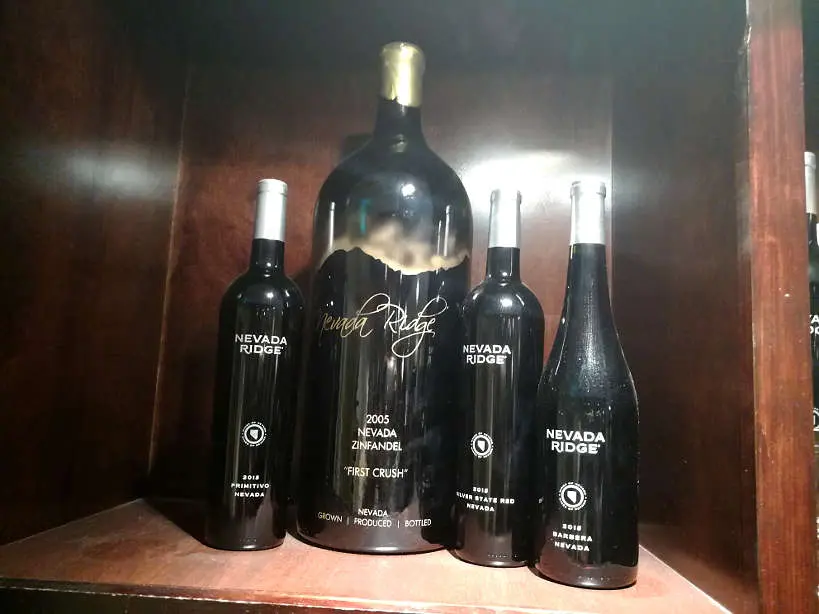 Pahrump Winery Tour 
The tour and tasting takes about 30 minutes. At 3:30 pm, our tour guide assembled our surprisingly large group of about 25 – 30 visitors.  
We then walked outside to see Nevada's first vineyards. Sitting across the vines on benches, shaded by trees, we learned the fascinating story of how wine making started in Nevada. 
We toured the grounds and saw the different grape varieties, including Zinfandel and more.
Our visit inside started in the cellars where the wines are bottled in stainless steel tanks and oak barrels. 
The winery had recently gone through a renovation and expansion. And, we were impressed by the size and scale of the cellars.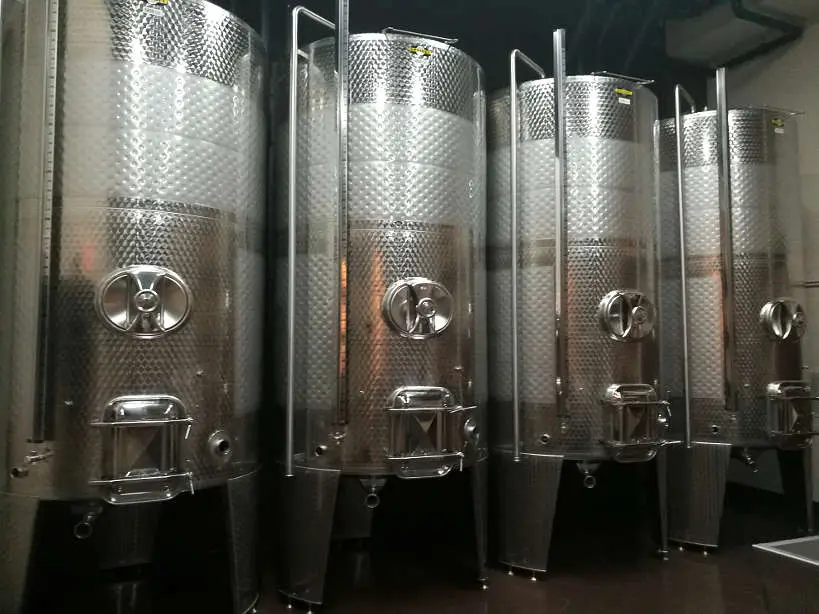 Just as our guide was talking about the production process, Gretchen Loken, the owner, walked and gave an impromptu tour of a new bottling machine that had just been installed.
Her energy and passion was contagious. We were all drawn in by her enthusiasm for winemaking and commitment to transforming Nevada into a winemaking destination.
Gracious with her time and incredibly friendly, we felt fortunate to have heard from the owner about the winery and their goals.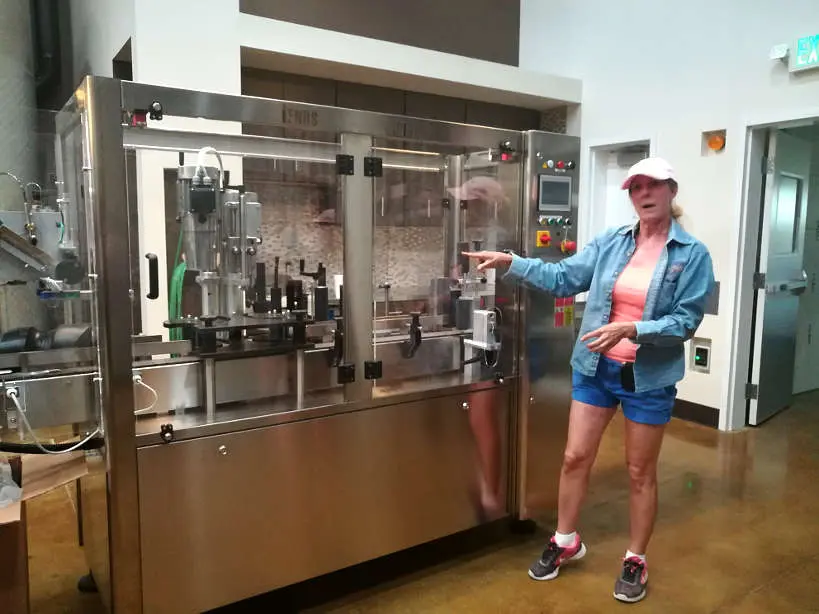 On the way to the wine tasting, we stopped by the impressive medal and awards room. There, all their awards are prominently displayed. 
Looking up towards the ceiling are rows and rows of Gold, Silver and Bronze recognitions. A real surprise and honor for this Nevada winery.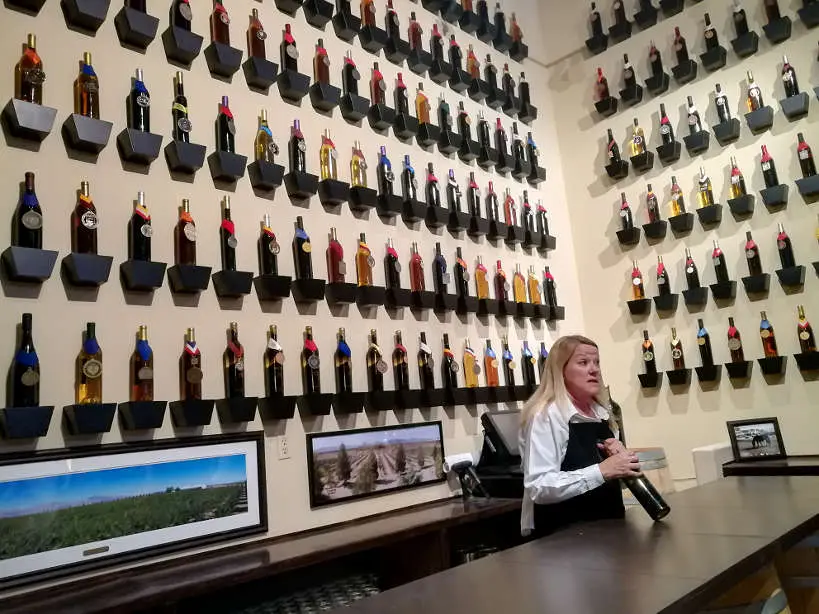 Pahrump Valley Wine Tasting
Before the tasting began, we were each handed a menu of several Pahrump Valley Wines, including the Nevada wines. 
For the tasting, you can choose to taste seven wines including whites, reds, Nevada wines and dessert wines. Once you make your selection, you are poured a small tasting of each one.
We chose two white wines, three red wines and two Nevada wines. We started out with a Pinot Grigio from the Charleston Peak label. While we enjoyed the crisp flavors, we found it too sweet for our taste.
The Symphony wine, of which the restaurant is named after, comes from the Pahrump Valley wine label. 
It is one of their popular wines, with sweet flavors of honeysuckle and apricot. This wine was smooth, though sweet, almost like a dessert wine.
The reds, which are barrel reserves, were our favorites. Rosemary enjoyed the rich flavors of the Syrah while I savored the elegant flavors of the first grown Zinfandel.
We tried two Nevada wines, a Primitivo and a Tempranillo. Both wines from the 2015 vintage. 
While an interesting experience to drink Nevada bottled and produced wines, they were not our favorites.
We found the wines smooth, but too dry for our tastes. They are the kind of wines that probably go better with a meal.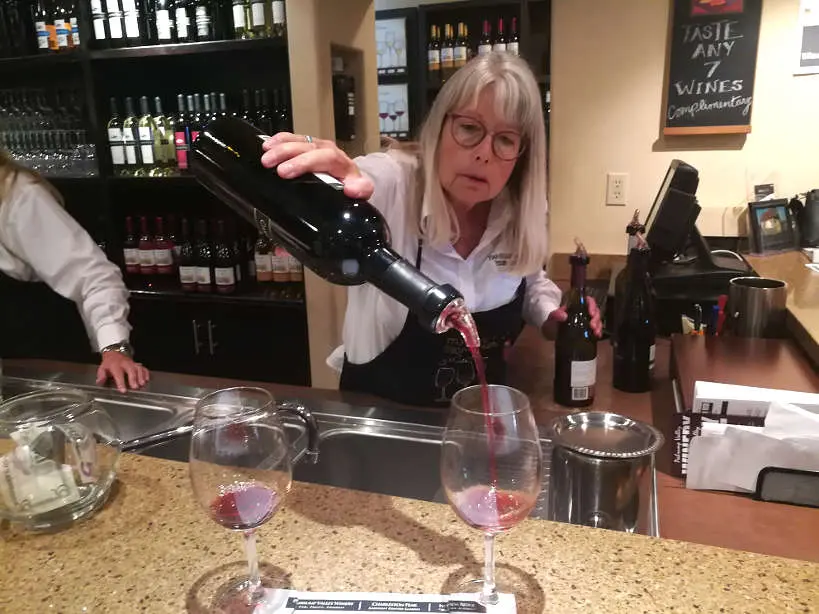 Pahrump Winery Overall Impressions
If you are up for a day trip from Las Vegas, it's an easy drive to Pahrump and a great way to spend a day outside of the city. 
You will be welcomed warmly with a free tour and tasting and a chance to see the operations of a pioneering Nevada winery. 
If you have the time, plan to eat at the award winning Symphony Restaurant. Despite the white linen table cloths, the atmosphere at the restaurant is relaxed. 
While we didn't eat at the restaurant, it is highly rated on TripAdvisor and by Nevada Magazines. 
The chef incorporates the wines in dishes like the Symphony Chicken Limone, Pan Seared Alaskan Halibut, and Winery Shrimp Scampi. 
The wine list is extensive and includes more than Nevada wines.
You can pick up bottles of wines, wine totes, unique corkscrews and other wine-related gifts for friends and family at the extensive gifts shop.
 A trip to Pahrump Valley Winery is a fun way to discover more about Las Vegas wineries.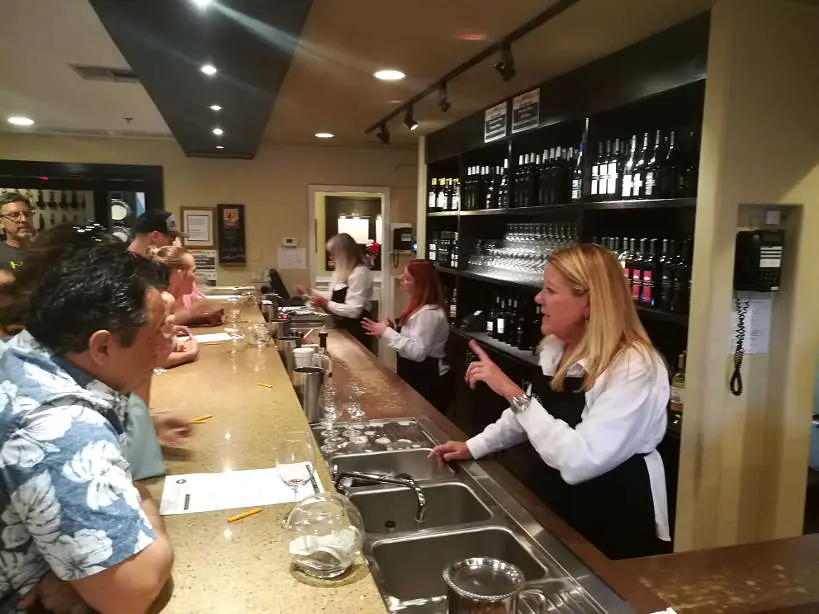 Where to Enjoy Wine Tasting near Las Vegas
Address:  3810 Winery Road, Pahrump, Nevada
Hours: Tours and tastings offered daily at 11:30 am, 1:30 pm and 3:30 pm
Price: Tastings are free. Bottles of Nevada wines range from $21.95 to $34.95
#2- Sanders Family Winery: The Pioneers of Winemaking in Nevada
After establishing the first winery in Nevada, now called the Pahrump Valley Winery, Bob Sanders founded Sanders Winery. 
Located only a few miles from Pahrump Winery, Sanders Winery is a surprising oasis in the middle of the desert. The villa is inspired by Italian Tuscan architecture and is surrounded by vineyards and pistachio trees.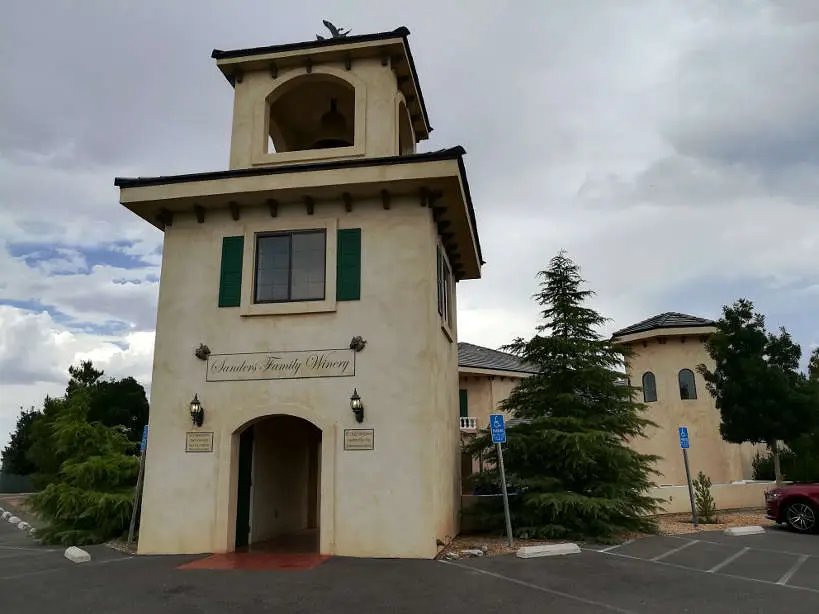 Sanders Winery Vineyards and Winemaking
The Sanders family grows Zinfandel and Petite Sirah grapes on the property. Other grapes come either from northern Nevada or California. 
Sanders Winery is quite prolific in wine making. They produce eight different wines – two whites, one rose and five reds. They also make two sparkling wines, one white, one rose, two port wines and a sherry.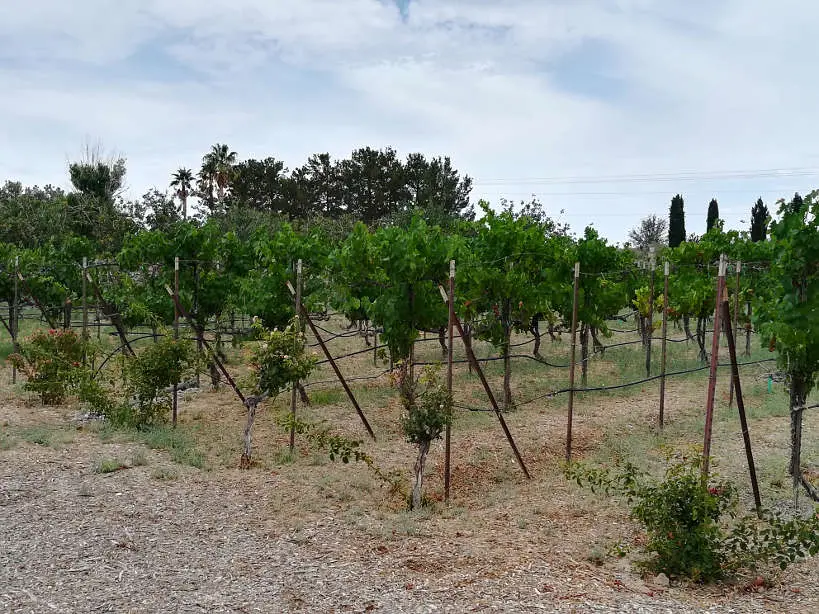 Sanders Family Winery Wine Tasting
While  tours are not offered at Sanders Family Winery, the tasting is quite an experience. As soon as you walk into the property, you are welcomed with a free tasting. 
The sommelier handed us the tasting sequence for the day, which outlined nine different wines. 
Starting from white wines, then Rosé wine, red wines, including sparkling and a final cocktail, you are in for a full experience.
The sommelier took the time to explain each wine and patiently answer our questions while pouring generous portions.
The wines were surprisingly pleasant. Although we find American white wines to be too sweet, we enjoyed Serenity, the first Nevada wine. 
Our favorite was the Cabernet Sauvignon which had a nice peppery finish.
To end our tasting, the sommelier prepared the "Red Ginger" a surprising and refreshing drink made of ginger ale, red wine and lime. With our glass in hand, we went off to enjoy our lunch on the property, as you are free to bring your own food.
RELATED: How to Eat like a Local at the Best off Strip Buffets in Las Vegas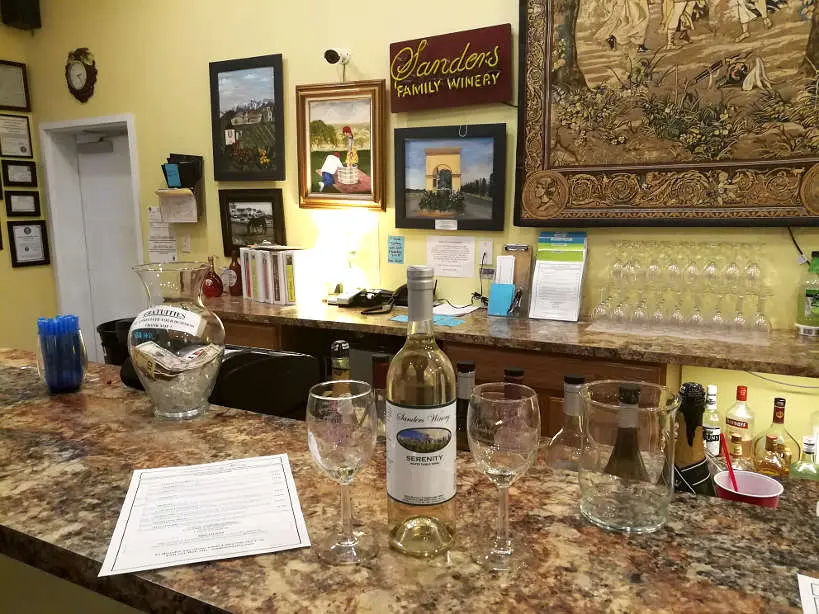 Sanders Family Winery Overall Impressions
The Sanders Family Winery is an easily accessible ride from Las Vegas and perfect to combine with a visit to Pahrump Valley Winery.
Don't be turned away by the lack of signage to get to the winery. Mark the location of the property in advance on your GPS and you'll be sure to find it. 
The property is inviting and the tasting fun and generous. Feel free to bring a snack or a picnic to eat along with your tasting. 
Starting in the Spring until the Fall, the Sanders Family Winery also hosts concerts, plays and shows at its own performance arts center. You can sip your wine while enjoying the performance. Reservations are required.
A truly lovely experience in the middle of the desert.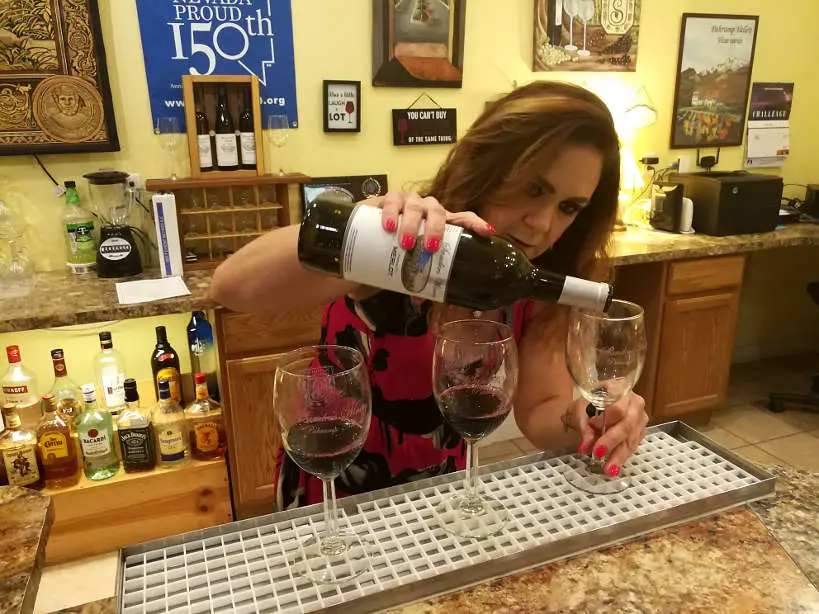 Where to Enjoy Wine Tasting in Pahrump
Address: 3780 E Kellogg Rd, Pahrump, NV.
Hours: Everyday from 10AM to 5PM
Price: Tasting is free; wine bottles start at $11.95. There is a  5% discount for 6 bottles, 10% discount for 12 and above.
Authentic Food Quest Tip: From Vegas, go to Pahrump and Sandery Winery without having to worry about drinking and driving. Check this Las Vegas wineries tours for day trip and wine tasting near Vegas.
#3- Vegas Valley Winery – The First Las Vegas Winery
Opened in December 2017, Vegas Valley Winery paved the path by opening the first winery in Las Vegas.
Prior, it was illegal in the state of Nevada to run a winery in counties with a population over 100,000 people. But the law changed in 2015, allowing Vegas Valley Winery to open for business.
Located in Henderson, about 20 minutes from the Las Vegas Strip, it is worth making the trip to get a taste of wines from the first Las Vegas winery.
The winery is located in an industrial zone that is already home to craft breweries and a distillery. Even though you will not find vineyards, you'll be surprised by the beautiful interior.
The decor in the tasting room has somber tones with pieces of oak barrels all around. You can pull up to the bar or spread out comfortably on tables and chairs.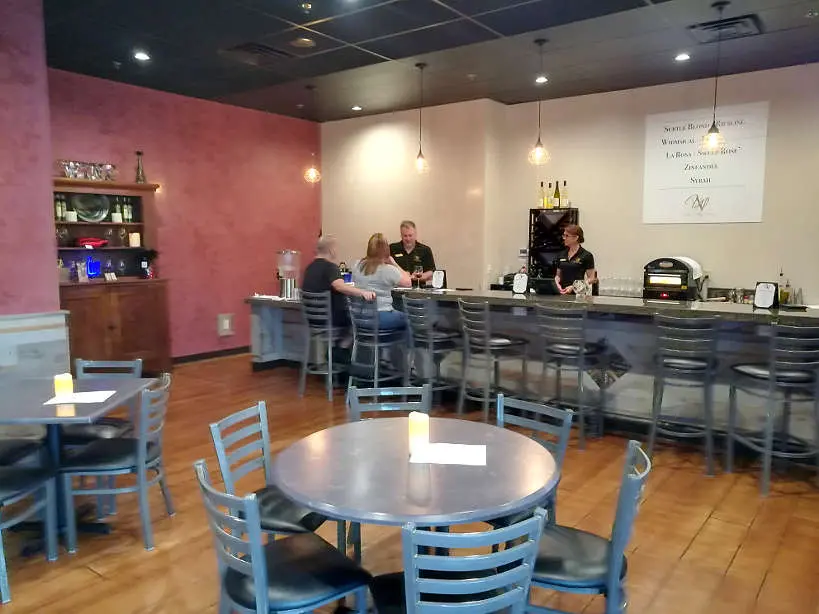 Las Vegas Winery Tour and Wine Making
On our visit, we were fortunate to meet the owner, Patty, a very charming and hospitable lady.
In our discussions, we learned that the changes to the State law allows for the first 1,000 cases of wine to be made with grapes from anywhere. After that, 25 percent of the grapes must be native to Nevada.
During their first few months of business, Vegas Valley was importing grapes from California. Their plans are to use grapes grown in Nevada in the near future.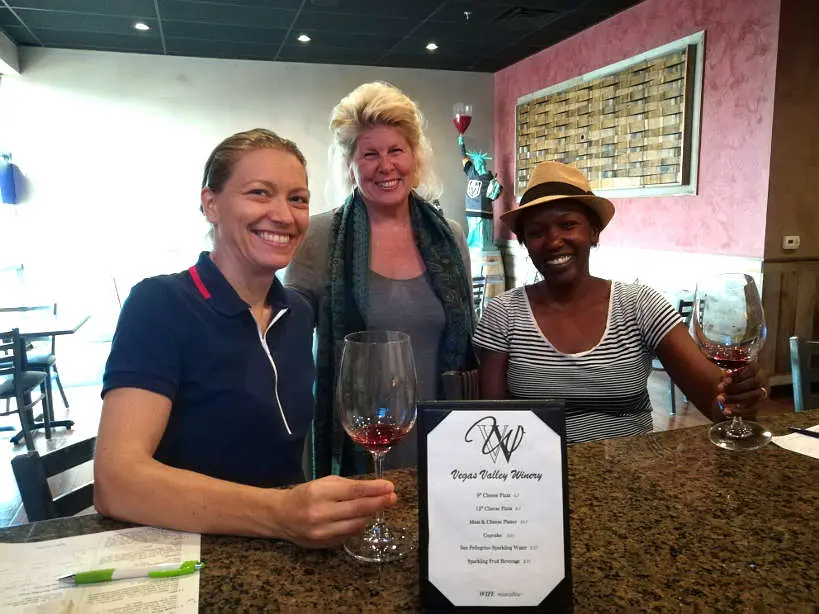 Vegas Valley Wine Tasting
The tasting at Vegas Valley is priced at $10 for a tasting of five wines. The wines include whites, red and one Rosé wine.
Grapes for the white Rosé wines are from Suisun Valley in California. This valley we learned  is on the backside of Napa Valley.
And the grapes for the reds are from Paso Robles, California.
As we tasted the five wines, the sommelier took the time to explain the tasting notes for each wine.
We really enjoyed the red wines, Zinfandel and Syrah, which were bold, elegant and very smooth. Our favorite white wine was the Whimsical, a dry white with crisp and citrusy notes.
In addition to wines, you can also get food including pizza, a cheese and meat charcuterie platter and wine infused cupcakes.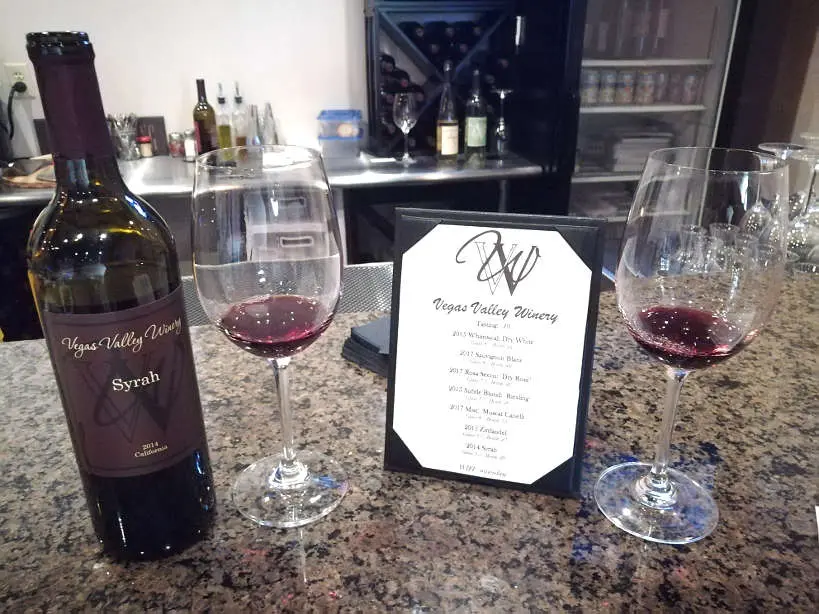 Las Vegas Winery Tour
After the tasting, we took a tour of the property with Kj Howe, the in-house Professor of Yeastology. 
The tour focuses on how the wines are made and the wine making process. Interestingly, the owners of Vegas Valley Winery are also the founders of Grape Expectations. 
Grape Expectations is the first Nevada School of Wine where you can make your own wine. 
On the tour, KJ told us entertaining stories about the School of Wine and the wines in the barrels. 
They are made by groups of friends, families and businesses that come every year to make their own wines. 
The space is not large, and the tour is short. However, KJ is a wealth of information and an entertaining storyteller.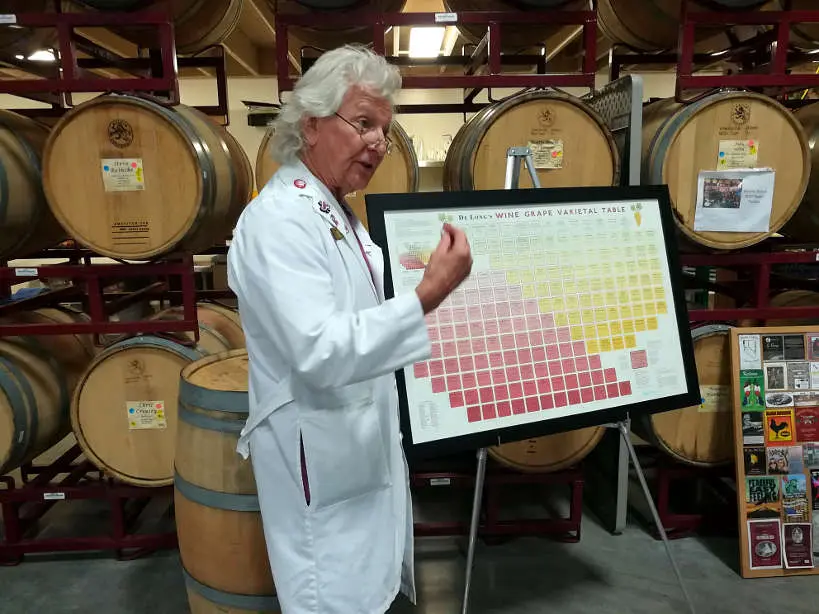 Las Vegas Valley Winery Overall Impressions
Friendly, welcoming and passionate is how we would describe the experience at Vegas Valley Winery.
Everyone we met was incredibly passionate about wine. There was a feeling of "ground-breaking" and "paving a new future" that was evident in all our discussions.
Every single staff member had a sense of pride knowing they were creating a new chapter in the Las Vegas wine industry.
The wines, especially the reds, were very good. We were impressed by the beautiful symphony of flavors created by Vegas Valley Winery using California grapes.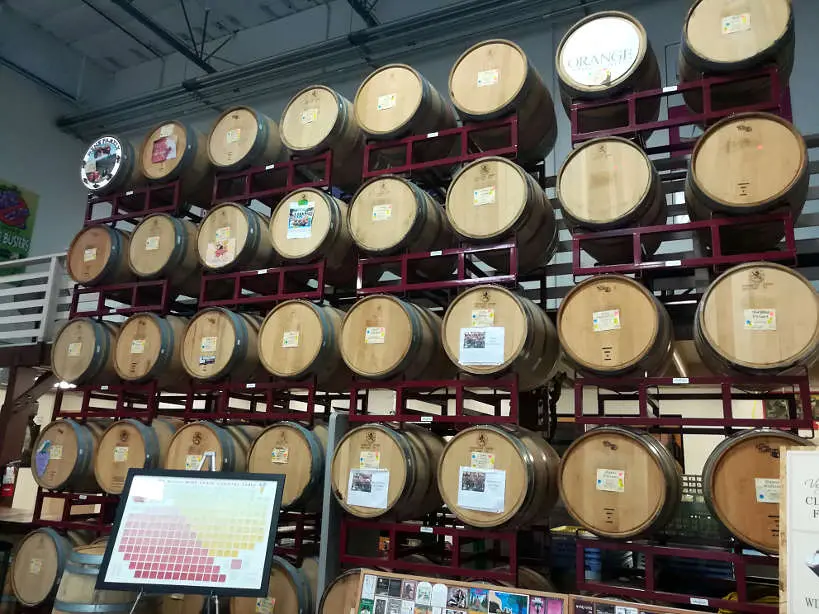 Where to Enjoy Wine Tasting in Las Vegas
Address: 7360 Eastgate Rd, Ste 123, Henderson, Nevada
Hours: Mon – Thurs: 4:00 pm – 10:00 pm, Fri: 2:00 pm – 11:00 pm, Sat: 12:00pm – 10:00 pm, Sun: 12:00 pm – 9:00 pm
Price: $10 tasting for 5 wines
Pro Tips:
While visiting Vegas Valley Winery, be sure to ask for a tour of the facility. You can take your favorite glass of wine with you on the tour.

In Henderson, where Vegas Valley Winery is located, is affectionately known as the "Artisan Booze District." In addition to a winery, you'll also find three breweries and a distillery. Plan to spend a full day sampling local craft brews from Nevada.

In Summary
On your visit to Las Vegas, go beyond the Las Vegas Strip and discover the burgeoning wine scene in Las Vegas.
A day trip to Pahrump is a fun way to explore Las Vegas wineries while discovering another part of Nevada.
The passionate wine makers in Nevada are leading a revolution in winemaking. By going to Henderson or Pahrump and showing your support, Nevada could one day rival Napa Valley.
Have you tried Las Vegas wines before? In the comments below, tell us your thoughts about Las Vegas wines.
Savor The Adventure!
Where to Find Las Vegas Wines
Most of the wines from the three Las Vegas wineries are not widely distributed. Pahrump Wines are the most accessible wines with some varieties sold at Total Wines and other local wine stores. 
The best place to taste the range of Sanders Family Wines is by visiting the winery. They do ship some wines, but best is to call them and find out if they can ship to your area.
At the moment, the best place to get the first Las Vegas wines is by visiting the tasting room at Vegas Valley Wines.
Wine production is still limited, though they hope to make their wines available locally in the near future.
Love it? Pin it!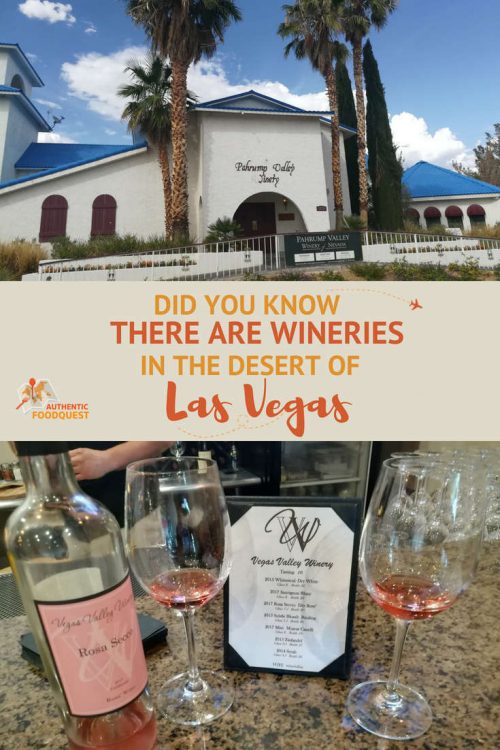 Disclaimer: This page contains affiliate links. That means at no extra charge to you, we earn a small commission when you purchase using these links. Please note we only link to products and services that we personally use or trust. Thank you for your support.
Claire is a culinary explorer who travels the world in search of the best local foods. She is always looking for her next culinary adventure to bring you the best bites while exploring new places.