This article has links to products and services we recommend, which we may make a commission from.
Zornitza Family Estate is a boutique wine and culinary hotel located in the Struma Valley region near Melnik, Bulgaria.
During our tour of Melnik wineries, we had the opportunity to spend two nights at Zornitza Family Estate Relais & Chateaux.
Set in the vast natural surroundings, we immediately relaxed in the beauty and luxury of the property.
With Aestivum, a gourmet restaurant, Zornitza Family Estate is also the first established Relais Chateaux in Bulgaria.
Add a Spa center, an eco-farm and a boutique winery offering wine tasting, be ready to enjoy an indulgent experience.

Zornitza Family Estate Villas and Hotel Suites
Zornitza Family Estate has six private villas and nine boutique hotel suites, set on a sweeping patchwork of vineyards with mountains in the background.
On the upper part are the award winning aEstivum Restaurant, wine cellar and tasting room. You'll also find villas with family rooms, the hot outdoor pool and the free parking area.
On the lower part of the property are the boutique hotel suites along with the Spa facilities, an indoor pool, Bistro 55 a casual dining venue, and a fitness center.
We stayed in one of the hotel suites, with a blend of traditional and contemporary decor, incorporating natural stone and wood elements.
The only thing that surpassed the gorgeous property was the warm and welcoming staff.
We enjoyed a welcome drink of Italian sparkling wine upon arrival, and discreet staff ready to realize all our needs.
Walking into a cool air conditioned room with soft music playing from the Bang & Olufsen audio system, we appreciated the thoughtful touches as we relaxed on the large sofa in the room.
On the table was a welcoming sweet chocolate amuse bouche. The complimentary bar offers a fine selection of snacks, fresh water, soda and alcoholic drinks.
The bathroom, spacious with wood fixtures, had plush bathroom robes and towels and exclusive Italian toiletries giving the overall impression of a luxury spa.
We enjoyed the large outdoor terrace with beautiful scenery of the surrounding vineyards and mountains.
AUTHENTIC FOOD QUEST TIP: You can book your Zorntiza family estate stay and enjoy a relais & chateaux luxury stay for a very affordable price. Check the reviews and find the best prices on booking.
Relais Chateaux Restaurant aEstivum
A member of the prestigious Relais & Châteaux association, known for their gastronomy and 380+ Michelin star restaurants, Zornitza Family Estate also offers a gastronomic experience.
Recognized as one of the top restaurants in Melnik and Bulgaria, aEstivum Restaurant, at Zornitza Family Estate has been awarded for its 300+ wine list and cuisine.
The terroir signature restaurant aestivum is situated right in the middle of the Zornitza Family Estate peaceful property.
The restaurant's name comes from the Latin name for "summer truffles", and you can find truffles in dishes, salads or desserts.
Weather permitting, you can enjoy the outdoor seating with vineyard views.
Inside, the stylish interior is tastefully designed with floor to ceiling windows that extend into nature.
The on site restaurant offers breakfast, lunch and dinner on the property.
For breakfast, you can choose from the many local ingredients served on their buffet or order a continental breakfast "a la carte". Vegetarian options are also available.
We had the opportunity to enjoy an amazing 8-course dining experience at aEstivum restaurant.
Our tasting menu was creative and rooted in Bulgarian cuisine using locally grown ingredients. It was definitely one of our top fine dining experiences in Bulgaria.
Recently, Zornitza Family Estate opened Bistro 55, a restaurant that offers a modern and casual experience. The menu showcases a blend of cuisine from Bulgaria, Asia and America with a pinch of terroir flavor.
READ MORE: Bulgarian Food Guide: 15+ Traditional Foods You'll Fall in Love With
An Impressive Eco-Farm at Zornitza Family Estate
Spread out over 300 hectare (740 acres) is the impressive Zornitza Family Estate. You can take a guided tour of the property or simply stroll along the alleys and get lost in nature.
The owner, Kancho Stoychev, gave us a tour of the property in an open four wheel drive along with two guests from the U.K.
Driving through the vineyards, we made several stops at key points on the Zornitza Family Estate property. We stopped at a lake within the property which is used to host parties and events.
We passed by a growing truffle farm with evergreen oak trees and a colorful apiary for making honey from the estate.
One of our favorite stops was the eco-farm, which provides the ingredients for the restaurant.
Growing on their own farm are organic vegetables, herbs and fruits which are tenderly cultivated.
Livestock from the eco-farm produce the beef, veal, pork, lamb and chicken used in the terroir cooking.
Additionally, homemade cheeses, butter and cured meats round out the quality ingredients used in the aEstivum restaurant kitchen.
Spa Treatments and Mineral Water
Zornitza Family Estate offers several treatment options to nourish the body and leave you feeling relaxed.
On the upper part of the property, near the restaurant, is an thermal outdoor pool with views of the mountain.
The water is naturally warm allowing you to soak in the mountain views from the pool area.
Equally complementary is an outdoor sauna next to the outdoor pool. While seated on the wooden bench in the inside, you look out directly to the property vineyards.
Next to the hotel suites is ZOMA Spa facilities, offering a range of therapeutic services to provide complete relaxation.
Following the recommendation of the host, we tried the detoxifying sequence of steam room, salty mineral pool, sauna, cold water bucket and to finish, relaxing warm water.
After a dip in the different baths, we extended our relaxed state lounging in the comfortable reclining chairs at our disposal.
ZOMA Spa also offers personalized care with massage, therapies, facial treatments and more. And, it is possible to order light food from the restaurant at the spa.
On the other end of the Spa is a 20m beautiful indoor pool with a transparent roof. Surrounding the indoor pool is an open area with a bar and fireplace, the perfect place to relax after a dip in the pool.
Wine Making At Zornitza Family Estate Relais Chateaux
While Zornitza has an impressive collection of wines from around the world, they are also dedicated to producing their own wines.
The vineyards at Zornitza Family Estate are relatively young. In 2011, 50,000 sq meters of vineyards were planted on the hills of the Estate.
The first vinification took place in 2016 with a production of about 1,000 bottles.
Since then, their production has been increasing significantly every year with 3,500 bottles iIn 2017 and 7,000 bottles in 2018.
The focus of the winery is quality wines over quantity.
Syrah is the dominant grape, accompanied by 17 other local and classic red wine grape varieties.
Apart from the typical Bordeaux Blend Merlot, Cabernet Sauvignon and Cabernet Franc, Zornitza also cultivates Syrah, Grenache, Marselan, Cinsault, Petit Verdot, Mourvèdre, Sangiovese and others.
Local and traditional grape varieties such as Broad-Leaved Melnik, Melnik 55 and Melnik Rubin are sourced from local producers.
RELATED: 7 Melnik Wineries You Want to Visit for Amazing Bulgarian Wines
AUTHENTIC FOOD QUEST TIP: Located only 5 km from Melnik town, Zornitza Family Estate is the perfect base to tour the wineries in the Melnik region.
Zornitza Family Estate Cellar
Strategically located next to the restaurant is the entrance to the cellar.
On the top floor, there is a tasting room where we enjoyed a glass of Merlot from the winery with the co-founder.
The basement level houses the cellar, which had red wines from the property aging in French Oak barrels or in bottles.
As a boutique winery, Zornitza Family Estate has a small lab, a fermentation room with steel tanks and cellar with several hundred bottles.
Everything from the grape picking to the bottling is handled manually.
Wine Tasting Experience Highlights
After visiting the cellar, we enjoyed the wine tasting experience later in the afternoon at aEstivum Restaurant.
Tzevetomir, our host, presented us with five Bulgarian red wines during the afternoon tasting session.
Accompanying the wines, was a tasty plate of local delicacies. To start, a local Bulgarian sirene or white cheese, one goat cheese, Kashkaval, a local yellow cow cheese, dry duck meat and cured ham.
Blauer Portugieser & Melnik Zornitza Family Estate 2018
Our first wine was a "coupage" which is a blending of two varieties: Blauer Portugieser and Broad Melnik Vine.
The result was a Pinot Noir style Bulgarian wine. This wine had a nice finish and a slightly fruity taste.
It paired well with our first taste of the local goat cheese.
Zornitza Syrah Fifty Fifty – Zornitza Family Estate Flagship Wine
We were excited about tasting the flagship Zornitza wine from the 2018 vintage.
This unique wine is made from 100% Syrah grapes, but from two different harvest periods. Fifty percent comes from the third and the other half comes from the fourth harvest, hence the name.
Aged for four months in oak barrels, only 900 bottles have been produced.
This wine was also recently awarded a Gold Medal at a recent Balkan wine competition.
Deep and full-bodied with a spicy and tobacco finish, this is the kind of wine that pairs well with grilled meats.
Zornitza Cabernet Sauvignon and Petit Verdot 2017
The Zornitza Cabernet Sauvignon and Petit Verdot 2017 is made of 60% Cabernet and 40% Petit Verdot.
This wine, a Silver medalist winner at a Bulgarian wine contest, was our favorite wine.
We enjoyed the taste of wild fruits and the slight peppery taste. The smooth finish is one of the things we appreciated most.
Wine tastings are available to both guests and non guests. To experience Zornitza Family Estate Wines, you can book either a three or five wine tasting, with local delicacies.

In Summary
We truly enjoyed our stay at Zornitza Family Estate Relais Chateaux and appreciated the reverence to Bulgarian traditions and nature.
Located only 5 km from Melnik town, it is in close proximity to Greece via Thessaloniki airport thanks to their airport shuttle service.
Zornitza Family Estate is the ideal location to explore Southern Bulgaria with all its luxury and authenticity.
It also makes for an excellent retreat to relax and soak up the laid back atmosphere. It is no wonder that Zornitza Family Estate is a demanded location for weddings and special occasions.
With the world-class accommodations and amenities, attentive staff, and delectable cuisine, this is the place to go to create unforgettable moments.
Love Zornitza Family Estate ? Pin it!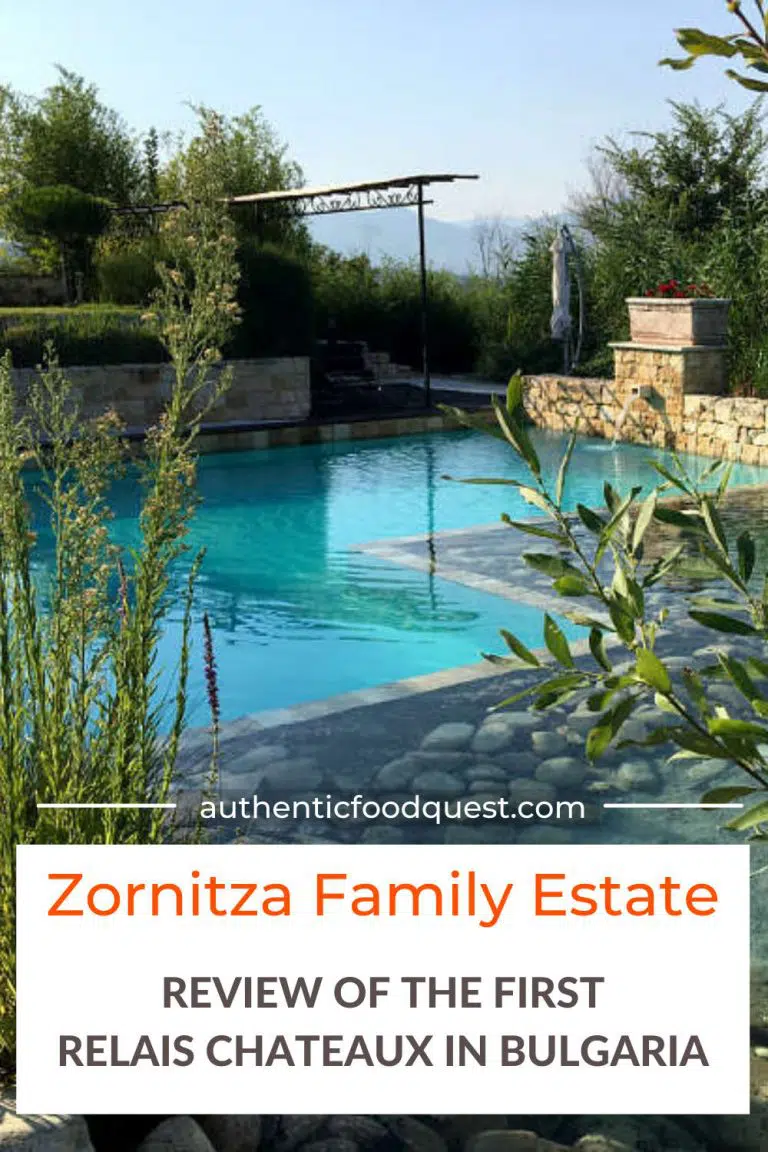 Special thanks to the Zornitza Family Estate for having us. All views and opinions expressed are our own. Full bellies and happy taste buds too!
Claire is co-founder of Authentic Food Quest and a lover of simple and exquisite cuisine. Since 2015, with her partner, Rosemary, she has been traveling the world as a digital nomad, creating content about local food experiences.
Her advice from visiting 45 countries and more than 240 food cities has been featured in Lonely Planet, Business Insider, Honest Cooking, Food Insider, and Huffington Post. She has also co-authored three books, including one in collaboration with Costa Brava Tourism.
An ex-mechanical engineer, Claire is responsible for SEO, keeping the website running, and the fun food & travel videos on YouTube.
When Claire is not eating, she can be found running or cycling. Find out more about Authentic Food Quest