This article has links to products and services we recommend, which we may make a commission from.
If you are serious about Italian food, going on cooking vacations in Tuscany will help you delve deeper into this world-renowned region.
Beyond being home to Florence and where the Renaissance began, Tuscany is also a gastronomic powerhouse.
When visiting Tuscany, we had our fair share of aperitivos, delighting in pate crostini, cured meat, fresh local cheeses, washed down with Chianti.
As we savored the local specialties, we yearned to learn more about the local cuisine.
In this article, we've selected the best Tuscany cooking vacations led by local chefs.
From the rolling vineyards of Chianti, artisanal visits and cultural excursions, a cooking vacation in Tuscany can be an experience of a lifetime.
Imagine cooking under the Tuscan sun or in the heart of Chianti, with these best Tuscany cooking vacations.

Best Tuscany Cooking Vacations Comparison Table
Explore Tuscan cooking in this 8-day all-inclusive food and wine tours.
With four traditional cooking classes, each 3 to 4 hours long, you'll make local sauces, soups, fresh pasta, desserts and more.
You'll also visit a local market, with Rita, your host and shop the seasonal products for your Tuscan recipes.
In addition to cooking, visits to local wineries to learn about Tuscan wines and food pairings are included.
This Tuscany Italy cooking vacation takes you all around the region. You'll travel to beautiful medieval villages around Barga. In nearby Pisa, you'll visit the Piazza Miracoli and the local markets.
And, in Lucca, one of the most charming cities in Tuscany, you'll sample local specialties as you tour the historic city.
The accommodations will be at the B&B Residence La Mezzaluna in Barga, with various room options available. Single room options are also available for solo travelers.
This all inclusive cooking and wine tours in Tuscany take you off the beaten path and immerses you into the local culture.
With the depth of cooking offered, wine tours and cultural excursions, this is one of the best Tuscany cooking vacations.
Held in the kitchen of one of the best restaurants in Florence, this cooking class takes your skills to a new level.
Taught by professional chefs, you'll learn to make a variety of dishes from seafood, meat dishes, appetizers, desserts and more.
This 7-day authentic Tuscany cooking class is ideal for both beginners and more experienced home cooks. The chefs will easily adapt their style to match your culinary level.
Every day for five days, you'll have hands-on cooking classes where you'll prepare a range of regional specialty foods.
When you are not cooking, you'll have free time to visit museums, the city of Florence and explore the local markets.
You have a choice of accommodations from apartments to hotels all located nearby to the restaurant kitchen.
For this reason, this Tuscany culinary vacation is flexible for solo travelers and small groups alike.
For cooking in a professional kitchen with working chefs, this is one of the best Tuscany cooking vacations to take.
If you are taking a Tuscany cooking vacation, you might as well start with one of Italy's most foods – pasta.
In this 7 Day Italian Gastronomy Cooking Holiday in Tuscany, you'll work with an experienced pasta maker and chef.
You'll make pizza, fresh and filled homemade pastas like gnocchi, farfalle, tagliatelle, pasta stuffed with ricotta, spinach, and more.
What makes these five hands on cooking classes unique is the personal approach and attention from the expert.
This experiential cooking tour goes behind the scenes and introduces you to Italian gastronomy in an immersive manner.
You'll visit a buffalo mozzarella farm, an organic Tuscan rice farm and take a fishing boat trip while learning sustainable fishing.
Wine trips and visits to local cheese makers and beekeepers give you a deeper culinary understanding.
Staying at the Residence il Ciliegio, in Maremma, you'll enjoy magnificent landscapes and unparalleled beauty.
This 7-day magical experience is one of the best Tuscany cooking vacations to take.
Offered by the same chef, this 4-day pasta making and cooking holiday is a compressed version of the 7-day experience above.
This shorter Tuscany cooking vacation is ideal for travelers with not a lot of time. The focus is on fresh pasta and risotto and not pizza making.
You will also participate in culinary tours like the visits to the buffalo mozzarella and rice farms. And, you'll pair wine with food as you savor a 4-course dinner at an organic family vineyard.
Your accommodations will also be at the Residence il Ciliegio, albeit for three nights.
This 4-day pasta making holiday guarantees you an exceptional Tuscany cooking vacation.
AUTHENTIC FOOD QUEST TIP: If you don't have a trip planned to Tuscany in the immediate future, bring a taste of Tuscany home. From the rolling hills of Maremma, Tuscany, savor red Tuscan wine and extra virgin olive oil from La Maliosa winery. This woman winery features natural and organic products including the award winning olive oil. Order your Explorer Set with Tuscan red wine and olive oil and savor it from the comfort of home.
During this 6 Day Cooking and Market Tours in Tuscany, learn how to cook everyday food in a Tuscan kitchen.
The family-run farmhouse is located in Maremma in southern Tuscany. On your cooking holidays, you'll make real Tuscan dishes like gnocchi, fettuccine, ravioli, and others, using local flour.
Apart from the cooking classes, you will also learn how to select the best in-season ingredients and spend your days enjoying wonderful Tuscan cuisine.
As part of the experience, you'll meet local residents for guided tastings of local and artisanal specialties.
Wine tasting is a part of the magical experience with a dedicated focus on Sangiovese, the most renowned Tuscan red grape variety.
You'll learn about its history, how it is produced and how to drink it like an Italian.
This Tuscany cooking vacation in Italy offers an intimate experience on a real working farm.
This 8 day cooking vacation in Tuscany dives into the heart of Tuscan cooking. You'll learn how to make over 45 recipes with chef Paolo Monti in hands-on cooking classes.
You'll shop for ingredients at the local fish and vegetable markets while learning how to make delicious Tuscan specialties.
Culinary excursions to olive farms, Parmigiano Reggiano for cheese, Modena for traditional balsamic vinegar are included.
Wine visits to two Chianti wineries are included where you'll learn all about the local grapes and the iconic Sangiovese grape variety. And, your meals will include pairings with local Tuscan wines.
This food and wine cooking school in Tuscany easily accommodates solo travelers with no restrictions on the minimum number of participants.
The remodeled Tuscan Sun Apartment spread out amongst vineyards will be your accommodations.
With this countryside location, this is one of the best Tuscany cooking vacations for an immersive experience.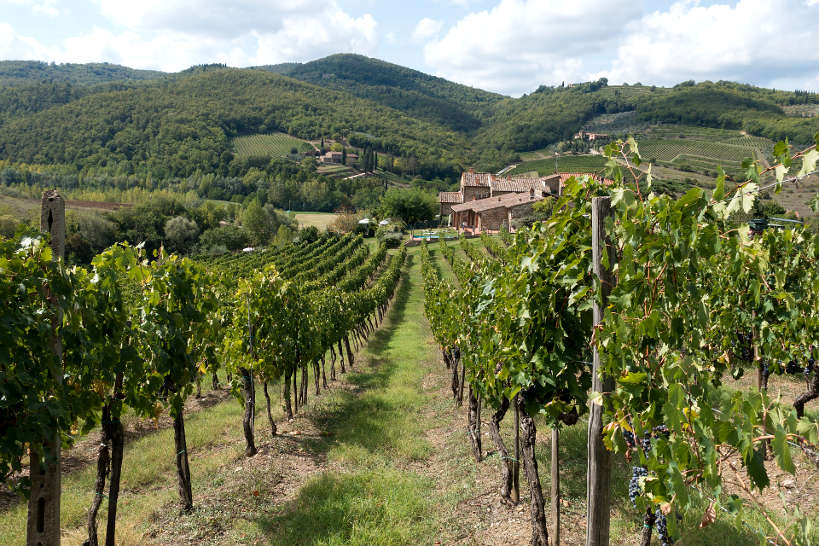 Italy, Tuscany has breathtaking landscapes with rolling hills, sprawling vineyards, and olive groves.
This 5 Day Wonderful Culinary Experience in Tuscany takes you right to the heart of a picturesque Italian estate on the Chianti hills.
This is a Tuscan cooking tour like no other. For one thing, you stay within a 100-hectare estate that's made up of vineyards, woods, and olive groves.
The renovated villa with an outdoor swimming pool provides you with nothing but ultimate comfort and luxury.
During your stay, you'll discover Tuscan food and wine traditions in a cooking class with a local chef. You will also go on a half-day tour of Chianti and at Castello di Verrazzano, a majestic castle, for wine tastings.
This Tuscany culinary trip also gives you the opportunity to create your own custom bottle of wine including a personalized label.
Even though this cooking vacation in Tuscany is short, you'll enjoy an immersive experience into the local culture, food and wines.
With a cooking class, local wine tastings in the magical Tuscan countryside, you are in for an experience of a lifetime.
Arezzo, in Southeastern Tuscany, is an often-overlooked culinary gem. The local cuisine made with fresh produce from the verdant valleys of Valdichiana and Casentino is celebrated and sought out.
In this 4 Day Flavors of Tuscany Cooking, you'll discover the culinary treasures of Arezzo with an executive chef.
This cooking vacation in Tuscany includes 3 hands-on cooking classes with local recipes and seasonal organic produce.
You'll learn the techniques and ingredients that bring the flavors of Tuscany to life and a recipe book to take home with you.
Being in Tuscany wine tours are part of the package. You'll visit one of the most prestigious wineries and learn more about Chianti and other local grape varieties.
While in Arezzo, one of Italy's oldest cities, you'll take a cultural immersion tour to historic sites within the city.
Art and architecture lovers will relish ancient frescos, the Roman amphitheater, medieval churches, fortresses, and more.
And your tour of the ancient city also includes lunch at a traditional trattoria for more Arezzo specialties.
This culinary vacation in Tuscany is suitable for solo travelers or singles. It is designed for small groups making it a truly unique experience.
Enjoy a week of culinary discoveries as you get immersed into Tuscany local life and culture.
In this 8-day Chianti Wine and cooking holiday in Siena, you have four cooking classes with one dedicated to desserts.
All the food you make will be local Tuscan specialties all made from scratch. Dishes like Tuscan lasagna, Pici pasta, Eggplant Millefoglie, Cantucci and much more.
The nearby local markets will be the source for the ingredients for the cooking classes.
This cooking vacation in Tuscany has a robust wine tasting experience. There are winery visits to six different Chianti wine producers, each with their own unique specialties.
Culinary tours take you to local producers in Tuscany, Chianti, and Siena. You'll learn about cheese making as you sample pecorino cheese of different maturations.
Also included are visits to breads, cheeses, salami and prosciutto artisans.
You will spend your nights at the Palazzo Leopoldo, a restored private villa which today is a beautiful boutique hotel.
Several room options are available including a wellness center and outdoor swimming pool.
Lovers of Tuscan wines and hands-on cooking classes, will enjoy this cooking vacation in Tuscany.
Enjoy forest cooking with ingredients from nature in this 4 Day Truffle Hunting Italian Culinary Vacation.
With an experienced chef, you'll make delectable Tuscan dishes with forest products like mushrooms, truffles, chestnuts, honey, and roast game.
While the cooking classes are hands on, you can get as involved as you want. You'll gain insights into important Tuscan culinary traditions as you make the local dishes.
One important point about this cooking vacation in Tuscany is a unique truffle hunting experience.
There is no other vacation on this list that offers a dedicated truffle hunting experience with guides and dogs.
As expected in Tuscany, wine tours and visits to historical villages are also included as part of the package.
Your accommodations are at Villa Le 3 Rose Farmhouse, nestled around the ancient city of Arezzo.
A peaceful location with panoramic views of the rolling hills, you'll unwind and experience Italy at its best.
If you're traveling solo, this is another one of the best Tuscany cooking vacations for singles.
Accommodations for one are available and the experience is designed for small groups for maximum participation and enjoyment.
So, which of these cooking vacations in Tuscany are you most excited about? Please let us know in the comments below.
Savor The Adventure!
How to Best Choose Your Cooking Vacations in Tuscany
The Tuscany Cooking Experience
These Tuscany cooking vacations all feature authentic Italian and Tuscan recipes. The cooking experiences are designed to be hands-on cooking classes, so everyone can get involved.
In addition to learning the secrets of Tuscan cooking, the regional wine, most notably Chianti, features prominently.
You'll learn how to pair Tuscan food with local wines and recipes of everything you make are provided for the home cook.
How Much Time Do You Have
These Tuscany culinary vacations range from four to eight days. While they all include cooking classes, they also offer wine tours and cultural excursions.
Depending on how much time you have and level of activity you want, select the one that best meets your needs.
Number of Participants
These Tuscany cooking vacations in Italy are all small group experiences. This way, you'll get more out of your cooking classes and get to know Tuscany more intimately.
Some of these cooking holidays in Tuscany are available for solo travelers while others require a minimum of two participants. Private rooms and shared rooms are also available depending on the cooking vacation you select.
Safety Measures
Due to the lingering impact of COVID-19, flexible booking conditions are available on all these cooking vacations in Tuscany.
If you are not able to travel as planned, you'll be able to reschedule your trip, book a different trip or receive credit and book later. All the accommodations featured follow and prescribe to COVID-19 hygiene protocols.
When it comes to the ever changing travel requirements, please stay up to date with the latest COVID-19 restrictions from official government sources.
What Are the Best Cooking Classes in Tuscany for Kids and Families
Traditional farmhouses and Tuscany cooking vacations held in small village settings often provide the best options for families traveling with children.
Curious by nature, Rosemary loves exploring new flavors and connecting with locals. She shares her insights and culinary finds from her travels to inspire people to connect local through food.