When you think about the Portuguese dishes and the food in Portugal, what comes to mind?
Besides the famous Portuguese egg tarts or pastéis de nata, can you name other local Portuguese dishes?
Portugal's rich gastronomy has been overshadowed by the culinary traditions of its famous neighbor, Spain, as well as by Italy and France.
The Portuguese love good food and this simple joy permeates all aspects of life. You'll find many regional Portuguese dishes across the country, emphasizing fish, meat, olive oil, bread, tomato, herbs and spices.
The food in Portugal is made with simple ingredients that are impeccably prepared. The flavors are fresh and wholesome and the local wines and beverages to wash everything down is extensive.
When you travel to Portugal don't miss out on the opportunity to indulge in the local Portuguese cuisine.
Here are 10 popular and local Portuguese dishes you want to enjoy.
Bom apetite!

1 – Caldo Verde – The National Iconic Soup
From the north of Portugal, comes the famous Portuguese Caldo Verde soup. This is one of the most popular soups in Portuguese cuisine.
While the soup is particularly popular in the winter, you can enjoy it all year round, whether it is warm or cold outside.
This green soup is made with a particular dark green cabbage that is not widely available beyond Portugal's borders. Substitutes include collard greens or kale.
Wonderful flavors from the combination of potato puree, slices of chouriço sausage and local Portuguese olive oil, complete this delicious and hearty soup.
We enjoyed this soup on several occasions. The soup is simple and full of flavor. Perfectly delightful!
If you want to make this soup at home, this Caldo Verde recipe will have you tasting Portugal in no time.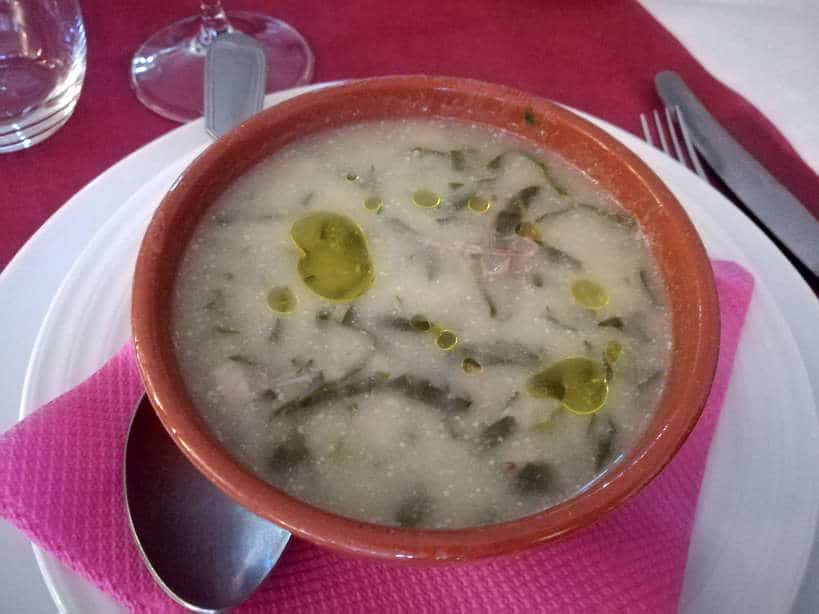 2 – Bacalhau – One of the Most Treasured Portuguese Dishes
No trip to Portugal would be complete without indulging in this Portuguese traditional food. Bacalhau or codfish is a national obsession. In Portugal, there are over 365 ways of preparing bacalhau – one for each day of the year.
We loved the simplicity of the dish. The rich flavors and the the multiple ways of eating it.  Bacalhau even landed on our personal list of  "top 100 authentic food experiences to have before I die."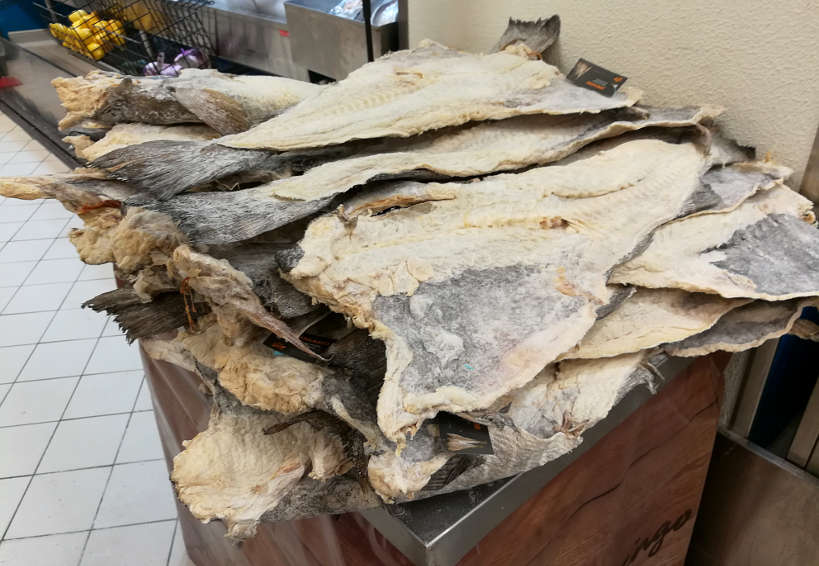 You'll find codfish prepared in many different ways. From grilled, baked, canned, and fried you'll easily find your eating pleasure.
Our favorite codfish preparation is Bacalhau à brás. This is a codfish and egg scramble that is very popular. It is made with thin strips of codfish mixed together with potatoes, eggs, onions, garlic and olives and topped with chopped parsley.
Simple and uncomplicated, this is one delicious meal not to miss in Portugal.
If you are curious and want to try bacalhau, have it delivered to you by Amazon.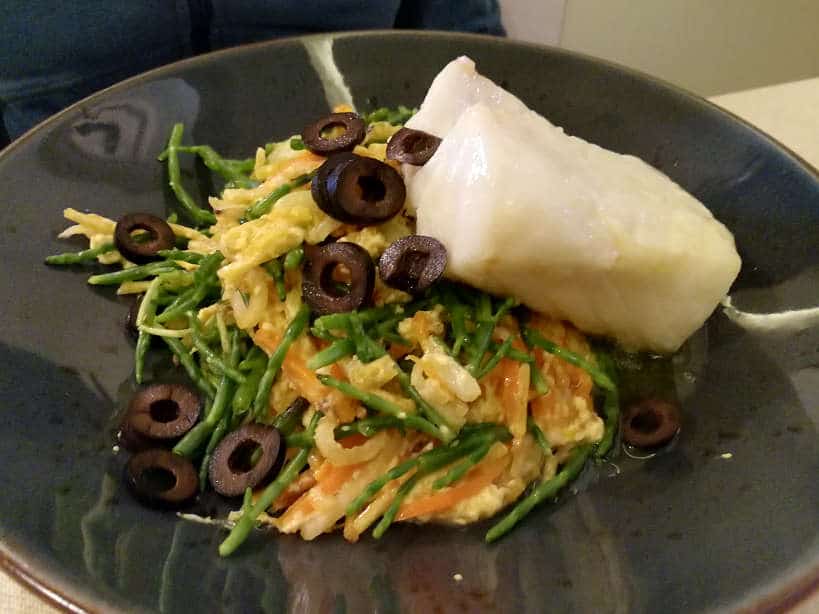 3 – Sardines – The Most Celebrated Portuguese Seafood
Grilled Sardines
Grilled sardines or sardinhas asadas is the summertime food of choice in Portugal. In June, the smell of grilled sardines infuse the streets of Lisbon for the whole month. That's when Lisbon hosts the most popular festival dedicated to sardines.  
The Day of Saint Anthony or  Santo António Festival celebrates grilled sardines on June 12th and 13th. From there, the Festas de Sardinha season all other Portugal kicks off, where sardines are celebrated at several Summer festivals.
Where does the sardine popularity come from? Historically, the Portuguese with the proximity to the Atlantic Ocean have relied heavily on seafood for food and commerce.
In Portugal, sardines are primarily consumed fresh in with 12 tons of sardines eaten yearly, per person.
The best time to eat fresh sardines is during the peak season between June and August.
When fresh, sardines are eaten directly from the charcoal grill, marinated with Portuguese olive oil and served with salads, rice or potatoes. Simply delicious, this Portuguese dish is a feast for the taste buds.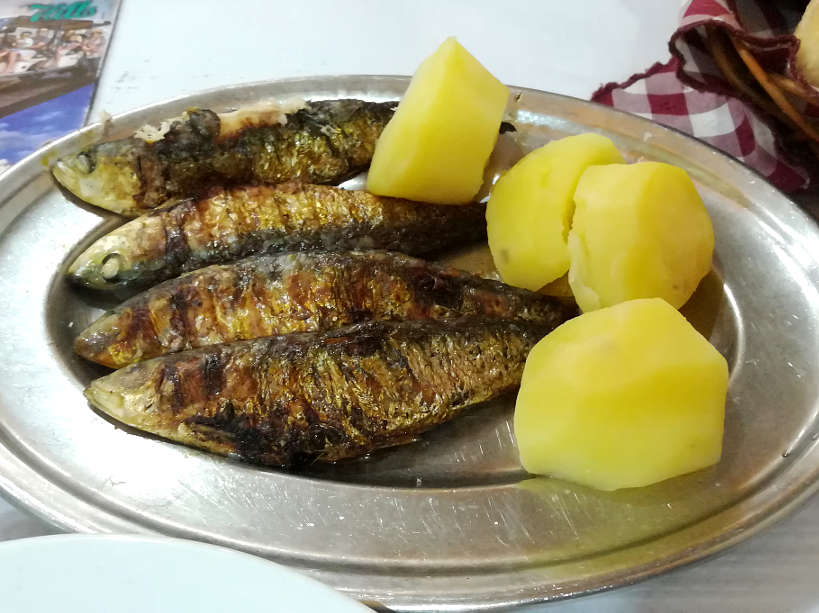 Canned Sardines
Portugal is also historically known for fish preservation with canned sardines being one of its most popular culinary heritage. In the recent years, eating canned sardines, has become a gourmet activity, especially in Lisbon and Porto.
You will find canned sardines offered as petiscos or Portuguese tapas (small bites) in many bars and restaurants.
In our article about the food in Portugal, visiting the loja de conservas or House of Canned Goods in Lisbon is a great way to sample a variety of canned sardines.
Canned sardines are presented in beautiful cans with artsy designs. The sardines are preserved in various condiments and ingredients. From the simple olive oil, lemon, tomato sauce to the more creative red pepper fennel, curry or chickpeas.
You'll find is a can of sardines for every taste.
Are you traveling to Lisbon? Want to know what to eat beyond sardines? Get your hands on Lisbon in 100 Bites.
Zara Quiroga, Portuguese native and food writer has put together a delicious e-book to make the most of your foodie time in Lisbon. Divided into Appetizers & Snacks, Main Dishes (Meats and Seafood) and Desserts, you'll find many of our local favorites included.
For €9.99, download your copy of Lisbon in 100 Bites.
4 – Bifanas – Portugal's National Sandwich
Bifanas are traditional Portuguese pork sandwiches, so popular that you'll find them everywhere in the country.
These Portuguese sandwiches are made of succulent marinated pork served with a crunchy white bread. The marinade is made with spices including paprika, garlic and white wine. The bread has a crunchy crust on the outside while being soft on the inside.
Bifanas can be served with a soup and fries for a full meal at lunch or dinner time. Or served with beer, for a typical late snack.
There are several variations of the bifanas sandwiches. You can add more ingredients to your sandwich such as eggs, bacon, lettuce, tomatoes or stick with the traditional one. Each eatery that makes bifanas will have their own secret recipe for the marinade.
The original bifanas recipe is said to come from Vendas Novas, a small town in the Alentejo region, mid-distance between Lisbon and Evora. While little is known about the original recipe, every Bifana eatery claims to make the original version.
Although considered a light-snack, be wary of the portion sizes. With a serving of fries, you will have as much as a full meal.
In this sandwich, you'll find the perfect combination of crunchy bread and flavorful pork. So good, you won't miss a bite.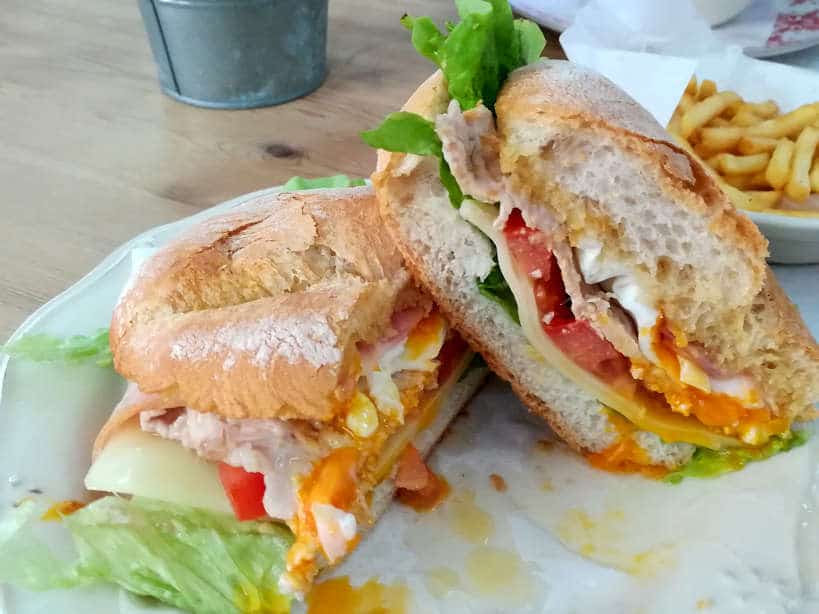 5 – Francesinha – The Famous Sandwich from Porto
The Francesinha sandwich is an impressive plated sandwich that will make your "heart sing". Very popular in Porto, you will see it on almost every menu. Made with bread, ham, sausages and steak, the sandwich is typically covered with melted cheese and an egg on top.
What makes the francesinha unique is the secret sauce that each restaurant prepares its own way. It is a hot thick tomato and beer sauce used to dip or "flood" your sandwich. And the best part is that you can ask for more as needed.
Francesinha literally means "little French girl." It is said to have been brought to Porto by an emigrant returning back from France. This sandwich is an adaptation of the French toasted sandwich, croque-monsieur.
Served with a side of french fries, this famous Porto food packs calories, with lot of meats, cheese and sauce combined!
Although it is quite heavy, it is surprisingly delightful. Calorie-laden, this sandwich to be enjoyed in moderation.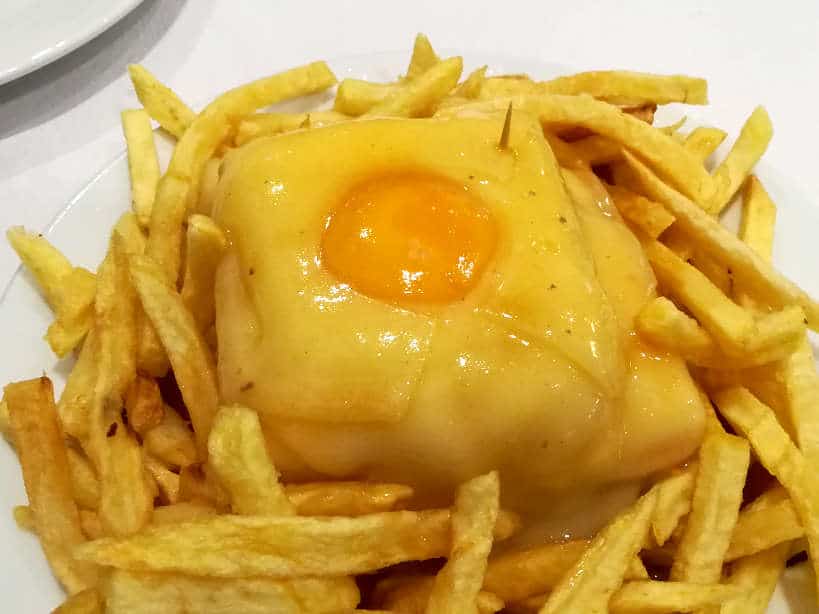 Book a Porto Tour
Get more from your visit to Porto, when you book a tour online.
6 – Chicken Piri-Piri – Portugal's Outstanding Chicken Dish
During the Age of Exploration in the 15th and 16th centuries, Portuguese explorers traveled through coastal Africa and discovered many new spices. One of the spices was a small spicy chili pepper known as Piri-Piri, Peri-Peri, or "African devil."
Today, chicken covered in piri-piri  served with chips or french fries and a small lettuce, tomato and onion salad is a very popular Portuguese national dish.
In Portugal, places that sell chicken piri-piri are called churrascarias. You'll find them all over the place in neighborhoods throughout.
You want to eat the chicken, known as frango in Portuguese, using your hands. Locals do not use a fork and knife. The chicken is cut up in such a way that makes it easy for you to tuck in and get all the juicy bites around the bones.
For dinner or a snack during the day, we savored amazingly tasty chicken piri-piri from local churrascarias to go. We found the chicken in Portugal to be very flavorful, yet different from the popular chicken dish in Peru called pollo a la brasa.
One of the joys of traveling through the local foods of a country is experiencing each country's interpretations of basic ingredients like chicken, sandwiches, bread and more.
You may be familiar with the popular chain, Nando's, originally from South Africa, with Portuguese and Mozambique inspiration. Nando's, has spread chicken peri-peri globally. Interestingly, you'll not find Nando's in Portugal, you'll have to get your chicken at local churrascarias.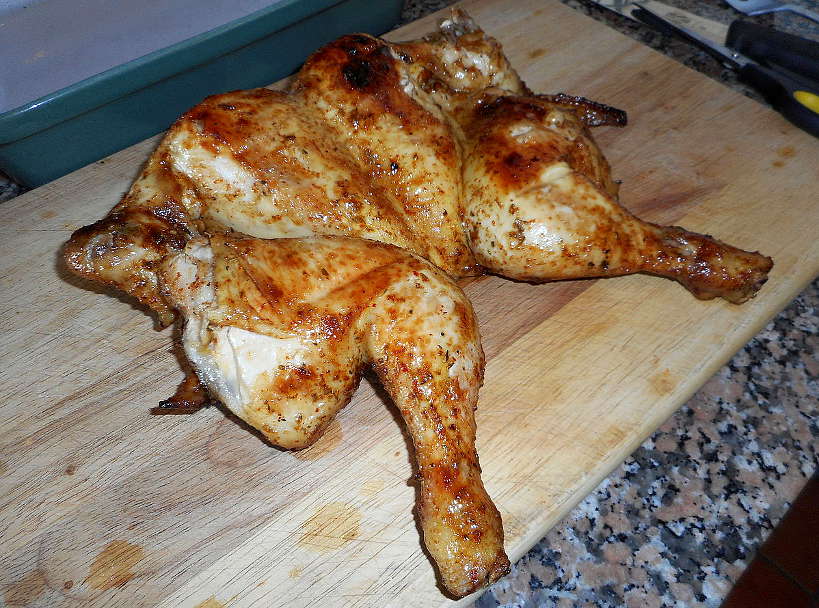 7 – Polvo à la Lagareiro – Traditional Fresh Seafood Prepared in Olive Oil
Portuguese cuisine is famous for its delicious seafood. Beyond bacalhau or codfish and sardines, octopus or polvo is another popular seafood dish loved by the Portuguese.
Polvo à la lagareiro is a famous octopus dish that you will find across the country. Lagareiro is a popular way of cooking seafood which includes generous serving of Portuguese olive oil.
As demonstrated in our Porto walking tour, olive oil is a vital ingredient in Portuguese cuisine, particularly with seafood dishes.
For this dish, the octopus is typically served with boiled potatoes. Then both the potatoes and the octopus are baked and roasted.  
Polvo à la lagareiro is deceptively simple and exquisite. The octopus when well prepared is really tender and flavorful. The Portuguese olive oil adds unique fruity and slightly bitter taste to this seafood dish.
With this popular Portuguese dish, you'll find yourself eating octopus like you never have before.
8 – World Famous Black Pork or Porco Preto
One of the most expensive cured hams in the world is Jamon Iberico de Bellota from Spain.
What is not commonly known, is the same pigs are found in Portugal, across the border from Spain in the Alentejo region.
In Spanish, the pigs are known as Iberico pigs, some are raised in Portugal in the Alentejo region. Across the border in Portugal, the pigs are known as raça Alentejana. The pigs roam freely in the countryside eating acorns of cork and holm oak trees.
The Alentejo black pigs, produce amazing ham with exceptional flavors. In Evora, the capital of the Alentejo region, we wrote about the food in Evora including black pork or porco preto.
On your travels to Portugal, don't miss the porco preto. You'll find it on menus at restaurants in dishes like plumas or secretos, which is pork shoulder. And it is also quite popular in Portuguese tapas, known as presunto.
The flavors are second to none. The black pork will simply melt in your mouth. Be sure to taste the celebrated black pork unique to Southeastern Portugal.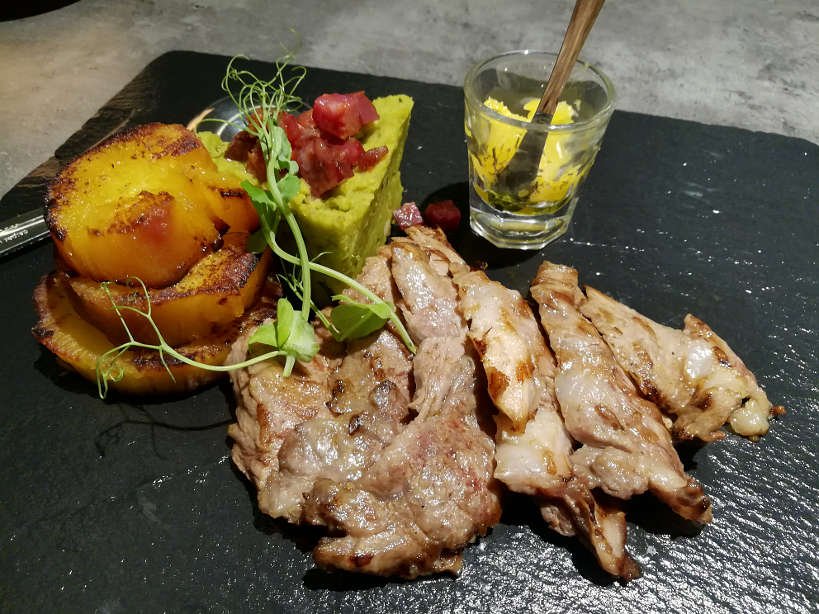 Book a Tour of Evora and the Alentejo Region 
Discover more regional specialties in Evora when you book a tour online.
9-  Pastéis de Natas – Portuguese Iconic dessert
Pastéis de natas is the iconic and famous dessert of Portugal. Every Pastelerias or pastry shop has their own version of Pastéis de natas. This sweet, creamy egg tart might become your daily pastry of choice while visiting Portugal.
The Pastéis de natas are made of flour, butter, eggs, cinnamon and of course sugar. Lots of butter is layered in the dough which gives the shells their crispy and crackling texture.
The dough is then cut into small pie shell and filled with the egg custard preparation. Cooked in a very hot oven, Pastéis de natas is served warm with a strong and small cup of Portuguese coffee, called bica in Lisbon.
Take a bite of this crispy crust, creamy sweet custard, with a dust of cinnamon on top, and your eyes will roll with delight.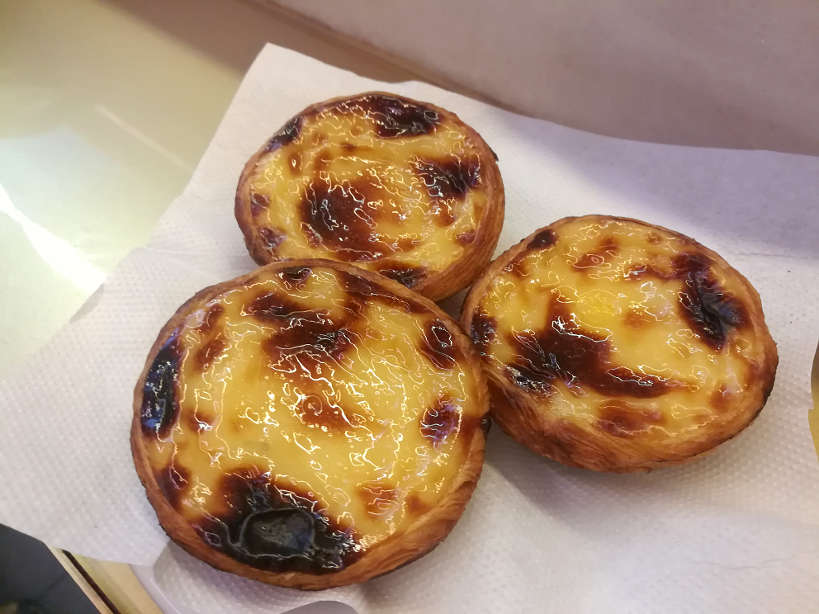 But, did you know that the original egg tart is actually the Pastel de Belém?
Pastéis de natas are said to have originated in a Belém pastry shop in 1837. They were made by Monks who were expelled during a revolution in 1820 and began baking the pastries to make money.
The pastries became very popular with local visitors when a small store attached to a sugar refinery started selling them for the visitors.
Today, the store Fábrica de Pastéis de Belém has preserved the traditional recipe. Nowadays, they bake over 10,000 tarts per day to serve the many visitors seeking to taste this unique traditional recipe. It is the only shop that can sell these pastries under the name Pastel de Belém.  
After eating many of these mouthwatering pastries, our preference goes to the original Pastel de Belém. Our second favorite is the Pastel de Nata from Manteigueira in Lisbon, featured in the Lisbon food tour article.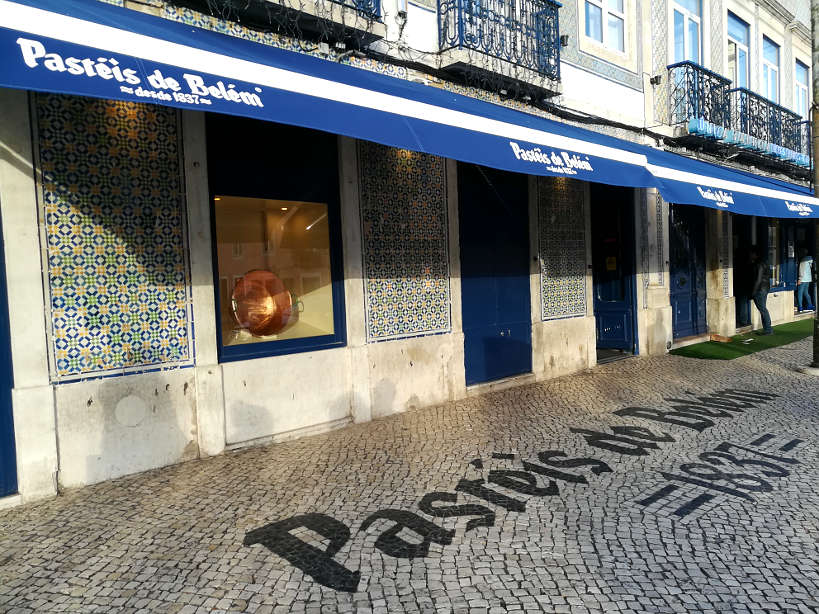 10 – Conventual Desserts: Portuguese Sweets For Every Taste
Beyond the Pastéis de natas, the most popular desserts in Portugal are what the Portuguese call conventual desserts.
Conventual desserts are pastries that were created in convents and monasteries typically made with lots of egg yolks and large amounts of sugar. Other common ingredients are almonds or cinnamon.
Traditionally, eggs whites were used in convents to starch the priest clothing as well as the nun's robes. Left with the egg yolks and time to kill, the nuns had to get creative. Making the most delicious and famous desserts became a tradition in Portugal.
As a result, every city and every region, has their own conventual desserts, competing to be the best in class.
In Sintra, you can taste the Queijadas de Sintra and compare it in Evora with the flavors of the Queijadas de Evora.
In Braga, you'll experience the traditional Tíbias de Braga, a puff pastry filled with a soft sweet creamy paste with powder sugar on top.
In Alentejo, you will find Sericaia a typical Alentejano dessert from the convents of Elvas, a city east of Évora.
Add to these: Pao de Lo, Queijadas, Toucinho do céu, Travesseiro and other conventual desserts and your taste buds will love you.
You can rest assured that in Portugal there is no shortage of conventual desserts to satisfy all your sweet cravings.
If you want to make these desserts at home, get Taste Portugal by Maria Dias and Lisa Dias, a simple and easy to follow Portuguese cookbook.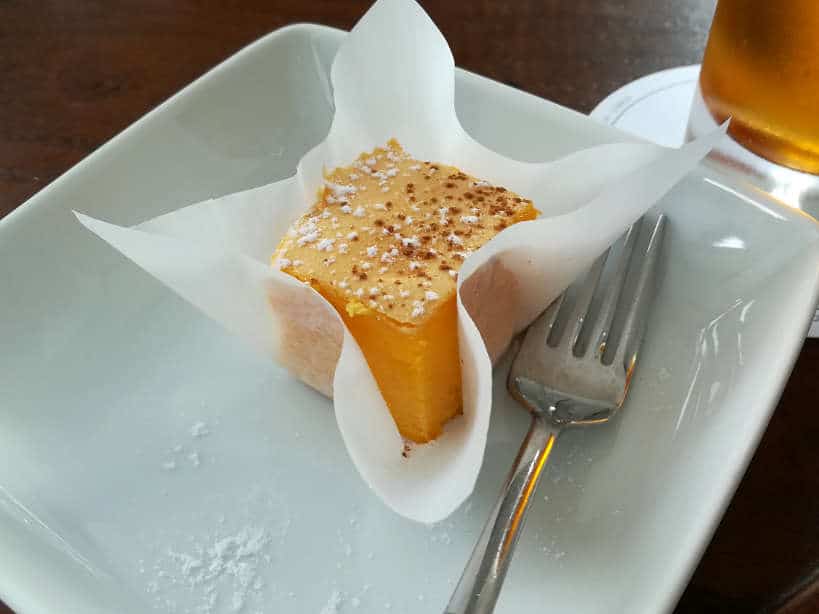 In Summary
Portugal has a lot to offer in terms of food and wines. From amazing Portuguese dishes from the sea, to world-famous pork and desserts, and everyday local favorites like sandwiches and chicken. You'll find plenty of local Portuguese dishes to savor.
This list of the 10 most popular Portuguese dishes is only an introduction. There are many more local Portuguese dishes to discover. Use this list as a guide for your food travels through Portugal.
Portuguese dishes deserve more recognition worldwide. After you've enjoyed these local dishes, you'll no doubt join us in singing the praises for Portuguese gastronomy.
Have you had Portuguese food? What was your favorite Portuguese dishes? Leave your comments below.
Find out What kind of food traveler are you? Take our quiz and get your food traveler profile in minutes!
Savor The Adventure!
Where to Stay in Portugal
Book your accommodations for your travels to Portugal below.
Love it? Pin it!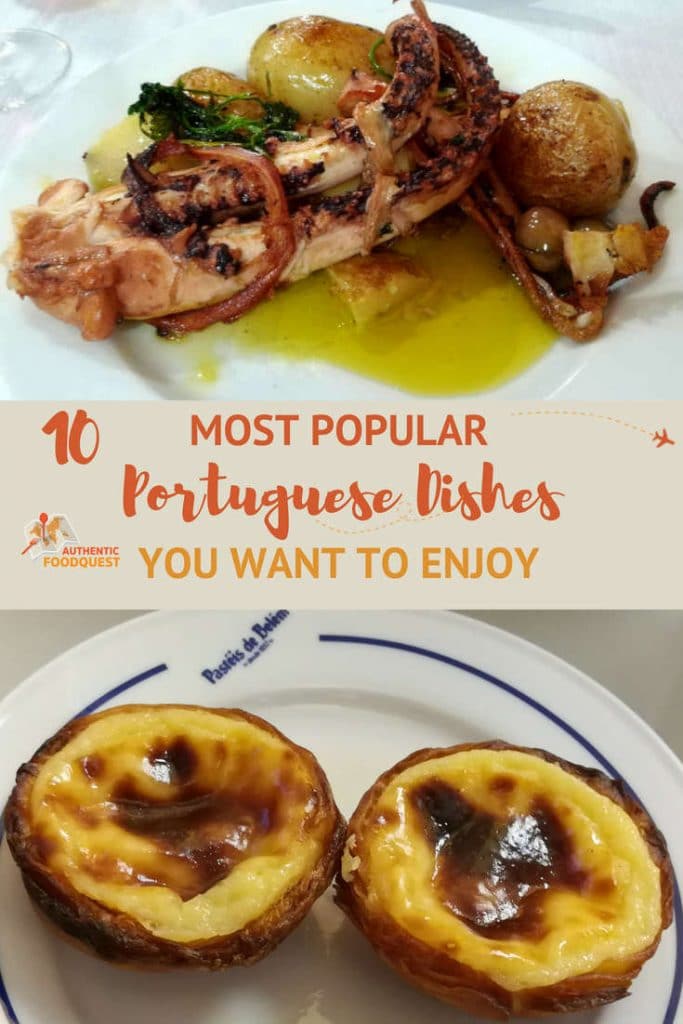 Rosemary is a writer and culinary explorer. Together with her partner, Claire, they created Authentic Food Quest to inspire people to travel deeper through authentic food. Through food, they believe, people can have more meaningful connections on their travels. Prior to creating Authentic Food Quest, Rosemary worked as a director of strategy in advertising for over 15 years.   Take the quiz and find out your Food Traveler Profile.