To better understand the elements of Vietnamese cuisine, we took a Saigon cooking class at The Vietnam Cookery Center.
The abundant use of fresh herbs in Vietnamese cooking is one of the most striking observations we made while traveling through the country.
Used generously, in almost every meal, raw herbs are torn, tossed, rolled, and wrapped into soups, rice and noodle dishes, sandwiches, and more.
The herbs are exotic and go beyond the typical basil, tarragon, or parsley you easily find in other parts of the world. Unique herbs like knotgrass, pepper elder, fish mint, rice paddy herb, to name a few, intrigued and surprised us.
Join us behind the scenes at a traditional Vietnamese cooking class in Saigon as we learn more about the elements of Vietnamese cuisine.

Vietnam Cookery Center – The First Cooking Class in Saigon
Vietnam Cookery Center, built-in 1999, was the first Saigon cooking class in Vietnam. Unlike other cooking schools, this center offers both classes for tourists and professional chefs.
Located in the core of Saigon, The Vietnam Cookery Center is by itself a remarkable historic building.
It was built in 1930 by the French and is one of the last colonial buildings developed in downtown Saigon.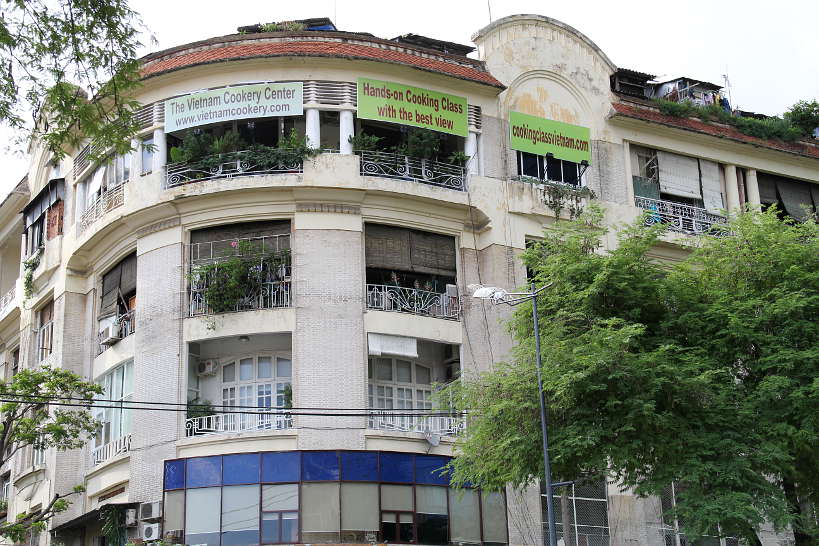 Stories & Views in Saigon Cooking Class
The interesting part of the story is that the building was supposed to be for the Saigonese elite.
As the first concrete building in Asia, the French architect made a cultural mistake.
He built the building like in France where the space under the roof was divided into small rooms for the servants.
Well, in Asia, the tradition is to worship the Gods over your head, not the servants. As a result, none of the rich Vietnamese accepted to live there.
Situated on the top floor of the building, the Vietnam Cookery Center has a beautiful large terrace where we cooked some of our dishes.
It also offers a splendid view of the local area called the "Golden Triangle."
This was the perfect location for our cooking class in Saigon.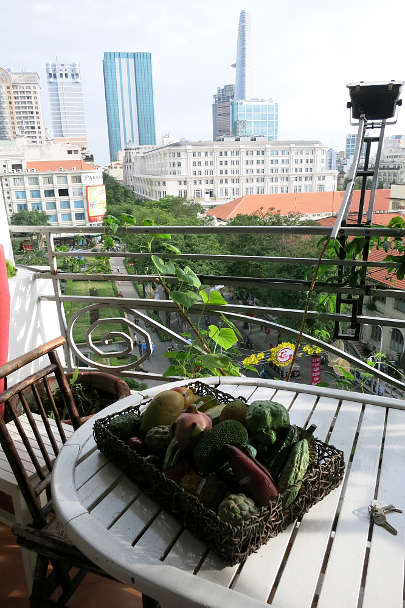 Saigon Cooking Classes for Professionals and Tourists
The Vietnam Cookery Center offers a variety of cooking classes in Saigon for tourist and professionals alike.
For tourists, they have classes everyday morning and afternoon. In the mornings, you have the choice to take a market visit as well.
We chose an afternoon class on a Saturday, which are less crowded making for a more intimate experience. And, indeed on the day of our class, there were only 5 people participating.
The Vietnam Cookery center also offers extended programs with up to 3 cooking classes for Saigon residents. And there are in-depth courses for professional chefs. Both of these programs are one-on-one private cooking classes.
The Vietnam Cookery Center Saigon Cooking Class Experience
The transformation of raw ingredients into a plated feast is what makes taking a cooking class so immersive and fun.
In this cooking class in Saigon, the Vietnamese chef did not speak English and all instructions were translated by a guide.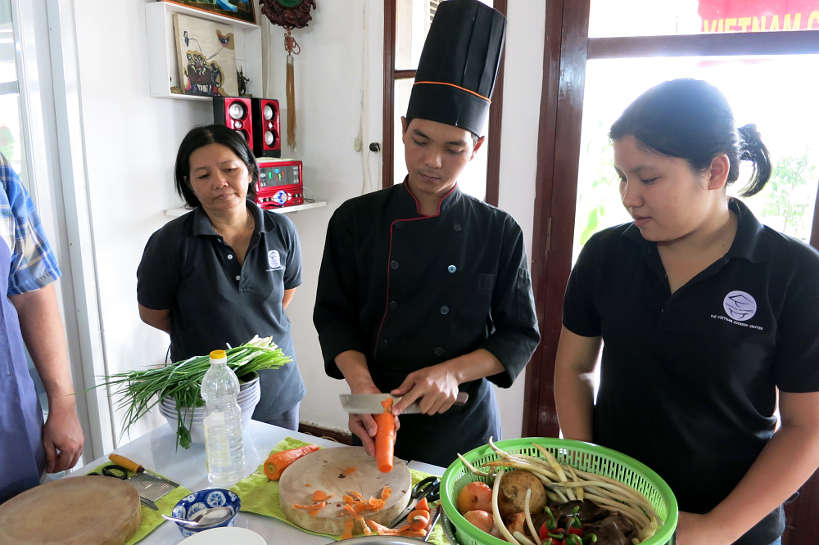 The approach is hands-on and helpful staff prepare and pre-measure the ingredients. Individual cooking stations are provided and all the cooking utensils and ingredients neatly laid out.
With the following multi-course menu to prepare, we were in for a treat!
Lotus Stem Salad with Pork and Shrimp

Grilled Pork Chop with Cooked Broken Rice

Steamed Pork Pie with Mushrooms and Glass Noodles

Grilled Bananas with Coconut Milk – Vietnamese Dessert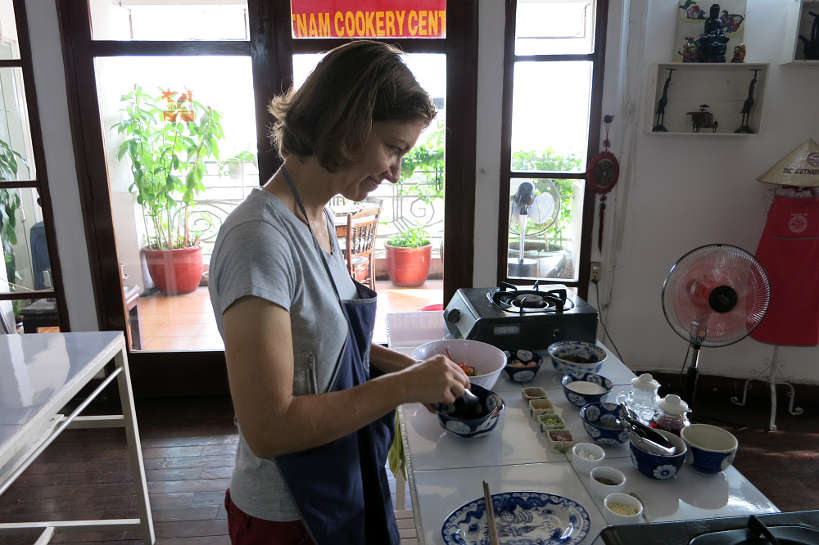 Saigon Cooking Class Highlights
Lotus Stem Salad with Pork and Shrimp (Gỏi ngó sen tôm thịt)
After having seen lotus flowers at many local markets, we were excited and looking forward to cooking with and tasting the stems.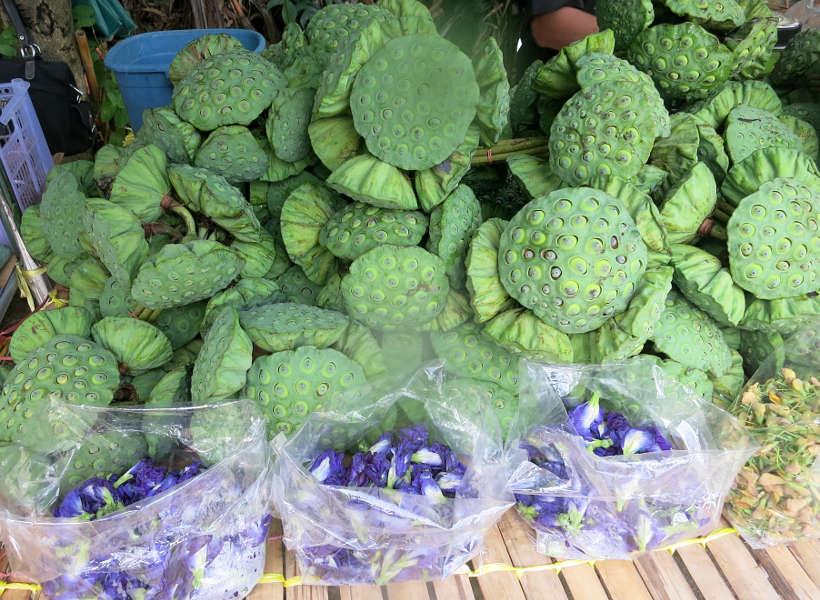 We began by cleaning, chopping and cutting the lotus stems, carrots and chili into julienne strips.
Into a bowl, we tossed in shrimps and pieces of pork tenderloin that had been boiled and marinated into a sauce made of lemon juice, vinegar, fish sauce, and more.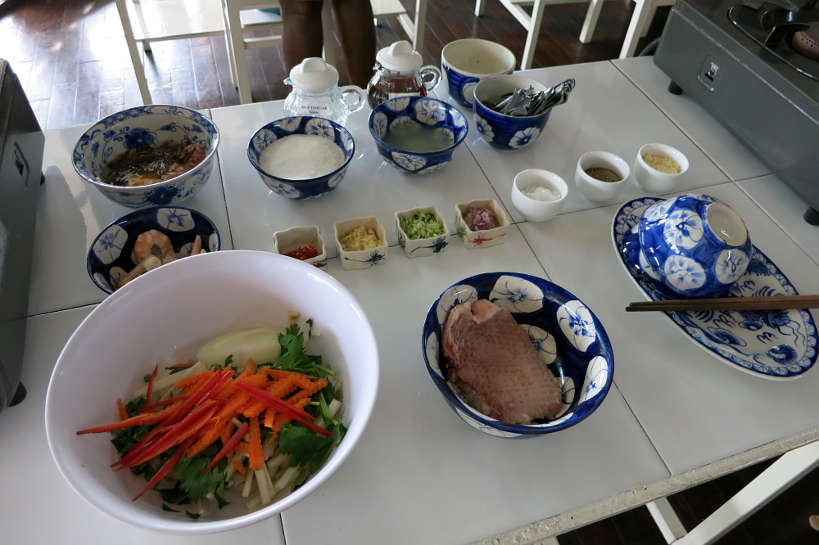 Once everything was well mixed together, we transferred the salad onto a plate.
The salad was garnished with fried peanuts, shallots, and a chili flower on the top.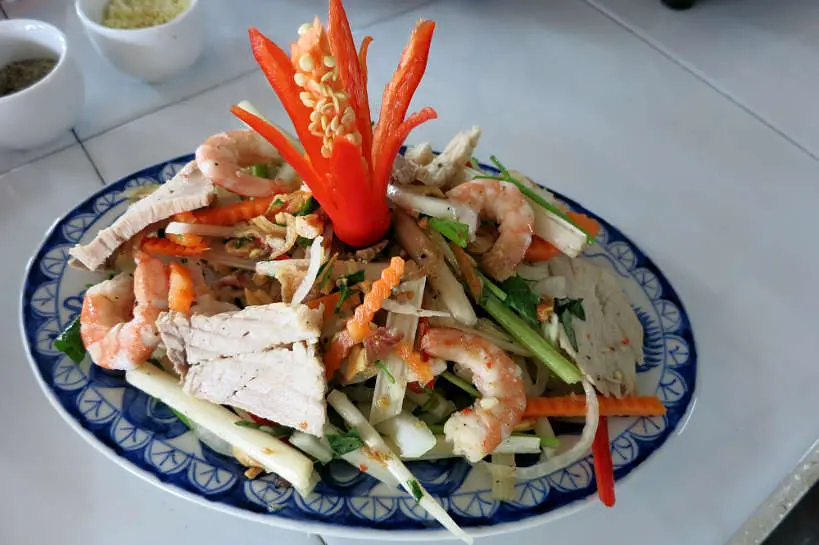 Interesting and delicious is how we would describe the salad. The unusual flavors with the fish sauce, pork, and chilis made for a difficult to describe combination of tastes.
Crunchy in texture, the lotus stems and any distinctive taste was overpowered by the fish sauce and other ingredients.
On the whole, a tasty and unique salad.
Grilled Pork Chops with Cooked Broken Rice (Cơm tấm sườn nướng)
Cooked Broken Rice or Cơm Tấm
Rice in Vietnam is the basis of all meals. There are dozens of varieties of rice and they differ slightly not only in taste but also in texture, color, aroma, and gluten content.
Cơm Tấm is a popular Vietnamese dish made from broken rice which is fragment of rice grains. These rice grains have been broken either in the field during drying, transport, or by milling.
It is as nutritious as unbroken rice and has nothing wrong with it. However, broken rice is said to better absorb flavors and has a softer texture.
Broken rice was the preferred choice for poorer Vietnamese as it is less expensive. But today, it is now a popular ingredient of choice by chefs and used in many recipes.
We really enjoyed our first dish of broken rice when we were in Da Nang (Central Vietnam) and we were curious to learn more about it in our cooking class.
Broken rice actually cooks faster than unbroken rice, and the amount of water needed should be equal to the amount of rice, no more.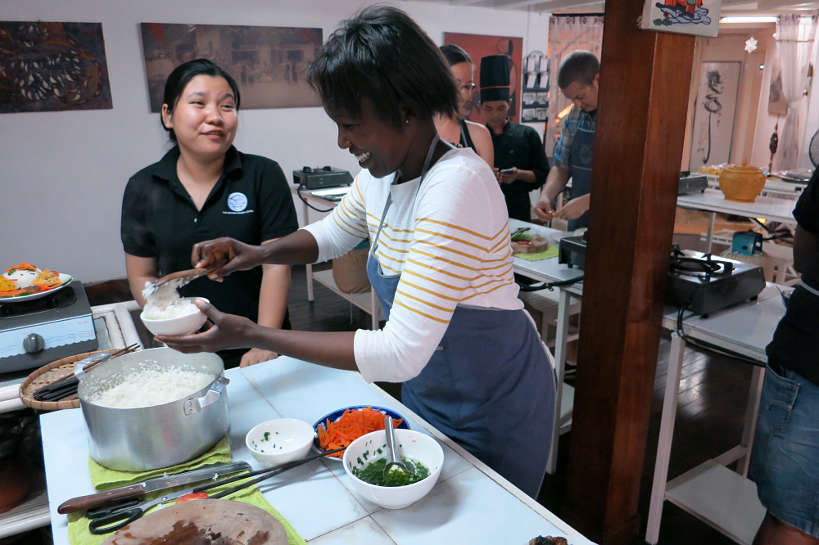 Fish Sauce or Nuoc Mam
With rice, the other major staple in Vietnamese cuisine is the Nuoc Mam, or fish sauce. It is used in practically all Vietnamese Dishes. It is made from the juice of fermented salty fish.
The darker the sauce the "purer" and more expensive the sauce.
We personally love Nuoc Mam or fish sauce and cook with it regularly. It does have a strong smell that might be off-putting to some, but it is a must for those wanting to savor authentic Vietnamese cooking.
We used it as a dipping sauce for our meal.
Grilled Pork Chops or Sườn Nướng
Vietnamese typically eat broken rice with pork chop, shredded pork, or a pork loaf.
At the Saigon cooking class, we made grilled pork chops. After marinated the pork chops for 10-15mins in a shallot and soy sauce-based preparation, we put our pork chops on the charcoal grill outdoors.
After the pork chops turned golden brown in color, it was time to prepare our final plate.
In addition to the pork chops, we added cooked broken rice, slices of tomatoes, cucumbers, and oiled-scallions.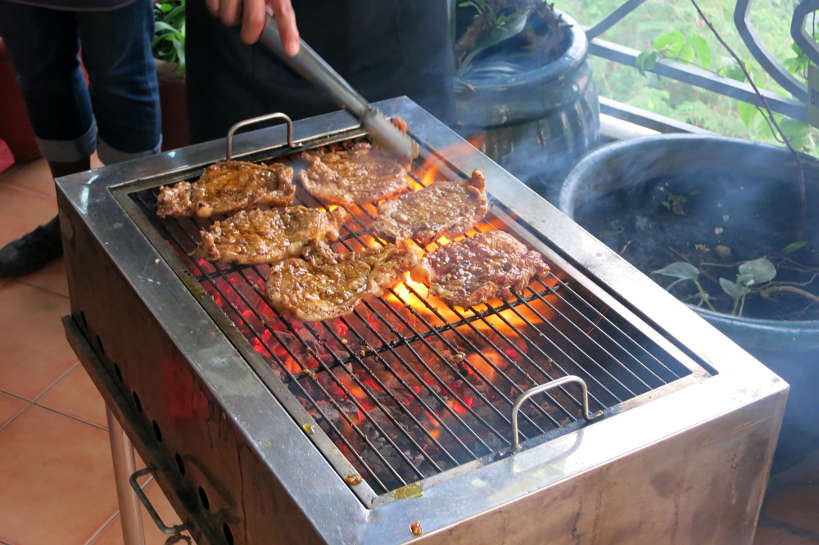 Steamed Pork Pie with Mushrooms and Glass Noodles or Chả Chưng
To complete our meal, we made steamed pork pies. This surprising pie was made with duck eggs and stuffed with minced pork, mushroom, and glass noodles.
After mixing all the ingredients together, we placed the mixture into a bowl for steaming. The result was a pleasant surprise.
Visually, very attractive with a smooth golden top created as a result of basting it with egg yolk.
And the taste surprised us. The pie was very light and quite flavorful with the shallots and spring onions.
A really delightful pie and discovering in our Saigon cooking class.
Overall Experience in our Saigon Cooking Class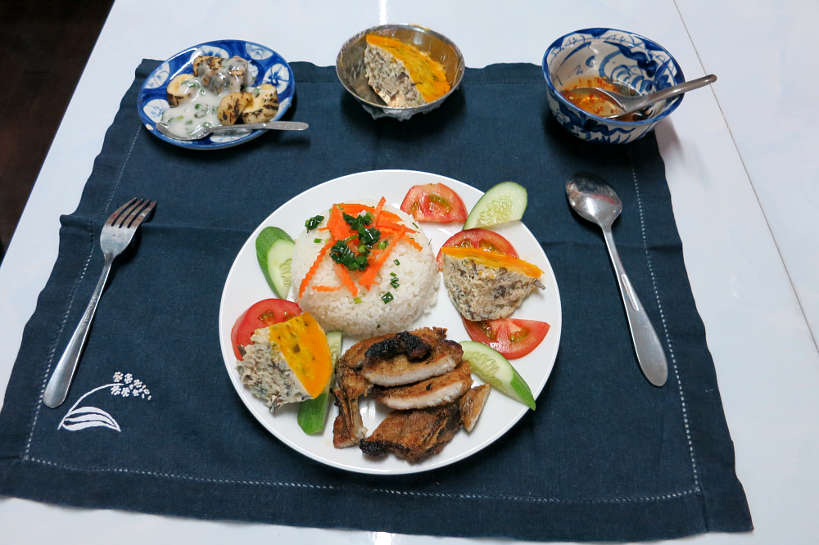 We enjoyed a truly exceptional meal bursting with flavors. And even more importantly, learning about Vietnamese traditional dishes and the cultural heritage was enriching.
Even though the chef did not speak English, the culinary guide did a great job translating everything and making sure we all understood what to do.
Making the iconic Vietnamese and Saigon foods was a delicious experience. And, eating the tasty dishes after all the hard work was satisfying and rewarding.
Eating our meal and connecting with the other cooking class participants was the perfect end to a fun Saigon cooking class.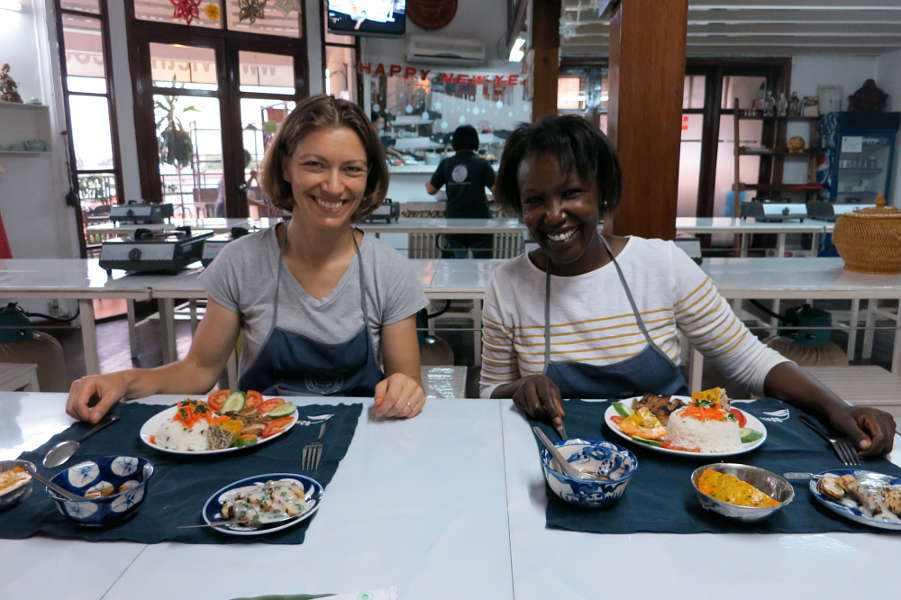 In Summary
Eating is one of the highlights of any visit to Vietnam. Taking a Saigon cooking class is a great way to engage all your senses and get a deeper understanding of the local culture.
This immersive experience gives you the opportunity to learn more about the food and unfamiliar herbs and ingredients.
In a fabulous airy space with high ceilings and great views, taking a cooking class at The Vietnam Cookery Center offers a wonderful introduction to Vietnamese cuisine.
Learn about the different Vietnamese sauces, spices, herbs, and cooking techniques in a personalized setting.
If your travel plans take you to Ho Chi Minh City, don't hesitate to learn about Vietnamese cuisine in a fun Saigon cooking class.
Additionally, if Hoi An in Central Vietnam is one of your stops, consider a Hoi An cooking class as well.
The Vietnam Cookery Center Practical Information
Book your cooking class in Saigon at the Vietnam Cookery Center using this link
Address: Suite 45- 4th Fl # 26 Ly Tu Trong st. Dist. 1 – Ho Chi Minh City
Classes: Morning classes are offered starting at 8:30 am to 12:30 pm. The cooking class experience begins with a market visit to learn about Vietnamese herbs, fruits, and vegetables. After that, head back for a hands-on Saigon cooking class.
Cost: $46.00 per person
Love it? Pin it!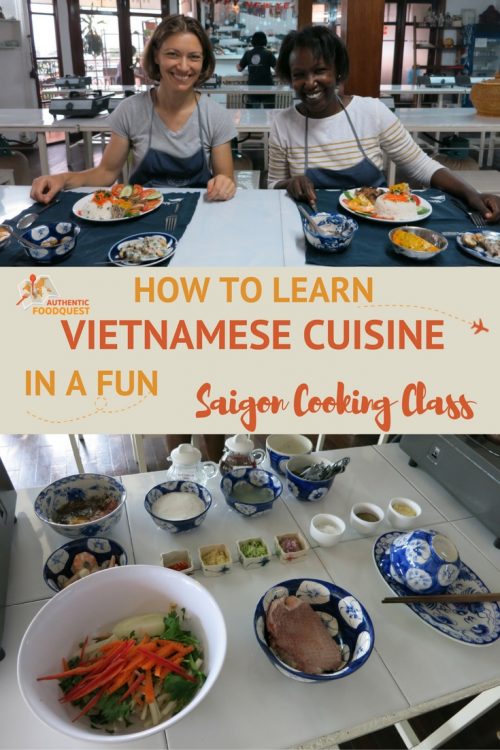 Disclaimer: This page contains affiliate links. That means at no extra charge to you, we earn a small commission when you purchase using these links. Thank you for your support.
Curious by nature, Rosemary loves exploring new flavors and connecting with locals. She shares her insights and culinary finds from her travels to inspire people to connect local through food.