Fresh herbs feature prominently in Vietnamese cooking. Almost every meal is accompanied by bountiful herbs which are torn, tossed or rolled into soups, noodle dishes, sandwiches or more.
While we were in central Vietnam exploring the local food specialities, we decided to take a Hoi An cooking class to better understand the fundamental ingredients of Vietnamese cuisine
Tra Que, a charming village just outside of Hoi An is famous throughout the country for its vegetables and herbs.
This Hoi An cooking class combined a farming tour and a cooking class at Tra Que Minty Garden. This was the perfect place to get an understanding of the fragrant herbs that are essential to Vietnamese food.
The cuisine of Vietnam beguiles and charms, join us on a fascinating farming tour and cooking class at Tra Que Minty Garden.

Tra Que Village: The Freshest Herbs a Short Stop From Hoi An
Located about 3 km north of the Old City of Hoi An is Tra Que Village, an organic vegetable village.
The area is surrounded by the De Vong River and the Tra Que Lagoon. It was established about 300 years ago and is known throughout the country for having nutritionally rich and aromatic herbs.
What makes the Vietnamese herbs and vegetables from Tra Que village so special, is that they are grown without the use of toxins or chemicals.

Instead, seaweed or algae from the De Vong River is used as manure. In addition, the rich soils and unique farming land have contributed to producing aromatic herbs used in traditional dishes.
Each family, in Tra Que village, we learned, has a plot of 500 sq meters to grow herbs and vegetables.
The herbs and vegetables are used locally in Hoi An and some are sold to Da Nang families who drive up on the weekends to buy their week's supply of Tra Que vegetables.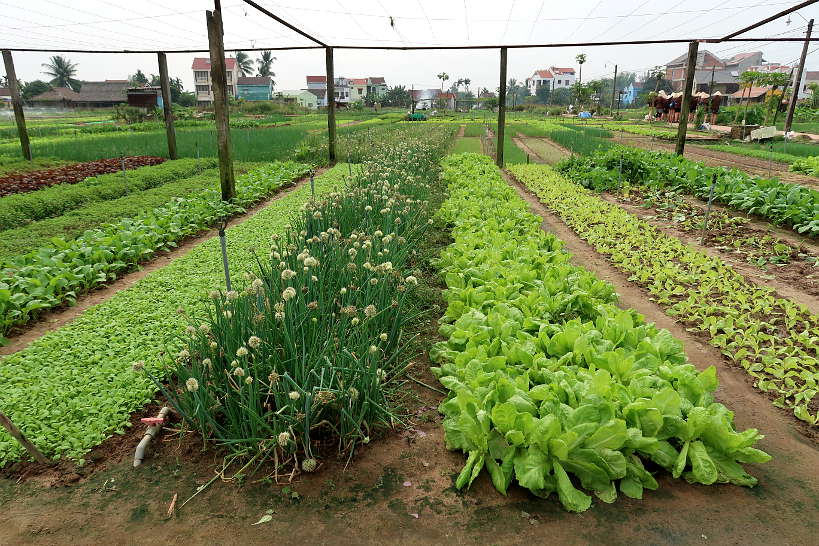 Tra Que Minty Garden Vietnam Cooking Class
The Hoi An cooking class began with a warm welcome from chef Danny and his wife Lan. We arrived for the 9:00 am morning class from Da Nang, with private transportation arranged by Tra Que Minty Garden cooking school.
For large groups, the cooking class takes place at the Minty Garden restaurant. Whereas for smaller groups, like our private class for two, are held in the intimate home kitchen of chef Danny and his wife.
The Hoi An cooking class started with a Tra Que village farming experience and was followed by learning how to cook the local specialties.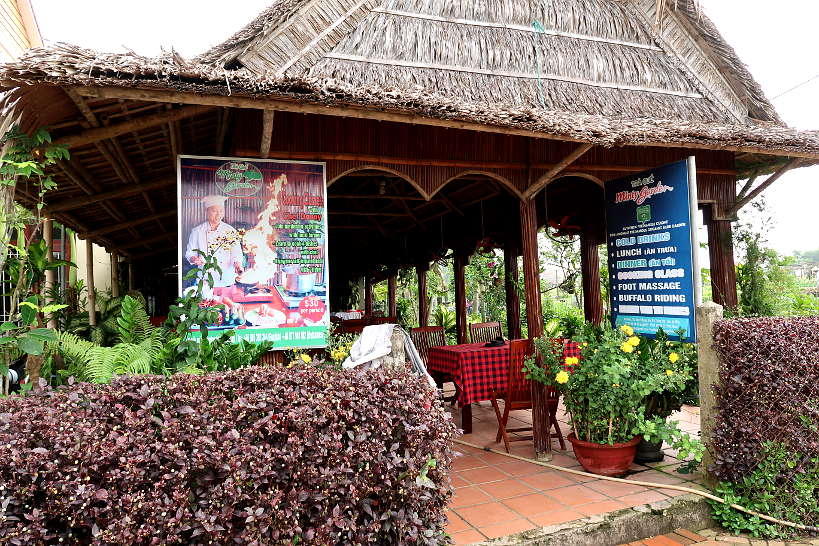 Farming in Tra Que Village
Before the cooking class, we walked to the nearby farm to learn about the herbs and the age-old farming techniques used for decades in Tra Que village.
Tra Que village is often referred to as the 'vegetable village', although Chef Danny told us that it is mostly herbs that are grown in the village.
You will find Vietnamese herbs like mint, lemongrass, Vietnamese basil, betel leaf, spinach, red spinach, morning glory, saw-leaf herbs and much more.
In preparation for the farming experience, we got dressed and wore a traditional Vietnamese conical hat known to provide high protection from the sun and the rain.
After grabbing a hoe, we made our way to the garden plot reserved for our farming practice.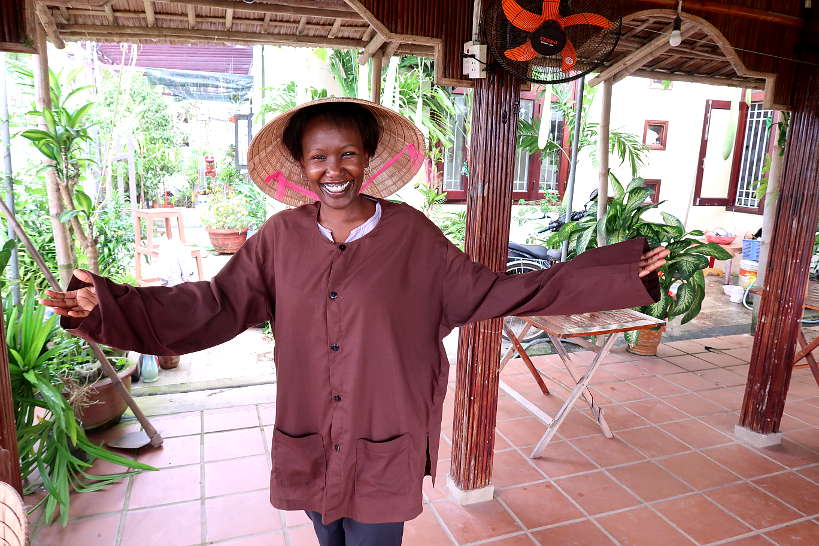 Seaweed Used As A Fertilizer
With the help of a local farmer and chef Danny, we began by digging. Our first task was to dig a rectangular hole of about 10cm or 5 inches deep and 3 square meters in preparation for planting.
Once we leveled the soil, we picked the seaweed that had been foraged from the Coco River, also known as Hoi An River, to lay on the ground before planting.
Seaweed is used as a natural fertilizer to nourish the soil. There are no chemicals added and no GMO seeds used. Farming in Tra Que village is all organic farming.
As chef Danny told us, the people of Tra Que have been planting herbs and vegetables with seaweed as the natural fertilizer for more than 300 years. This is " a way to recycle nature's resources." he remarked.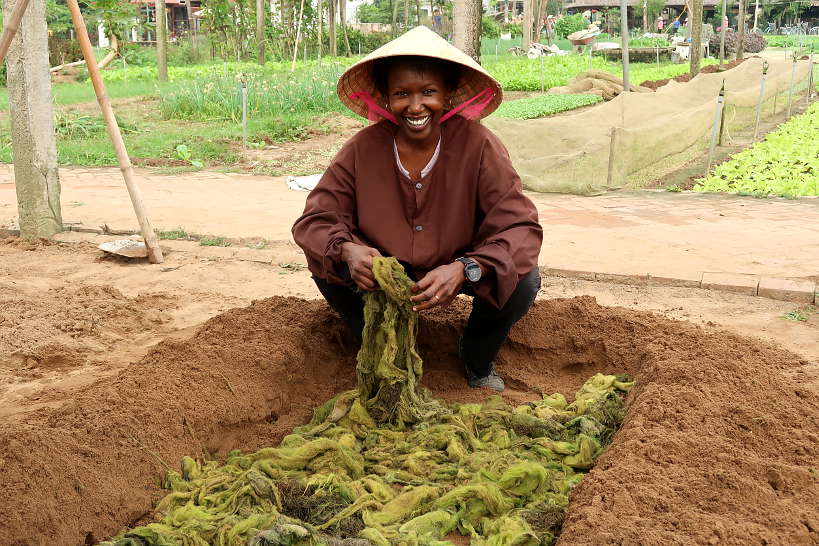 Planting and Watering Vietnamese Spinach
After burying the seaweed in the soil, we made sure the ground was even using a rake to do so.
Chef Danny and the local farmer helped us along the way by showing us to move the soil in the right position and direction.
Every move was very precise and seemed like a work of art. There was particular attention paid to the shape of the soil and use of symmetry guided the process.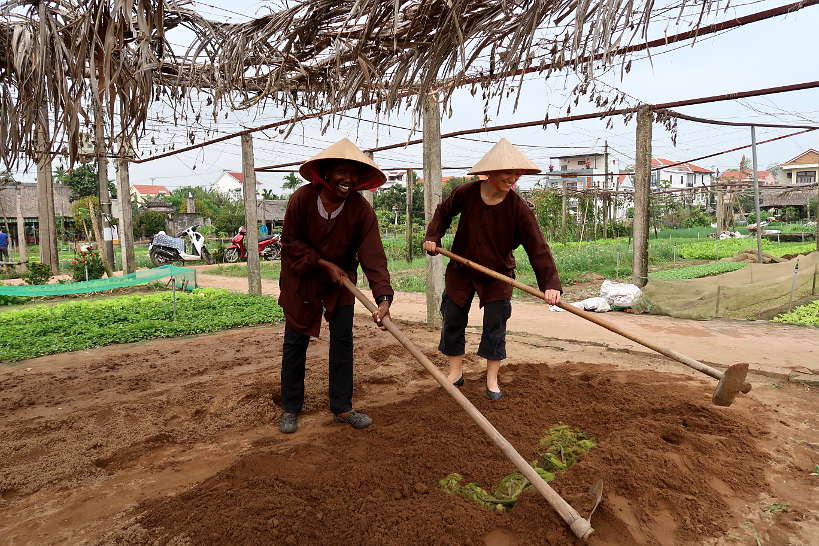 Once the soil was ready, we planted Vietnamese spinach uniformly in the earth. Our final task was to water our beautifully planted plot of spinach.
The farmer showed us how to lift and fill the two large metallic gardening cans with water. The two large water pots are hooked to a wooden board and carried on the back and shoulders.
Although he showed us with ease how to lift and carry the two large watering cans, it was actually quite heavy and difficult to maneuver in reality.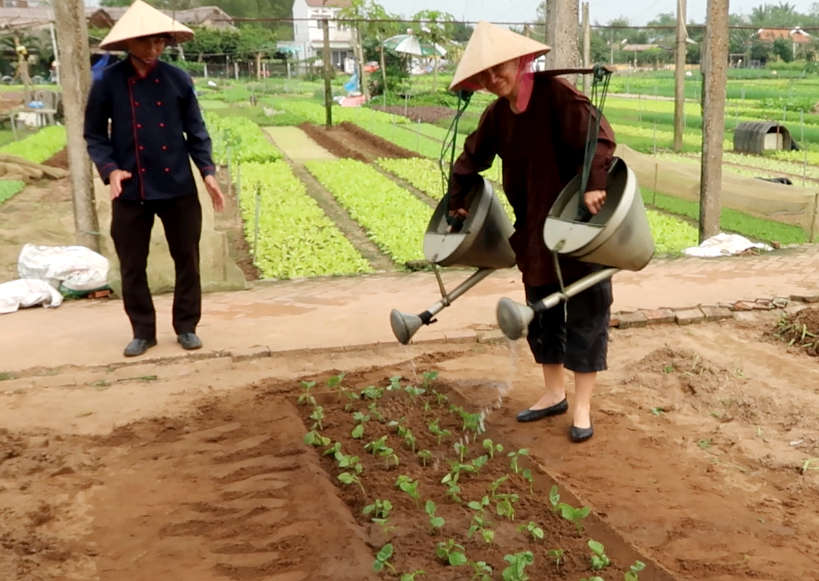 A Well Deserved Tra Que Cocktail
After the farming introduction in Tra Que Village, we picked up a few herbs and vegetables on our way back to the cooking school.
Red spinach, radish, and lemongrass were some of the herbs we brought back to Tra Que Minty Garden.
A refreshing drink was awaiting, perfect to sip on after our morning farming exercise. The Tra Que Cocktail, as Chef Denny named it, is made with Thai basil, lemongrass and other natural goodness.
Not sweet, this refreshing drink was perfect to quench our thirst before starting our Hoi An cooking class.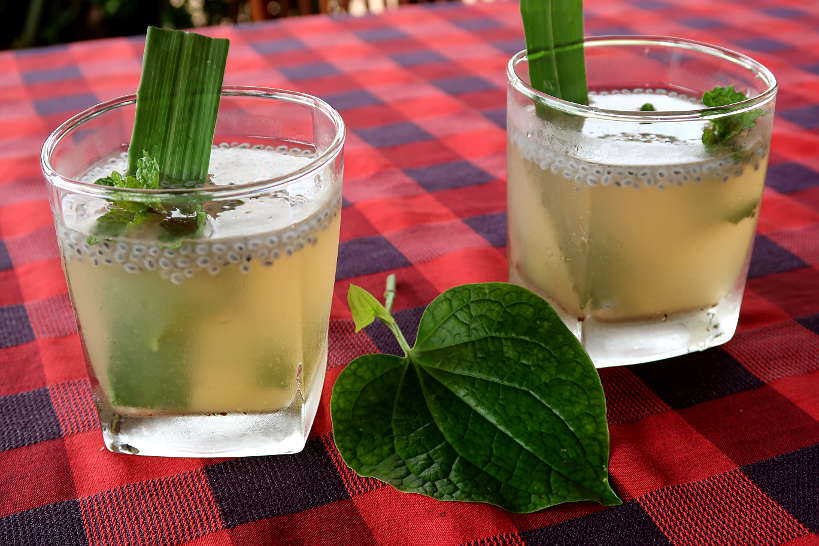 Cooking Experience: Best Entertaining Hoi An Cooking Class
For our Hoi An cooking class with chef Danny, we learned how to make four local dishes, using local herbs and vegetables from Tra Que Village.
While we were familiar with some of the dishes, we had never cooked them before. The only dish we did not make was the Banh Flan (crème caramel) for dessert, which had been prepared in advance.
Cá Nướng Lá Chuối

– Grilled Fish in banana leaf

Beef Bo La Lot

– grilled beef wrapped in betel leaves

Tam Huu

– Three friends rolls with prawns, pork, coriander, mint

Banh Xeo

– Sizzling savory pancake

Banh Flan – Vietnamese dessert very similar to a crème caramel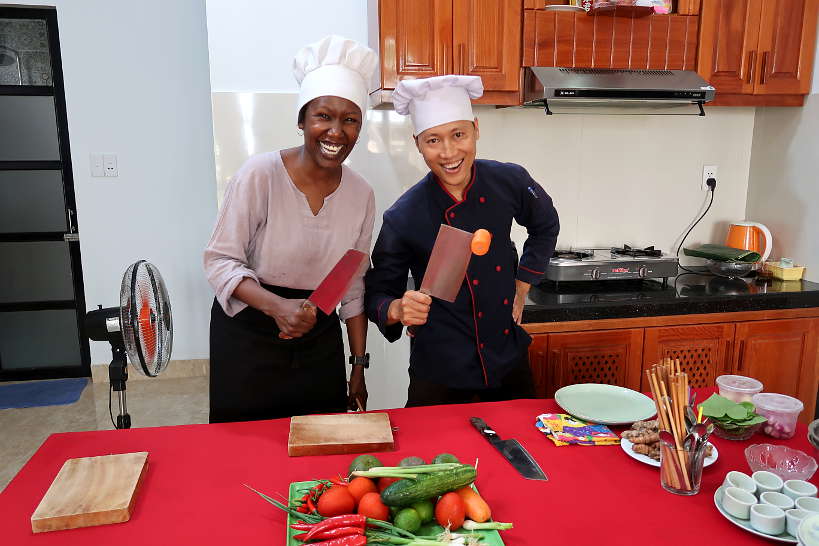 Cá Nướng Lá Chuối – Grilled Fish in Banana Leaves
Starting out with the dish that would take the longest time to prepare, we chopped up the necessary ingredients for the grilled fish in banana leaves, which was red snapper fish.
We started out by chopping garlic, shallots, spring onions, red peppers, and turmeric into very thin and small pieces.
Seeing our knife skills, chef Danny taught us how to use the large knives effectively to safely chop the vegetables.
After chopping the vegetables, we then made a little sauce for the fish. We mixed together a little fish sauce, soy sauce and oyster sauce, which we then seasoned with salt and pepper.
Once we spread this mixture on the red snapper fillets, we topped the fish with the chopped vegetables and then wrapped them in banana leaves, in preparation for grilling.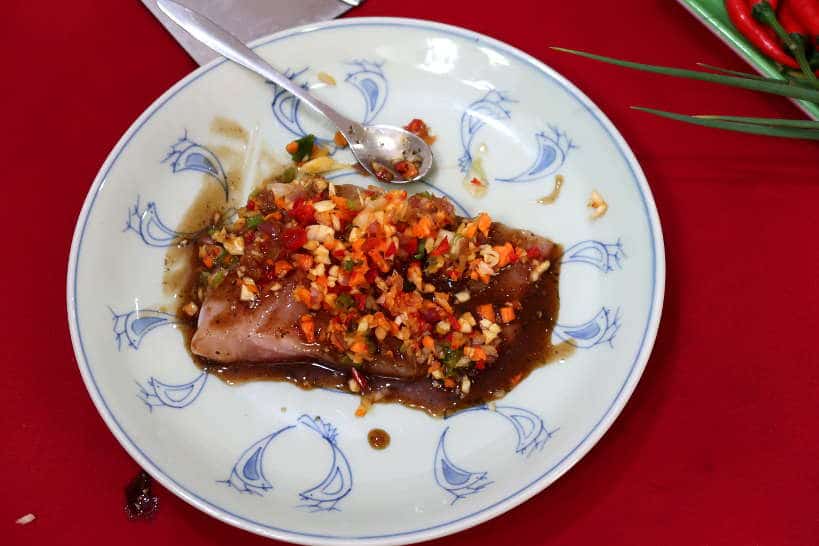 Beef Bo La Lot & Amazing Knife Skills
Chef Danny is a very entertaining and knife loving chef. With amazing knife skills and an entertaining demeanor, we had a lot of fun watching him chop up the beef for the bo la lot.
Bo la lot is a popular Vietnamese starter. It is made by wrapping a small amount of beef in a wild betel leaf from Tra Que vegetable village and then grilling it.
We started out by slicing the beef and then chopping it up to a minced version in chef Danny's entertaining manner.
To the beef, we mixed in a little cooking oil, chili oil, as well as chopped garlic and shallots. After mixing everything together, we learned how to stuff the betel leaves.
On a single betel leaf, you placed a little bit of beef on one end and then gently rolled it and punch it into a skewer.
We made several of these beef bo la lot and got them ready for grilling on the barbecue.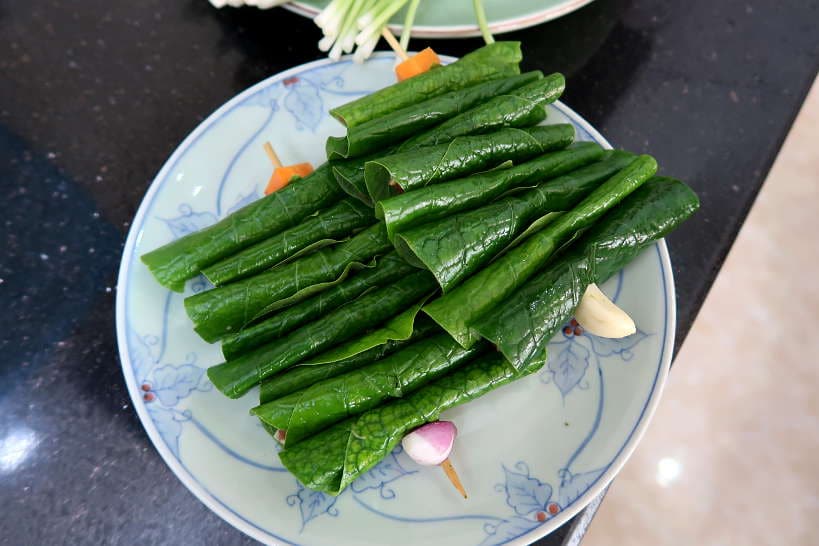 Tam Huu – 'Three Friends' a Hoi An Specialty
These little Vietnamese appetizers were fun to make and packed with fresh flavorful herbs from Tra Que village.
A local Hoi An specialty, the "three friends" are made with organic prawns, thinly cut slices of pork, herbs and then rolled together with fresh spring onions.
First, we cooked prawns and pork separately. Next, we took one prawn, one slice of pork, added a little bit of mint and coriander. Then we tied it together with a strand of fresh spring onions that we had picked up earlier, while farming.
Tam Huu represents harmony and friendship. The three friends – prawns, pork and herbs – attached with spring onions, are exquisite in taste and presentation.
When dipped in an accompanying sweet and sour fish sauce, the wonderful flavors are enhanced.
Easy to make, this was one of our favorite local specialties in the Hoi An cooking class.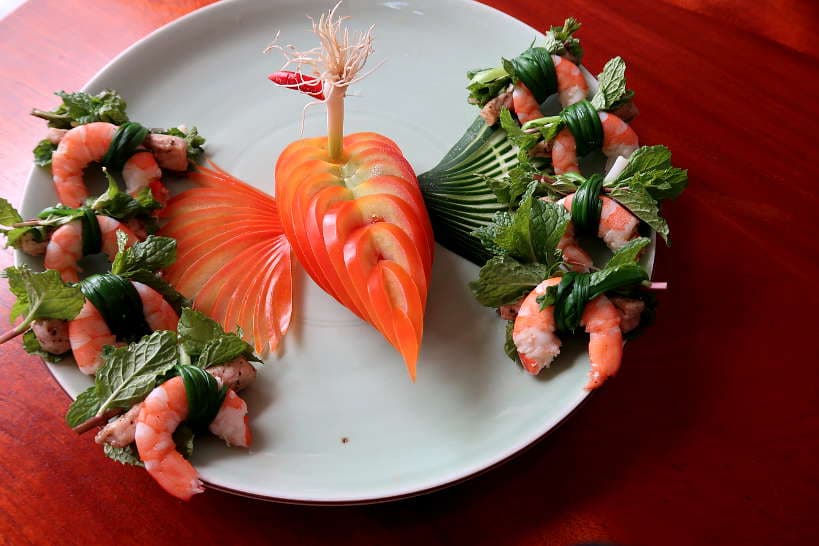 Banh Xeo – A Favorite Vietnamese Food
Banh Xeo or sizzling pancakes is one of our favorite Vietnamese food. Part of what attracted us to this particular cooking class Hoi An was the opportunity to learn how to make this incredibly delicious Vietnamese pancake.
After preparing the dough and cooking the chicken and pork, chef Danny had us each step up to the hot pan to put all the ingredients and make the savory pancake.
In Hoi An and Central Vietnam, the banh xeo are different from the ones you find in the South of Vietnam. They are smaller in size and usually stuffed with shrimp, pork and egg.
Whereas, in Ho Chi Minh City, the banh xeo are large in size and have various toppings, including, chicken, mushrooms and more.
The most unexpected experience was cooking the banh xeo in the pan. Once we put the batter and ingredients and the extremely hot pan, hot flames shot up from the pan and initially scared us.
Fortunately, chef Danny guided us skillfully, until the flames subsided and the banh xeo, cooked to perfection.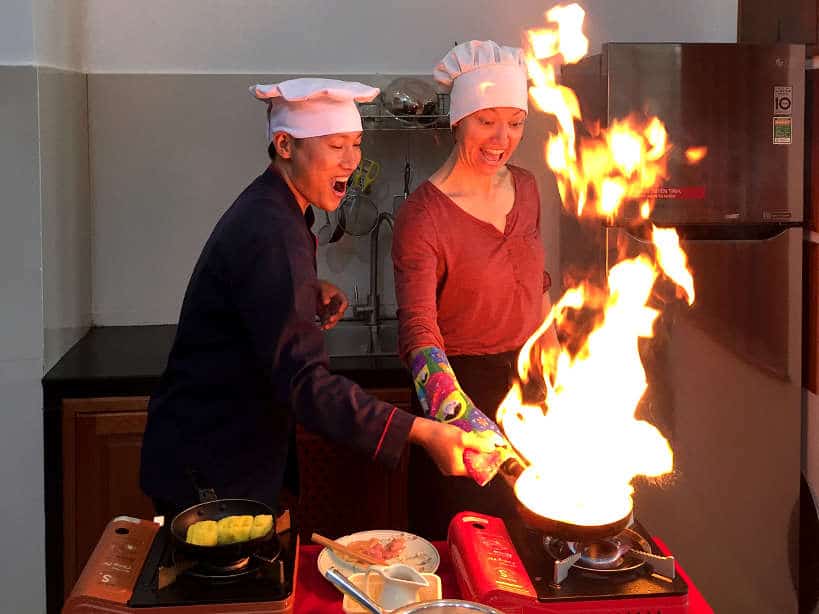 Banh Flan: Vietnamese Caramel Flan For Dessert
Crème caramel or banh flan, a popular dessert in Vietnam was introduced by the French. Although we did not make this dessert in the Hoi An cooking class, we enjoyed the silky and rich textures.
Lan, chef Danny's wife had made the dessert the night before so that it could refrigerate appropriately. This dessert is also known as bánh caramel or kem flan in different parts of the country.
We enjoyed the simple flan which was smooth and not sweet. Around the country, you'll find other variations that include coconut flan and others with black coffee poured on top.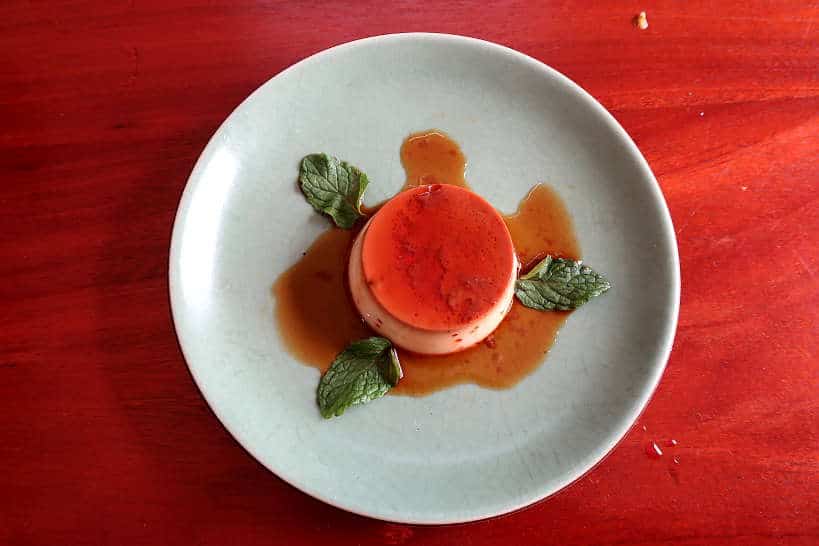 In Summary
The Hoi An cooking class was a fun and entertaining experience. Starting out with learning about Vietnamese herbs in Tra Que village, gave us a deeper appreciation for the unique flavors in Vietnamese cuisine.
Chef Danny is a wonderful instructor who not only teaches you about the cuisine, he also entertains you in the process. Watching him skillfully maneuver his knives was quite enthralling.
We picked up a few knife skills along the way, but we still have a long way to go before we get to his level.
Following the cooking class experience, we enjoyed the meal we had made sitting in the comfortable dining room. The food was incredibly tasty and very flavorful with the fresh herbs from Tra Que village.
The beef bo la lot was our favorite and the tam huu was wonderfully simple appetizer we will be sure to recreate. To wash down the meal, Claire enjoyed a unique Vietnamese rice beer.
Taking a cooking class on your travels is a great way to better appreciate the local specialties. From taking cooking classes in Luang Prabang the culinary capital of Laos, Chiang Mai in northern Thailand and Phnom Phen, the capital of Cambodia, we've always had a fun and enriching experience.
If your travels take you to Hoi An, we highly recommend a farming tour and cooking class at Tra Que Minty Garden. Gain a deeper appreciation of the fresh herbs from Tra Que village and entertaining cooking experience.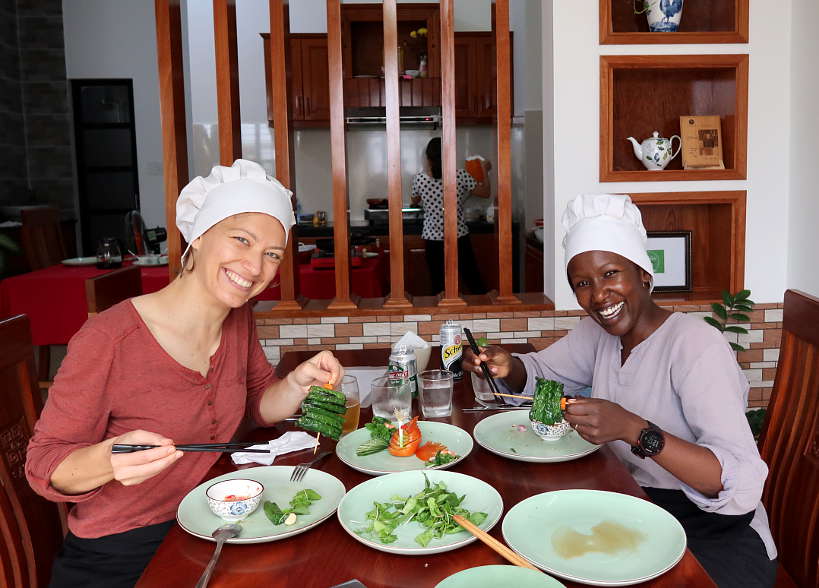 Practical Information – Water Wheel Cooking With Organic Tra Que Garden Visit
Book your Hoi An cooking class at at Water Wheel which offers a similar authentic cooking experience to our original Tra Que Minty Garden Class.
Location: Water Wheel will pick you up at your hotel then you will go by bicycle to Hoi An's colorful central market. Visit the market before your cooking class experience.
Two classes are offered daily. The morning class begins at 8:15 am and the afternoon class starts at 1:15 pm. Each class offers a a bicycle ride to the central market, visit to the Tra Que organic herb gardens, cooking class experience and traditional Vietnamese flower decoration making.
Menu: Learn to make six local local Vietnamese specialties. A vegetarian menu is also provided.
Cost: $30.00 per person
Love it? Pin it!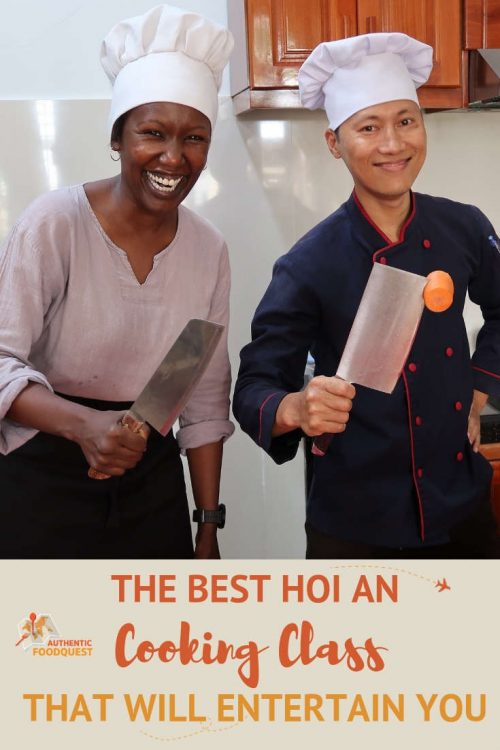 Disclaimer: This page contains affiliate links. That means at no extra charge to you, we earn a small commission when you purchase using these links. Please note we only link to products and services that we personally use or trust. Thank you for your support.
Curious by nature, Rosemary loves exploring new flavors and connecting with locals. She shares her insights and culinary finds from her travels to inspire people to connect local through food.