Have you ever taken a cooking class on your travels?
At Authentic Food Quest, our mission is to inspire people to travel deeper through authentic and local food, as a way to learn about the local dishes and gain a deeper appreciation of the culture. To that end, we decided to take a Chiang Mai cooking class and learn more about Thai culinary culture.  
With Khao Soi, Pad Thai, and Mango Sticky Rice on the top of our list of local specialties, we were eager to learn how to make them.
When we found out that Aroy Aroy cooking school in Chiang Mai, offers classes where we could learn about and how to make our favorite dishes, we were hooked. And then, when we learned that they also offer a boat ride to the local market as part of the experience, we were sold!

Chiang Mai Cooking Class With Aroy Aroy
Aroy Aroy is located on the east side of Chiang Mai, near the Ping river which crosses Chiang Mai from north to south. Adjacent to the River Market restaurant, Aroy Aroy boast an airy and inviting open kitchen for your cooking experience.
As soon as we arrived, Roy the owner, greeted us with a large smile and refreshments. We learned that "Aroy" means delicious in Thai, which could not be more promising for the morning ahead of us.
One couple and one mother and daughter team joined us for this intimate Chiang Mai cooking class. As soon as our group was ready, we were introduced to chef "A" and chef "O", our cooking instructors for the day.
Before starting the class, we jumped onto a riverboat for a short cruise along the Ping river, heading towards Warorot market in Chinatown.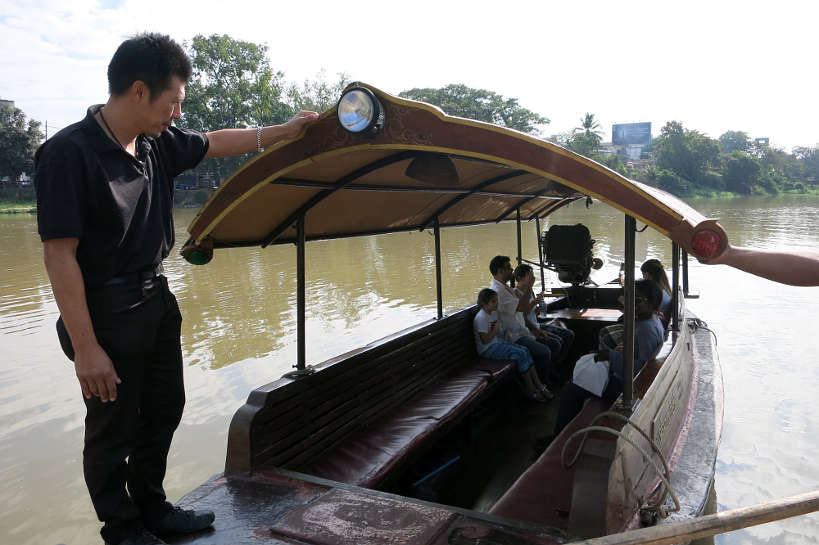 A Walk Through Chinatown
We were dropped off near Warorot market, one of the largest markets in Chiang Mai, in the core of Chinatown. It was the eve of the Chinese New Year celebrations and we started out with a visit to the flower market, where beautiful flower decorations were being created.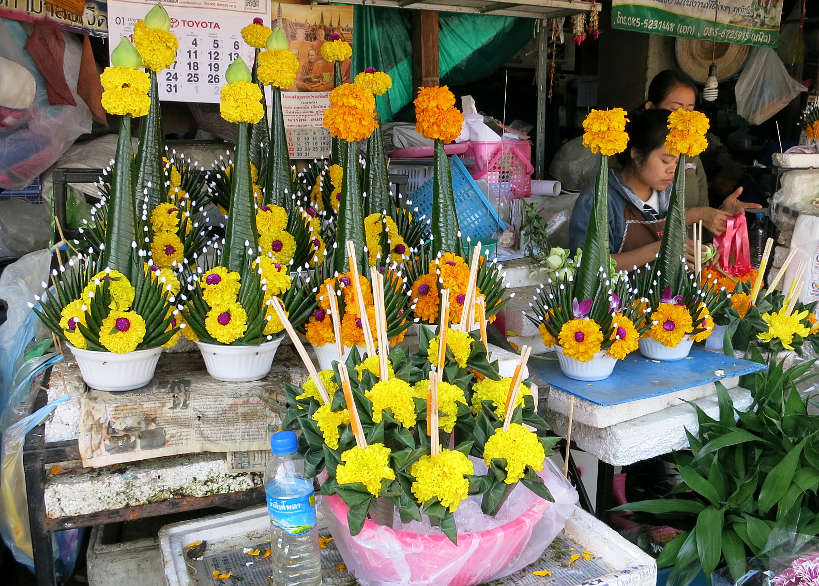 The visit through Chinatown continued to the Chinese Pung Thao Kong Shrine, one of the most important and sacred landmarks in Chiang Mai. We then made our way to Warorot market through the back alleys filled with street vendors.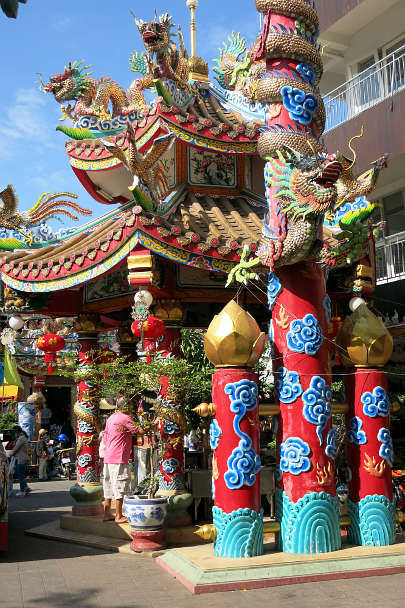 Discovering Warorot Market with Chef "A"
Chef "A" guided us through the market pointing out some of the popular stalls and vendors. One stop was at the famous stall that sells sai ua, Chiang Mai's delicious northern-style sausages.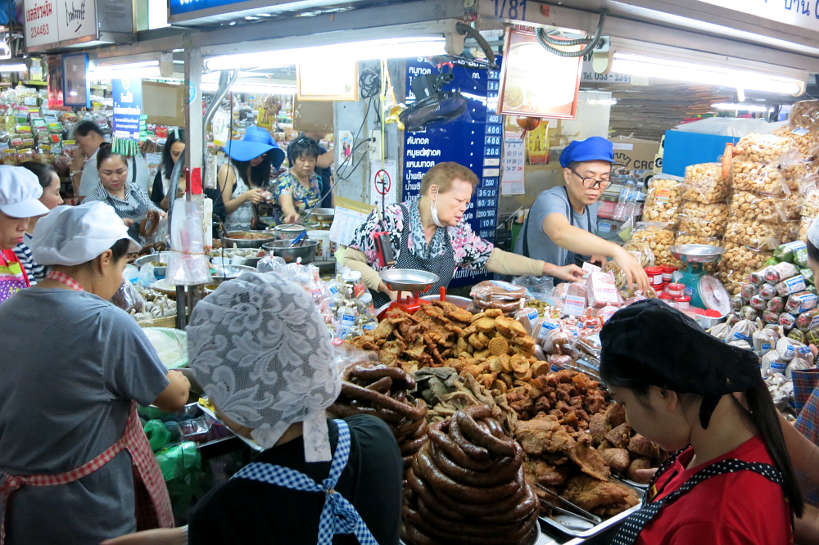 Walking through the vegetable stalls, we learned about some of the ingredients we were going to be cooking with, including green papaya and bitter gourd vegetables.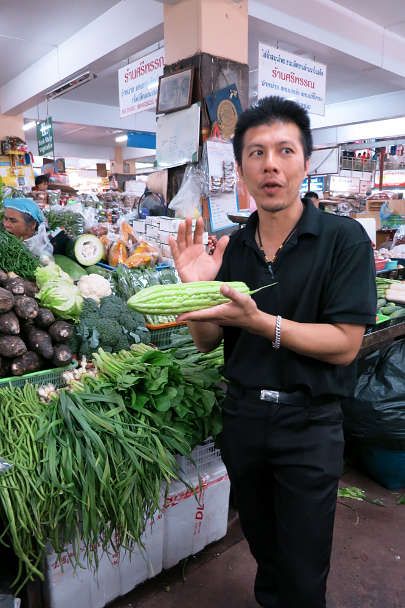 We could not miss the "sweets sections" to see the special Chinese New Year treats. We saw different colored coconut rice cakes, called khanom keng, made special for the celebration.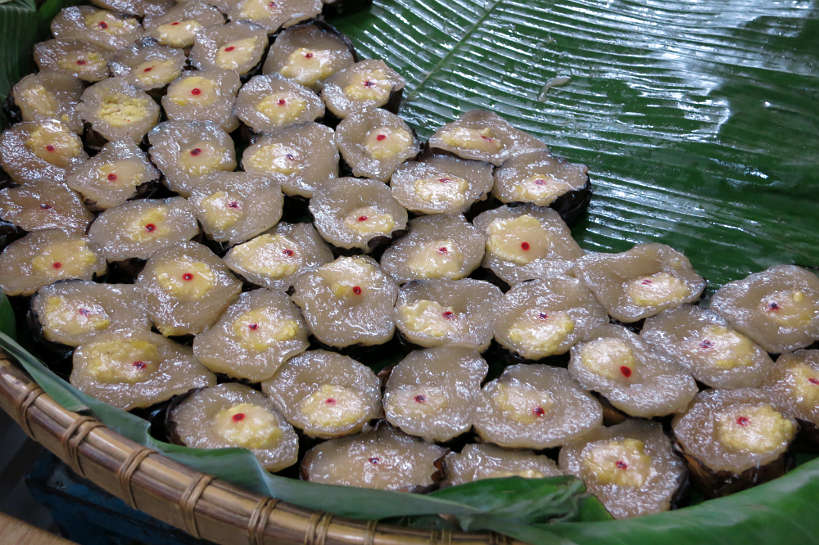 Before heading out, we walked through the wet market where we learned about the Chinese New Year tradition of releasing frogs into the river for good fortune!
After a short boat ride back, it was time to put on our aprons and start the cooking experience!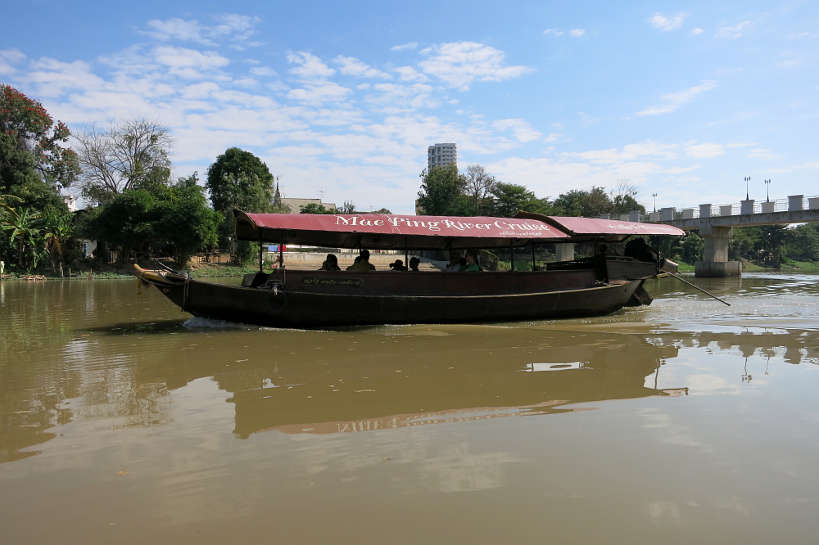 Aroy Aroy Cooking Experience
For over 3 hours, we had fun learning how to cook traditional Thai dishes. We each had individual stations, equipped with a large wok. Our two chefs, – Chef "A" and Chef "O" would first demonstrate how to make each dish, and then we would each make them individually at our stations.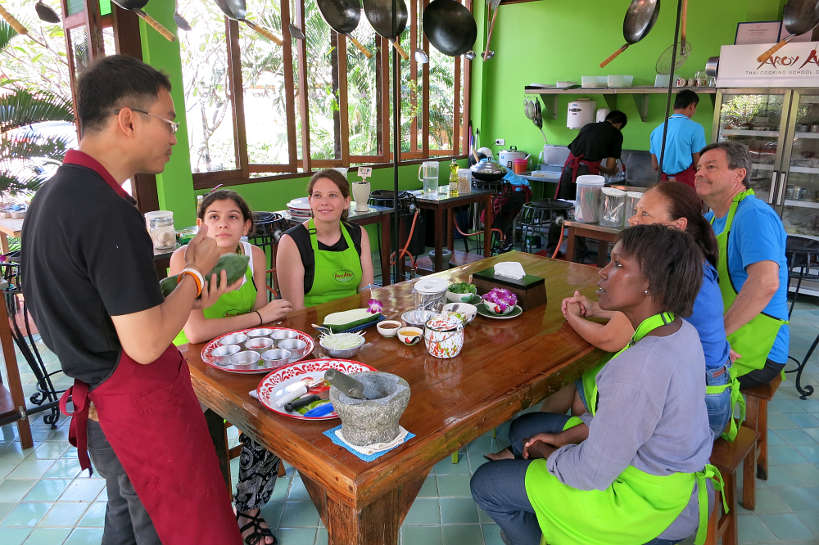 All the ingredients were pre-measured and chopped for us ahead of time. In addition, we had the flexibility to adjust the spice levels using more or less chili and sugar. The chefs and the staff would walk around offering help and guidance, making sure no one was left behind.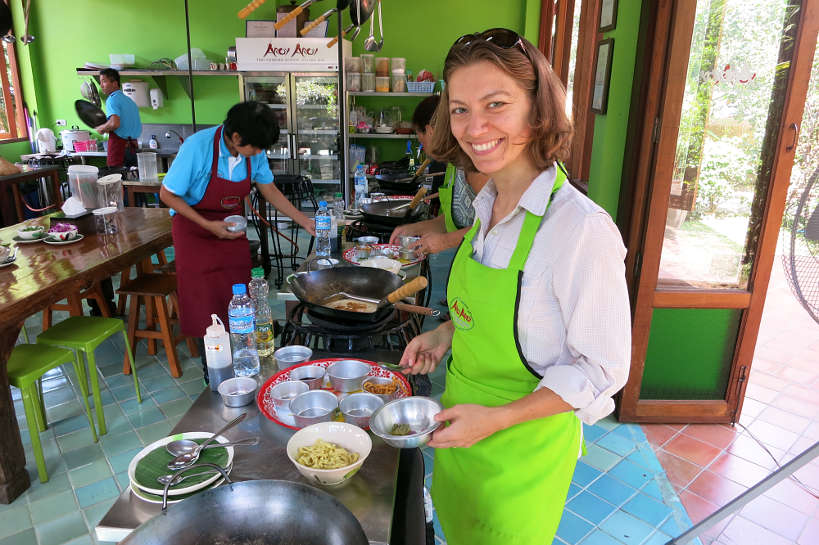 One thing that struck us as soon as we began cooking was the weight of the wok. We found it surprising heavy and we have a new appreciation for vendors cooking all day using a wok.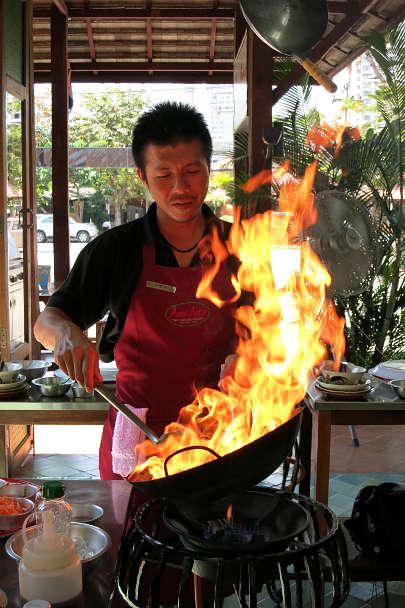 The menu for the day, was the Chef's Favorite Dishes, which was composed of 5 traditional Thai dishes. In this article, we highlight 4 of the 5 dishes.
Som Tam – Green Papaya Salad
Khao Soi – Chiang Mai's famous curry and noodles
Pad Thai – Stir fried noodle dish, also referred to as the country's national dish

Stir Fry Chicken with Cashew Nuts and Jasmine Rice

Mango and Sticky Rice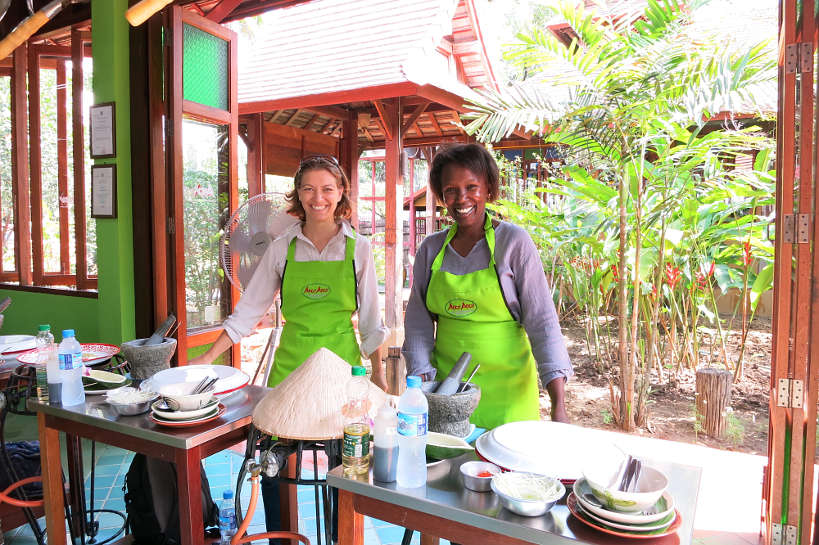 Som Tam – Green Papaya Salad
The cooking experience started with learning how to make Thailand's most iconic salad. What looks complicated to make, is actually quite simple. The key is using a mortar and pestle.
Essentially, all the ingredients are put in the mortar in a coordinated fashion. The trick is to gently pound everything with the pestle until the ingredients are bruised but not mushy.
There is a rhythm in the process, gentle pounding followed by mixing with a spoon and pounding again.  All this done harmoniously to bring forth the flavors and juices.
When it was time to eat, what surprised us was that the chef made a point to ask us to decorate the dish. He told us that in the Thai culture, the presentation is important. With that, we each personalized our half papaya shells and sat down to enjoy a delicious and beautiful salad.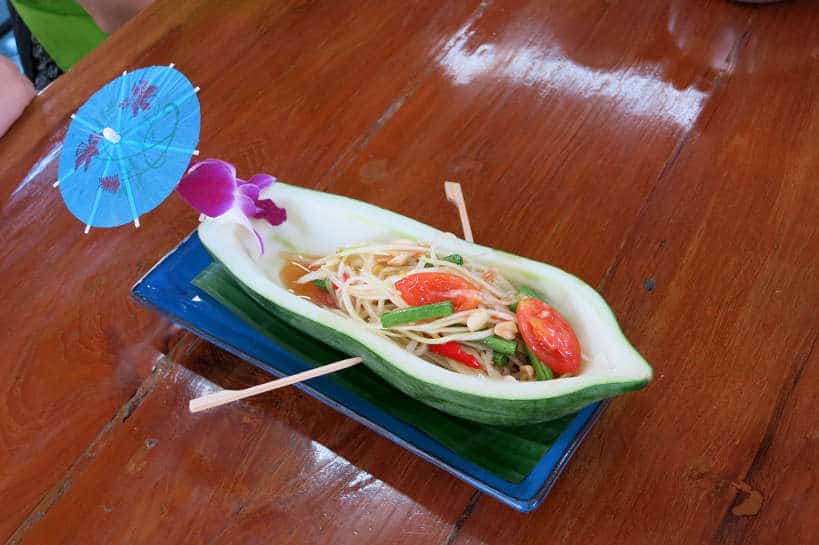 Pad Thai – Thailand's National Dish
What was most fascinating about the preparation of the Pad Thai dish, was learning the history behind the dish. When you know a little more about the history of the dishes, you often find a new appreciation for the meal.
Pad Thai is one of the most recognizable Thai dishes. Outside of Thailand, you will find served with chicken, pork or beef. In Thailand, it is often eaten with shrimp, prawns, tofu and increasingly chicken.  
As chef "A "demonstrated how to make the pad thai, he also told us its surprising history. The dish was created by the Thai government about 85 years ago, as the country was going through political turmoil.
The Prime Minister at the time was looking to build Thai nationalism and held a public competition to find a new national noodle dish.
Rice noodles emerged as the winner and they were both cheap and filling. With the addition of vegetables, bean sprouts, and inexpensive protein, it was the perfect and nutritious meal for a county that was facing economically challenging times.
The article The Non Thai Origins of Pad Thai, goes into much detail on what has become Thailand's national dish.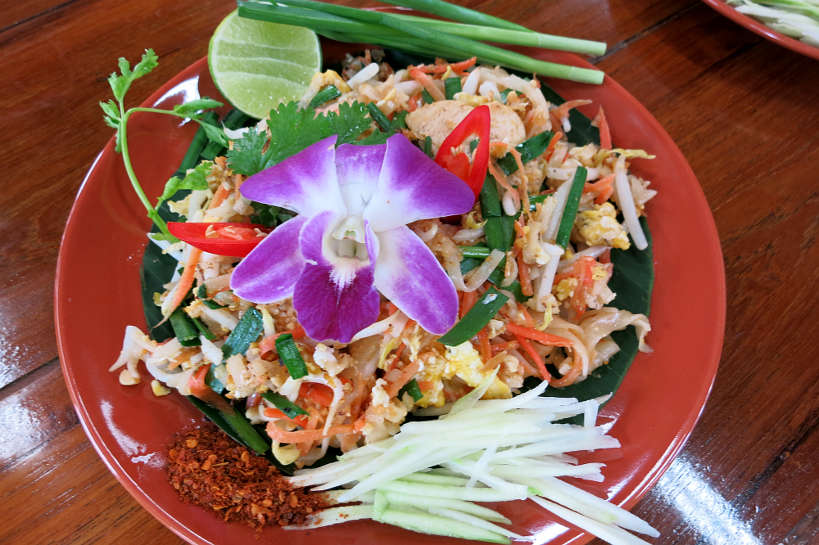 Regardless of the ingredients used, according to chef "A", what makes a pad thai authentic is the use of pad thai sauce.  The key ingredients in pad thai sauce are palm sugar, fish sauce and tamarind.
Khao Soi – Chiang Mai's Famous Curry and Noodles
The dish that we could not wait to learn to make was Khao Soi, the most famous dish in Chiang Mai. In a few short days of arriving in Chiang Mai, this quickly became one of our favorite northern Thai dishes.
Khao Soi is a rich and spicy coconut milk based curry served with two types of noodles. Yellow egg noodles and topped with crispy noodles.
The dish we learned from chef "A", is typically served with chicken or beef and not pork due to its origins. Khao Soi was brought to Chiang Mai by Chinese Yunnanese Muslims traders who do not eat pork.
Accompanying Khao Soi, is a slice of a fresh lime wedge, shallots, pickled cabbage and roasted chilis.
What really surprised us about Khao Soi was the taste. At the time of taking the class, we had already eaten Khao Soi at several places,  and it tasted slightly different at each place.
We learned that the secret to Khao Soi is in the sauce. The key ingredient is the red curry paste, which can be adjusted to suit one's taste. More or less can be added which changes the taste of the sauce. We will be writing an article shortly on our favorite places for Khao Soi shortly.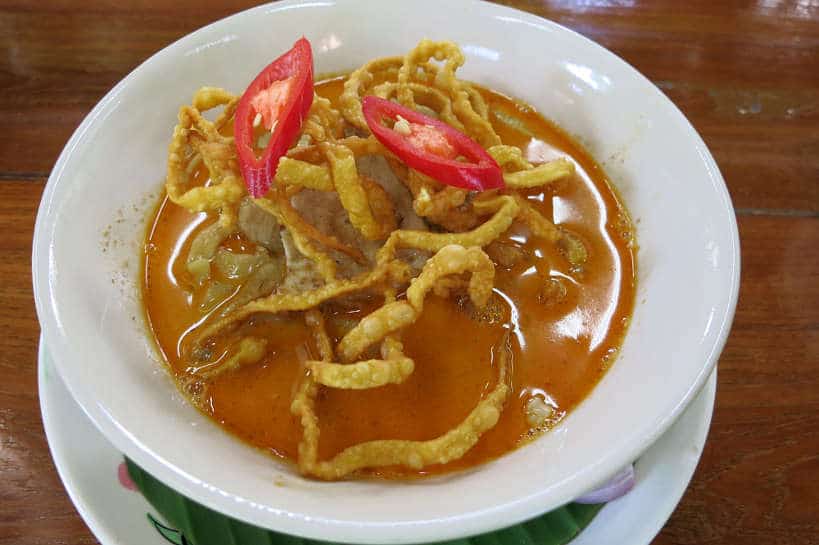 Mango Sticky Rice: The Beloved Thai Dessert
Mango sticky rice is definitely a heavenly delicious Thai dessert sought after by any visitor to Thailand.
After indulging in many mouthwatering mango sticky rice desserts, we were wondering if we could learn to make it ourselves. We had read that it was not an easy task and that the sticky rice itself requires a couple days to prepare.
We could not have been more excited to know that Aroy Aroy cooking class had mango sticky rice on the menu. Obviously, we didn't have the chance to prepare it from scratch. But we did get the gist of how to make it and the key ingredients needed.
Chef "O" explained that it is best to let the glutinous rice soak overnight first. He further described the steaming process, the use of bamboo baskets and all that is needed to make sticky rice.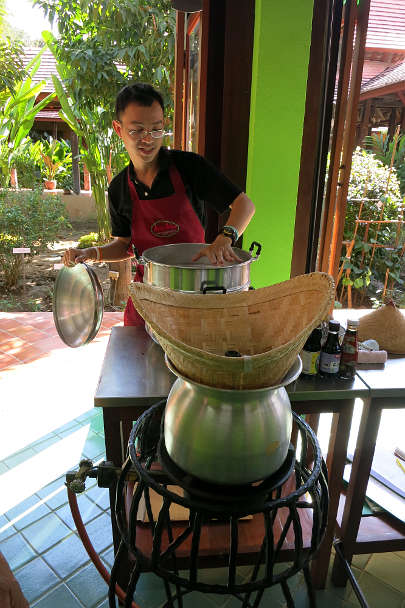 As much as we love mango sticky rice, we are skeptical about our ability to reproduce this desert back home. As difficult as it is to make, it is very easy to quickly devour. 
On your trip to Thailand, make sure to take the time to savor this delightful Thai dessert!
In Summary
Taking a cooking class while traveling is a wonderful way to immerse oneself in the local culture, learn about the local ingredients and indulge in delicious local food.
Aroy Aroy not only delivered on its delicious promise, but also made this journey fun and interesting!
With free refreshments including beers and time to savor our home made dishes, we were in for a treat.
With this hands-on class, we not only got the recipes but also local tips to be able to make these delicious dishes back home.
Aroy Aroy cooking class is an experience we definitely recommend for anyone looking for a hands-on and authentic cooking experience in Chiang Mai!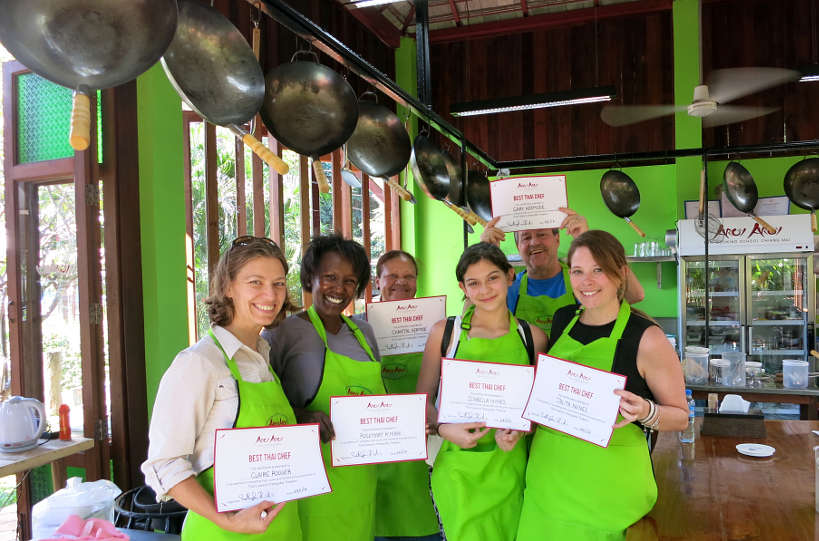 Aroy Aroy Chiang Mai Cooking Class: Practical Information
Book your Chiang Mai cooking class at Aroy Aroy cooking school
UPDATE: As of June 2017, Aroy Aroy moved to a new location in Chiang Mai. Please contact directly for directions and pricing.
New Address: 35 Moo 3, Kasem Soi 7, Chiang Mai
Cost: $59 per person
Details: Get a free pick up and learn how to make traditional Thai dishes. The menu can be adapted for vegetarian, gluten or Halal with advance notice.
To see more cooking classes in Chiang Mai, click this link for more
Address: The River Market Restaurant next to the Iron Bridge on the Ping River.
33-12 Charoenprathet Road T. Chan Klan A. Muang Chiang Mai 50100
Phone: 092-8292-864 English and Thai
Special thanks to Aroy Aroy for having us in this cooking class. All views and opinions expressed are our own. Full bellies and happy taste buds too.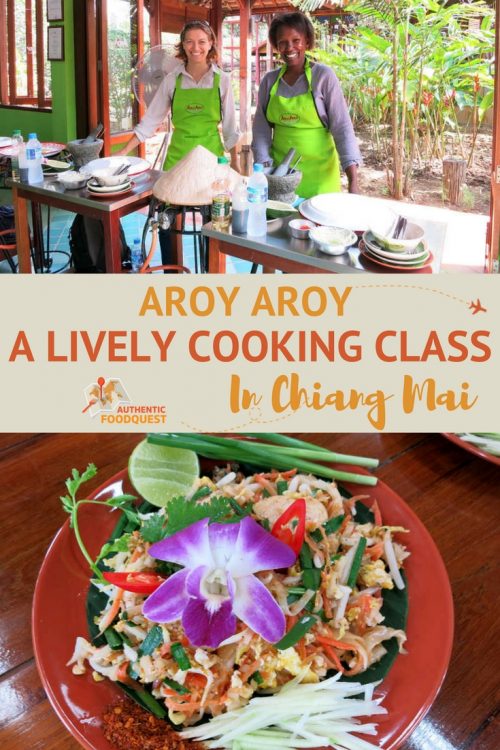 Rosemary is a writer and culinary explorer. Together with her partner, Claire, they created Authentic Food Quest to inspire people to travel deeper through authentic food. Through food, they believe, people can have more meaningful connections on their travels. Prior to creating Authentic Food Quest, Rosemary worked as a director of strategy in advertising for over 15 years.   Take the quiz and find out your Food Traveler Profile.